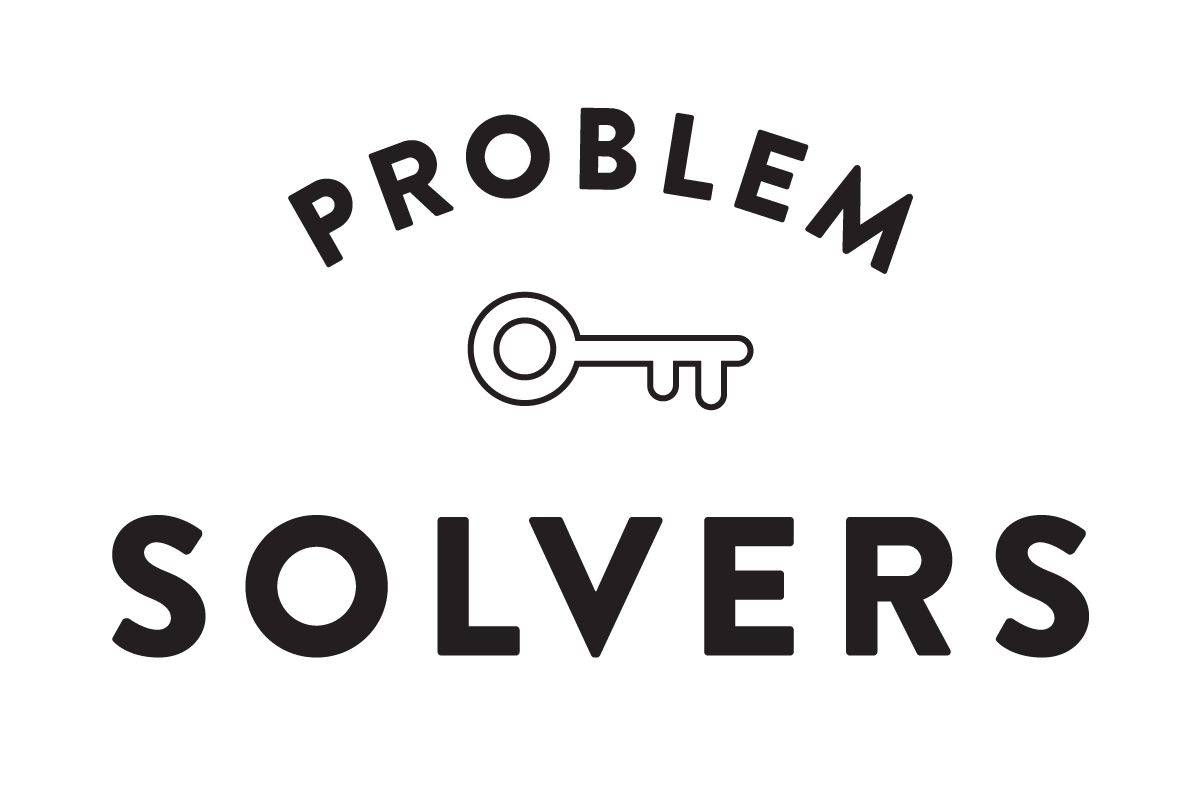 In baking, the tools of the trade can sometimes make all the difference. We've asked bakers and employee-owners across King Arthur to point us toward their favorite baking tools, and in Problem Solvers, Rossi is sharing the nifty utensils and equipment they can't live without. 
* * *
You've prepped and rolled a beautifully buttery pie crust. You've mixed up the most flavorful filling you can dream of. You've trimmed and crimped and vented your crust, and added an egg wash for a golden brown sheen. 
After a long bake in the oven, you finally pull out your finished pie … and the edges are burned?!
Has this happened to you? It used to happen to me all the time, especially with fruit pies — in order to get the filling hot enough to boil, the pie usually needed to spend a lot of time in the oven. And the ideal duration for a fruit filling to bake isn't necessarily ideal for the crust as well. As a result, the edges of a pie crust might zoom right past golden brown and straight to burned. 
And while burnt edges will never ruin a pie (homemade pie almost always tastes amazing, no matter what it looks like), they can still be frustrating. To avoid them, King Arthur recipe tester Molly Marzalek-Kelly turns to one of our most handy kitchen tools: this adjustable silicone pie crust shield.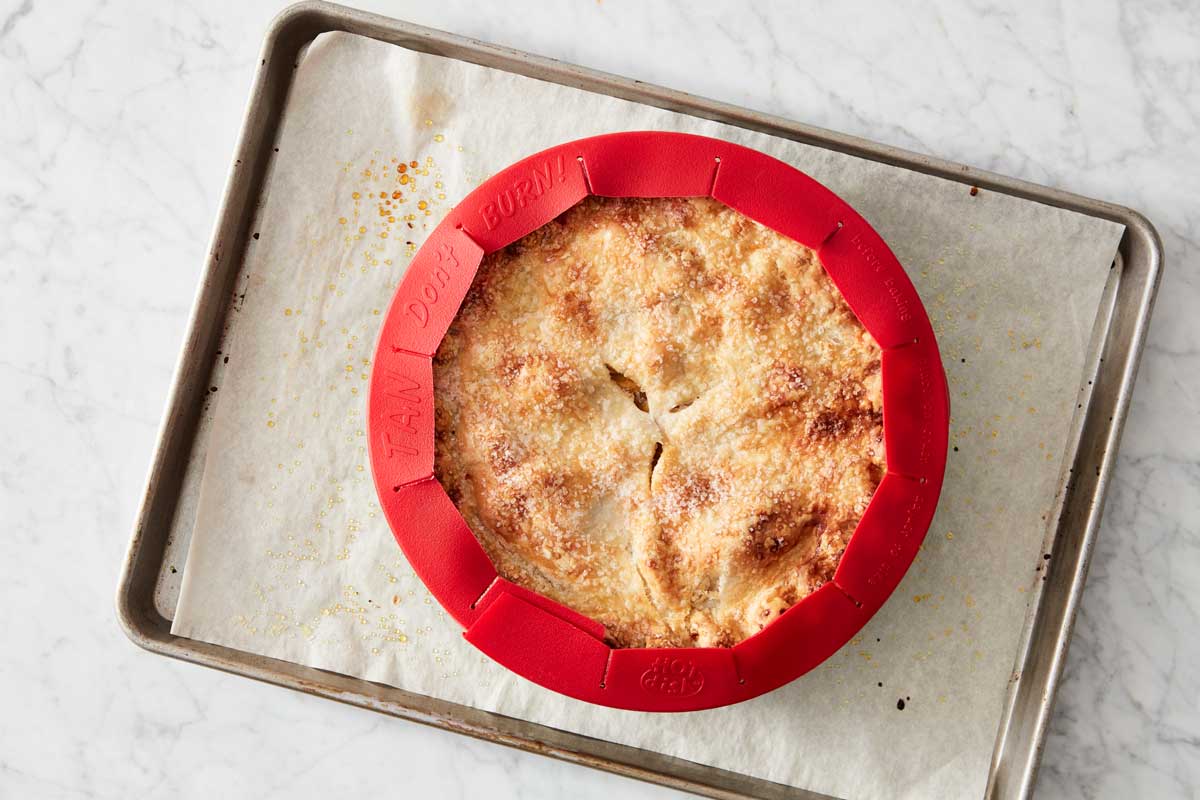 A go-to for perfectly baked pies 
According to Molly, this is one of her favorite tools. "It's the perfect go-to when your fruit pie (seemingly) refuses to bubble and you need to protect your delicate crust. I love that it's adjustable and so much easier than making a DIY version with aluminum foil," she shares. "My family favors cream pies over fruit pies, but I think this shield is a great kitchen tool no matter what type of pie you're making."
You might be familiar with pie crust shields, but they're not all created equal. I can still remember the one I baked with growing up: it was a rigid metal disk that got so bent out of shape, only half of it actually laid against the pie plate. As you can imagine, it wasn't very effective. So it's worth finding a good shield to guard the crust you worked so hard for.
Even if you're a casual pie maker, you'll benefit from stocking your kitchen with a real-deal, born-and-bred-for-this, genuinely effective pie shield.
So what makes this one such a friend in the kitchen? Here are some key reasons (with a few product reviews from customers as well). 
1) It's adjustable 
One of the best things about this pie shield is that it's adjustable. This brilliant characteristic means that instead of being a solid ring like that wonky one I had when I was a kid, this pie shield can be adjusted to fit any pie pan between 8" and 10".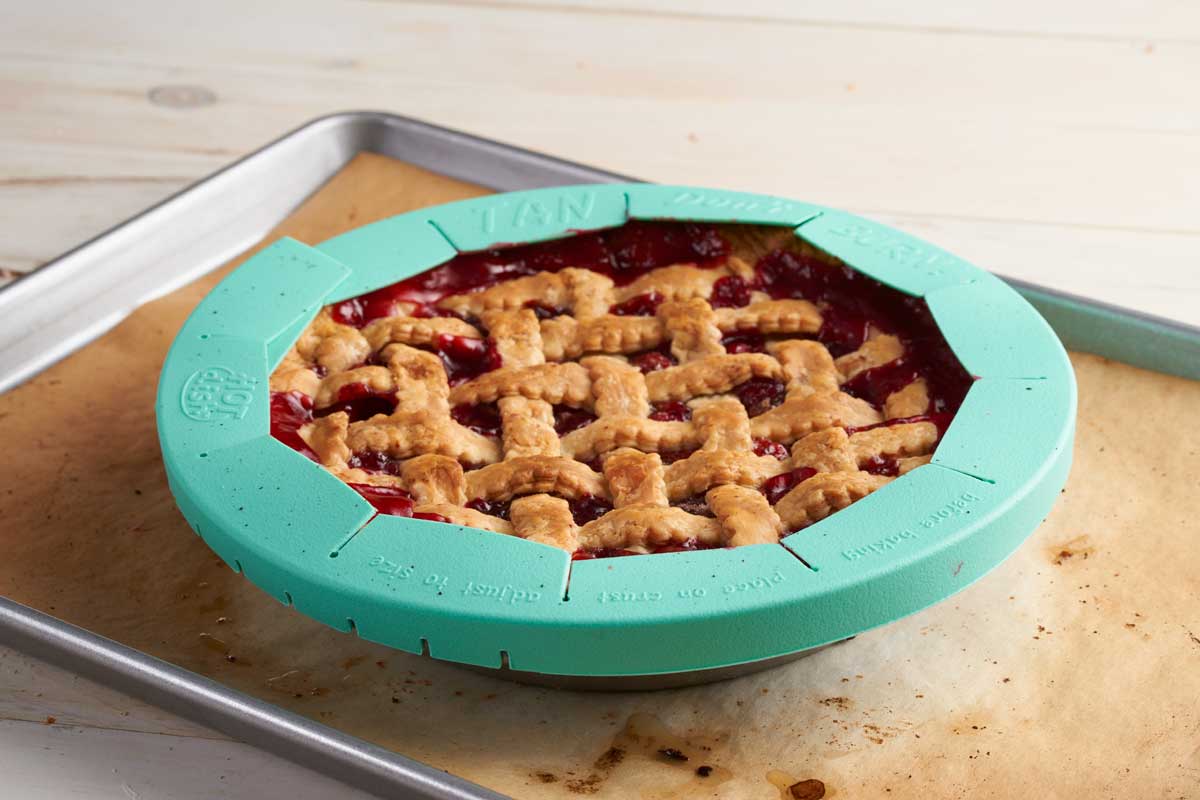 One pie pan I frequently use in my kitchen is 9.5", which is a pretty random size. Even if I could find a pie shield that fit it, I would have to use a whole different shield for all of my 9" pie plates. Instead, I'm able to go with this one-size-fits-all option and call it a day.
"The fact that these shields are adjustable as well as easy to clean only adds to my satisfaction with this product. Well done! I'd recently ordered shields for each of my two daughters. Share the wealth, right?" — Marjorie from Delaware 
2) It's flexible
Another fantastic feature of this shield is that it's made from flexible silicone (oven-safe, of course!). As a result, it actually snuggles up close to your pie crust, which is particularly helpful if you're baking a pie with an elevated crimped crust.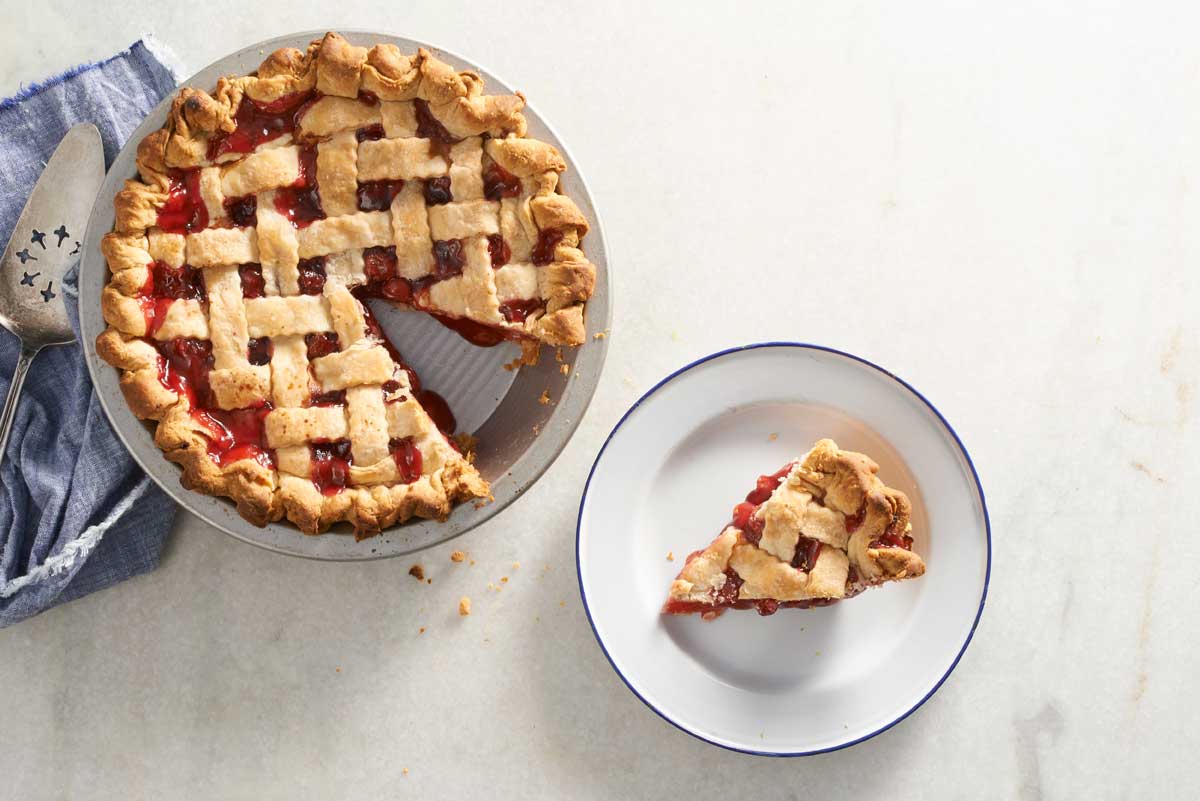 If your pie shield is rigid, it can't really hug the creases and bumps a crust forms when crimped, leaving some parts of the dough exposed to the high heat of the oven and liable to burn. Even aluminum foil, a standard DIY pie shield option, can be somewhat inflexible, which is why this silicone version is much more preferable. 
"I love these pie crust shields! What a clever invention. I have to make gluten-free pies and the crusts would always get too brown. So I would try to wrap tinfoil around the crusts when they were browning (hot!) and it wouldn't really fit and was hard to get on. These shields you put on in the beginning and leave them there the whole time." — Kathryn from Vermont 
3) It's easy to clean 
One of the ways to tell if the filling of a fruit pie is fully cooked is that it bubbles through the vents in the crust. Great news if you want a completely set filling! Bad news if that bubbly filling finds its way onto your pie shield, where it can leave a sticky syrup residue that clings for dear life.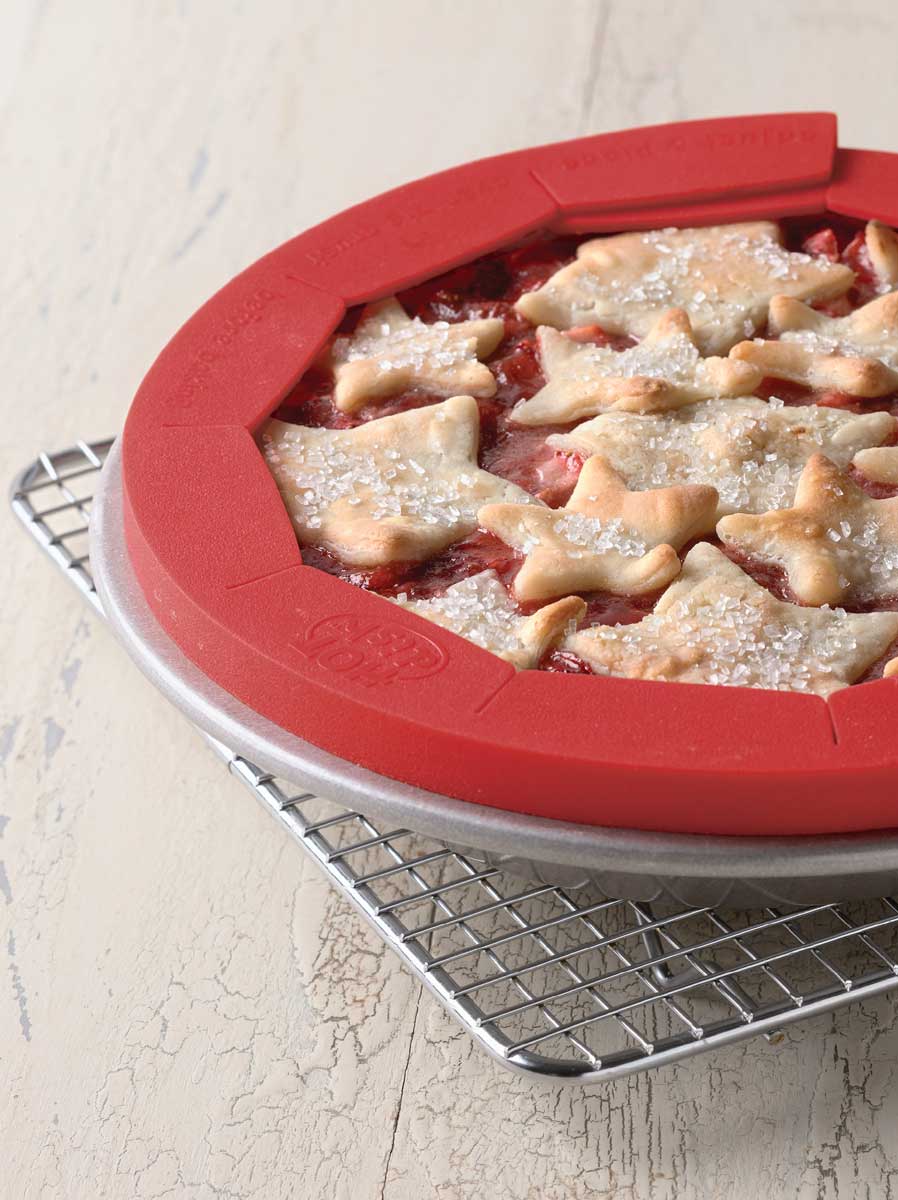 Thankfully, this shield is a dream to clean because it's made from silicone; the non-stick material means any fruit filling washes right off. And if you can't even be bothered to rinse it in the sink, the shield is also dishwasher-safe. 
"I was afraid it might smoosh down the design, but it doesn't at all. It is easy to lay down, rests lightly, and can be adjusted and locked into place or left loosely draped. It lifts off easily when the pie is done, and because it is silicone, the shield rinses clean, even after a sticky fruit pie bake! LOVE this! No more overly browned crust!" — Buzz from Texas
4) It's effective  
Maybe this isn't as nifty as an adjustable size or flexible material, but it is important: this shield actually works. I've baked a lot of pies (probably numbering in the hundreds), sometimes with pie shields and sometimes without, and nothing I've used has completely and evenly prevented my crust from browning too much like this tool. 
Not to mention it's so much more convenient than trying to create a makeshift one out of aluminum foil (which in my experience pretty much always falls off).
"I loved this silicone pie crust shield. The crust was cooked exactly the same as the rest of the pie when it was ready to come out. Usually, without the shield the crust was overdone by the time the rest was ready." — Nelani from Utah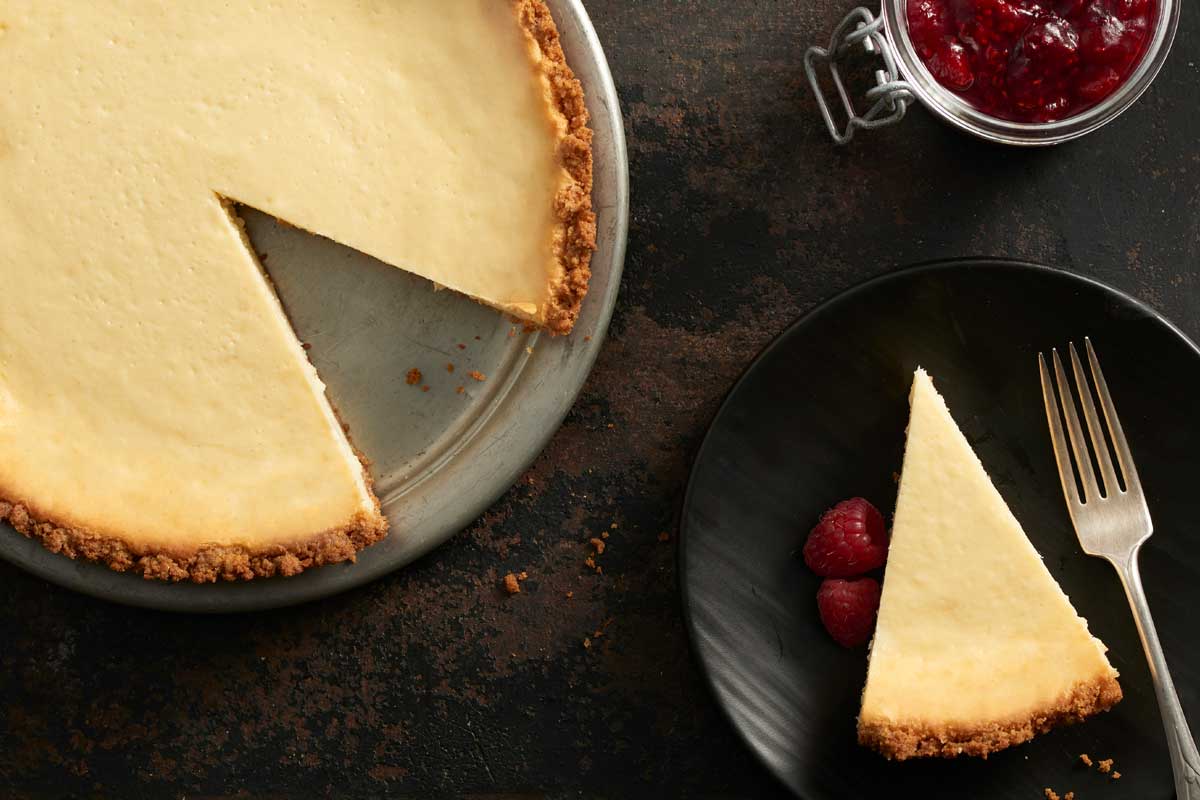 Golden brown crust — everywhere
Whether you're baking the bounty of summer berries or crafting a cozy chocolate creation in the winter, it's pretty much always time for pie. What it's never time for is burnt crust.
So do yourself a favor and pick up this pie shield for your coming pie adventures — burnt edges begone!
Want to take your pie-making game to the next level, or maybe brush up on a few pie fundamentals? Explore our comprehensive Pie Baking Guide, which includes sections covering Crust, Bake, Inspiration, and more. 
Cover photo by Mark Weinberg. 
Jump to Comments