Definition of a baking thrill: Making a loaf of bread that tastes like a great slice of pizza, looks like it was shaped and baked by an expert — and is simplicity itself to execute, no matter your skill level.
We're talking Pane Bianco, our first Bakealong challenge. Filled with fresh basil, tomatoes, garlic, and shredded cheese, this bread has wonderfully soft texture and is packed with flavor. The unique shape is simple to achieve, and makes an impressive presentation.
While the recipe calls for oil-packed sun-dried tomatoes, August is the perfect month to substitute your own home-roasted tomatoes. Pair those tomatoes with basil from your garden, and you'll never enjoy a fresher-tasting stuffed bread.
Let's make it! Read all the way through this blog post before you start; we offer some handy test-kitchen tips at the end.
And remember, take #bakealong photos from start to finish; you'll get some great process shots for Instagram — as well as beauty shots of the final product, of course.
Mix the following together in a bowl:
3 cups King Arthur Unbleached Bread Flour*
2 teaspoons instant yeast
1 1/4 teaspoons salt
1 large egg
1/2 cup lukewarm milk
1/3 cup lukewarm water
3 tablespoons olive oil
*See our tips at the end of this post for substituting all-purpose flour for bread flour.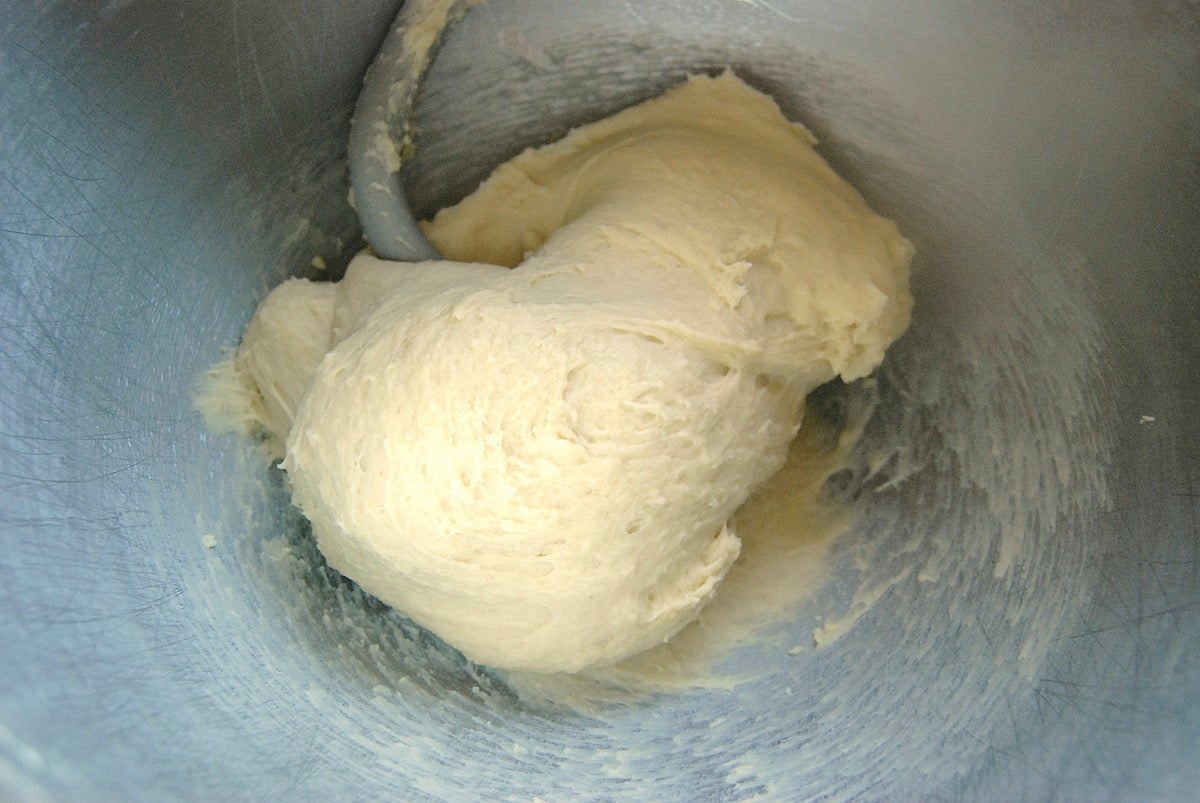 Knead the dough until it's fairly smooth and elastic — by hand, using a mixer, or in your bread machine set on the dough cycle. As you can see, the dough will be quite soft.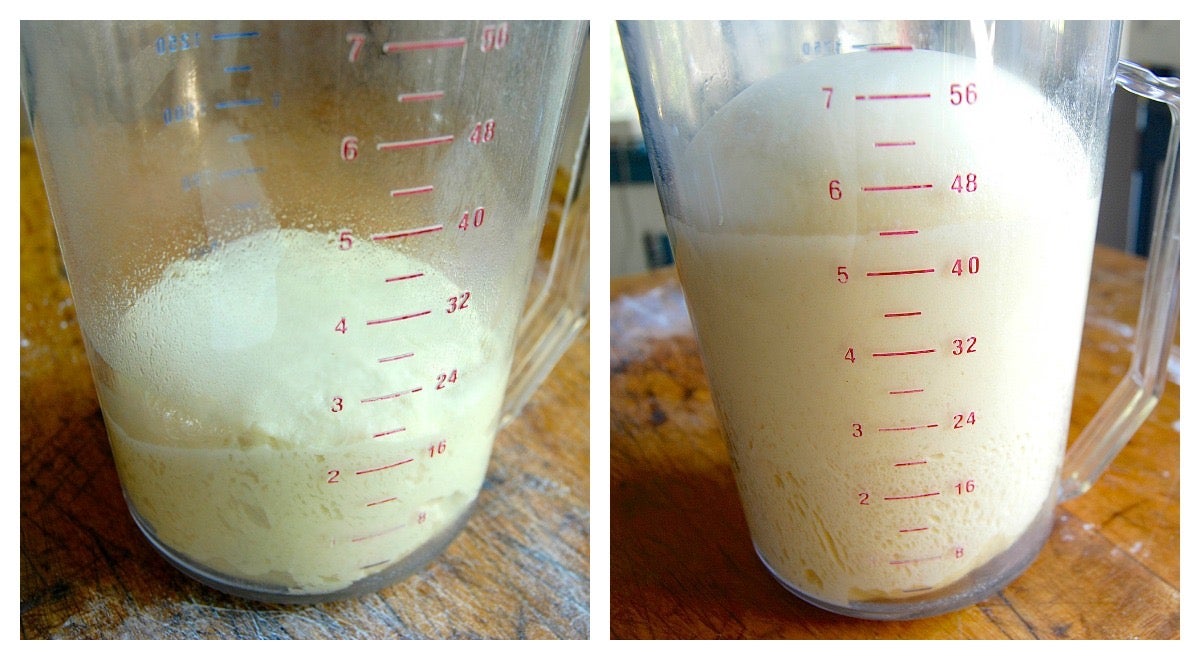 Lightly grease a bowl or other large container. Put the dough into the container, cover it, and let it rise for about an hour, or until it's quite puffy; it should just about double in size. I like to use an8-cup measure to see when it's doubled, but any large-ish bowl will do.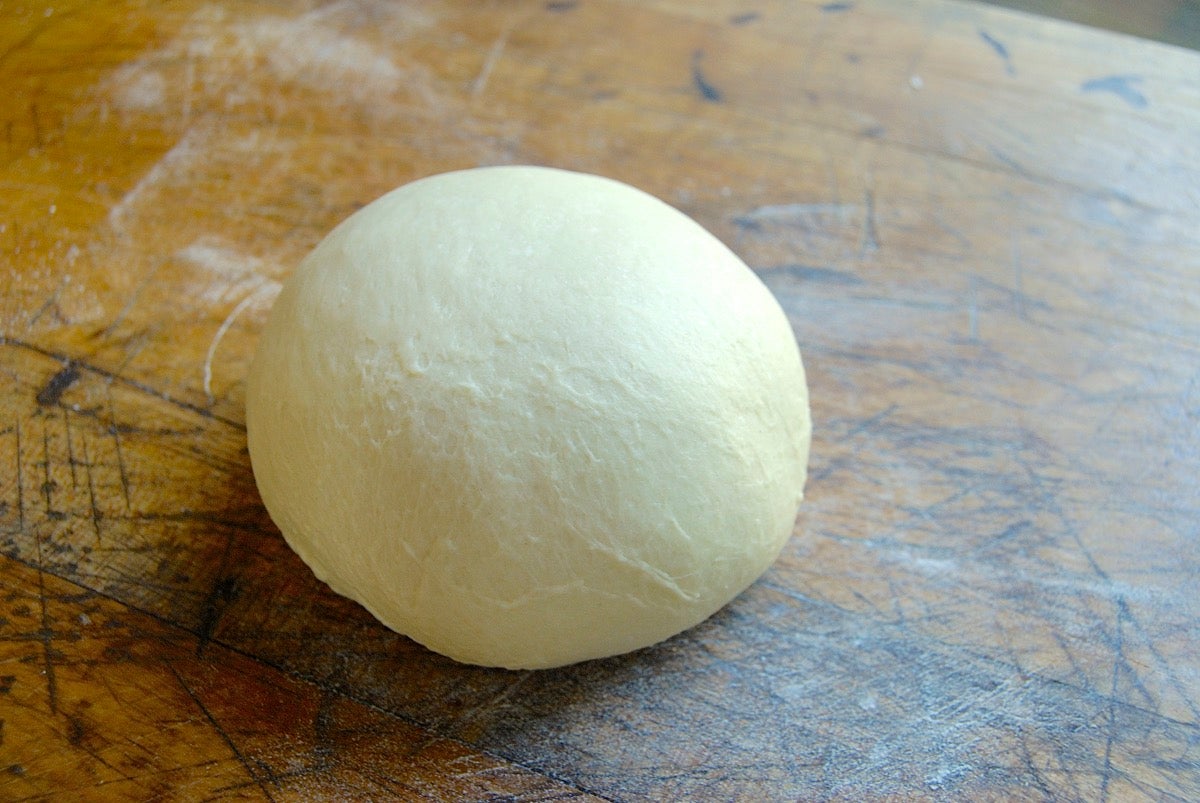 Gently deflate the dough and round it into a workable ball. Let it rest for 10 minutes or so (no need to cover it). This short rest will relax the dough's gluten, making it easier to roll/pat out.
While the dough is resting, gather your filling ingredients:
3/4 cup shredded Italian-blend cheese or the cheese of your choice
1/2 cup oil-packed sun-dried tomatoes, drained and diced into 1/2" pieces; or your own oven-roasted tomatoes, diced
3 to 6 cloves garlic, peeled and minced
1/3 cup chopped fresh basil, green or purple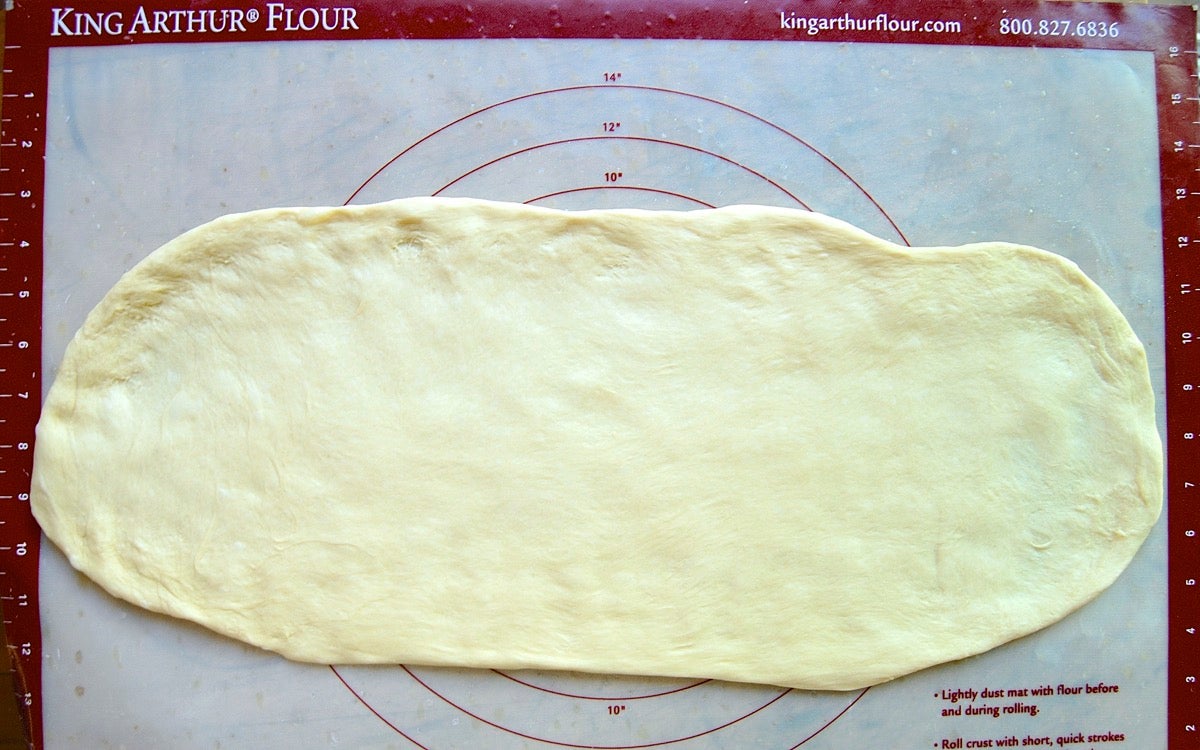 Roll and pat the dough into a large rectangle, about 22" x 8 1/2". A rolling mat with marked measurements is a big help here.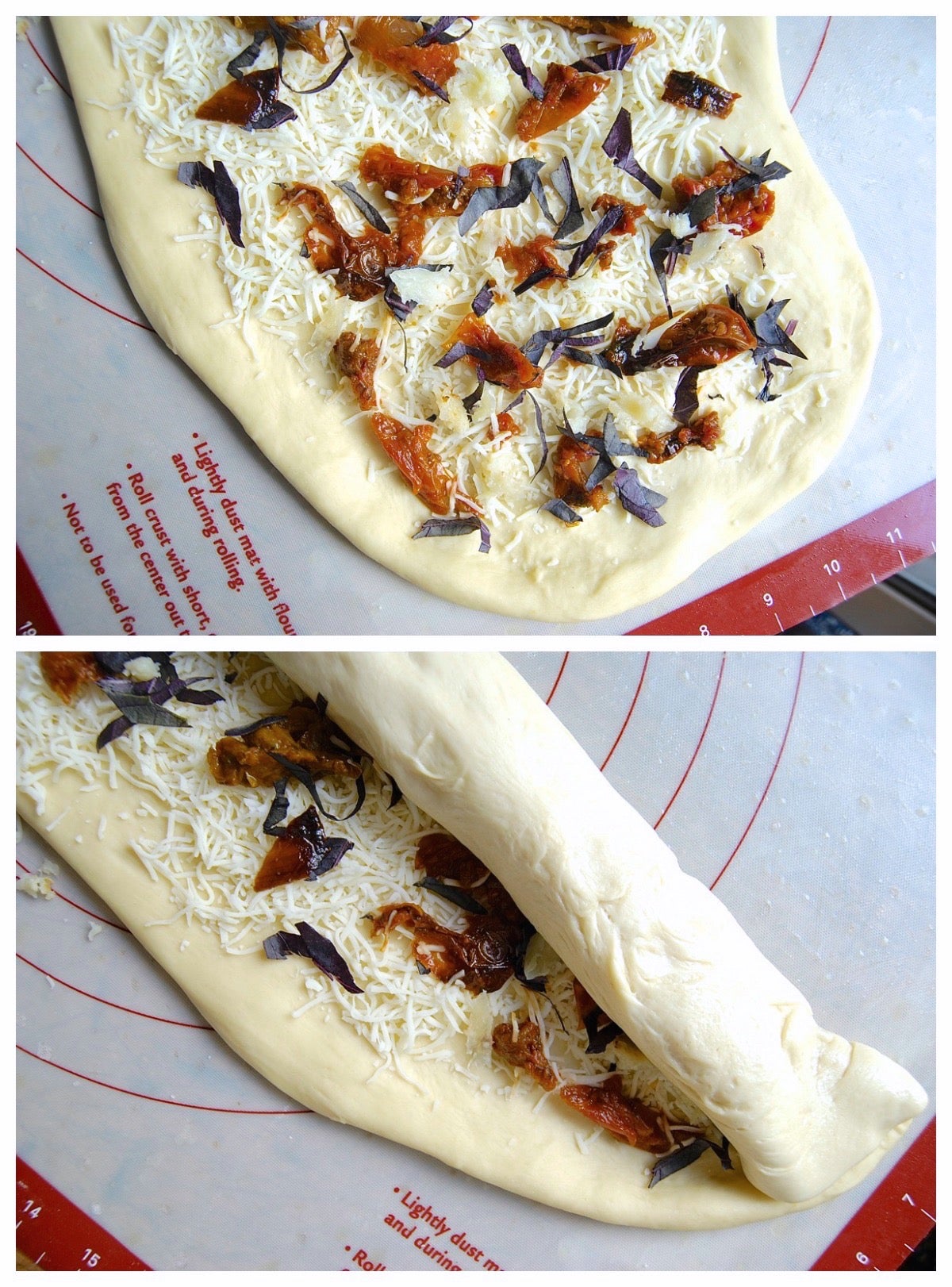 Spread the dough with the cheese, tomatoes, garlic, and basil; I'm using purple basil here. Note the tomatoes, too; if you use your own tomatoes, make sure they've been roasted thoroughly enough that they won't exude any additional juice as the bread bakes.
Notice the quantity of filling seems rather spare. No, it's not because I'm a culinary ascetic, but because too much stuffing can lead to a misshapen, messy looking loaf.
Starting with one long edge, roll the dough into a log the long way.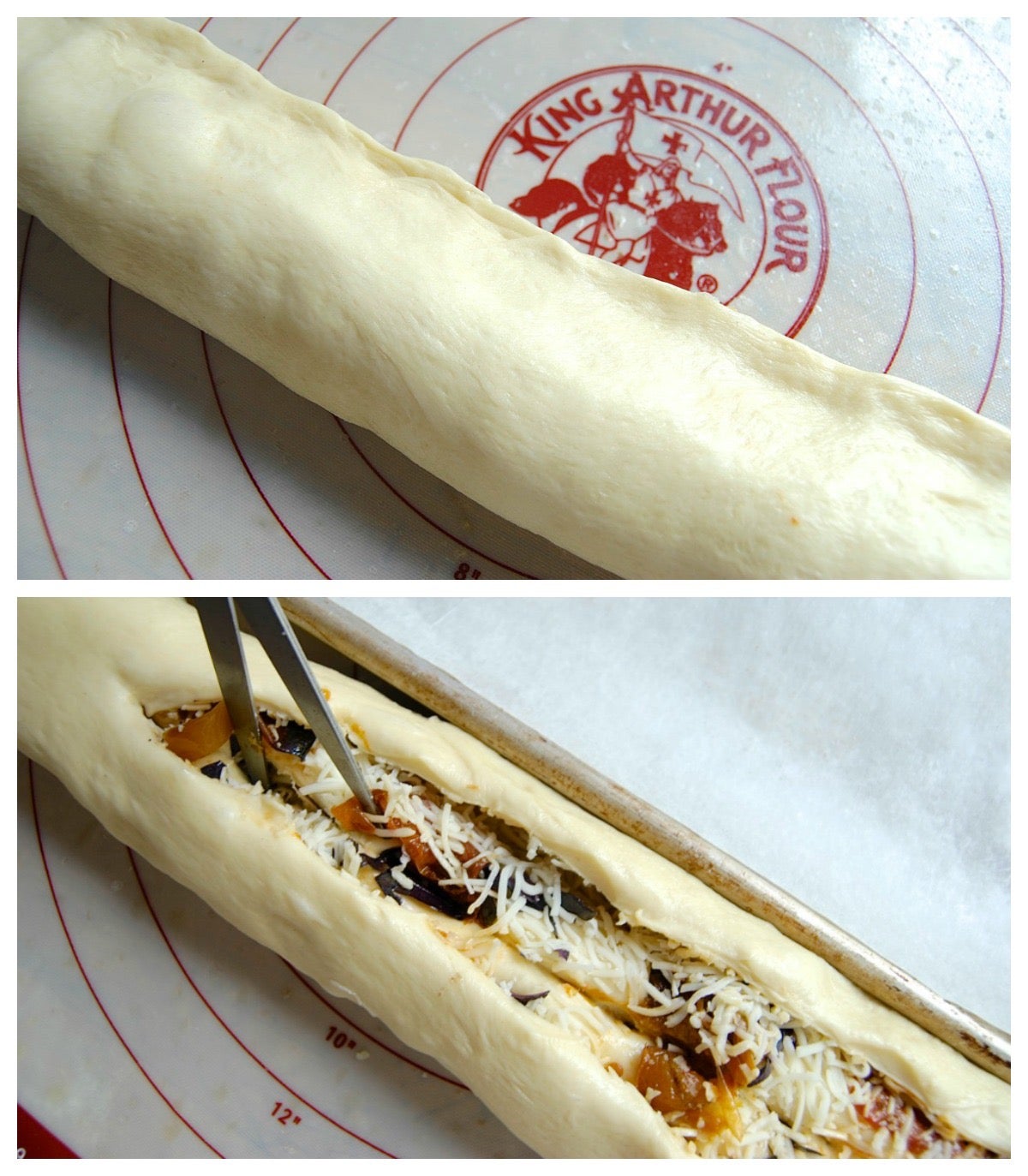 Pinch the edges to seal. Place the log seam-side down on a lightly greased or parchment-lined baking sheet.
Using kitchen shears, start 1/2" from one end and cut the log lengthwise down the center about 1" deep, to within 1/2" of the other end.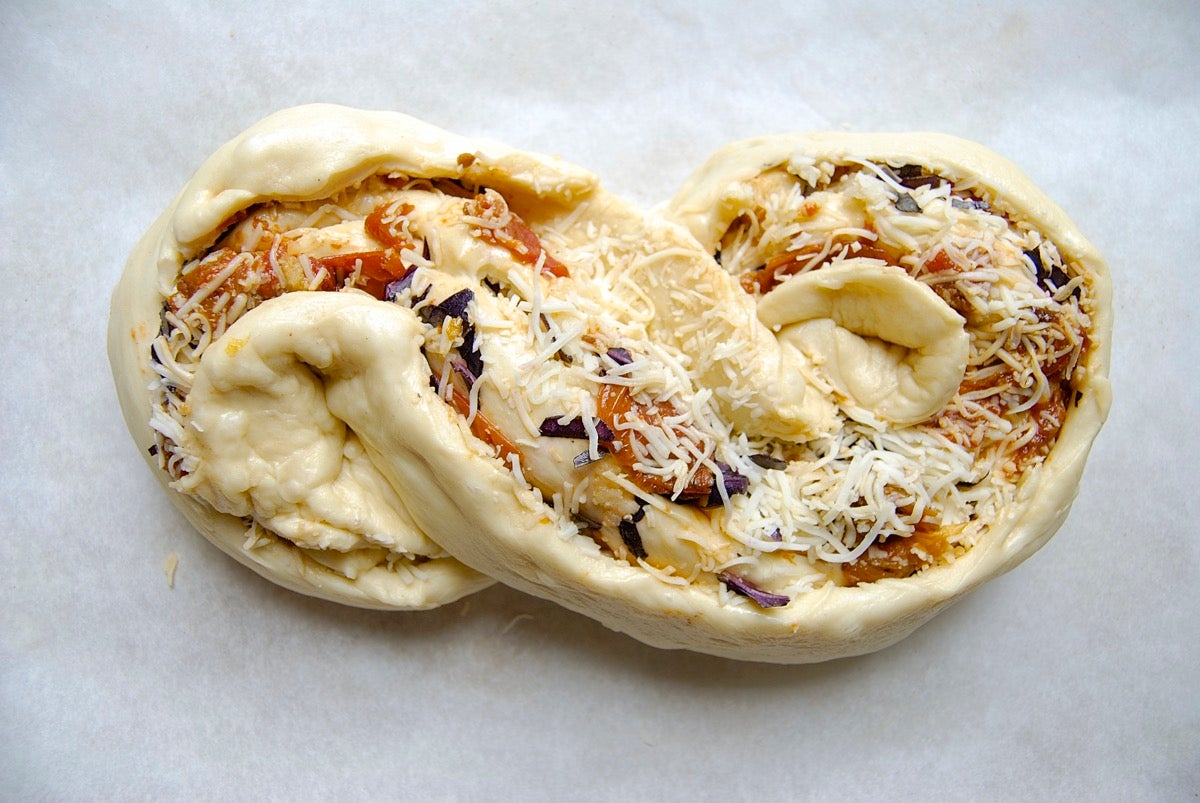 Keeping the cut side up, form an "S" shape. Tuck both ends under the center of the S to form a figure-8; pinch the ends together gently to seal.
Cover and let rise in a warm place until doubled in size, 45 to 60 minutes.
While the loaf is rising, preheat the oven to 350°F.
Uncover the bread, and bake it for 35 to 40 minutes, tenting it with foil after 25 to 30 minutes to prevent over-browning. When it's done, remove the bread from the oven and transfer it to a rack to cool.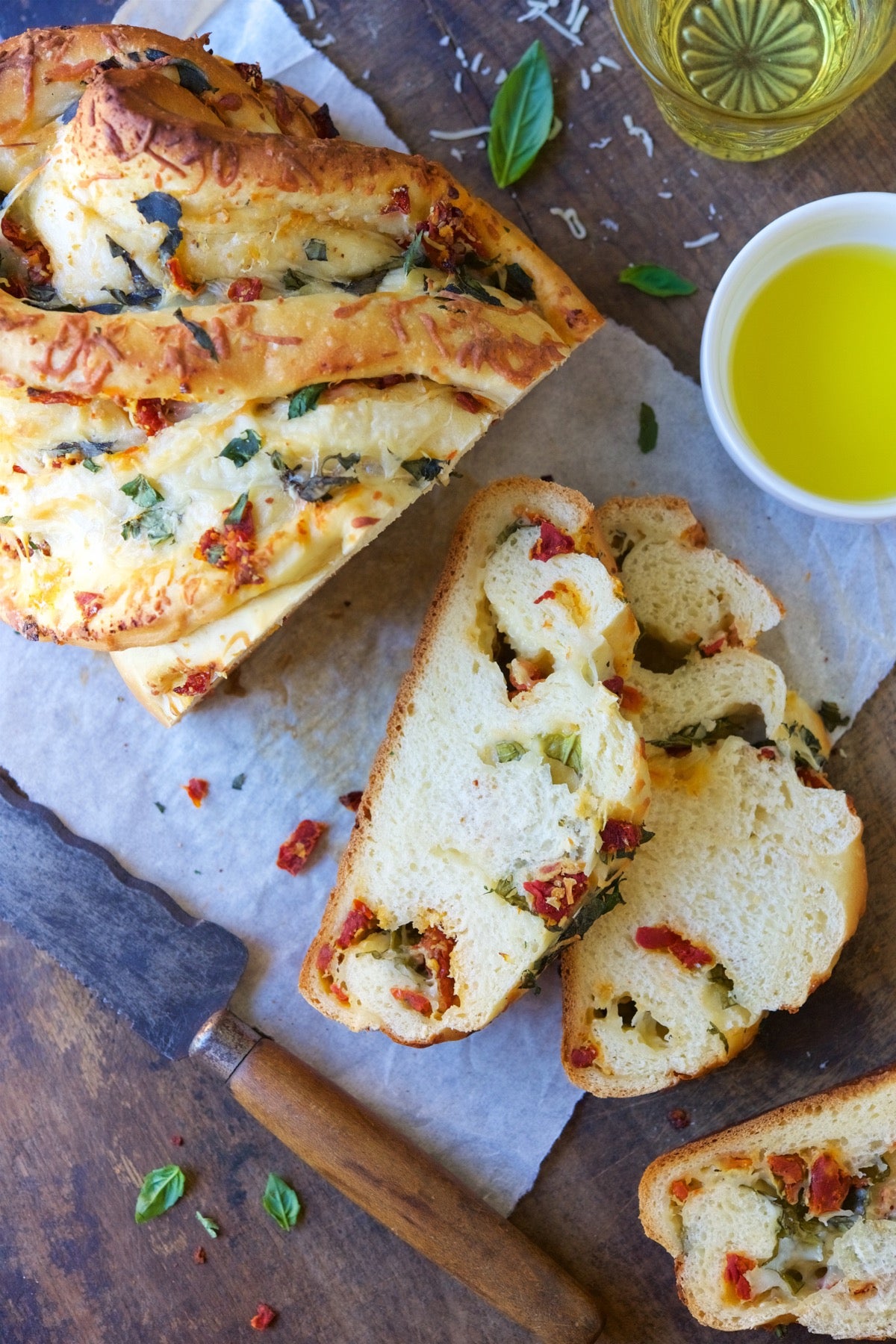 Enjoy warm or at room temperature.
So, our first Bakealong challenge looks entirely do-able, right? Trust me, it is. I've made this bread several times in the last few weeks, sometimes adding other ingredients — diced black olives, or artichoke tapenade. Just make sure you don't add TOO much filling. Speaking of:
Pane Bianco Bakealong tips
Don't want to use bread flour? The bread may not hold its shape quite as well, but feel free to substitute all-purpose flour 1:1 for the bread flour in the recipe. Reduce the water to 1/4 cup.
Don't be tempted to go heavy on the fillings; over-stuffing this bread will create a messy-looking loaf.
Be careful not to let the bread rise too long; over-risen bread will lose its shape.
Some of the filling will be exposed as the bread bakes, which means it may char. When shaping the loaf, tuck any larger pieces of tomato or basil down into the dough. And keep your eye on it. When the loaf is a light golden brown, tent it with aluminum foil to protect the filling from burning.
Are you baking gluten-free? Try our Gluten-Free Focaccia, following the tip for adding filling.
Interested in more? See our complete collection of Bakealong recipes.
Jump to Comments