At King Arthur, we've always known that flour drives flavor. That's why we encourage you to experiment with alternative flours, bake with ancient grains, and even mill your own flour.  Fresh-milling flour can be a fussy process, but once mastered, it unlocks new possibilities and a greater connection to local farmers, unique varieties, and regional flavors. We invited Martin Philip, the King Arthur Flour Bakery's head baker, to kick off a series of posts on how to mill your own flour.
Depending on your point of view, the world of baking is either scant or chock-full of miracles. My take on this is obvious: I am a baker – I've tied my apron and handled hot loaves for over a decade – and among the many moments when one might pause to acknowledge a miracle, perhaps the biggest magic act of all is flour itself.
Consider this: farmers plant winter wheat in the fall just in time for seeds to sprout and send up a small green shoot before fields chill and freeze. And then it sits, silent through cold days until sun and rain return, followed by heat and cloudless skies. At harvest, wheat will break a tooth if bitten and then is made even less edible once ground to grist. But, add water and witness a transformation. The dusty flour softens, silkening, yielding, stretching, and rising, ready to become a crackling baguette, brioche, or biscuits. Is that not miraculous?
And yet, while we touch flour each day we've somehow become distanced from the special chain of events that fall between planting and eating.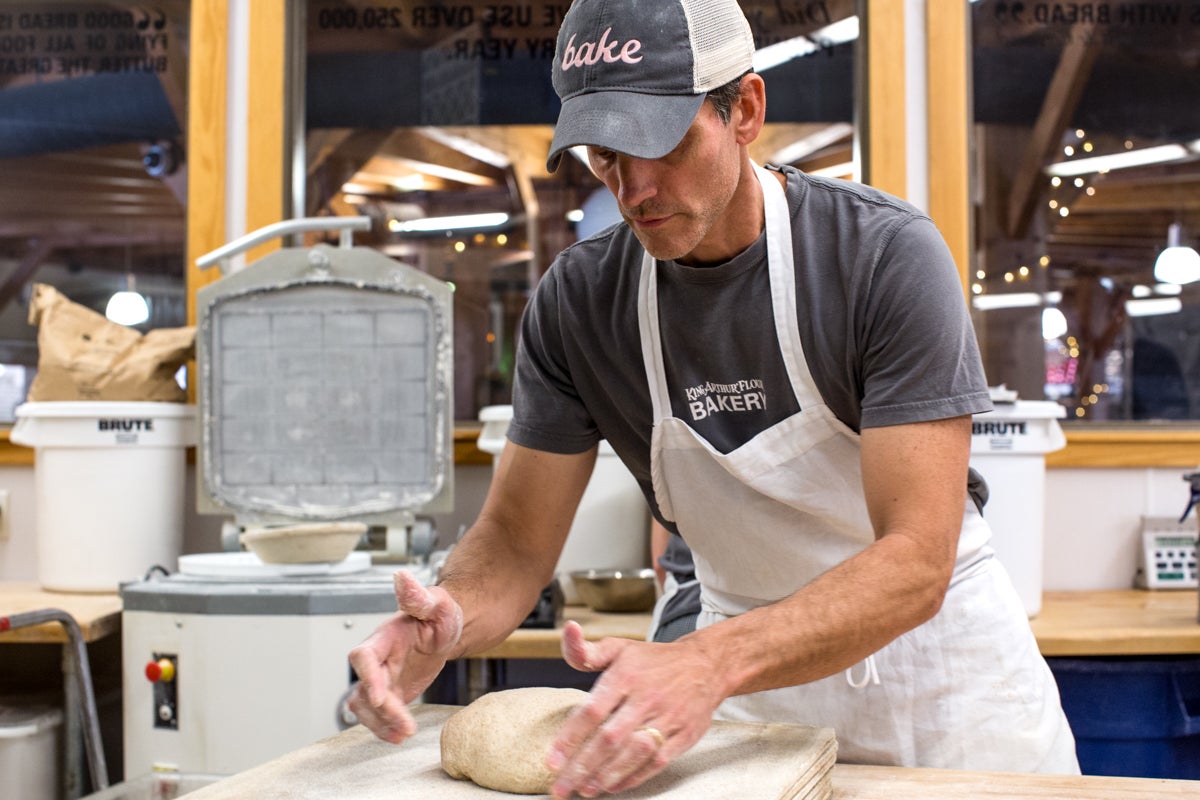 It wasn't always like this. While the water mills are gone and the fields have grown over, cellar holes remain across our hilly state of Vermont as a reminder and testament to a time when bakers, farmers, and millers were more closely connected – neighbors, even. I want this connection back.
I want to see the path of food from field to table. I want to know farmers and millers by name. I'm even willing to travel backward in order to proceed to a more connected place with my food and, ultimately, my community.
And, good news, change is on the way. Two years ago, the King Arthur Flour Bakery purchased a stone mill from Austria in order to mill grain that we could source directly from farmers. Next time you're in Vermont, swing by our bakery for a taste of our fresh-milled loaves. In the meantime, you can always mill your own flour.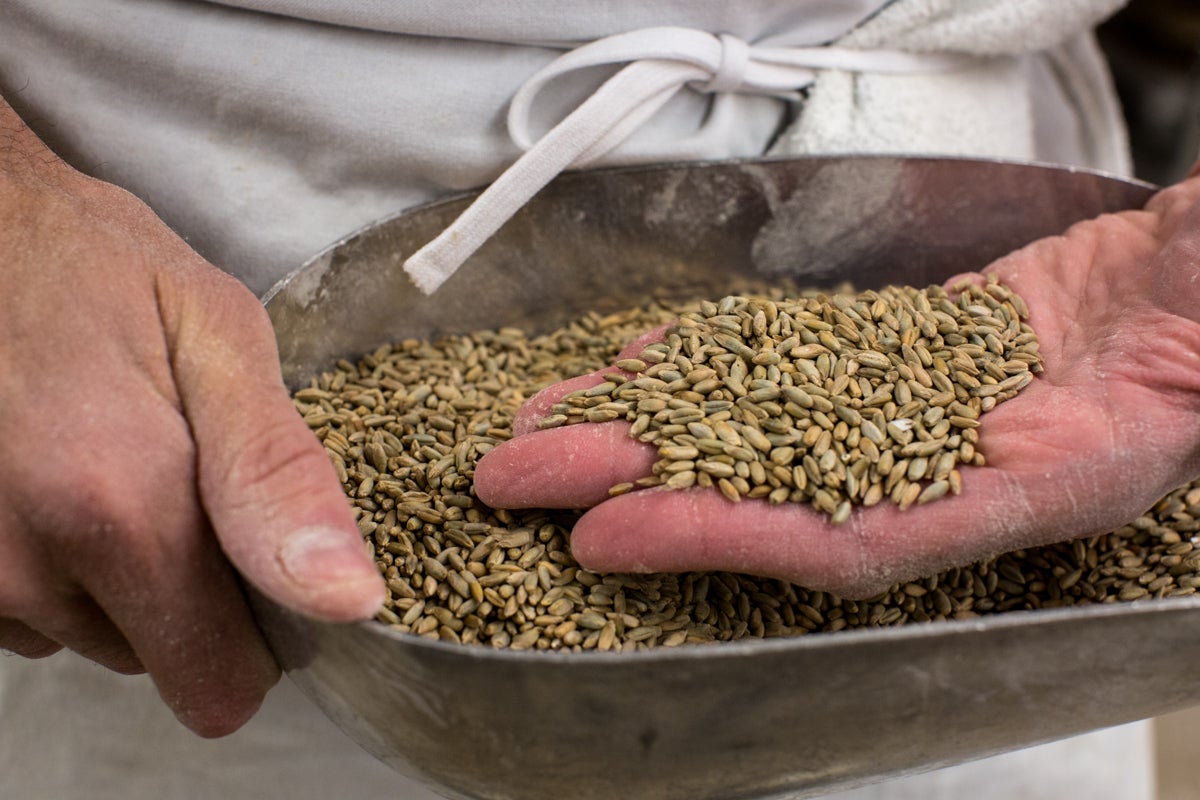 Fresh-Milled Miche
To walk through the process, we'll make a fresh-milled miche.
Grinding your own grain takes patience, experimentation and, of course, a mill. For this article, I'll use the bakery's stone mill, but you don't need one the size of a washing machine to get good results. King Arthur sells a tabletop mill that's well reviewed by our customers, and you can find lots of other brands online.
In the bakery, we make a few breads with 100% fresh-milled flour, but we also make several breads with a blend of fresh and commercially milled flour. All-purpose flour is highly reliable. That consistency makes it a solid bread-making dance partner with good structural integrity that lightens this fresh-milled loaf.
As you come to know your mill and grow as a baker, you will likely be interested in making bread with 100% fresh-milled flour. But for now, let's begin here. I promise, even with a portion of all-purpose flour, you will enjoy these delicious loaves.
This recipe for a fresh-milled miche is adapted from my book, Breaking Bread, due on shelves in October of 2017, published by HarperCollins.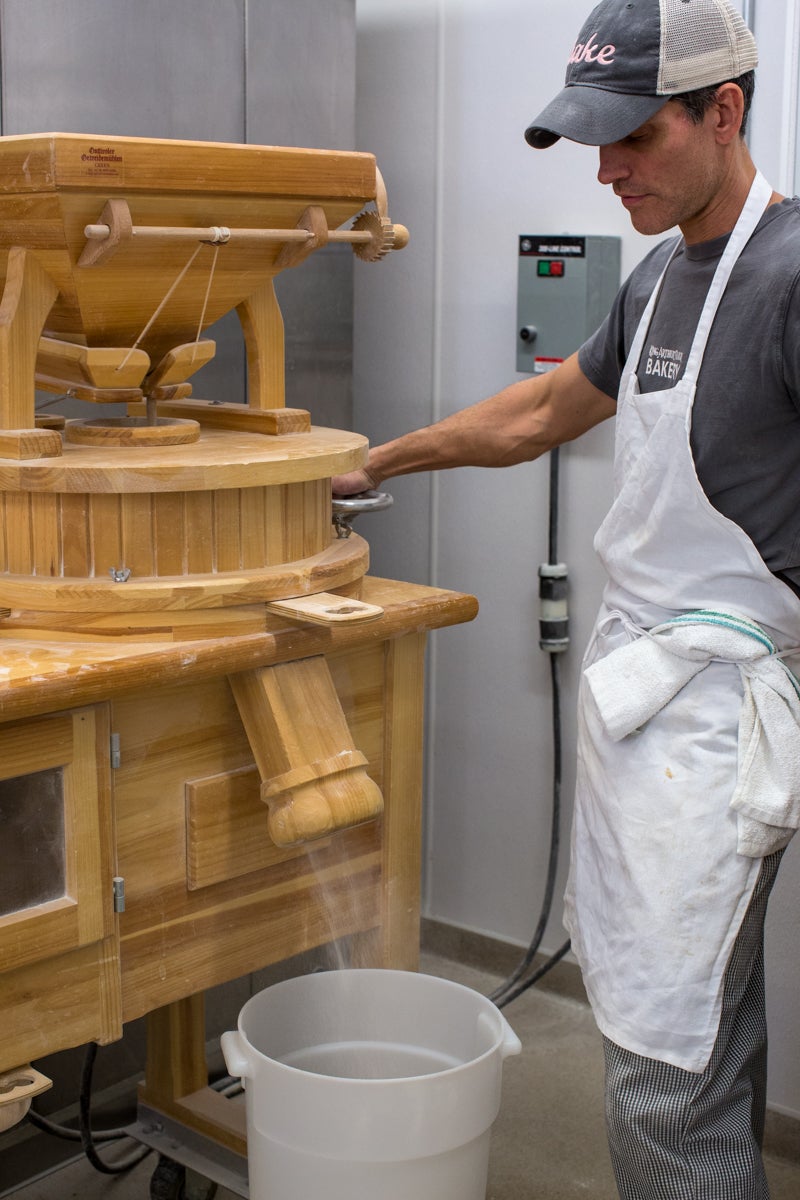 Day 1: Building a stiff levain
Start by milling the grain for the stiff levain, according to the mill manufacturer's directions, making the finest flour possible. Then gather the following ingredients:
113g (1/2 cup) water
35g (heaping 2 tablespoons ) sourdough culture, ripe
194g (1 1/2 cups + 2 tablespoons) whole wheat flour, freshly milled*
4g (3/4 teaspoon) salt
*While we strongly suggest you fresh-mill the whole wheat from wheat berries, you can substitute King Arthur Whole Wheat Flour.
In a medium bowl, combine water (75°F to 80°F) and sourdough culture. Mix with your hands and fingers until the culture is broken up and well distributed in the water. Then add the flour and salt.
Mix briefly, then knead until smooth. Cover and set at room temperature for 12 to 16 hours.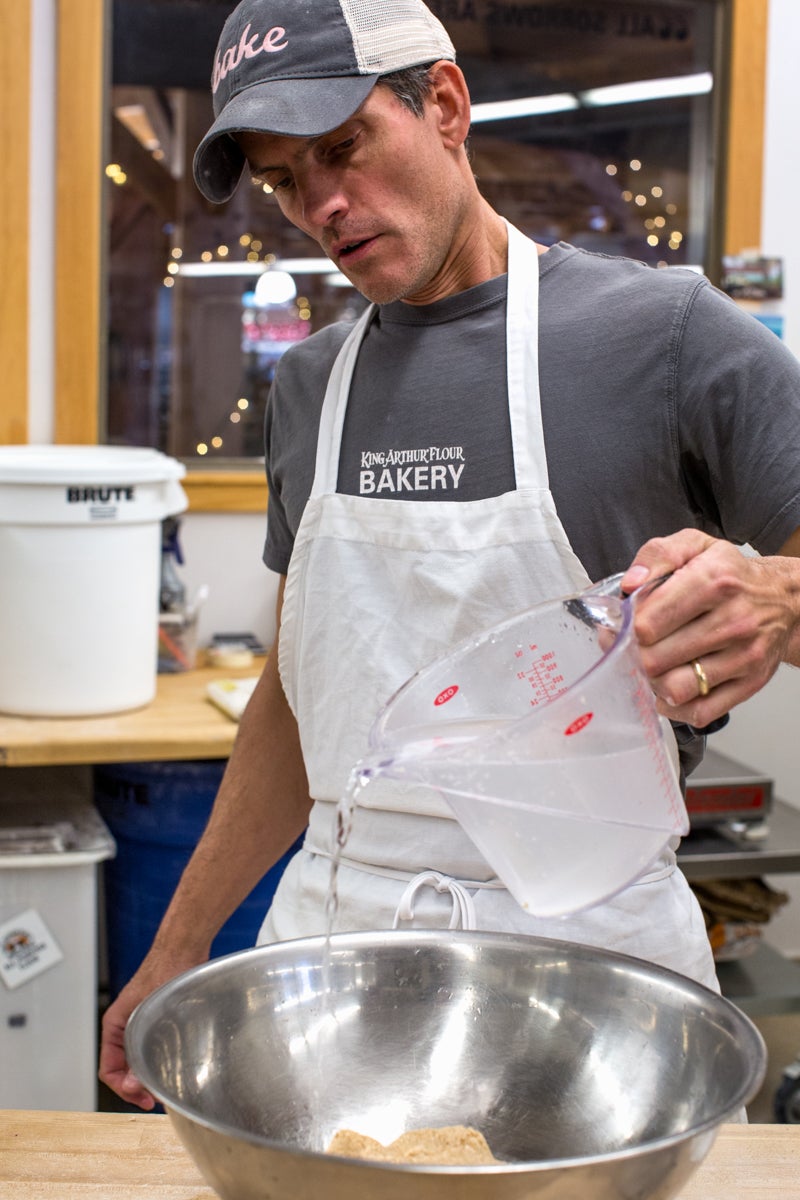 Day 2: Preparing the final dough
Mill the grains for the final dough and gather your other ingredients:
392g (1 3/4 cups) water
259g (2 cups + 2 tablespoons) King Arthur Unbleached All-Purpose Flour
129g (1 cup + 2 tablespoons) whole wheat flour, freshly milled*
64g (1/2 cup + 2 tablespoons) rye, freshly milled*
9g (1 1/2 teaspoons) salt
1g (heaping 1/4 teaspoon) instant yeast
*Again, for the best flavor, fresh mill the whole wheat and rye flours; you can mill rye flour from rye chops, coarsely chopped rye berries. But you can also simply use King Arthur Whole Wheat Flour and whole rye flour (pumpernickel).
In a large mixing bowl, combine the final dough water and stiff levain. Mix with your hands until the levain is broken up in the water, then add the flours, salt, and yeast. Stir with the handle end of a wooden spoon until the dough forms a shaggy mass.
If you find it easier, after stirring some, scrape the dough out of the bowl with a plastic scraper onto your work surface and knead briefly with your hands just until the dough comes together.
Resist the urge to add additional flour. Scrape the dough off the work surface and return to the bowl for bulk fermentation.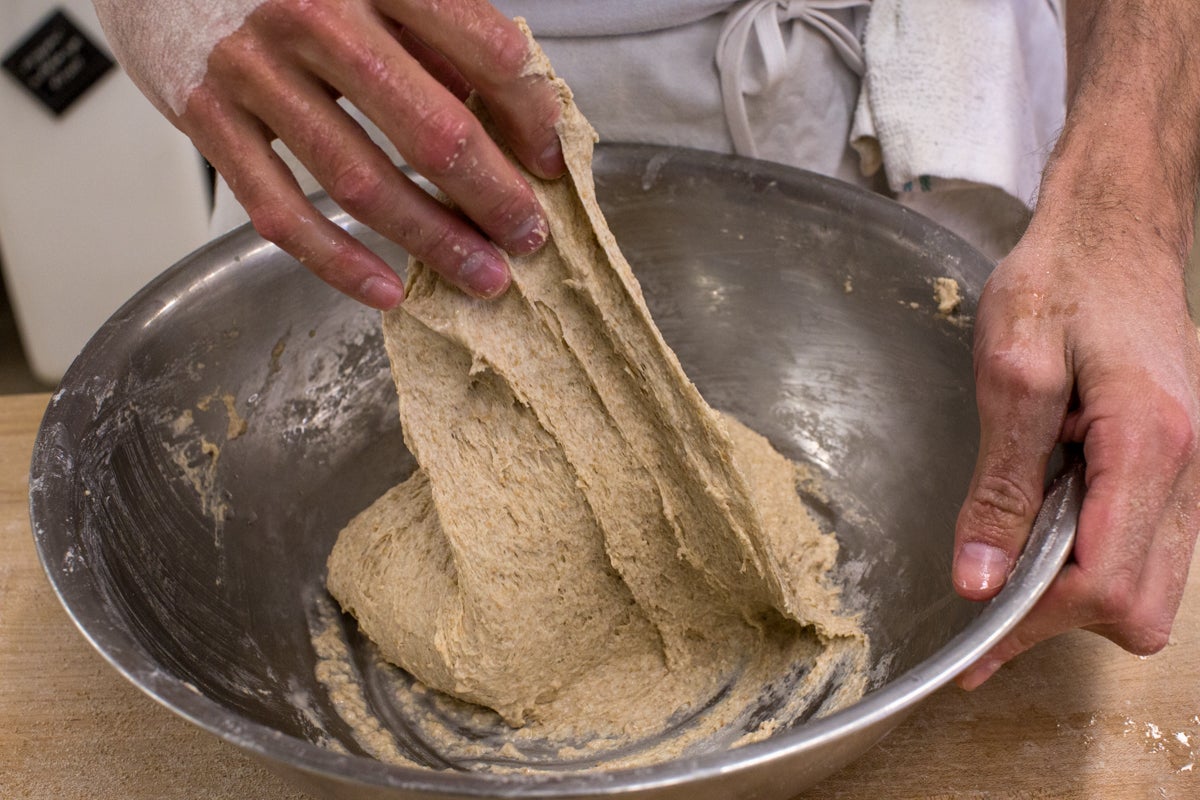 Fermentation, folding, and shaping
Scrape down the sides of the mixing bowl and allow to rise, covered, for 3 hours at room temperature.
While it rises, fold after 15, 30, 45, 60, and 120 minutes, then leave untouched for the last hour. As you perform each series of folds, you'll begin to notice that the dough becomes smoother, stronger, and more cohesive.
Pre-shape as a round loaf. Cover and rest for 15 minutes.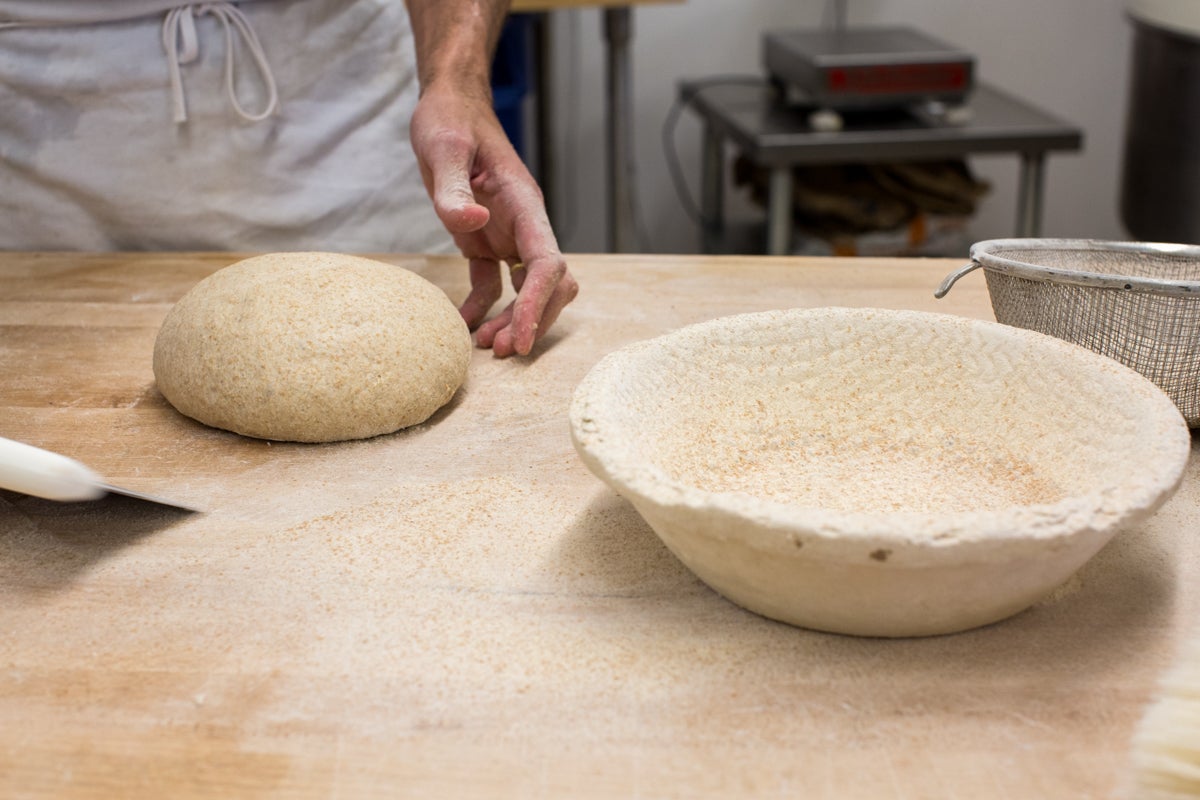 Then, shape as a boule. Place the dough seam-side up in a floured banneton or floured, towel-lined bowl, approximately 10" wide and 4" deep.
Cover and rest for 50 to 60 minutes at room temperature.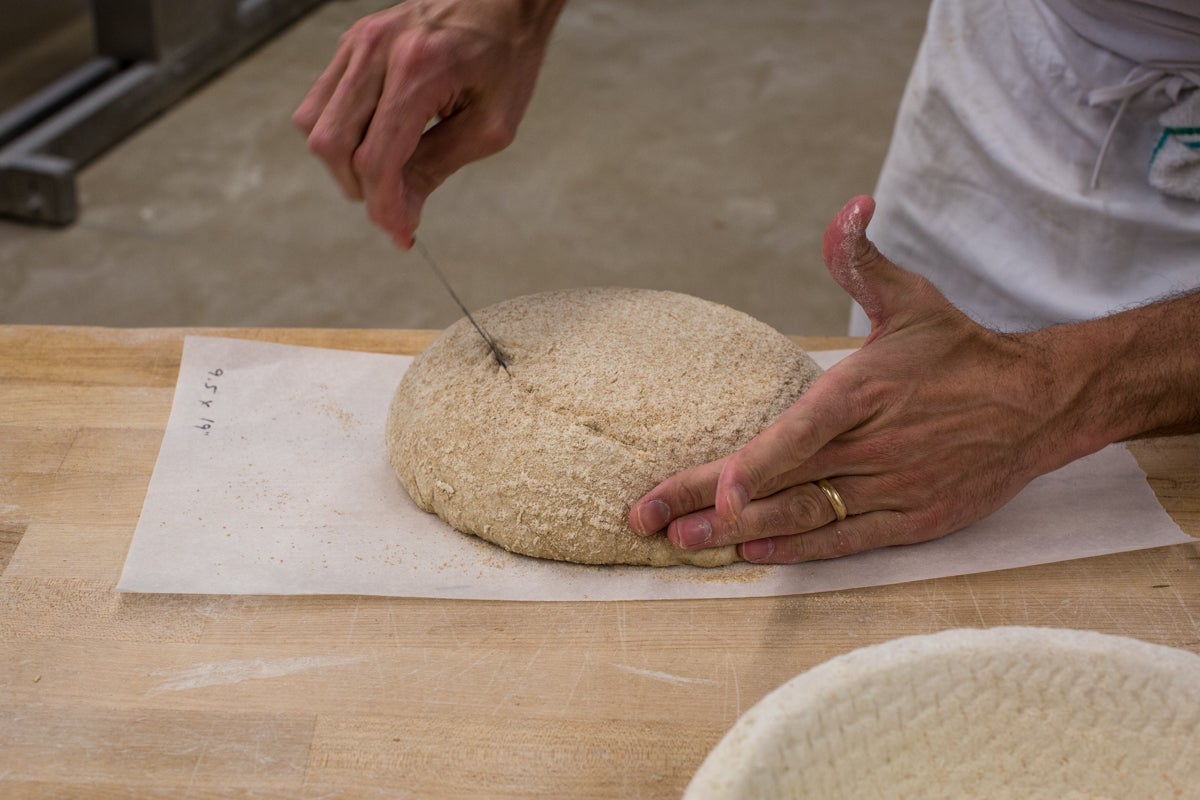 Baking the miche
Toward the end of this final rest, preheat the oven to 450°F with a lidded cast iron pot and lid in the oven. Transfer the loaf to a parchment sling, gently inverting it so that the side that was against the dusted tea towel becomes the top.
Score the bread with a lame and gently transfer to the pot.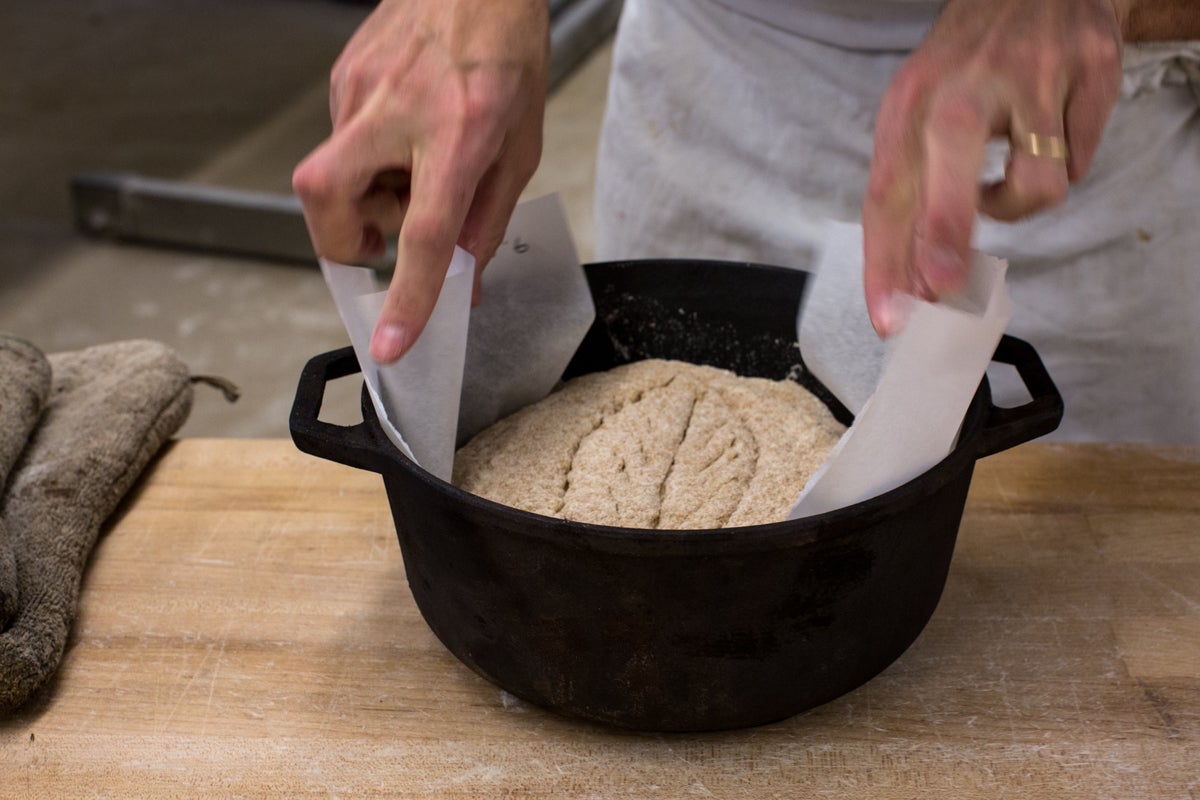 Put the lid on the pot and bake for 40 to 45 minutes. After 30 minutes, carefully remove the lid. At 40 to 45 minutes the loaf should be well-colored.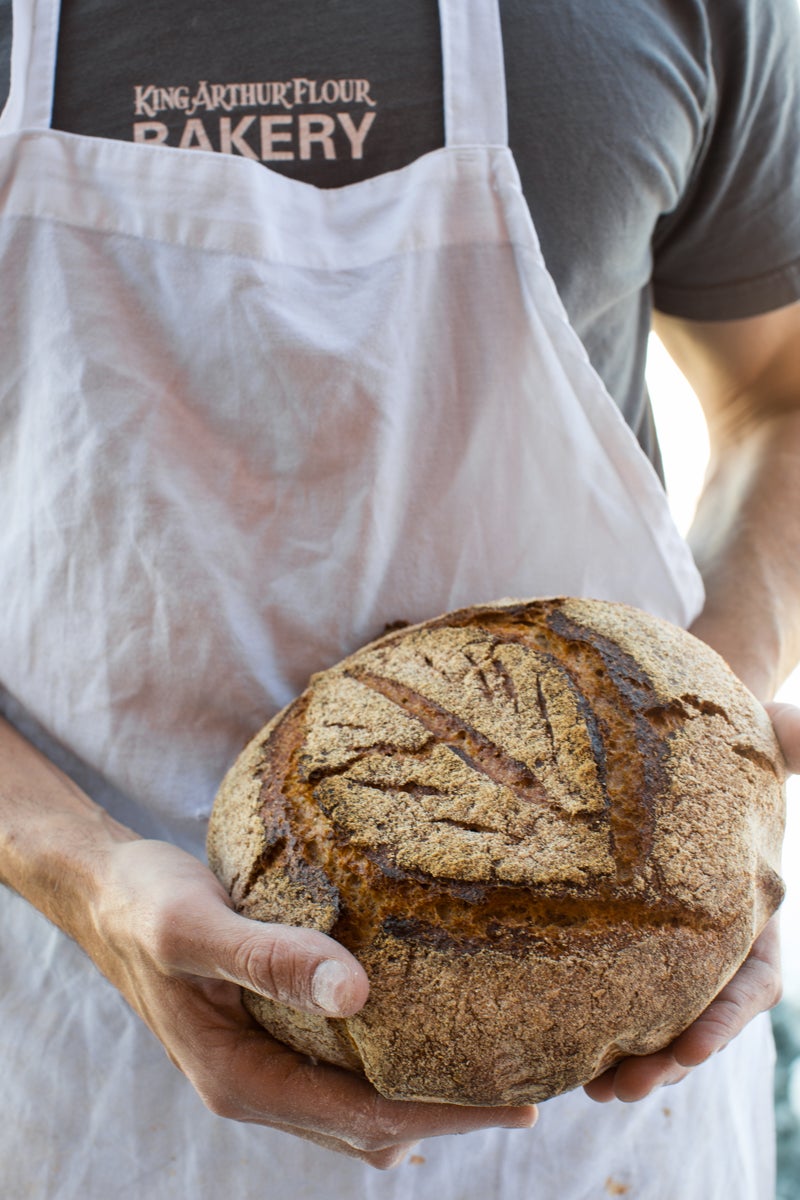 Continuing to mill your own flour
There will undoubtedly be many questions that relate to milling. I have come to what knowledge I have through trial and error, kept on track at many points by the generosity of others, especially Blair Marvin and Andrew Heyn from Elmore Mountain Bread, who are also partnered with New American Stone Mills.
In my work with different mills of various sizes, I have found that each has its own learning curve, just like ovens and other tools. I have milled fine flour with home-scale mills and regularly mill great flour on our commercial-sized Ostiroller.
Be patient, take your time, gather whatever research you can, and proceed, milling the finest possible flour that your mill can produce. I'm happy to take questions in the comments section below.
See the recipe for Fresh-Milled Miche.
Thanks to fellow employee-owner Julia A. Reed for taking the photos for this article.
Jump to Comments