For gluten-free baking, think beyond just flour
Ensuring baked goods really are gluten-free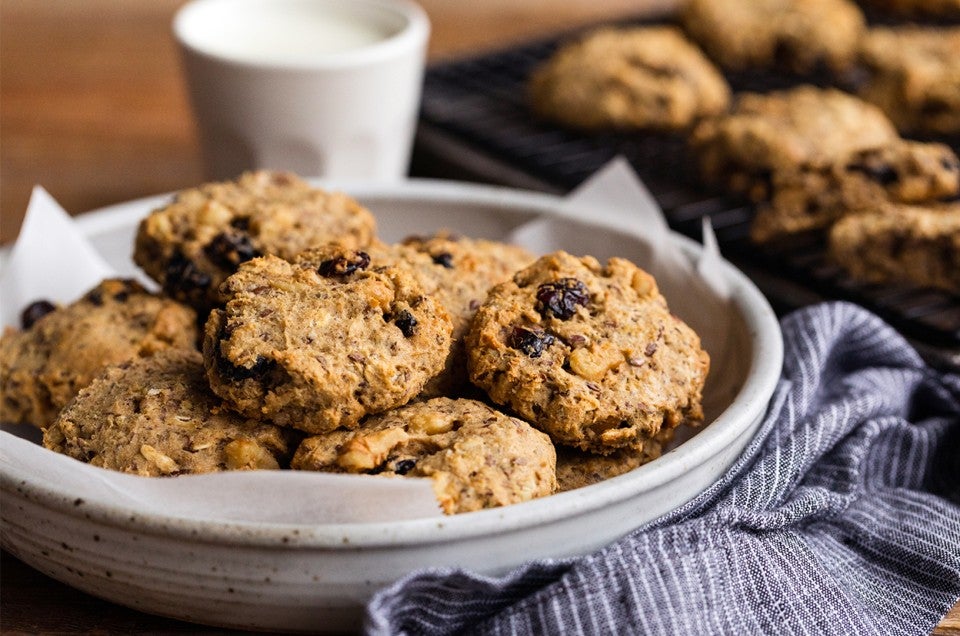 If you're baking gluten-free, swapping out all-purpose flour in favor of a gluten-free flour like our Measure for Measure is a great way to start. But if you're baking on a strict gluten-free diet, you'll need to consider ingredients beyond just your flour. 
Gluten is found in certain grains, mainly wheat, barley, and rye. However, those following a gluten-free diet should pay attention to more than just these grains and keep in mind any ingredients that may contain gluten, which can sometimes be surprising: some brands of vanilla extract contain gluten, for instance.
In particular, the frisky little protein can sometimes sneak its way into your baked goods via ingredients that are naturally gluten-free, but come in contact with gluten due to processing, packaging, transportation, or any other step on its way to your pantry. This exposure to gluten is known as "cross-contact."
Baking gluten-free can be tricky. To ensure your gluten-free baked goods really are gluten-free, you need to pay careful attention to all the ingredients you use throughout a recipe.
Ultimately, choosing gluten-free ingredients can be a complex, tricky process. There aren't necessarily easy answers, but below we offer some basic guidelines and general information to help you make decisions suitable for your personal baking and dietary needs. 
And of course, we always recommend seeking the advice of a doctor or dietitian when a baker is uncertain whether a product or ingredient is right for their needs.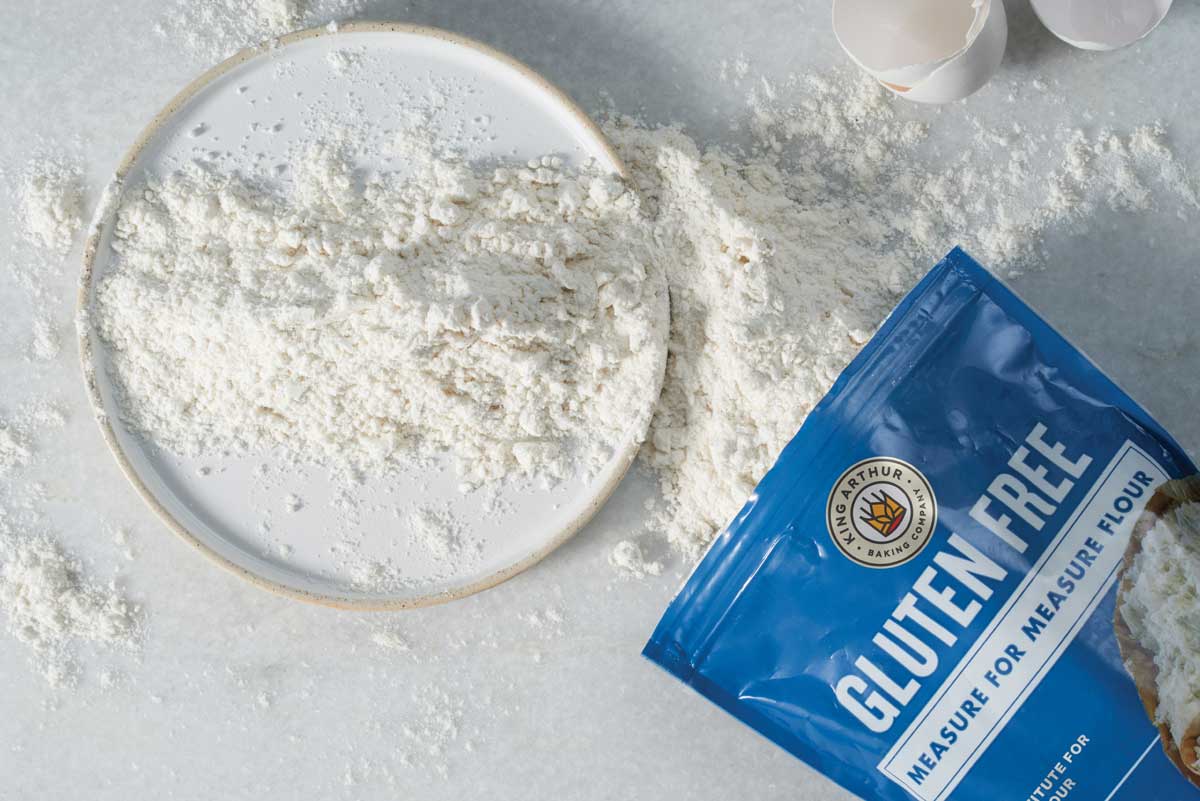 Understanding gluten-free vs. reduced gluten
When it comes to gluten-free baking, there are typically two dietary approaches:
Some people are looking to reduce the amount of gluten in their diet and therefore choose to eat gluten-free baked goods and other foods.  
Other people follow a strict, exclusively gluten-free diet, often due to celiac disease or other health reasons. 
These two dietary approaches can determine how you choose ingredients. For those only reducing gluten, consuming trace amounts of gluten present from cross-contact may be no big deal, and there's likely no need to worry about how an ingredient was processed. 
For those following a strict gluten-free diet, however, even trace amounts of gluten can be a problem, and thus all baking ingredients (and tools, utensils, work surfaces, etc.) need to meet stringent gluten-free standards. 
If you're baking for someone who follows a gluten-free diet but you don't know to what extent, it's best to be as careful as possible and follow strict gluten-free guidelines when choosing ingredients.  
Should you be concerned about shared processing equipment?
The honest answer here is ... maybe. It depends on the ingredient itself, plus your own personal dietary needs. 
If the ingredient is certified gluten-free by a reputable organization (such as the Gluten-Free Certification Organization, the organization that certifies King Arthur products), then you should feel confident using these products as part of your gluten-free diet. 
In non-certified gluten-free products, shared equipment doesn't necessarily mean cross-contact occurs. Prevention practices differ from brand to brand, so the best way to learn about specific ingredients is to contact brands directly. If you have questions about shared equipment in ingredient processing — in either certified or non-certified gluten-free products — consider reaching out to the manufacturer to learn more about their production process in order to decide how their products fit into your gluten-free diet.
(If you'd like to learn more about how we prevent cross-contact at our King Arthur manufacturing facilities, please see full details on our Allergen Program page.)
What does certified gluten-free mean? 
Essentially, certification means products have been tested by an independent third party to ensure they meet strict gluten-free standards. Here at King Arthur, our products are certified by the Gluten-Free Certification Organization, which currently offers the most stringent threshold for testing certification available to us. To meet GFCO's requirements, products must be tested as gluten-free to less than 10ppm. (By using GFCO certification, we exceed the FDA's standard for gluten-free, which is set to less than 20ppm.)
All of our gluten-free certified products will have a "Certified Gluten-Free" badge on the front of packaging to let you know.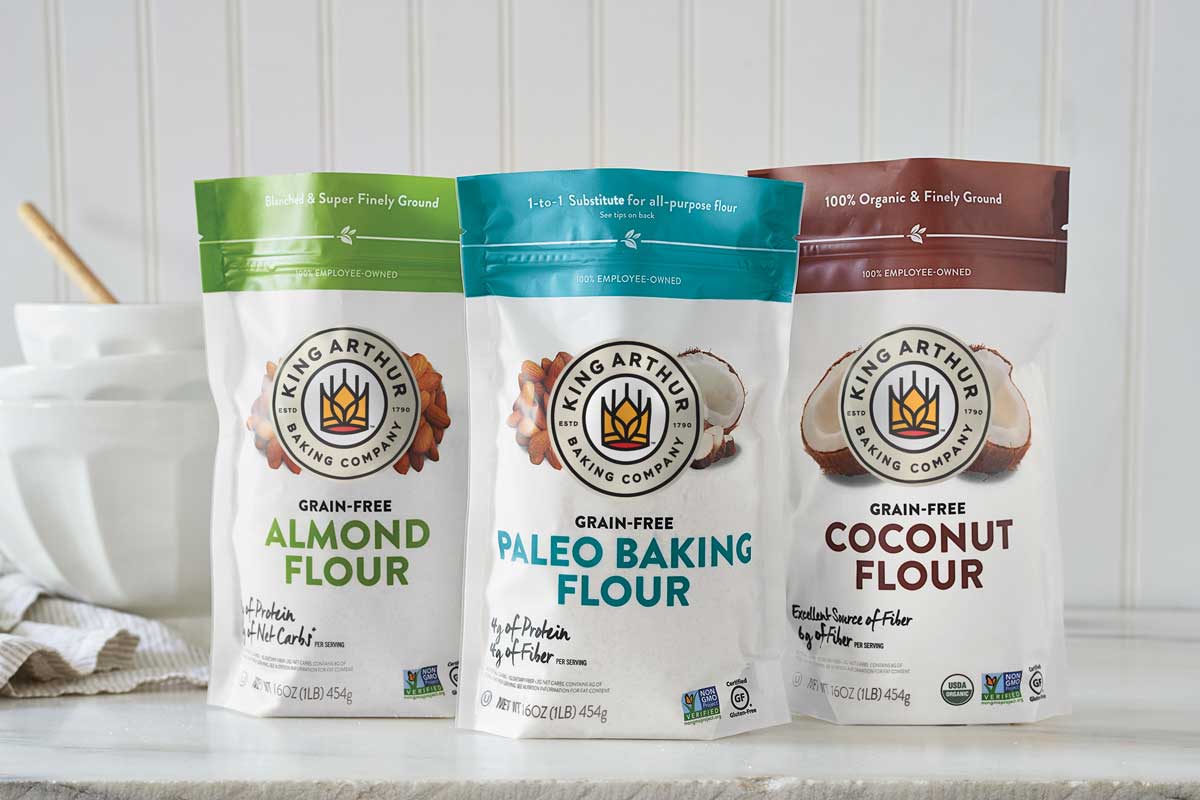 Common ingredients to avoid on a gluten-free diet 
Whether you're reducing gluten or are entirely gluten-free, you'll need to avoid ingredients that naturally contain gluten. Some baking ingredients that contain gluten (and thus are not suitable for a gluten-free diet) include: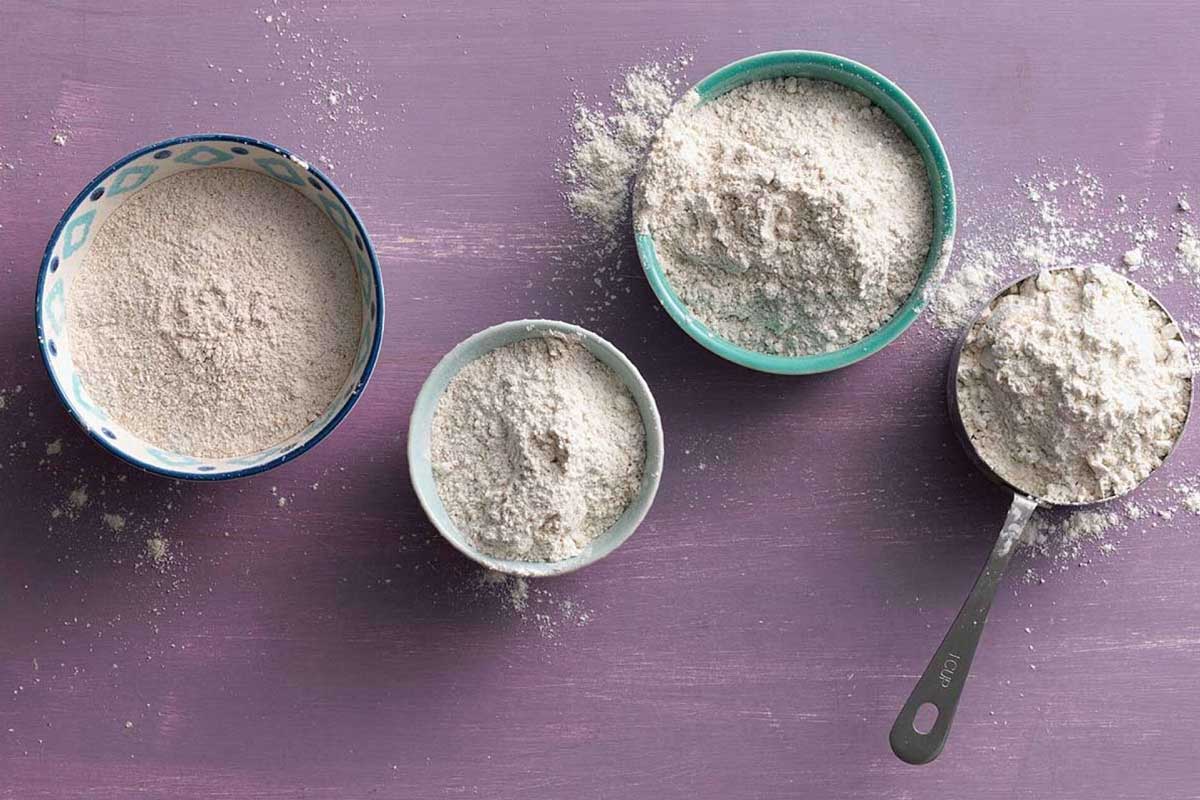 Common ingredients to check on a gluten-free diet 
As mentioned, there are plenty of frequently used baking ingredients that don't naturally contain gluten, but may contain trace amounts due to cross-contact. If you're only reducing the amount of gluten in your diet, you can most likely use these products in your baking without worrying if they might have trace amounts of gluten. 
However, if you or the person you're baking for are on a strict gluten-free diet, you may want to take additional steps to decide how these individual products fit into your diet. Use products that are certified gluten-free if you can, or contact the manufacturer to learn more about the product before using if necessary.
These are just a few examples of ingredients to consider: 
Oats (often grown, harvested, and/or processed alongside wheat)
Naturally gluten-free flours, such as amaranth, buckwheat, corn, rice flours, sorghum, and teff (often grown, harvested, and/or processed alongside wheat)
Sprinkles
Corn products like cornstarch and cornmeal 
Baking powder
Chocolate (such as chocolate chips, cocoa powder, etc.) 
Espresso powder
Extracts and flavorings (such as vanilla extract or almond extract) 
Spices (such as cinnamon)
Milk powders (such as buttermilk powder)
Sugars (such as confectioners' sugar)
Brown rice syrup (sometimes made with barley enzymes, which are not gluten-free)
What about King Arthur products?
At King Arthur, we have a robust allergen program designed to meet or exceed best-in-class food safety practices when preparing our brand name products. To do so, we employ methods designed to prevent unintended contact between wheat (and all U.S. top 8 allergens) and our ingredients, flours, blends, and baking mixes.
Because of the extensive measures we take, our team is confident that unintended cross-contact doesn't occur during production or packaging of ingredients and products. Even so, transparency is extremely important to us, and it's a key principle in our Food Philosophy. As a result, we've clearly outlined allergen information on our Allergen Program page to provide full details to help you make the best decision for your baking. 
If in doubt, leave it out 
If you're following a strict gluten-free diet and aren't sure whether or not an ingredient is completely gluten-free, it's best to simply not use it. That's the only way to make sure you don't inadvertently add gluten to your baked goods, no matter how small the amount may be. 
Ready to bake?
We know, this can all seem daunting. But we're here to help and ensure your gluten-free baking experience is as smooth and simple as possible! 
The easiest way to begin is by baking with our gluten-free mixes. Packed at a certified gluten-free facility, the only thing you'll need to add is milk, eggs, butter, or other everyday kitchen staples; no need to search out specialty gluten-free ingredients. To get started, check out our full array of quality mixes.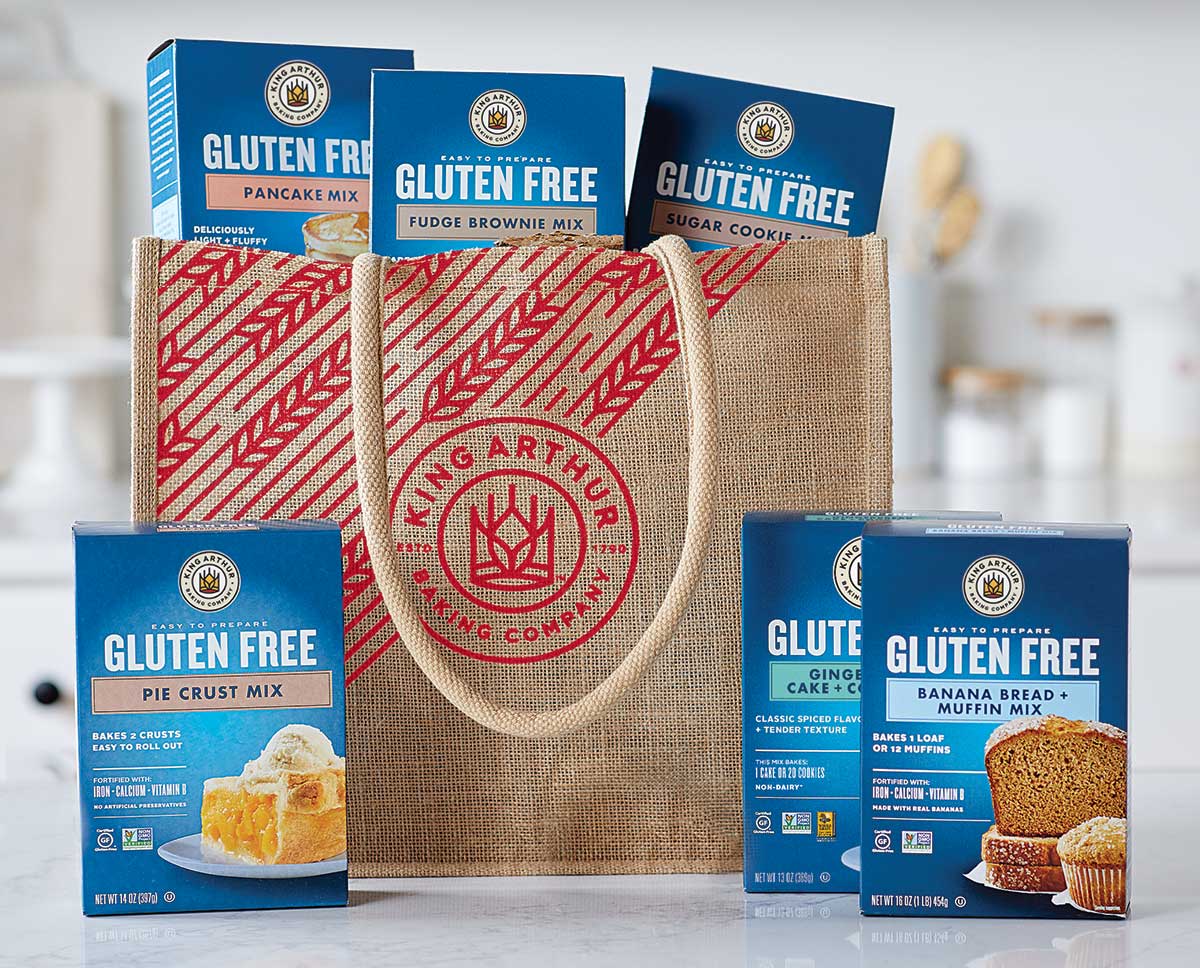 If you're looking to expand beyond mixes, we also have plenty of baker-tested gluten-free recipes to try out. Our test kitchen has spent years developing these delicious recipes, all of which you'll find by searching "gluten-free" on our recipe site. Just remember to check your ingredients as outlined above! 
And if you have questions, you can always reach out to our Baker's Hotline or drop a comment below. We're here to help! 
Cover photo by Shilpa Iyer