Special occasions often call for fancy cakes: tall and towering, beautifully decorated. Classic white cake has been a staple for weddings and events of all kinds forever. This style of cake requires layers that are tender and finely grained, with enough structure to stand proudly in all their finery for hours. White cake with white frosting never goes out of style for special occasions, but making a moist and delectable white cake can be tricky.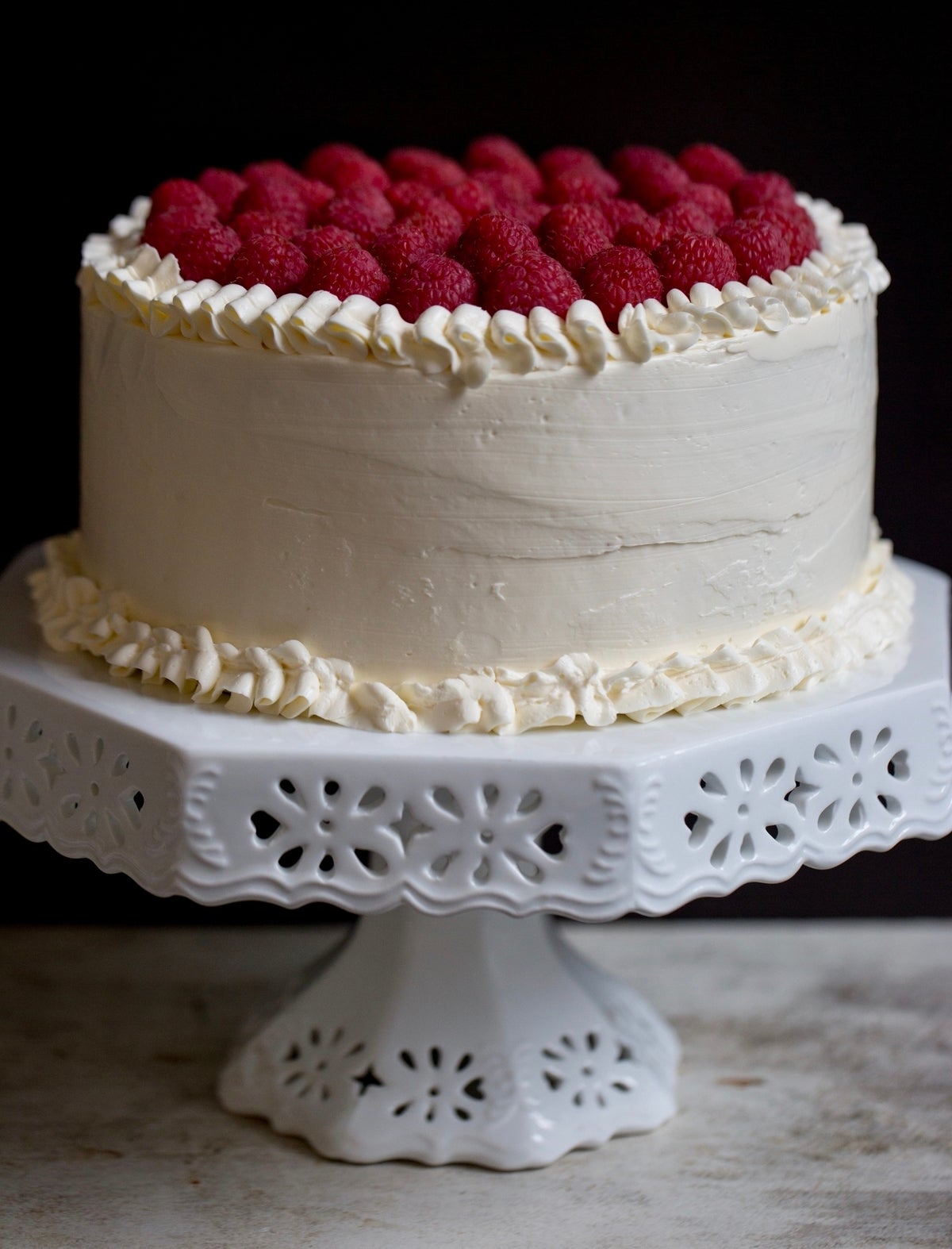 This type of cake starts with cake flour for its texture. Cake flour is milled from lower-protein wheat, which makes baked goods more tender. Lower protein means more starch in the flour. Since cake recipes have a lot of liquid, that starch is important for a balanced formula that bakes up tender and moist.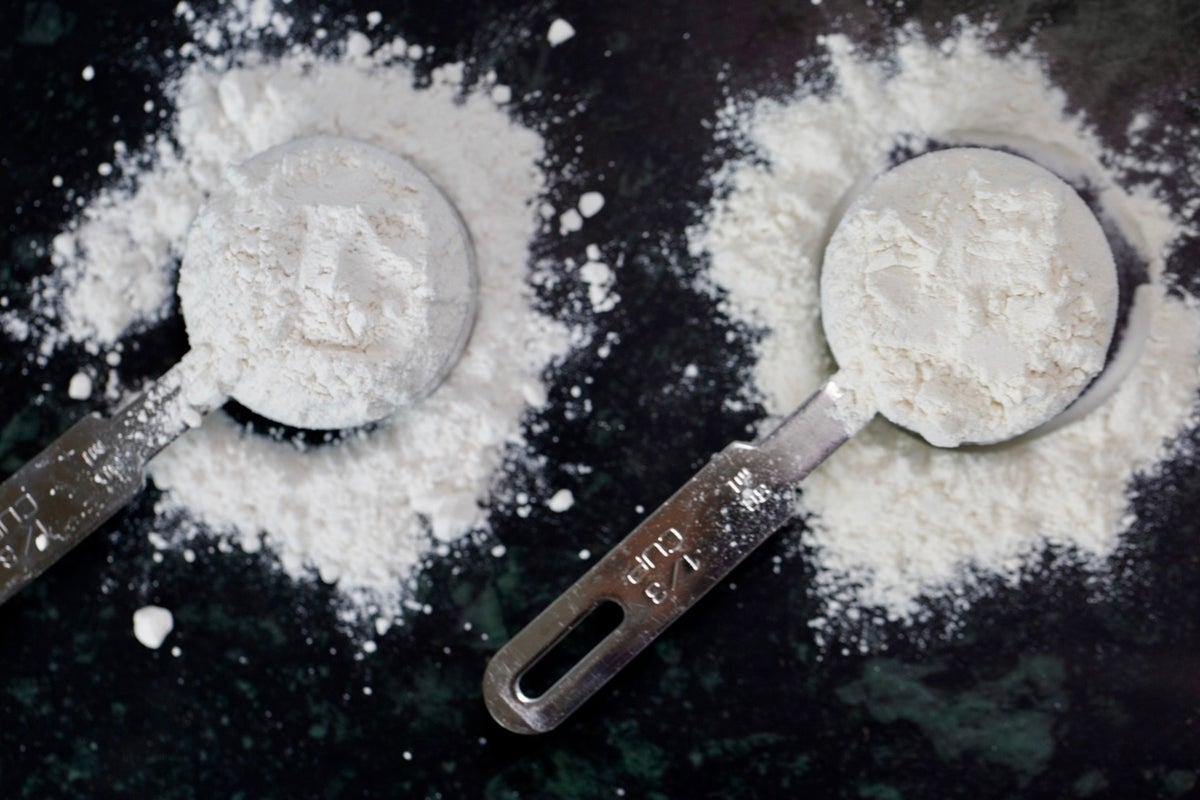 For decades bakers reached for bleached cake flour to achieve that distinctive texture for white cake. Bleaching flour changes its baking characteristics in a number of ways. It slows the rate at which the starches gel and proteins coagulate, allowing the batter to rise longer before it sets. That extra rising time is important to a cake that includes significant sugar and fat; otherwise it may end up dense, like a brownie. High-ratio cakes (where the weight of the sugar is greater than the weight of the flour) are best made with bleached cake flour, since it's especially suited for their formulas.
Many of us don't care for bleach in our flour. Years ago we made it a project to test, blend, test, bake, and retest a flour blend based on low-protein flour that could make tender, fine-grained white cake layers without being chemically treated (i.e., no bleach). That work led us to our Tender White Cake recipe. These white cake layers, iced with a batch of Italian Buttercream and some raspberry jam, make a special-occasion masterpiece you'll be proud to serve.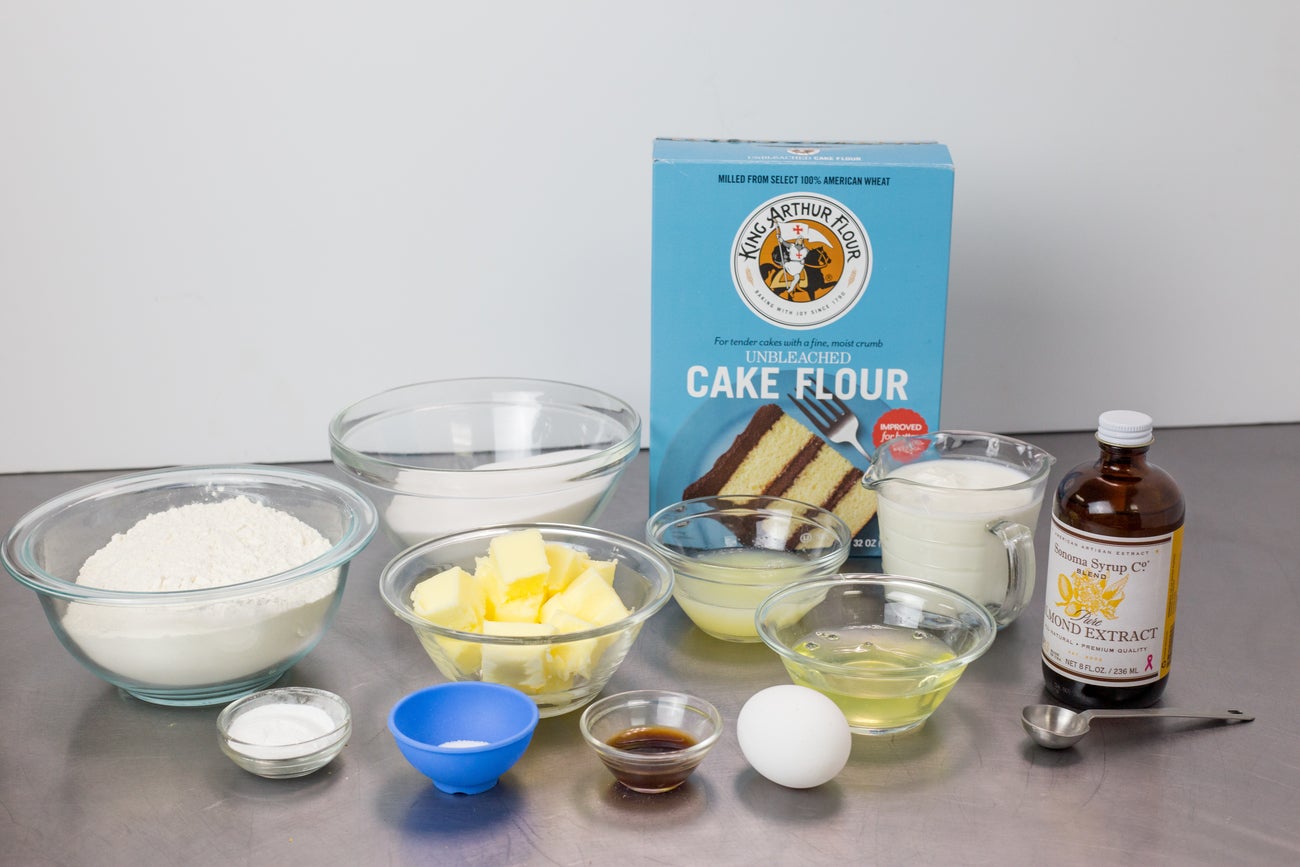 2 3/4 cups (326g) King Arthur Unbleached Cake Flour
1 2/3 cups (333g) sugar (Baker's Special or superfine if you have it)
1 tablespoon baking powder
3/4 teaspoon salt
12 tablespoons (170g) unsalted butter, softened
4 large egg whites plus 1 whole large egg, at room temperature
1 cup (227g) full-fat vanilla yogurt or 1 cup (227g) whole milk, at room temperature (or a combination of the two)
2 teaspoons vanilla extract
1 teaspoon almond extract
This cake uses the paste method: dry ingredients are mixed together, the butter is mixed in to coat them, then the eggs and liquid are added last. The result is a very fine, even-grained cake. Learn more about other cake-making methods and textures in our post Cake mixing methods: how to get the results you want.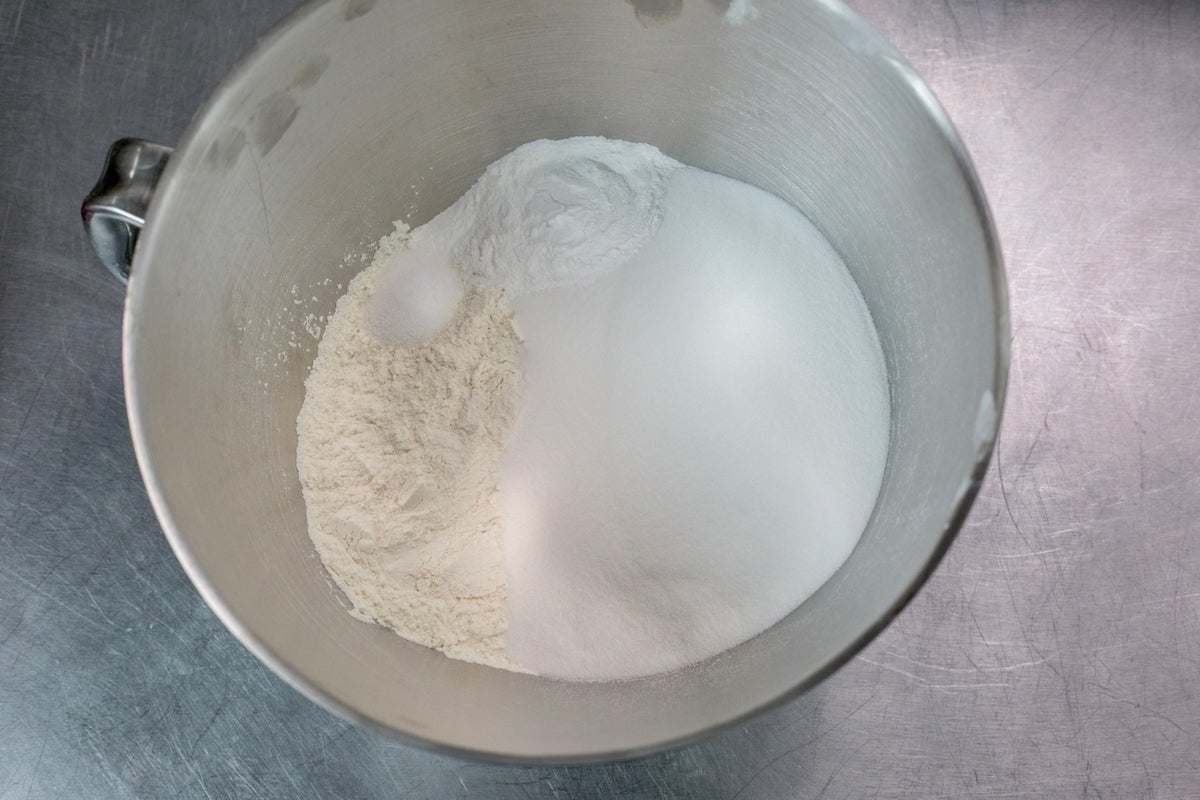 Measure the dry ingredients into a bowl.
Tip: Get into the habit of putting each ingredient in a separate spot. That way, if you get interrupted, you can come back and see which ones you've put in. 
Mix on low speed to blend the dry ingredients, then add the soft butter.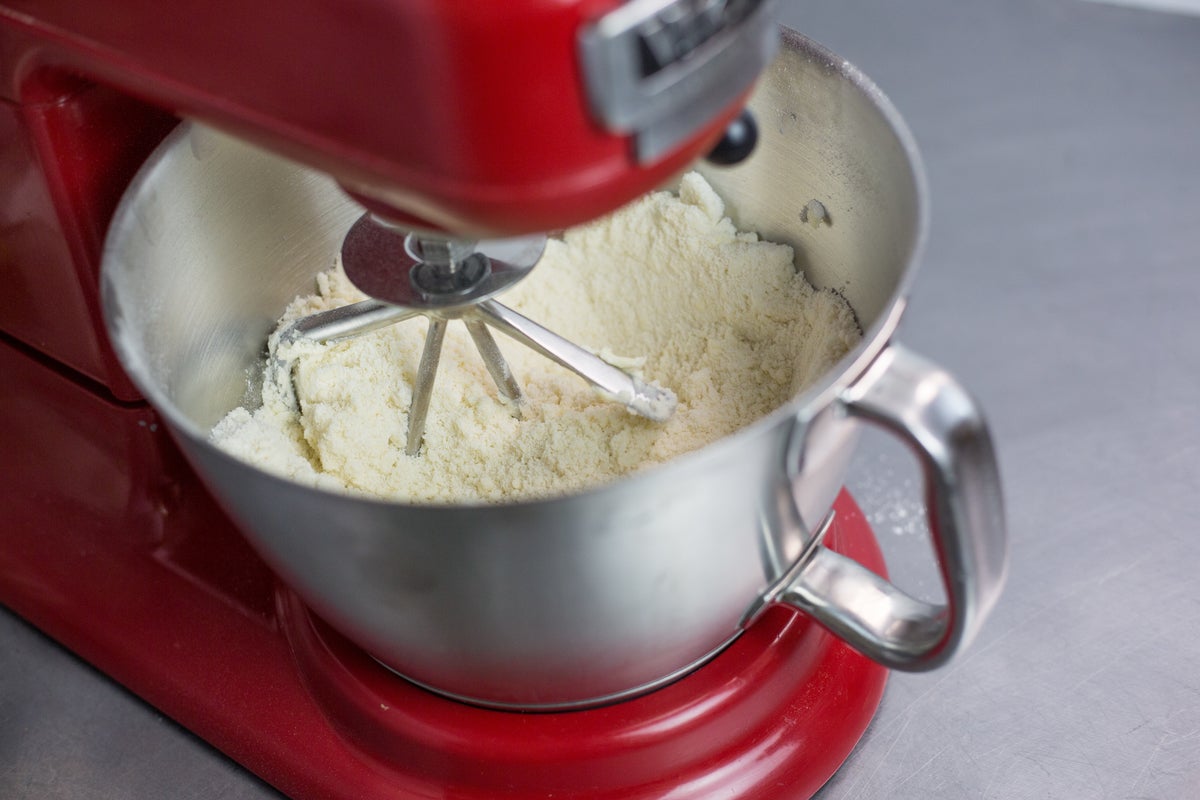 Mix at medium speed until the ingredients look like fine sand. Depending on how warm your butter is and how long you mix, the mixture could form a paste. That's OK; it's hard to get this part wrong.
Next add the egg whites, one at a time. Mix after each one until it's absorbed. 
The first white will bring things together into a paste, like this.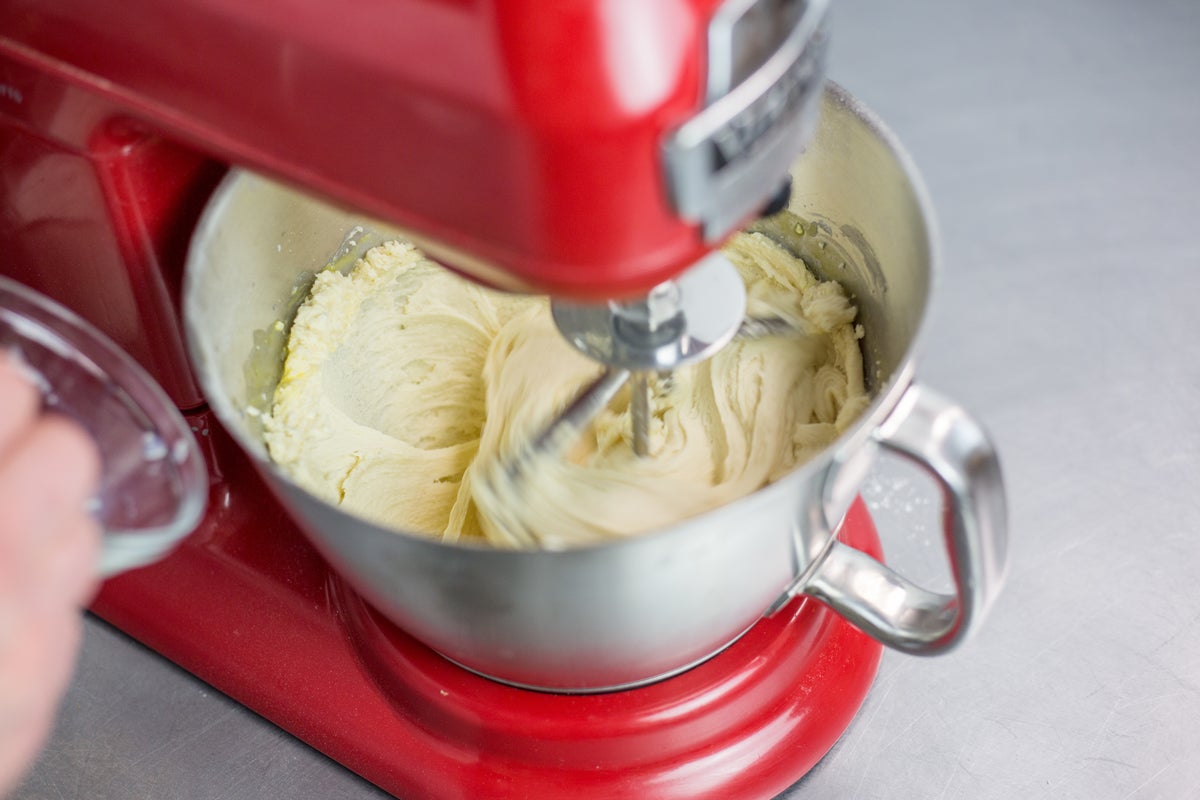 After the third egg white is in, it's time to scrape the bowl. This can be tedious, I'm not going to lie. But it's the difference between "Oh, you made cake," and "OMG that cake you made!"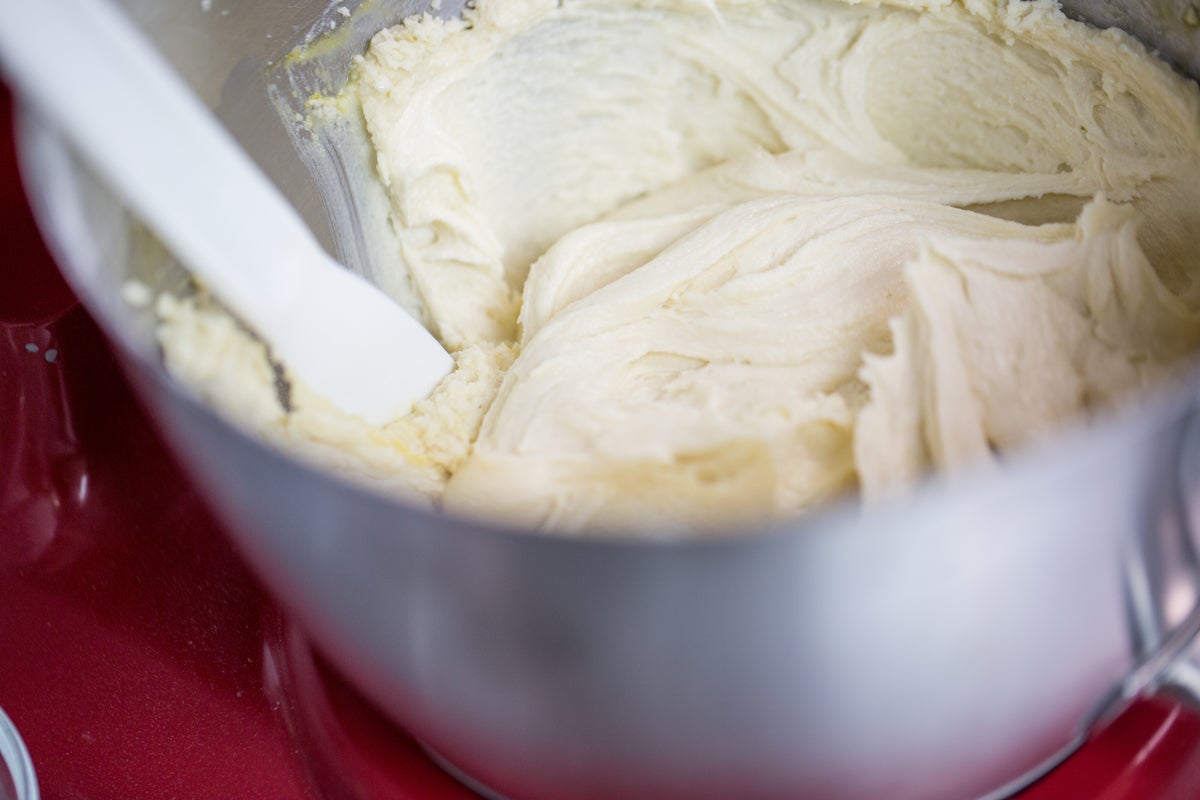 You can see that the butter/sugar/flour likes to cling to the sides of the bowl. Pretending this isn't happening is a sure route to streaky cake. You know that moment when you're transferring batter from bowl to pan, and the last 15% looks... different? If so, then you've been skipping this step. Add the whole egg and mix until its absorbed.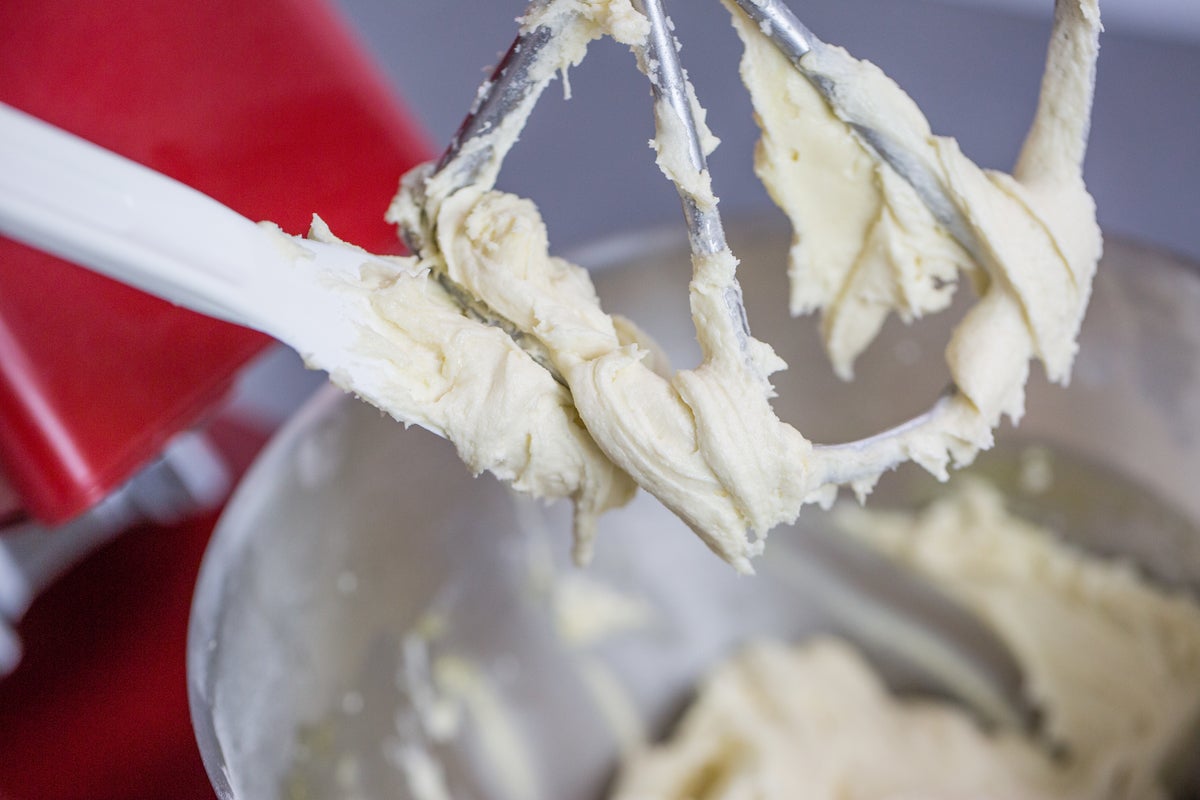 The batter is starting to build, getting a little fluffier as you go. Scrape off the unmixed batter on the mixer's paddle; you want the unincorporated stuff in the center of the action when you turn the mixer back on.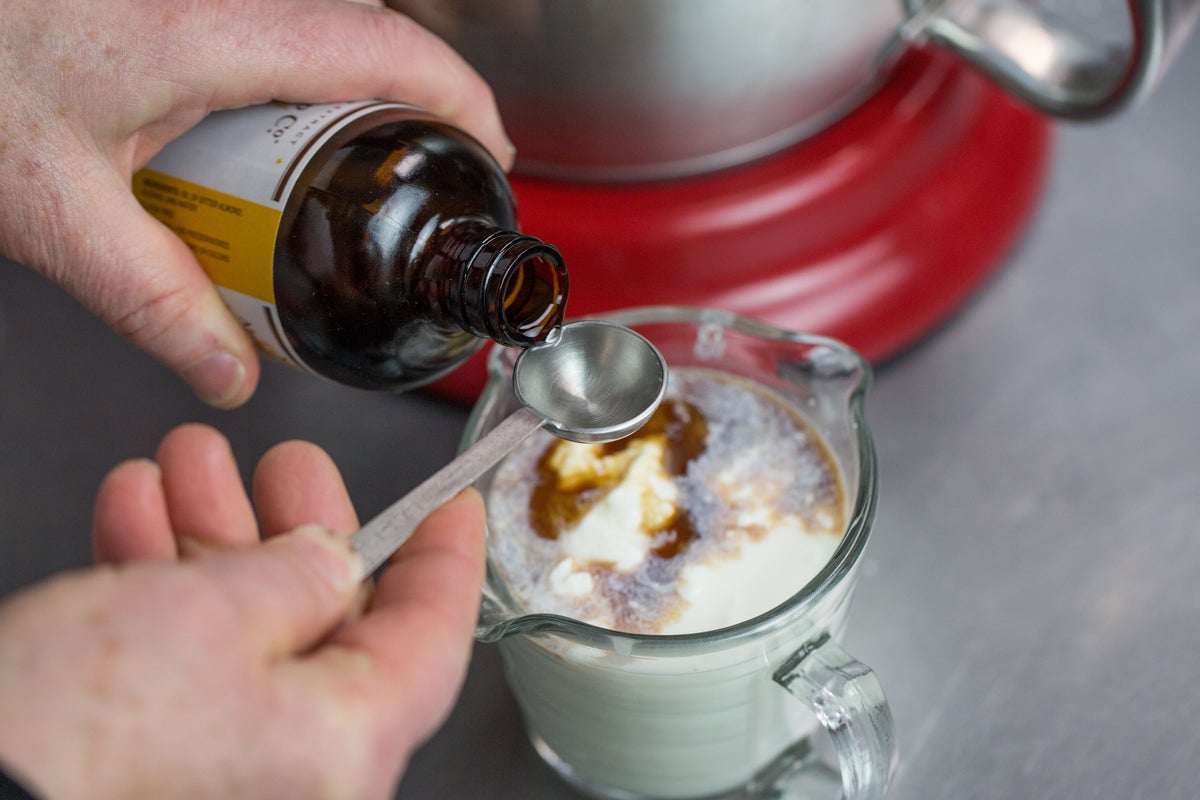 Combine the wet ingredients and the extracts. I used half milk and half yogurt for this cake.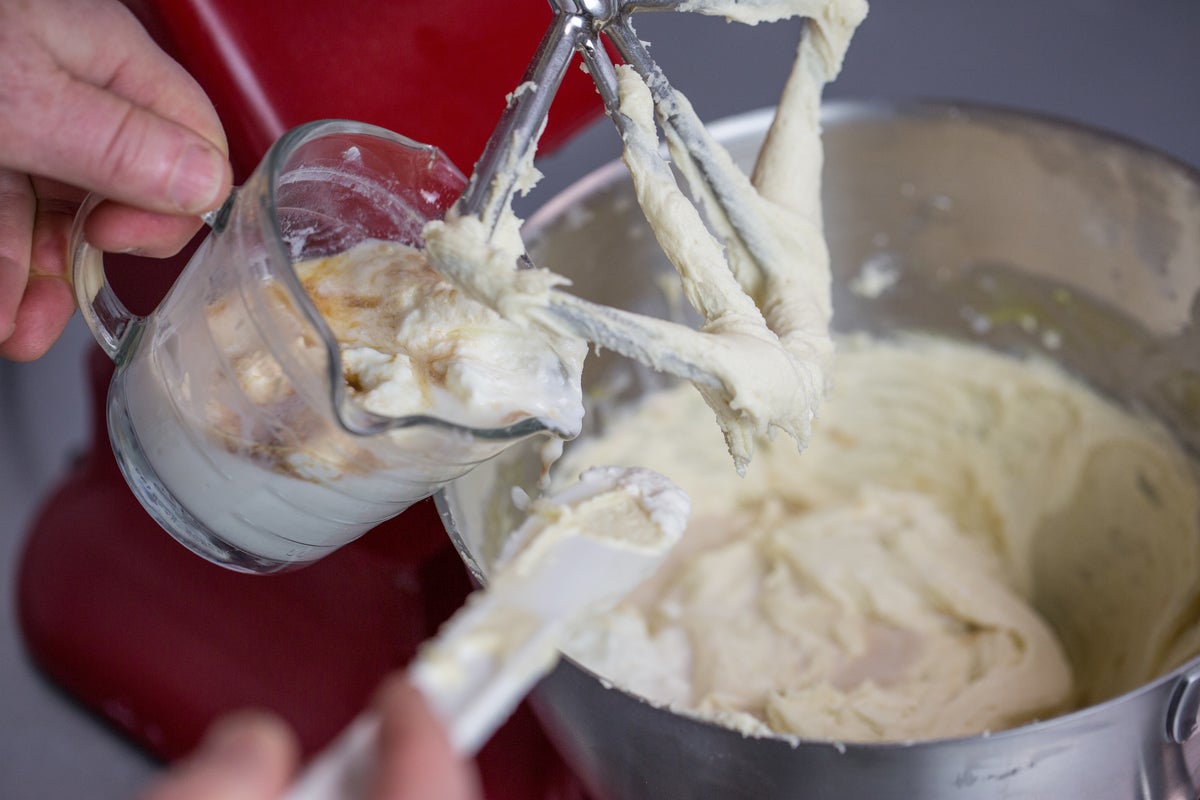 Add the wet ingredients one third at a time, mixing well after each addition.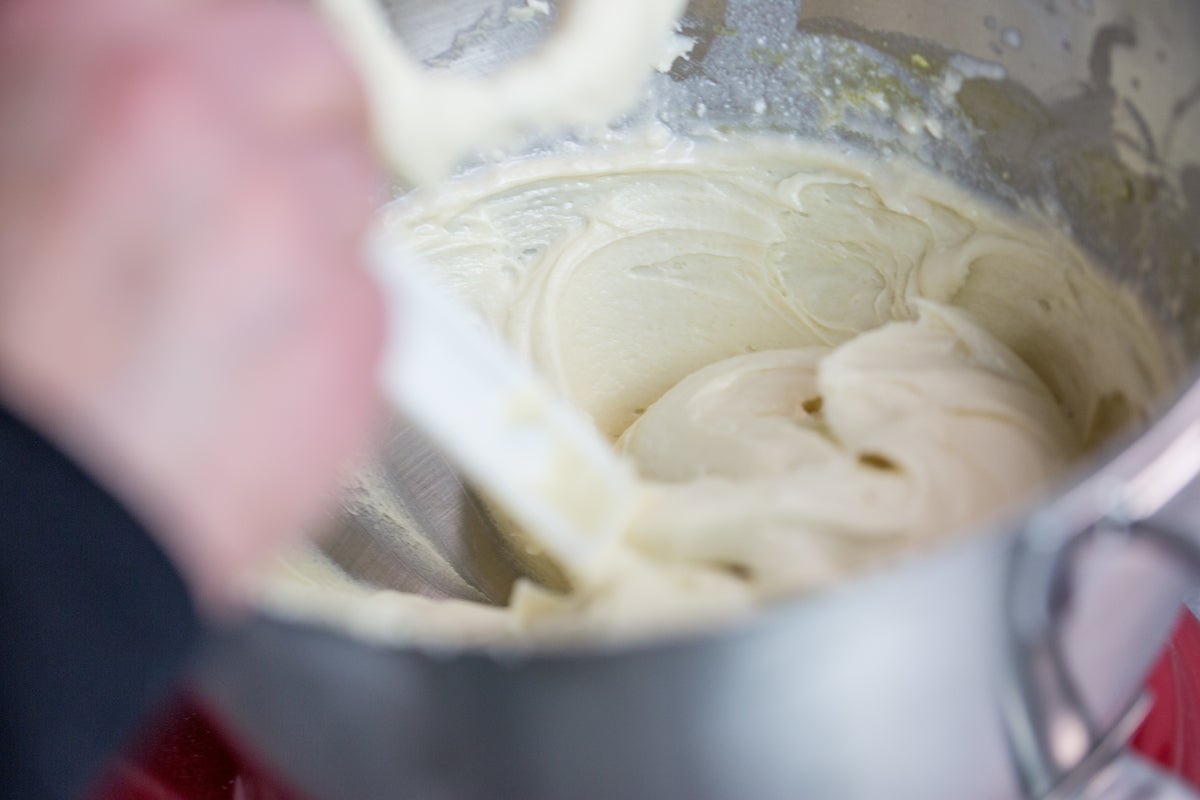 After mixing, more scraping. Because it's the right thing to do. The batter will become lighter and fluffier after each addition.
After all of the liquid is in, divide the batter between your prepared pans.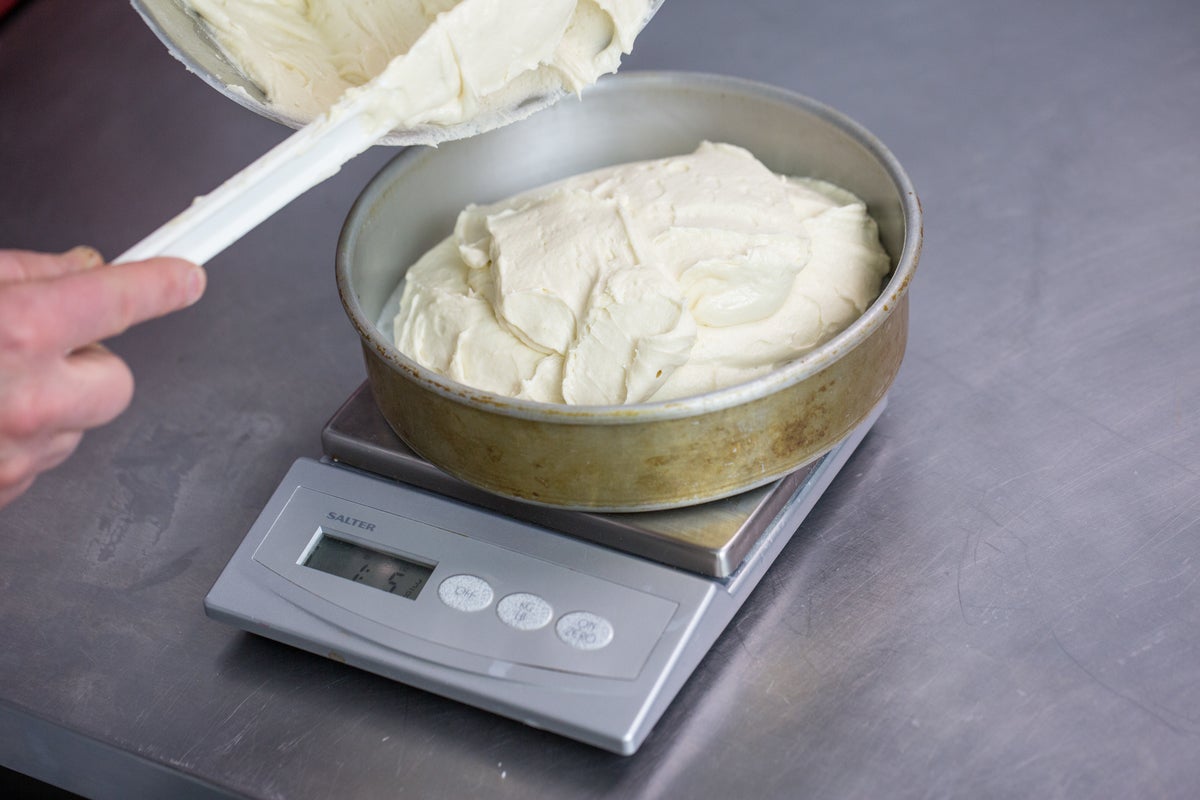 Weigh the batter
This recipe makes about 43 ounces of batter, which means about 21 ounces (1 pound, 5 ounces) for each 8" layer. (You always lose about an ounce from batter clinging to the bowl and paddle. Don't get too hung up on the numbers; just put the same weight in each pan.)
If you bake cakes a lot, it's a good idea to weigh the batter for recipes you use often and keep a note of it. That way you can always divide it equally for uniform layers, be they 8",  9", cupcakes, or anything else. This is one of the many reasons we can't live without our kitchen scales. Put the pan on the scale, zero it out, then add the batter until it hits the target weight. Repeat with the other layer.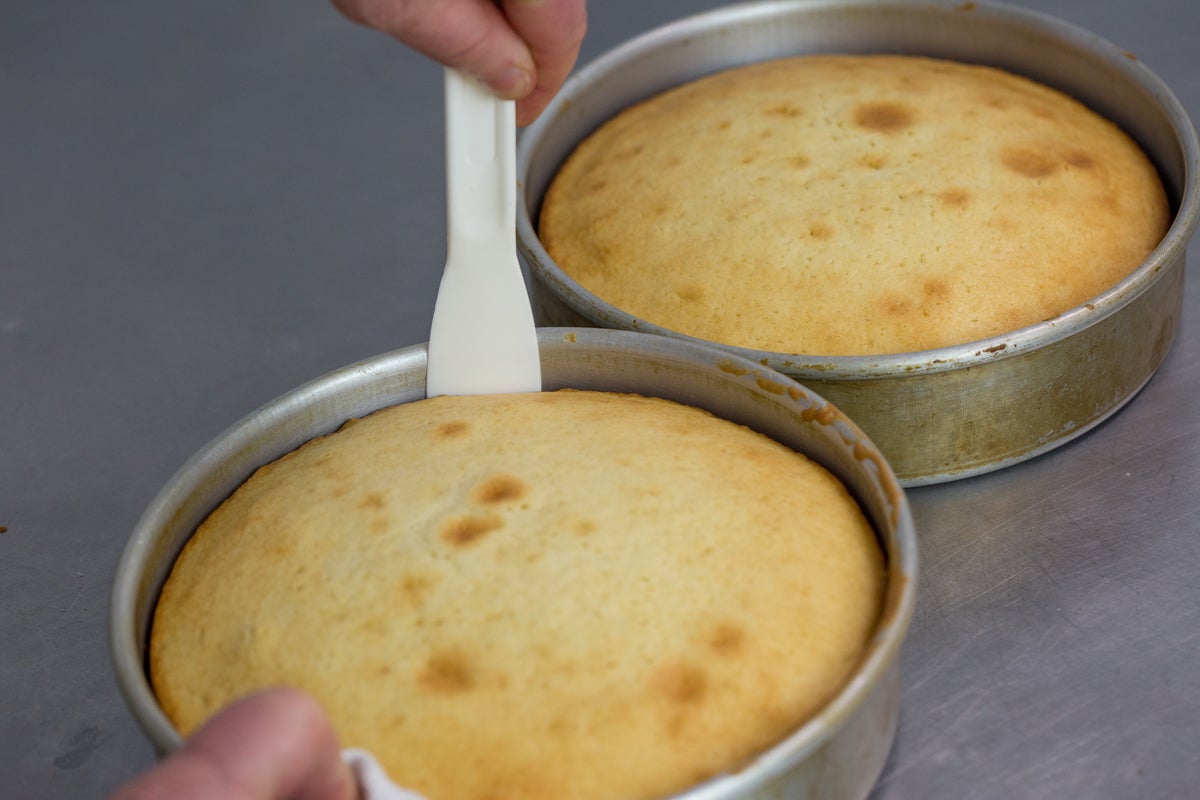 Bake the layers for 25 to 30 minutes for 8" or 9" rounds, 20 minutes for cupcakes, or 23 to 26 minutes for a 9" x 13" in cake. If you're baking a sheet cake in a glass pan, lower the temperature of the oven to 325°F and check at 23 minutes. For more information on baking in glass, see our post: Glass or metal or stoneware: which is the "right" pan?
The cake is done when it's golden brown, just barely pulls away from the edge of the pan, and the top is set. If you gently touch the center, your finger doesn't leave a dent.
After you take the pans from the oven, run a thin-bladed spatula around the edges while still hot. This allows the cake to cool and contract evenly.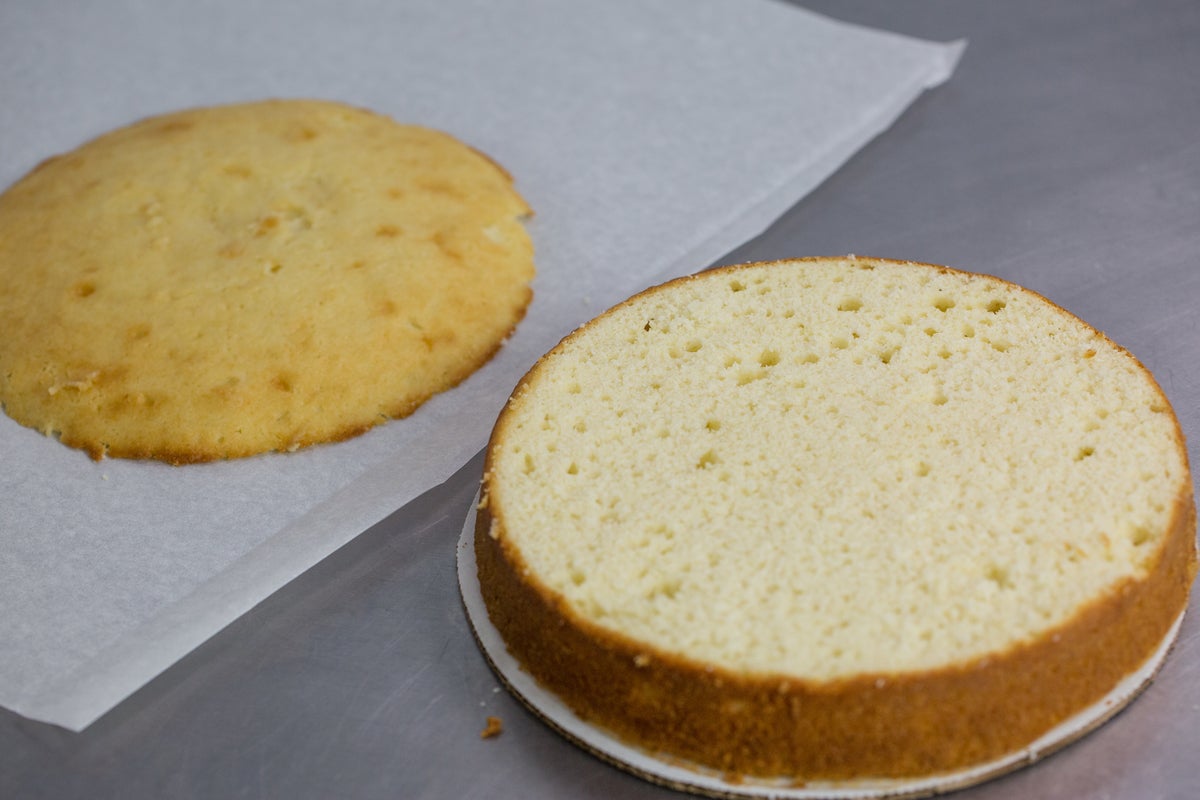 Assemble the cake
For a stacked layer cake, trim the dome from the layers. Place them cut-side down on a cake circle or serving plate.
Finish your cake with your favorite frosting, or learn how to make Italian Buttercream.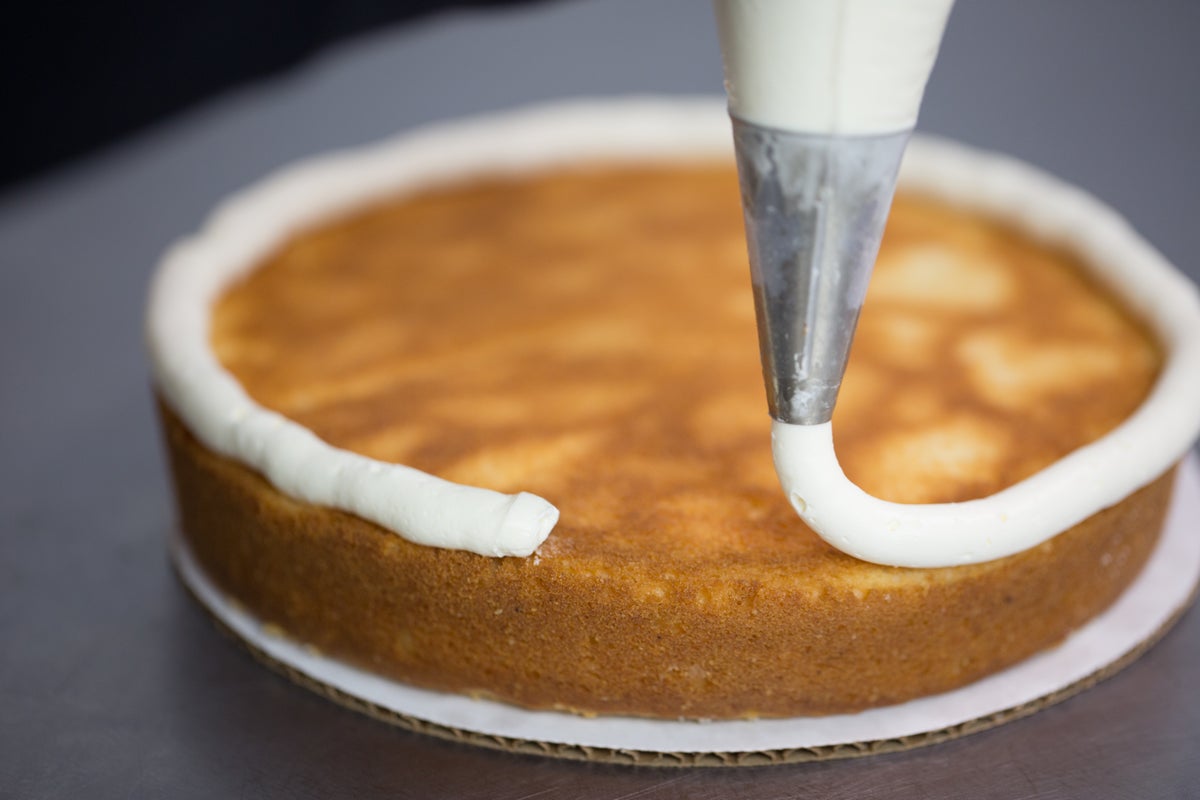 Pipe a ring of frosting around the edge of the first layer. This is the "dam". Chill the layer until the frosting is firm, then spread 3/4 cup of seedless raspberry jam inside the dam.
To make the finished cake in the photo, take a cup of the buttercream and mix 1/4 cup raspberry jam or purée into it. Frost the cut side of the second layer with raspberry-flavored frosting, then put it, frosted side down, on the first layer.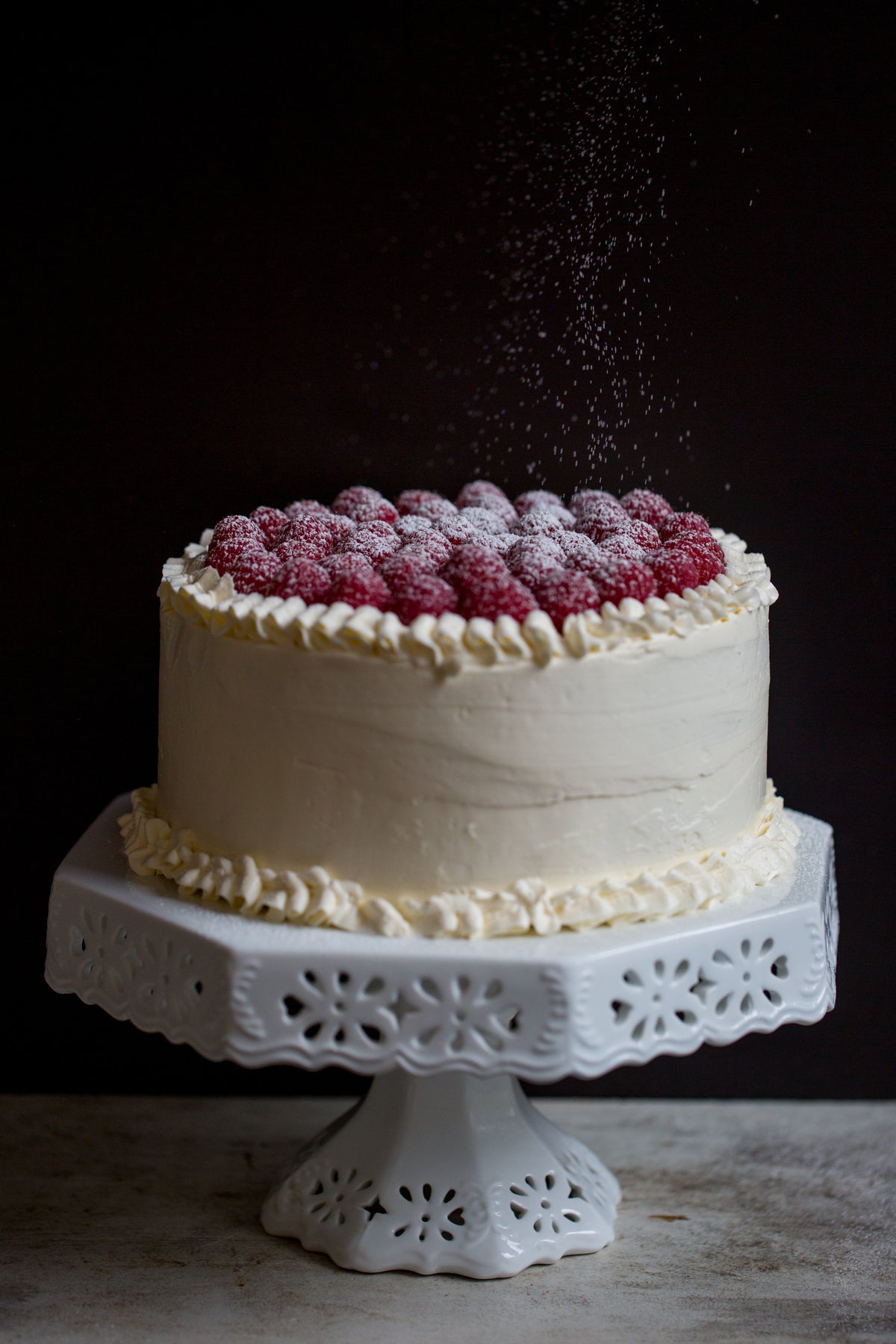 From there, frost and decorate the cake with the vanilla buttercream. Use a layer of fresh raspberries for an easy and elegant finishing touch, with a little shower of confectioners' sugar.
Love and cake belong together. If you have an occasion coming up where you have the chance to show your love with cake, make it our Tender White Cake. Bake it, share it, and celebrate with every forkful. Then share your story with us in the comments below, or by tagging your cake with #kingarthurflour when you post it on Instagram.
Our thanks and gratitude to Anne Mientka for these wonderful photos.
Jump to Comments