A guide to xanthan gum
The gluten-free baker's secret weapon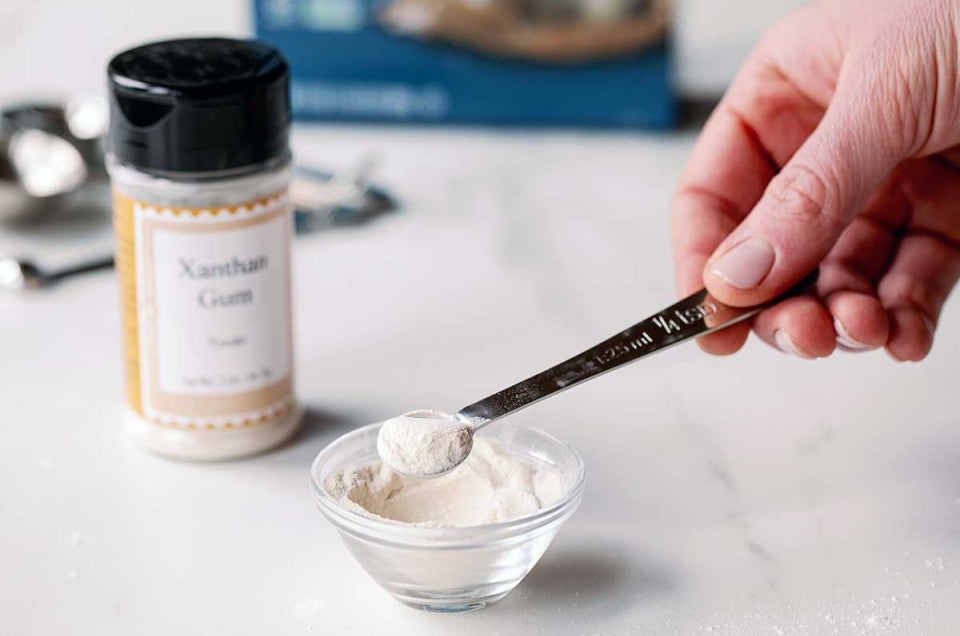 One of the trickiest things about gluten-free baking is creating new versions of traditional recipes that still taste and feel the same as the original.
Think about pizza crust, for example. The fact that you can stretch, roll, bend, and shape a traditional pizza crust into almost every shape imaginable is due in large part to the development of the gluten in the flours. If we were to follow the same ingredient proportions, simply substituting gluten-free flour, we'd end up with a huge mess on our hands.
So when we're using gluten-free flour in our baking (like with the Gluten-Free Chocolate Cake-Pan Cake pictured above), we need to somehow re-create that binding nature of gluten without actually using gluten itself.
The secret? Xanthan gum.
We add xanthan gum to many of our gluten-free recipes, and you've probably wondered what the heck it is and why we need to use it. In today's post, we're taking a deep dive into the world of xanthan gum, explaining what it is, how to use it, and why it makes a difference in our gluten-free baking.
What is xanthan gum?
Xanthan gum is a common food additive that you find in everything from sauces and dressings to ice cream and yogurt and, of course, gluten-free baked goods. In most cases, it's used as a thickening agent, or as a stabilizer to prevent separation of ingredients (like yogurt).
Without getting too scientific, xanthan gum is produced through the fermentation of sucrose, glucose, and lactose. After the fermentation period, the resulting moist residue is dried, and then ground into a fine powder. When mixed with liquid, this powder becomes viscous and almost turns gel-like.
Why do we use xanthan gum in gluten-free baking?
In gluten-free baking, we rely on xanthan gum to provide elasticity and stickiness in our doughs and batters. Since we don't have gluten present, we need something that acts as the binding agent for the flour, helps hold onto some moisture, and helps give the baked good some structure.
If you've ever forgotten xanthan gum in a recipe, then we bet you know the feeling of having that delicious baked good just crumble in your hands. That's why xanthan gum is so great for GF bakers: it helps keep our baked goods from falling apart on us!
How to use xanthan gum in gluten-free baking
When using xanthan gum in gluten-free baking, a little goes a long way.
Before you start a recipe, or consider adding xanthan gum, your first step is to check the ingredients on the side of your bag of gluten-free flour. If the mix already contains xanthan gum, you likely won't need to add any more, as those flours/mixes have been specifically formulated to take that into account. Our gluten-free baking mixes, for example, include xanthan gum. We've done this so that you can simply make the recipe straight from the box without having to worry about finding specialty ingredients. Our Gluten-Free Measure for Measure Flour also contains xanthan gum, which means you can simply replace the all-purpose flour in many of your favorite traditional recipes without having to include xanthan gum separately. 
If your flour mixture doesn't contain xanthan gum, then you'll most likely want to add some to your recipe, especially if you're making something like bread, pizza, cake, etc., that traditionally relies on the development of gluten. Our gluten-free flour doesn't contain xanthan gum, as we developed it to be ideal for a wide range of baked goods; you can use it for almost everything.
While there's no specific formula per se, we start with 1/4 teaspoon of xanthan gum for every 1 cup of flour in a recipe. That ratio might increase slightly if we're working with something that needs more elasticity (like Gluten-Free Cinnamon Rolls), or will decrease for something that doesn't need as much structure (like Gluten-Free Shortbread Cookies).
In general, you should never need more than 1 tablespoon of xanthan gum for a gluten-free recipe (unless you're baking commercially). And actually, adding too much xanthan gum can compromise the texture of your baked goods, making them too sticky and gummy. If you've ever had a recipe that simply won't bake through no matter what you try, we recommend checking the amount of xanthan gum you're using – that could potentially be the culprit.
Xanthan gum and allergies
Looking for a substitute for xanthan gum due to allergies or other issues? You can use guar gum 1:1 in most recipes.
Recipes that use xanthan gum
We've pulled together five of our favorite gluten-free recipes that use xanthan gum to achieve a perfect texture. Check them out below and be sure to leave us a comment if you have any questions about using xanthan gum in your GF baking!

You know a piece of sliced sandwich bread has the perfect crumb, with holes just big enough to catch your mayo? Xanthan gum helps you get that with gluten-free bread. It locks in moisture to the dough, while also providing structure, so your loaf will hold its shape while baking and slice up perfectly when cooled. For those looking to store their bread, check out our gluten-free sandwich bread blog post, complete with storage tips – and a crouton recipe!

Traditional pizza is rolled out and sometimes even tossed overhead. On the other hand, gluten-free dough is much stickier and must be shaped with your hands. We add xanthan gum to the dough so that when spread thinly across a pan, it will hold its shape and won't crack when baked.

Check out these perfectly shaped donuts: they spring back lightly when you touch them, and hold together nicely when bitten into. Xanthan gum helps make for one fabulous doughnut-eating experience.

Want a cake that won't crumble on you? Xanthan gum is your partner in crime. Adding it to cakes like this gorgeous carrot cake binds the ingredients and result in a most tender, moist cake.

See those luscious swirls of cinnamon in the bun? Xanthan gum makes the dough elastic enough to roll, creating a delicious spiraled bun that holds its shape while baking.
For more gluten-free baking tips, ingredients, and recipes, be sure to check out our Gluten-Free Baking Guide. 
Jump to Comments