No-Knead Crusty White Bread, our 2016 Recipe of the Year, is one of the most popular recipes on our website. And with good reason: I daresay millions of bakers around the country have made bread using this simple technique since it first popped up on the culinary landscape over 10 years ago.
If you're a devoté of no-knead bread, and haven't yet branched out into other interesting iterations – it's time to start. Prepare your dough as usual. Then, just before shaping, think how you might tweak the flavor with add-ins – and let your imagination run wild.
Do you love the cranberry-pecan bread at your local artisan bakery? Work those two simple ingredients into your plain dough. How about toasted walnuts and a handful of crumbled Maytag blue? Or bake up a take on pizza, with diced pepperoni and cubed mozzarella.
Need some inspiration for personalizing your own loaves? Check out our no-knead bread three ways.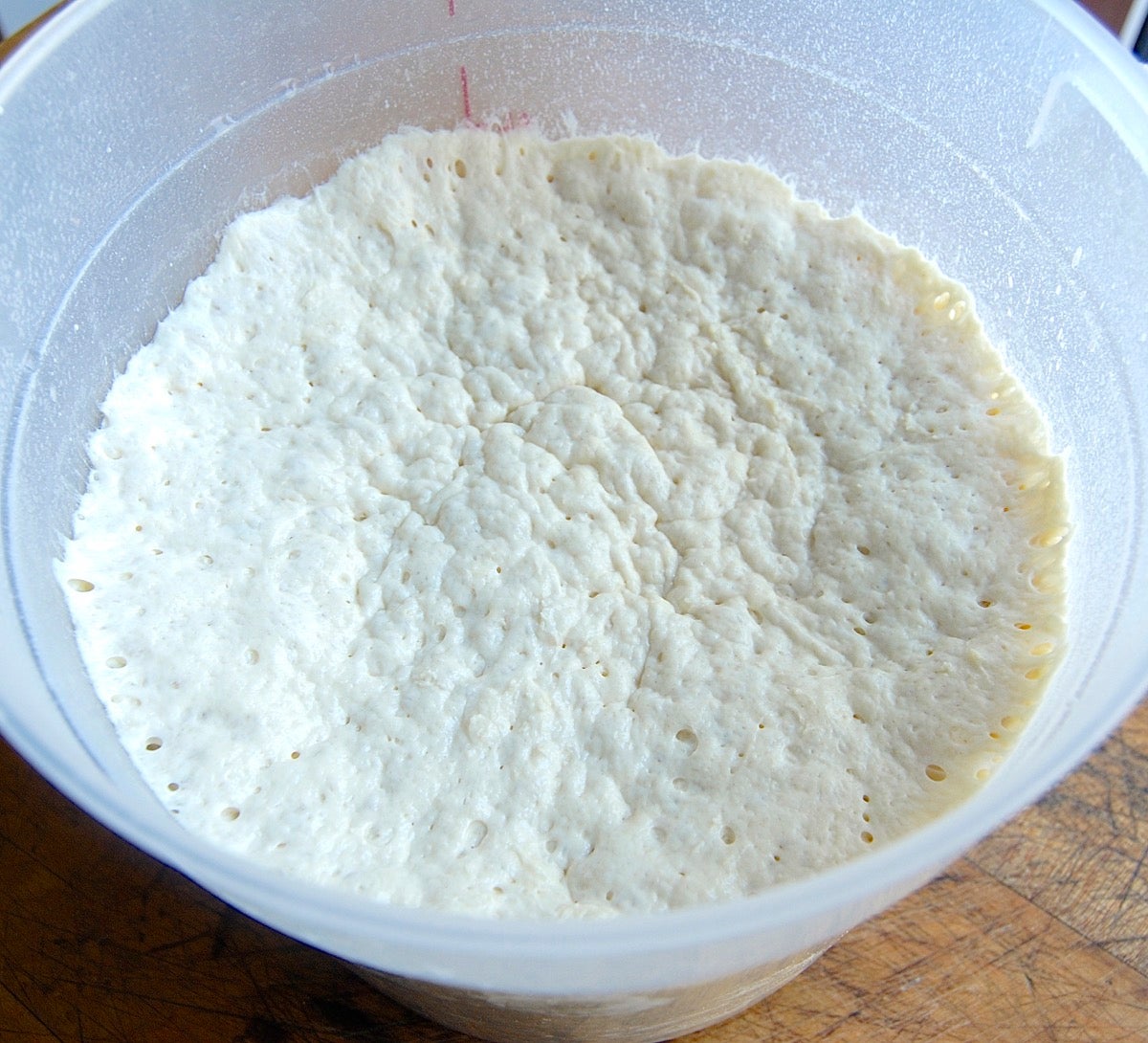 Here's our basic dough: mixed, risen, refrigerated, and ready to scoop and shape.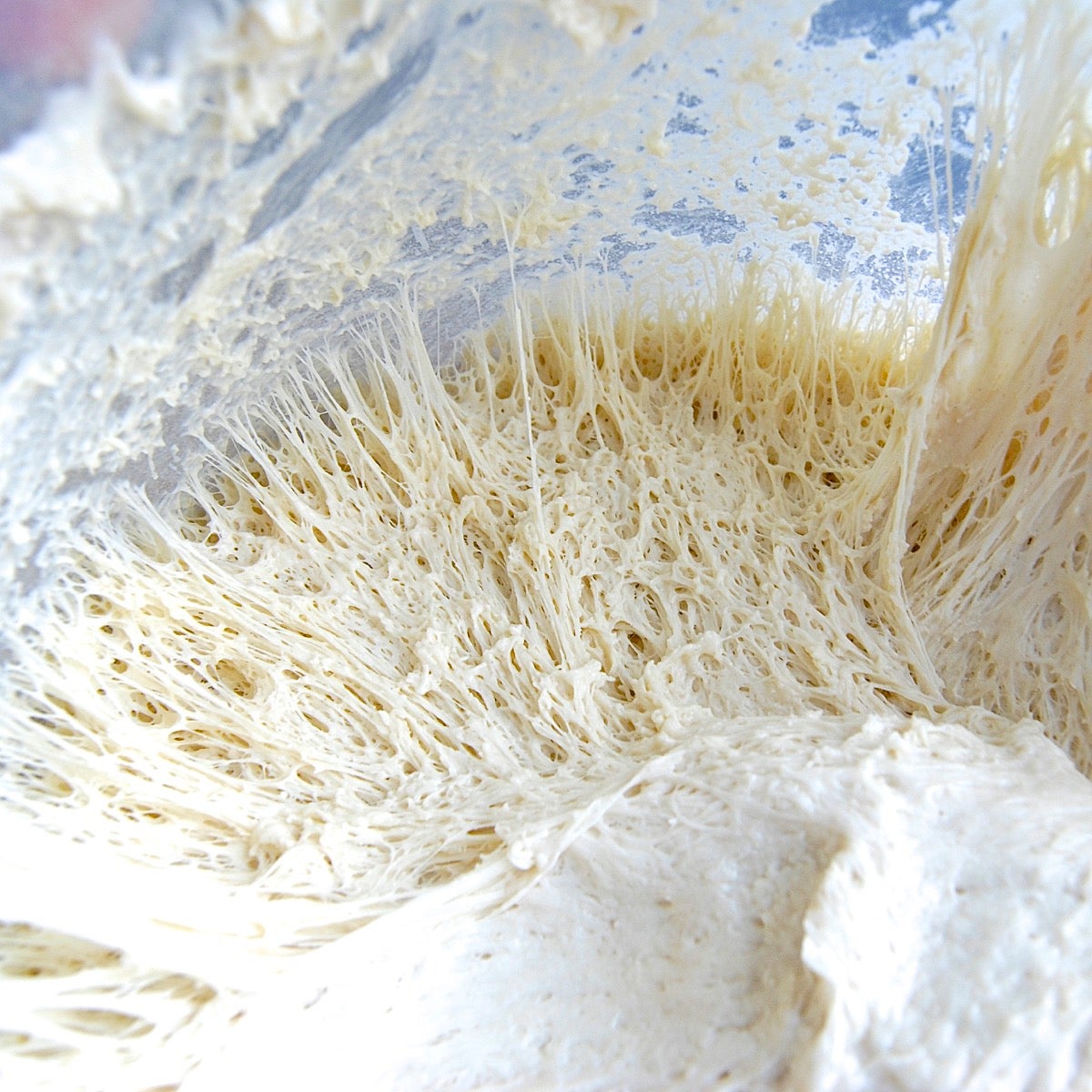 Cheddar and Jalapeño No-Knead Bread
1. Scoop out a handful of dough.
You'll use about 1/3 of the dough (about 19 ounces) for each loaf you're making.
Look at those absolutely beautiful strands of gluten! And this is strictly from a short mix, and long, slow rise in the fridge.
I mean, it's like instead of cleaning up your kitchen at the end of the day, you cast some magic spell at night, go to bed, and next day – presto, your kitchen is a picture-perfect magazine spread of neatness. (Would that it were so...)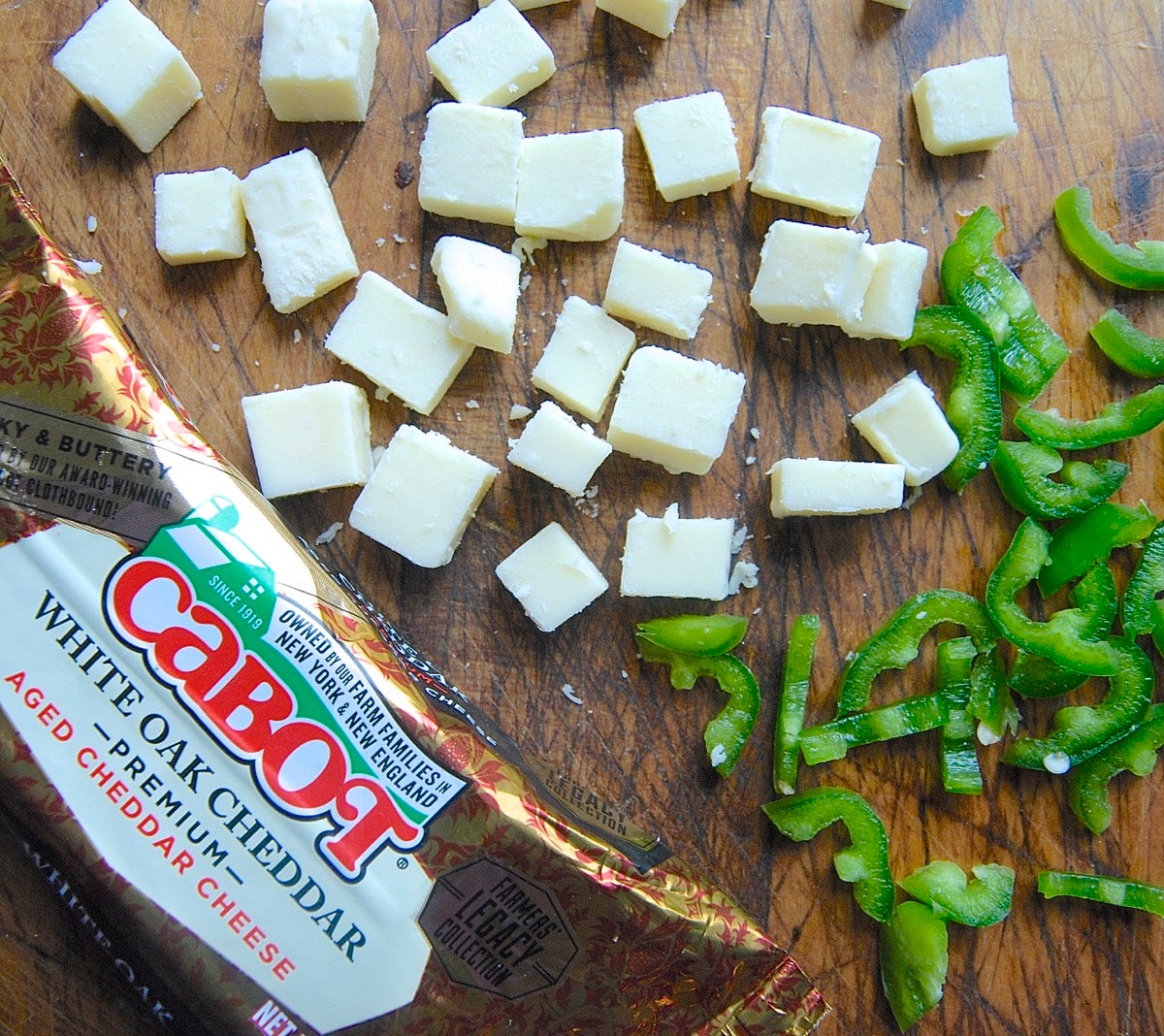 2. Prepare your add-ins.
I'm using 4 ounces diced cheddar cheese, and one small (3") jalapeño pepper, seeded and sliced.
BTW, have you tried Cabot's new cheddars? Oh, my... SO good. And, here's something I didn't know: like all Cabot cheddars, they're lactose-free – perfect for those with lactose intolerance.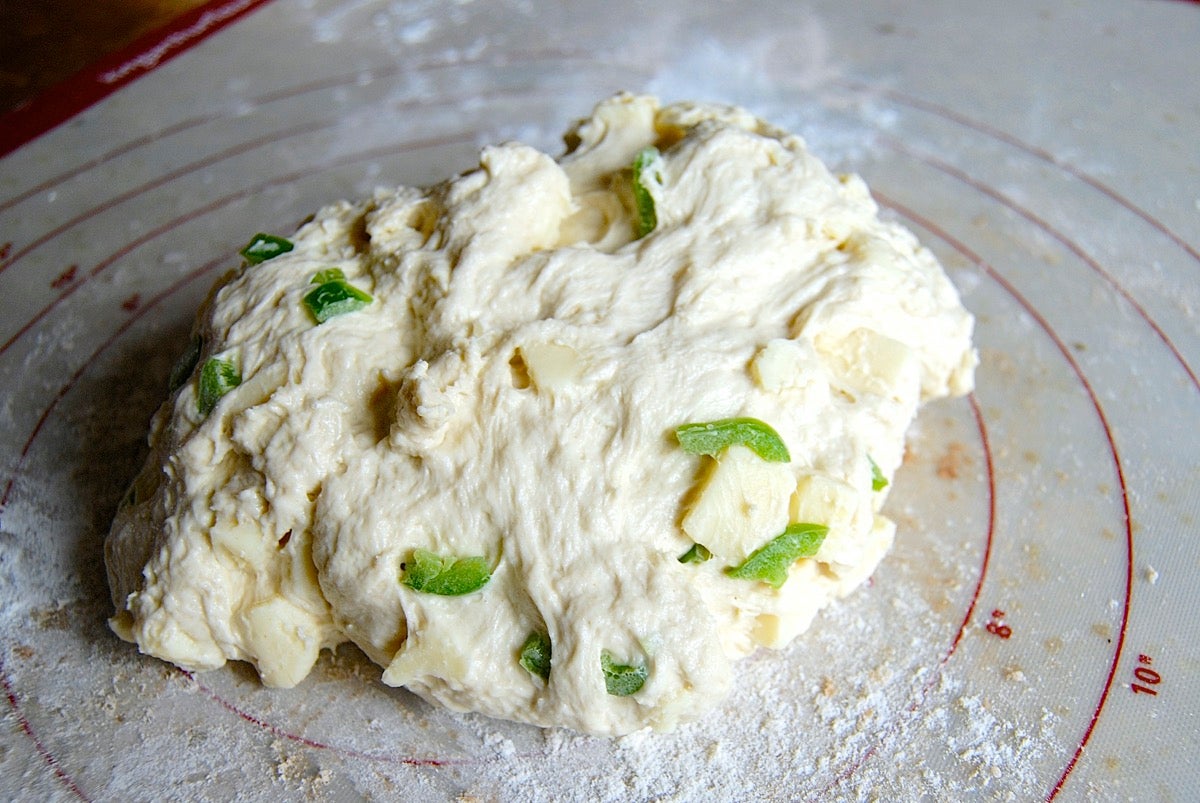 3. Knead everything into the sticky dough.
Oil or flour your work surface to keep sticking to a minimum.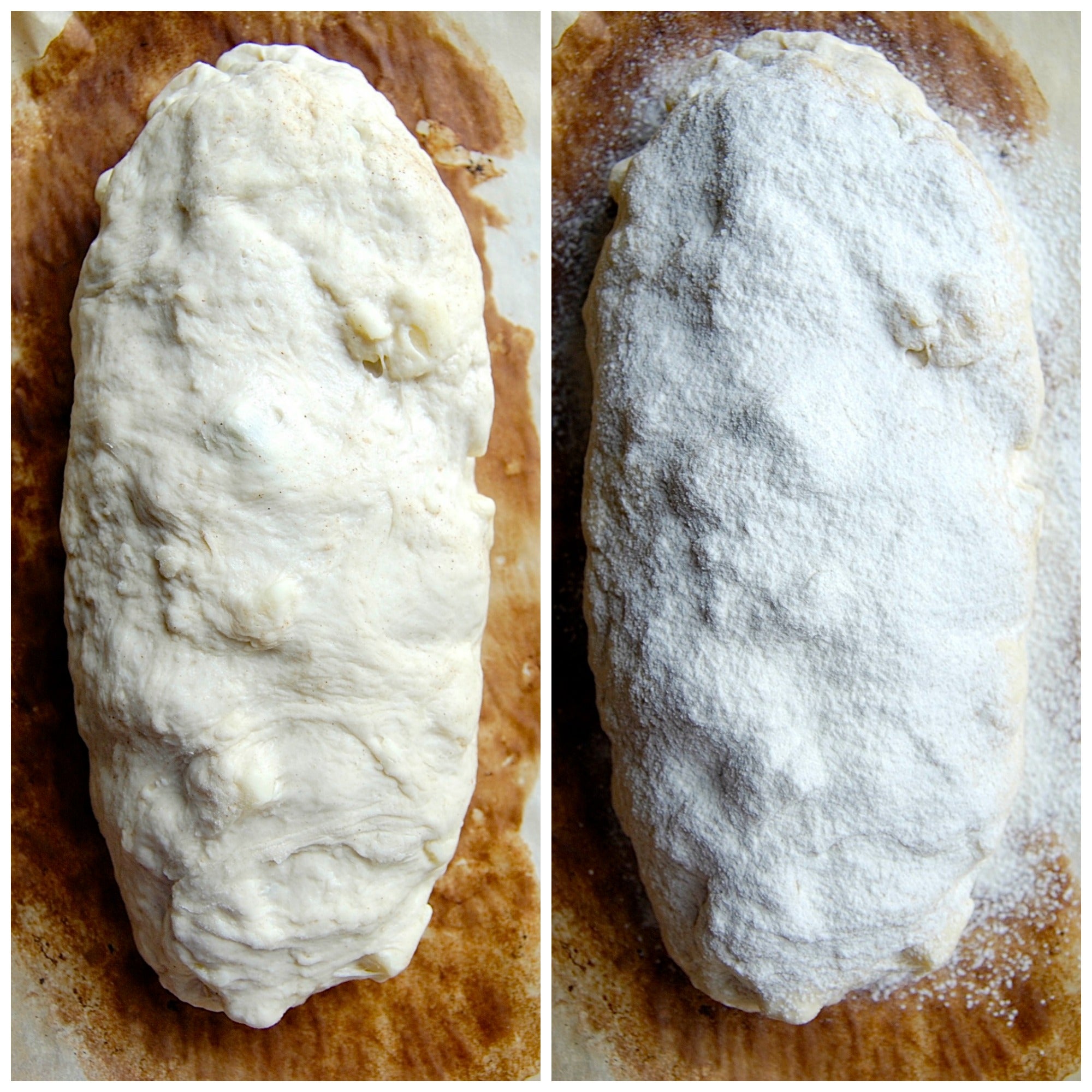 4. Shape the dough into a log.
Flour the top of the dough; this will help keep it moist as it rises, and make a pretty crust.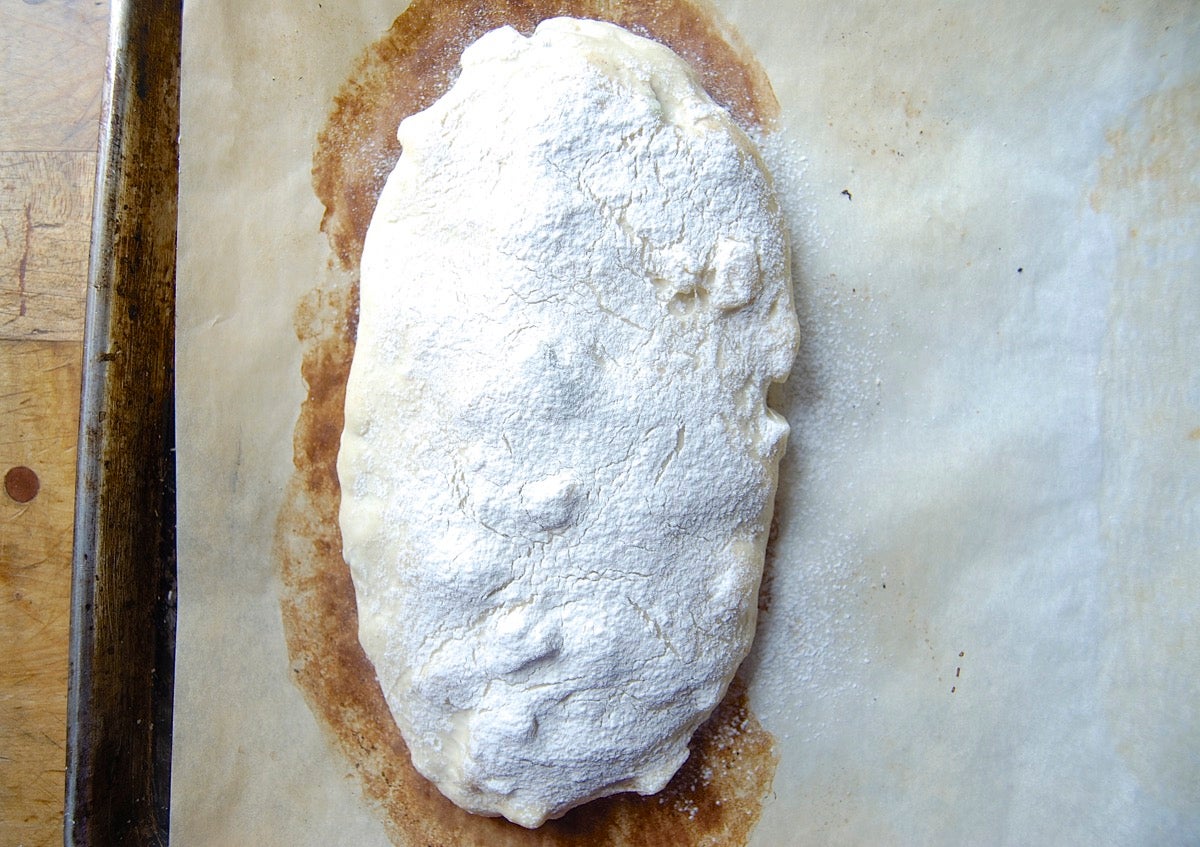 5. Let the dough rise.
Let the dough warm up and rise for 1 to 2 hours; there's no need to cover it. It won't so much rise as expand and settle. Which is fine; it'll "pick up" when it hits the hot oven.
Preheat your oven to 450°F while the loaf rises. If you're using a baking stone – which will help give your bread super-crisp crust and light texture – position it on a middle rack while the oven preheats.
Place a shallow metal or cast iron pan (not glass, Pyrex, or ceramic) on the lowest oven rack, and have 1 cup of hot water ready to go. You're going to use the hot water to create steam in the oven, which will give the bread's crust a pretty sheen, as well as increase its crackly crustiness.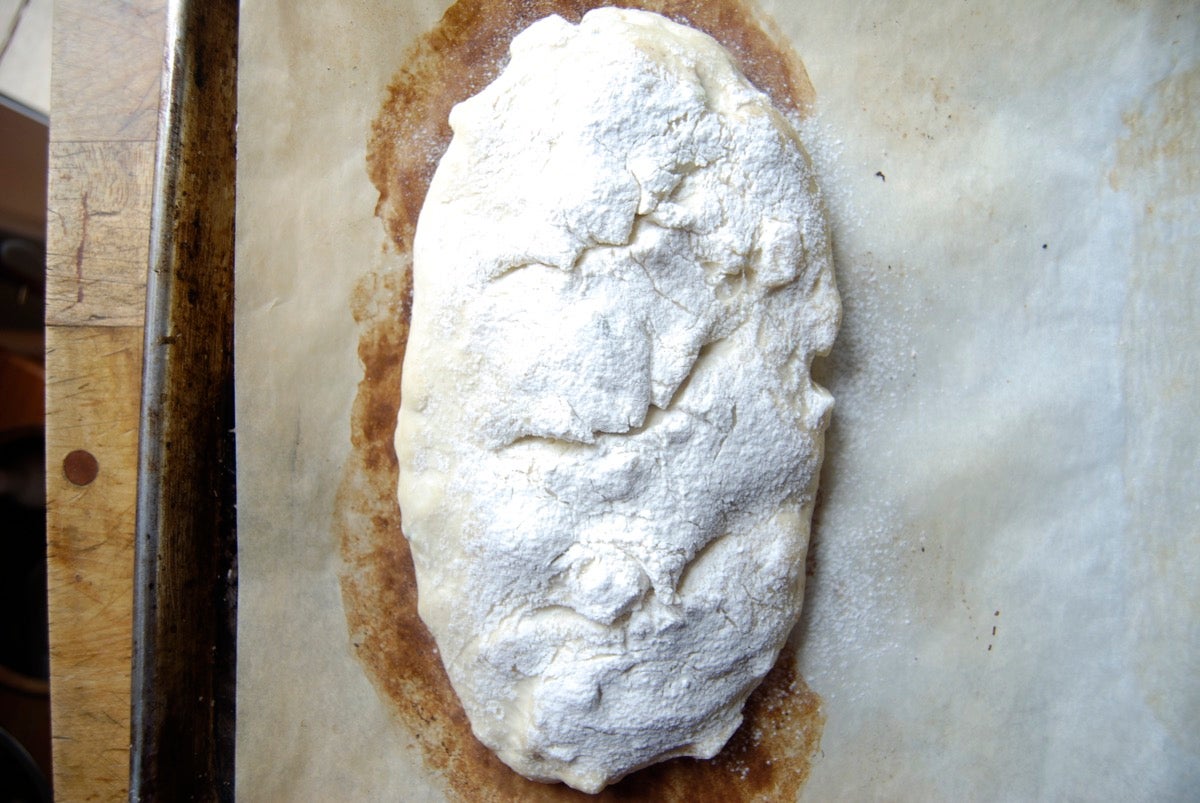 6. Make 2 or 3 diagonal slashes in the top of the loaf.
Don't hold back: be quick and bold with that sharp knife (or lame)! Your bread will appear to deflate a bit; instead of wringing your hands, quickly shove it into the hot oven – onto the baking stone, if you're using one, or simply onto a middle rack, if it's on a pan.
Carefully pour 1 cup hot water into the shallow pan on the rack beneath. It'll bubble and steam; close the oven door quickly.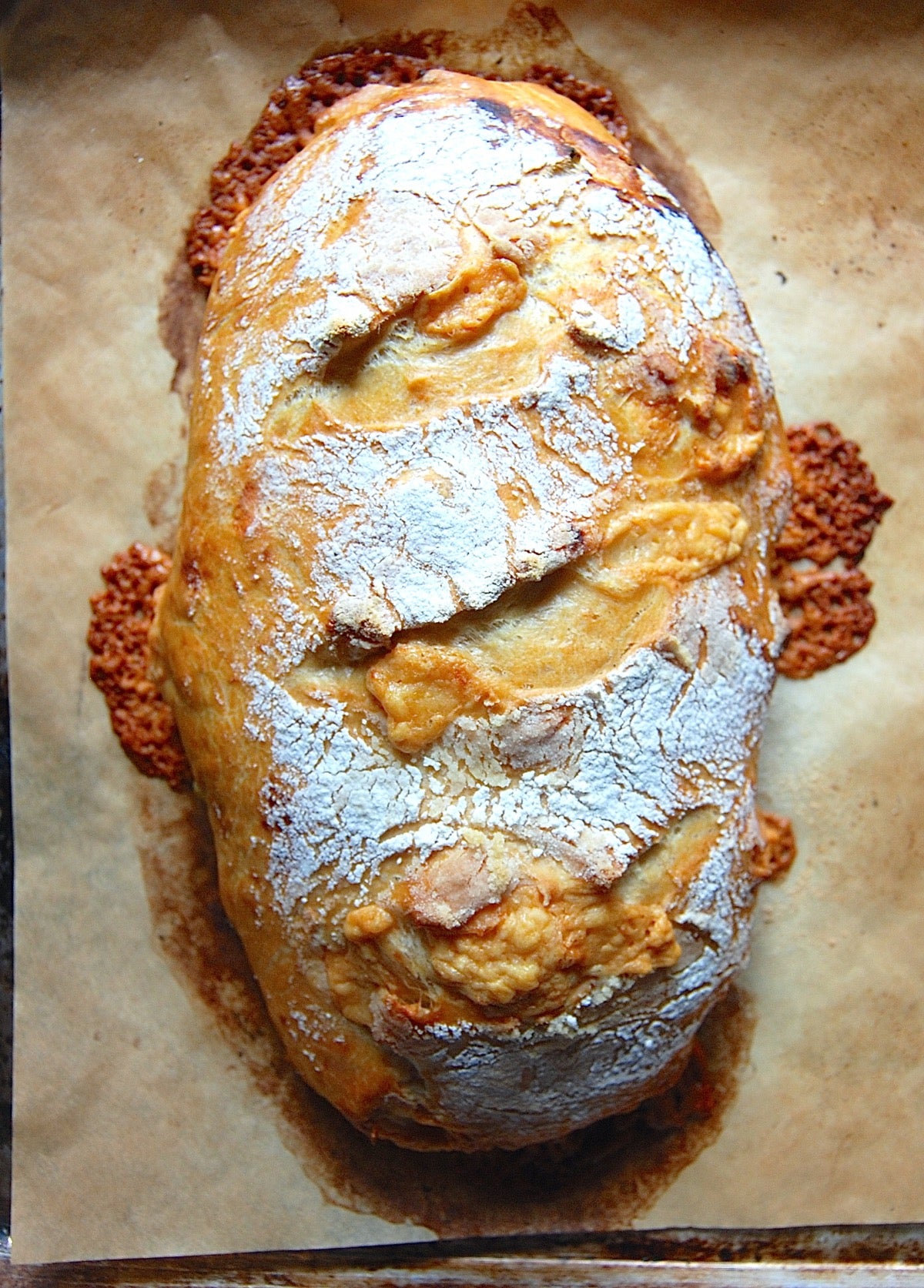 7. Bake.
Bake the bread for 25 to 35 minutes, until it's a deep, golden brown. Remove it from the oven, and cool on a rack.
That's it. Enjoy!
Check out the other variations I made –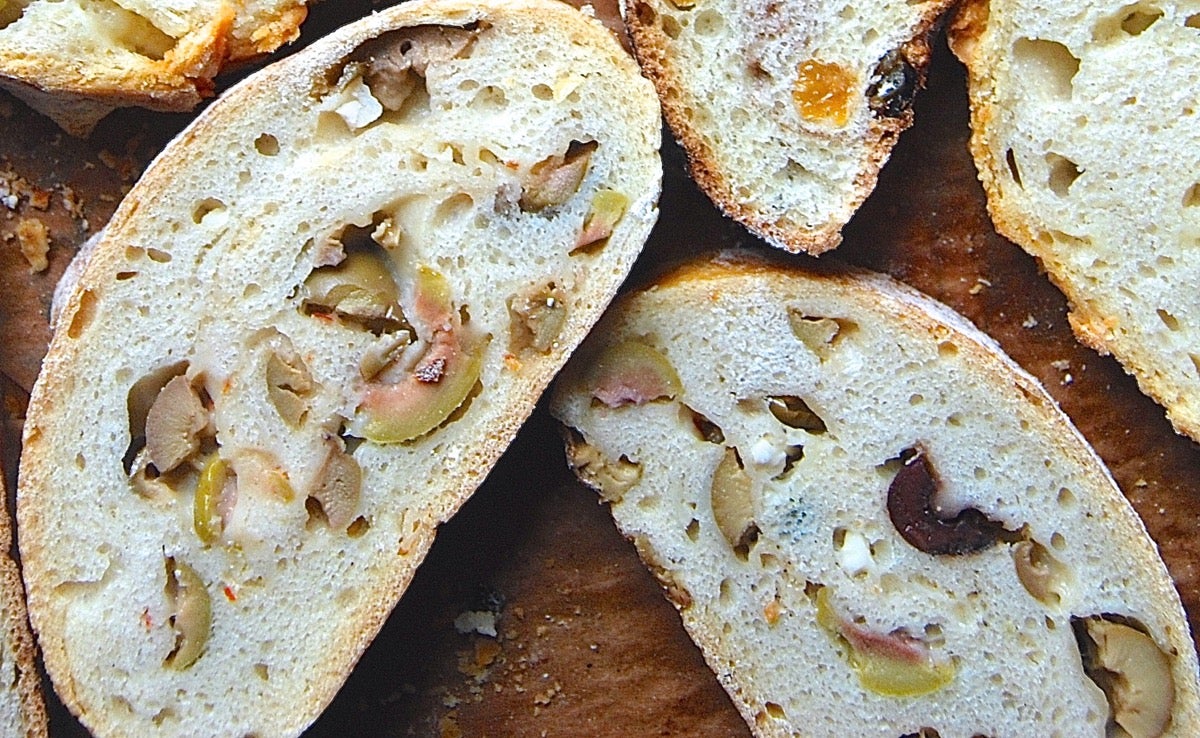 Greek Olive and Feta No-Knead Bread
Here's a loaf with mixed (pitted) Greek-style olives and feta cheese – about 1 1/2 cups total, your choice as to the amount of each. Kalamata or oil-cured black olives are both good; don't use anything too juicy.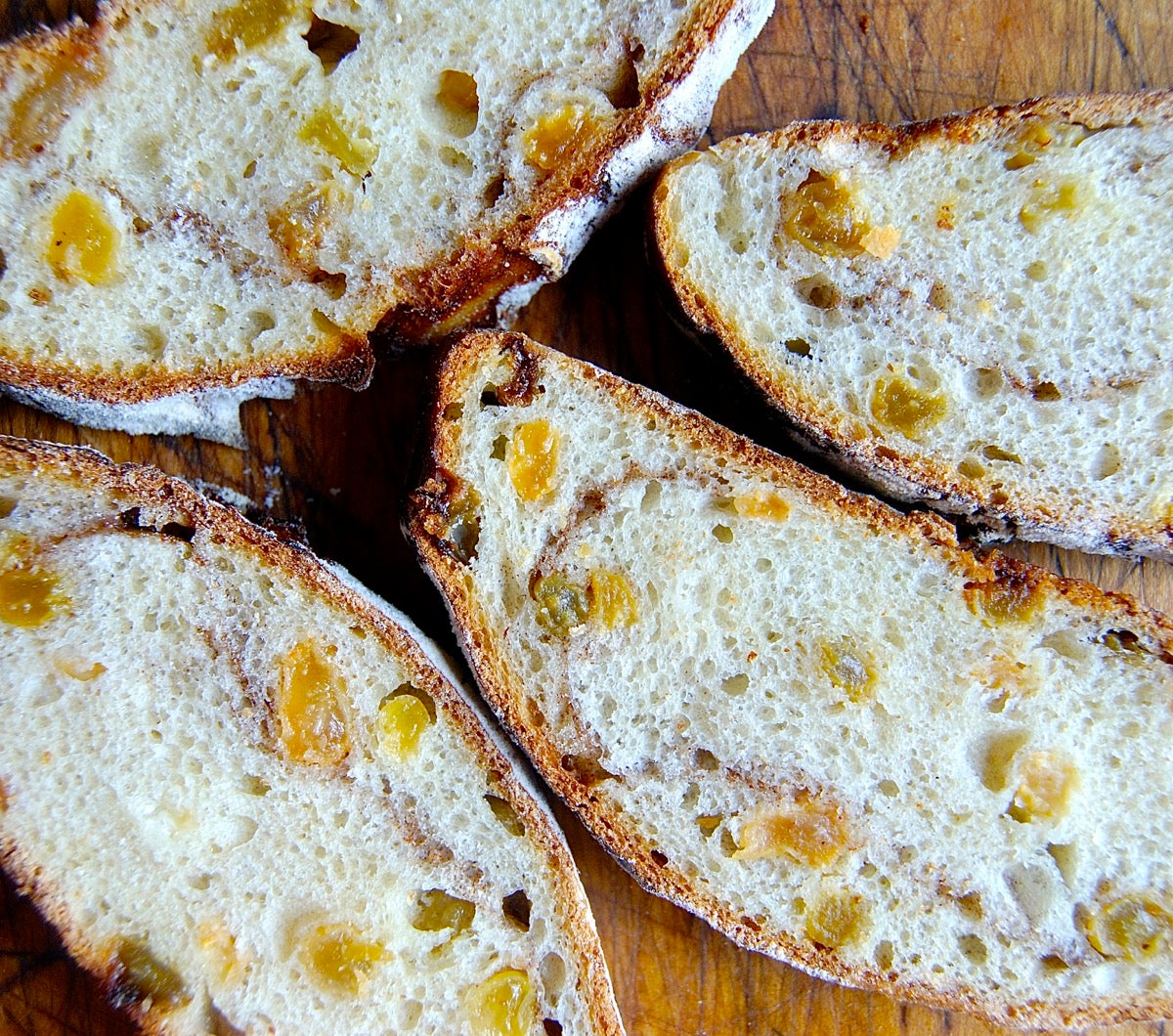 Cinnamon-Raisin No-Knead Bread
How do you get the swirl in this bread? Knead in 3/4 cup golden raisins, then sprinkle your work surface heavily with cinnamon sugar. Place the dough atop the cinnamon sugar and give it a few quick kneads and turns. It'll pick up a very faint swirl in the middle, and be fairly heavily coated with cinnamon sugar on the outside.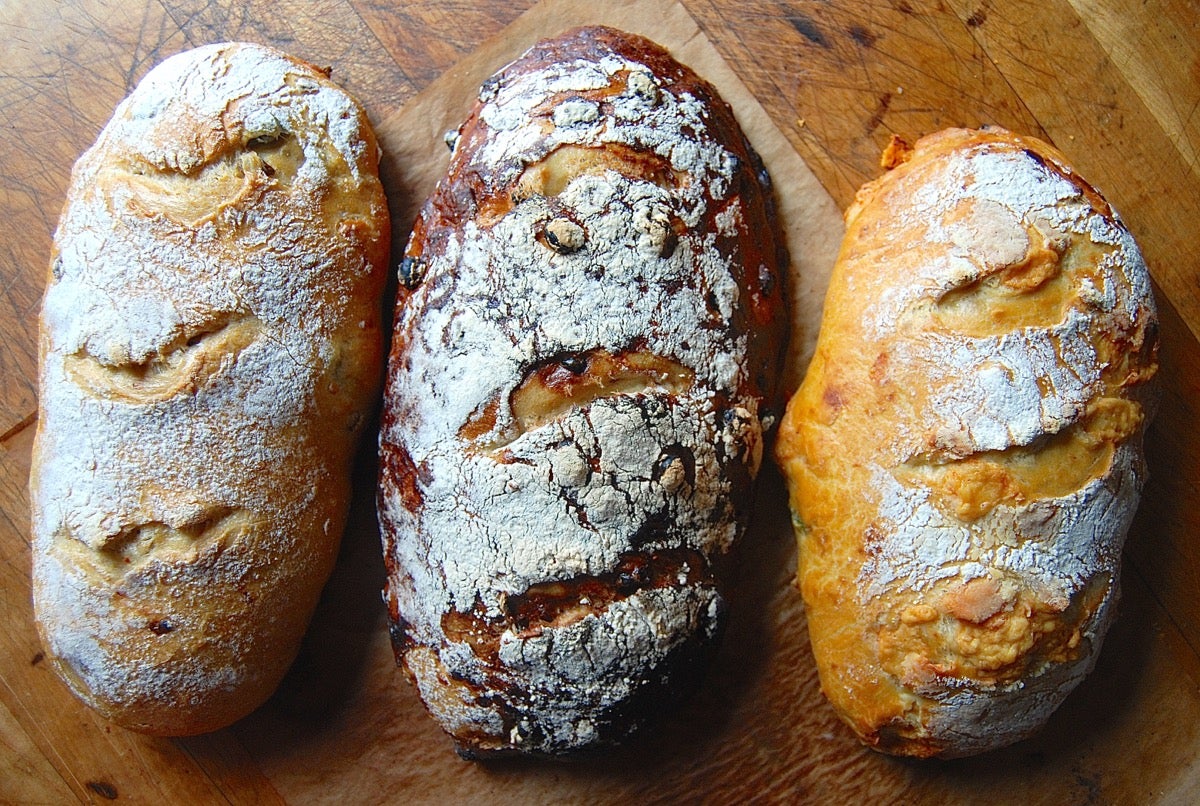 At the end of the day, here's what became of our bucket of no-knead dough (l to r): olive and feta; cinnamon swirl-golden raisin, and cheddar jalapeño loaves.
Now go forth and create!
Have you experimented with tweaking your no-knead bread recipe? Share your innovations in "comments," below.
Jump to Comments