With Diwali on the horizon, writer and baker Pooja Makhijani writes about a celebratory cake recipe that combines her South Asian heritage and American upbringing in one stunning dessert. 
* * *
Diwali, an important Hindu holiday commemorated each year in either October or November (this year it's November 14!), celebrates the triumph of good over evil and the vanquishing of darkness with light, although the deities, rituals, and stories associated with the holiday are different across South Asia and its diaspora. On Diwali, it's been customary for my family to exchange mithai — an umbrella term for a huge variety of confections made in northern and western India — with our loved ones; mithai is a symbol of abundance, gratitude, and generosity.
Though sugar remains central to our celebration, mithai now plays a secondary role. I took over confectionery duties for the family several years ago, but I'm a baker, not a mithai-maker, so our sweet exchanges now feature whimsical cookies, show-stopping breads, or celebratory cakes instead of intricate confections.
In my baking, I'm always reaching for the flavors of my ancestral cuisines.
Baking isn't a common cooking technique in the South Asian kitchen, and I didn't learn to make Western-style desserts until I was an adult, teaching myself by reading cookbooks and watching YouTube tutorials. As a result, my approach in the kitchen draws not only on my South Asian heritage — as I'm always reaching for the flavors of my ancestral cuisines — but also my American upbringing and influences. This confluence of inspirations is embodied in this celebratory Bundt cake recipe.
When I developed this rich, dense Bundt cake recipe a few years ago for a community Diwali celebration, I knew I wanted to use a trio of ingredients ubiquitous in South Asian mithai: cardamom, pistachios, and rose water.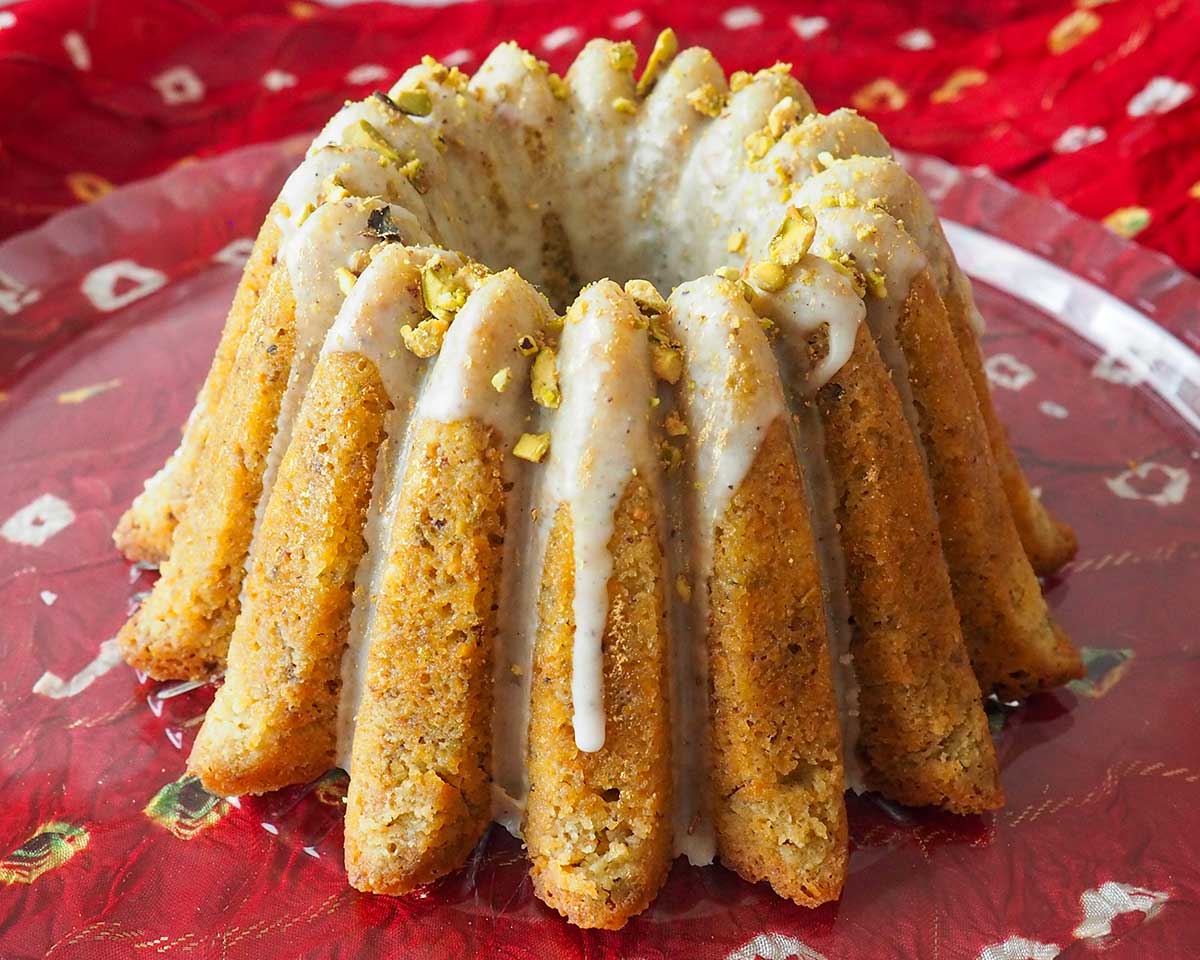 All mithai are made with some combination of flour, sugar, nuts, legumes, and milk or khoya (a semi-solid dairy product made by slowly boiling milk until it thickens), and often enhanced with cardamom, rose water, or saffron. This cake interprets pistachio barfi, a fudge-like nut-sugar-khoya treat — my favorite mithai.
Here are some of the key elements that distinguish it:
Cardamom
Western bakers are most likely familiar with cardamom's abundant use in Scandinavian baking — the spice found its way to northern Europe either via the Vikings or the Moors (the history is rather unclear) — but in South Asia, it's found in everything from dhal (lentils) to kheer (rice pudding). Cardamom is a complex and layered spice: it's slightly sweet, spicy, floral, and citrusy, and has a peppery and herbal aftertaste.
The spice is central to this cake, and it's used both in the batter and the glaze. I prefer grinding whole pods, rather than using pre-ground powder, as home-ground cardamom has a much stronger flavor. If you're using pre-ground powder, you can try increasing the cardamom quantities in the recipe by 50% if you'd like a more robust flavor. 
Pistachios
This ancient nut is also used widely across the northern swaths of the Indian subcontinent, typically employed as the base of desserts and as a garnish.
This cake requires unsalted pistachios. If you buy pre-roasted pistachios, you can skip the first step of the recipe. However, I recommend purchasing raw pistachios and oven-roasting them at home. Pre-roasted nuts aren't nearly as brown, and oven-roasting nuts at the time of use amplifies their flavors in this cake.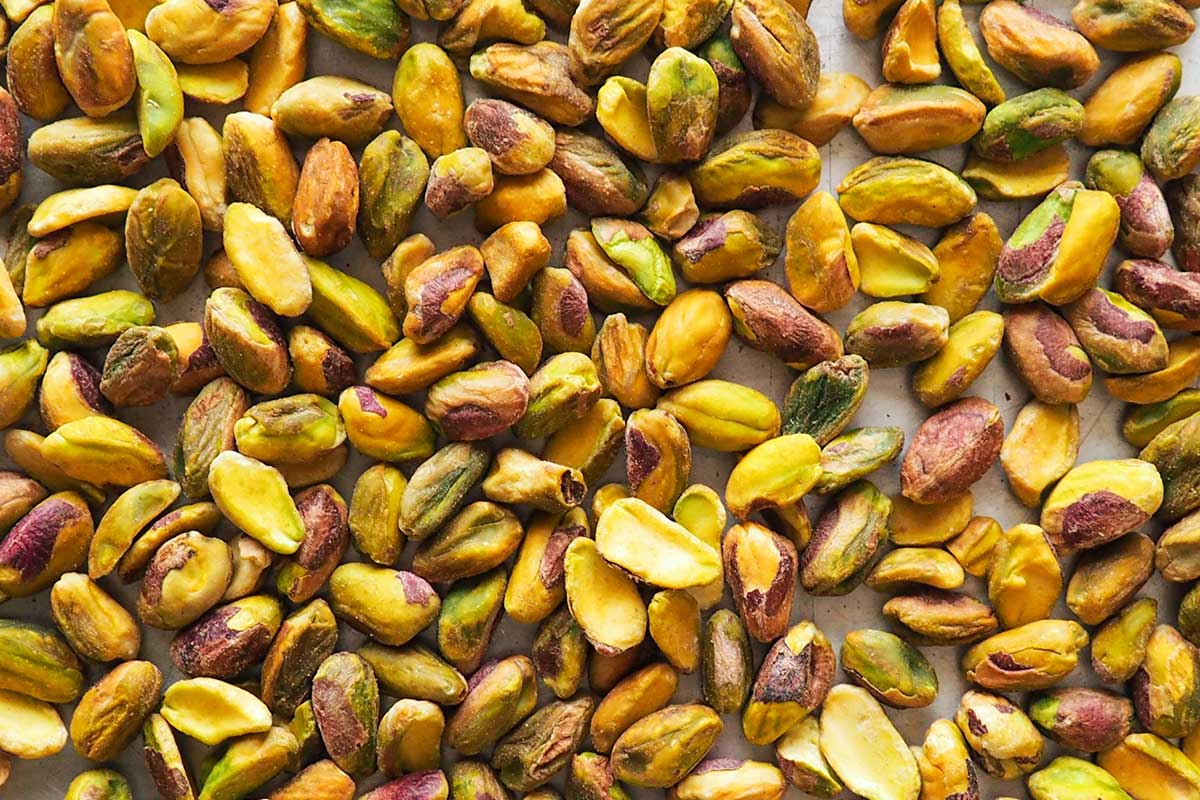 I also purchase my pistachios shelled — which is costly, I admit, but it saves time in the kitchen. If you're shelling your own pistachios, make sure to remove as much of their papery skins as possible. If you don't, they will lend the cake an unwanted musty smell and flavor.
To remove the skins, blanch the nuts by immersing them in simmering water until the skins begin to peel away. Drain the nuts into a colander and rinse them with cold water until they're cool enough to handle. Roll the nuts in a clean kitchen towel and rub them to loosen the skins. Finally, pick through the pistachios and discard the skins. Ready to use! 
Rose water
Rose water, extracted from small deep-red roses, was widely used in European and American kitchens until the mid-19th century. It fell out of favor once vanilla extract became commercially available. But flower extracts, such as rose water and kewra water (extracted from the flowers of the screwpine) are nearly always used to perfume South Asian sweet treats. I did the same here to impart a subtle floral aroma and a slightly earthy taste to this cake.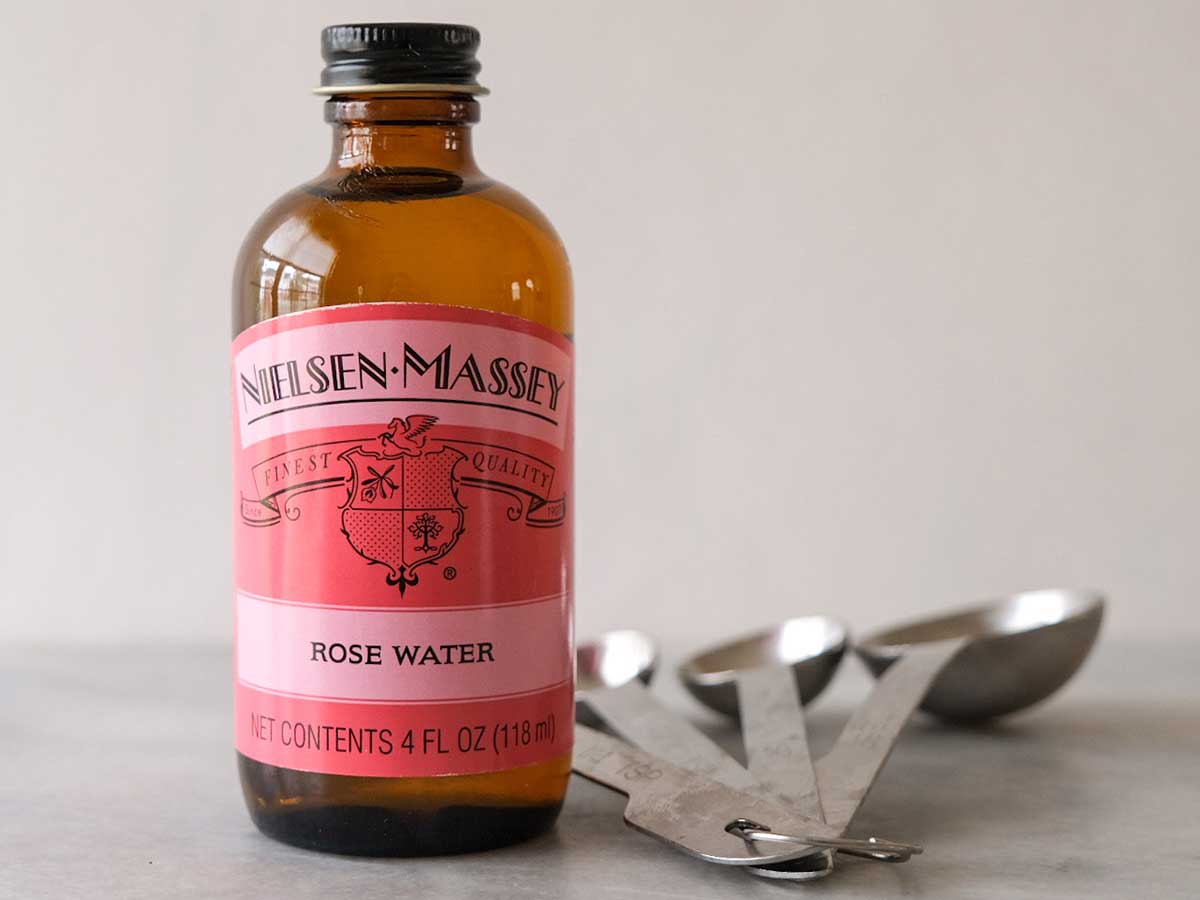 Rose water is available in South Asian and Middle Eastern grocery stores and online. With rose water, a little goes a long way; too much, and your dessert will taste soapy. So as lovely as it smells, resist any temptation to add an extra dash. 
The lemon glaze
Lemon is not a common mithai ingredient, but the citrus fruit pairs beautifully with both cardamom and pistachio, and I believe that a Bundt cake requires a spectacular glaze! Here, the simple glaze, flecked with cardamom, complements both the cake's taste and texture. The cake is garnished with coarsely chopped pistachios and gold luster dust.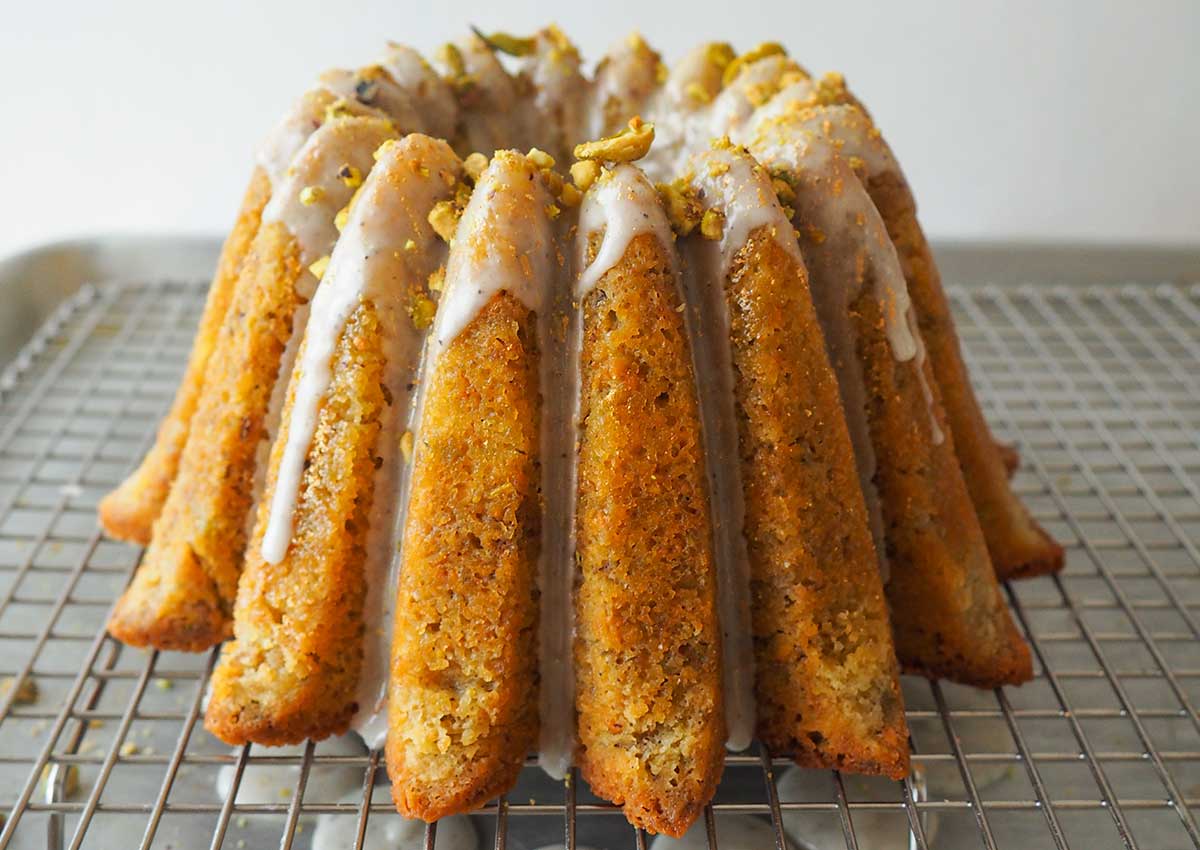 Mithai is often adorned with vark, superfine edible sheets of pure silver. I find sheets of edible metal to be too fiddly to use, so I use dust instead. The dust doesn't impart any flavor, so don't fret if you can't find any! Sprinkles (metallic or otherwise) or even decorating sugar are an equally festive touch. Your cake will taste just as delicious no matter how you decide to bling it up.
Festival of light
A Diwali greeting from me to you: may the year illuminate new dreams, fresh hopes, uncharted paths, and different perspectives. I hope, whether you choose to make this cake for Diwali or your favorite celebration, that you find joy in gathering together around the table and sharing homemade treats.
If you're making Pooja's beautiful Bundt, here are some tips on how to prevent Bundt cakes from sticking. And if you still find yourself with a Bundt that won't budge, see advice in this post on stuck Bundts. Happy baking, and happy Diwali! 
Jump to Comments