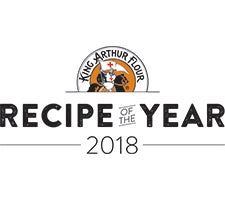 We love baking and sharing here at King Arthur Flour. You know that moment when someone tastes your baked goods and their face lights up with a big smile? It's simply the best. But these days dietary restrictions and food allergies abound, and sometimes it can seem daunting to include someone with a special diet in your circle of giving.
The solution? Our incredibly versatile and downright delicious Recipe of the Year: Whole-Grain Banana Bread! We're going to use this tried and tested recipe to make some allergen-friendly loaves that you can share with everyone: Gluten-free and vegan banana bread are on deck.
Whole-Grain Banana Bread recipe
First, let's get to know this recipe. If you haven't already come across our Whole-Grain Banana Bread recipe in your baking travels, you should know that it's packed with flavor and natural sweetness. A whole pound of super-ripe bananas make this loaf stand out from the banana bread crowd.
It's divine as is or you can make things more exciting by adding mix-ins, like toasted walnuts. You can even use a liquid sweetener instead of sugar. (Hello, maple syrup banana bread!) Check out our post on personalizing your banana bread for full instructions and more ideas.
And there's more! Like the recipe name promises, this banana bread is also full of whole grains. The recipe calls for 1 cup of White Whole Wheat Flour — but using whole wheat flour isn't the only way to bake with whole grains. You can bake with gluten-free whole grains too.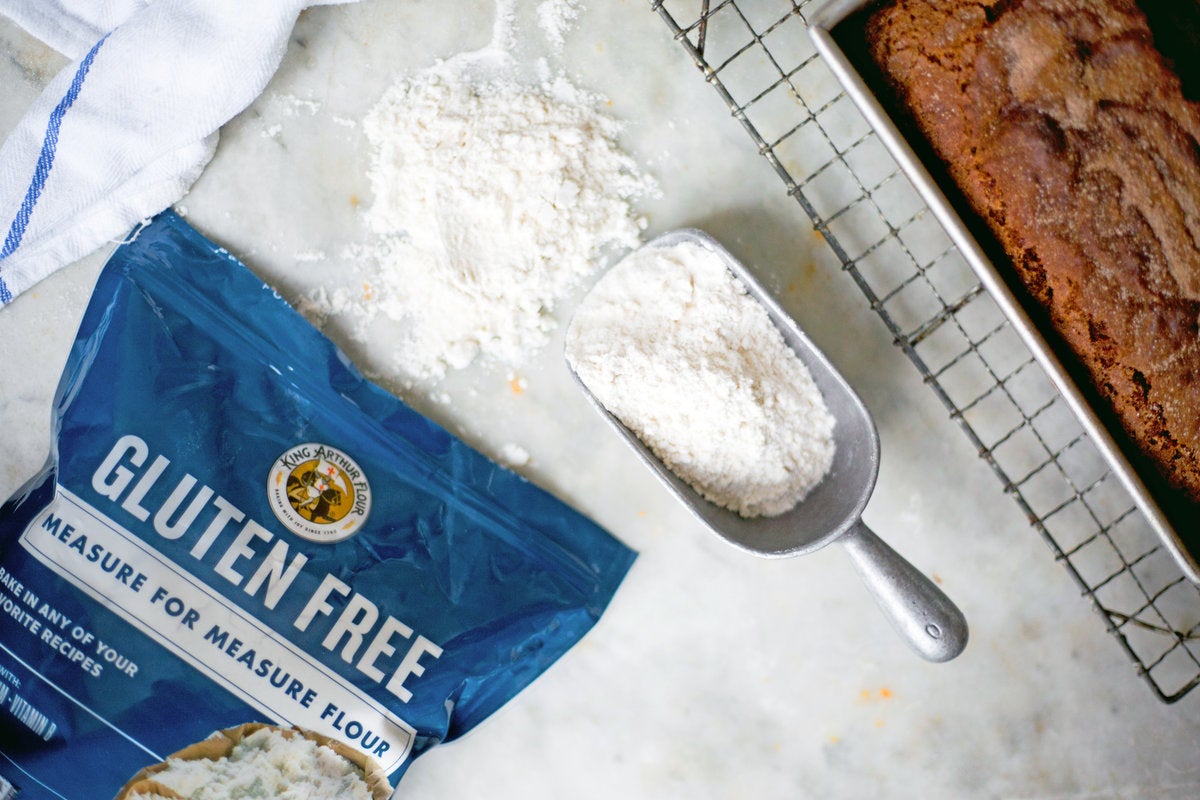 Gluten-free banana bread
Gluten-free bakers, it's your time to shine! Did you know that our Gluten-Free Measure for Measure Flour contains ingredients like whole grain brown rice flour and whole sorghum flour? It even bears the Whole Grain Council stamp of approval: You'll get 12 grams of whole grains per serving of Measure for Measure.
This gluten-free flour blend is not only packed full of whole grains, but it also makes incredibly delicious and tender baked goods. Even supposed gluten-lovers will be asking for a second slice of this gluten-free banana bread.
Using this flour to make gluten-free banana bread couldn't be easier: Just replace the all-purpose and white whole wheat flour in the recipe with a 1:1 substitution. That's it — no other changes need to be made. Really!
See? Baking banana bread for a gluten-free neighbor really isn't hard. Now you can bake and share with their family too!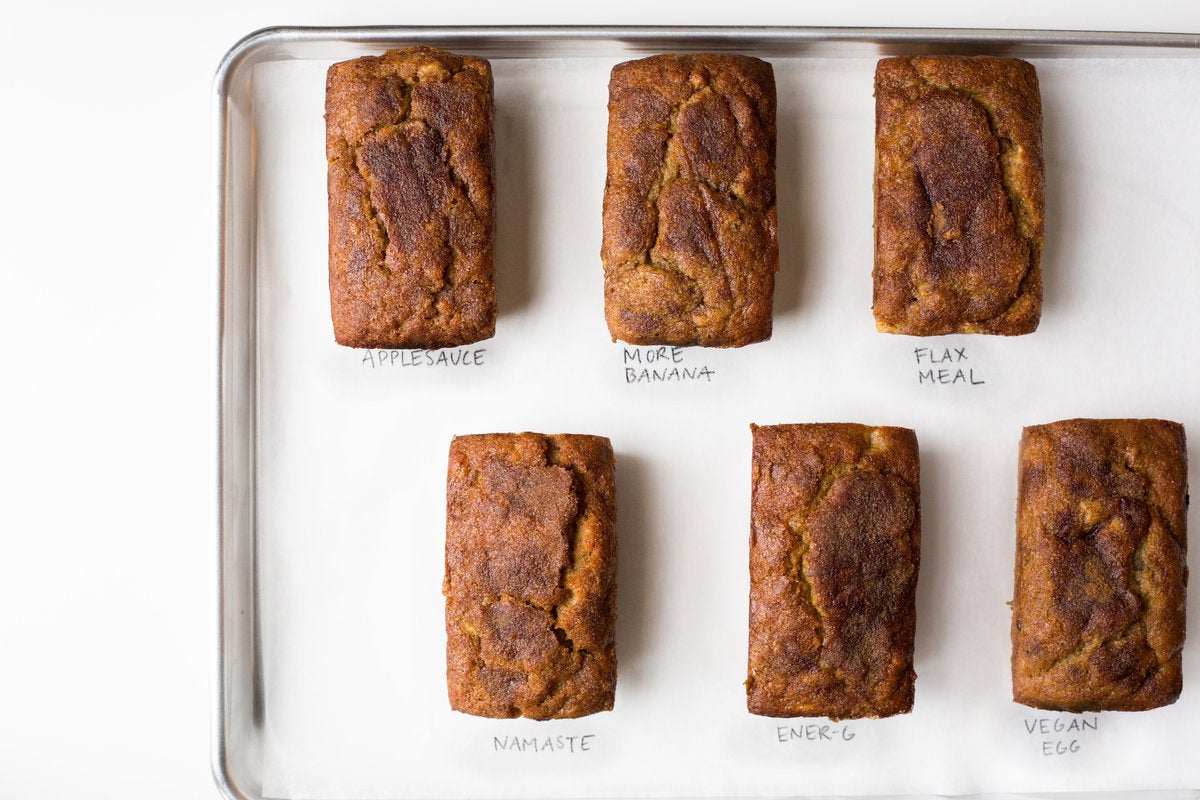 Dairy-free, egg-free: Vegan banana bread
Luckily our whole grain loaf is naturally dairy-free. And if you replace the eggs, you're on your way to making delicious vegan banana bread. (And see, you thought this was going to be hard!)
Note: Some brands of sugar are known for being suitable for vegans. If you're baking for a strict vegan, be sure to check with the sugar manufacturer before getting started.
To really knock the socks off that vegan friend of yours, you have a few different options. There are a number of commercial egg alternatives available, as well as more natural ingredients bakers can use to replace eggs in recipes — like fruit purée.
We want you to be able to bake the very best loaf of vegan banana bread, so we do what we do best: We head to the test kitchen and bake A LOT of banana bread to explore these options.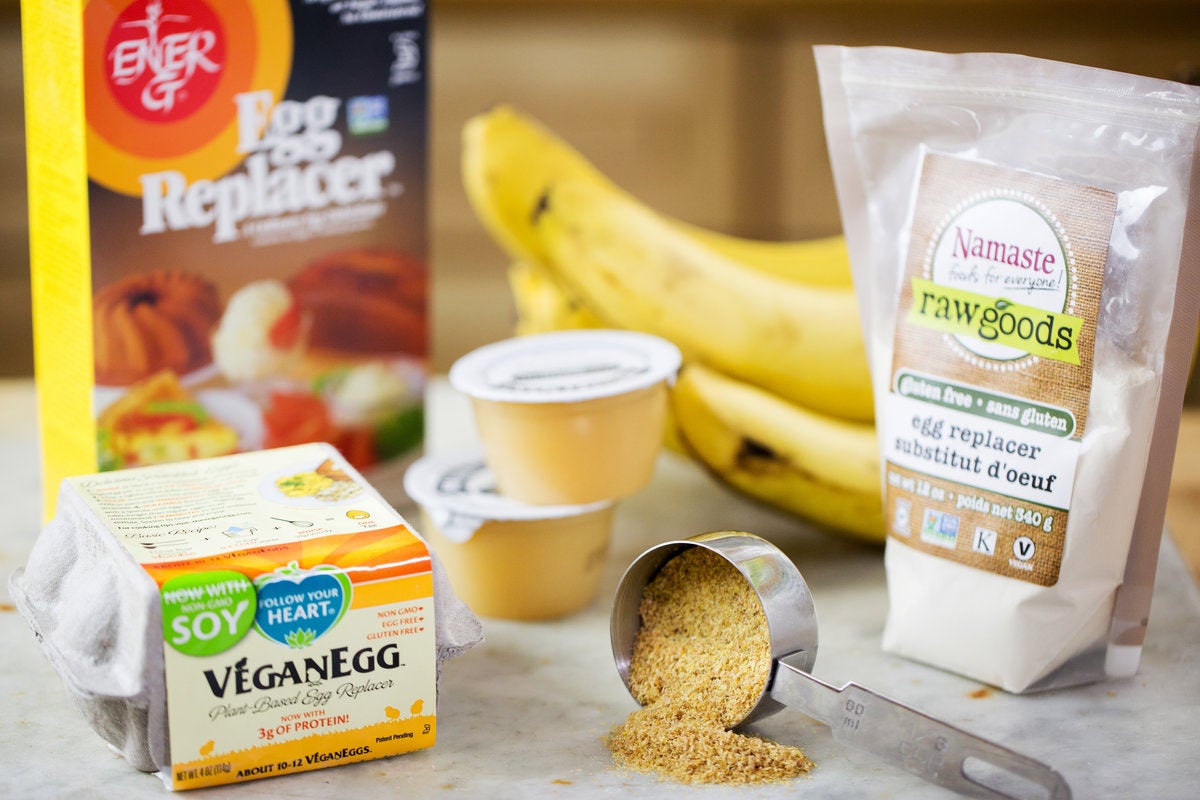 Testing egg-replacers: Commercial alternatives
In search of the best vegan banana bread, we start with three commercial egg replacers: Follow Your Heart Vegan Egg, Ener-G Egg Replacer, and Namaste Egg Replacer. They're made from different kinds of starches such as potato starch, tapioca starch, and some kind of binder, like xanthan gum.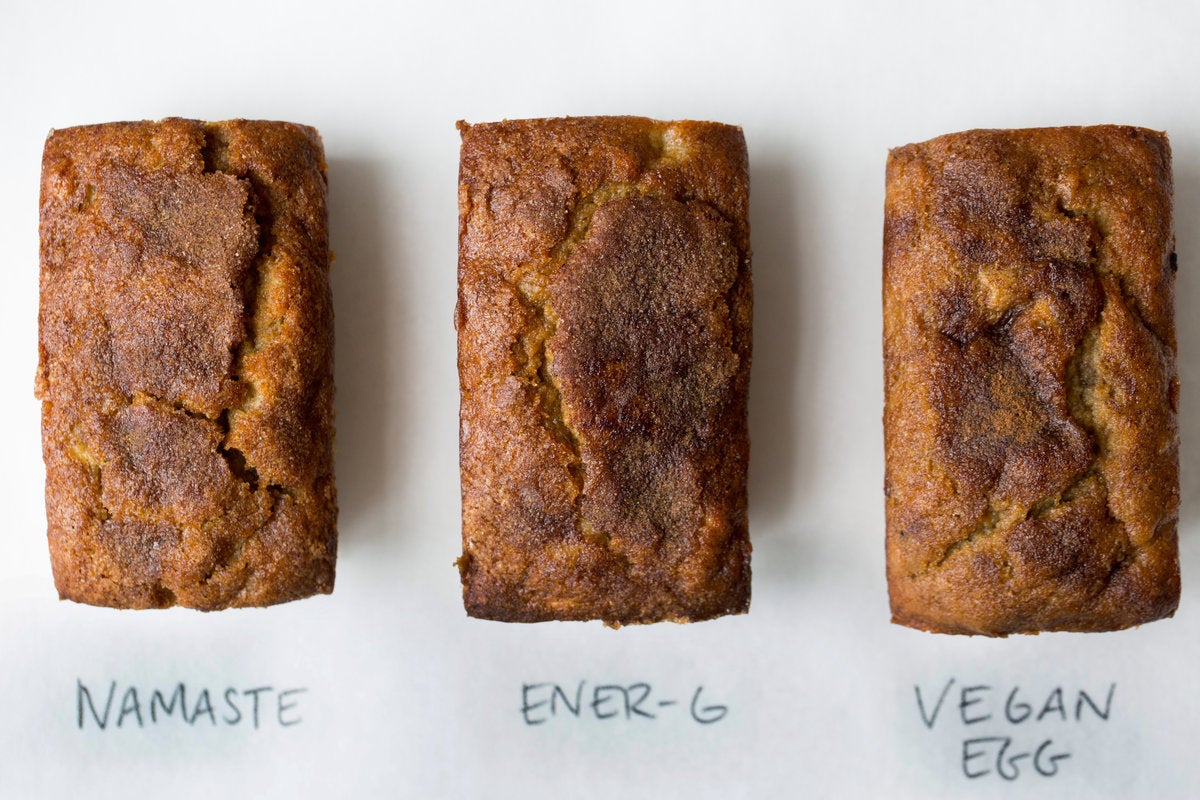 We bake up mini loaves of Whole-Grain Banana Bread using these ingredients instead of the two large eggs called for in the recipe. (We use a combination of all-purpose flour and white whole wheat flour as called for in the recipe, but remember you can use Measure for Measure Flour if you're looking to bake gluten-free too.)
To replace the eggs, we follow the instructions on the package for each of the commercial egg replacers. Some call for mixing with water and letting rest until a gel-like texture forms, so be sure to read the package before starting to mix your other ingredients.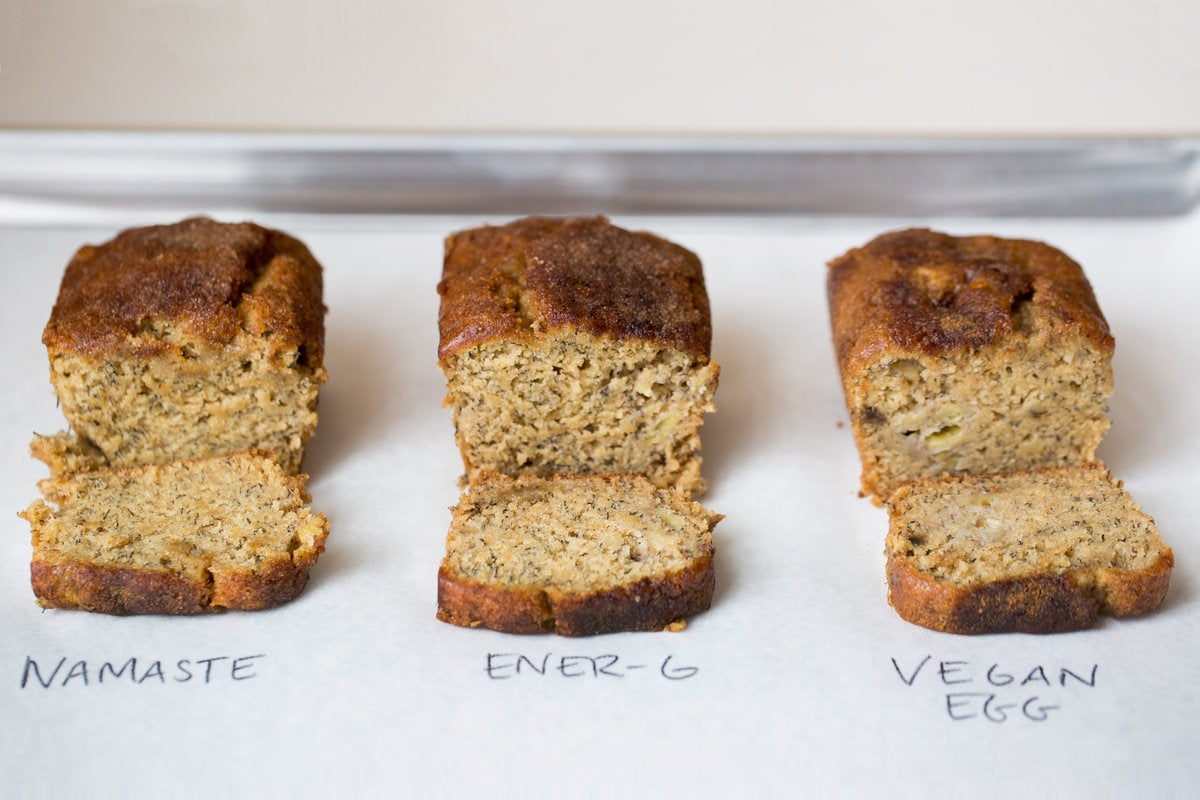 Now to the tasting! I'm lucky to be surrounded by some very willing taste testers with a full range of palates. From fellow employee-owners to family members, friends, and even students at a summer program I worked at, we have lots of people taste vegan banana bread.
While there's some nuance in opinions, here's what we thought:
Namaste: The crumb is tender and the loaf rises nicely. The banana flavor is slightly muted though. It still gets a solid thumbs up from the crowd; it's a reliable option if you can find this egg replacer.
Ener-G: Some tasters find the loaf's texture to be surprisingly gritty. It's not overwhelming but more than one person notes the mouthfeel. The flavor is a bit more banana-y than the Namaste version.
Vegan Egg: This loaf is the most different in texture from the original recipe. The structure of the bread is slightly bendy and the flavor is surprising – almost savory.
We're surprised to learn you can scramble Follow Your Heart Vegan Eggs in a pan and enjoy them like real eggs! This might be an exciting option for vegans to explore, but we don't think it's best used in baking.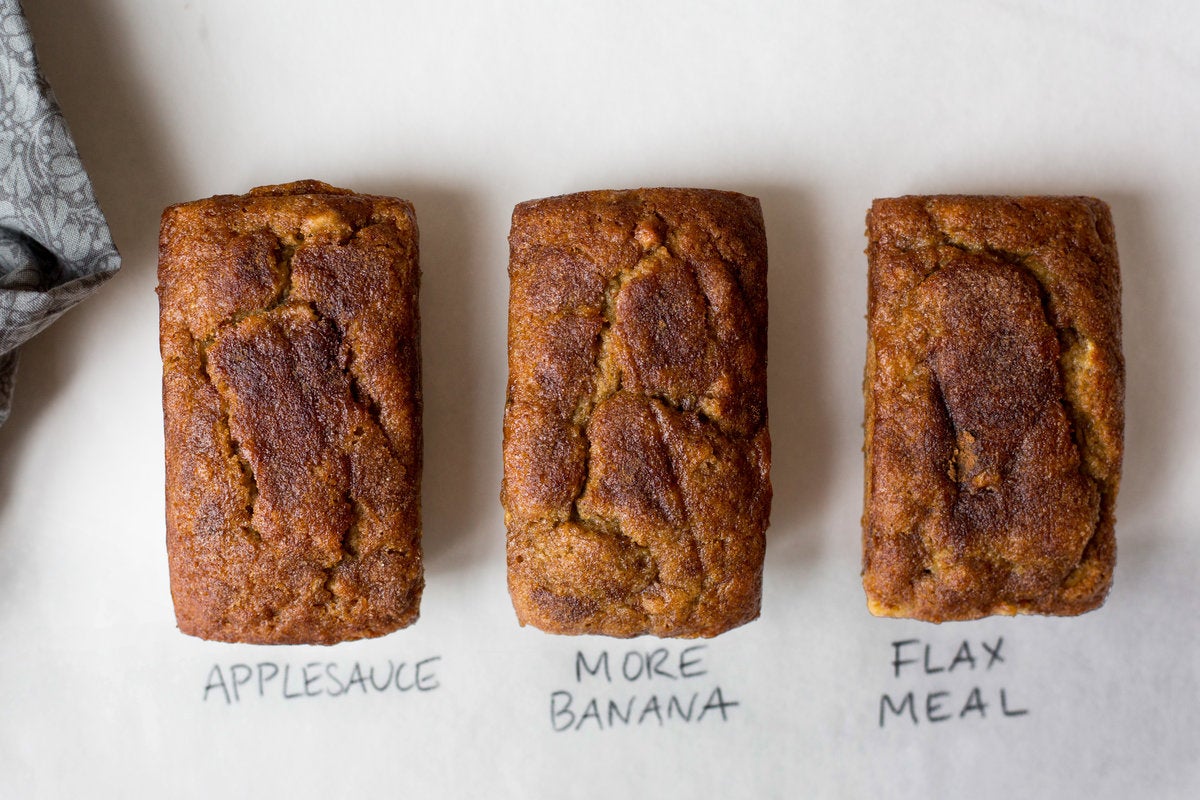 Testing egg replacers: Natural alternatives
We also test three other egg-replacement methods, including golden flax meal, applesauce, and more bananas.
For the applesauce and bananas, we replace each egg with 50 grams (about 1.76 ounces, the average weight of a large egg) of the respective fruit purées.
For golden flax meal, we blend 1 tablespoon flax with 3 tablespoons cool water to replace each egg. Follow the instructions in this article on our blog for best results.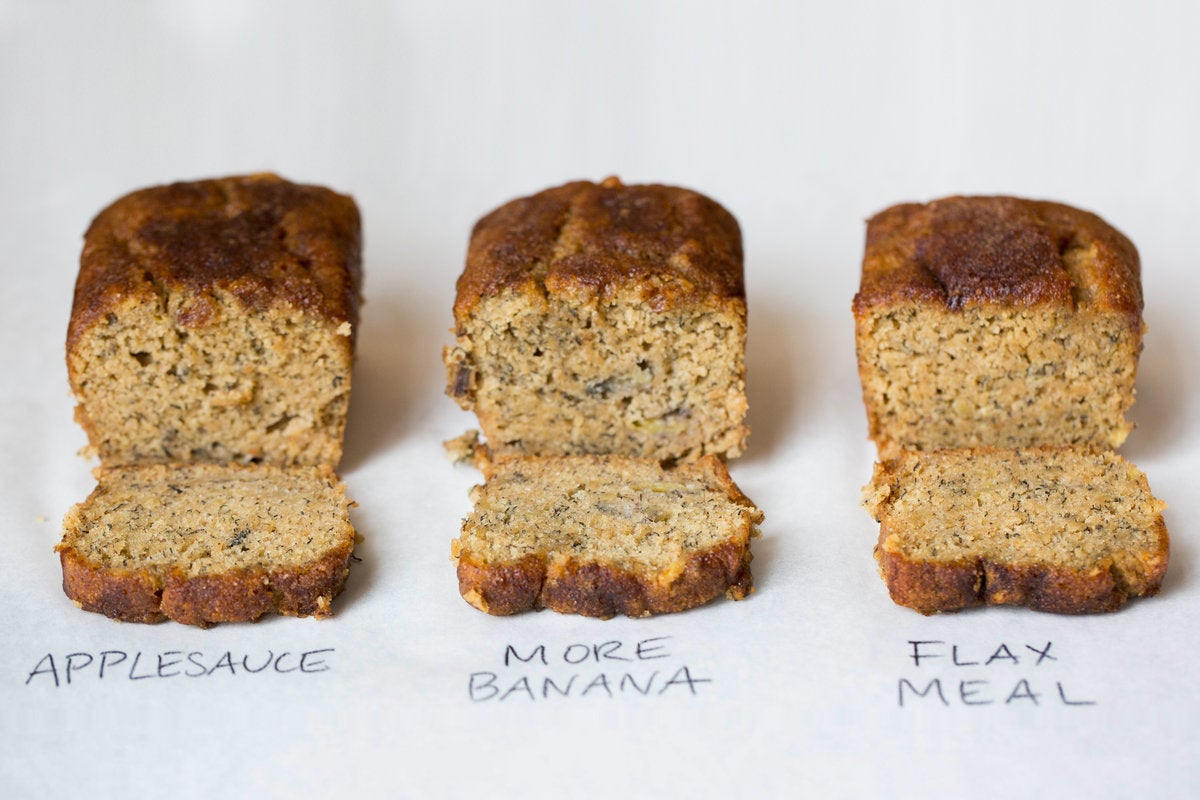 Here's what the tasters think of these more commonly found ingredients:
Applesauce: The taste isn't noticeably sweeter. A little bit of apple flavor comes through at the very end, which most people find pleasant. Some tasters think they can pick up on the cinnamon more in this loaf, too. The crumb is tender and moist.
Additional banana: The banana flavor is more pronounced without being too assertive. It has the best flavor but is slightly heavier in texture, almost verging on gummy. Some tasters describe it as being just a bit "wet," albeit delicious. This can potentially be remedied by baking the bread for an additional 5 to 10 minutes.
Golden flax: This loaf has a soft, almost fluffy texture that melts in your mouth. It's tender, almost cake-like, with crumb structure very similar to the standard version. The flavor is much like that of the original: delicious!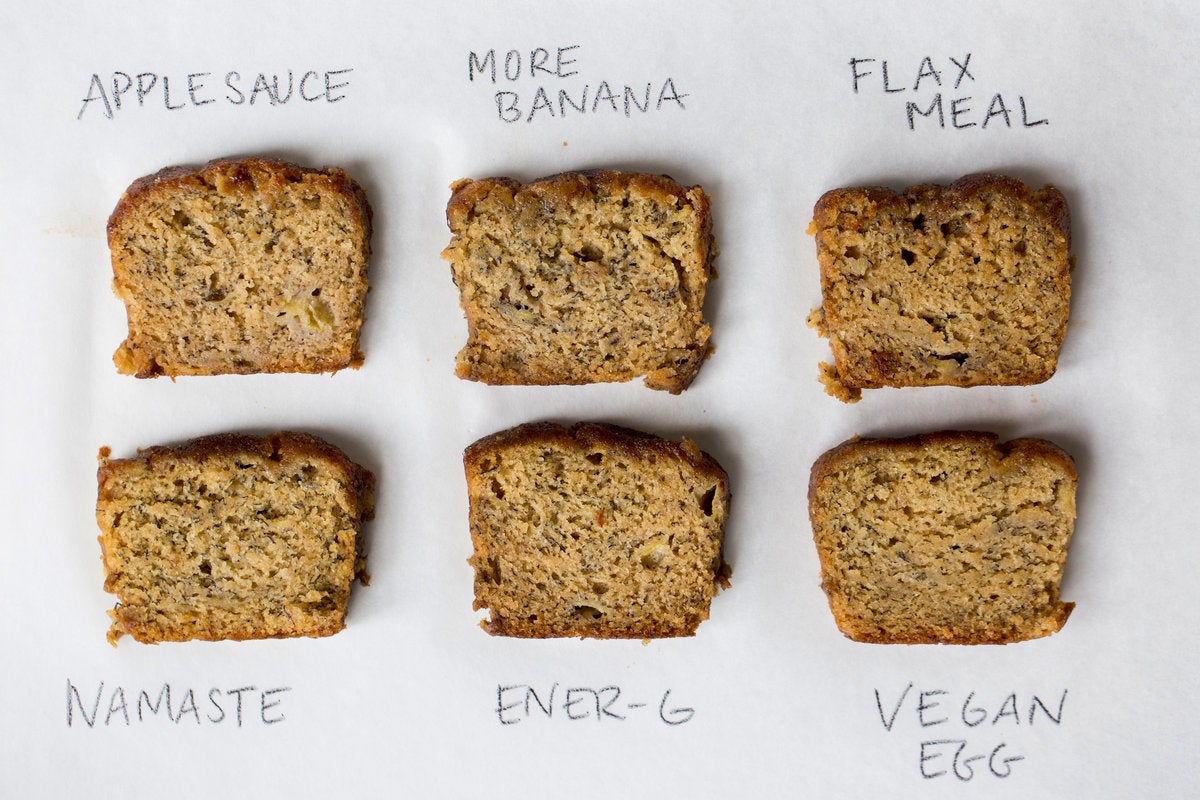 How the egg replacers stack up
We decide that all of the loaves with commercial egg replacers have less flavor than those made with natural alternatives. This might be because applesauce, banana, and flax all contribute flavor, whereas starch-based egg replacers provide structure rather than deliciousness.
Aside from the Vegan Egg alternative, which had a slightly savory taste, the flavor of the commercial egg replacers wasn't displeasing. However, the banana and cinnamon flavors were noticeably more robust in the applesauce, banana, and flax loaves. These loaves are slightly denser, but it's a trade-off that's worth making for awesome flavor.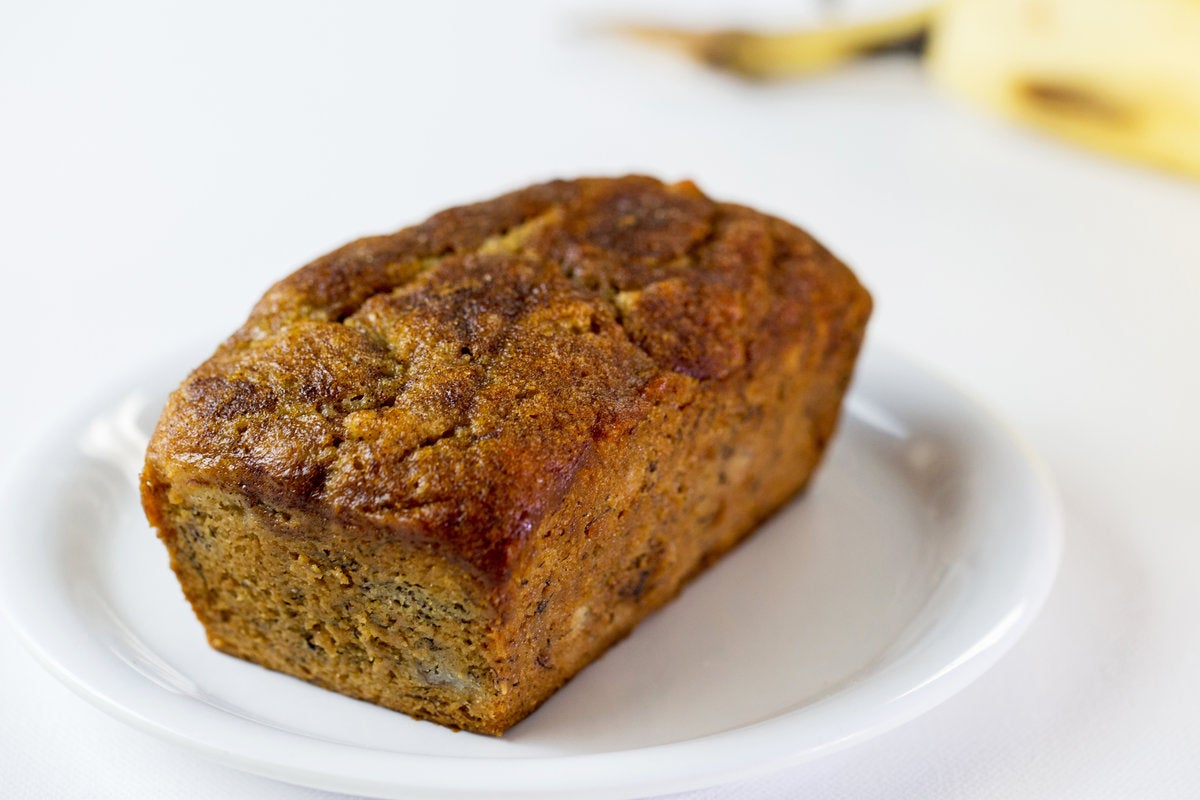 The best vegan banana bread
In the end, the loaf made with applesauce is the winner in our taste tests, with additional banana coming in a close second. If you use more banana to replace the eggs in quick bread, be sure to extend the baking time by about 5 to 10 minutes to prevent any potential gumminess.
(Note that all of the test loaves required about 10% longer to bake than the recipe called for. For more, read How to tell when your banana bread is done.)
The most exciting part about all of this testing turns out to be that all of the egg-replacement methods are surprisingly tasty! Some versions are a bit lighter and more like the original banana bread than others. But honestly, we wouldn't turn down a single slice of any of these vegan banana breads.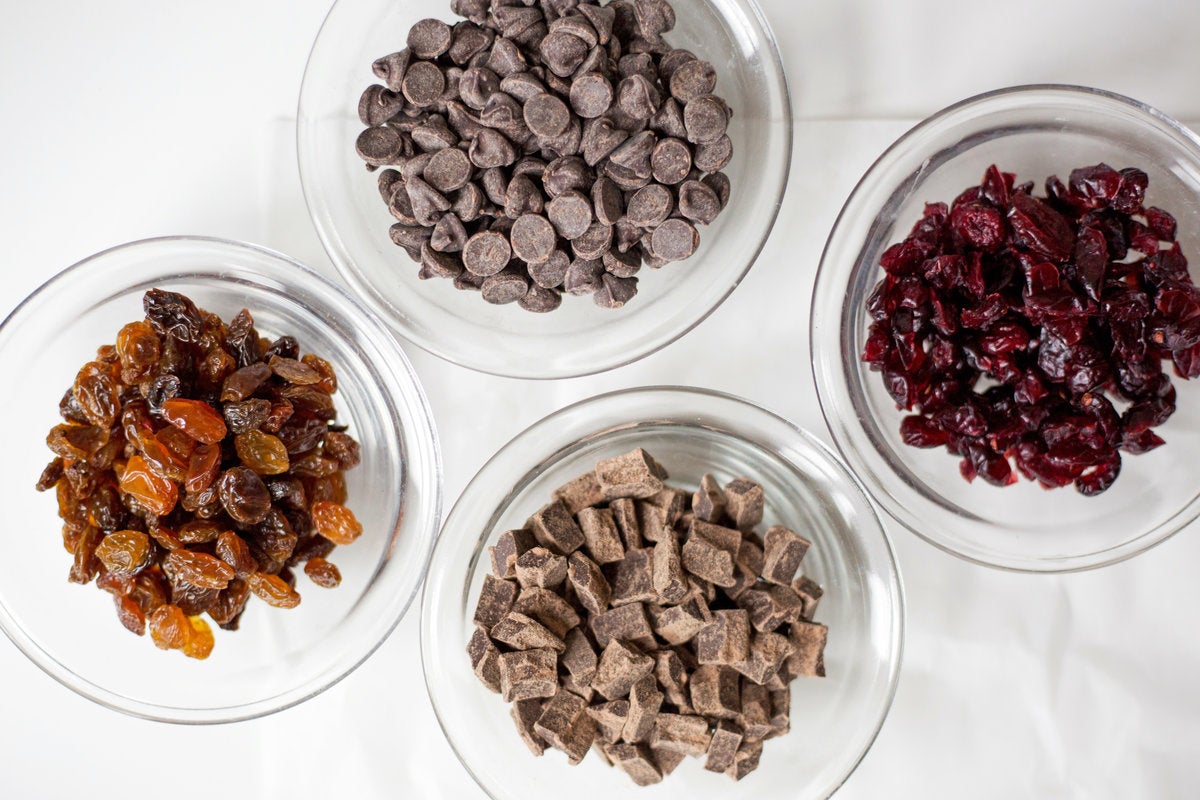 Nut-free banana bread
Now you're ready to bake for someone who's gluten-free, dairy-free, or even vegan. But what about if you're baking for a school function? It's likely there's a no-nut policy in place.
No nuts? No problem!
This recipe calls for an optional 1/2 cup of walnuts, but it's certainly not a necessary addition. I'm a proud nut-free baker and you're welcome to follow my lead: add chocolate instead! More often than not, I pack my baked goods full of different kinds of chocolate chunks.
If you're not a chocolate fan, feel free to use your favorite dried fruit. Currants, golden raisins, and even dried cranberries would all take this banana bread up a notch. You can stir in up to 1 cup mix-ins, so there's lots of room for delicious additions.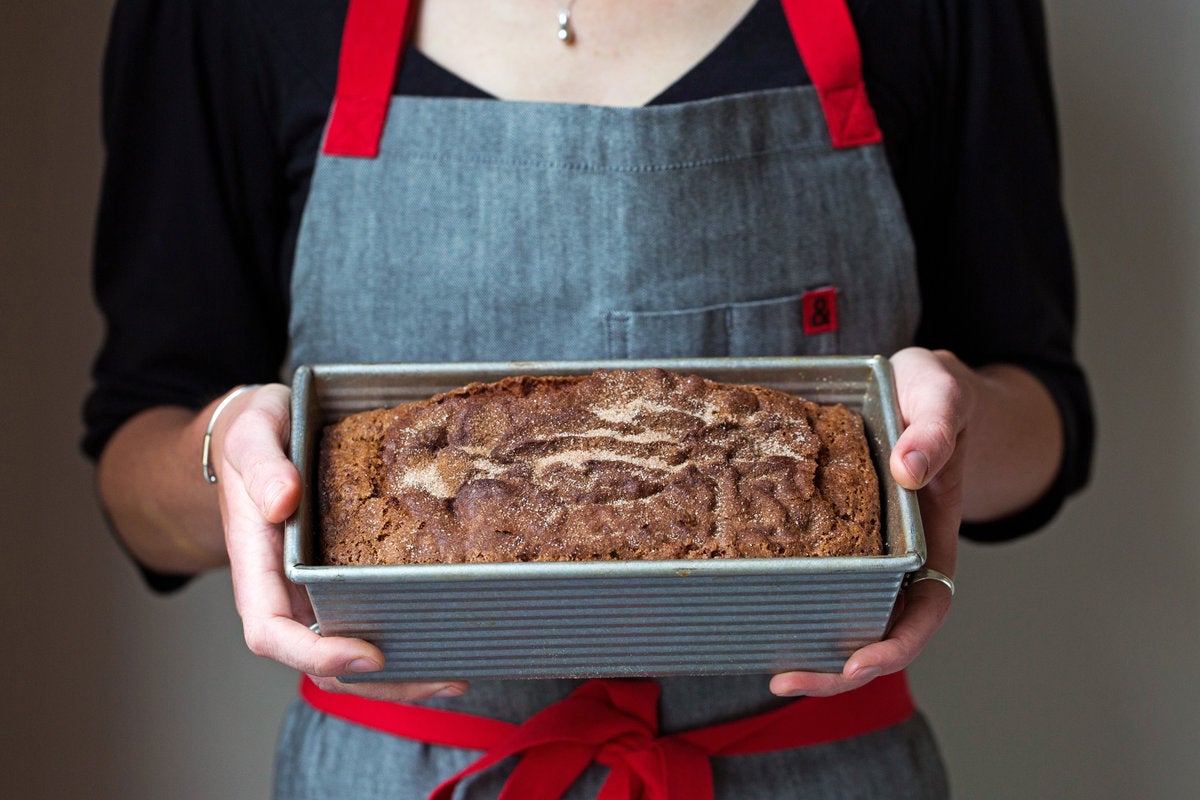 Bake and share: Vegan banana bread and more
Don't forget why we explored all of these allergen-friendly versions of our Whole-Grain Banana Bread: so we can bake and share! This versatile recipe covers all the bases. Whether you need to bake gluten-free, dairy-free, nut-free, or even vegan banana bread, this is your go-to recipe.
We hope you'll bring our Recipe of the Year into your kitchen and bake a loaf for someone else. Make it for someone you love or someone you're just getting to know. We think you'll find that one of the best parts of baking is sharing the joy with others.
Let us know what other gluten-free and vegan recipes you bake and share with others in comments, below.
Thanks to Anne Mientka and Liz Neily for taking the photographs for this post.
Jump to Comments