Gluten-Free Sourdough English Muffins
Put THAT on your fork and split it!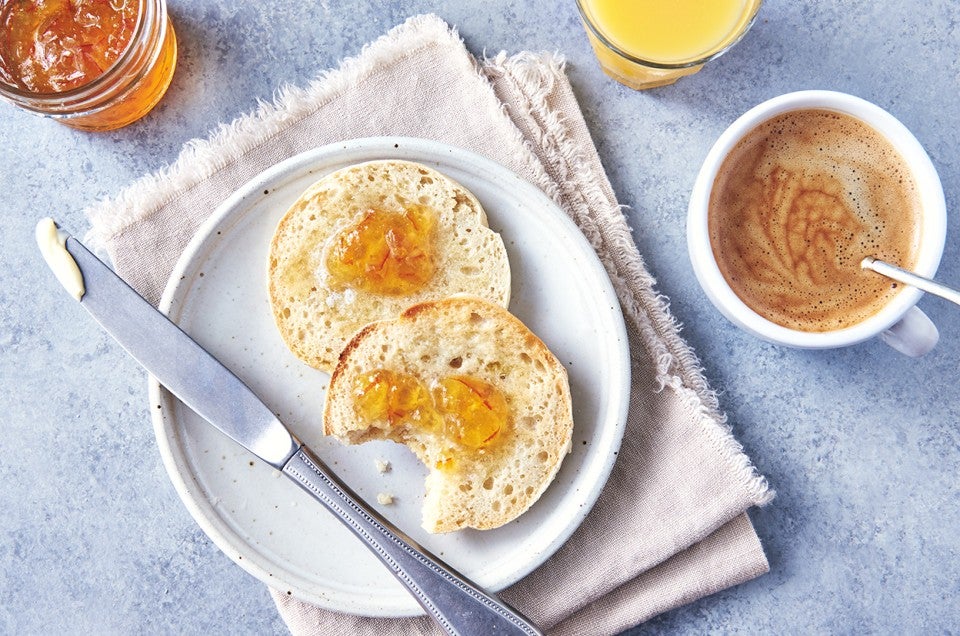 I promised to get busy developing some yeast recipes for the sourdough starter that I introduced a few months ago and thought English muffins would be a good first challenge. I've had a fair taste-test run with a variety of gluten-free English muffins; mostly the kind you buy frozen in the grocery store.
Deal-breaker #1: One muffin costs about the same amount as the ingredients to make them at home. Make your own batch!
Deal-breaker #2: Most all of them were shaped like English muffins, but when broken into, were no different than a lightened gluten-free white bread: soft and spongy with an even crumb, no nooks or crannies.
I may as well have taken a biscuit cutter to a loaf of bread and saved the money.
My mission was in front of me, provoked by repeated disappointments and a longing for a chewy muffin full of flavor and butter-trapping dimples.
I'm excited to share this recipe with you which, after many trials and adjustments, is more true to a traditional English muffin that I would have ever expected.
Quick! Get out your griddles!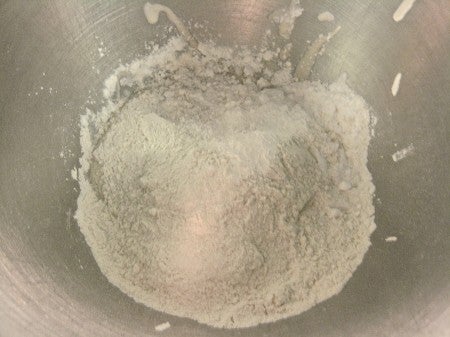 Begin with these ingredients in your stand mixer's bowl (pre-whisk the dry ingredients well before adding to the starter):
3/4 cup (113g) Gluten-Free Multi-Purpose Flour
3/4 cup (113g) potato starch
1/4 teaspoon instant yeast
1 teaspoon xanthan gum
1 1/4 teaspoon salt
1 cup (227g) ripe (fed) gluten-free sourdough starter
Beat ingredients until well-blended.
Add 1/2 to 3/4 cup (113g to 170g) water, 2 tablespoons (28g) oil...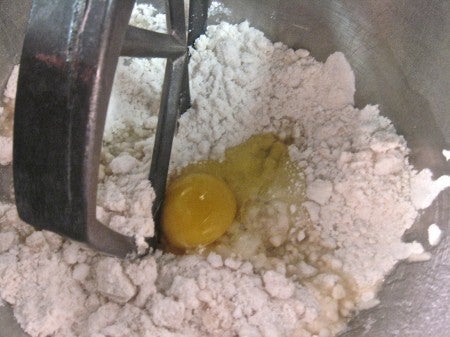 ...and 1 large egg.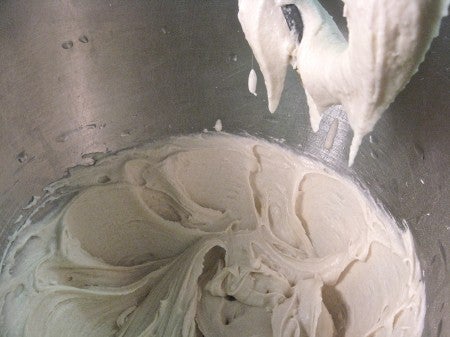 Beat on high speed for 2 to 3 minutes to make a smooth, paste-like batter.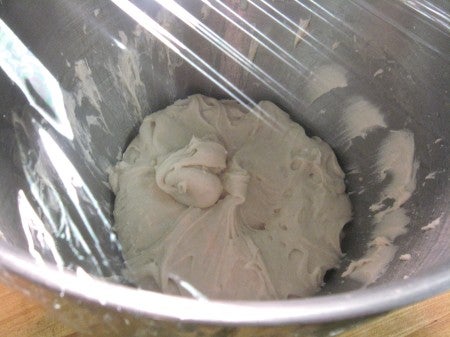 Cover the bowl and let the batter rise for 1 1/2 to 2 hours.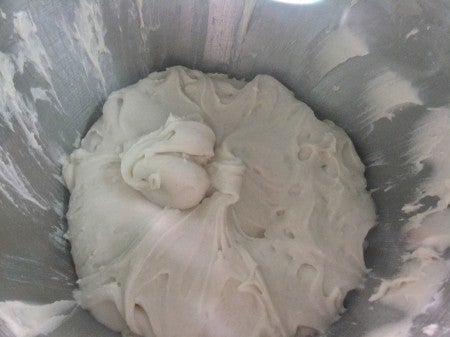 It won't change dramatically in size, but will become puffy.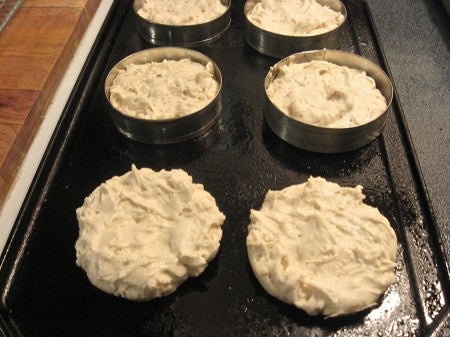 Preheat your electric or stove-top griddle over medium heat, and lightly spray six English muffin rings with oil.
You can sprinkle the surface of the griddle inside the rings with cornmeal if desired, to help prevent sticking. I made mine without to make sure it wasn't necessary, but I'll be honest – it's nice to have the added texture of the cornmeal. Typically semolina would be used for wheat-based English muffins.
When the griddle is hot, divide the batter among the rings and wait for the muffins' bottoms to set before carefully removing the rings.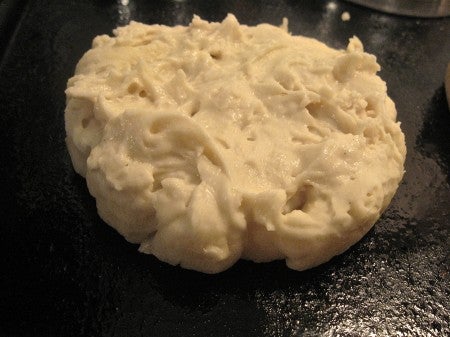 Cook for 7 to 10 minutes on the first side.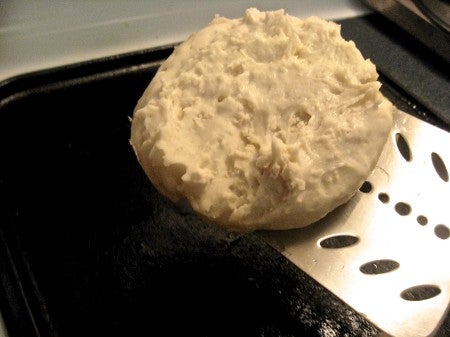 Then flip them over.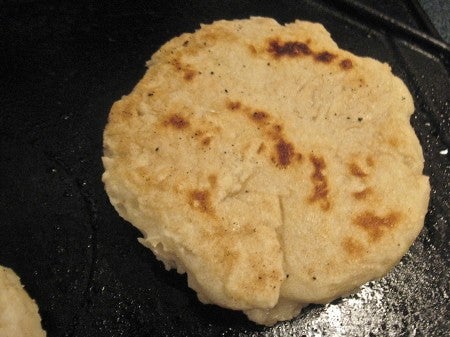 Allow them to cook through (another 7 to 10 minutes) on the other side, and have them reach an internal temperature of 210°F before removing them from the griddle.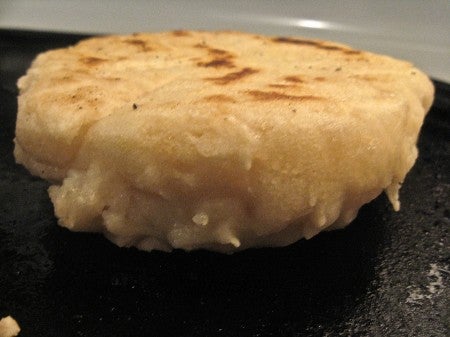 Looking like a real English muffin already! Check out that height!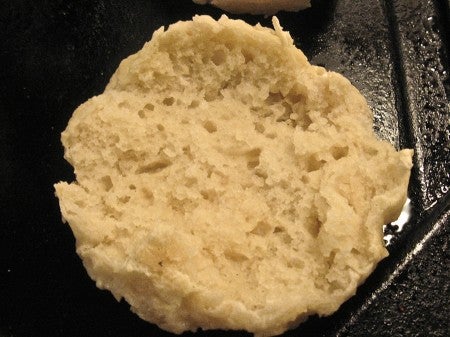 A moment of truth many moments too soon.  My impatient, impulsive self could not wait until they were cool to check for this happy sight of holes- something only a baker could understand, right?
As with any bread, giving ample time to cool is better for the quality of the crumb, allowing any residual steam to disperse evenly.
Do as I say and not as I do or your muffins could have a sad case of the gummies. Thankfully I was able to throw this one in the toaster while I let the others cool on a rack.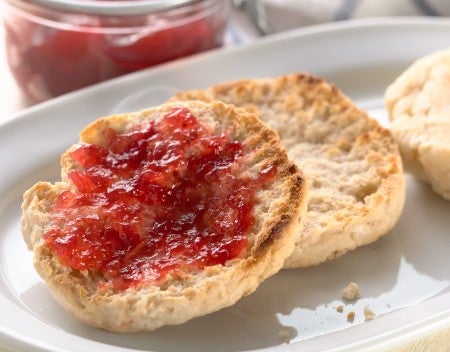 Please read, bake and review our recipe for Gluten-Free English Muffins.
Jump to Comments