When summer arrives in New England and the time comes to pick your own berries, it becomes an all-day event, akin to the family trip to the seashore, or a jaunt to the town Founder's Day picnic.
Sunscreen and bug spray? Check. Water bottles and berry baskets? Check. Bright shirts with long sleeves to stay protected, most often pre-spotted with berry juice from picking trips past. A shady hat, comfy shoes, and we're headed off to the fields before the sun is over the yardarm.
Just as in the classic children's book Blueberries for Sal, the ka-plink, ka-plank, ka-plunk of the berries in the bottom of the pail is deeply satisfying. Blueberries make a twang, strawberries make a rounder thunk, while juicy blackberries and raspberries make hardly any sound at all.
Before too long the urge to sample "just one" gets the better of you, and you indulge in sneaking a nibble here and a nosh there. Lips and fingertips turn vivid red and purple-blue, giving away your secrets.
Buckets full, you weigh out and pay your fees, loading your goodies into the car. On the way home you scratch a few bites and talk about what treat you'll be making first. You'll be happily tired and in need of a bit of a pick-me-up. Nothing will fit the bill quite like our delightful Berry Tiramisu.
A departure from the classic coffee-infused dish from Italy, our Berry Tiramisu features bright citrus flavors to offset the sweetness of your berries, and is so light it won't weigh you down. Even better, the mixing and baking times are short, keeping you out of the kitchen and on the porch enjoying the sun and fun of the season.
So, wash up and let's get started.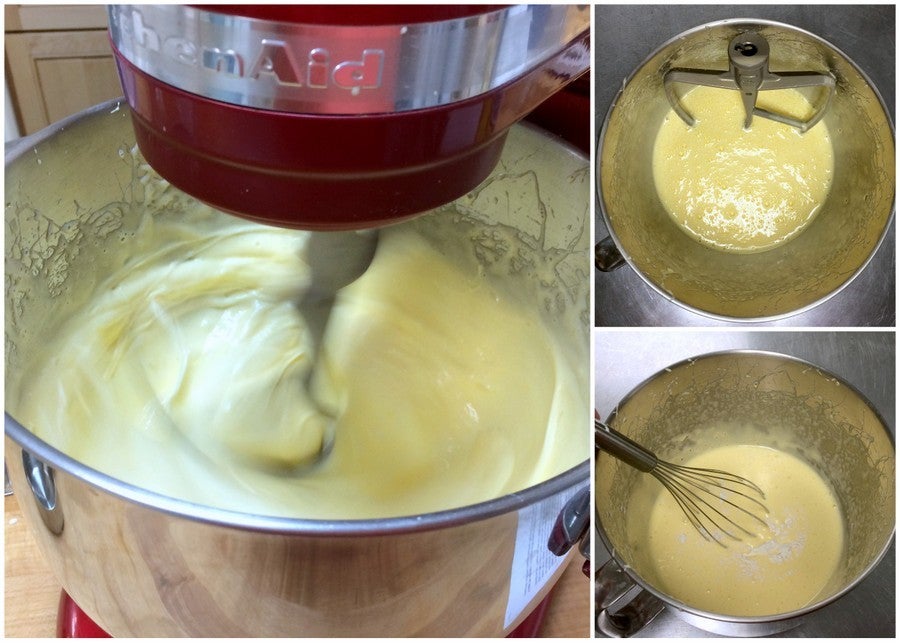 1. Prepare your oven and pans
Preheat the oven to 350°F and lightly grease and line with parchment two 9" square pans. If you only have round pans, you can use two 9" rounds. The layers will be slightly thicker and will take a few extra minutes of baking time.
2. Make your cake batter
Beat together:
6 large eggs
1 cup (198g) sugar
1/2 teaspoon almond extract
The key to getting a light and airy sponge cake is to whip the eggs for several minutes to incorporate air and emulsify the egg's water and fats. The batter will thicken and turn pale yellow. It'll drop from the beater in a thicker stream, instead of a thin trickle like water or juice.
In a separate small bowl combine:
1 cup (120g) King Arthur Unbleached All-Purpose Flour
1 teaspoon baking powder
1/2 teaspoons salt
Whisk to make sure there are no lumps of flour or baking powder.
Sprinkle 1/3 of the dry mix over the surface of the whipped eggs, and gently whisk it in. Repeat twice more, using about 1/3 of the dry mix each time. The batter will thicken even more, and begin to look bubbly and a bit more like a sturdy foam.
3. Bake and cool the cake
Spread the batter into the prepared pans and bake for about 20 to 23 minutes. The cake will color slightly on top and begin to pull away from the sides of the pan when it's done.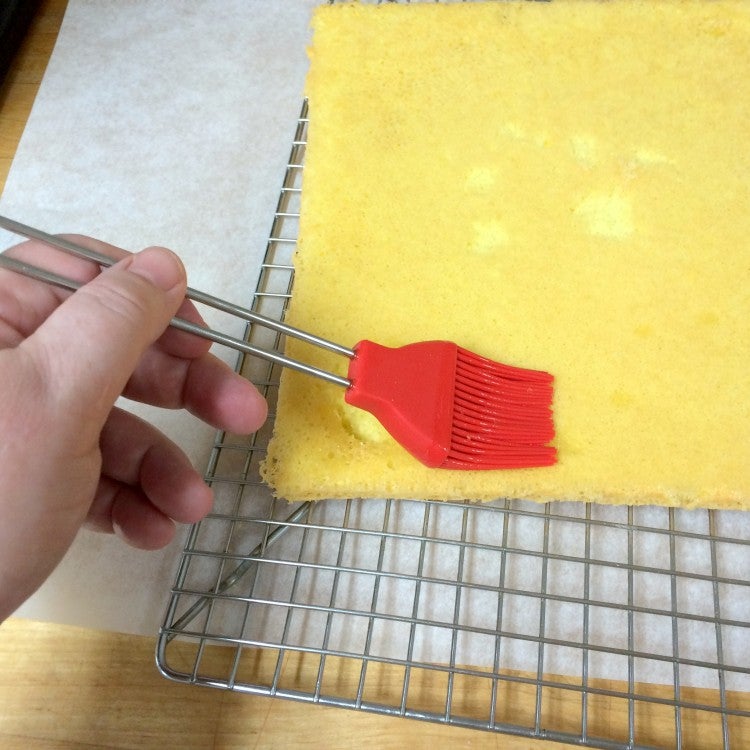 Learn from my mistake and place your cake on your serving platter before brushing with syrup. A moist, tender cake is hard to move.
Remove the cake from the oven and run a knife around the edge of the pan while it's still warm.
Place the cake on a rack to cool completely before taking it out of the pan.
4. Prepare the soaking syrup and brush the cake
In a small saucepan over medium heat, simmer:
3/4 cup (170g) water
3/4 cup (149g) sugar
2 tablespoons fresh lemon zest (grated peel of 2 lemons)
1/3 to 1/2 cup (74g to 113g) lemon juice (juice of 2 lemons)
pinch of cloves
3 tablespoons (43g) Grand Marnier or other orange liqueur*
When the sugar is dissolved and the syrup is clear, strain it and set it aside to cool while you prepare the filling.

5. Make the filling
In a large bowl, combine 2 cups (454g) mascarpone cheese and 2 tablespoons freshly grated orange peel (zest). The citrus flavors are going to play beautifully with whichever berry you choose to use in your tiramisu.
Gradually pour and fold in 1 cup (227g) of heavy or whipping cream (unwhipped) until the mixture is smooth. Finally, for sweetness, stir in 1/2 cup (57g) of confectioners' sugar.

6. Build the cake
Place one cake layer down on your serving platter. Use a pastry brush to coat the cake with some of the syrup. Brush, then allow a few minutes for it to soak in. Reserve half of the syrup for the second layer. You remembered and moved the cake off the rack before soaking, right?
Place one quart of the sliced berries of your choice (single variety, or a combination) on the cake. Strawberries are a classic but blueberries, raspberries, and blackberries are all excellent.
Dollop about half of the filling evenly over the berries. I like to fill the four corners, and then place some filling in the middle. You can then spread the mounds to meet each other, and create one layer.

It's hard to resist stopping here and eating the whole thing, but try to hold off just a bit. Believe me, it's worth it.
Place the second layer of cake onto the cream, and repeat the soaking process with the second half of the syrup. Add the remaining cream filling;  and finally another layer of berries.
If you prefer, you can divide the cake into serving portions and top each with an individual sliced berry, rather than garnish the entire top.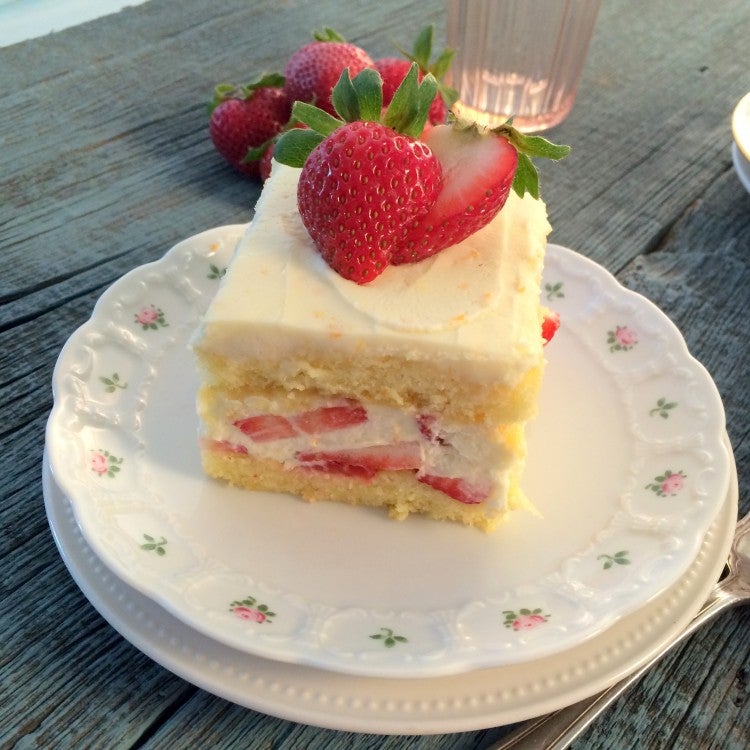 Chill the cake for at least an hour (up to overnight) before serving. This dish is best served within a day of making it; after that your cake can tend to get a little soggy.
You can make your filling and syrup two to three days ahead of time, if you wish. Then just assemble the day you plan to serve, and you'll have a sumptuous dessert with very little effort.
Best berry tidings of summer, from our kitchen to yours.
Please bake, rate, and review our recipe for Berry Tiramisu.
Jump to Comments