There's something empowering about being a home baker, especially when it comes to making your favorite brownie.
You're entitled to add a handful of chocolate chips or a sprinkle of nuts. You can bake the brownies 5 minutes longer if you like crispy edges, or maybe a few minutes less to make a molten center. That's the beauty of being the baker: you can make your absolute favorite brownie just as you like it.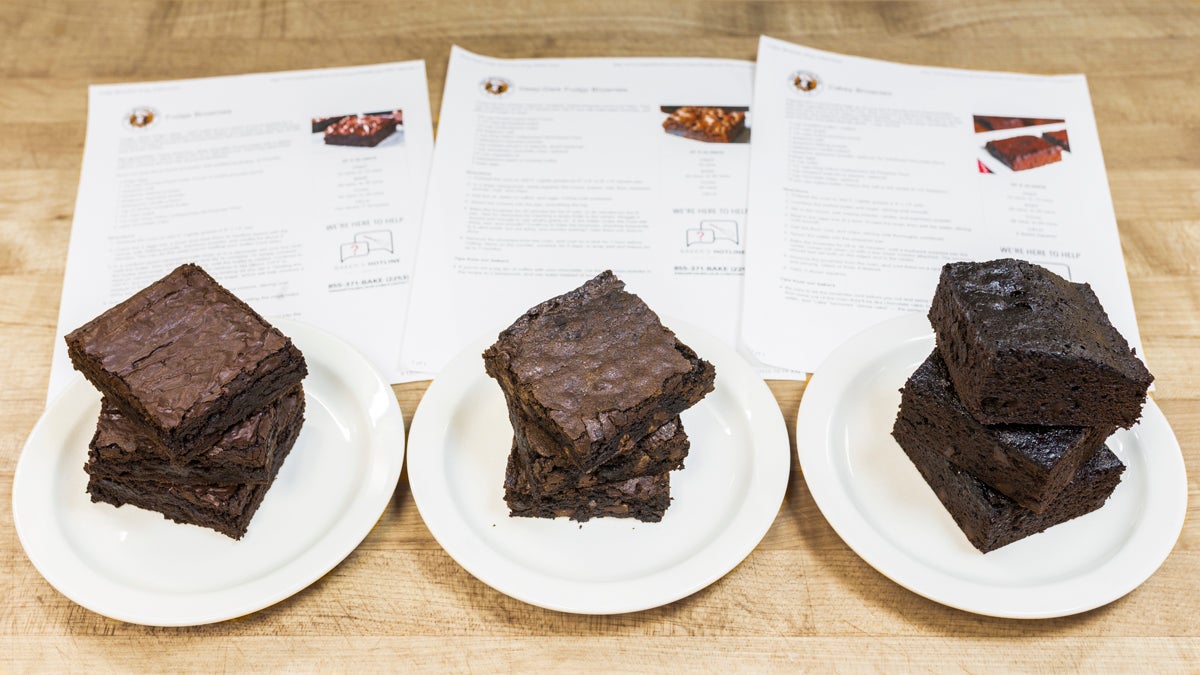 So what is the best brownie consistency?
If you ask this question in a King Arthur Flour break room, you'll hear some passionate, heated discussion among our employee-owners. Asking about the best brownie is like asking about the texture of chocolate chip cookies or ideal pizza toppings — it's a Pandora's box in a room of bakers.
Opposing opinions are separated by just a few degrees of difference in texture: classic, fudgy, or cakey. Each kind of brownie has bakers willing to profess their love for it, determined to convince you their choice is most delicious.
But when you're the baker, you get to decide. Let's check out some of your choices.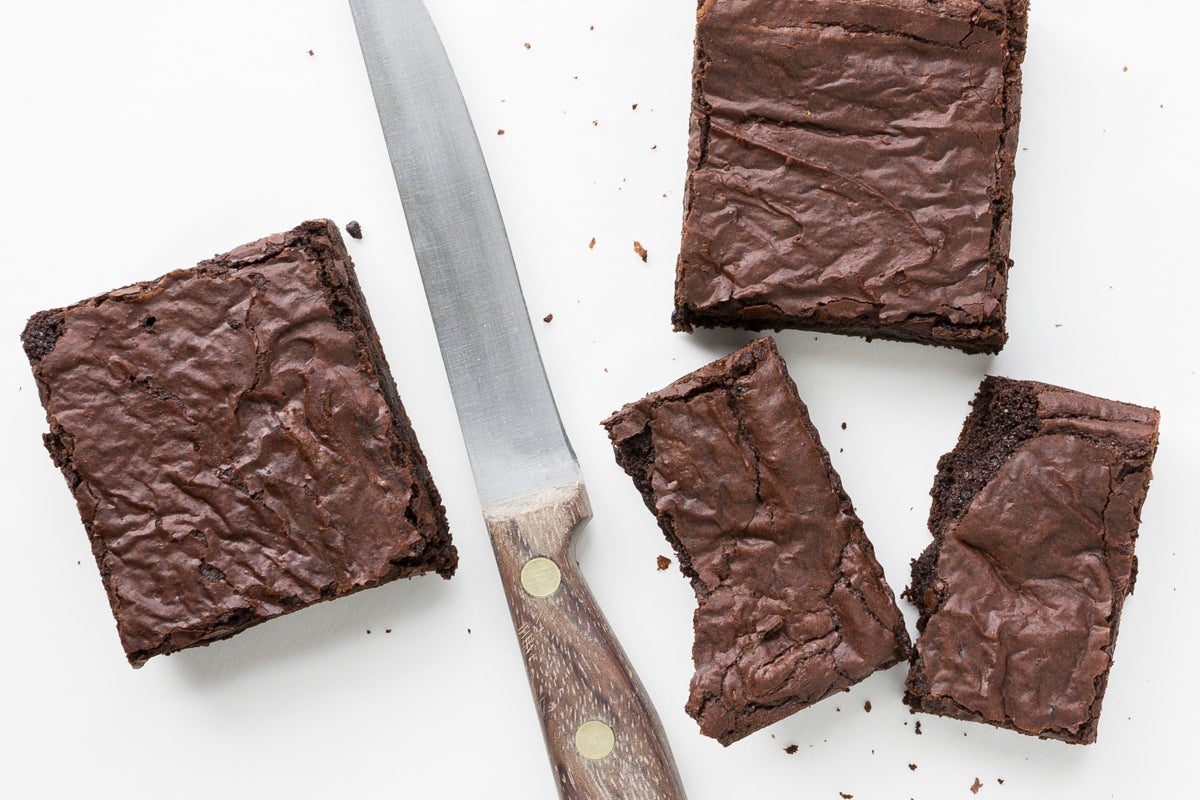 Classic brownies
For some people, the word "classic," is synonymous with "outdated" or "overdone." But that's not what we mean here. Think well-loved and time-tested.
Imagine the quintessential brownie: slightly chewy with crisp edges and a moist, tender center. That's the classic brownie we're talking about.
The recipe that best represents this fan favorite is our Fudge Brownie recipe. It's a crowd pleaser, for sure. If you're baking for a party and want everyone to be happy, this is the recipe to turn to.
My favorite part? The shiny crust! Oh man, is it shiny — even flaky. It cracks into a million delicious chocolate shards as you slice the brownies with a knife. Who doesn't get excited about that?
(If you want to learn how to make your favorite brownie recipe with a shimmery crust, we've unlocked the secrets in our blog post: How to make brownies with shiny crust.)
"This is an easy, moist, and delicious brownie," writes Yvette from Meadville in a 5-star review of the classic Fudge Brownie. "My family and my son's bowling club loved them!! Thank you."
See? Crowd pleaser. Potentially even my favorite brownie recipe.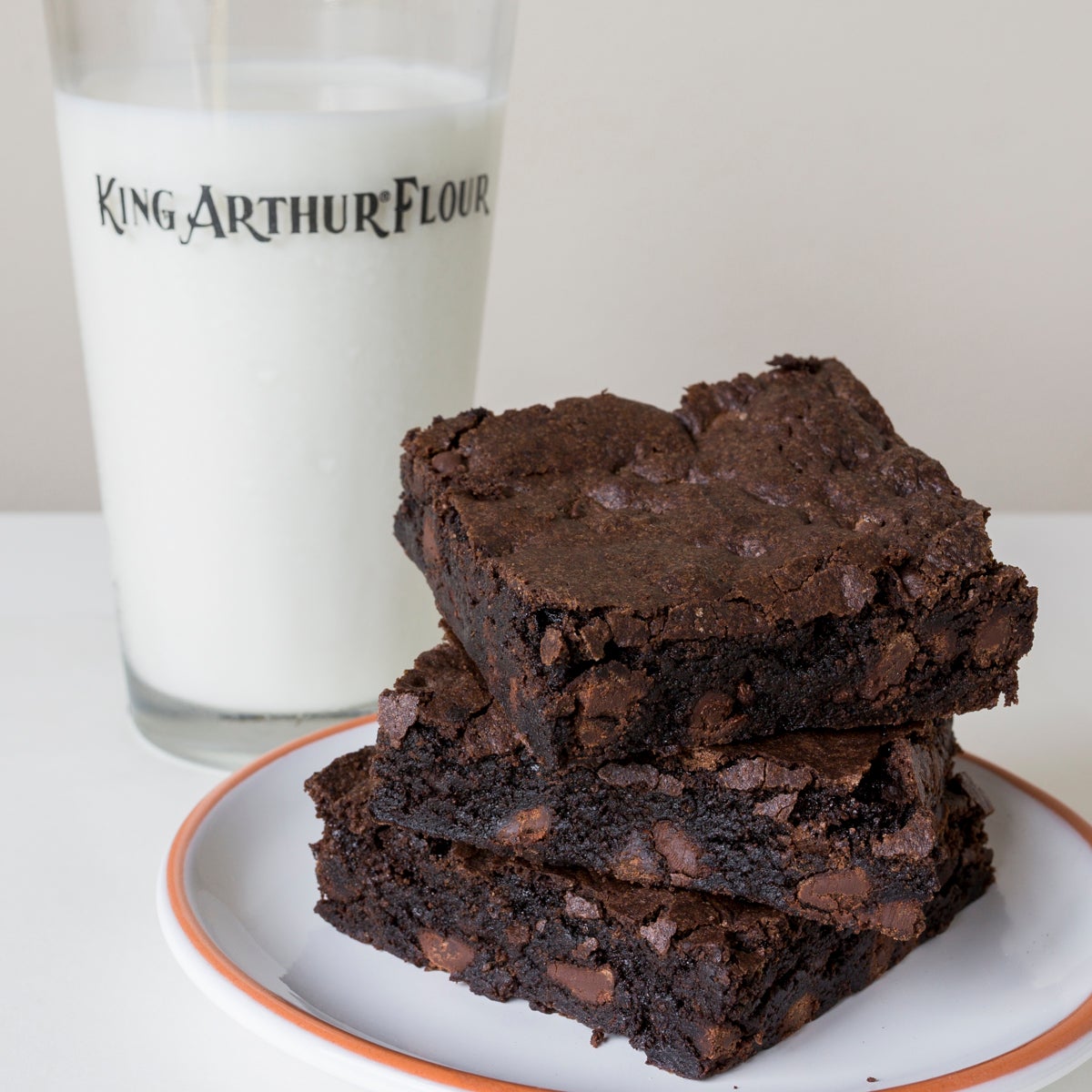 Fudgy brownies
Next contestant: Deep-Dark Fudgy Brownies. If you love fudge or chocolate lava cakes, then this is the recipe for you.
Each brownie, from the center right out to the edges, is pleasantly dense and moist; not gooey, but rich and tender. It's a recipe worthy of being served on its own as a decadent dessert.
Another plus? It's oil-based instead of butter-based, which creates a moist interior that stays fresher longer. (Although there's no guarantee these brownies will last for more than a few hours if you leave them out for curious chocolate-lovers to devour.)
"This is my favorite brownie recipe," proclaims Polaris52 in a user review. "Deep chocolate flavor and moist. Also, the preparation is very easy — only one bowl is needed and you don't have to melt any chocolate (which is WAY too much trouble for something as casual as brownies [in my opinion])! Make these now — you won't regret it!"
Okay, confession time. THIS is truly my favorite brownie recipe. The classic Fudge Brownie recipe has its moments (brownie sundaes!), but for sitting down with just a brownie and a tall glass of milk, a Deep-Dark Fudgy Brownie is what I want in my hand.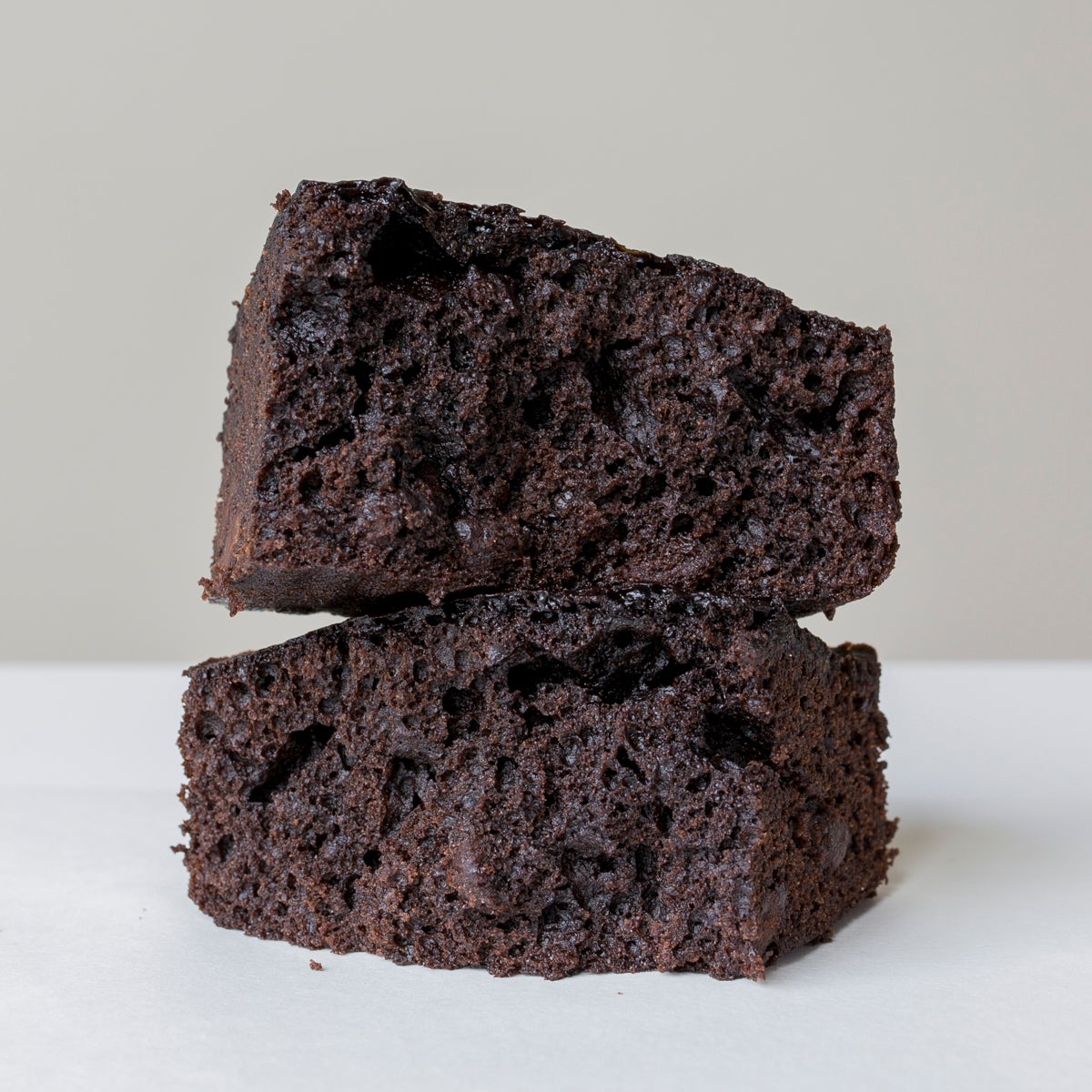 Cakey brownies
So the cat's out of the bag — when it comes to consistency, my favorite brownie is fudgy through and through. But hey, I won't judge those of you who might like something different.
Which brings us to the uniquely charming black sheep of the dessert family: cakey brownies.
Our recipe for Cakey Brownies is butter-based and calls for 5 large eggs. The resulting texture is reminiscent of a bakery-style birthday cake with a delicate crumb. They're lighter than traditional brownies, but more dense than a sponge cake. Surprisingly moist, too.
While it may not seem cakey brownies are wildly popular, some people certainly do call them their favorite. I used this recipe to make a friend's birthday cake and covered it with vanilla-almond buttercream. It made a rich brownie cake. No complaints from anyone!
"I'm not a fan of the gooey fudge brownie," admits Kelley50 from Texas in a glowing review of cakey brownies. "This recipe is a good compromise that satisfies the whole family, young and old alike. I've made it three times now with only good things to say about it."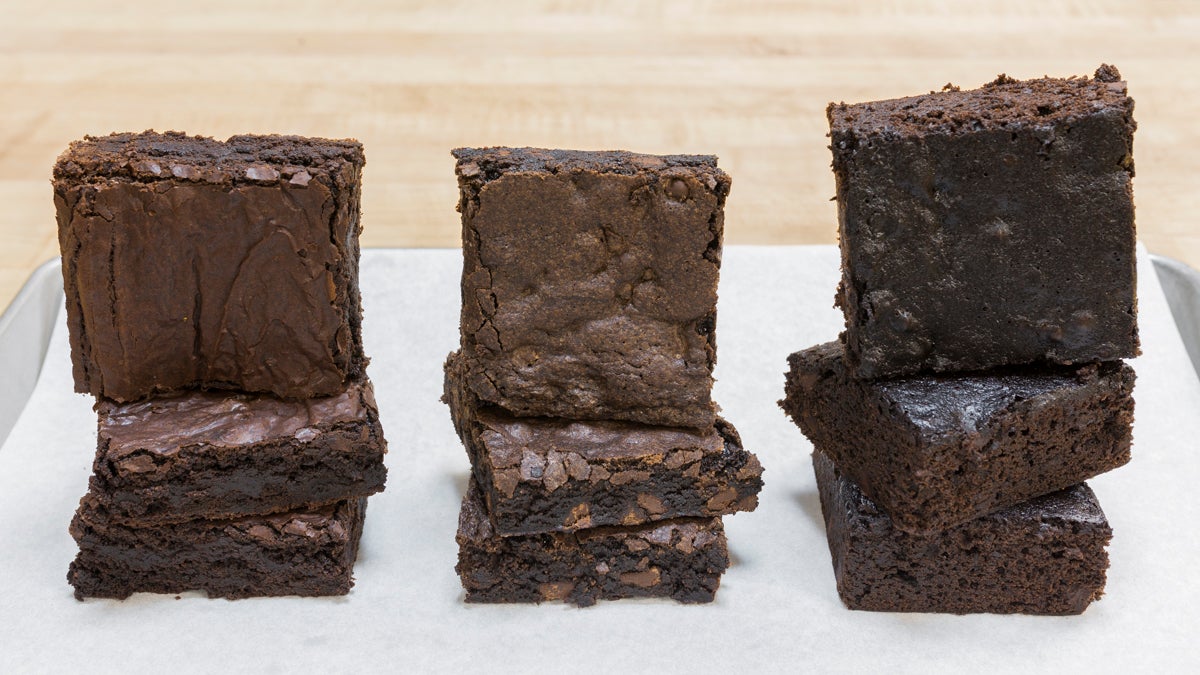 Making your favorite brownie
How do these three stack up, side by side? Let's look.
Each recipe uses a slightly different method and ratio of ingredients to create its signature texture. The classic Fudge Brownie recipe calls for two cups of chocolate chips, helping create that shiny crust. With four eggs and 1 1/2 cups of flour, these brownies are perfectly chewy and classic.
The Deep-Dark Fudgy Brownies is an easy stir-together recipe that uses confectioners' sugar for an almost creamy mouth-feel. Also, there's no chemical leavening (no baking powder or baking soda) in this recipe, so you'll get a dense, fudgy texture every time.
And last, the cakey brownies, which you can see are deserving of their name, have the highest rise. The responsible ingredients are eggs, plus our underrated friend in the kitchen: water. Baking powder is activated by liquid, so by adding 1/2 cup of water you give the leavener what it needs to work its magic. Voilà: moist, cakey brownies.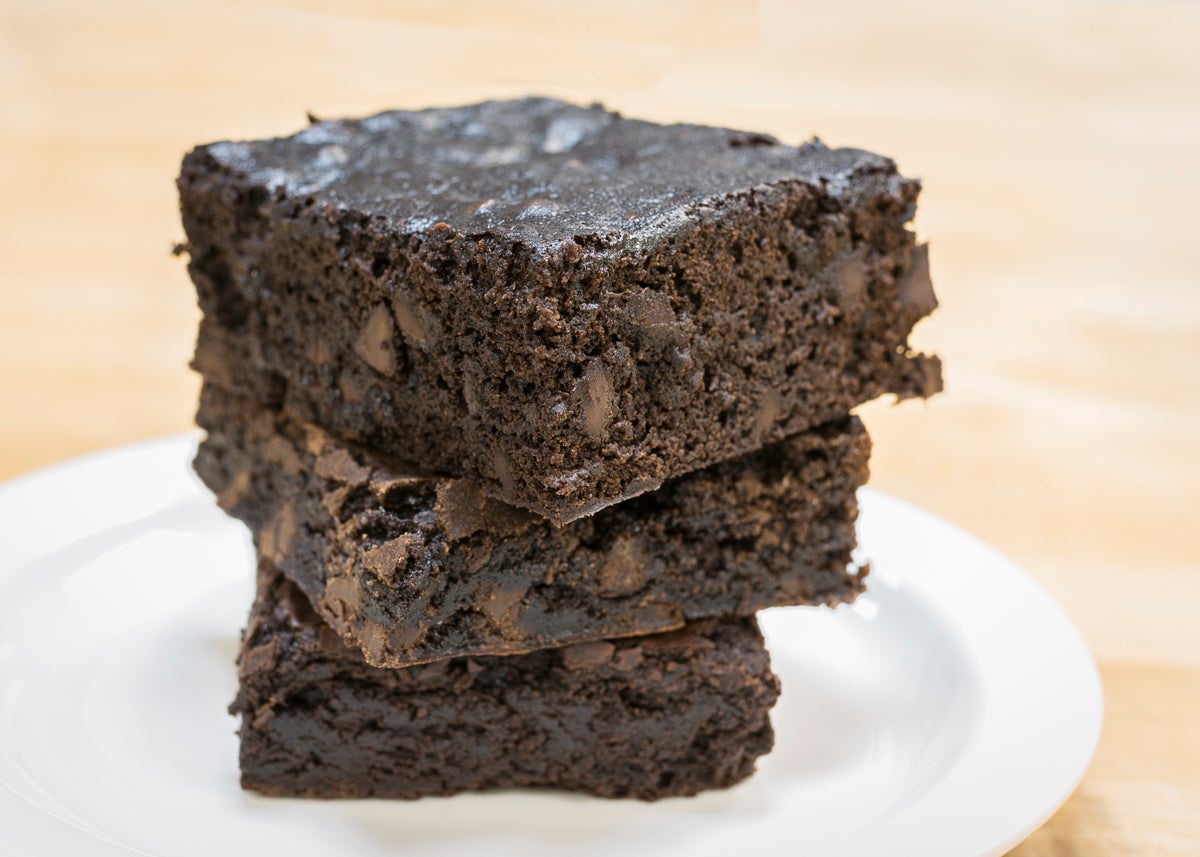 These three brownie recipes represent a complete trifecta of brownie consistency: classic, fudgy, and cakey. Take your pick or try them all — I bet you'll find your favorite brownie among these three recipes.
Gluten-free brownies
If you're looking for a gluten-free recipe that will knock your socks off, we've got great news; you can simply replace the all-purpose flour with our new Gluten-Free Measure for Measure Flour. Making your favorite recipes gluten-free has never been easier.
Interested in something entirely grain-free? Try our Almond Flour Brownies. I make these for gluten-loving friends just to switch things up sometimes, and they always produce lots of chocolatey grins.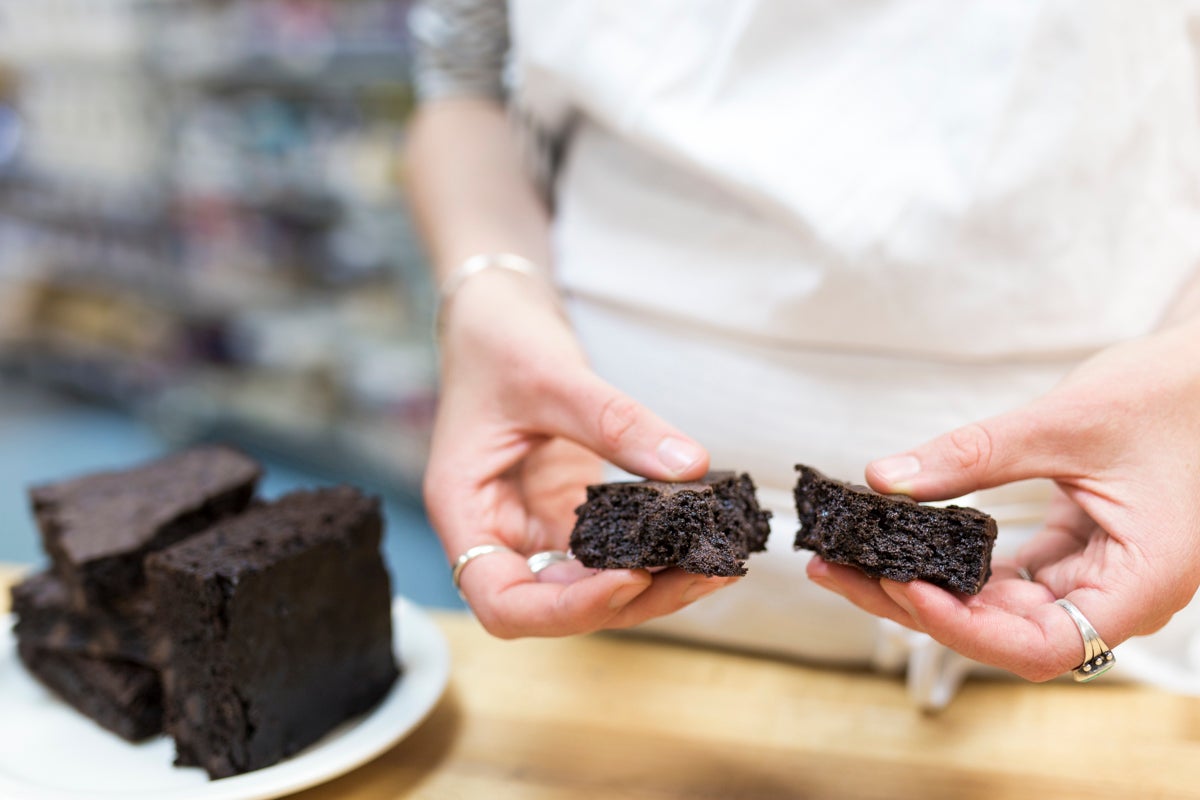 Time to dig in!
Is your favorite brownie classic, fudgy, or cakey? Share your secrets to brownie perfection in the comments, below.
Thanks to Nic Doak for taking the photos for this blog and helping me eat the leftover brownies.

Jump to Comments