I love this recipe. I love everything about it. Its flavor is a perfect balance of butter, toasted nuts, and fruity sweetness. And its texture? A tantalizing combination of flaky layers and airy pastry: think éclair shell and pie crust combined.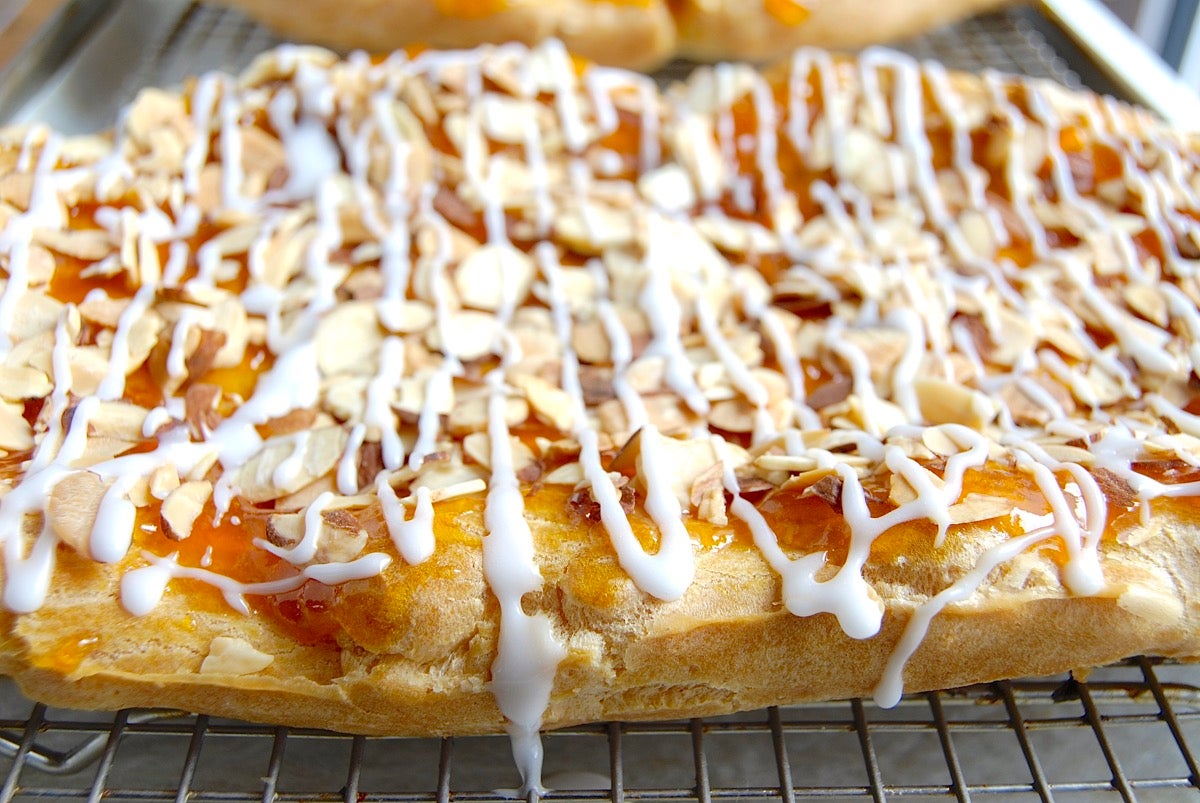 Which is, serendipitously, exactly what this Almond Puff Loaf is: a thin base of buttery pie crust topped with almond-scented pâte à choux. After baking to a golden puff that gradually settles as it cools, the pastry is topped with fruit preservesvand garnished with toasted nuts and a drizzle of vanilla icing.
And the very best part of all? Not only is it delicious, it looks like you might have spent hours laboring over something akin to Danish pastry: laminating dough with layers of butter, folding, turning, rolling...
Perish the thought! Almond Puff Loaf doesn't require a rolling pin, ruler, or special tools or techniques of any kind. A mixer is convenient, but your hands will do most of the simple work here. The hour this treat spends in the oven is the longest part of the process by far.
OK, it's delicious, it's gorgeous, it's easy — I think I've belabored the point enough! Let's tackle this month's Bakealong challenge.
Start by preheating your oven to 350°F. Lightly grease a large baking sheet, or line it with parchment.
Start with the bottom layer
Gather your ingredients:
1 cup (120g) King Arthur Unbleached All-Purpose Flour or Gluten-Free Measure for Measure Flour
1/2 teaspoon salt
8 tablespoons (113g) cold unsalted butter*, cut into pats or 1/2" cubes
1/4 cup (57g) ice water
*Reduce the salt to 1/4 teaspoon if you use salted butter.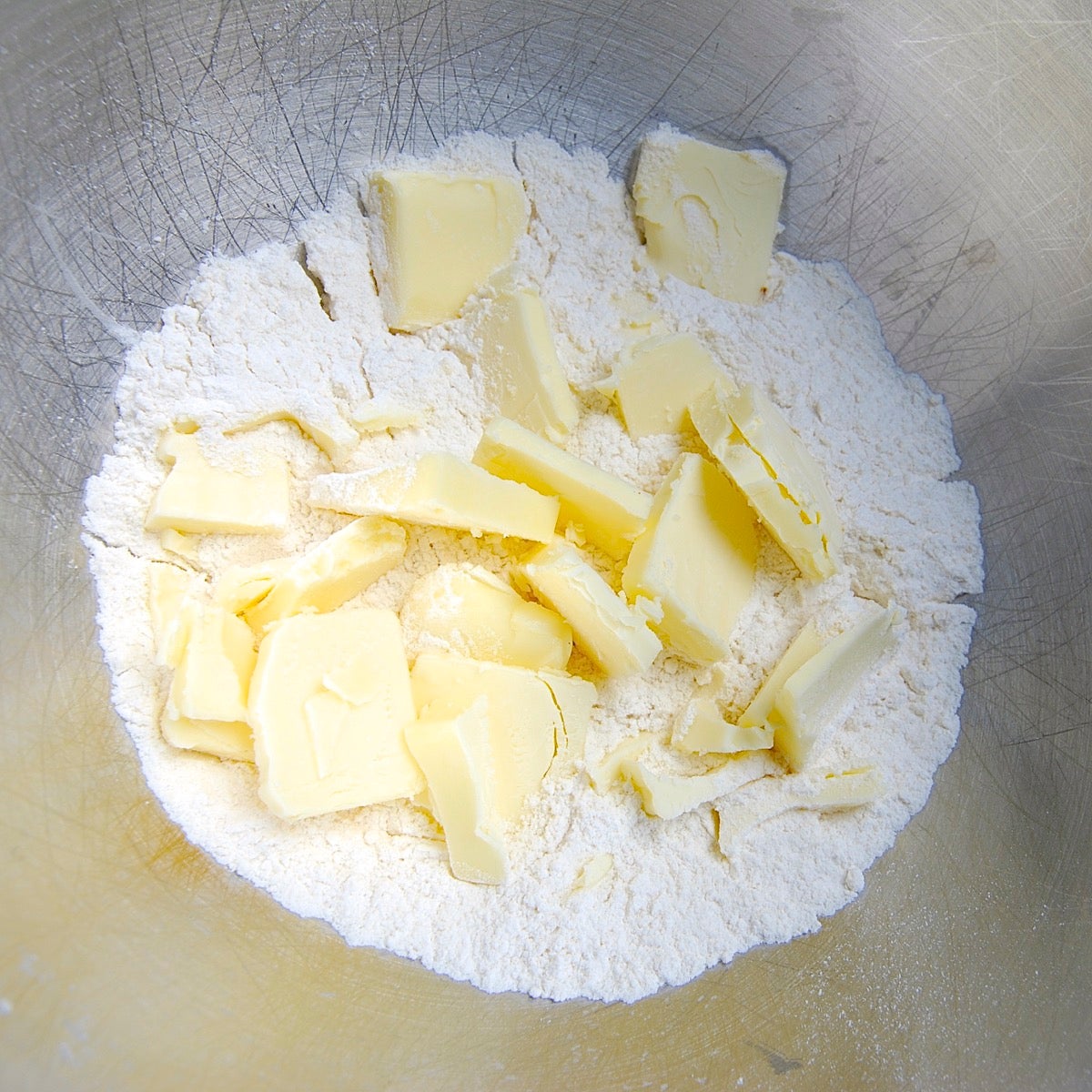 Combine the flour and salt, then add the cold butter.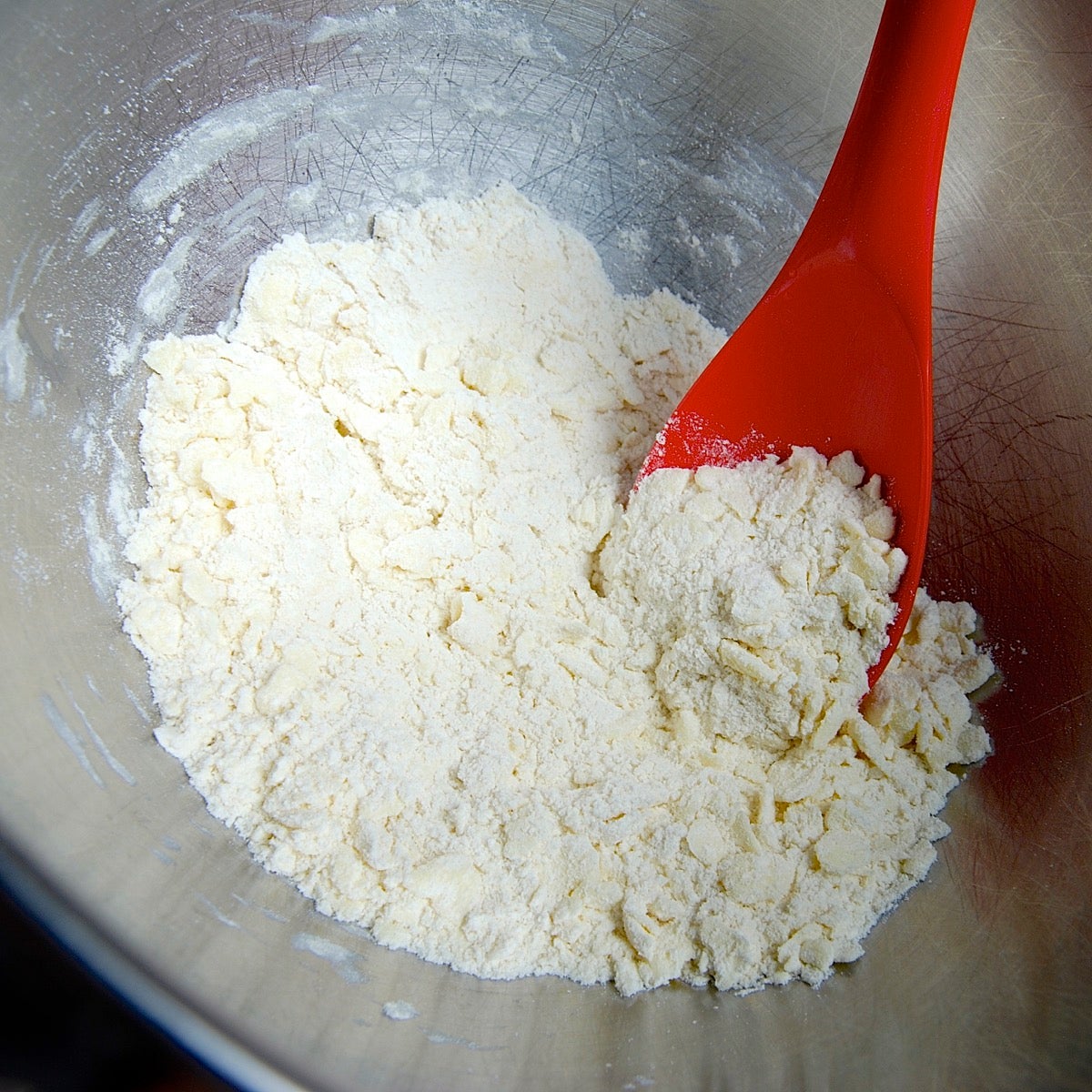 Work in the butter with a pastry blender or fork, your fingers, or a mixer; the mixture should be unevenly crumbly.
I always use my mixer to combine cold butter and flour, both here and when making pie crust; it does a fine job and is much easier on my wrists and hands.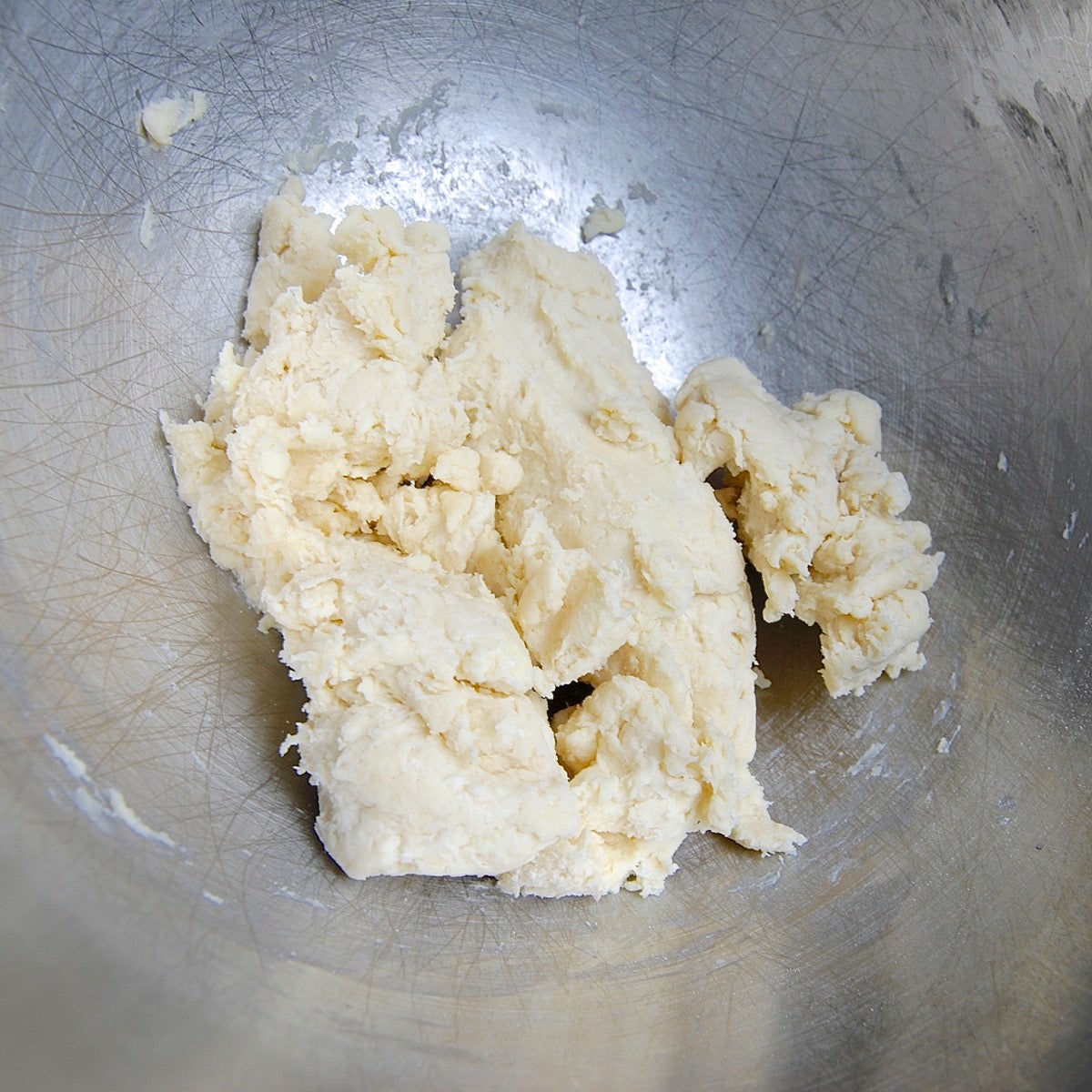 Stir in the water. The dough will become cohesive, though not totally smooth (due to those random larger pieces of butter scattered throughout).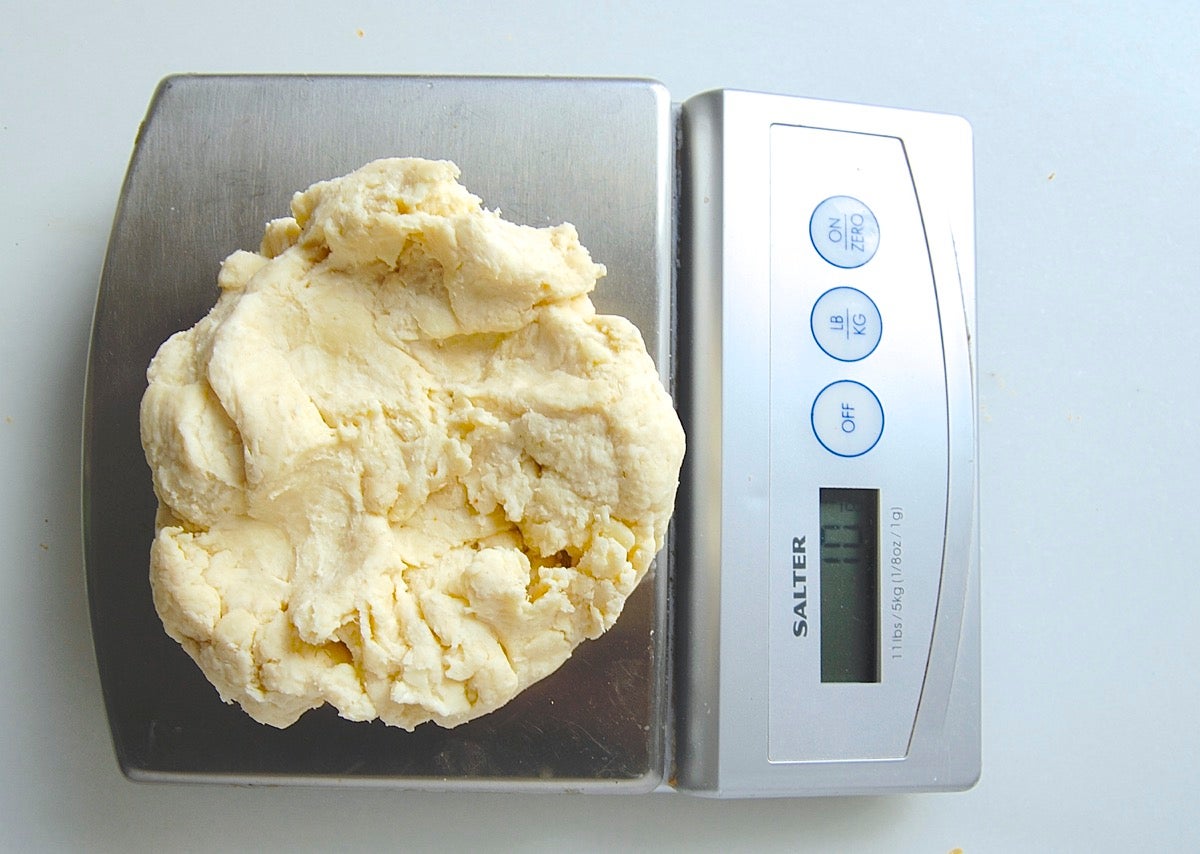 Divide the dough in half; if you're using a scale (and I highly recommend weighing, both for accuracy and ease), each half will weigh about 5 1/8 ounces.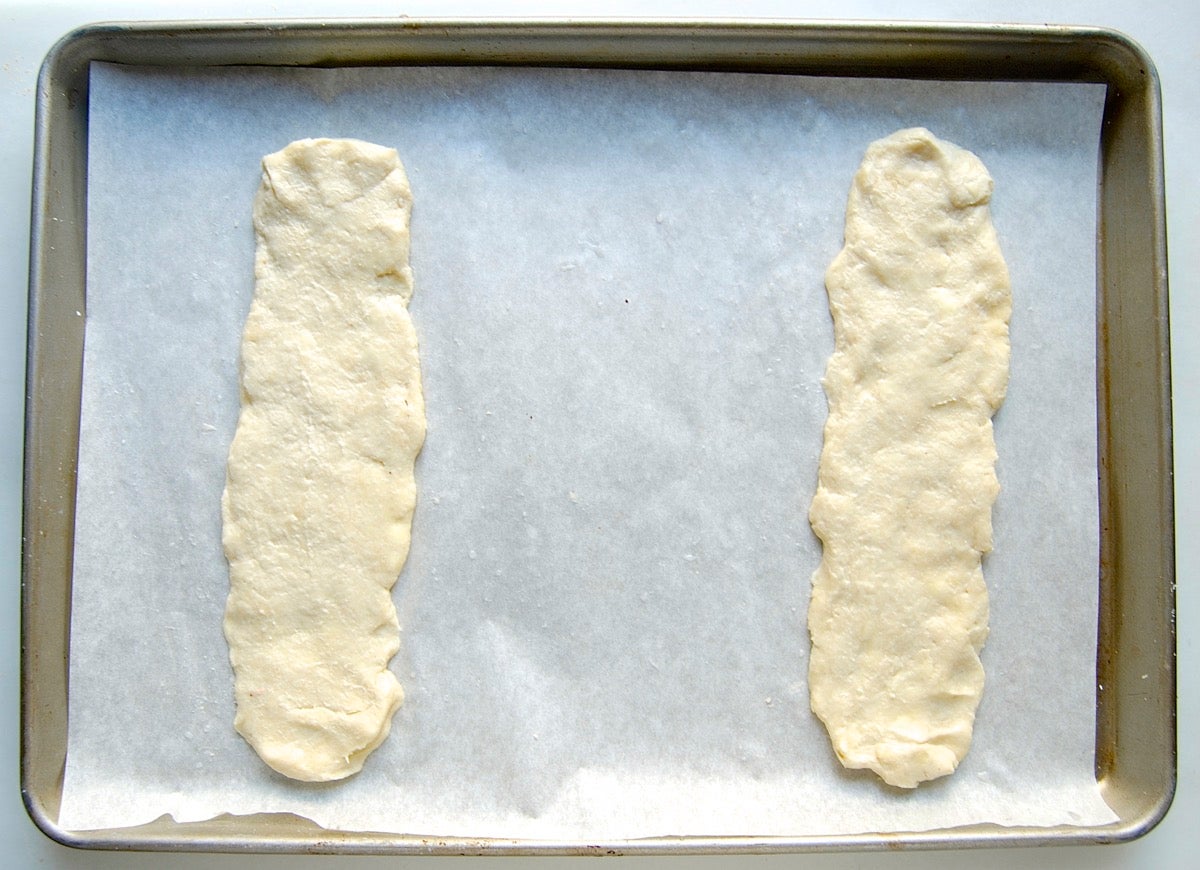 Wet your hands, and shape each piece of dough into a rough log. Pat the logs into 10" x 3" rectangles on the sheet, leaving at least 4" between them, and 2" on each side. These puff up in the oven (hence the name), and you need to leave them room for expansion.
Make the top layer
Gather your ingredients:
1 cup (227g) water
1/2 teaspoon salt
8 tablespoons (113g) unsalted butter*
1 cup (120g) King Arthur Unbleached All-Purpose Flour or Gluten-Free Measure for Measure Flour
3 large eggs, at room temperature; warm them, in the shell, in hot tap water for 10 minutes if they're cold from the fridge
1 teaspoon almond extract
*Reduce the salt to 1/4 teaspoon if you use salted butter.
In a medium-sized saucepan, bring the water, salt, and butter to a boil. Make sure the butter is completely melted.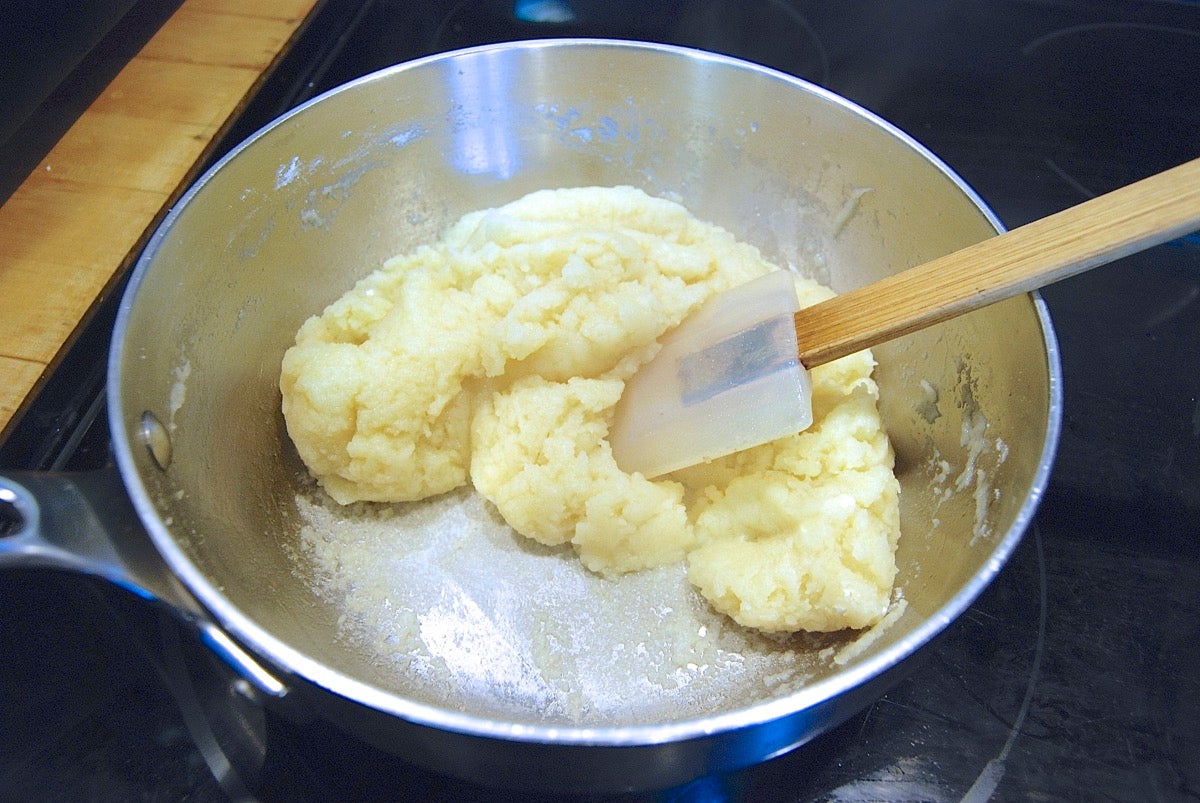 Add the flour all at once. Stir the mixture with a spoon or heatproof spatula until it thickens, begins to steam, and leaves the sides of the pan; this will happen very quickly.
Transfer the stiff batter to a mixing bowl, or the bowl of an electric mixer. Beat it at medium speed for 30 seconds to 1 minute, just to cool it down a bit; you want its temperature below 140°F. If you don't have a thermometer, just stick your finger in it; it shouldn't be uncomfortably hot, just lukewarm to warm.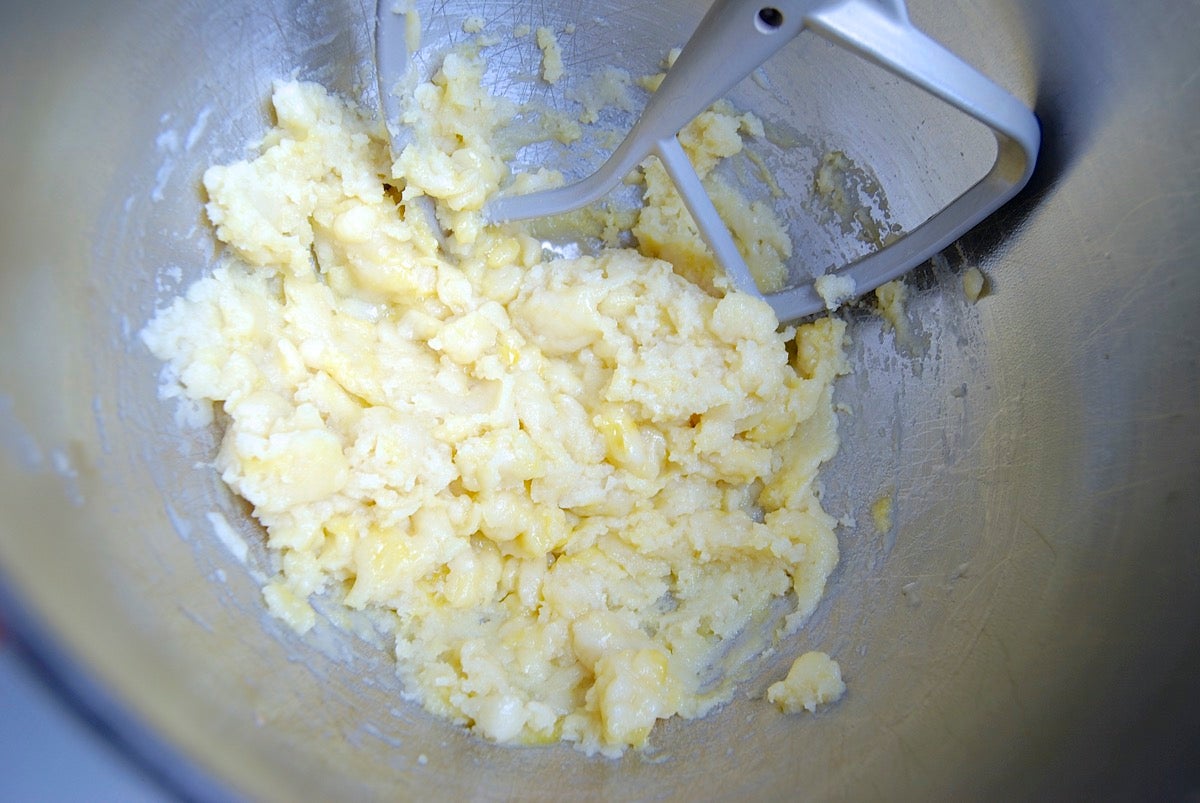 Add the eggs one at a time, beating well after each addition. At first, the batter will look a bit "slippery."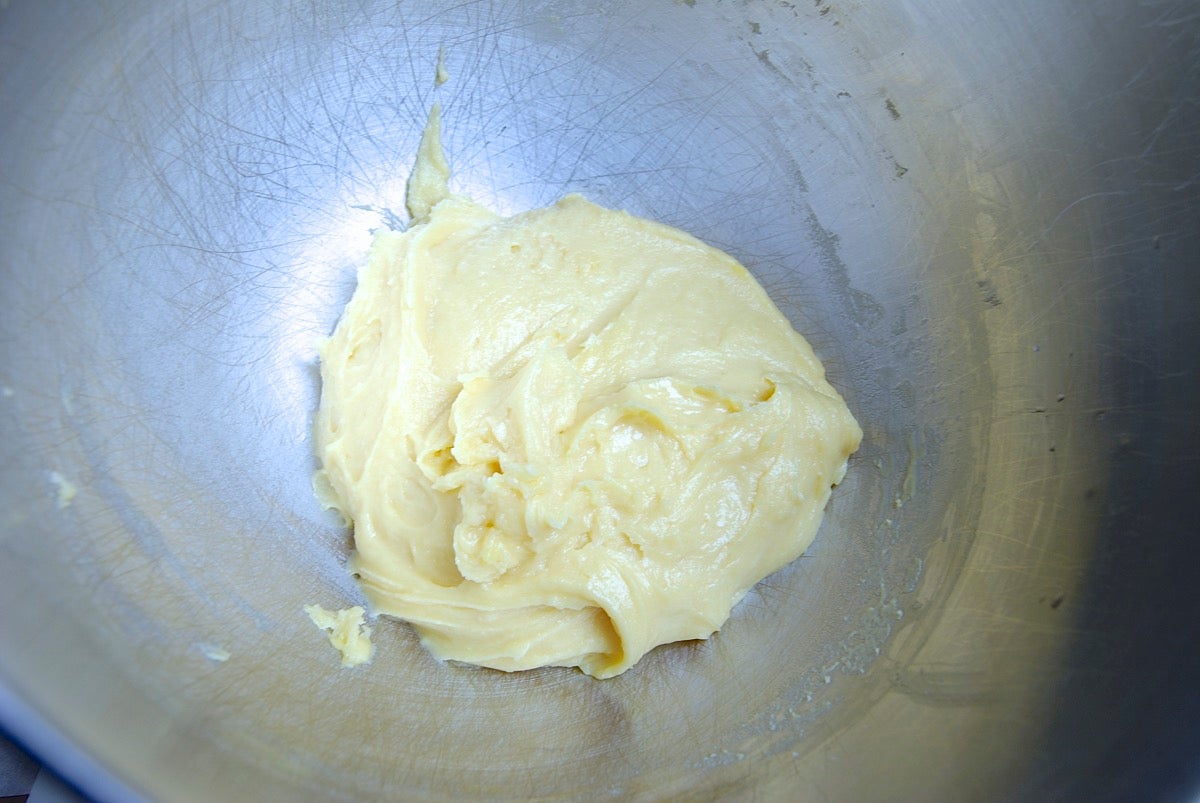 By the time you're done, it should be thick and smooth.
Mix in the almond extract.
Build the pastries
Divide the batter in half.

Portion half the batter onto one of the dough strips, half onto the other dough strip; if you have a scale, each half of batter will weigh about 9 1/2 to 10 ounces.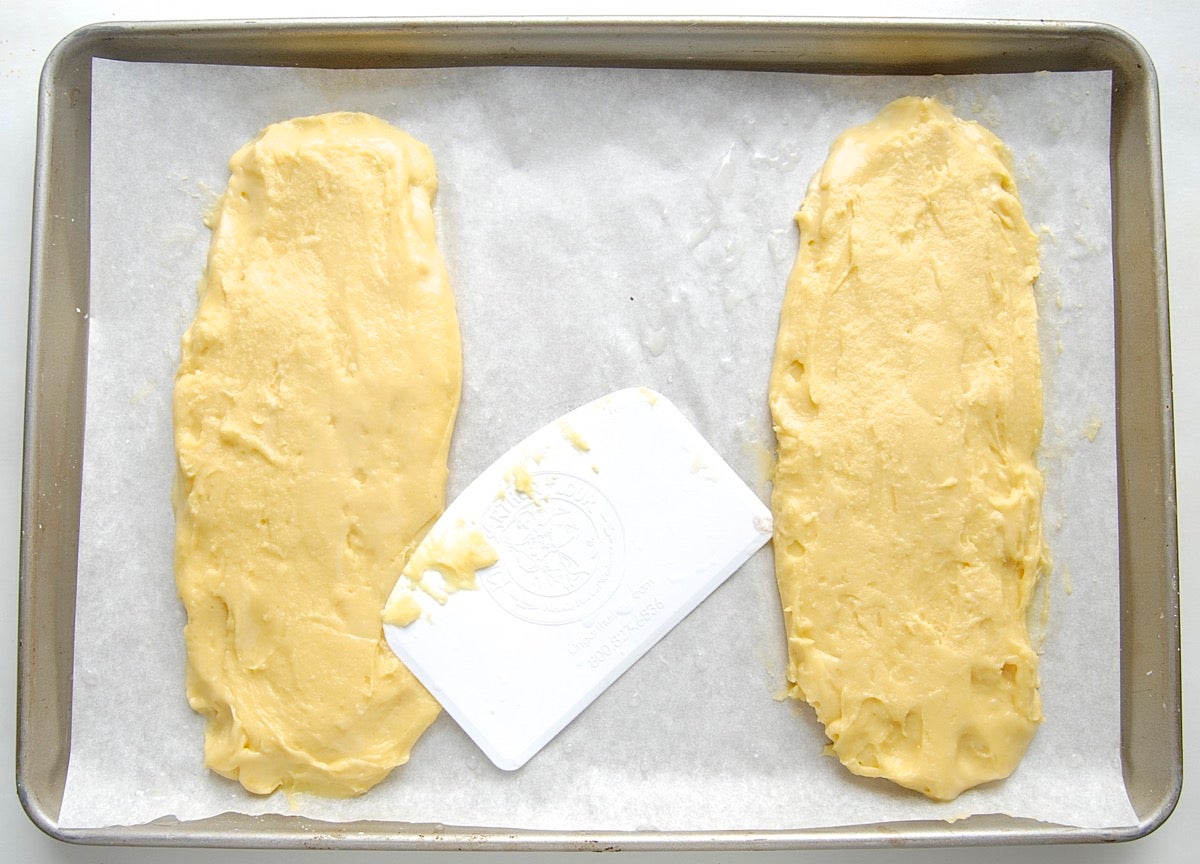 Working on one dough strip at a time, use a spatula (or your wet fingers) to spread the batter until it completely covers the dough, including its edges. Smooth out the top as best you can.
Bake until golden
Bake the pastries for 50 to 65 minutes, or until they're a deep golden brown. If you've used Gluten-Free Measure for Measure Flour, bake for the full 65 minutes.
Meanwhile, prepare your toppings
Get the toppings ready while the pastries bake; you're going to apply them as soon as the pastries come out of the oven.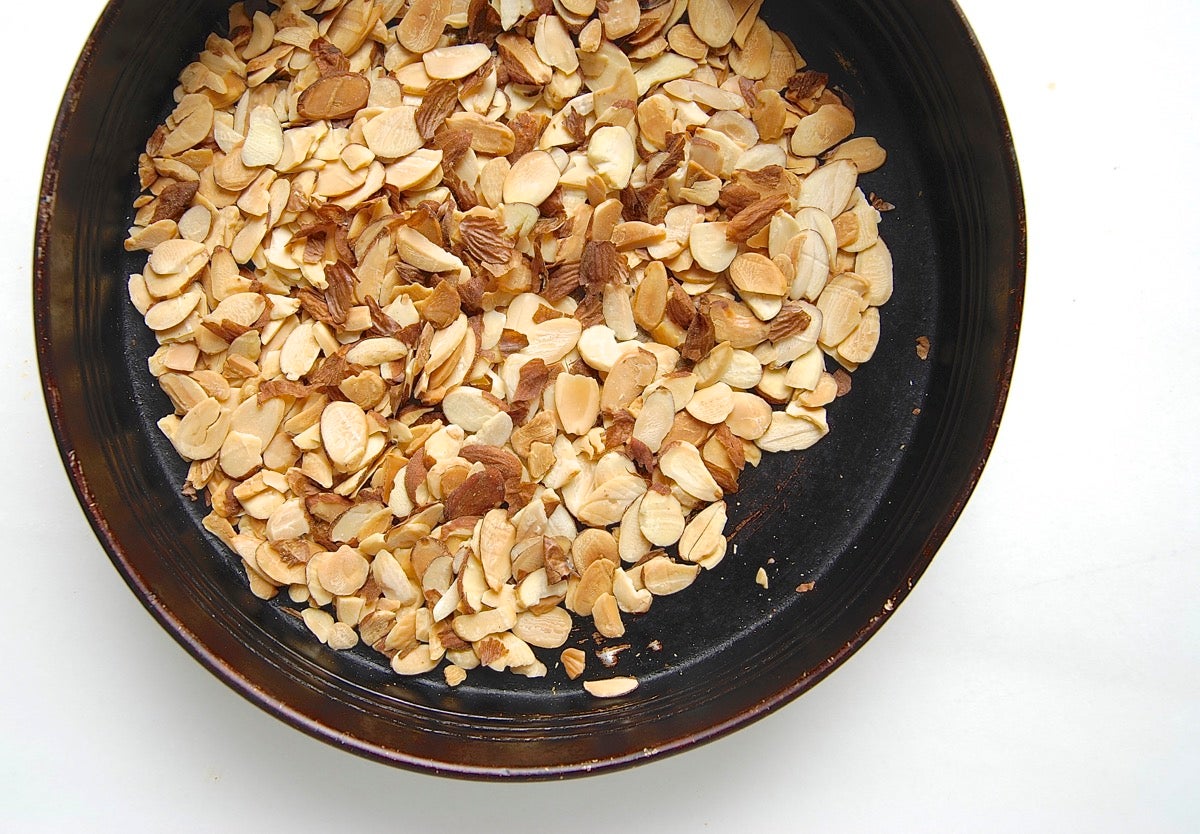 You'll need 2/3 cup (71g) slivered or sliced almonds, toasted in a 350°F oven for about 7 to 10 minutes, or until they're a light golden brown.
If you have a toaster oven, use it. If not, you can toast the nuts in your regular oven with the baking pastries. But try not to keep opening the oven door to check on the nuts; you don't want to risk the pastries falling before they're somewhat set.
You can also simply shake the nuts in an ungreased frying pan set over medium heat until they begin to turn golden. This is a little more labor intensive, but it works fine.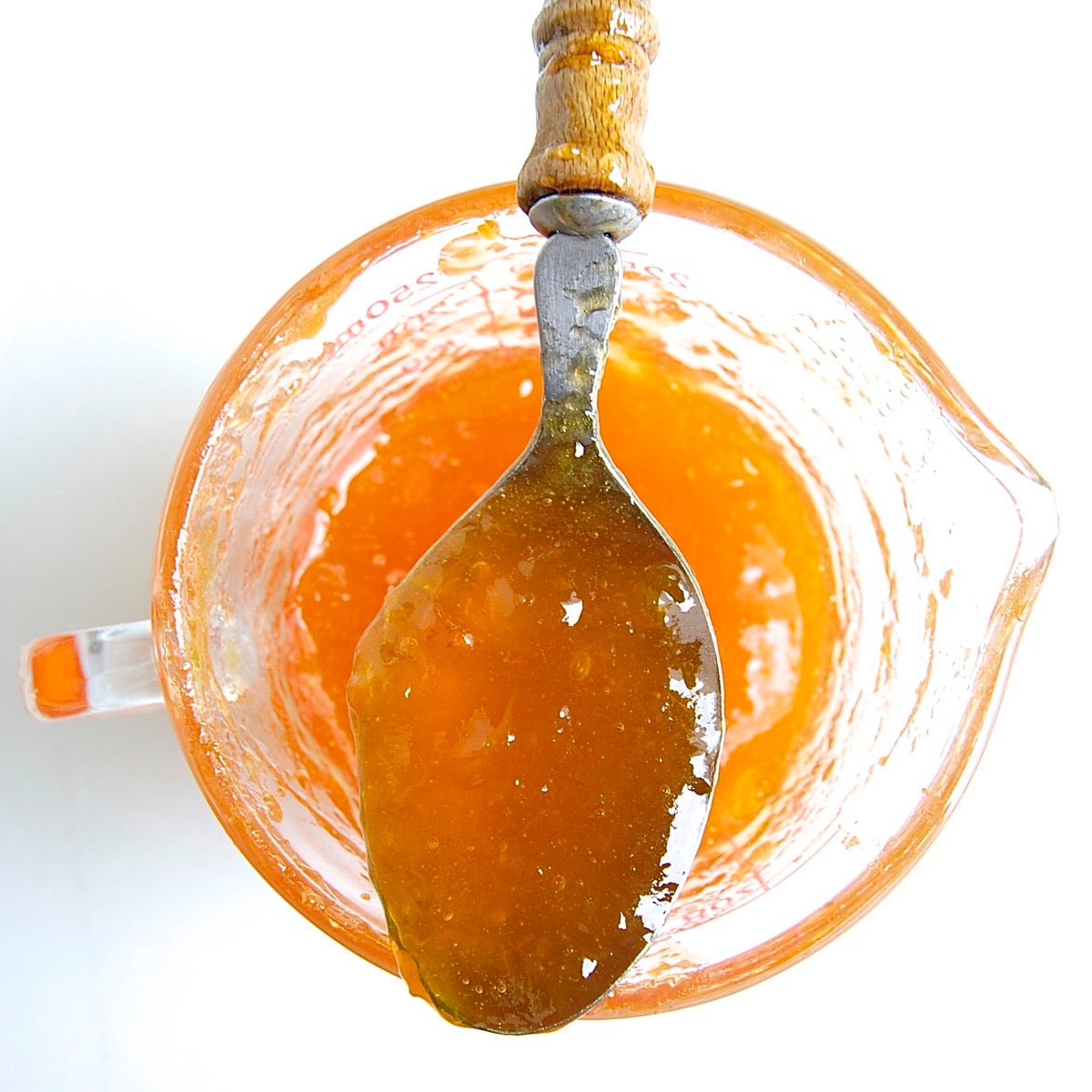 You'll also need 2/3 cup (198g) jam or preserves. I love apricot jam for this pastry; apricot and almond go wonderfully well together. But honestly, choose your own favorite flavor. For best results, use something that's fairly smooth, without overly large pieces of intact fruit.
If the jam or preserves are very thick, warm briefly in the microwave or on the stovetop; this will make for easier spreading.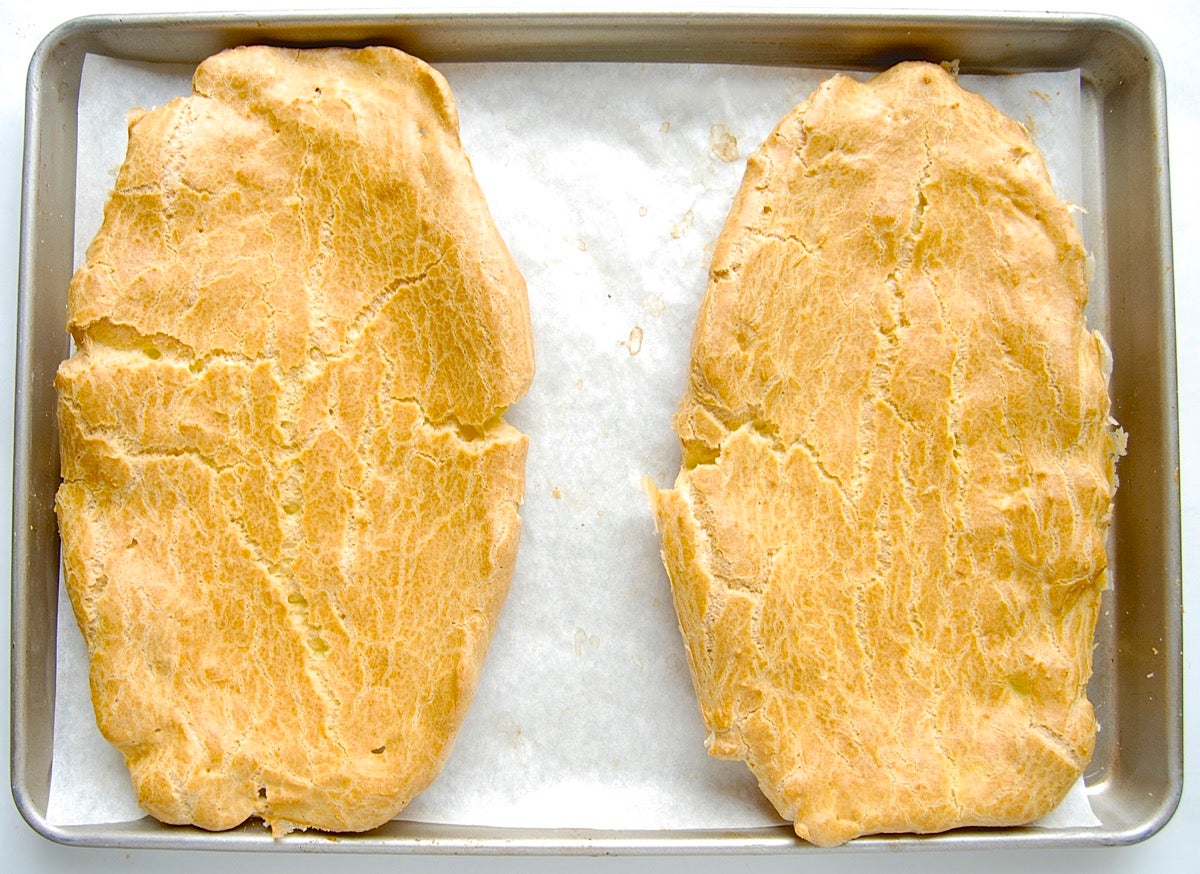 Remove the baked puffs from the oven.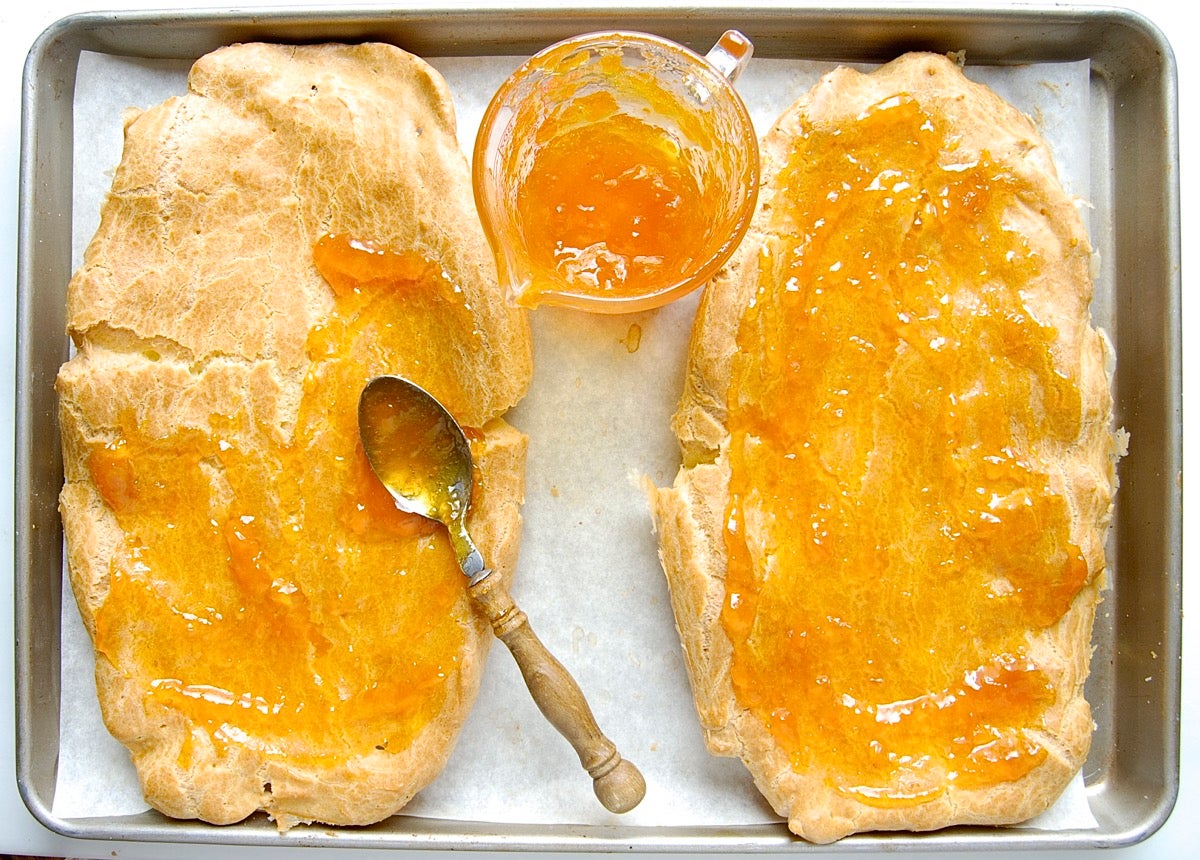 Add the jam and nuts
Spread each warm pastry with about 1/3 cup of the jam.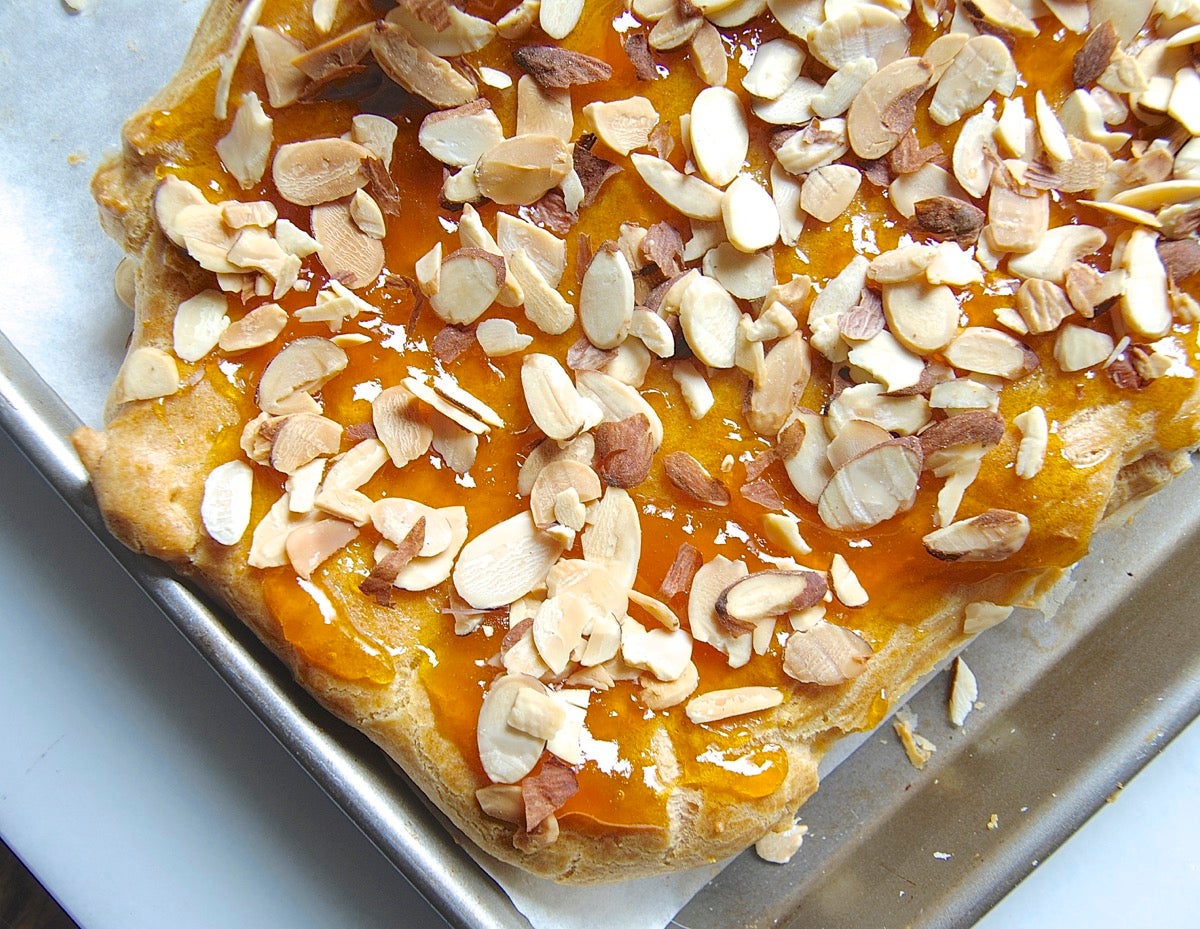 Sprinkle the toasted almonds atop the jam; make sure you go to the very edge.
By this time, your beautifully puffed pastries are probably starting to sink; don't worry, this is all part of the plan.
Transfer the pastries to a rack; this will help prevent their bottoms from becoming soggy. Allow them to cool completely before icing.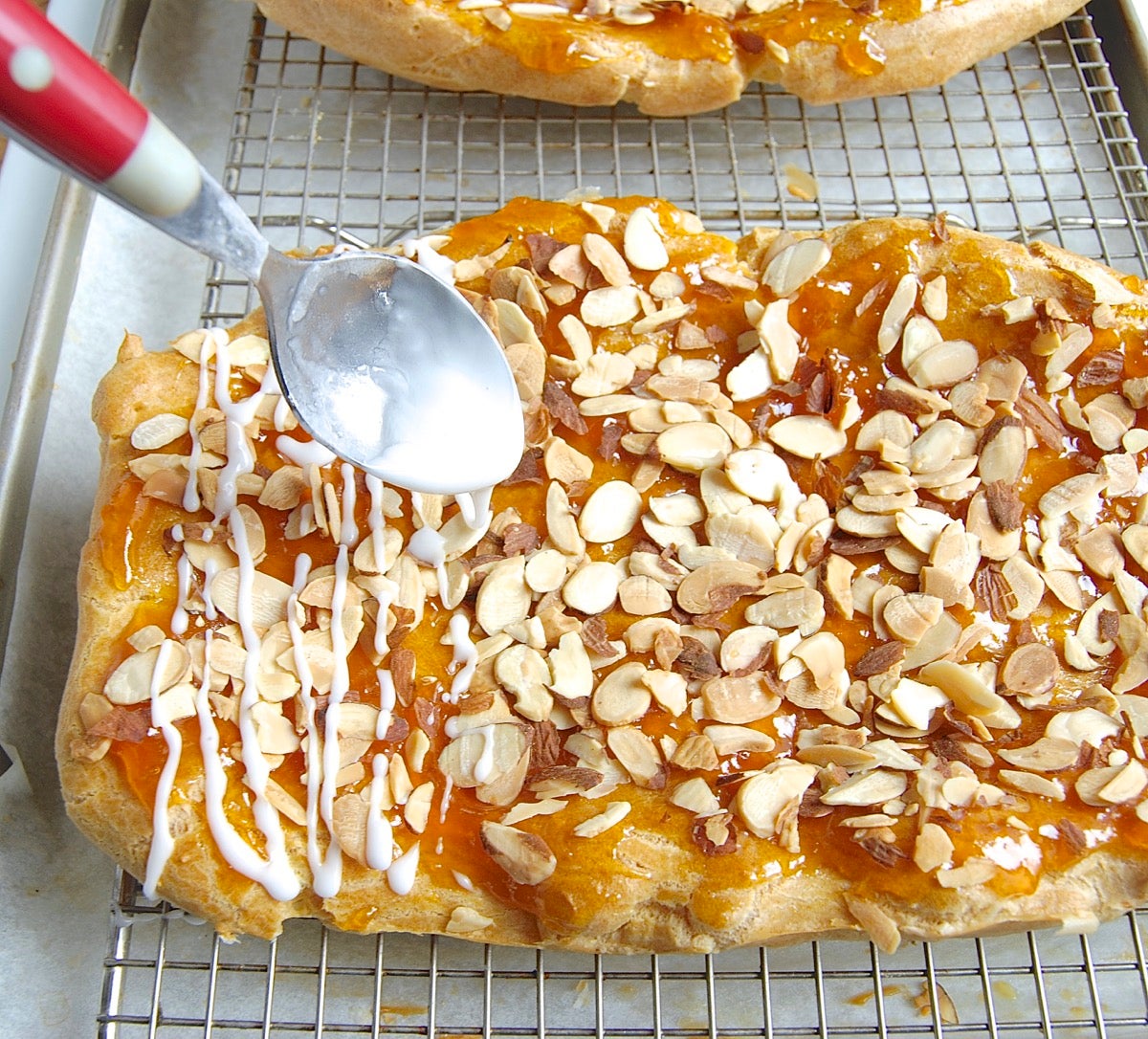 The finishing touch
Make the icing:
1/2 cup (57g) confectioners' sugar
pinch of salt
1 teaspoon vanilla extract or 1/4 teaspoon almond extract
1 to 2 teaspoons milk or water (approximately)
Mix the sugar, salt, and extract. Stir in 1 teaspoon milk or water. Test the icing: does it drizzle nicely off the tip of your spoon? If not, add more milk or water, tiny bit by tiny bit, until the icing is "drizzle-able."
Drizzle the icing — artfully, if you can — atop the pastries.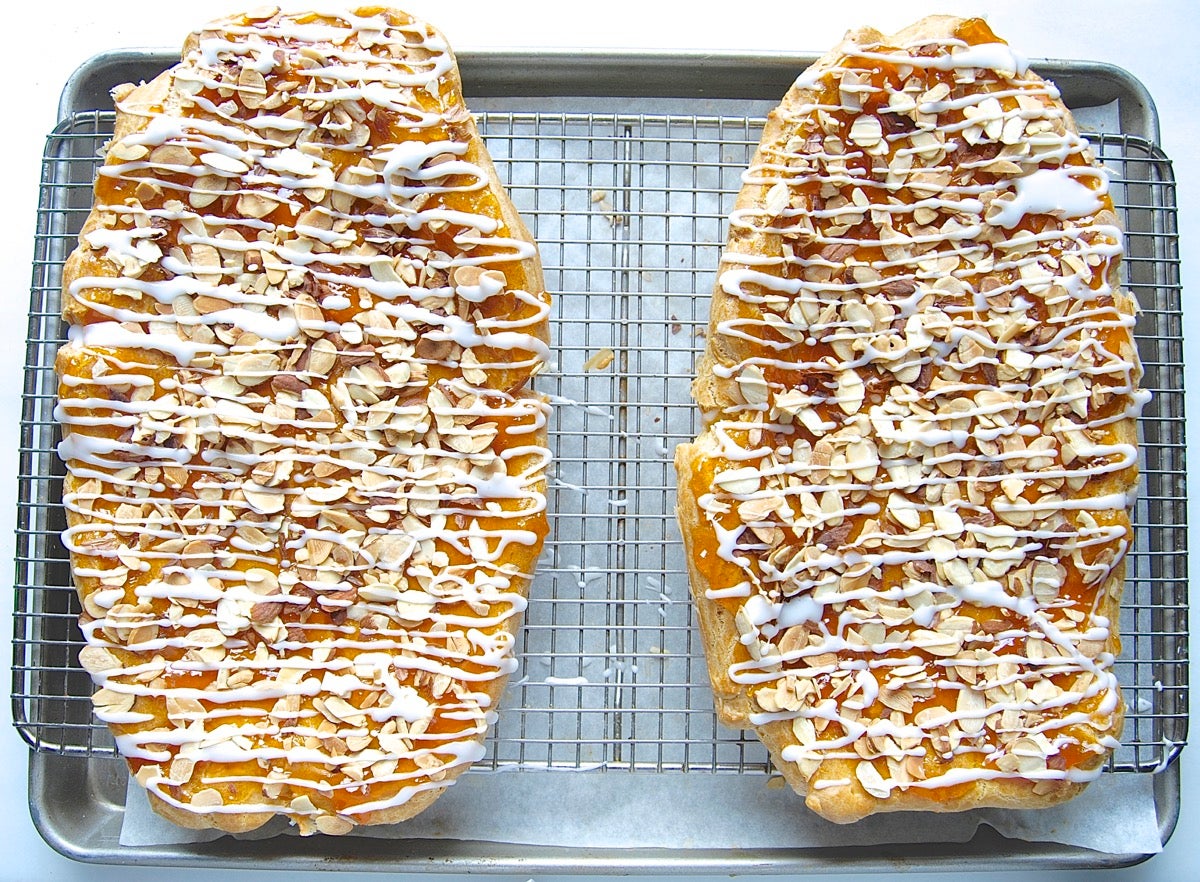 Pretty good, eh? Not too many big blobs of icing (a sure sign that I'd gotten bored and wasn't paying attention).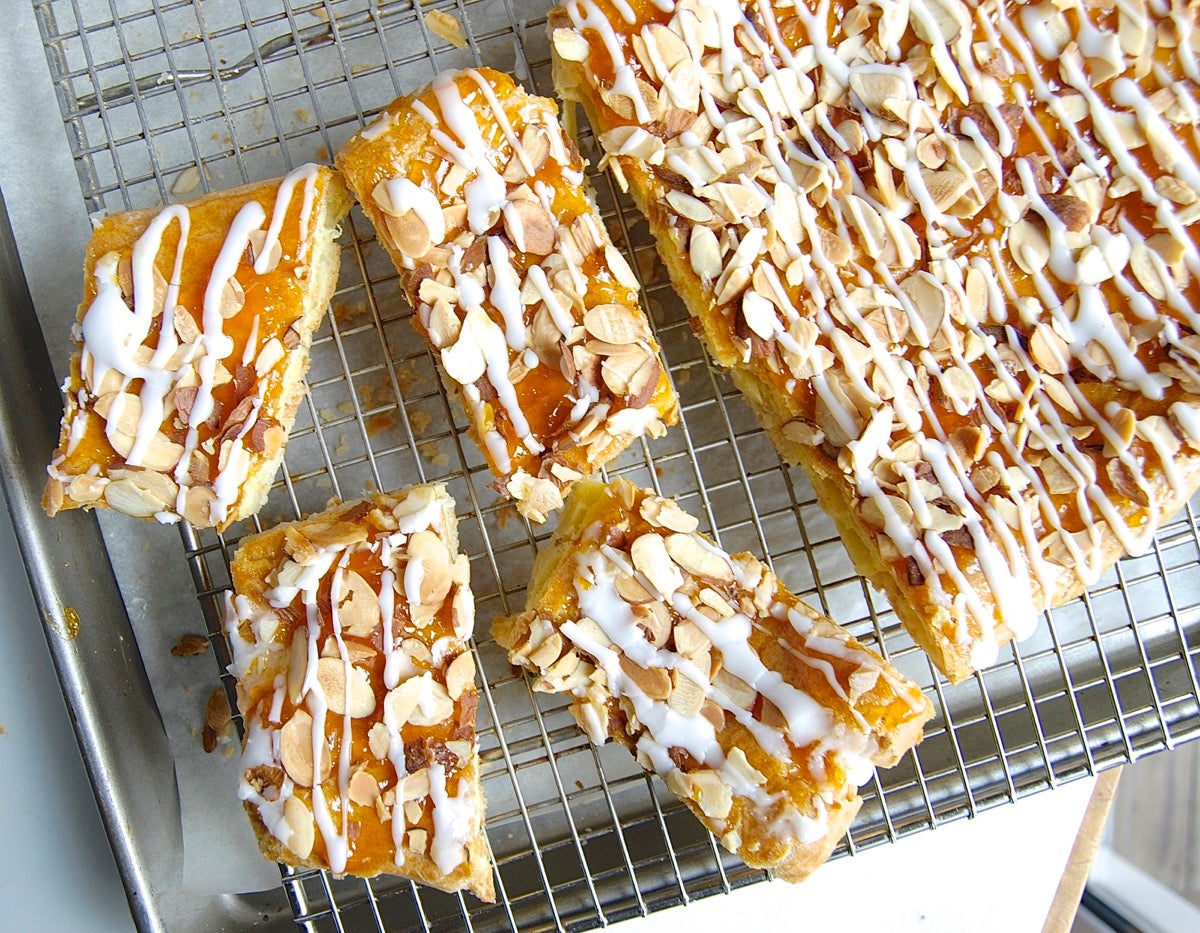 Enjoy!
Cut into squares or strips to serve. Prepare for enthusiastic accolades.
While this pastry is best served the day it's made, you can store it at room temperature, lightly tented with plastic wrap, for a day or so. It'll gradually soften up as it sits.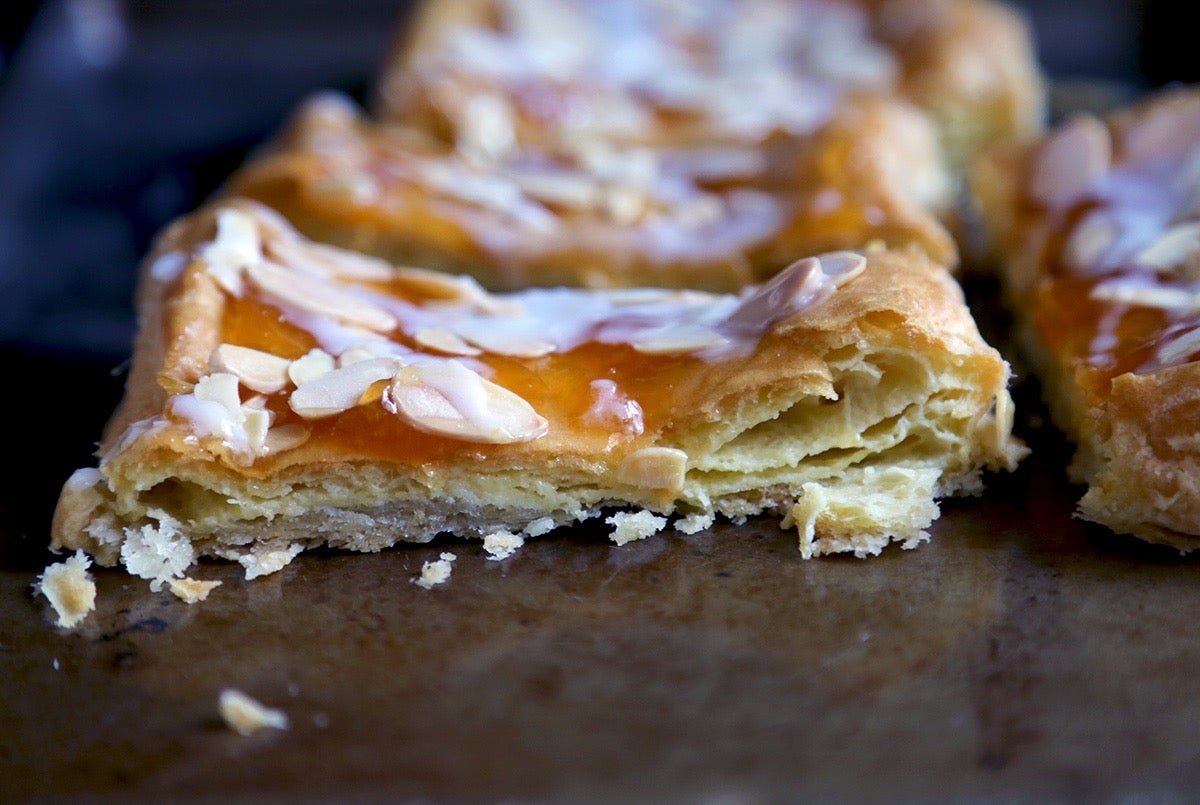 High-altitude adjustments
Do you bake at altitude? Check out our high-altitude baking tips.
Make it whole wheat
Substitute our white whole wheat flour for all or part of the all-purpose flour in both the bottom and top layers of pastry. The more whole wheat you substitute (and yes, you can go right up to 100%), the less the loaves will puff. They'll also taste "wheatier," obviously. But if you're a devoted whole-grain baker, go for it: you won't be sorry.
Make it ahead
Make and bake the loaves, but don't top them with the jam, nuts, or icing. Wrap in plastic, and store at room temperature for up to a couple of days; in the refrigerator for 3 to 4 days, or in the freezer for a couple of weeks. If you're freezing the loaves, wrap them airtight — preferably double-bagged.
Before serving, place the loaves on a baking sheet, tent with foil, and heat in a 350°F oven for about 15 to 20 minutes, or until they're warmed through. If the loaves have been frozen, thaw them at room temperature before reheating. Top with jam and almonds. Allow to cool, then drizzle with icing and serve.
Baking gluten-free?
It's easy: Simply substitute our Gluten-Free Measure for Measure Flour for the all-purpose flour in both the bottom and top layers.
Baking dairy-free?
You can definitely make this recipe! Substitute vegan butter for the butter in the pastry; and use water or a non-dairy milk (soy, almond, etc.) in the icing. Do you regularly bake dairy-free? See our dairy-free baking series.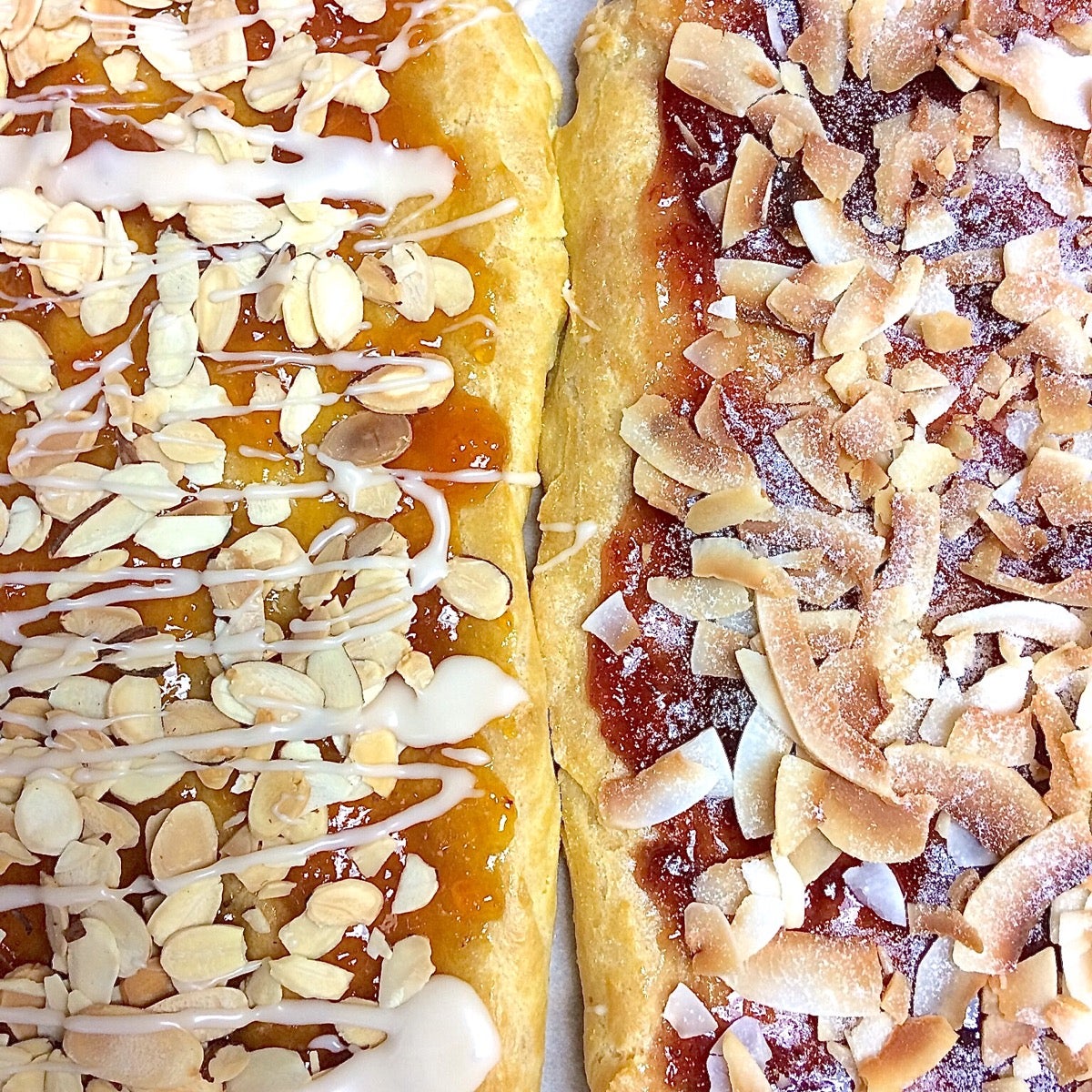 Avoiding almonds?
Try topping the pastry with flaked or shredded toasted coconut in place of the toasted almonds. If almond extract bothers you, substitute vanilla extract.
Interested in more? See our complete collection of Bakealong recipes.
Jump to Comments