Do those muffins pictured above look like dry, dense, "fiber-y" goods to you?
No, they don't to me, either.
And I can attest that these moist muffins, packed with high-fiber flax and juicy blueberries, are as tasty as any "healthy" muffin you're liable to run across.
What do we mean by healthy, anyway? In truth, it means something different to everyone. The best diet advice I ever heard came from Dr. Marion Nestle, former chair of the department of public health at NYU. And it mirrored what I heard Julia Child say, on one of the occasions I was fortunate enough to hear her speak in person.
Eat a little bit of everything.
The key words being, "a little bit."
And the occasional indulgence is even better when you add fiber, protein, and vitamins (plus Omega-3 fatty acids) – as happens when you bake with flax.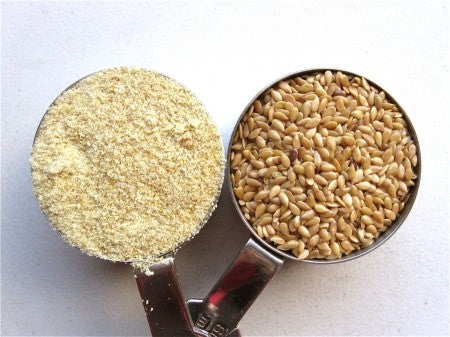 Here are a couple of our favorite high-fiber stars: golden flax meal on the left, golden flax seeds on the right.
Why golden flax, instead of the more common brown?
Because we did some thorough taste-testing with customers before deciding which kind of flax to offer, and our testers were pretty unanimous in their choice of golden flax over brown – citing its mild, nutty flavor.
So, are you ready to bake with flax? Let's try these Blueberry Flax Muffins.
Preheat the oven to 375°F.
Start by whisking together the following:
2 cups (241g) King Arthur Unbleached All-Purpose Flour
1/4 cup (25g) whole flax meal
1/4 cup (35g) whole flax seeds, optional
1 1/2 teaspoons baking powder
1/2 teaspoon baking soda
1/2 teaspoon salt
Set the mixture aside.
In a separate bowl, beat 4 tablespoons (57g) unsalted room-temperature butter with 1/2 cup (106g) light brown sugar until creamy.
Scrape the bottom and sides of the bowl, then add 2 large eggs one at a time, beating well after each addition.
Add 2 teaspoons vanilla and 3/4 cup (170g) buttermilk or plain yogurt, or 2/3 cup (152g) liquid whey, and mix again.
The batter may look a bit curdled; that's OK.
Add the flour/flax mixture, beating on low speed just until the batter is smooth.
Fold in 1 1/2 cups (213g) blueberries, fresh or frozen, briefly and by hand; you're trying to avoid discoloring your batter. Fresh blueberries won't turn your batter blue/green like frozen ones will; but if the frozen berries are frozen solid, and you fold them in quickly, your batter will stay fairly golden. 
Baker's tip: To prevent the blue from bleeding, read our blog post The secret to baking with frozen blueberries.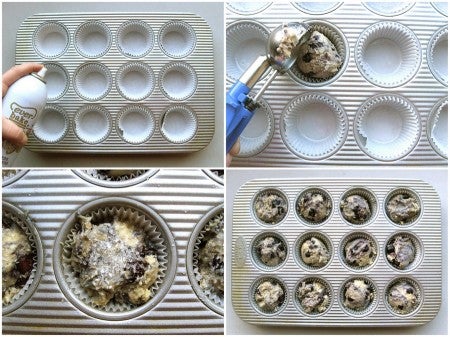 Grease a muffin tin; or line it with papers, and grease the papers.
Scoop the batter into the prepared muffin cups, using a heaping 1/4 cup for each; a muffin scoop works well here. Sprinkle each muffin with a bit of coarse white sparkling sugar, if desired.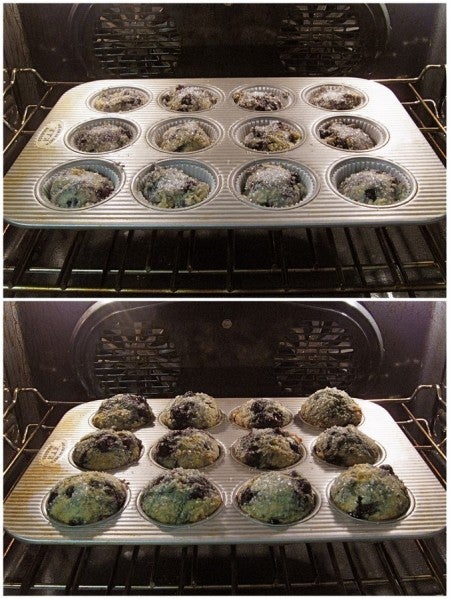 Bake the muffins for 20 to 25 minutes, until a cake tester inserted in the center of one comes out clean.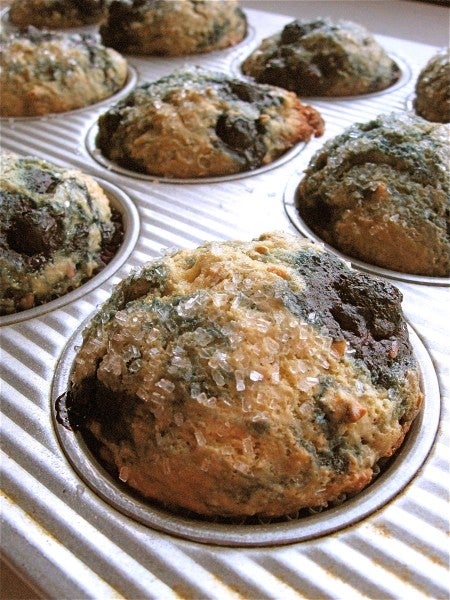 Remove them from the oven...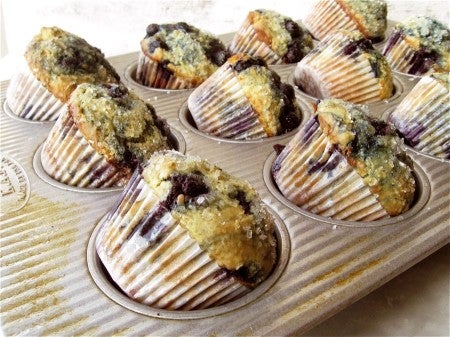 ...and tilt in the cups to keep their bottoms from steaming.
As soon as you're able, transfer the muffins to a rack to finish cooling.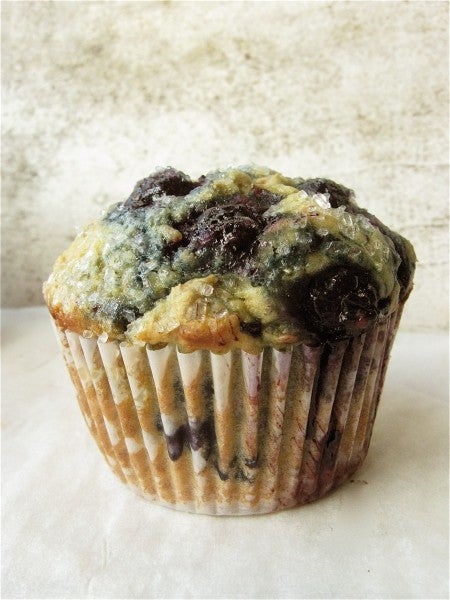 Enjoy as part of your well-balanced diet!
Read, bake, and review (please) our recipe for Blueberry Flax Muffins. Happy baking!
Jump to Comments