Do we have the best job in the world here at King Arthur Flour, or what?
One of our recent group projects was to bake and taste biscuits made with our new King Arthur Enriched Unbleached Self-Rising Flour.
Taste biscuits, huh? It's a tough job... or, in this case, a delightfully tender job!
Our goal wasn't just to enjoy hot biscuits with melting butter. We were tasked with choosing the very best biscuit recipe to print on the back of the flour bag; and we needed to make sure everyone, from biscuit novice to seasoned Southern biscuit baker, could successfully make it.
Serious business, yeah... but it was still a lot of fun.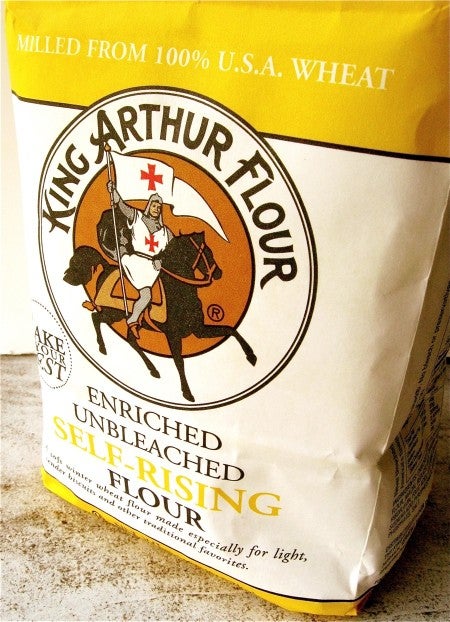 First, what's up with this new flour? What is self-rising flour, anyway?
Self-rising flour is very familiar down South, where it's used for biscuits, light cakes, and other traditional Southern favorites. Milled from a softer wheat than all-purpose flour, it's lower in protein, meaning it produces softer, more tender baked goods.
But self-rising flour's main point of distinction is in its name: self-rising. This convenient flour eliminates two steps in many of your favorite recipes: 1) adding the baking powder, and 2) adding the salt. Both are already in the flour.
How do you use self-rising flour? 
Well, first of all, check out our array of self-rising flour recipes, simply by searching on "self-rising flour" on our King Arthur Flour recipe site. Many older cookbooks call for self-rising flour, as well; so you've probably already got some self-rising flour recipes in your "favorites" file.
To try self-rising flour in recipes that don't call for it, look for baked goods that use baking powder. Any recipe calling for at least 1/2 teaspoon baking powder per cup of flour is a good choice.
Pancakes, biscuits, scones, cake, muffins – are all good candidates for our new flour. Since it's lower protein and its absorption will be a bit less, you'll want to cut back any liquid just a touch, to achieve the desired dough or batter consistency.
And, don't forget to omit the baking powder and salt from the recipe you're following - it's already in your self-rising flour.
Truthfully, I was a bit of a skeptic about our new self-rising flour – until I tried it.
I've substituted self-rising flour in my favorite scone recipes. And in cakes. And pancakes and waffles, and muffins. The flour's lower protein really shines in baked goods designed to be tender, rather than chewy/hearty. And, with the baking powder and salt already in the flour, there's no chance of me forgetting to add them – something that happens all too frequently the older I get.
Plus, call me lazy, but it's just SO easy to make biscuits and dumplings with just two ingredients: self-rising flour, and enough heavy cream to make a soft dough. Mix; scoop; bake. Ahhh...
How we decided on a recipe for the back of our self-rising flour bag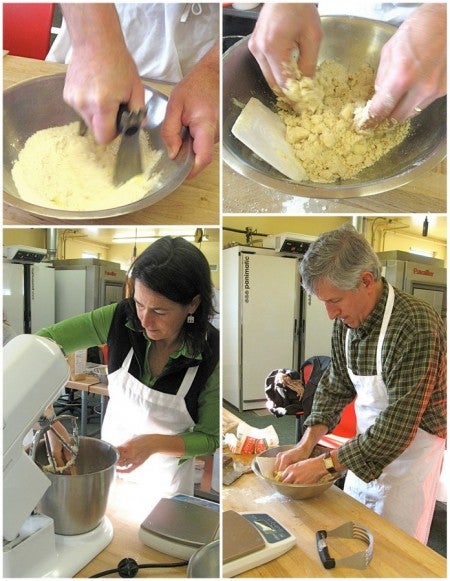 With seven of us all making biscuits at once, using seven different recipes, and with seven levels of baking experience – ranging from CIA grad to "I'm not a baker" – there were quite a range of techniques on display.
From pastry blender, to fingers, to mixer (to pastry fork, to food processor), we explored all the different ways to work butter into flour.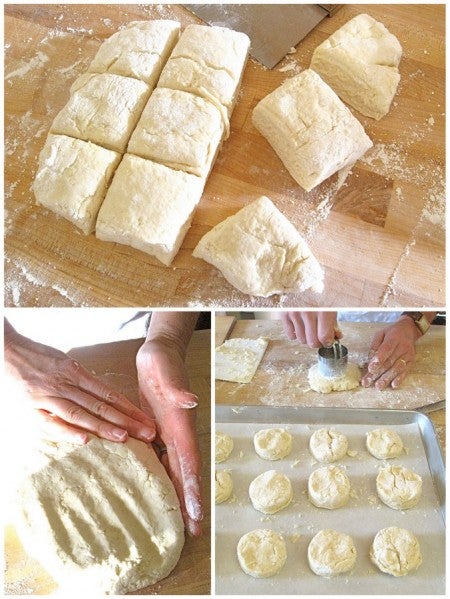 Once the dough was mixed, it was time to shape – gently, please – and cut biscuits.
I'm a fan of square biscuits, myself; no need to re-roll any scraps, as round biscuits require.
One thing I should have done, though – trim the edges of the square before cutting the biscuits. For best rise, biscuit edges should all be freshly cut (not patted, as the edges of my square biscuits were).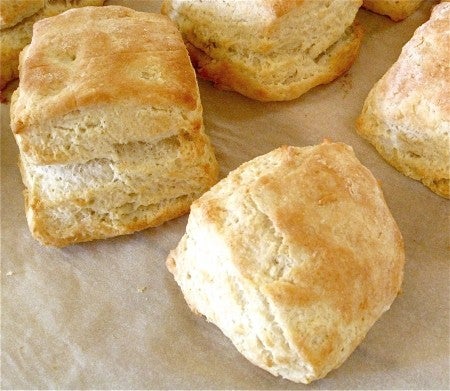 I paid the price – in delicious, but slightly misshapen biscuits. See how nicely the biscuit in the back rose – with its cut edge – compared to the biscuit in the foreground, with its uncut edge?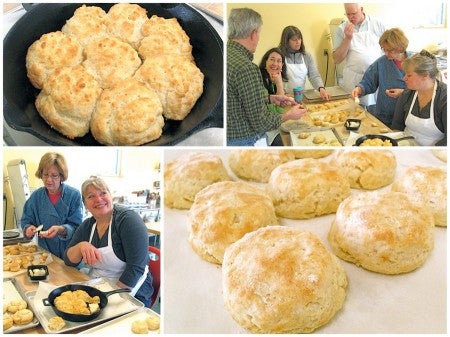 Despite some shaping mishaps, we all arrived at the finish line with hot biscuits to taste.
Our testing/tasting group, pictured above, included Mark Tecca, King Arthur's director of new business development; Julie Christopher, family flour outreach coordinator; Susan Miller, director of our Baking Education Center; Frank Tegethoff, a longtime baker familiar to many of you via our bakers' hotline; and Sue Gray, and Susan Reid, culinary school grads and seasoned bakers who wear a variety of hats (toques?) around the test kitchen.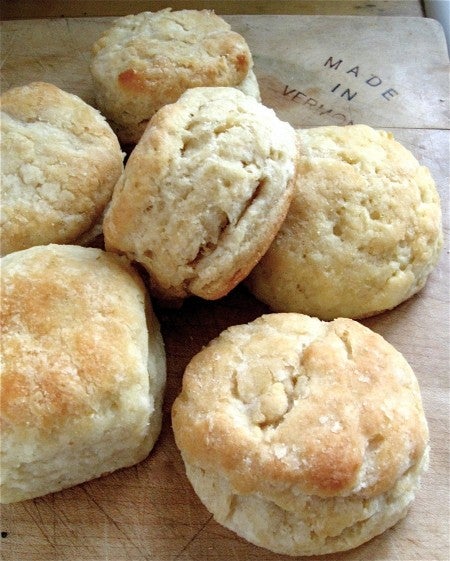 All the recipes turned out very well indeed; but a couple stood out. In the end, the following recipe for Easy Self-Rising Biscuits ended up on the back of the bag.
Let's make biscuits, shall we?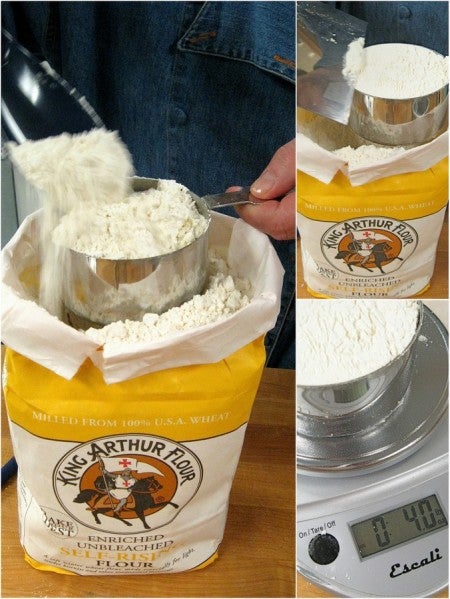 First, preheat the oven to 425°.
Next, measure 2 cups King Arthur Unbleached Self-Rising Flour into a bowl. Here Sue Gray, a 15-year test kitchen veteran, measures flour into a cup via the "sprinkle and sweep" method – which is the way we measure flour when developing our King Arthur recipes.
One cup of our self-rising flour weighs 4 ounces; if you have a scale, measuring ingredients by weight is both easier, and more accurate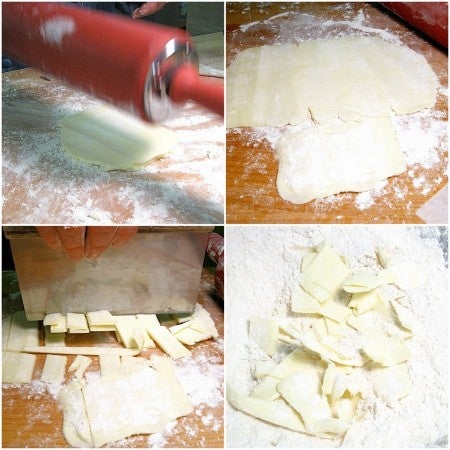 Next, 4 tablespoons of ice-cold butter. We like to cut it into small pieces before adding it to the flour.
Here, Sue uses a rolling pin to flatten the butter on a well-floured surface, then uses her bench knife to cut it into thin shards.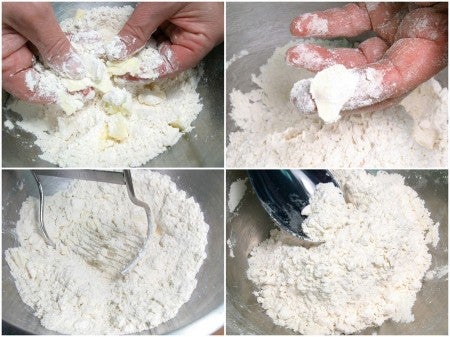 Next, Sue works the butter into the flour until it's in smaller pieces.
A pastry blender (or your fingers) will make quick work of this. It's OK – in fact, preferable – to leave some of the butter in larger pieces; this will help the biscuits' texture.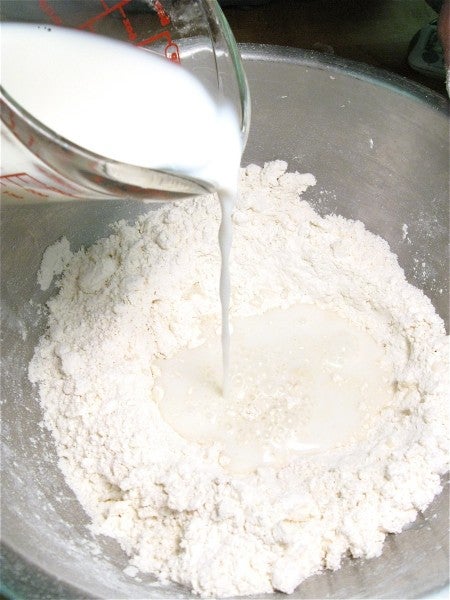 Add 3/4 cup (6 ounces) cold milk or buttermilk.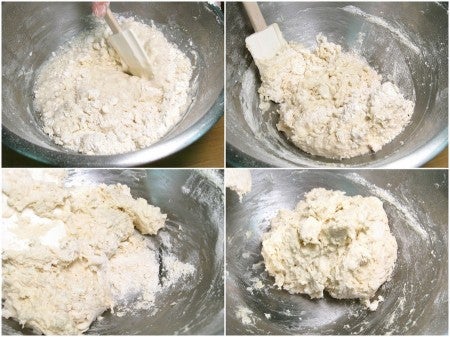 Stir until the mixture holds together and leaves the sides of the bowl, adding more milk if needed.
Stir gently but thoroughly, making sure all the dry flour in the bottom of the bowl is incorporated.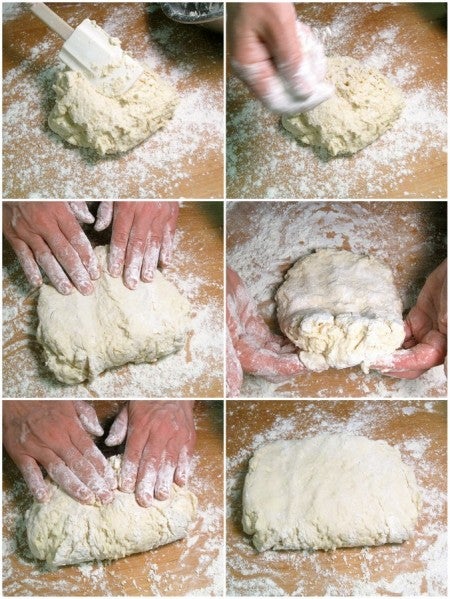 Scoop the dough onto a well-floured surface, and fold it over on itself several times, using more flour as needed to prevent sticking.
Roll or pat the dough into a 5" x 8 1/2" rectangle about 1/2" to 3/4" thick.
Again, keep your work surface well floured; pick the dough up with your bench knife and sprinkle flour underneath, as necessary.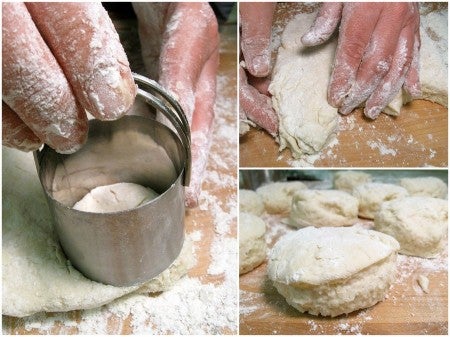 Cut biscuits with a sharp, round 2" biscuit cutter, dipping the cutter into flour between cuts to reduce sticking. Or cut the rectangle into 12 small rectangular biscuits, which will allow you to skip the step of re-rolling and cutting scraps.
If you've used a round cutter, pat the scraps together, and cut additional biscuits.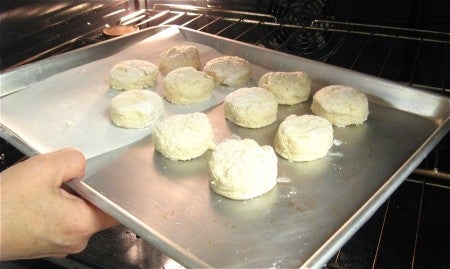 Place the biscuits on an ungreased or parchment-lined baking sheet, leaving about 1" between them for crisp biscuits. Arrange biscuits so they're barely touching for soft-side biscuits.
More testing: Sue was seeing if using parchment would change the biscuits' texture or browning; it didn't.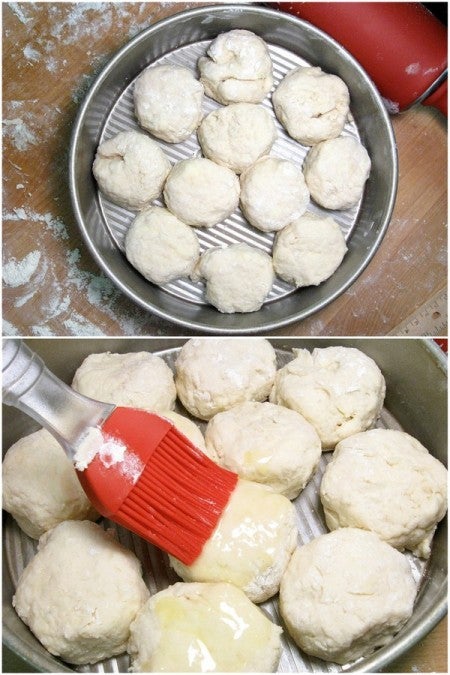 For higher-rising soft-side biscuits, place biscuits in an 8" round pan.
Brush with butter before baking, for a golden, flavorful crust.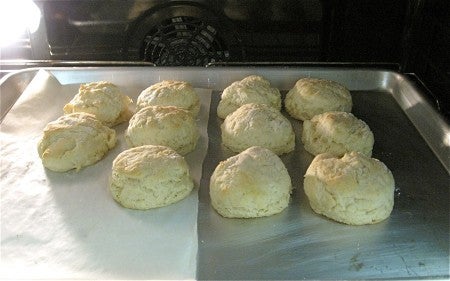 Bake the biscuits for 10 to 14 minutes, or until they're a light golden brown.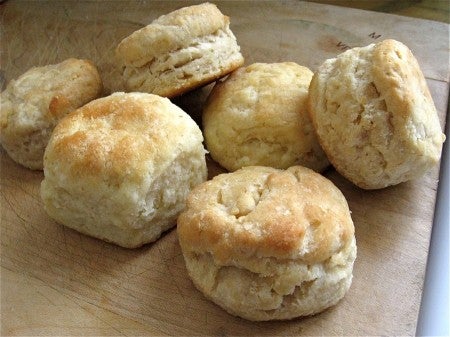 Remove from the oven, and serve hot. Or warm.
If you have any leftovers, cool them completely, wrap airtight, and store at room temperature for several days; freeze for longer storage.
To refresh room-temperature biscuits, place on a baking sheet, tent lightly with foil, and bake in a preheated 350°F oven for 10 to 13 minutes, until heated through.
Some people like cold biscuits; but to our mind, reheating returns them fairly effortlessly to just-baked (rather than leftover) status.
So, here are the results of a few of our Sue's experiments along the way: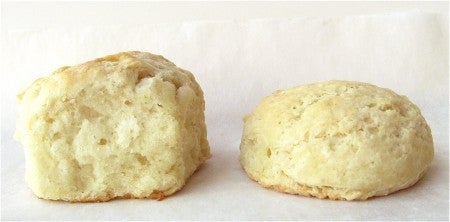 On the left, a biscuit baked in a cake pan; on the right, on a baking sheet. The biscuits in the pan, since they were crowded together, rose higher (they had to go up, not out); and had soft sides.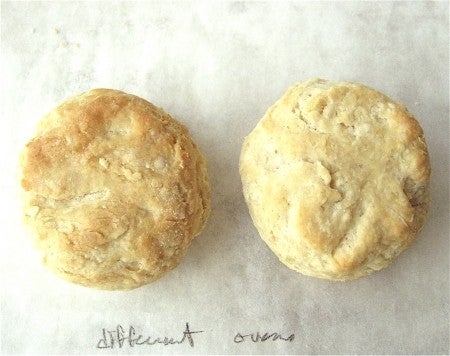 Does your oven make a difference? Absolutely. Same recipe, baking time/temperature, same shelf height – two different ovens, two different results.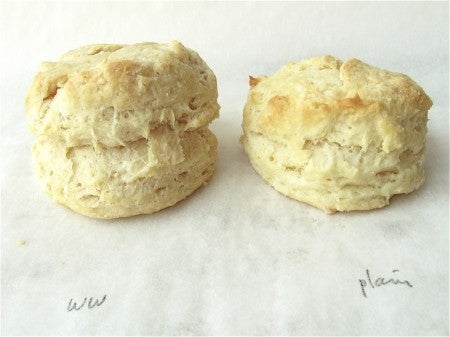 Can you add whole wheat flour to this basic recipe?
Yes, absolutely. Our biscuits made with 25% whole wheat flour (1/2 cup whole wheat substituted for 1/2 cup self-rising) rose higher than those made with all self-rising flour. Since whole wheat flour increases the protein and thus the dough's absorption level, the dough was drier; it held its shape more easily in the oven, rising up, not out.
The tradeoff? The 100% self-rising flour biscuits were definitely more tender.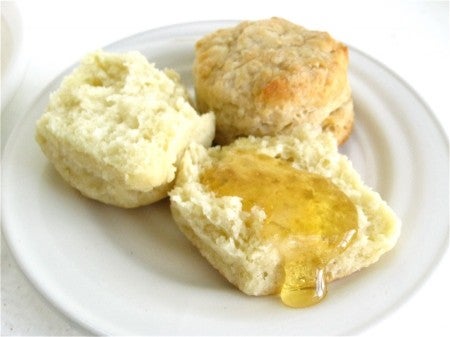 And finally, at the end of the day (or even better, the beginning of the day) – warm, soft/crusty biscuits with a dollop of thick, golden honey.
Who says we New Englanders don't know how to bake (and enjoy) great biscuits? Now that we've finally got the perfect flour – it's easy!
Read, bake, and review (please) our recipe for Easy Self-Rising Biscuits.
Jump to Comments