These whole-grain pancakes are the best I've ever made. I have a container of the dry mix in my fridge at all times, ready for me whenever I get a hankering for some breakfast food. The oats give the pancakes a bit of texture, which makes them a joy to eat – I like when my food has more than one note to it.
But do you really want to know why I think it's the best? Because I know exactly what's in this whole-grain pancake mix – after all, I made it with my own two hands!
Susan Reid, writer and food editor for SIFT magazine, and Susan Miller, director of our Baking Education Center, created this mix back when they were writing the King Arthur Flour Whole-Grain Baking Book, and it's been in our refrigerators ever since!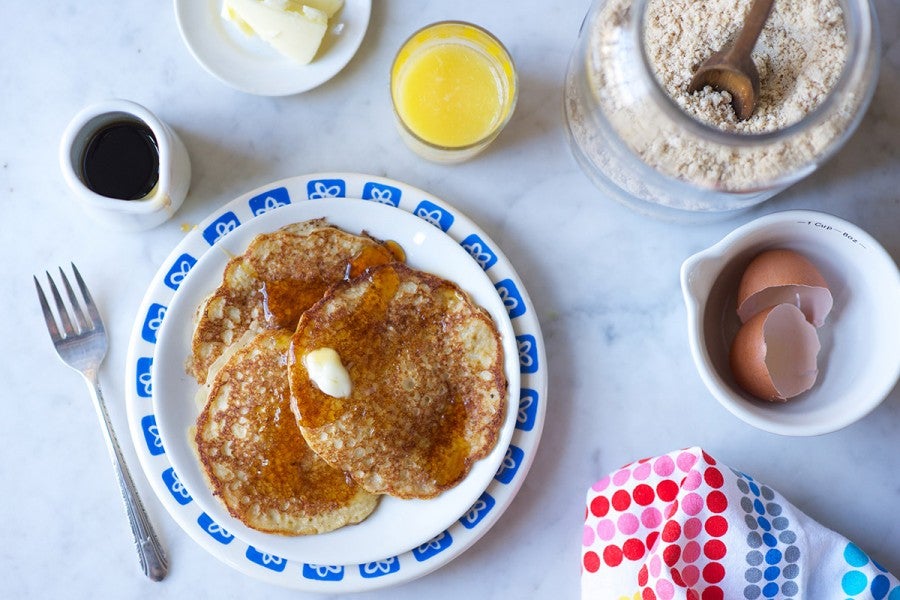 In case you're looking for more reasons to run to the kitchen and buzz it up, I've included some. Can you think of any others?
1) Pancakes are the ultimate breakfast-for-dinner food.
You come home late (gym, grocery shopping, happy hour!) and you don't have time to prepare a lavish meal. With the mix already made, it's just a matter of scoop, pour, and mix – and dinner is on its way!
2) Whole-grains = basically an obligation to eat more pancakes.
Because healthy is the ultimate excuse.
3) You can add fruit to them.
Balanced breakfast, anyone? A partial list of combinations that have made successful appearances so far: peach, raspberry, banana-walnut, cheddar-apple, blueberry, and cranberry-apricot. Feel free to add about 2/3 cup mix-ins to your batter.
Just remember, adding frozen fruit may tint your pancakes a strange color! It's better to scatter frozen fruit atop the cooking pancakes, instead of mixing it in.
4) Breakfast for days!
10 days, to be exact. This recipe makes about 10 cups of pancake mix, with each batch of pancakes using 1 cup of mix. You and yours will be happily fed for many, many mornings. So exciting!
5) Put a little more love into Sunday morning breakfast.
Homemade pancakes just taste better. Did I mention how EASY it is to make this mix? Let me show you!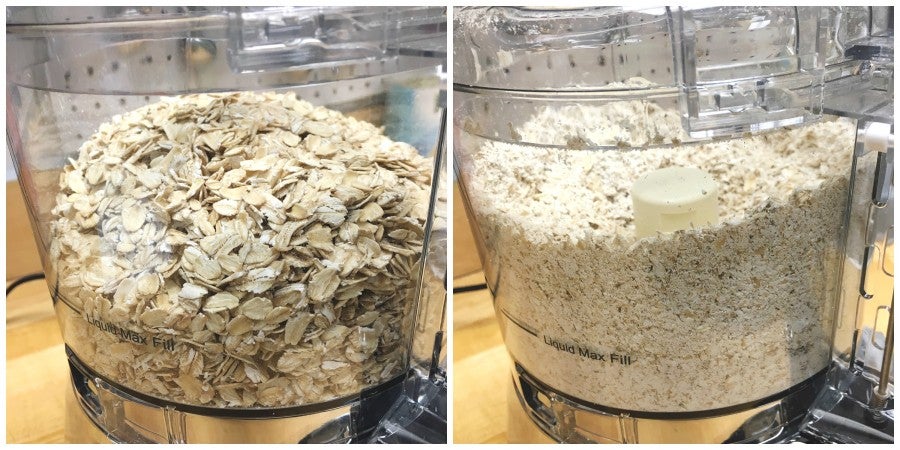 Grind 3 1/2 cups (347g) old-fashioned or rolled oats in a food processor until they're chopped fine, but not a powder.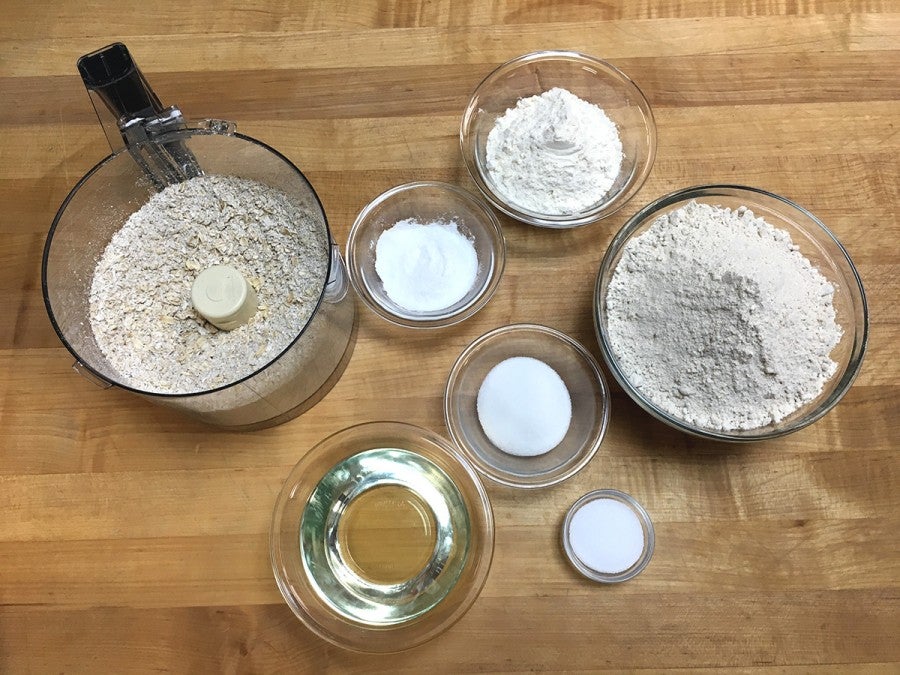 Put 4 cups (454g) King Arthur White Whole Wheat Flour, 1 cup (120g) King Arthur Unbleached All-Purpose Flour, 3 tablespoons (43g) sugar, 3 tablespoons (43g) baking powder, 1 tablespoon salt, and 1 tablespoon baking soda into a mixer with a paddle. Whisk together until well blended.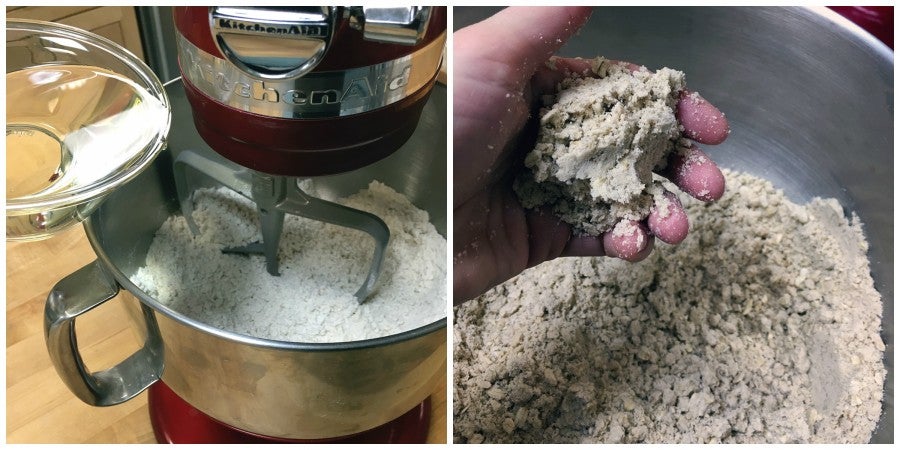 Mix on slow speed, and drizzle 1 cup (198g) of vegetable oil into the bowl slowly while the mixer is running. It'll resemble damp sand. You should be able to squeeze a handful and it'll roughly stick together.
That's it. As easy as I told you, right?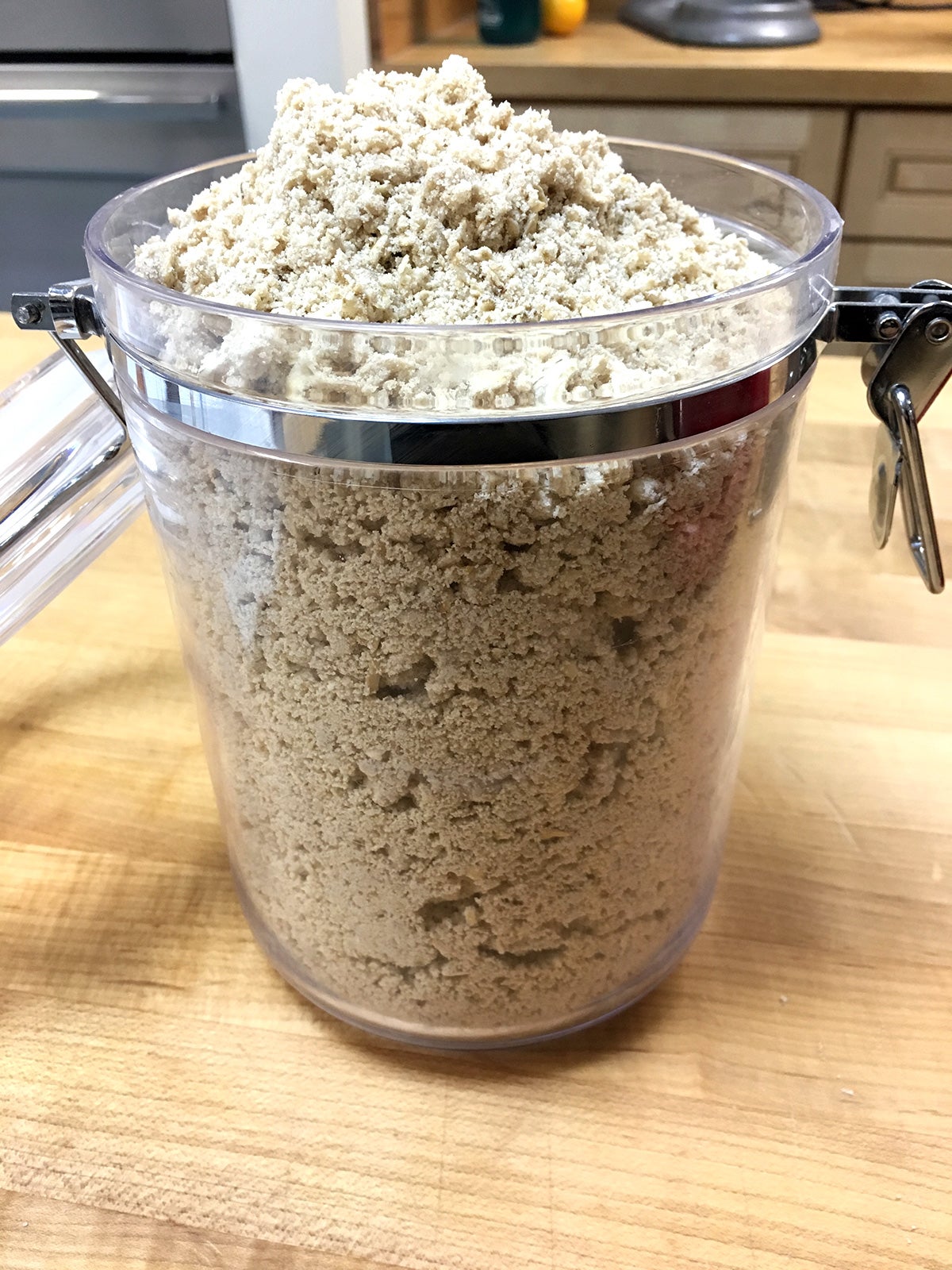 Store your pancake mix in an airtight container for up to two weeks at room temperature, or indefinitely in the refrigerator or freezer. It'll be your new best breakfast friend – always there when you need it.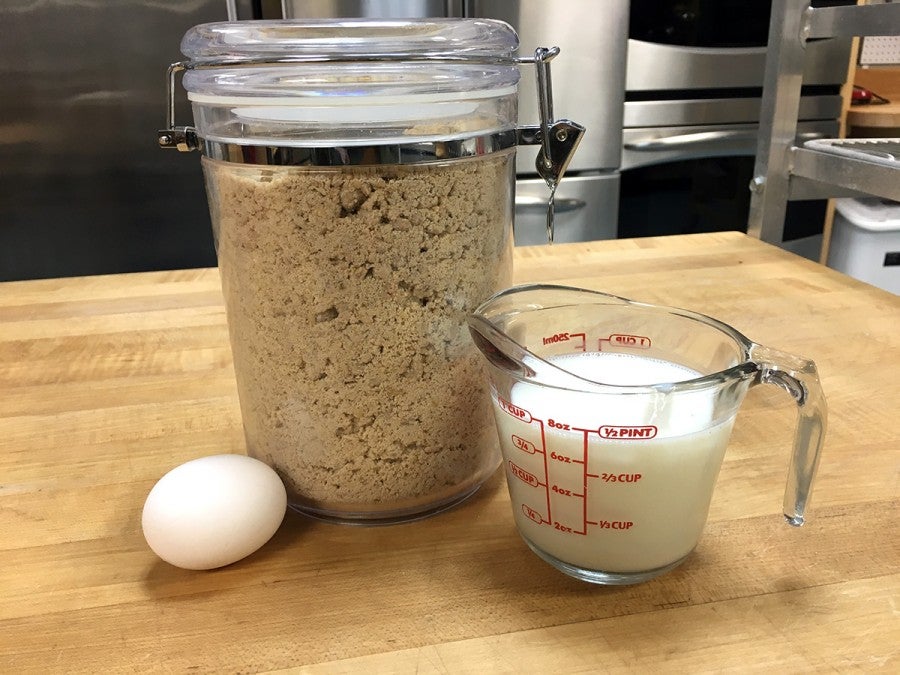 When you're ready for pancakes, whisk together 1 cup (120g to 135g) of mix, 1 cup (227g) of buttermilk (or a combination of half plain yogurt and half milk; or 3/4 cup liquid whey), and 1 large egg. Don't worry if it seems thin at first: the oats will soak up the milk, and the mix will thicken a bit as it stands. 
If you have a picky eater on your hands who won't touch whole grains, add 1 tablespoon orange juice to the dry mix along with the buttermilk. We've found that the acidity and sweetness of the orange juice helps mellow the tannic taste some people perceive in whole wheat flour; while the pancakes won't have any orange flavor, they may taste slightly milder to you, if you're not a fan of whole wheat (but still want to get more whole grains into your diet).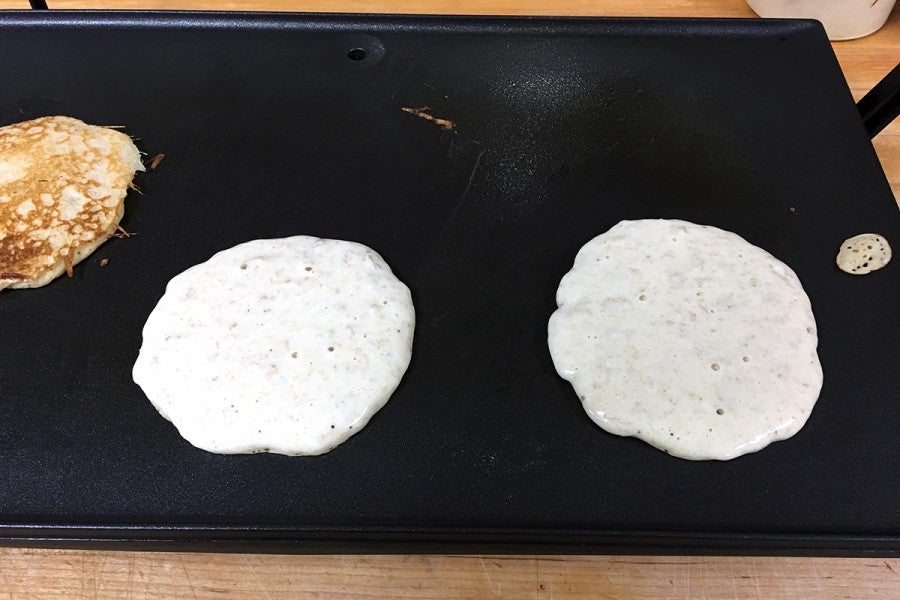 Let the batter stand for at least 20 minutes before cooking. Heat a lightly greased griddle to 350°F (if you've got a griddle with a temperature setting; if not, medium-hot will do). Drop the batter onto it in 1/4-cupfuls (a jumbo cookie scoop works well here) to make a 4" diameter pancake.
When the edges look dry and bubbles come to the surface without breaking (after about 2 minutes, if your griddle is the correct temperature), turn the pancake over to finish cooking on the second side, which will take about 2 minutes. Serve pancakes immediately, or stack and hold in a warm oven.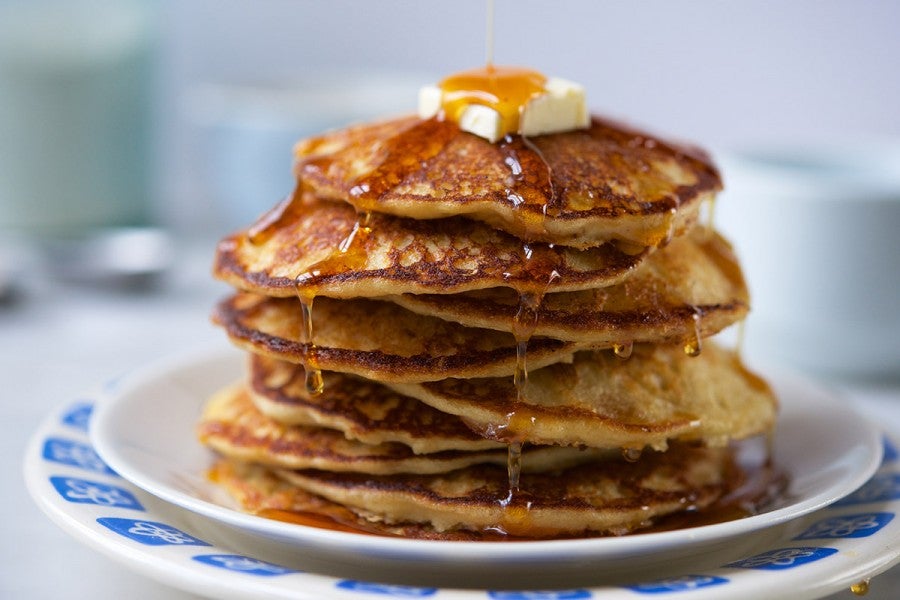 Breakfast is the most important meal of the day – make sure your plate is filled with something whole-grain AND delicious!
Please bake, rate, and review our recipe for Homemade Whole-Grain Pancake Mix.
Jump to Comments