Our favorite recipes for roll-out cookies
It's time to rock and ROLL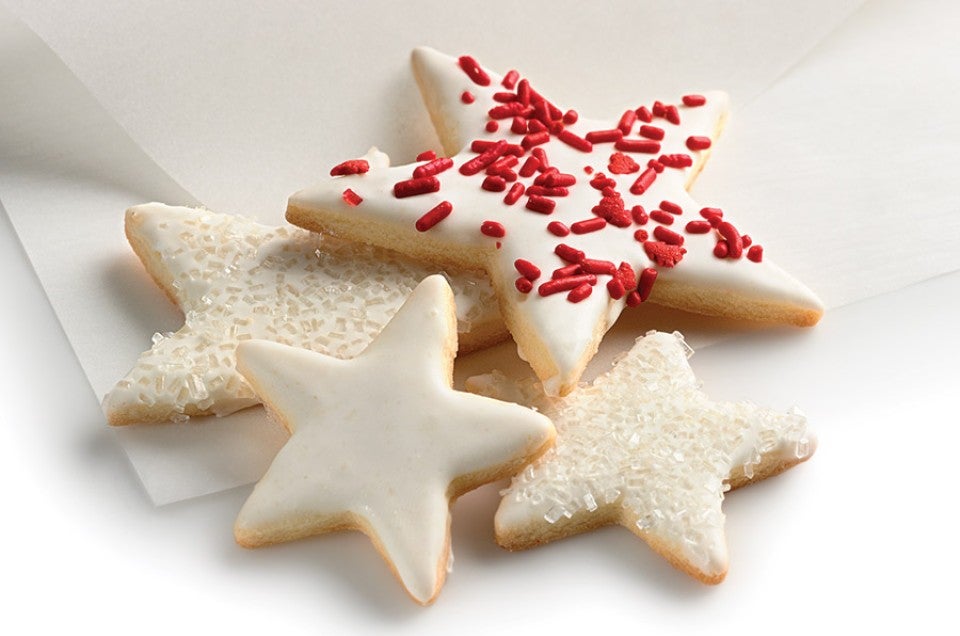 Can you walk down the store cookie aisle in June, and pass up every treat? Can you go to the local bake sale and abstemiously ignore the most chocolate-y of chippers? Pass the peanut butter crispies, ban the butterscotch blondies?
If you can, The Force is strong within you, but I do defy you to pass up a crisp, round shortbread, or a snowflake fancy during holiday time. There's just something about cookies and the holidays that go hand in hand.
Friends come to visit? Out comes the cookie tin. Kids need a snow-day project? Pull out all the colored sugars and rolling pins. I'm always thrilled to see the creativity that each person brings to the table. The most basic of star shapes becomes the merriest of baked goods with a little glaze, a little color, and a lot of imagination.
Even with the (nearly) universal love of cookies during the season, we know that different folks have different favorites. We've gathered our favorite rollout recipes for you here, including the classics, the unique and, of course, the gluten free. Scratch or boxed, iced or not, these cookies will bring a smile to the face of the grinchiest Grinch.

If you're short on time or don't normally bake gluten free, here's a recipe for you that fits the bill. Our Gluten-Free Rollout Cookies begin with our outstanding gluten-free cookie mix. A few added ingredients from your pantry, and you're ready to roll and decorate to your heart's content.
This recipe was actually the first foray I made into gluten-free cookies, back in 2011; and I still think it's an excellent way to go for lovely, gluten-free treats.

One recipe that my family comes back to year after year, season after season, is our Holiday Butter Cookies.
Crisp, tender, and oh-so buttery, these cookies have had a starring role here at King Arthur Flour on many occasions, gracing our catalog covers and blog posts. We love this dough because it doesn't puff nor spread out of shape when baked, so your intricate cutter details stay intact from beginning to crunchy-munchy end. If you're searching for a recipe to bake for decorated gift giving, this is the real deal.

Some days, no matter what the season, it's all about the chocolate. If you're craving something deep, dark, and not as sweet as traditional sugar cookies, check out our Chocolate Cutout Cookies. Dark snowflakes with bright white icing? A great way to keep the holiday drama all about the cookie tray and not about (insert hot topic of your choice here.)

I know, I know, you're thinking I forgot all about gingerbread, right? No, no, I could never do that, I love it far too much!
Our Gingerbread Cookies recipe can be used to make many different cookies, cutouts, people, even decorative "stained glass" cookies.
When the elves are clamoring for a treat and you're up to your elbows in ribbons and tape, our gingerbread cookie mix is a real life-saver. It's easy to mix up a batch of dough and enjoy all the wonderfully spicy flavor and crisp texture of cookies made from scratch.

And have no fear my gluten-free friends, we have a gluten-free gingerbread recipe for you, too. Bake up a batch and bring on the icy cold milk!
We hope you get to try one, two, or all of our favorite recipes this season. We'd love to hear about your cherished recipes, along with stories about your cookie-baking traditions.
Did I ever tell you the story of my Dad's mishap with a round flour bucket, and a set of stairs? Let's just say I can still hear the thump, thump, thump of the container bouncing down each stair, a white-powder Slinky bent on escaping out the front door. We can laugh now and consider it part of our family holiday history, so don't be shy – please, please share your cookie stories!
Jump to Comments