Monkey bread, pull-apart loaf... chop bread?
Yes, there's a new way to make everyone's favorite party bread. Rather than laboriously divvy a mound of dough into individual bits, round each piece into a ball, and stack in a pan, I give you chop bread: a gloriously messy, supremely easy free-form method of making stuffed bread for a crowd.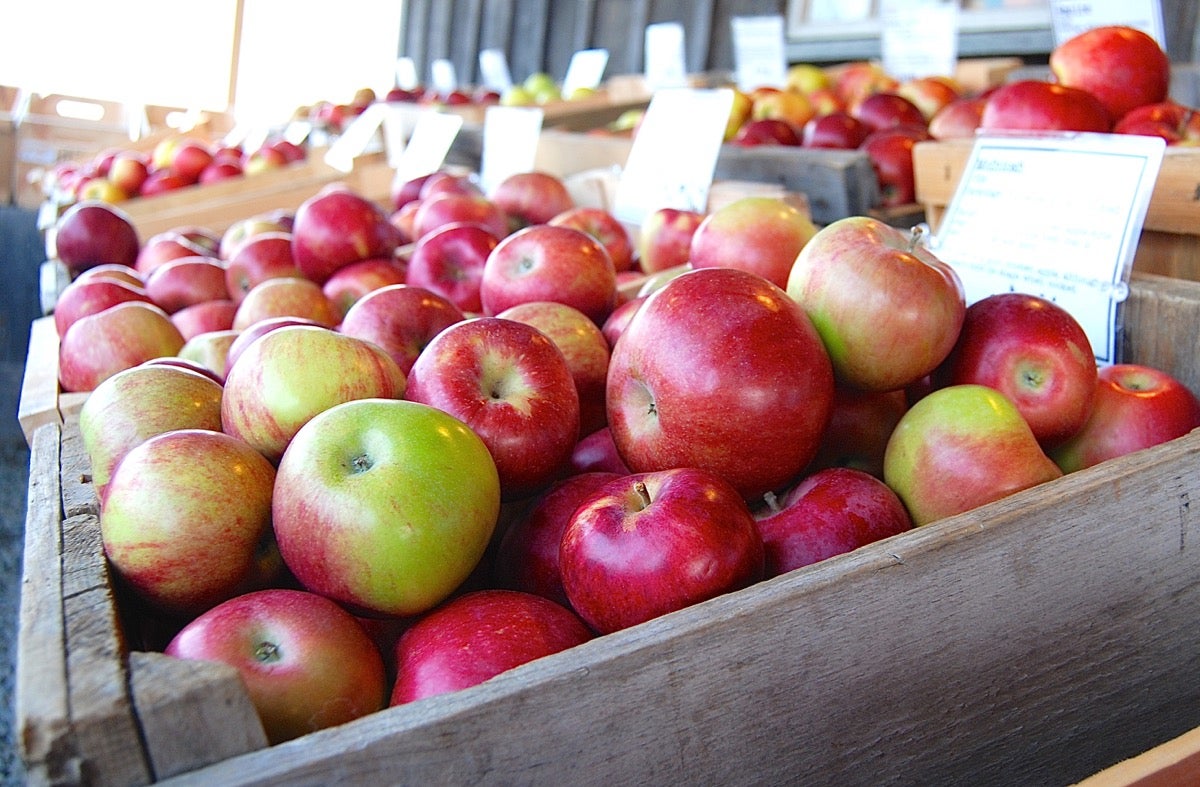 With fresh, crisp apples appearing at the farm stand, my thoughts turn to baking with fall's favorite fruit. And since fruit and cheese go together like pie and ice cream, I'm pairing apples with my favorite sharp cheese, Cabot cheddar.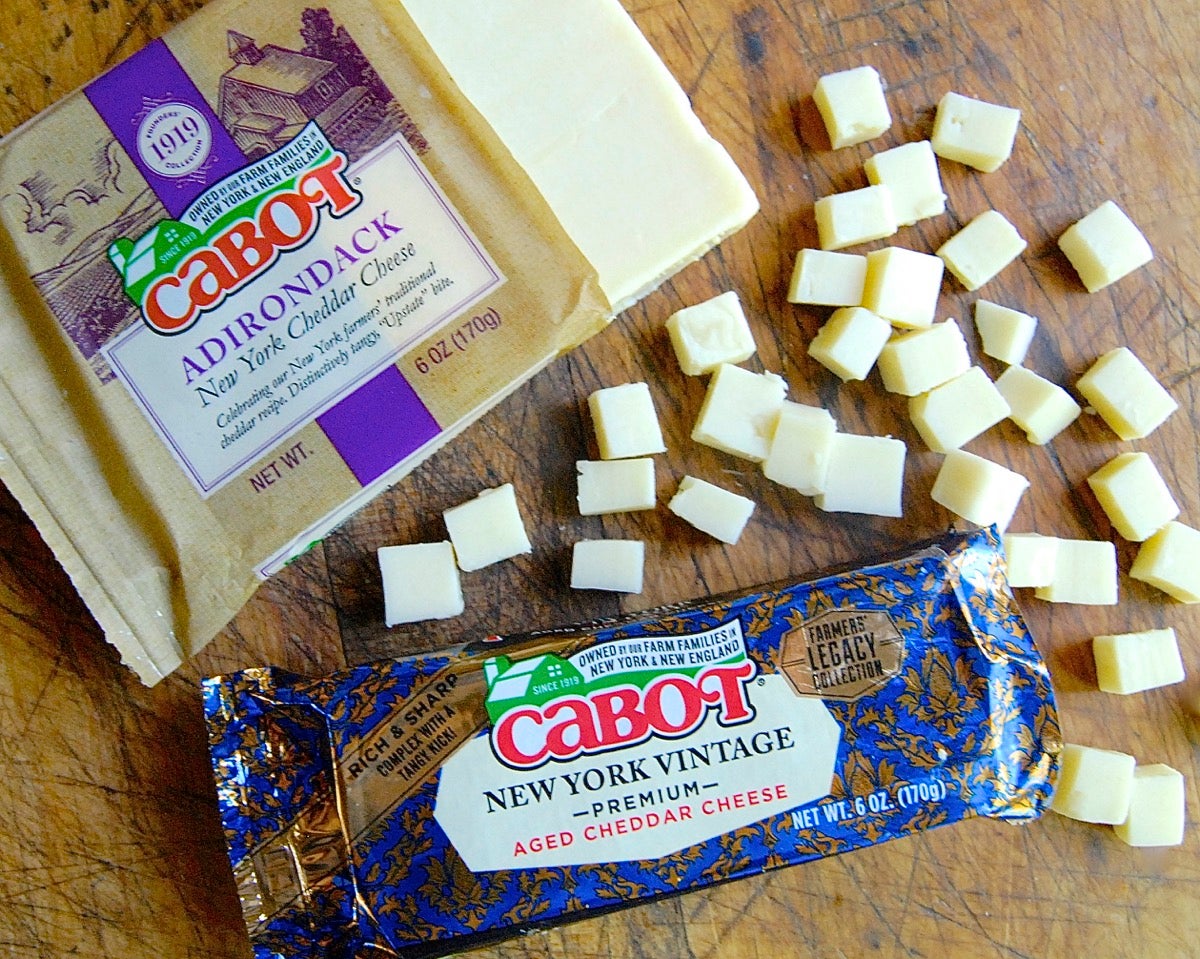 Of course, when you say Cabot cheddar, you've said a delicious mouthful. With their newest lines — Founders' Collection and Farmers' Legacy — Cabot takes cheddar to a whole new plane. All of their many cheddars offer subtle differences in flavor and texture, from crumbly and super-sharp to soft and smooth.
But it's not just Cabot's cheese that sets this business apart. Cabot, a neighbor of ours up here in Vermont, is also the first cheesemaker and dairy cooperative to become a certified B Corp — a designation King Arthur Flour shares. As mission-driven businesses, we're both devoted to social and environmental excellence, not just the bottom line.
Speaking of the bottom line, today's is all about flavor. Taste this cider-glazed Apple Cheddar Chop Bread, see how simple it is to toss together ... and never monkey around with your party bread again.
Chop chop! Let's make it.
First, mix and knead
Combine the following, stirring to make a rough dough:
3 cups (361g) King Arthur Unbleached All-Purpose Flour
2 1/4 teaspoons instant yeast
1 1/4 teaspoons salt
1 large egg
1/2 cup (113g) lukewarm milk
1/4 cup (57g) lukewarm water
3 tablespoons (35g) vegetable oil or olive oil
See how gnarly this dough is? You're going to knead it until it's smooth. Use your hands, a stand mixer, or whatever method you prefer. A bread machine set on the dough cycle works fine.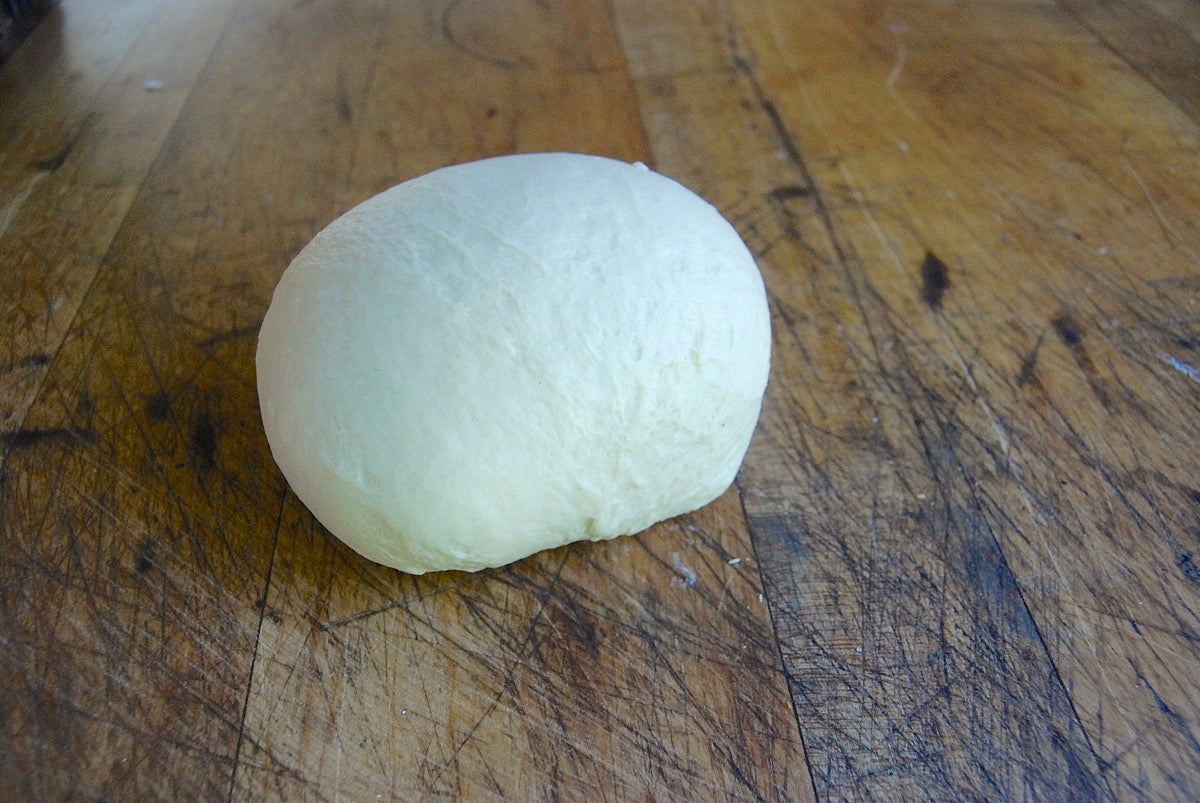 And here's your kneaded dough — smooth and soft as a baby's cheek!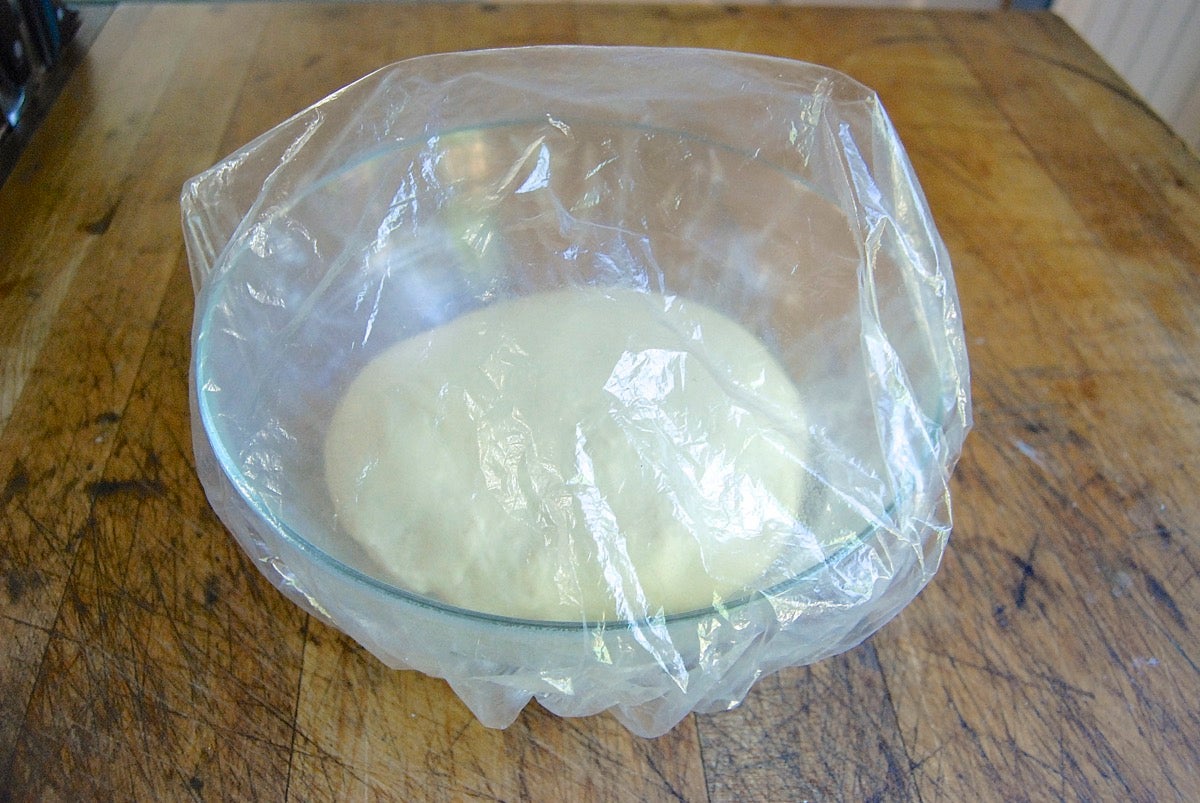 Shape the dough into a ball, place it in a lightly greased bowl or other container, cover it, and let it rise for about 60 minutes, until it's just about doubled in size.
I'm using a shower cap to cover the bowl. I "poof" it up over the bowl to give the dough a warm, moist rising chamber.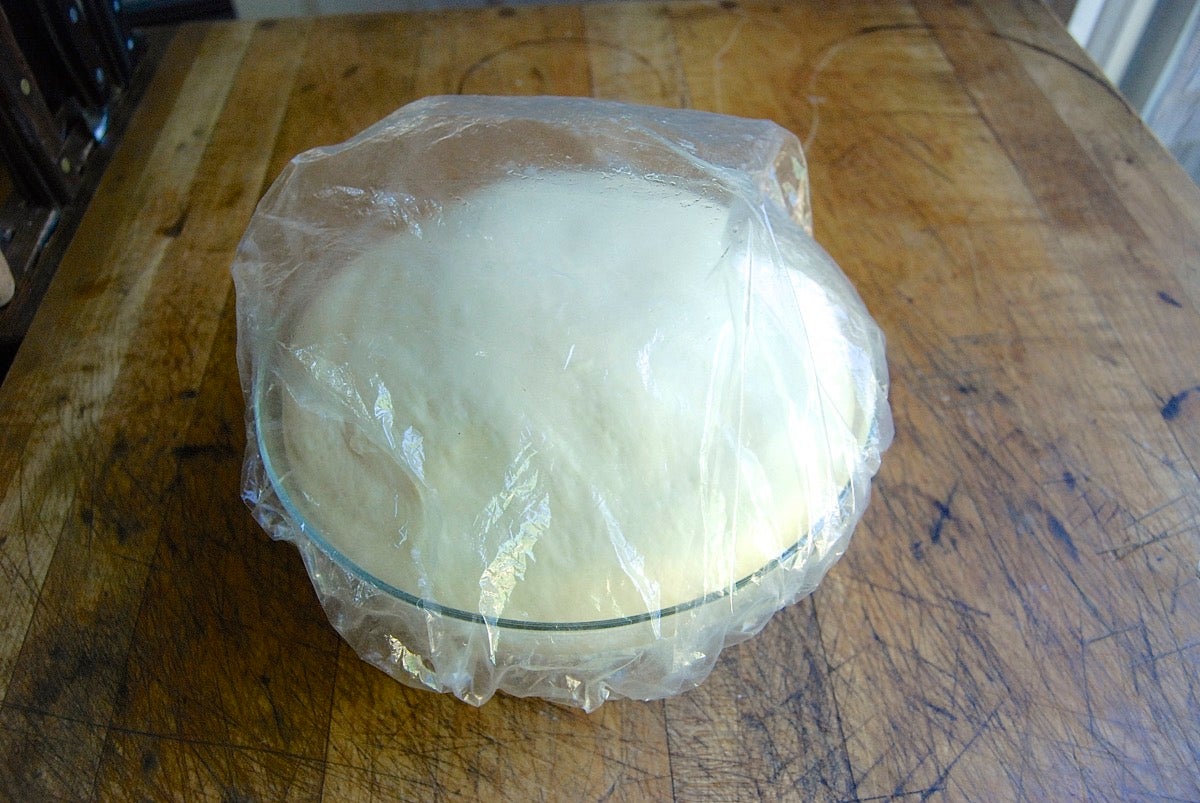 And here it is, 60 minutes later. POOF!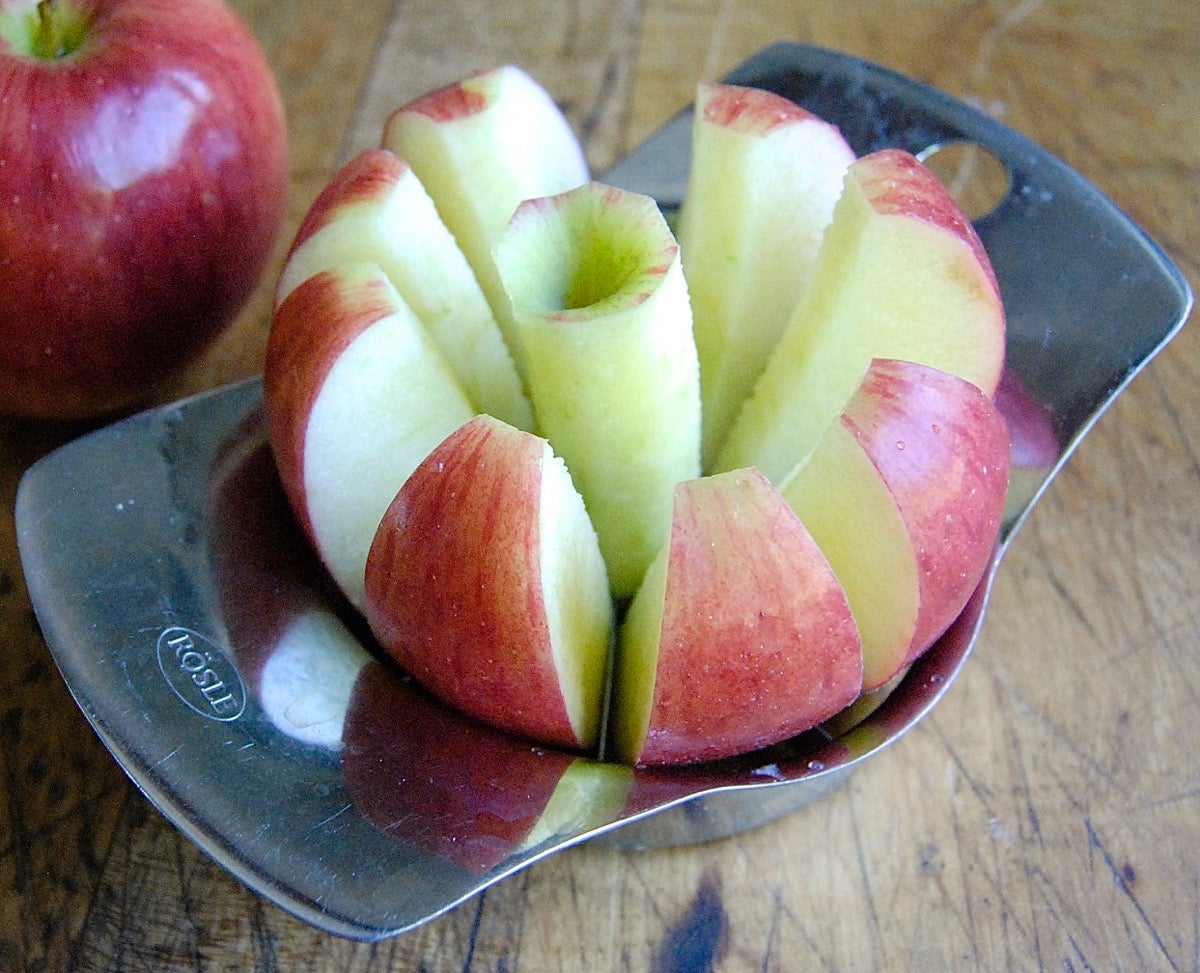 Prepare your fillings
Core one medium-large, crisp apple; no need to peel it, unless you really don't like eating apple peel. You can use two apples here for an overstuffed bread; but prepare just one first, using another only if you think it's necessary.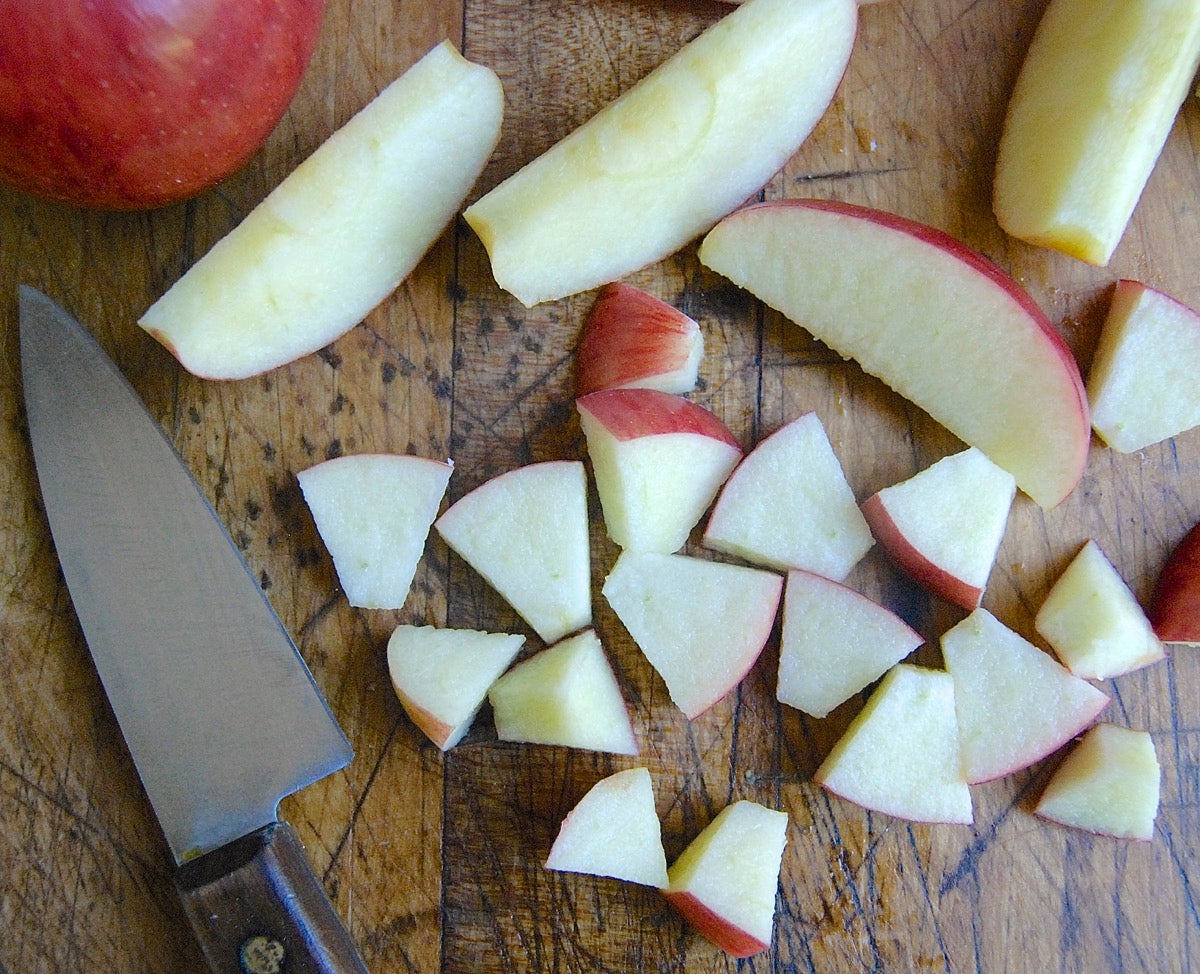 Chop the apple into 3/4" to 1" cubes.
Chop 6 ounces of sharp cheddar cheese (Cabot preferred) into 3/8" to 1/2" cubes; you'll have about 1 1/2 cups (170g).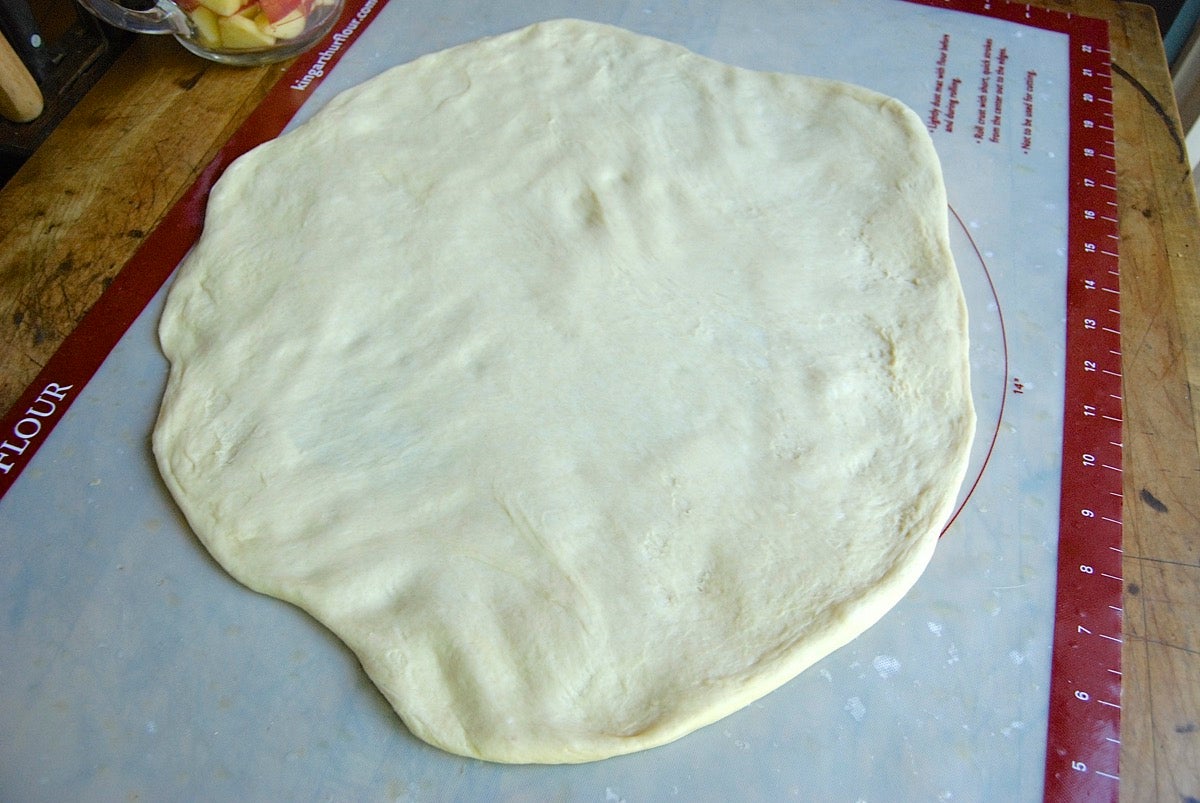 Gently deflate the dough, and place it on a lightly greased work surface; a silicone rolling mat works well here. Pat it into a circle about 15" in diameter.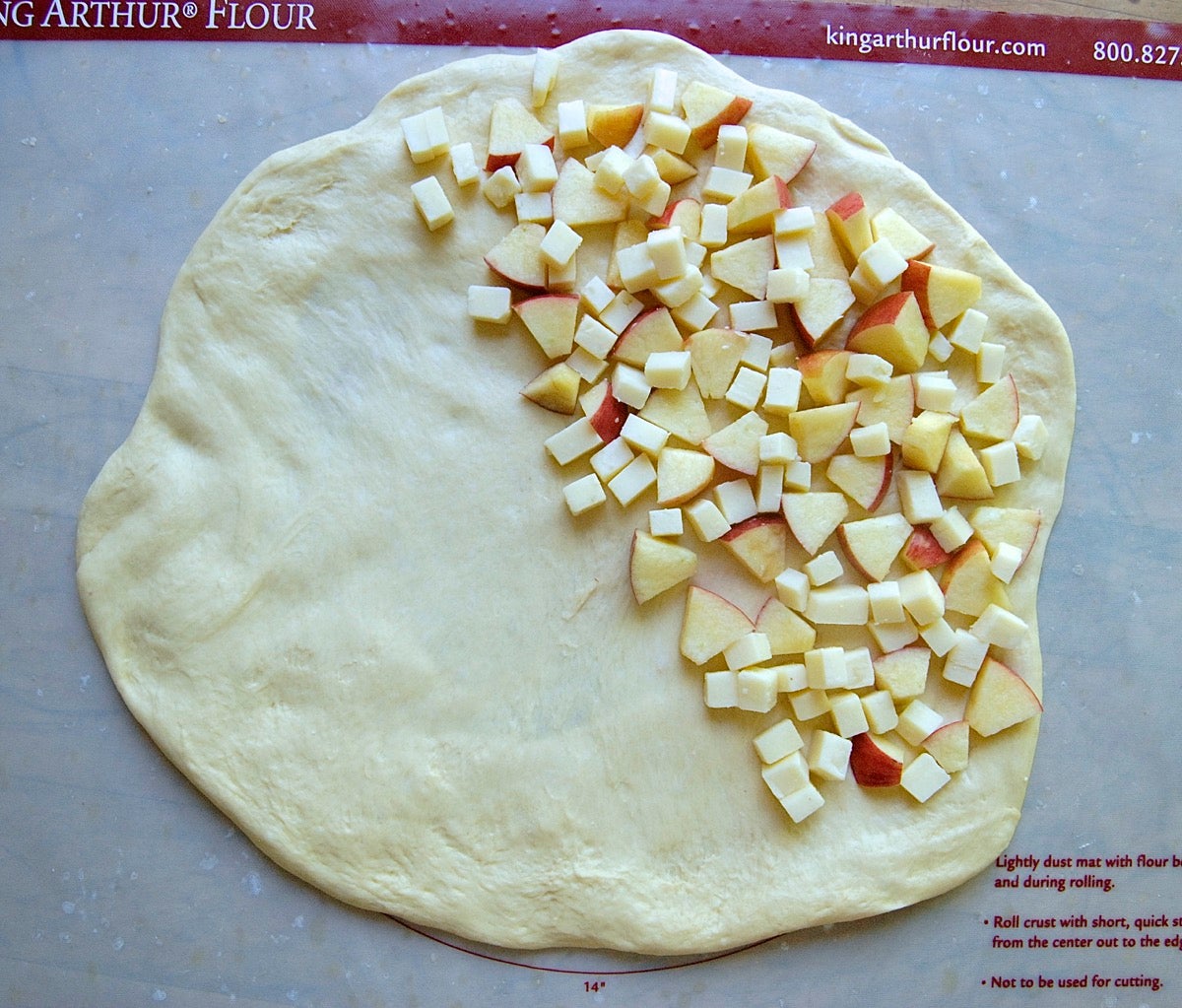 Scatter the diced apples and cheese over half the circle.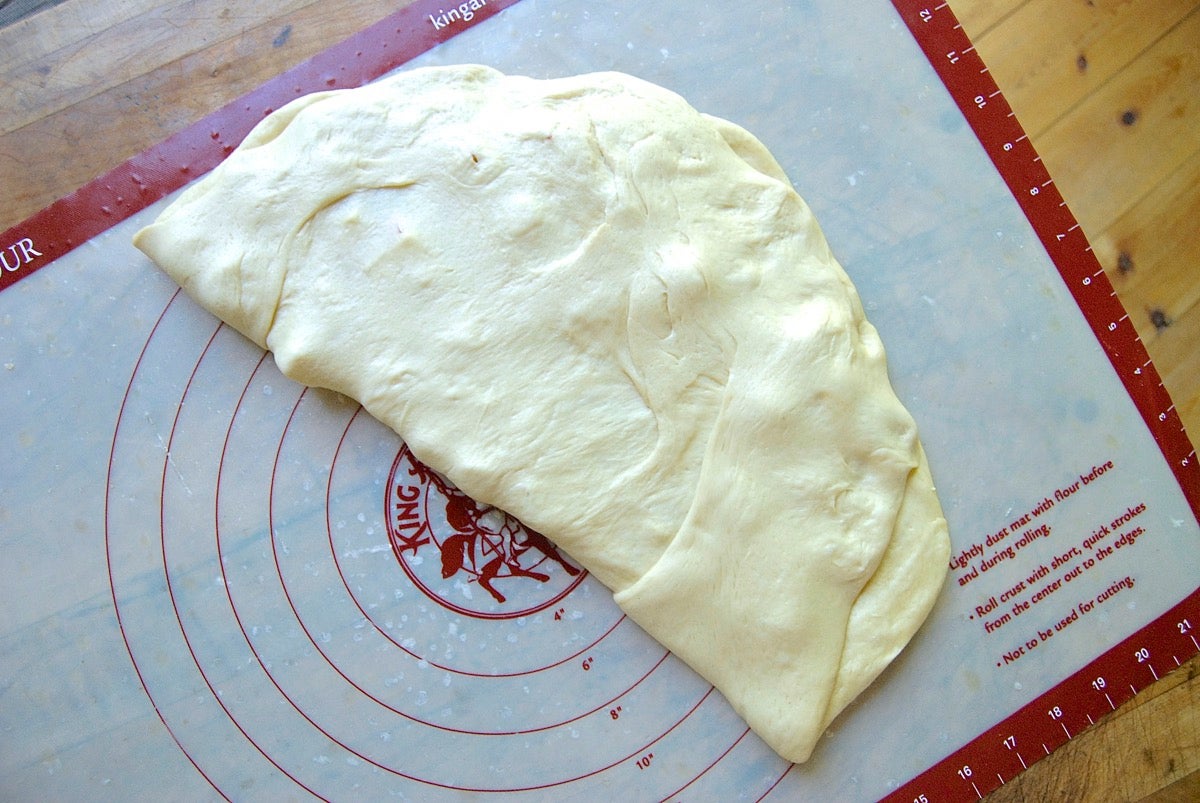 Fold the bare half over the filled half ...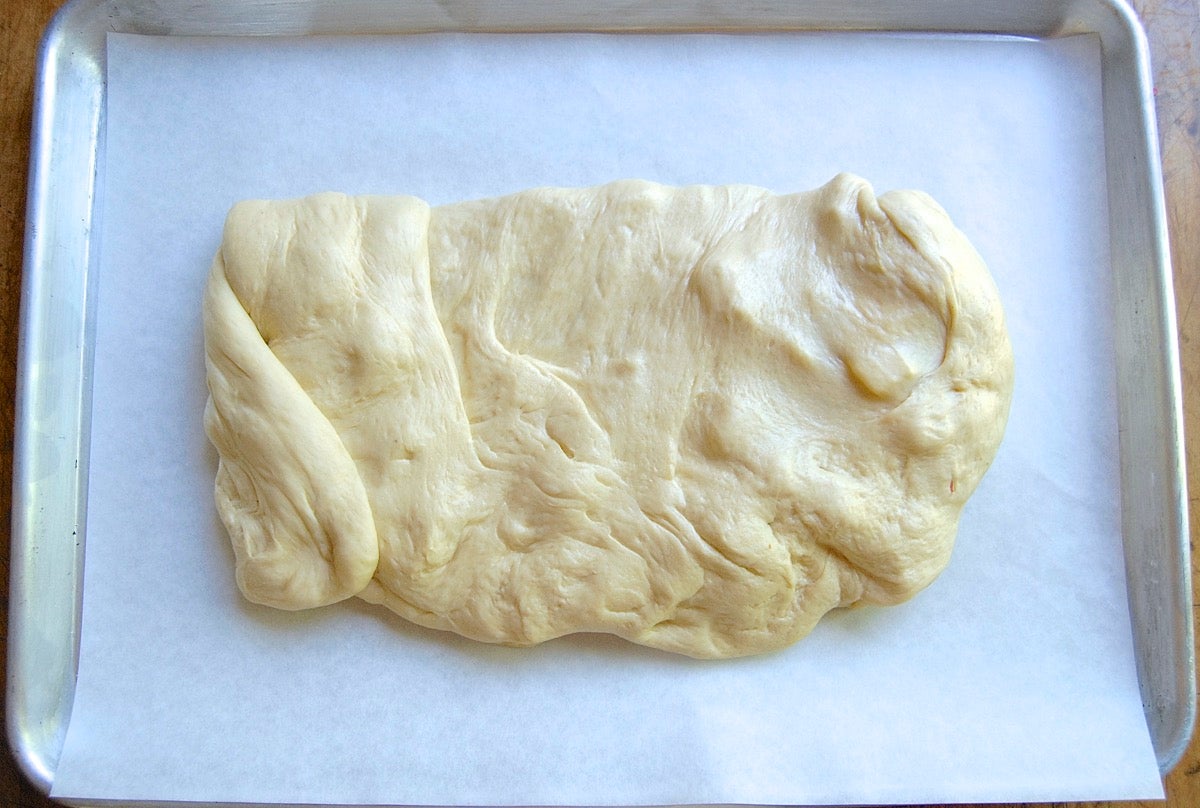 ... and transfer the filled dough to a parchment-lined or lightly greased baking sheet. Shape the half-moon of dough into a rough oval.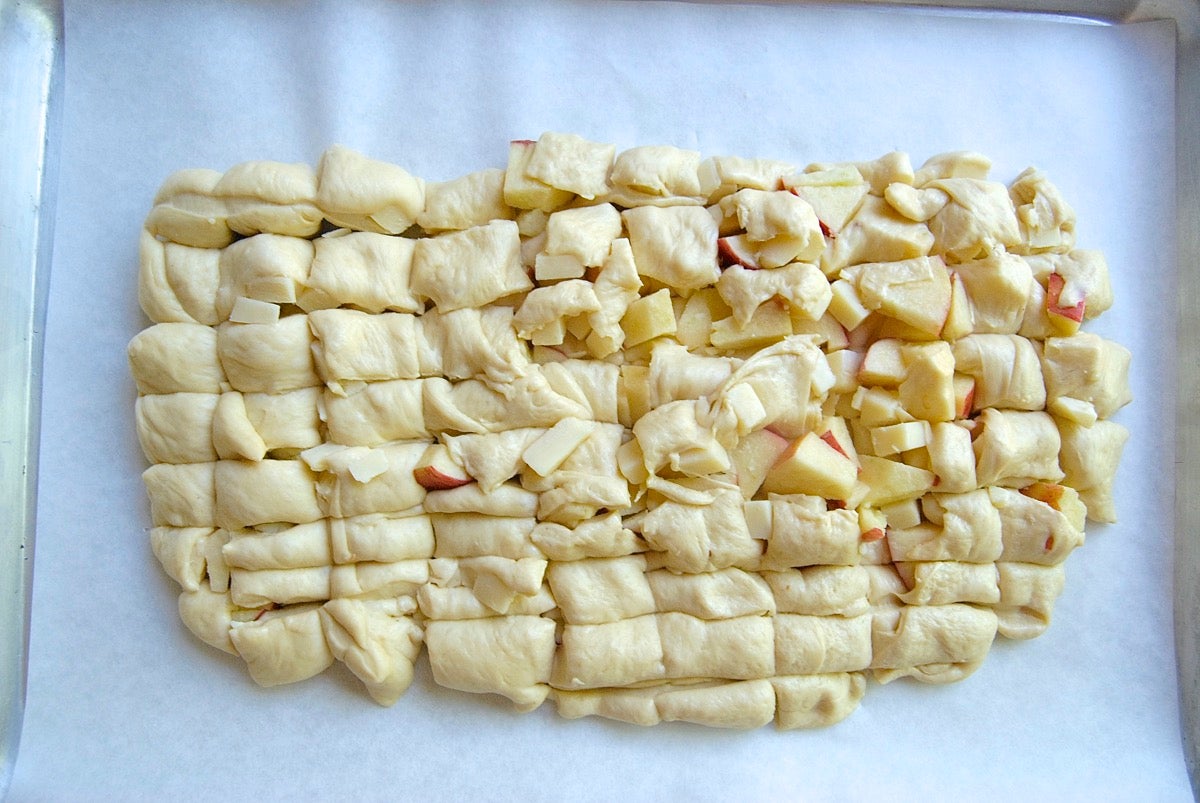 Chop it up
Using a knife, pizza cutter, or bench knife, cut the dough at 1 1/2" or so intervals both lengthwise and crosswise to make small portions. Leave everything in place; no need to separate the dough pieces.
Cover the pan, and let the dough rise for about 45 minutes; it won't rise much, but will become a bit puffy.
While the loaf is rising, preheat the oven to 350°F.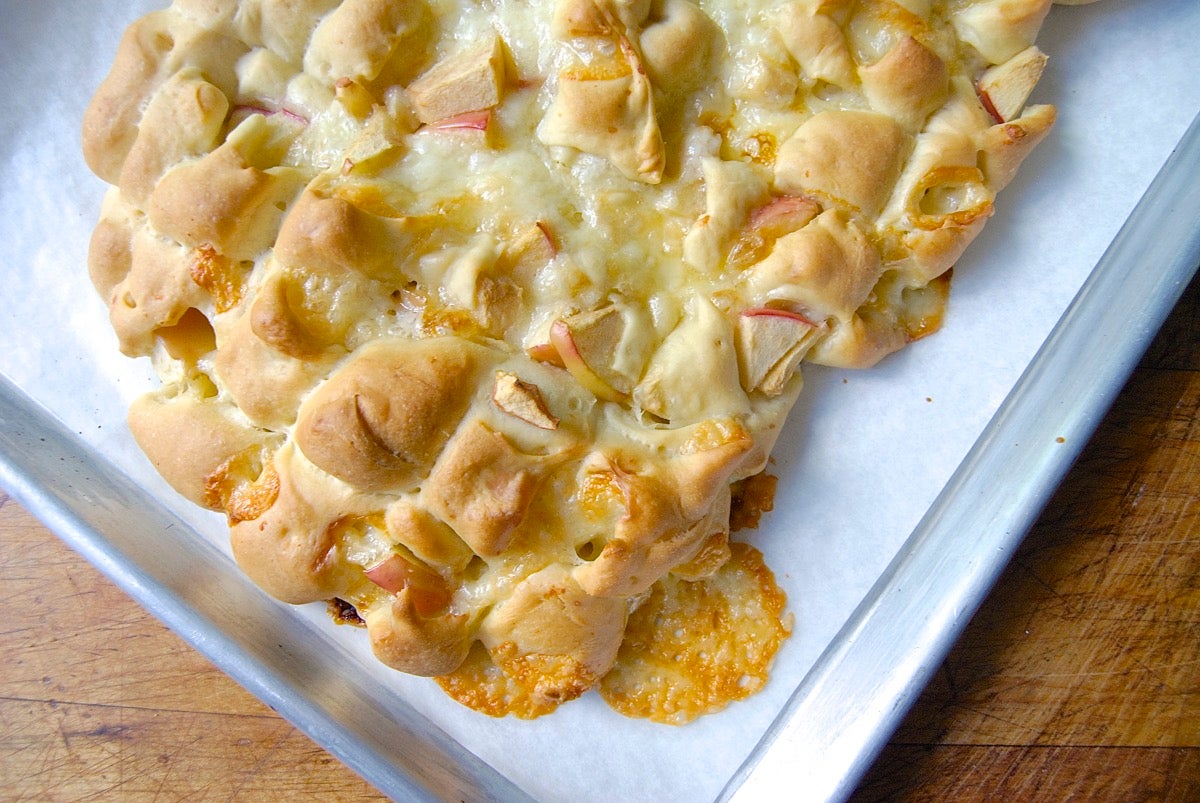 Uncover the loaf, and bake it for about 30 minutes, until it's a light golden brown.
Remove it from the oven, and transfer it to a rack to cool slightly. Or cool it right on the pan, as I've done here.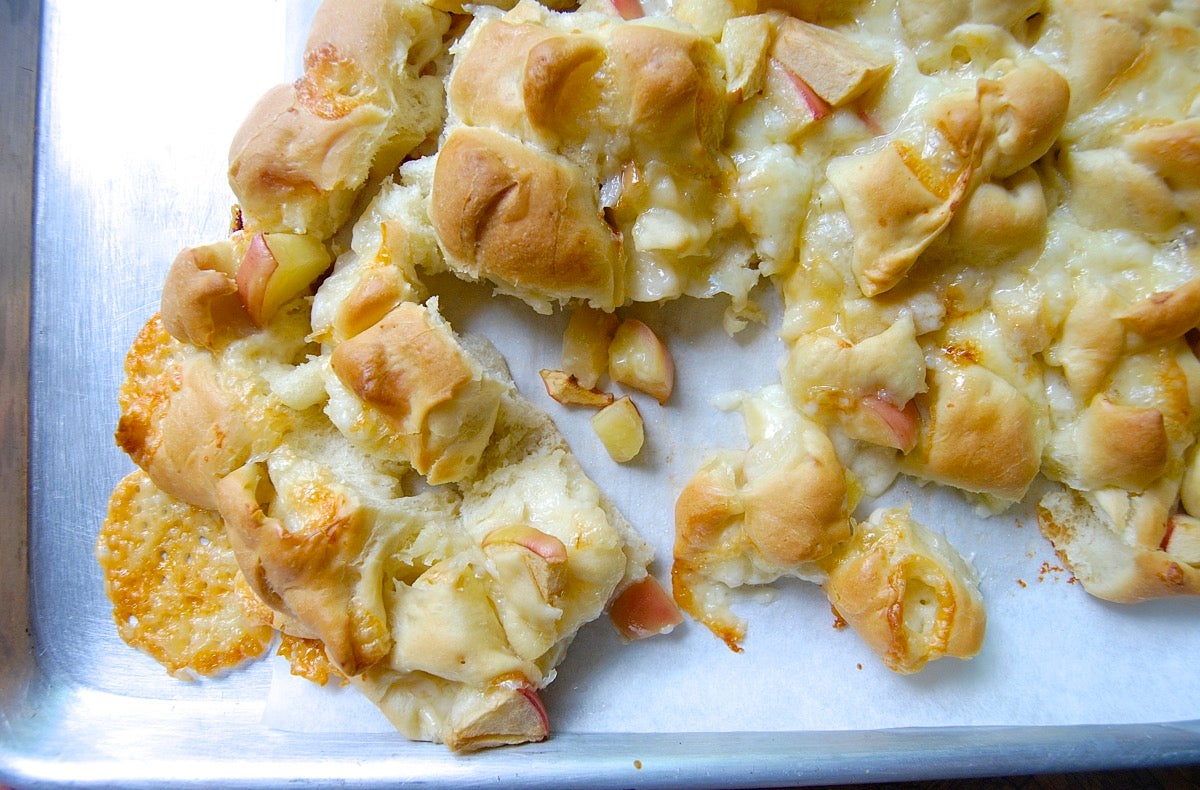 Enjoy your monkey bread!
Gather everyone around, and start the party.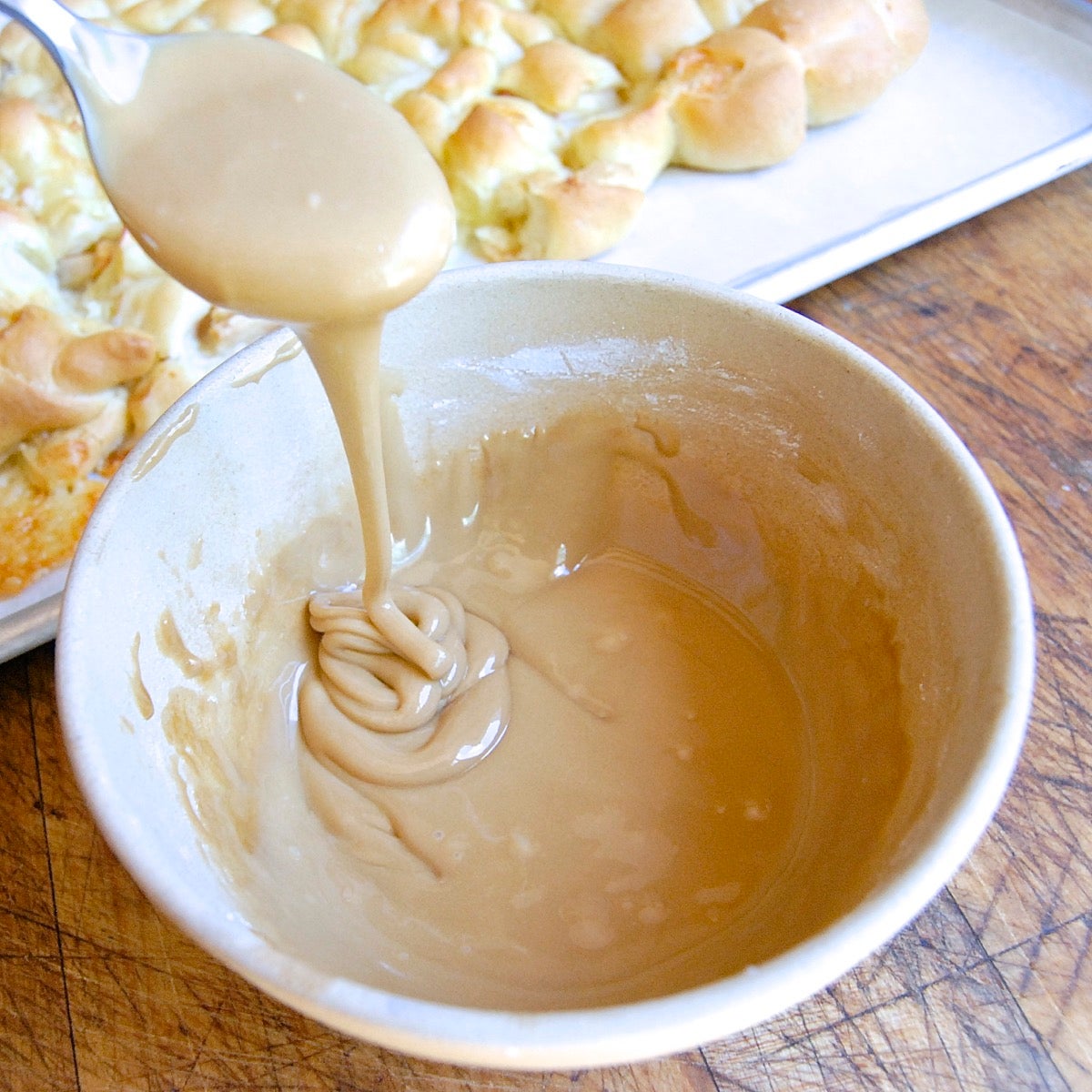 For an extra autumn kick, top your monkey bread with cider glaze
Wait until the loaf is lukewarm, then drizzle with this glaze:
2 tablespoons (35g) boiled cider
1 tablespoon (14g) milk
pinch of salt
1 1/2 cups confectioners' sugar
Mix everything together until smooth. Add additional milk, if desired, for a thinner glaze.
Don't have boiled cider? Try substituting apple juice concentrate; you'll probably need to use less milk if you make this substitution. But really? Go for the boiled cider. The flavor is superb.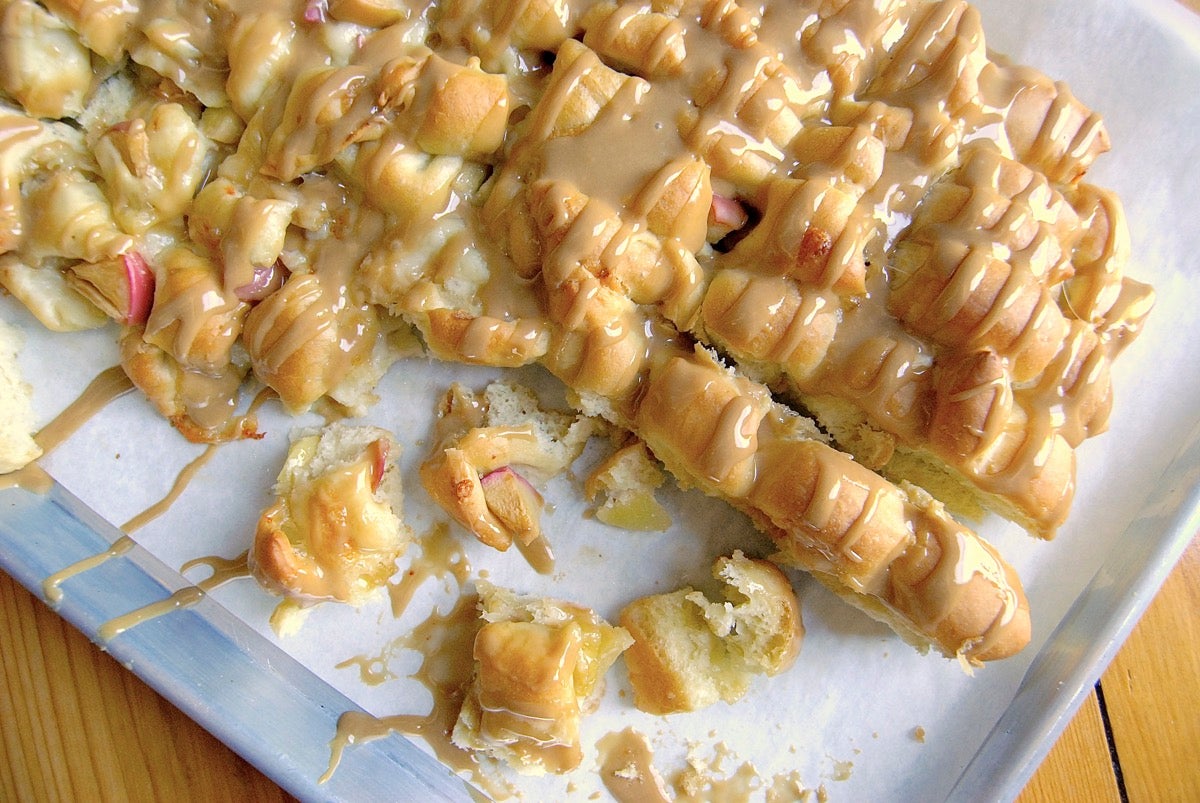 Monkey bread the easy way!
Please read, rate, and review our recipe for Apple Cheddar Chop Bread.
Jump to Comments