Ah, Florida. The land of Disney, 'gators,  breathtaking sunsets, and the Keys.
A place to surf, swim, and suntan. A place for great foods, fruits, and fun – and currently the only state in the nation that doesn't have snow.
I'm ready...
I'd be happy to fly off for a little quality time with Mickey in the sunshine. Unfortunately, new carpets and car payments are more necessary than plane tickets right now, so I'll be staying  here in the snowy North.
It's a comfort to me to know that except for 1816 (The Year without a Summer), snow doesn't fall in Vermont year 'round. Spring really IS on the way.
Snow definitely has its upside. First, it's a wonder of nature, and so very beautiful when it falls. The hushed quiet of a snowfall can't be found any other way, and the squirp-squeak sound of boots on fresh snow will always make you chuckle.
Big fat flakes caught on the tongue, splatting someone in the back with a big, fat snowball, and big fat snowmen with lopsided grins make you grin right back.
It's not all (white) wine and roses, though. Slippery slopes, shovels, and snow-stung noses are part and parcel of living with the fluffy stuff. New Englanders make up for our hard winters partly by embracing comfort foods. Chicken soup, clam chowder, and cheddar biscuits warm the body and soul.
A rich cup of hot chocolate is a true joy after a day of sledding, or a tough slushy drive home. Warm, milky goodness soothes the nerves and chocolate calms the brain, leaving you sighing in comfort.
For a truly spectacular cupful, ditch the powdered packet and make your own soft, fudgy cocoa blocks to stir into hot milk. With only four ingredients, two of them chocolate, this recipe will change your view of winter's favorite beverage forever.
Let's make Cocoa Blocks.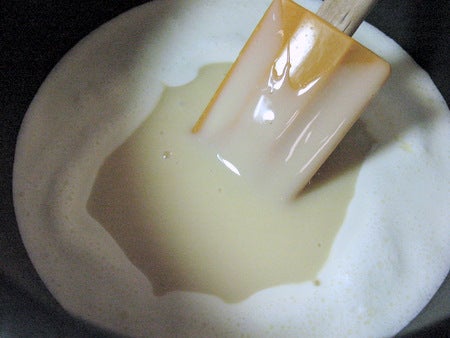 Place in a medium-sized saucepan:
1/2 cup (113g) heavy cream
one 14-ounce can (396g) sweetened condensed milk
Stir until they start to come together smoothly.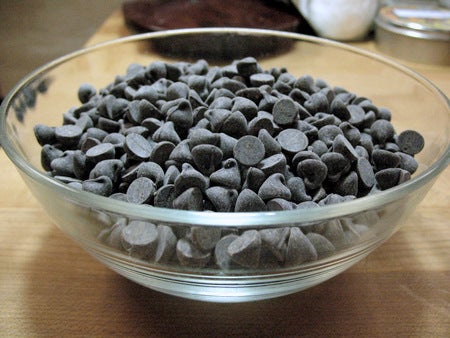 Measure out your chocolate. This is one recipe where chocolate chips will work beautifully. The lecithin in the chips will help the blocks firm up. You'll need 3 cups (510g) semisweet or bittersweet chocolate (chopped chocolate bars or chips).
In a separate bowl, measure out 3/4 cup (128g) unsweetened baking chocolate.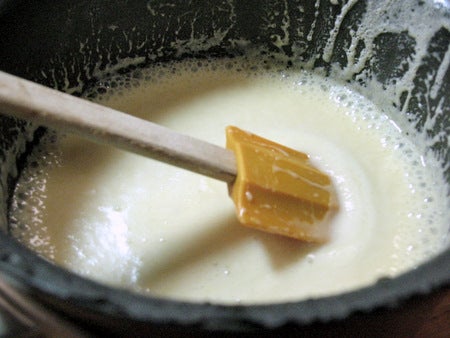 Heat the cream/milk mixture over medium heat until it starts to steam and has a good amount of bubbles around the edges.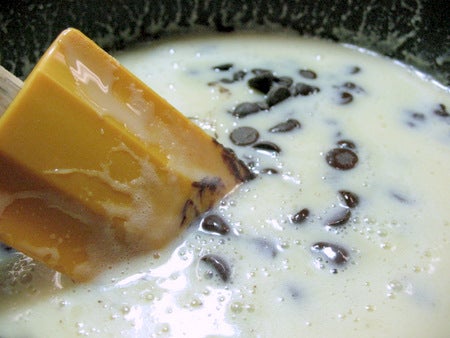 Remove from the heat and add the chocolate. First the semisweet or bittersweet chips...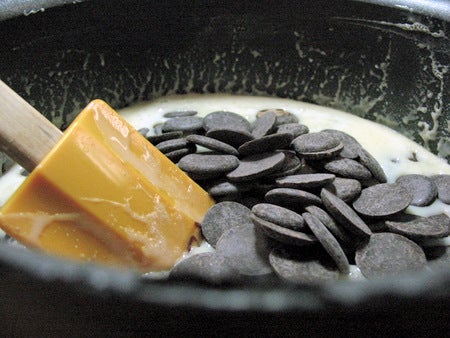 ...and then the unsweetened. Mix the chocolate until it's submerged in the hot cream, then leave to stand for about 10 minutes.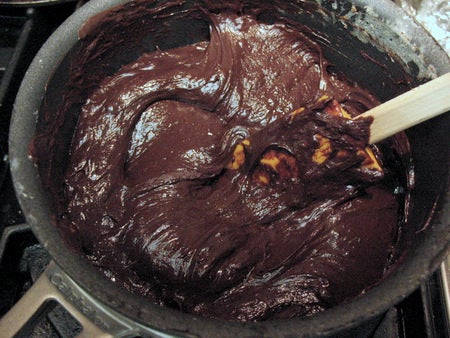 Return the pan to low heat and stir to ensure that the chocolate is all melted.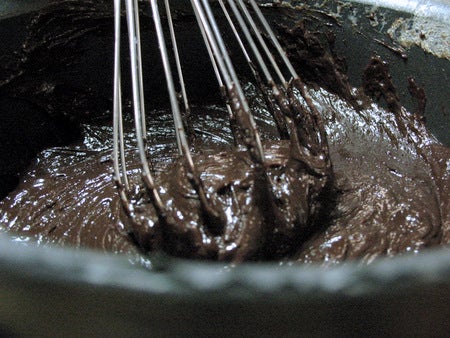 Switch to a whisk and whisk vigorously. Now it the time to add any flavorings, such as vanilla, coffee, or another extra-strong flavoring; Irish Creme and peppermint are big favorites here.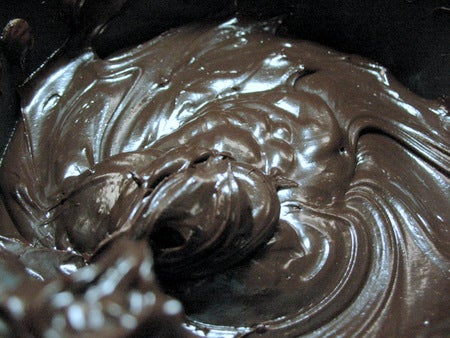 The mixture will become thick and glossy. If you've made fudge before, this will look familiar to you.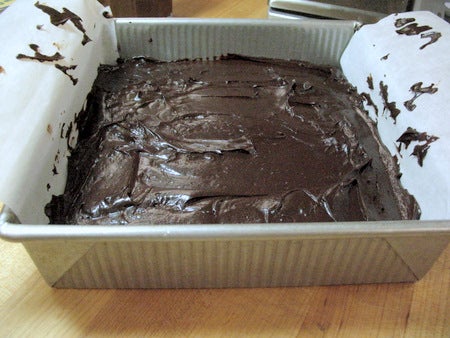 Pour the chocolate-y goodness into a parchment-lined 8" square pan. Allow to set up overnight at room temperature before cutting.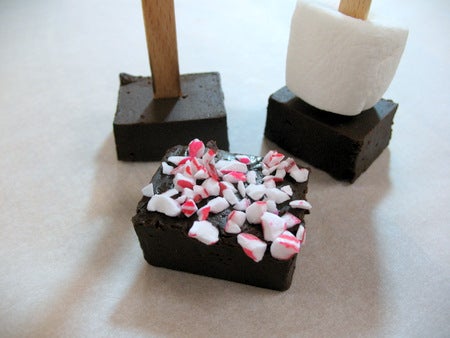 Use the parchment paper to help you remove the big block from the pan, then slice with a sharp knife into smaller blocks.
Popsicle sticks make great holders and double as stirring sticks for the blocks. Adding marshmallows is fun, and for a minty twist you can warm the top of the block with a hot, dry knife or spoon, then sprinkle on crushed candy canes or peppermint crunch.
You can nibble the blocks as is, or stir into 8 ounces of hot milk for deliciously rich hot chocolate. I like to do both: a little stirring, a little nibbling, more stirring, more nibbling. It's the best of both worlds.
This recipe makes 3 dozen 1 1/4" blocks. Store them individually  well-wrapped and airtight, at room temperature, where they'll remain fresh for several weeks. Freeze for longer storage.
Please make, rate, and review our recipe for Cocoa Blocks.
Jump to Comments