I'll admit it – I tend to jump on the bandwagon when new healthy food trends pop up. Like quinoa. This ancient grain is all the rage lately, bringing protein and fiber to mouths all over the world. I like to cook up double (and triple!) batches for my weekly meal prep. Boy, does it make a lot!
Quinoa is terrific added to salads, tossed with veggie-packed stir-fry, topped with a light garlic cream sauce and steamed broccoli, and as a side dish with salt and pepper. Come Friday, though, I usually still have about a cupful left, and am never quite sure how to use it up.
I do like quinoa– but everyone has their limit. Also, I start craving other things. Like potatoes. I love potatoes.
So what to do with the remainder?
Saturdays are often pancake days in our home: a great chance to enjoy a mellow morning before starting the weekend activities. It's our splurge day. My husband and I have been running and boot camping our buns off all week and it's the day to treat ourselves to a little comfort food.
I thought about just throwing my leftover quinoa in the batter, but was really worried about the texture.
Would quinoa pancakes be chewy? Would it blend in thoroughly? Would it taste too "healthy" for our weekend butter/maple syrup craving mouths? I decided to just go for it.
Guys, they're delicious.
The quinoa adds no extra flavor, but the texture is lovely. Quinoa pancakes are fluffy, but have a little extra chewy "pop" from the cooked grain.
Before we get started on breakfast, we just wanted to let you know something exciting – these pancakes can swap from gluten-free to gluten-full SO EASILY. Replace the all-purpose with the same amount of Gluten-Free Flour and omit the malted milk powder. Simple as that.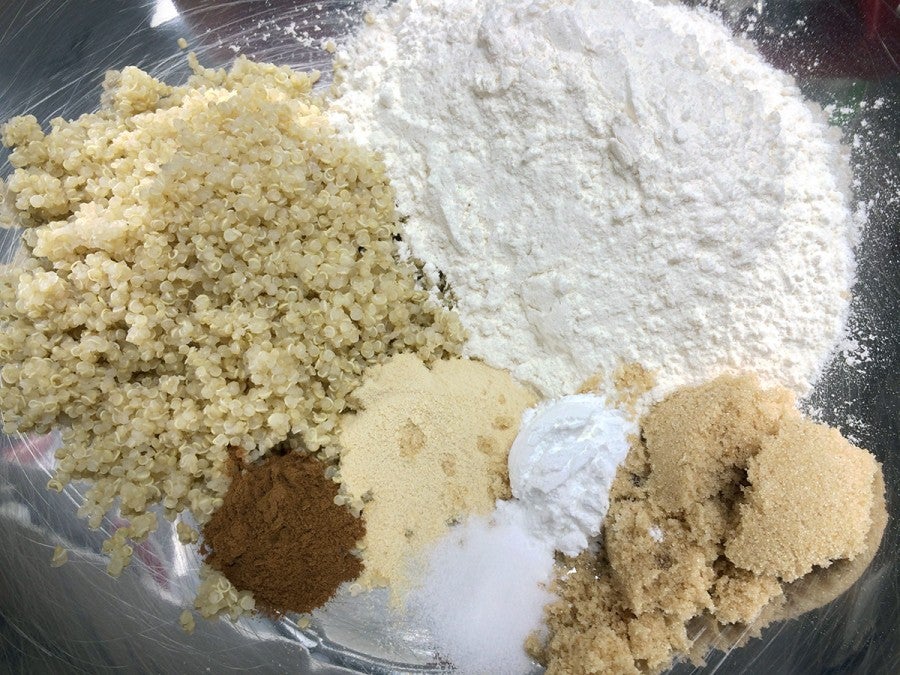 Combine:
1 1/2 cups (177g) King Arthur Unbleached All-Purpose Flour or Gluten-Free Flour
1 cup (184g) cooked quinoa
1 tablespoon malted milk powder (omit for gluten-free version)
2 tablespoons (25g) brown sugar
2 teaspoons baking powder
1 teaspoon cinnamon
1/2 teaspoon salt
Whisk the dry ingredients together until well combined. It's going to look a little lumpy as a result of the quinoa – you just want to make sure your baking powder and salt are well dispersed.
The malted milk powder adds a tiny hint of malt, which reminded us of diner pancakes. If you don't have any on hand, no worries. Your breakfast will be just as delicious without.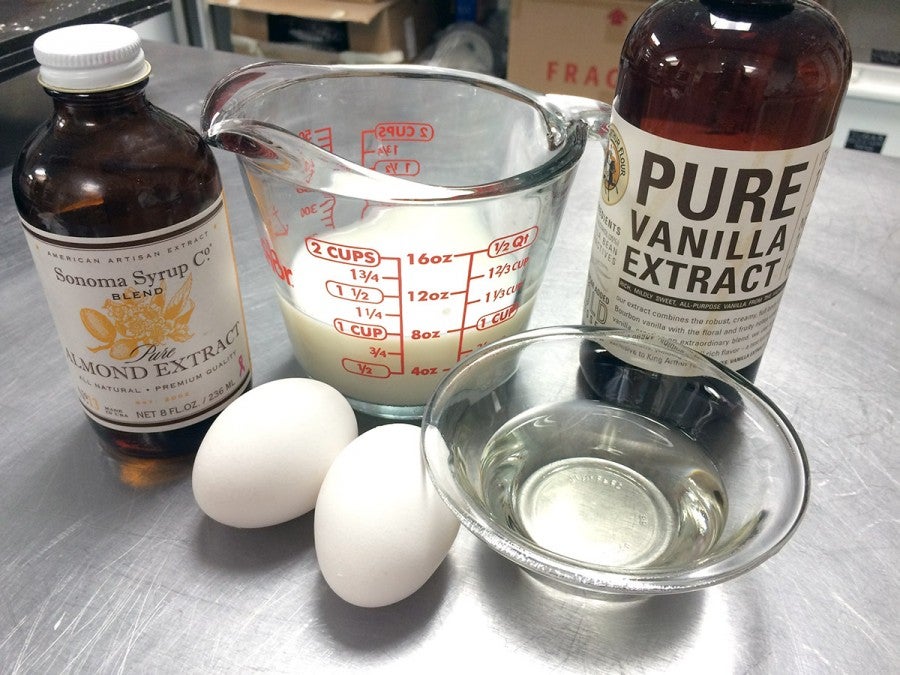 In a separate bowl, whisk together:

1 cup (227g) milk
2 large eggs
1/4 cup (50g) vegetable oil
1 teaspoon vanilla extract
1/4 teaspoon flavor or 1 teaspoon extract of your choice*
*Quinoa pancakes work well with any flavor or extract. We've enjoyed testing out a few of the flavors in our test kitchen pantry. Maple flavor, coconut flavor, almond extract, and lemon extract were some of our favorites. Use whatever you have on hand – or none at all. Just add an extra teaspoon of vanilla in its place.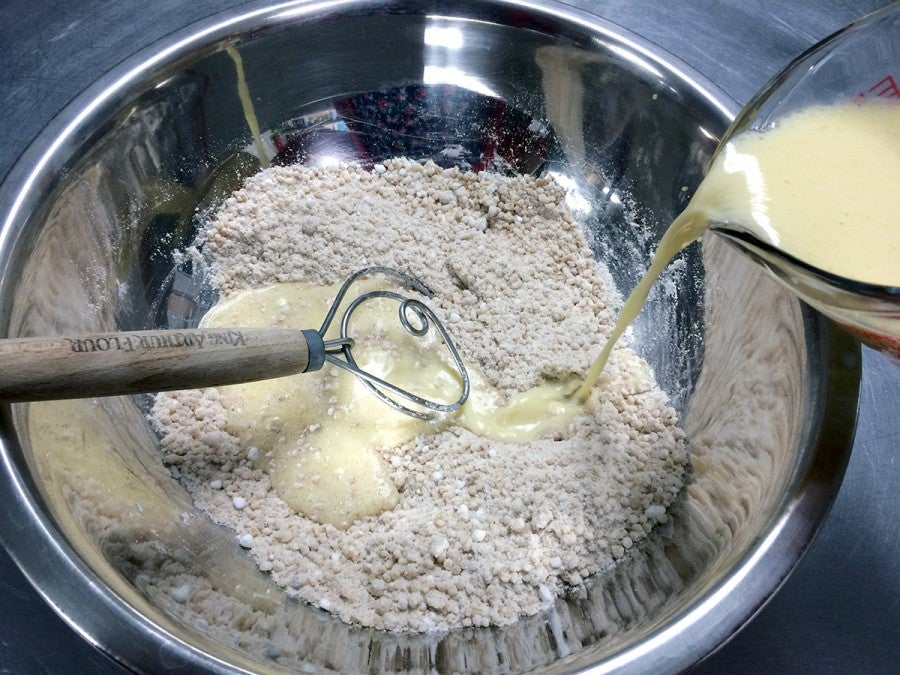 Add the wet ingredients to the dry and mix together until fully combined. The batter will definitely have texture because of the quinoa, but shouldn't have any dry lumps. 
Heat a heavy frying pan over medium heat, or set an electric griddle to 375°F. Lightly grease the frying pan or griddle; it'll be ready when a drop of water skitters across the surface, evaporating immediately.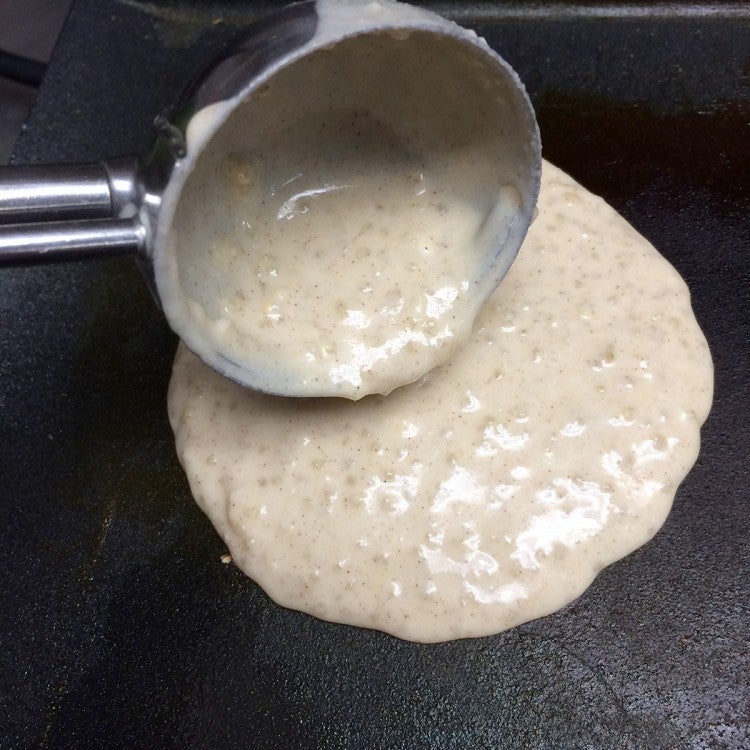 Drop 1/4 cupfuls of batter onto the lightly greased griddle. Bake on one side until bubbles begin to form and break, about 2 minutes; then turn the pancakes and cook the other side until brown, about 1 1/2 to 2 minutes. Turn over only once. Serve immediately.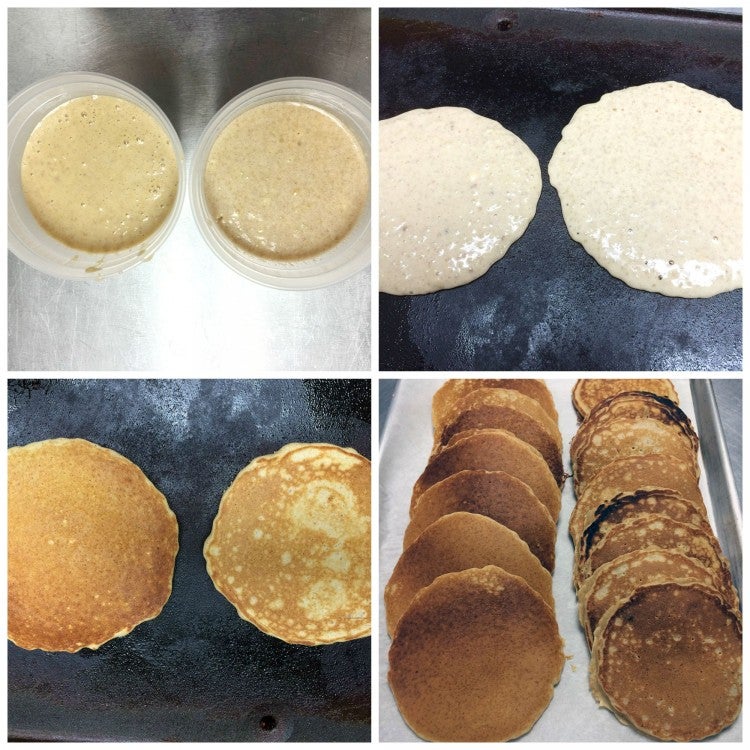 Just for fun (and because I had so much quinoa lying around!) I made the recipe twice: once with gluten-free flour and again with all-purpose. It's fun to see the side-by-side comparison – they look pretty darn identical. The batter and quinoa pancakes on the left are gluten-free; everything on the right is made with all-purpose.
Our testers couldn't distinguish any difference in taste between the two. We actually didn't tell them until much later about the flour change! Pretty good endorsement for a pretty delicious breakfast meal.
So the next time you decide to make a huge pot of quinoa, don't fret. Know that it can be easily transformed into these yummy quinoa pancakes!
Please, bake, rate, and review our recipe for Quinoa Pancakes.
Jump to Comments