We welcome guest blogger En-Ming Hsu, an award-winning pastry chef whose work has been featured in a number of publications, including Gourmet and Pastry Art & Design. Captain of the gold medal-winning Team USA at Coupe du Monde de la Patisserie 2001, and a chef instructor at the French Pastry School in Chicago, she's also a frequent instructor at our King Arthur Flour Baking Education Center – where she taught the class detailed below.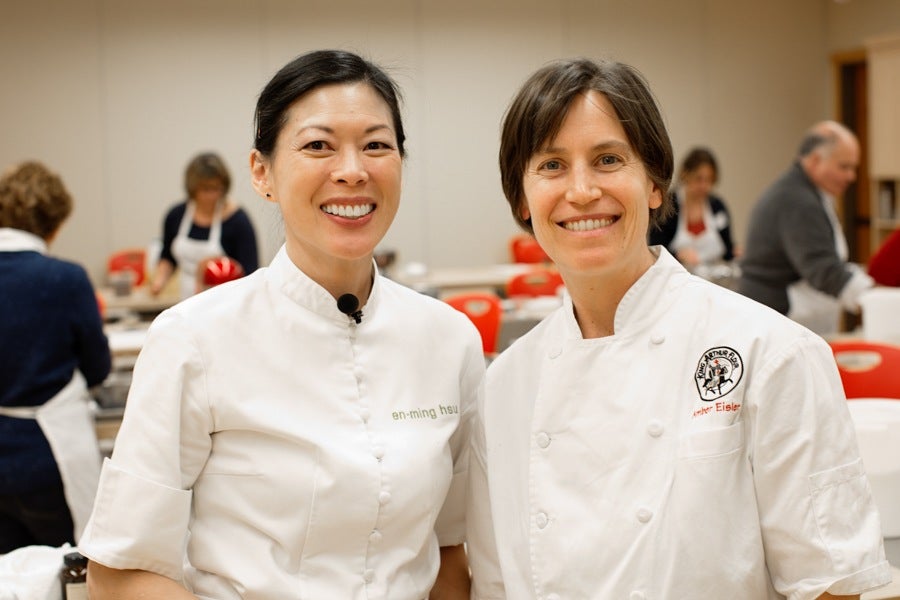 A few months ago, I spent some time with Amber Eisler, one of King Arthur Flour's Baking Education Center instructors. We discussed the challenges of making a good, basic layer cake.
Why does it seem like the simplest cakes are the most difficult to make well? Comments go along the lines of "It's too dry," "It's too wet," "It's too dense," "It's not fluffy enough," or "Where's the butter flavor?"
It's the curse of The Box Cake Mix.
Amber had a recipe she liked, but thought it could use some improvement; she felt it was a little dry and lacking in flavor. So we got to work on it.
As excited as we both were to take on a challenge, jobs and family kept us busy. We sporadically worked on the recipe, though, and eventually, we were happy with the final cake. Moist, tender, and buttery – just like you-know-what (or close to it).
Sometimes it's easier to find a new recipe, versus "fixing" an unsuccessful one. But if you're looking simply to improve an existing recipe, it may be worth the time. I'm not a food scientist, but I understand the fundamentals of baking and the role of ingredients. After we tried Amber's recipe, I made some adjustments.
We used whole eggs instead of egg yolks, and whipped cream instead of milk. A butter cake isn't the same as a pound cake (which uses basically the same amounts, by weight, of each of the key ingredients). A butter cake has a higher proportion of sugar and liquids, which help make the cake more moist and tender. I'll explain more as we go through the method.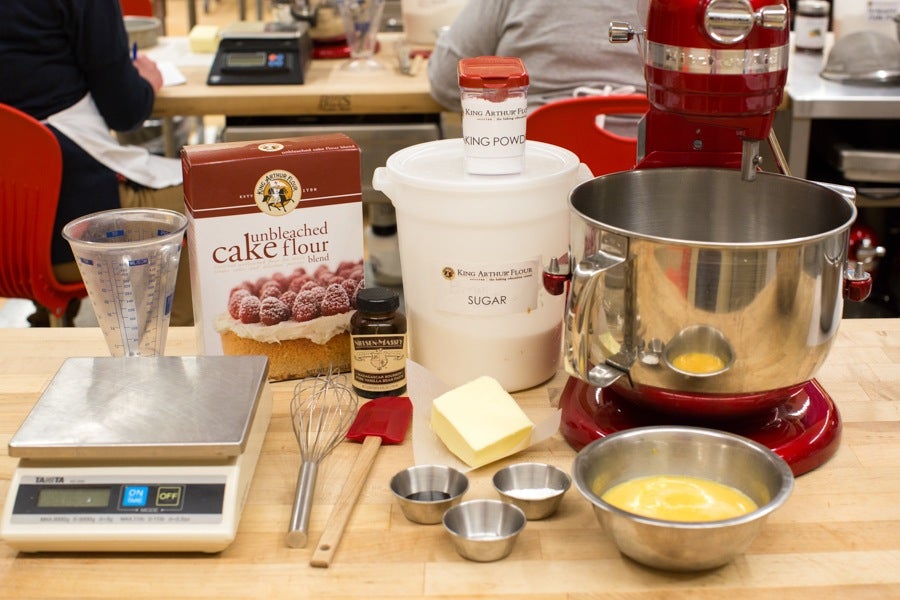 A few tips for success before you start baking:
Use the freshest, best-tasting ingredients;
Have all the ingredients (except the heavy cream) at room temperature (68-70℉);
Gather all the equipment and tools that you'll be using ahead of time;
Ensure that the measurements are accurate.
For that last, I like to weigh the ingredients, even the eggs. Crack the eggs and whisk them before weighing, so that you have the proper ratio of egg white and yolk in whatever you weigh out.
Are you wondering about using whipped cream? Some of you may remember whipped cream cakes that were popular years ago. Using whipped cream puts more air into the batter, which gives a fine texture to the cake and adds richness.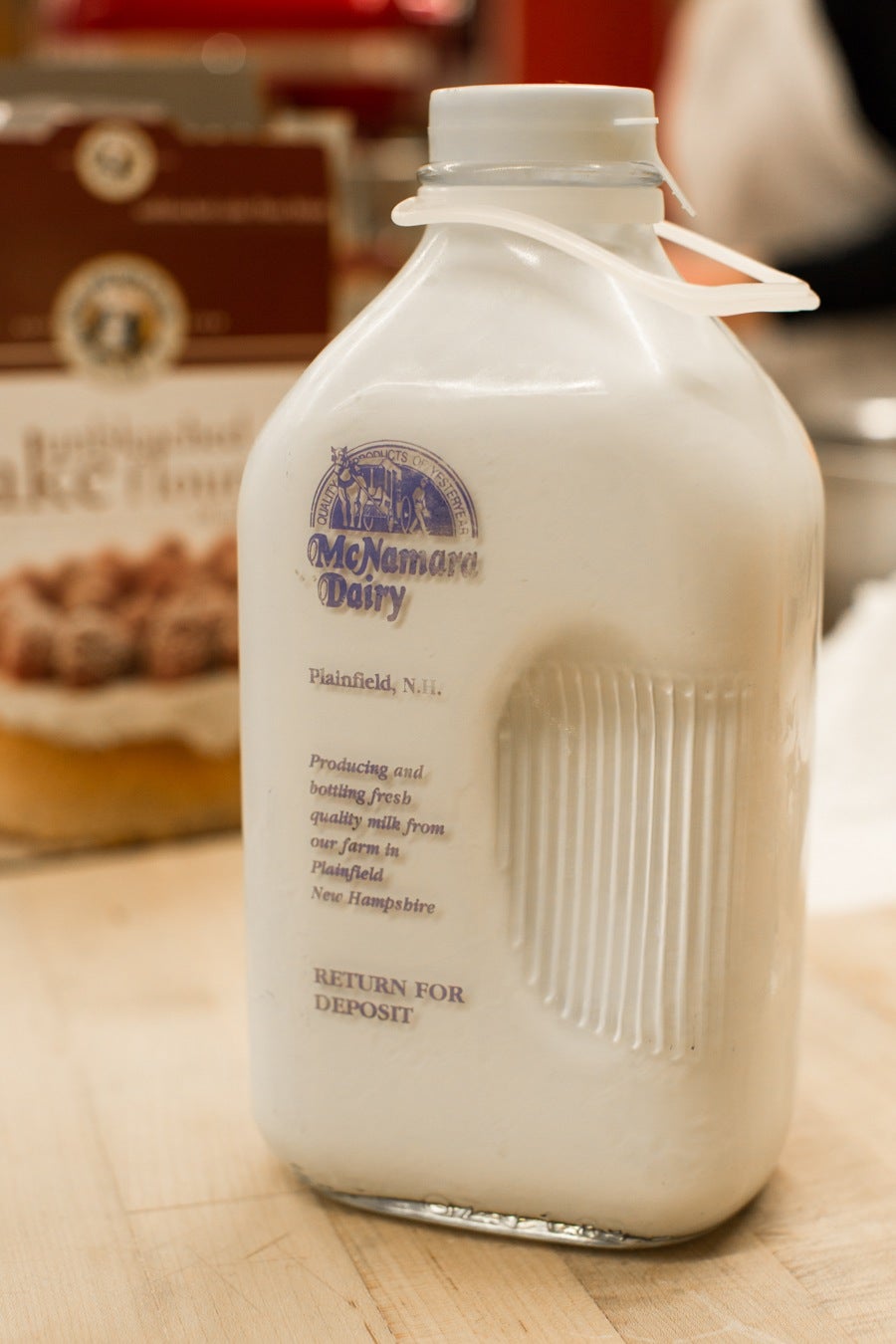 One note about the cream – try to find pasteurized (rather than ultra-pasteurized) heavy or whipping cream. I know, not easy, so don't worry if you can't. Ultra-pasteurized cream doesn't whip as well, and doesn't have the same fresh flavor.
Tip: A lower-fat cream (about 5g fat per tablespoon, as in whipping cream) lowers the fat just enough that the finished cake doesn't seem greasy.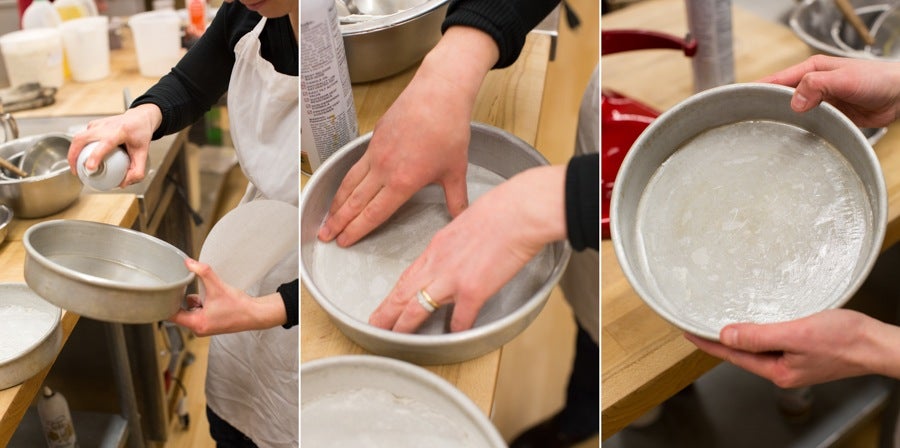 Let's make this cake. Butter or spray with pan spray two 8" round cake pans. Line the bottoms with parchment, and butter the paper. Dust with flour and set aside.
Preheat the oven to 350°F, with a rack in the center position.
Ed. note: En-Ming gives all her recipe ingredients in metric weight; we've translated them to their approximate American weight and volume measurements, for those of you without a scale.
Here are the ingredients you'll be using:
240g heavy or whipping cream, 35% fat (1 cup + 1 tablespoon or 8 1/2 ounces)
150g unsalted butter (10 tablespoons or 5 ounces)
280g sugar (1 cup + 6 tablespoons or 9 7/8 ounces)
4g fine sea salt (1/2 teaspoon)
12g vanilla bean paste, for best flavor (1 tablespoon or 1/2 ounce); or vanilla extract
270g King Arthur Unbleached Cake Flour Blend (2 1/4 cups or 9 1/2 ounces)
10g baking powder (2 teaspoons)
220g large eggs (contents of 4 large eggs + ¾ ounce; about 4 1/2 large eggs)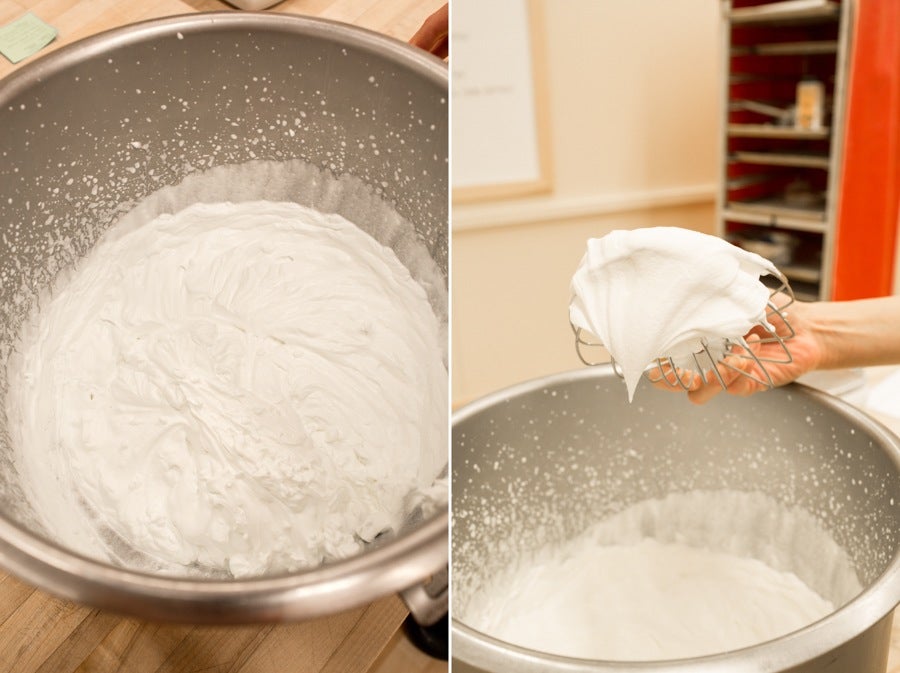 In a 5-quart stand mixer, or using the mixing method of your choice, whip the cold heavy or whipping cream on medium-high speed until it holds it shape. Transfer the whipped cream to a bowl and set it aside.
Tip: Save yourself some washing, and use the whipped cream bowl for the cake batter.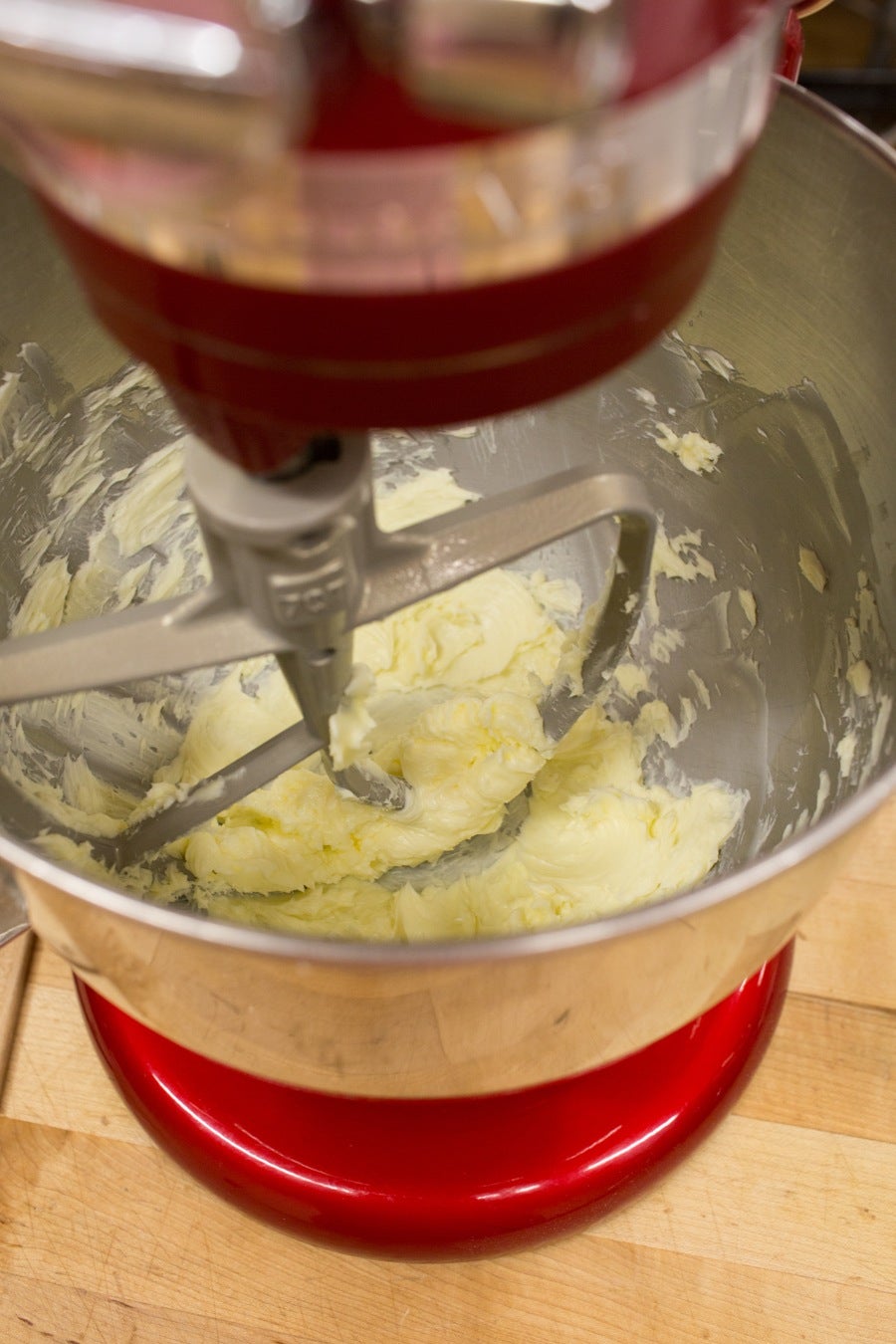 The cake batter is made using the creaming method, which beats butter and sugar together (and in this case, salt and vanilla as well) until they're light and fluffy. Start by beating the butter on medium speed with the paddle attachment until the texture is smooth.
Tip: If your butter is cold, it will take too long to mix. If it's too soft, it won't be able to trap as much air once the sugar is added. Cool room temperature butter (68°F-70°F) is just right.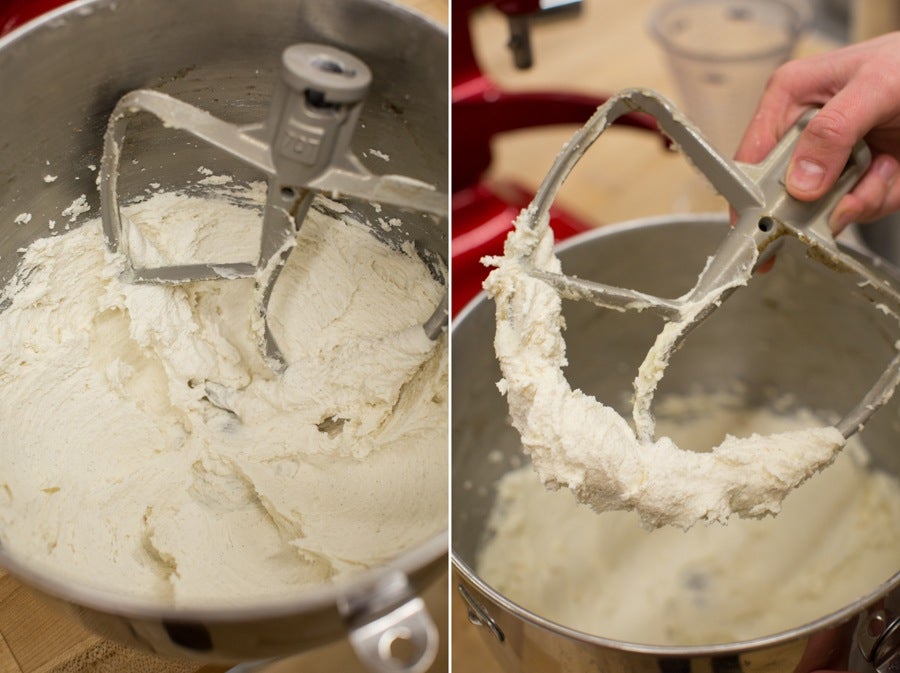 Gradually stream in the sugar, salt, and vanilla. Once all the ingredients are added, beat ("cream") on medium-high speed for 5 minutes. Notice how the mixture has lightened in color considerably.
Tip: Because the amount of sugar is almost double that of the butter, it won't be as light and fluffy as you might expect. But you're still aerating, which is the goal; air bubbles lighten the batter.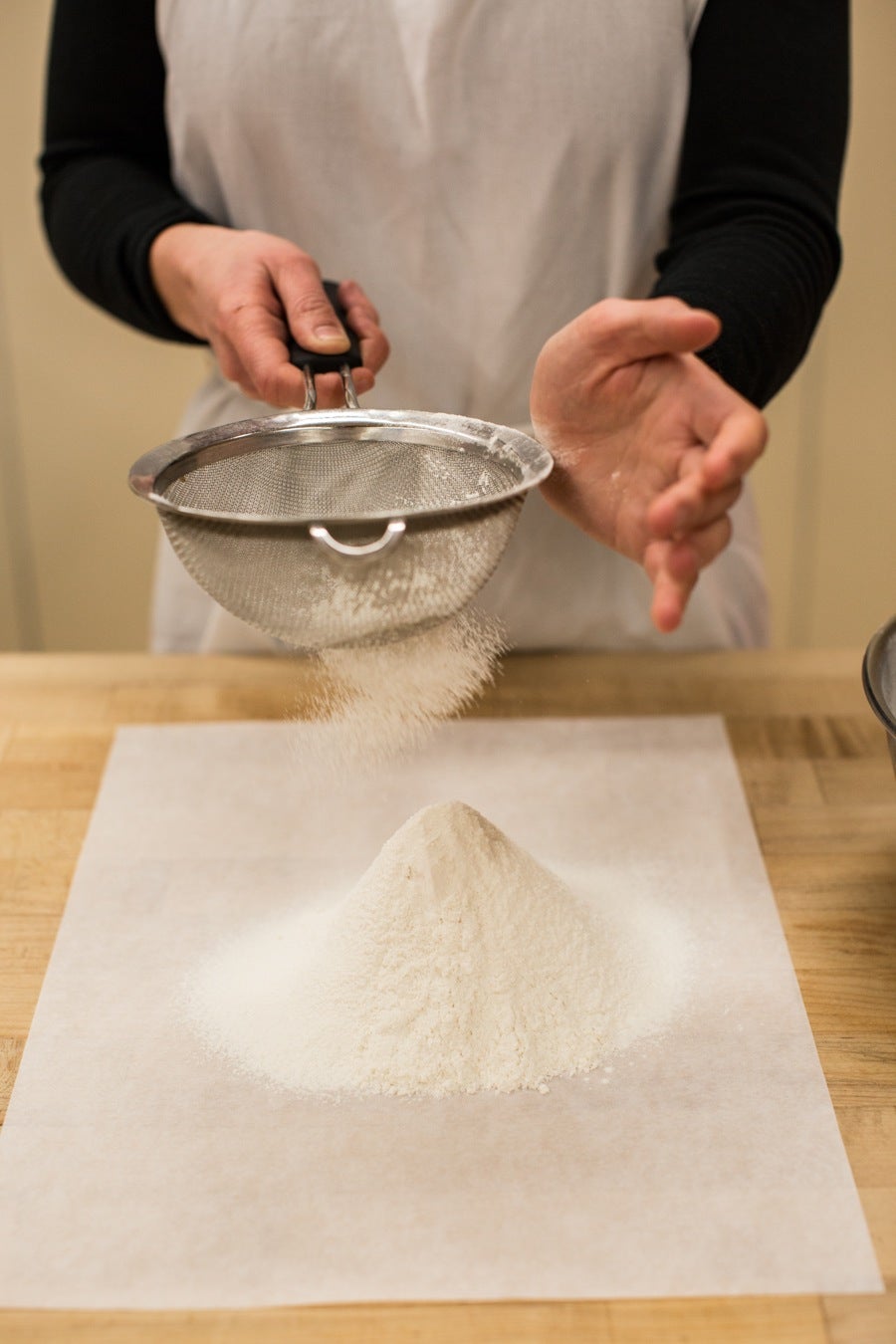 Sift your flour and baking powder together. I like to whisk the baking powder into the flour before sifting, to disperse it thoroughly. Sifting will get rid of any lumps and fluff up the flour slightly; do it onto a piece of parchment paper, so you can easily direct the flour into the mixing bowl when the time comes.
Tip: King Arthur Unbleached Cake Flour Blend is higher in protein (9.4%) than the bleached cake flour you find at the supermarket. It gives more structure to the cake, which is rich in fats and liquids.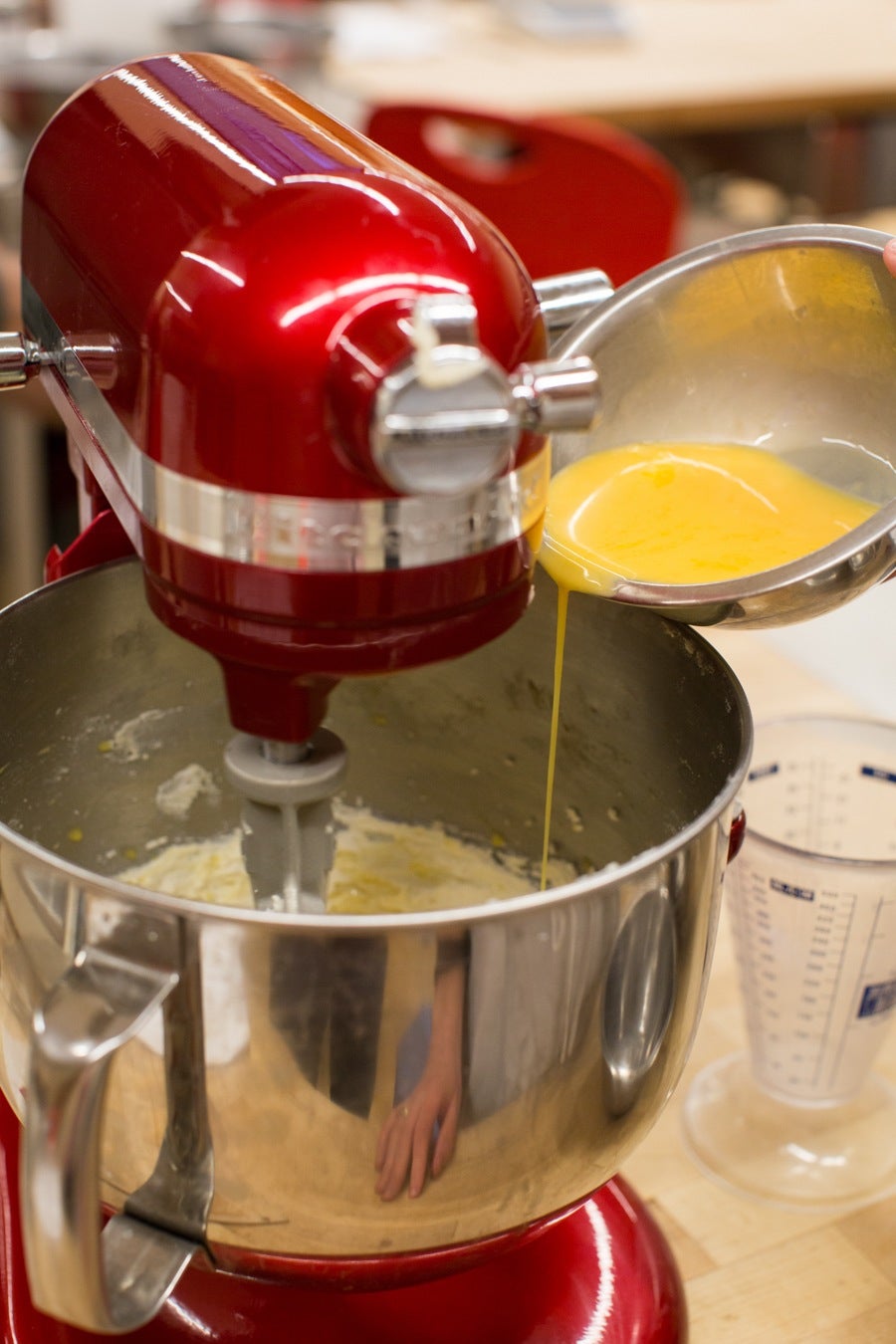 Crack the eggs, and whisk to combine. Slowly add them to the creamed butter.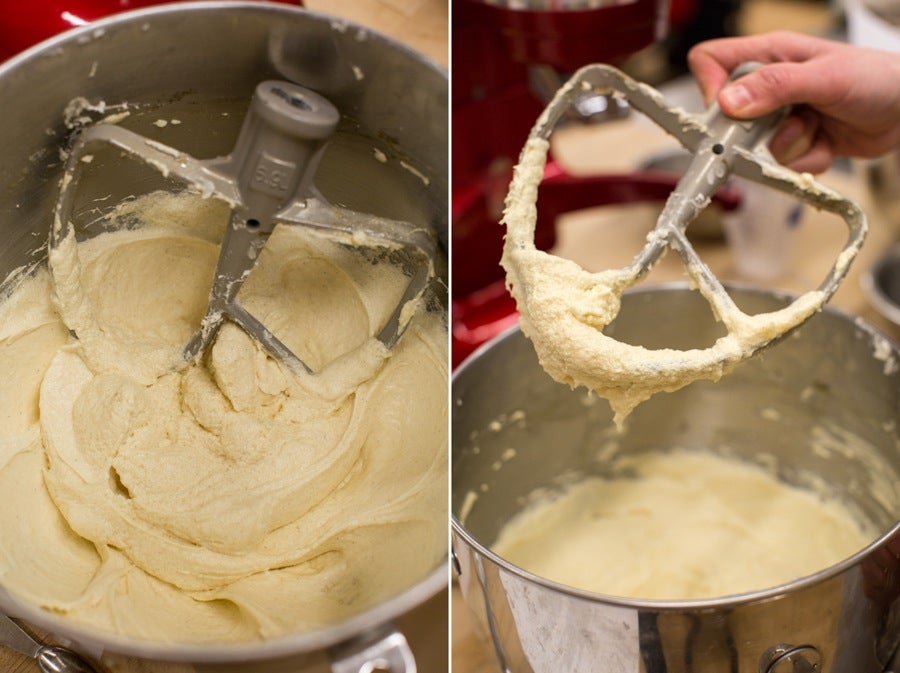 If the mixture separates (develops a curdled appearance) while you're beating in the eggs, your cake will have a coarser texture.
Tip: To help prevent curdling, make sure the eggs are at room temperature, and don't add them too quickly. If you see the batter starting to curdle anyway, warm the bowl very briefly in hot water before continuing. If it happens towards the end, add 3 to 4 tablespoons of the flour mixture to help bind some of the liquid; stop mixing when the batter looks smooth.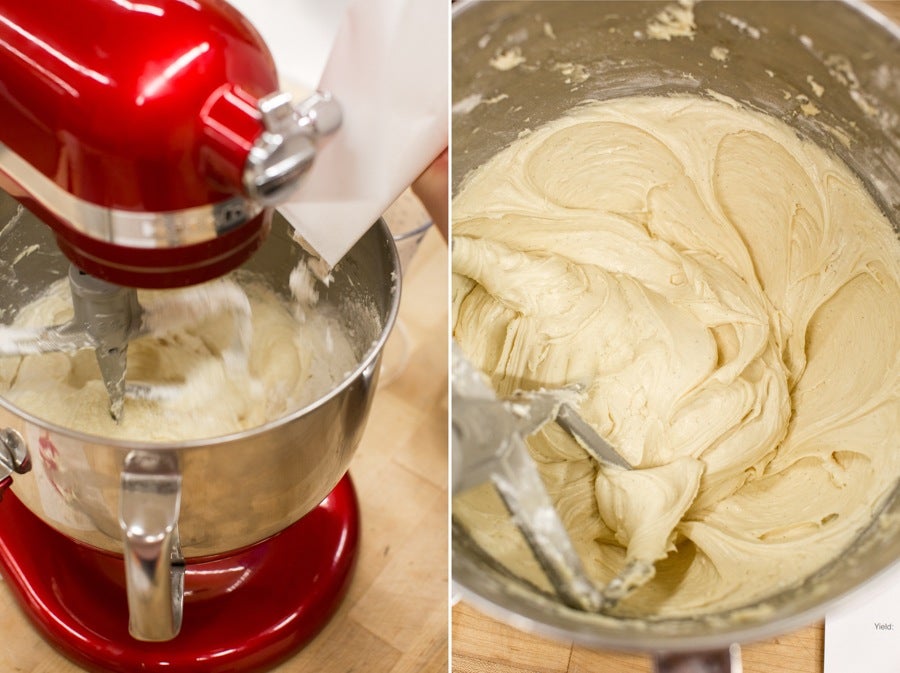 Next, blend in the remaining flour mixture at low speed. Scrape the bowl, and mix well. The batter will be creamy and smooth.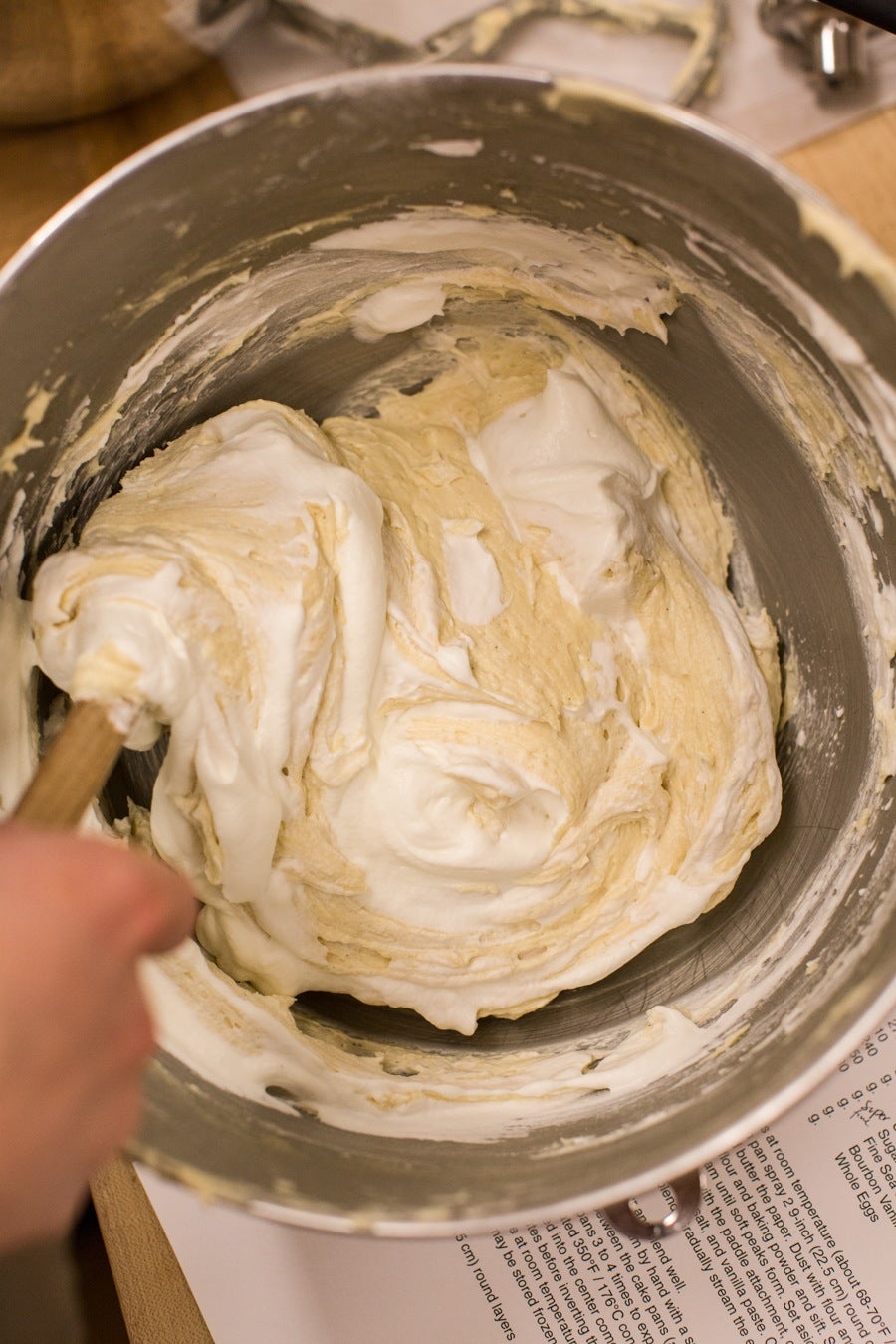 Remove the mixing bowl from the mixer and fold in the whipped cream by hand, using a rubber spatula. Stir until you don't see any streaks of cream.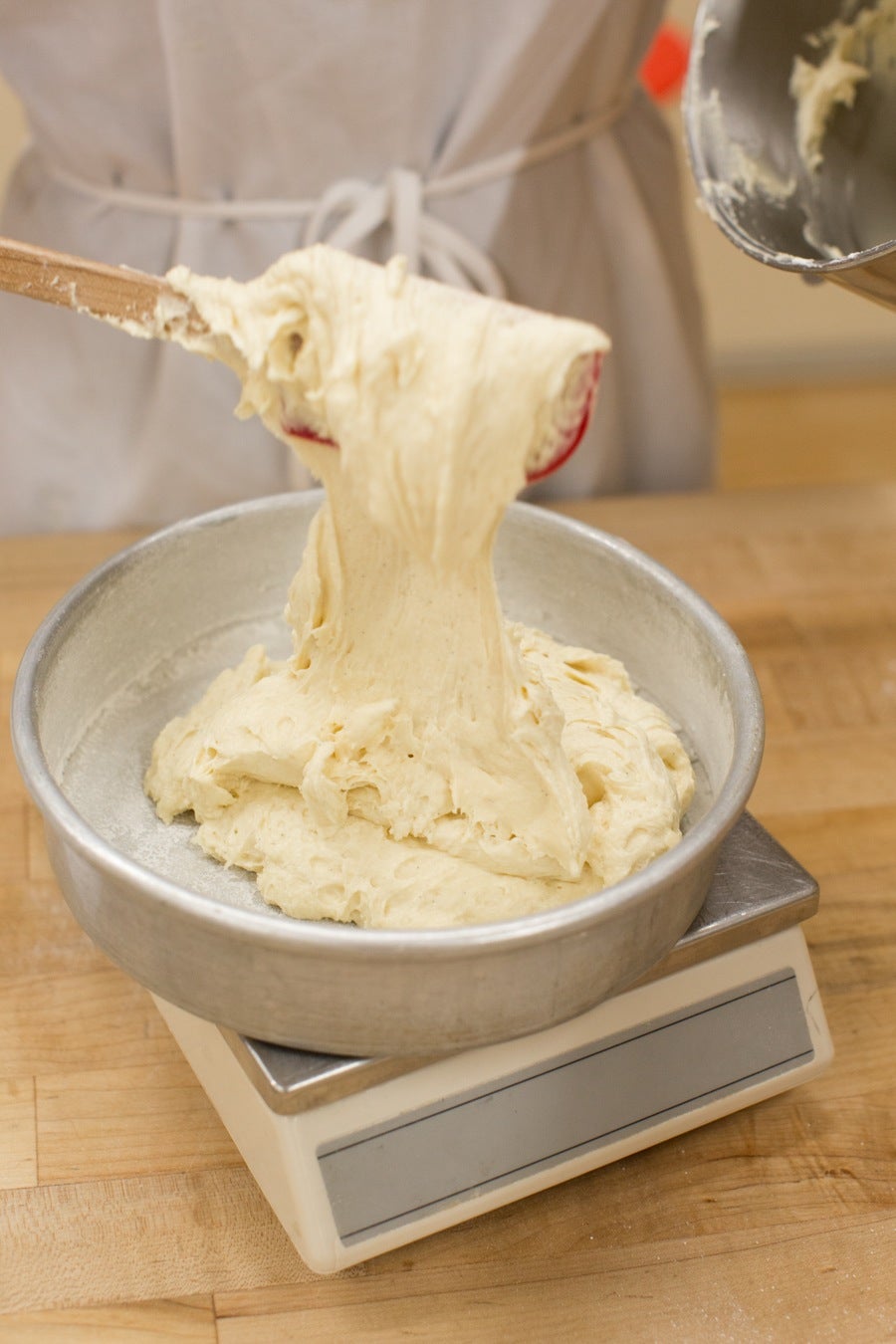 Divide the batter between the prepared pans and smooth the surface.
Tip: Tap the pans 3 or 4 times on the table to expel any large bubbles. Don't worry, there'll be plenty of bubbles left in the batter to raise your cake.
Place the cakes in the preheated oven, and bake them for about 24 to 26 minutes, probably a bit less if you're using a convection oven.
Tip: I like to bake this cake in a convection oven; it bakes evenly, and sets the cake a little faster. But don't worry if you don't have one, a regular oven will work just fine.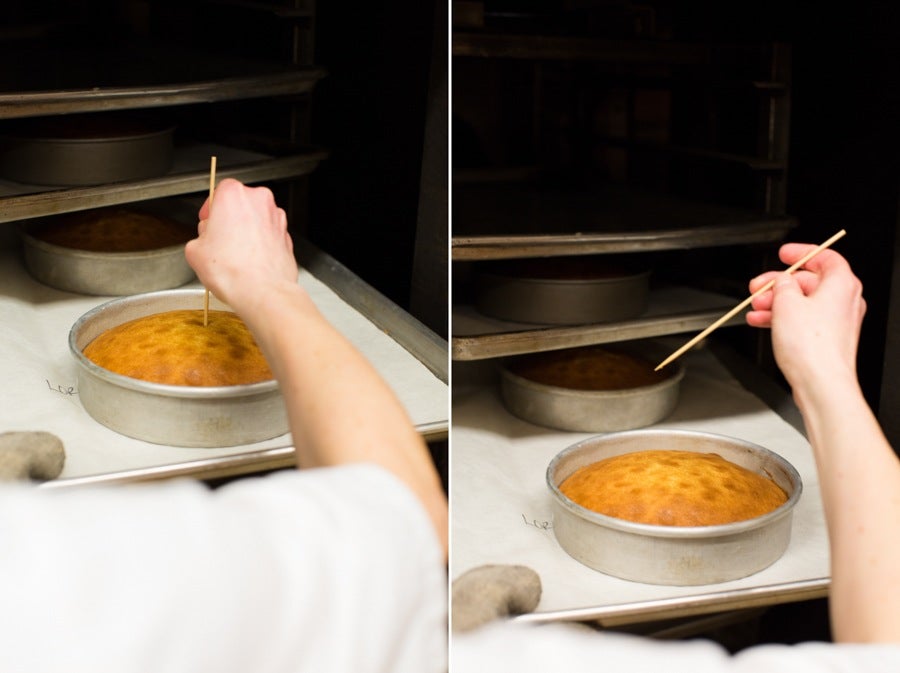 Test the cakes in the center with a bamboo skewer or toothpick when you think they're done. A few moist crumbs may cling to the tester.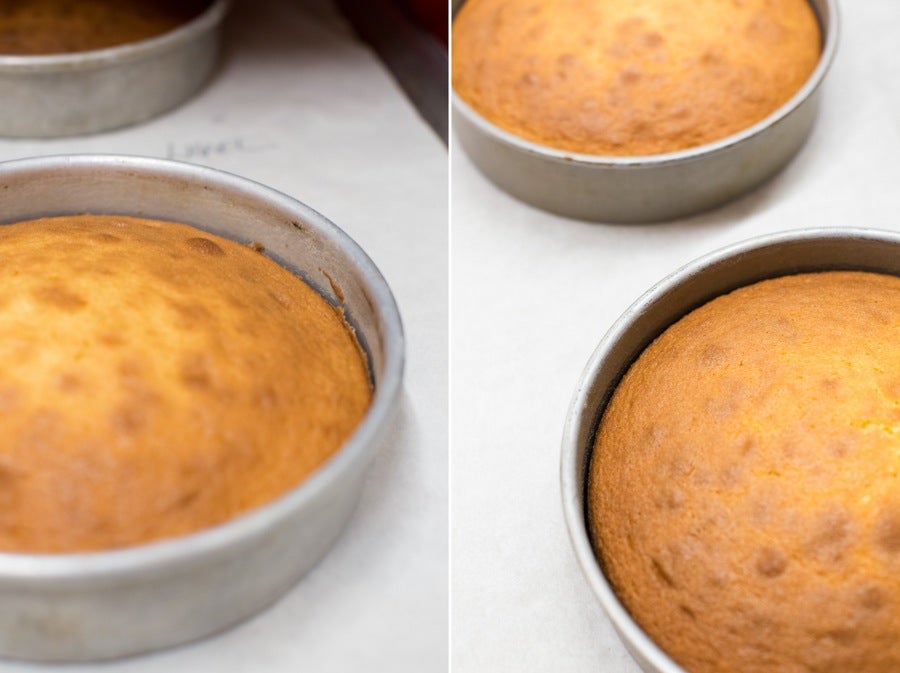 You may also see the cakes have shrunk a little from the sides of the pans.
Take the cakes out of the oven and let them rest for about 5 minutes before you turn them out onto a rack. This gives them a chance to firm a little, reducing the risk of breaking when you unmold. Let them cool completely on the rack.
The cakes are best finished and eaten on the same day, but they hold up very well for up to 2 days at room temperature (thanks to all that sugar).
Tip: Want to bake these cakes ahead, then freeze? Wrap the cooled cakes in plastic wrap, then place in a zip-top bag. Remember to date; the cakes freeze well for up to a month. When you're ready to serve, thaw the cakes, still wrapped, at room temperature.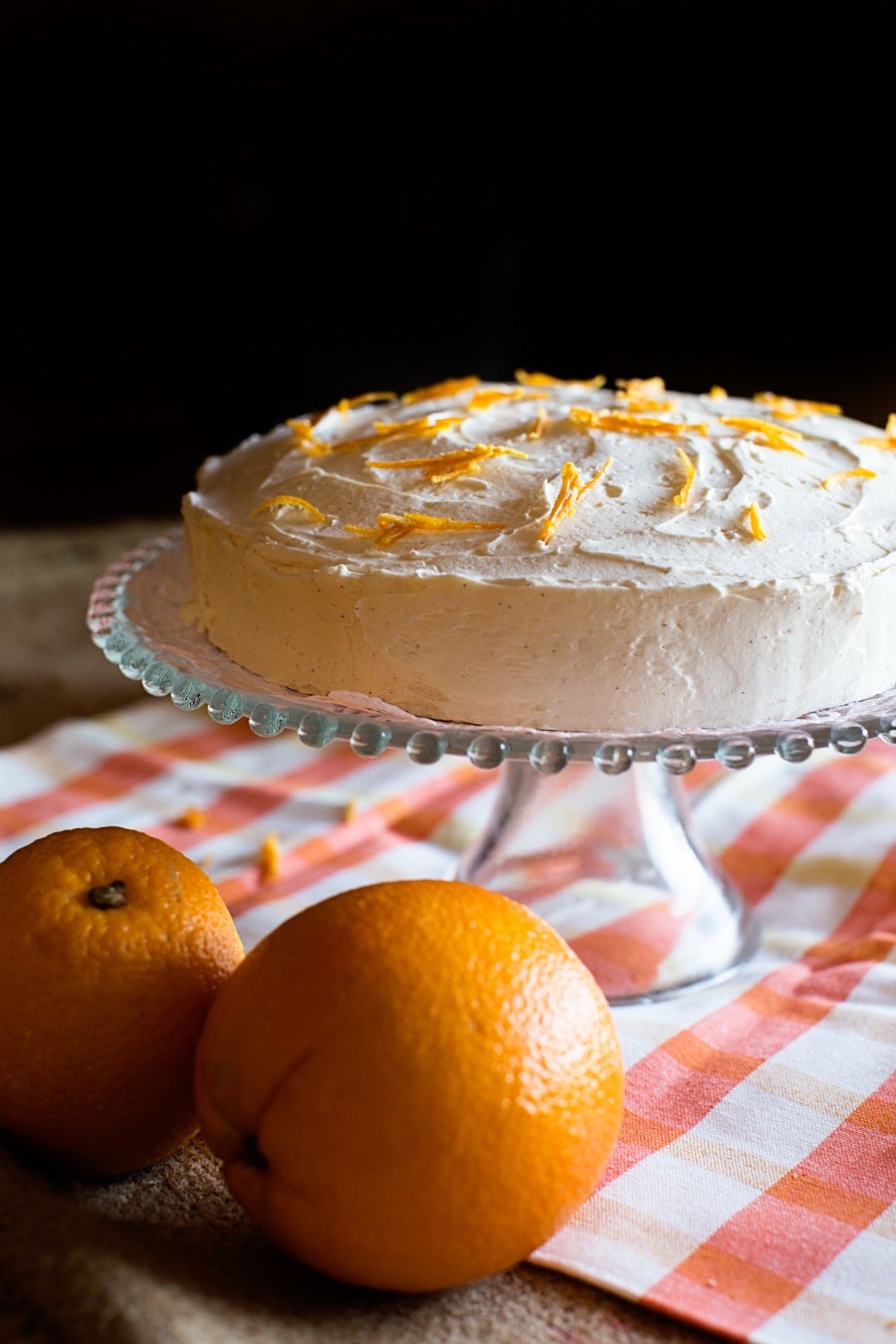 This is a simple cake that doesn't need much to finish. Try splitting a single layer in half and filling it with a thin layer of marmalade. Cover it with buttercream, and serve it at room temperature.
Or, treat it as you would any layer cake: spread and stack the layers with your favorite filling/icing. Our Super-Simple Chocolate Frosting is wonderful with this cake.
Please bake, rate, and review En-Ming's recipe for Golden Butter Cake.
Jump to Comments