How to make easy summer mini pies
Small pies, big payoff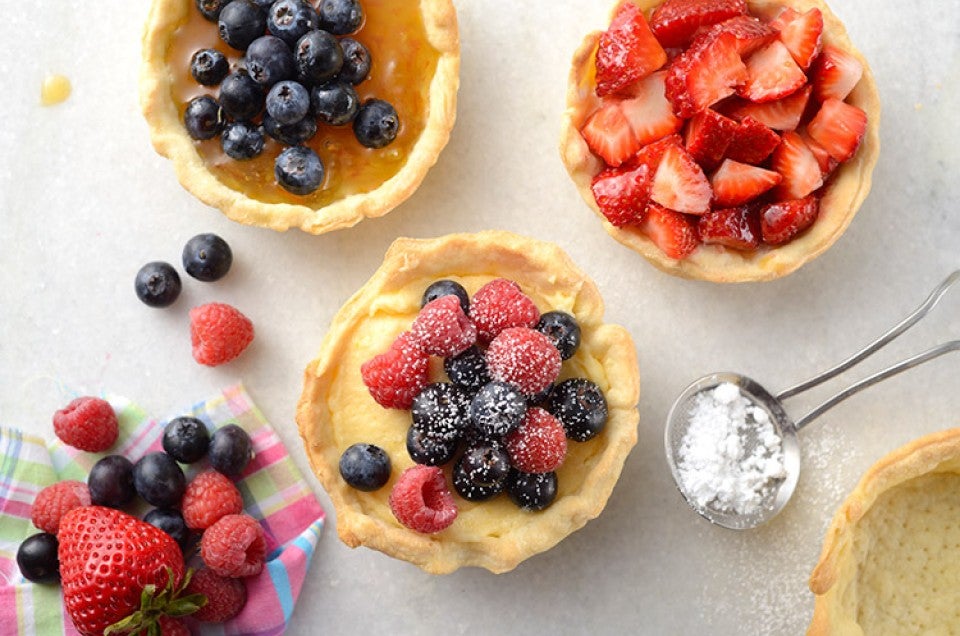 Hey, you over there. I know what you've been doing. No, no, don't bother to try and hide the evidence, it's all over.
All over the picnic table, that is!
I see that you've been using our hamburger bun pan to make fresh homemade burger buns to serve with your mouthwatering grilled goodies. Well, before you put that pan in the pantry, how about using it to make dessert as well?
Not just dessert for today, either; but a stockpile of pie crusts you can reach for all summer long.
I have to admit, I'm not much of a pie fan. I'll take a piece of chocolate icebox or coconut cream at the diner, but I don't really go out of my way to make it at home. I'm not sure why; it is what it is.
I do, however, have a great fondness for mini desserts. So learning how to use my burger bun pan to make mini pies has been really inspiring for me. Here, come along and we'll learn how.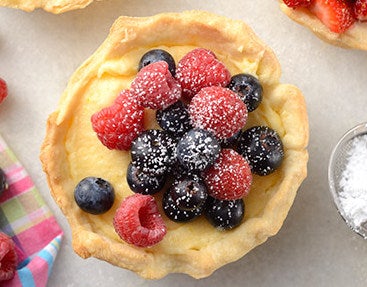 Preheat the oven to 350°F. Have a nice large cooling rack at hand, and plenty of space for rolling out your dough.
Prepare a batch of your favorite pie dough. This graham flour crust recipe is one of my all-time top pie crusts to use.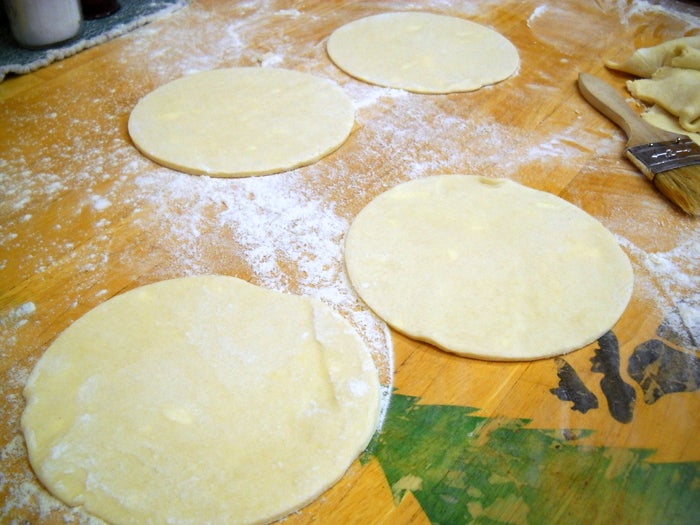 Roll your chilled pie dough to 1/8" thickness on a well-floured surface. Use a round cutter between 5" and 6" diameter to cut out six rounds at a time. I used a 6" round cutter and it was just a touch too large; but it certainly was workable.
Use a dry pastry brush to clean off any excess flour from your dough rounds.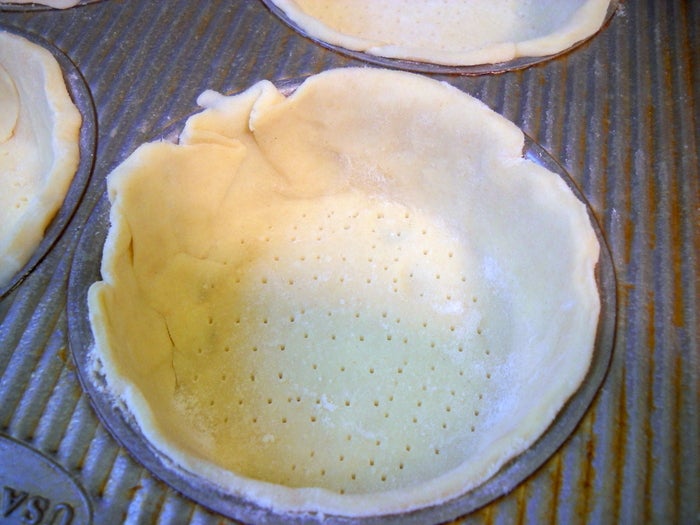 Place one round into each greased well of this wonderfully versatile pan. Prick all over with a small fork, and place the whole pan, lightly covered with plastic wrap, into the freezer for about 15 minutes.
While the dough is chilling, roll out your next six crusts and place them in the fridge to stay cold. Layer with plastic wrap or parchment between the layers to prevent sticking.
You can see in a few places that I had to fold the dough over itself a little. I think with a slightly smaller cutter you can avoid that altogether.
My fellow blogger Susan Reid suggests you cut a wedge 1/2" in from the edge before you put the crust in the pan. It works like a dart so the cut edges will just barely overlap, and Bob's your uncle, the crust fits perfectly.
I wondered if these mini pies appealed to me because they're small, or because you don't have to worry about filling them right away. Any ideas?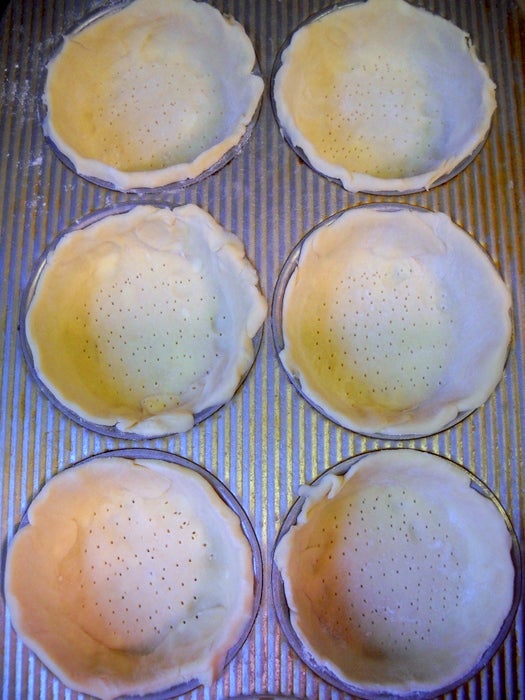 A pie for you, and one for you, and you...
Remove the pan from the freezer and put it straight into the hot oven. Bake the shells for 12 to 15 minutes, or until they're golden brown. Remove them from the oven, carefully extract each shell from the pan, and set them on the wire rack to cool completely.
Cool the pan to room temperature, and repeat the process with the rest of your dough.
With the chilling step, I didn't see much shrinking or slipping of the crusts. If you want to be doubly sure, place some dried beans or rice in a coffee filter in each pie shell prior to baking.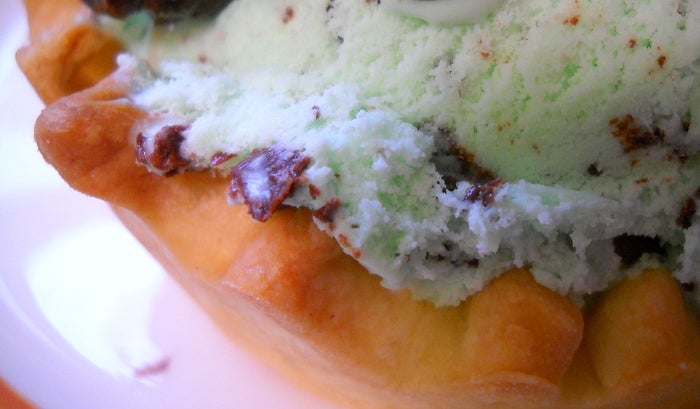 Once the shells are cooled, you can stack them safely in the freezer for up to a month and use them for all types of cool summer desserts.
Like individual edible ice cream bowls...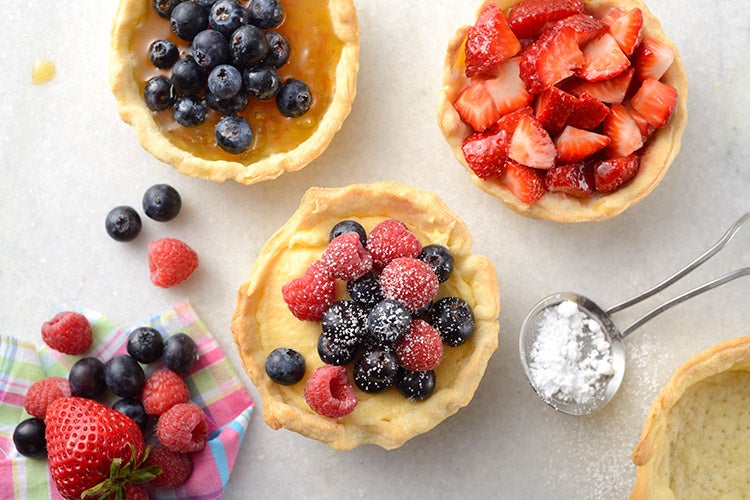 Or fresh fruit pies. A base of cool, creamy pastry cream can be topped with any number of fruits. The strawberries were simply tossed with a little sugar and placed in the shell. Sprinkled with mint and topped with fresh cream, it would be a great way to celebrate the first berries of the year.
One batch of double crust pie dough gave me 14 mini pies. I immediately used three for dinner, then froze the rest. Your yield may vary a bit, depending on the recipe you use.
Wouldn't these make a great centerpiece for a family picnic this summer? Red berries, blueberries, bright white whipped cream? What would YOU create with mini pie crusts galore? Let us know in the comments, below. 
Jump to Comments