Great Caesar's ghost! Is it Valentine's Day already? Your date will be here in 30 minutes and you're running short on time to get a gift together.  Hit the panic button! Call the Marines! May Day, May Day!
Wait a minute, hold the phone. There's no need to panic – we're here to help. In fact, with two ingredients, two minutes, and two forks, we can help you make a last-minute dessert for two that will have your loved one in 7th Heaven.
Behold, chocolate fondue with just two ingredients.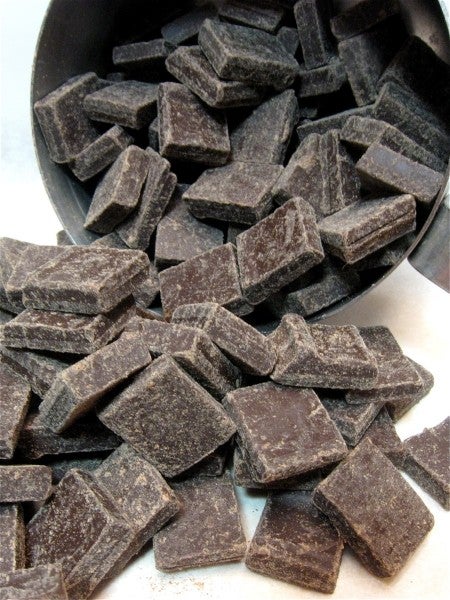 Ingredient one: good quality chocolate. You'll need about a cup or so to make this fondue for two. Gourmet chocolate bars and chunks are excellent for this, but even good quality chocolate chips can be used in a pinch.
Ingredient two: heavy cream. If you can't get heavy cream you can use half & half or light cream. If you're pinched for time, check your local convenience store – they often have pint bottles of half & half in the cooler for coffee lovers.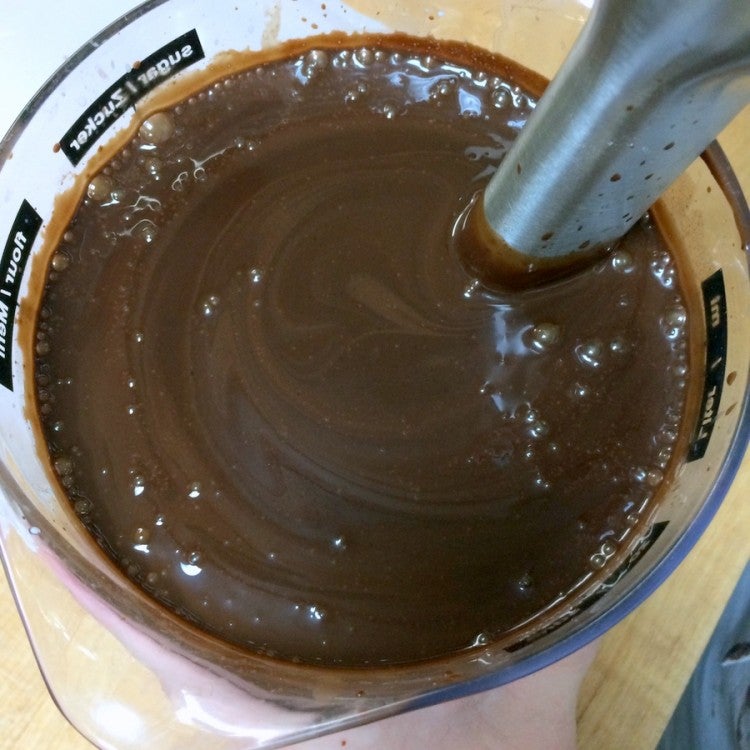 Place 1 cup (8 ounces) cream or half & half in a heat-proof measuring cup or bowl. Microwave for about 2 minutes, or until it's steaming hot but not boiling.
Add 1 cup (6 ounces) chopped chocolate. By using slightly more cream than chocolate, by weight, you'll get a thinner, more dipping-friendly fondue.
Allow the chocolate to sit in the hot cream for about a minute. Then use a whisk, spoon, fork, spatula, or even an immersion blender to blend the chocolate and cream together until smooth and silky.
Quickly gather up some berries, pretzels, pieces of cake, or whatever you have on hand that can be doused in chocolate. That's it, you're good to go.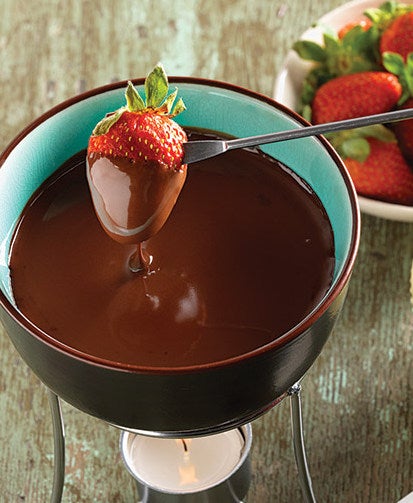 How about this? Ohhh, that little bit of chocolate may dribble onto your sweetheart and need to be kissed away. Now, that's romance!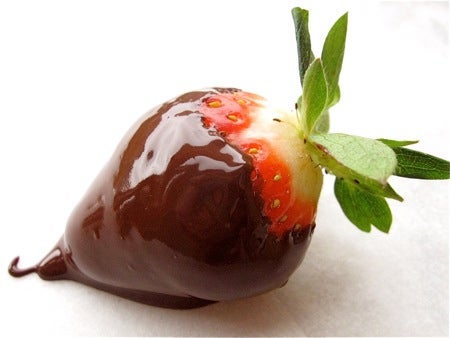 If you have more time and want to really go all out, check out our blog on Chocolate Covered-Strawberries. Homemade are so much prettier and fresher than anything you can buy in the grocery store.
And now, a few choice phrases to whisper to your beloved from some famous wanderers down Lover's Lane:
When you look at me, when you think of me, I am in paradise.
– William Makepeace Thackeray
Romance is everything.
– Gertrude Stein
Let us always meet each other with a smile, for the smile is the beginning of love.
– Mother Teresa
Your eyes are like limpid pools... of toxic waste.
– My husband, back when we were younger
Stolen kisses are always sweetest.
– Leigh Hunt
I hope you don't have to panic and can make this fondue at your leisure, just as I hope you have a wonderful, warm day full of love, any day of the year.
Feel free to drop a love note, a shout-out to your honey, or your favorite sweet saying in our comments section. You never know, you just might get one right back!