Valentine's Day is right around the corner – you may already be in the process of ordering flowers, making dinner reservations, or searching for the perfect box of chocolates.
If artisan chocolates are what you're looking for, you can't go wrong with our Signature Chocolate Assortment – handcrafted chocolates, made with fresh ingredients and the finest Valrhona chocolate.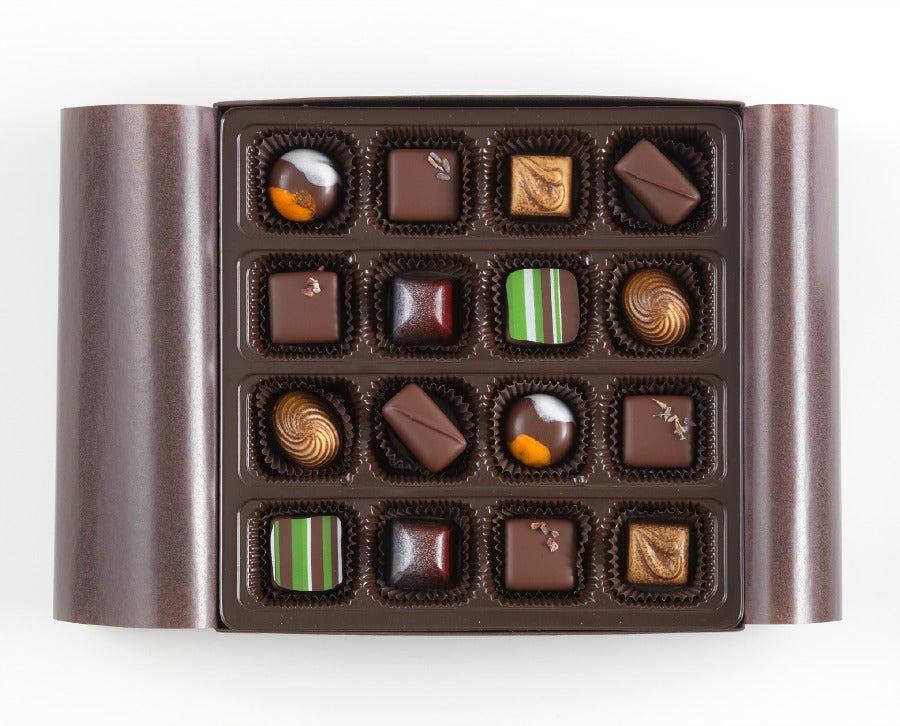 I recently sat down with King Arthur Flour chocolatier Wilhelm Wanders, an eighth-generation pastry chef and the man behind these decadent confections. Wilhelm is from a long line of German bakers and chefs, and it's no surprise that when the time came to choose a profession, Wilhelm decided to be a pastry chef.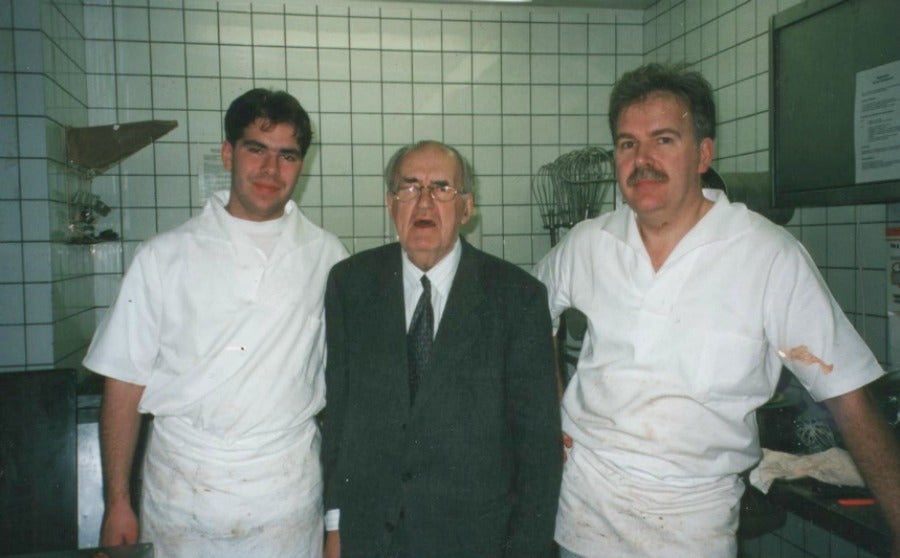 Three generations of Wanders Chefs, Wilhelm (16), his grandfather the baker, and his father a Master Pastry Chef.
At 16 years old, Wilhelm left home to start his education. After three years of apprenticeship, he became a pastry chef. Soon after, Wilhelm temporarily moved to the United States and landed a position at L.A Burdick Chocolate in Walpole, NH. While working there he met his wife, Melanie. After a season of chocolate making, Wilhelm and Melanie moved back to Germany, where Wilhelm got his Konditormeister (meaning Master Pastry Chef, the highest certification of pastry chefs in Germany).
Wilhelm and Melanie then moved to North Carolina, where they eventually opened a chocolate business of their own.Their business focused on wholesale confectionery products. As any business owner will tell you, working for yourself is time-consuming, and uncertain at times – and with a child on the way, Wilhelm and Melanie decided it was time for a change.
It just so happened that King Arthur Flour was looking for a pastry chef at the time, and Wilhelm applied for the job. After five years of owning their own business, the Wanders family packed up and moved to scenic Vermont to start a new adventure.
Wilhelm worked as a pastry chef for King Arthur Flour for a few years before the company decided to start making and selling chocolate confections. Wilhelm began by making chocolate confections in the bakery; recently, a special chocolate room was built in our new manufacturing building.
Wilhelm describes the new chocolate room as "artisan meets industrial." The room is environmentally controllable, and provides space for the specialized equipment used in the chocolate confection-making process – such as the enrobing machine above. The technology challenges King Arthur's bakers to bring their artisan approach to a production setting.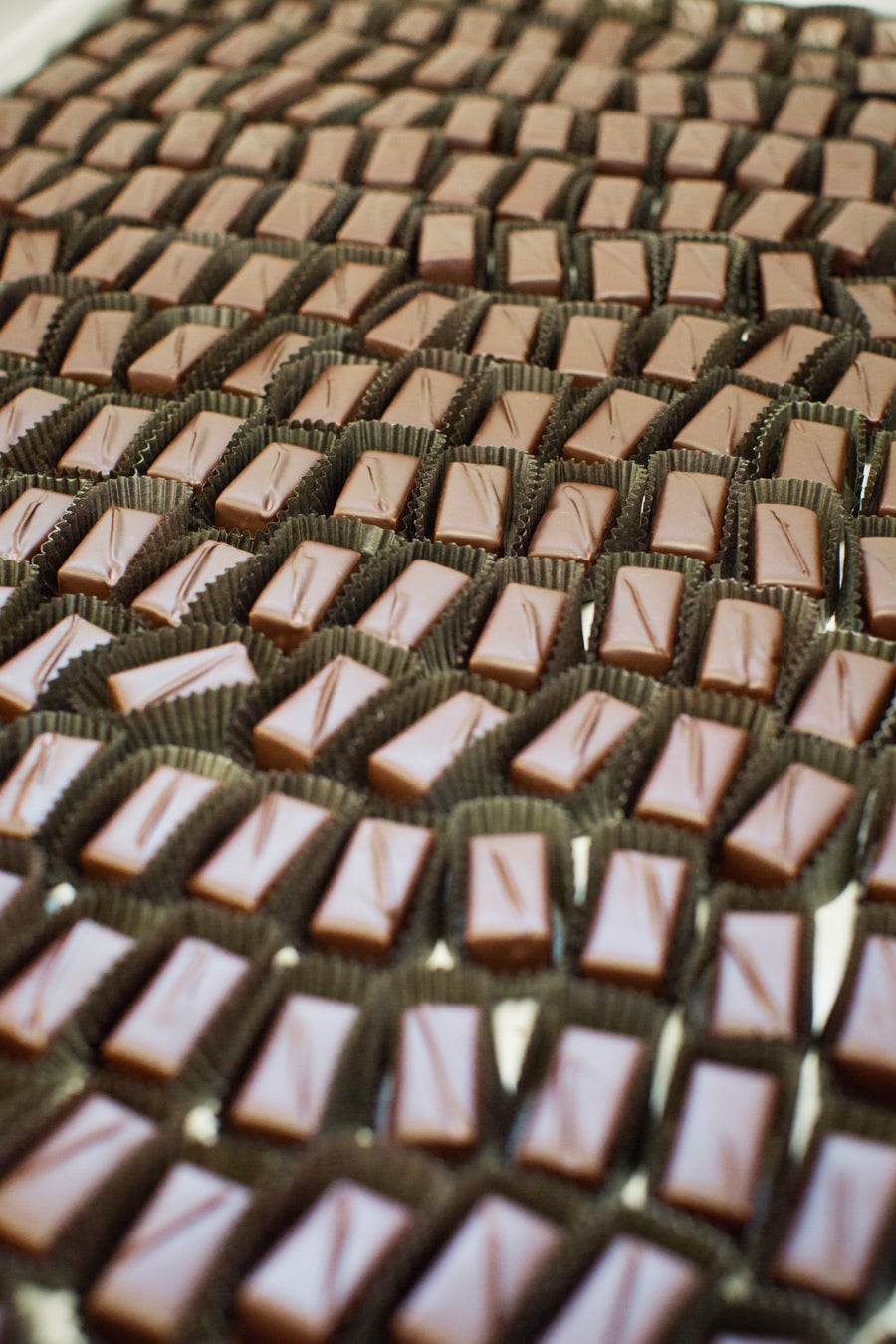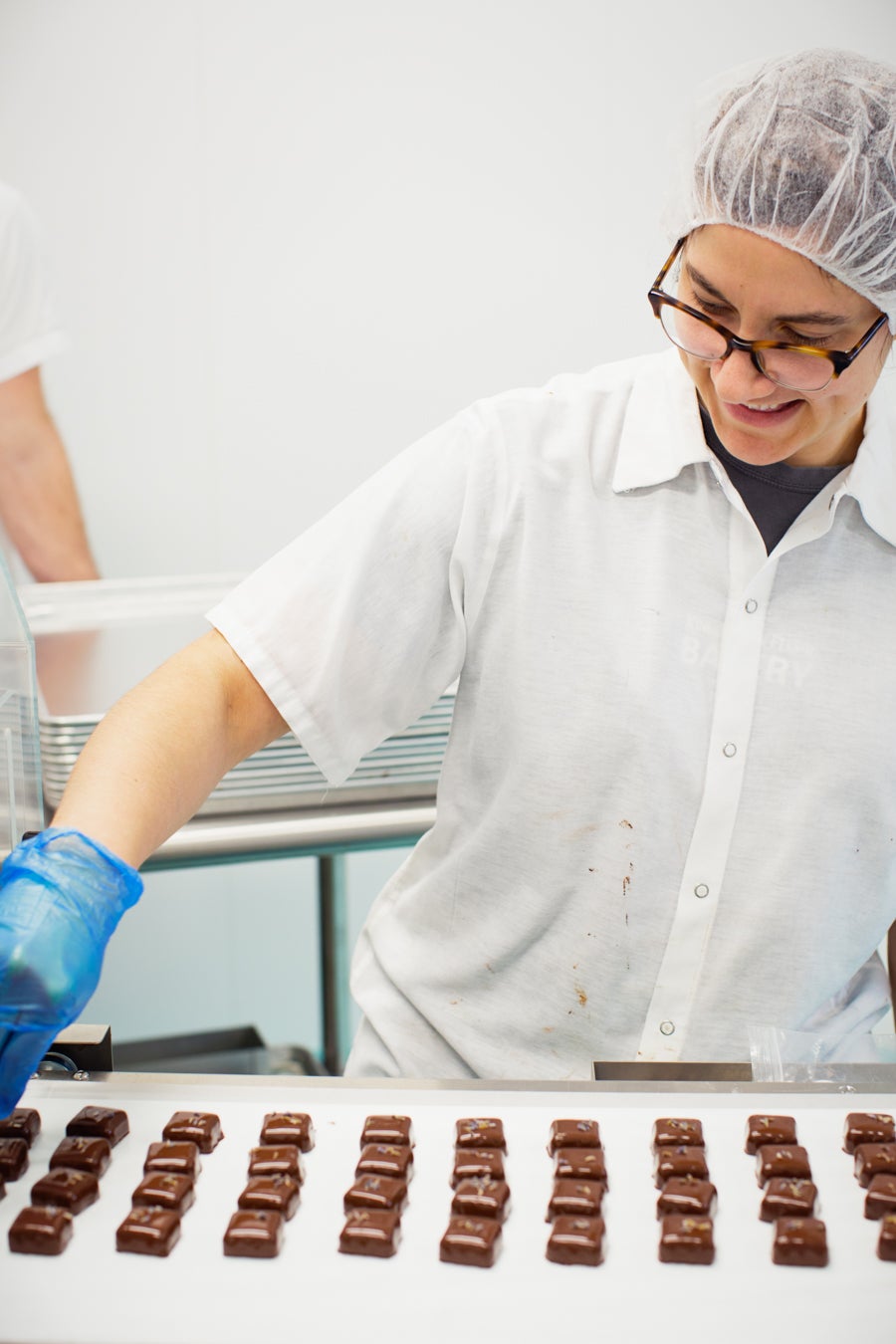 Wilhelm has been able to share his knowledge of making chocolate confections with his colleagues. King Arthur Flour bakers have been rotating through the chocolate room, learning techniques from Wilhelm and lending a helping hand during busy times.
Wilhelm enjoys sharing this new opportunity with his fellow bakers. He told me that he likes to teach. Right now, he doesn't have much time to spend in our Baking Education Center, but the chocolate room is an outlet for that passion.
Maybe your Valentine's day plans include trying to make your own chocolate confections. I asked Wilhelm for some home baker tips. His advice is not to be intimidated; the process can be temperamental, but nothing can really go wrong. You can always re-melt the chocolate, and start again. If tempering chocolate is where you struggle, our blog post A Basic Guide to Tempering Chocolate is very helpful.
Wilhelm's talent clearly could have taken him anywhere, so I had to know: why King Arthur Flour, why Vermont? Wilhelm talked about how beautiful the area is, and how favorable for families. He said, "We always thought we would come back and retire in New England, so it's like we're already retired – except we have to work," he laughs. "But when you love what you do, you don't dread going to work."
A lovely expression of what employee-ownership looks like at King Arthur Flour.
A special thanks to Wilhelm for sharing his story, and access to his chocolate room. Also, thanks to my fellow King Arthur Flour blogger Julia Reed for the photos.
For more on employee-ownership and the people who make up (and own!) our company, see our post Meet the owners of King Arthur Baking. 
Jump to Comments