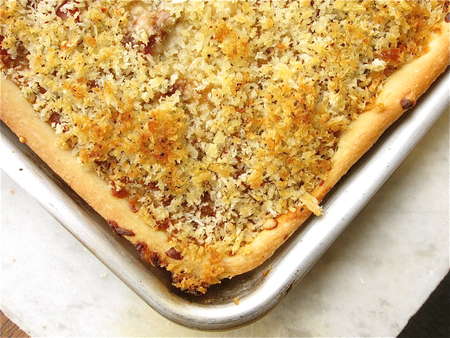 What? ANOTHER pizza recipe?!
Hey, pizza is like chocolate layer cake, Chinese food, and macaroni and cheese: you can eat it your whole life, and somehow never get tired of it.
Still, variations on the theme are always welcome. And Pizza Sfincioni, with its thick layer of crunchy bread crumbs on top, is unusual indeed.
Alternately called Palermo Christmas pizza; Sfincione di San Giovanni; or just plain Sfincione, this thick, soft, Sicilian-style pizza is traditionally served on Christmas Eve, New Year's Eve, Good Friday, and  on the feast of San Giovanni, June 24.
But heck, it's so tasty there's no way it can be limited to just 4 days a year. Street vendors and bakeries in Siciliy sell it year-round: hot in winter, at room temperature during the warm months.
Sfincione (loosely translated as "thick sponge") refers to the pizza crust's height and texture. More soft focaccia than traditional chewy crust, it holds successive layers of cheese, tomato, onion, more cheese, and bread crumbs.
Think comfort-food pizza. Soft, tender, comfortingly (rather than challengingly) flavorful. Something you might cut up into tiny squares and set on the baby's high-chair tray. But still PIZZA: tasty and compelling enough for anyone to enjoy.
December 31 is fast approaching. Let's bake a New Year's Eve pizza: Pizza Sfincione.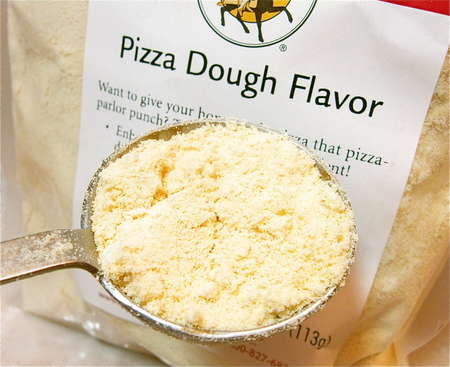 Well my goodness, here's that Pizza Dough Flavor again. it just keeps popping up everywhere, doesn't it? Maybe that's because it's just so darned tasty.
AJ, one of the regular readers here, recently asked how many pizzas you could make from one bag of Pizza Dough Flavor. Well, there are about 19 tablespoons in the 4-ounce bag we sell; and I use about 4 teaspoons in a typical pizza recipe, so if my math serves me, that's about 14 large pizzas. About 57¢ per pizza.
Worth it? You be the judge. I'm betting once you taste it, you'll say YOU BETCHA.
As usual, we'll start with the crust. After all, you can't have a truly great pizza without a good crust, right?
Combine the following in a bowl, or the bucket of your bread machine:
3 cups (12 3/4 ounces) King Arthur Unbleached All-Purpose Flour
1 1/4 teaspoons salt
2 teaspoons instant yeast
4 teaspoons Pizza Dough Flavor, optional but delicious
2 tablespoons olive oil
3/4 cup + 2 tablespoons to 1 cup + 2 tablespoons (7 to 9 ounces) lukewarm water
Why the range in water amount? Because flour is like a sponge; it soaks up water from the atmosphere when it's warm/humid out, and dries out when it's cold/arid. This time of year, you'll probably want to use the greater amount. Unless you're someplace warm and humid, in which case - more power to you, it's 16°F here in Vermont!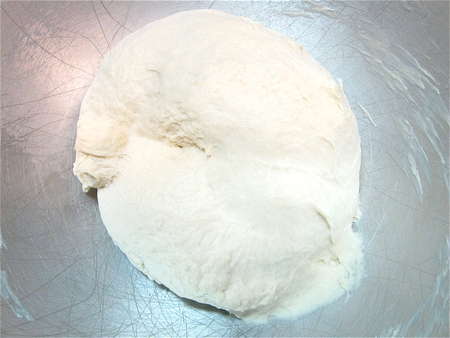 Combine all of the ingredients and mix and knead to make a fairly soft dough, using a stand mixer, bread machine, or your hands.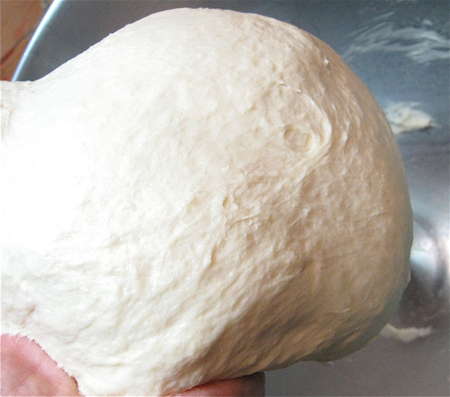 Notice this dough isn't completely and utterly smooth; that's OK. It's very supple, which is what counts.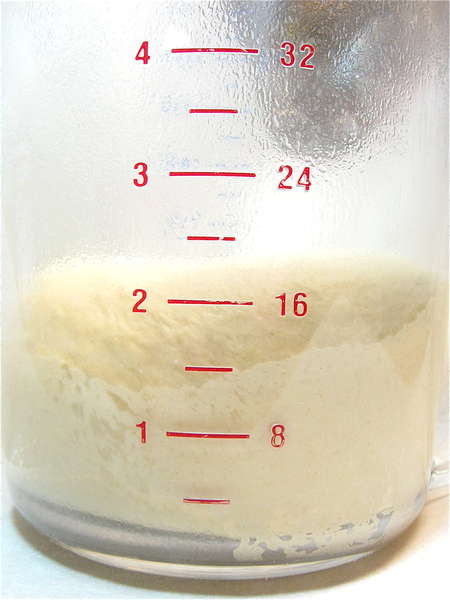 Place the dough in a lightly greased bowl or large 8-cup measure (or leave it in the bread machine), and let it rise till it's very puffy, about 90 minutes.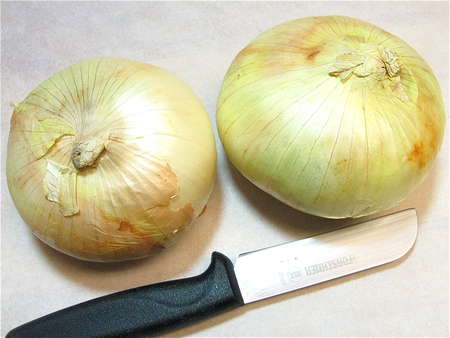 While the dough is rising, prepare the toppings. Start by peeling and slicing the onions. I'm using two big fat sweet onions here, about 1 pound each.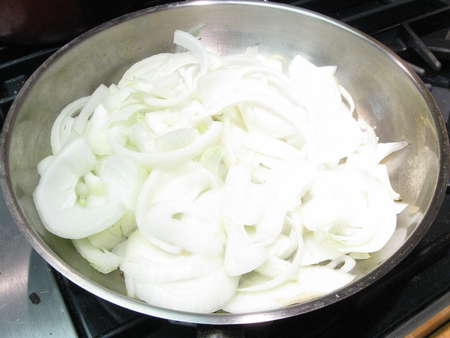 Fry the onions in enough olive oil so they don't stick, stirring frequently.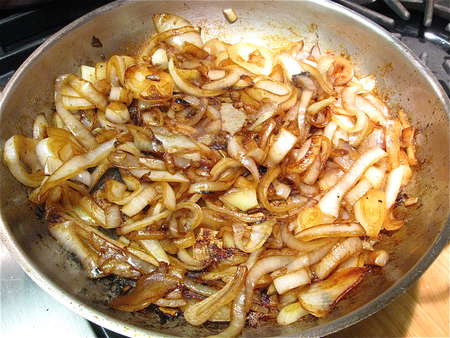 Fry till they're golden brown. This will take about 20 minutes. Midway through, add salt and sugar to taste, if desired; about 1 tablespoon sugar will heighten their flavor.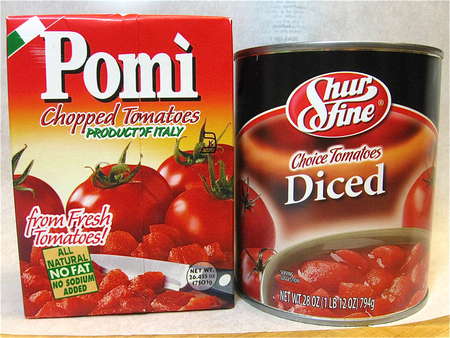 Next, ready your tomatoes. A 28-ounce can (more or less) is what you want. I tried both of these – imported Italian in an aseptic container, and canned store-brand.
The imported Italian tasted fresher, and were in nicer dice; and they didn't cost much more, either – just $1.99 for a 26.4-ounce carton, compared to $1.25 for the store brand. Quite reasonable for the quality, I thought.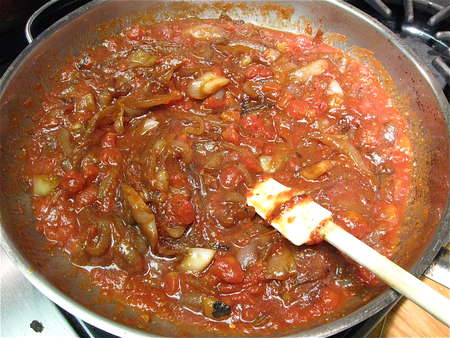 Add the undrained tomatoes to the fried onions, along with 2 teaspoons Pizza Seasoning, if desired. Simmer and stir for a couple of minutes. If the sauce seems overly liquid, continue to cook till it's firmed up a bit. You don't want it totally dry, like scrambled eggs, but neither do you want it swimming in liquid. Use your judgment.
Turn off the heat, and let the mixture cool while the dough rises.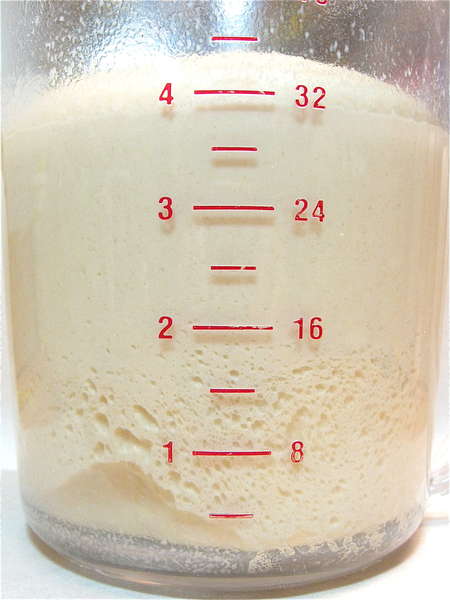 Here we are, 90 minutes later. Nicely doubled.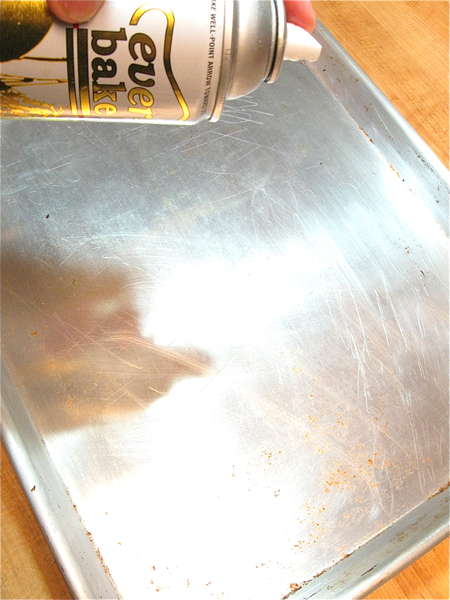 Next, prepare your pan. A rectangular 18" x 13" half-sheet pan is traditional, but use a 14" round pan if you like. Spray with non-stick vegetable oil spray...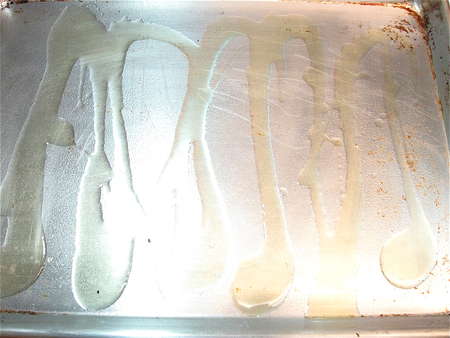 ...and drizzle with olive oil, tilting the pan so the oil spreads out a bit. The spray is to prevent sticking; the olive oil, for flavor and crunchy texture.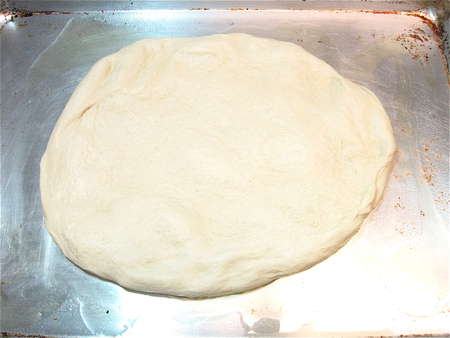 Gently deflate the risen dough, and stretch it into an oval in your hands. Plop the oval onto the baking sheet.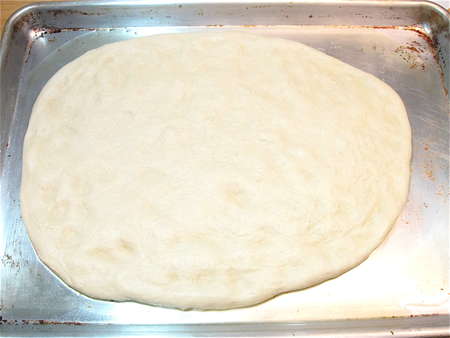 Press the dough towards the edges of the pan. When it starts to fight back, walk away for 15 minutes.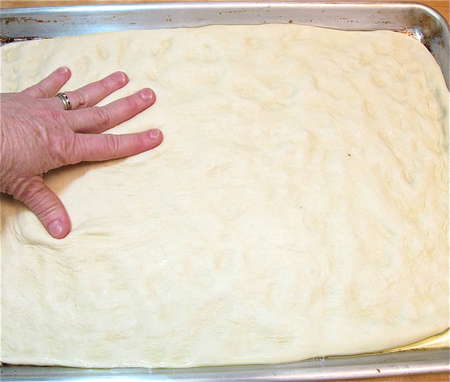 When you return, you should be able to press it to the edges and nearly into the corners. If you can't, give it another short rest, and try again. You want the dough to cover as much of the pan's bottom as possible (without worrying too much about it).
Cover the dough, and let it rise till puffy, about 90 minutes. Towards the end of the rising time, preheat the oven to 425°F.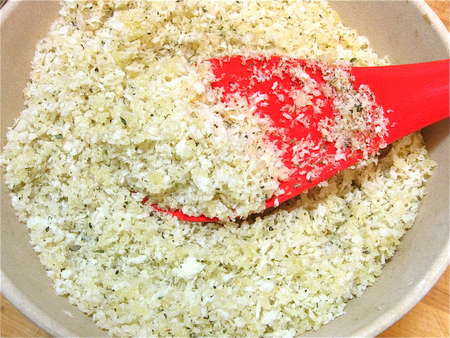 Next, ready your bread crumbs. I like to use Panko, those coarse, crisp Japanese-style crumbs. SO much nicer than the "sawdust in a can" you get at the supermarket. Homemade crumbs made from stale bread are good, too.
Stir together 3 cups coarse dried bread crumbs, such as Panko; 6 tablespoons olive oil, and 1 tablespoon Pizza Seasoning, or a mixture of your favorite dried herbs – basil, oregano, rosemary...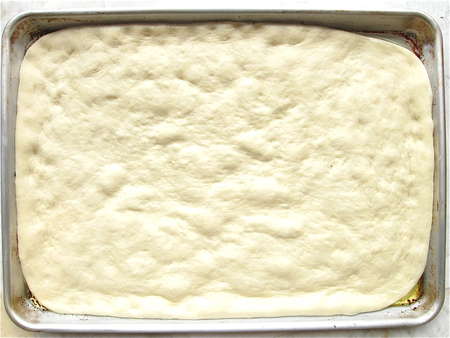 Here we are, 90 minutes later. The dough isn't a real high-riser, but it does become nicely pillowy.
Mix together 2 cups shredded mozzarella, and 4 ounces shredded provolone cheese. That's my combo of choice; use your own favorite, whatever you think goes well with onions and tomatoes.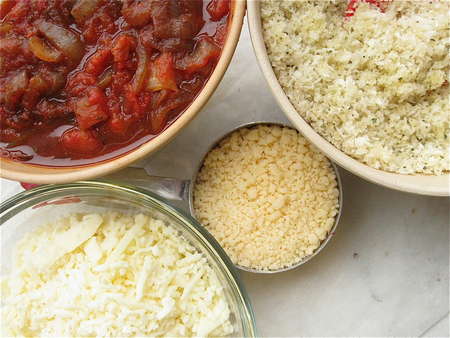 Here are the toppings, ready to do their thing: the tomato-onion mixture; bread crumbs; mixed cheeses and, in the center, 1 cup freshly shredded Parmesan cheese.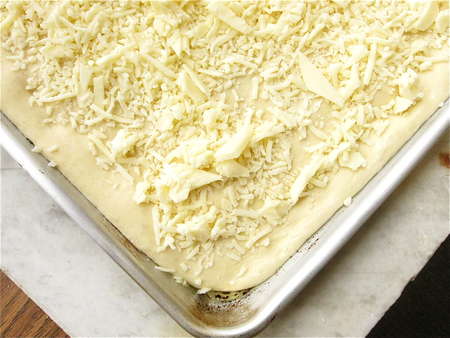 OK, class, pay attention here. First, sprinkle on the mozzarella/provolone.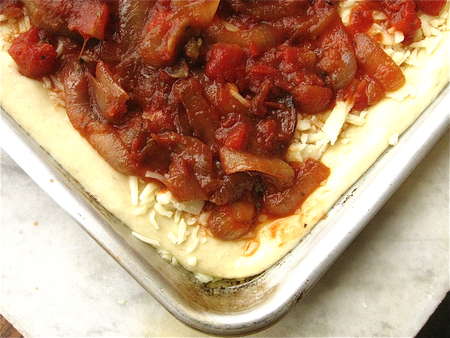 Next, spread on the tomato/onion mixture. You'll have enough to put a pretty thick layer on, completely covering the cheese.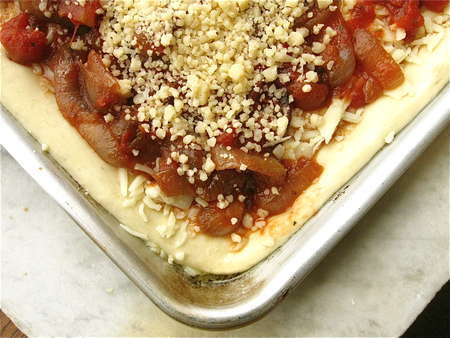 Next comes the shredded Parmesan...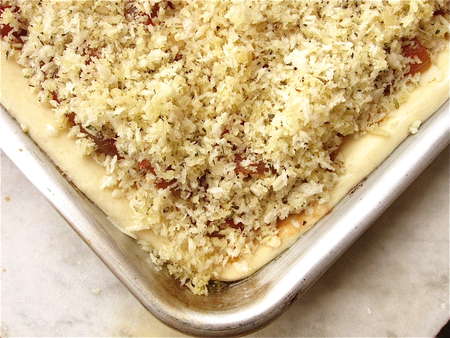 ...and finally, the bread crumbs.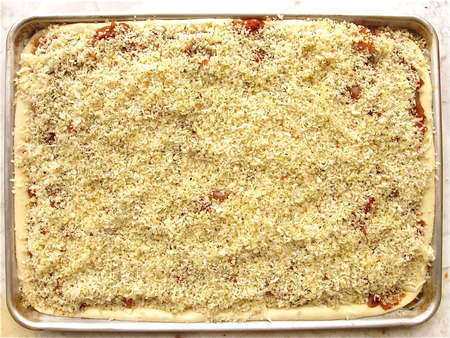 Here we are, topped and ready to roll. Uh, bake.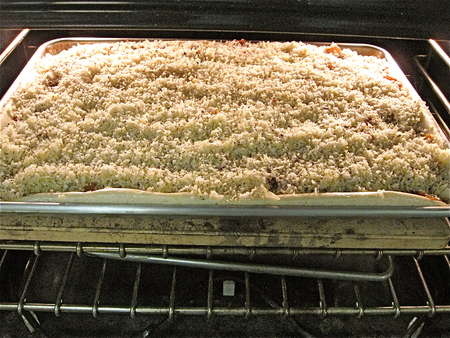 Is your oven at 425°F? Load the pizza onto a middle rack.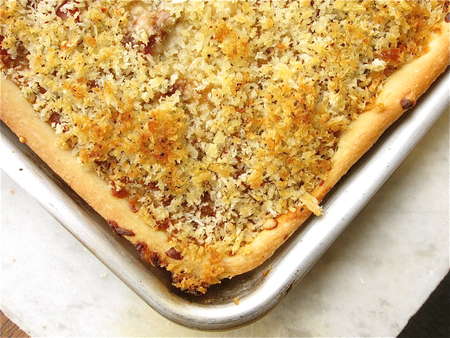 Bake for 35 minutes, or until the crust and crumbs are brown.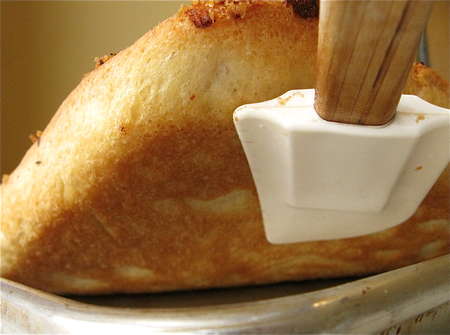 Bottom crust, too.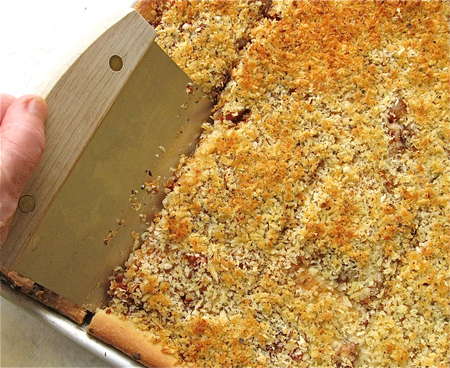 Serve hot or warm.
Hint: to prevent a soggy bottom crust, cut the pizza in half crosswise, then lift each half onto a cooling rack. Cut individual slices with a pair of scissors.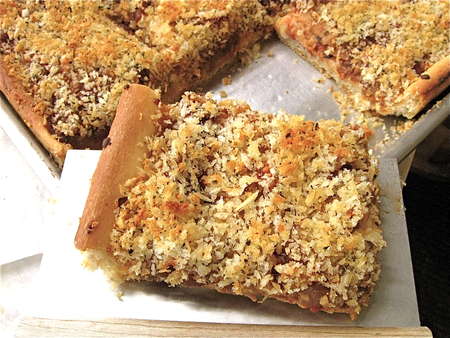 I neglected to move the pizza to a rack, and the bottom crust was a bit soggy. Do as I say, not as I do!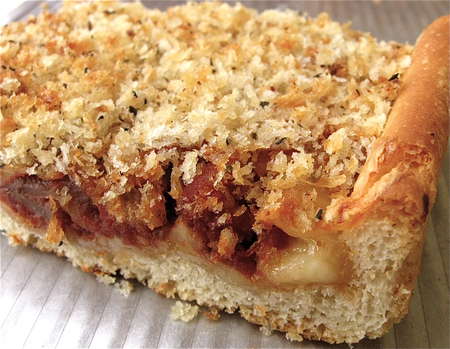 See that melting mozzarella and provolone peeking out?
This is an unusual pizza due to its soft texture. It's not particularly chewy, not particularly crusty (though the bottom of the crust, if you remove it from the pan while it's hot, will have some nice crunch).
Think of Sfincione not as lusty, but comforting; a balm to your culinary soul, after Thanksgiving-to-New Year's moveable feast.
Speaking of - Happy New Year, one and all. May your yeast dough, your fortune, and your happiness all double in 2010!
Read, rate, and review (please) our recipe for New Year's Eve Pizza.
Print just the recipe.