I love pie. I mean, LOVE pie. Fruit pie, cream pie, lemon meringue, butterscotch, French silk. Pecan and pumpkin, bumbleberry and cherry, vanilla custard, and good old All-American apple pie. Savory pie, a.k.a. quiche (which real men are now enlightened enough to eat). Turnovers. Even TableTalk. Give me a fork; bring it on. I'm there.
It's too bad pie has such a terrifying reputation for wannabe and newbie bakers. I daresay even those of us who've been baking for years feel a tiny quiver of apprehension when we get out the rolling pin.
For instance, I got a call the other night from my mom, who loves pie as much as I (though not as much as me). She said she'd just made the best pie crust ever—and had no idea why it had turned out so well. That seems to be the case with many of us. Sometimes pie crust turns out great; sometimes it's a mess. Why?
Sometimes it's just not your day. You do everything right, and the results are wrong. Ah, well… move on.
Second, that tricky flour/fat/liquid ratio. The more fat/less liquid per cup of flour, the more tender your finished crust will be—and the more difficult it'll be to roll out and handle. More water = easier to handle = tougher crust.
My advice? Keep experimenting till you hit on a crust you really like. One that works for you—in your kitchen, with your tools, using your measuring methods, and your preferred brands of flour and butter.
Be advised that my favorite recipe may not be yours. And just because you use your mother's crust recipe and it's turned out perfectly for 53 years, that doesn't mean it'll work for me. We all need to find our own path—both to pie crust perfection, and through life.
That said, here's a link to my current favorite pie crust recipe. It may change next week; but for now, it's the one I turn to.
And my current favorite pie, here in the depths of Vermont's Mud Season? A sunny-golden, tasty Anytime Peach Pie, studded with dried apricots. Or made half-and-half with last summer's frozen raspberries. Trust me, even the most patched-together flop of a pie crust won't matter when you add this filling!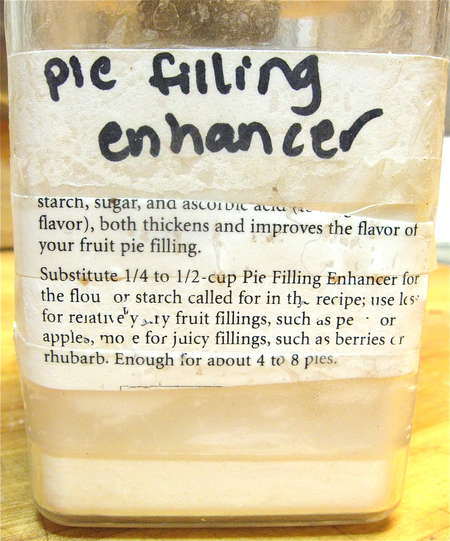 As you can see, I use our pie filling enhancer a lot. I like it because it includes a bit of ascorbic acid, both for flavor, and to help retain fruit color; and when you mix it into the fruit, it doesn't clump like cornstarch or flour, and you don't have to wait for it to dissolve, like tapioca.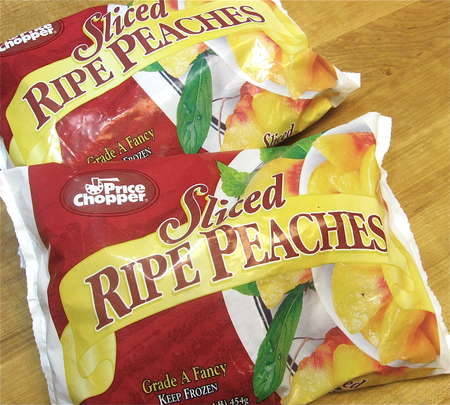 At this time of year, when the fresh peaches you get up North are barely edible, I find frozen peaches are a great substitute.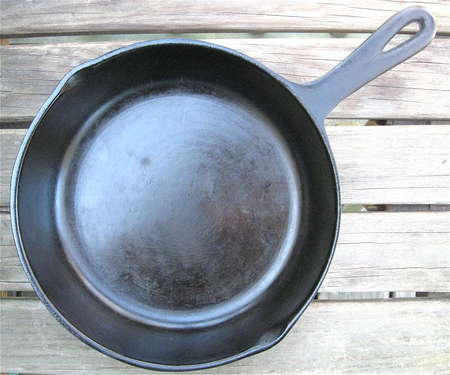 Here's my new favorite pie pan: a 9" cast-iron skillet. Notice its sheen; that's the result of a quick rubdown with shortening after each use. This particular pan was given to me 30 years ago by a 90-year-old friend; it had belonged to his mother. So you can imagine how old this pan is, and how many meals it's cooked.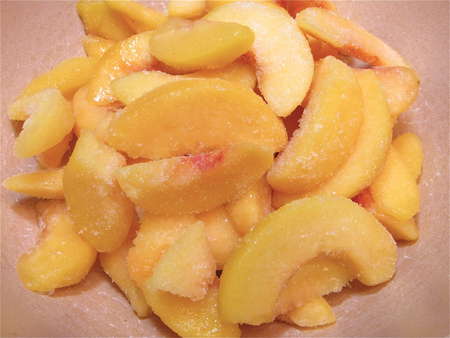 Dump the frozen peaches into a bowl. Let them thaw a bit; they don't have to be completely unfrozen, just soft enough to chop.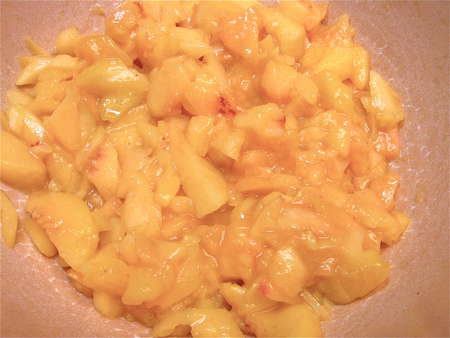 Like this: a quick couple of pulses in the food processor is all it takes.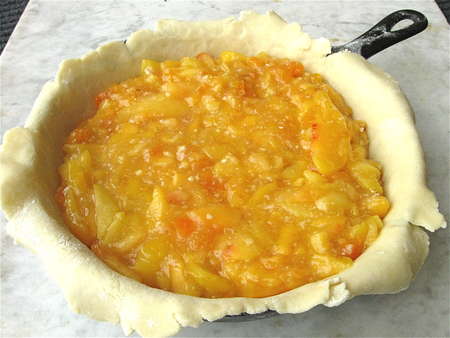 Two 16-ounce frozen bags of peaches combined with a cup of chopped dried apricots makes the basis for a tasty filling. Why the apricots? They play beautifully with peaches, adding depth of flavor and enhanced texture.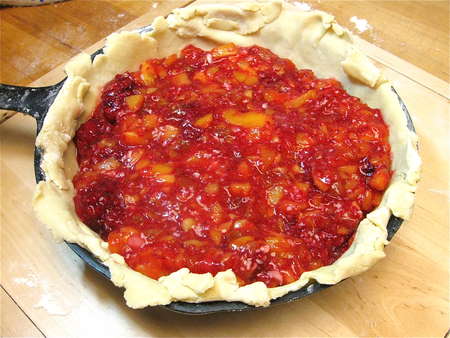 One time I only had 1 bag of peaches, so substituted a bag of frozen raspberries for the other bag; I also stirred in the apricots. The combination makes a gorgeous, ruby-red filling. Note the crust: it was one of those days. Never be afraid to patch your crust; the filling will cover a world of sins.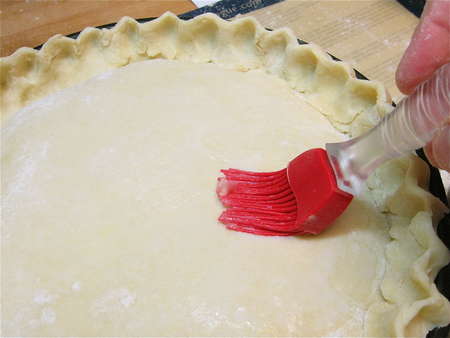 Add the top crust, crimping to seal. Brush with milk or cream...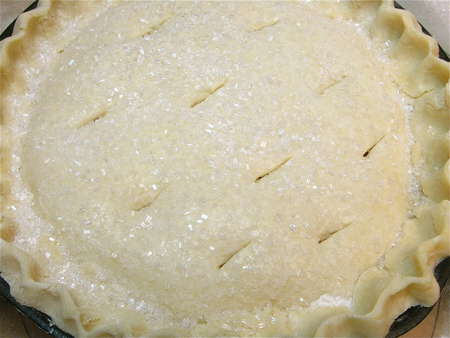 ...then sprinkle with coarse sparkling sugar. Cut slits in the top to let the steam escape (and hopefully prevent any filling eruptions).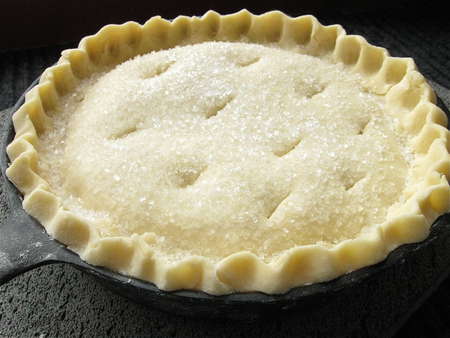 Here's the pie, ready to pop into a 425°F oven.
Bake for 15 minutes, then reduce the heat to 350°F, and bake for an additional 30 minutes or so, until the crust is starting to brown around the edge.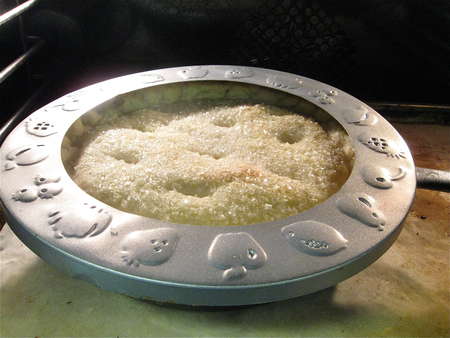 Add a pie crust shield ...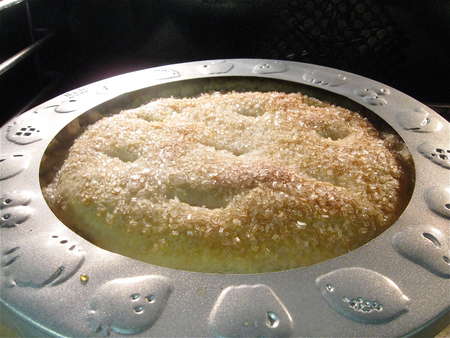 ...and bake for an additional 10 to 15 minutes, until the top is lightly browned.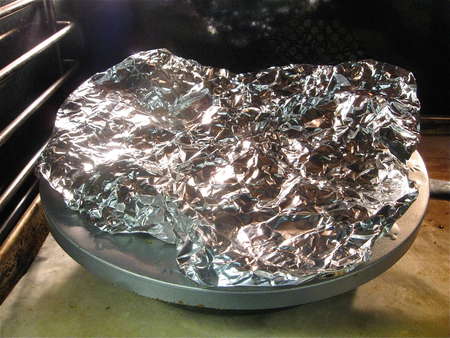 If for some reason the top starts to over-brown, just tent it with a piece of foil.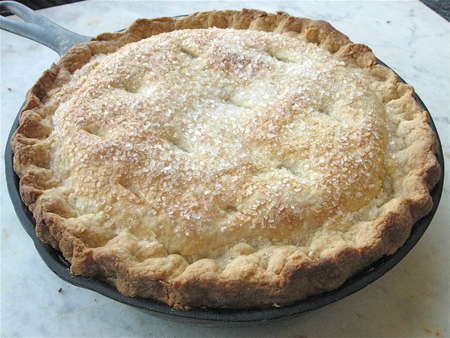 How's that, sports fans?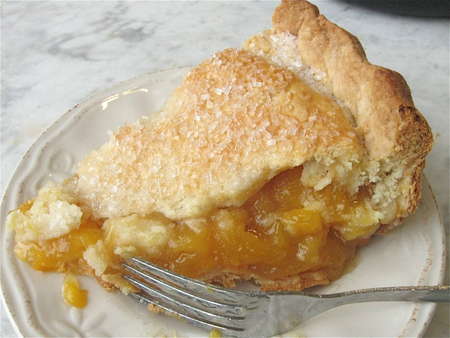 Enjoy it while you can...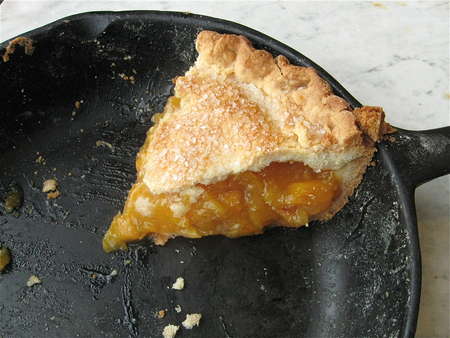 ...I guarantee this is one pie that won't last long.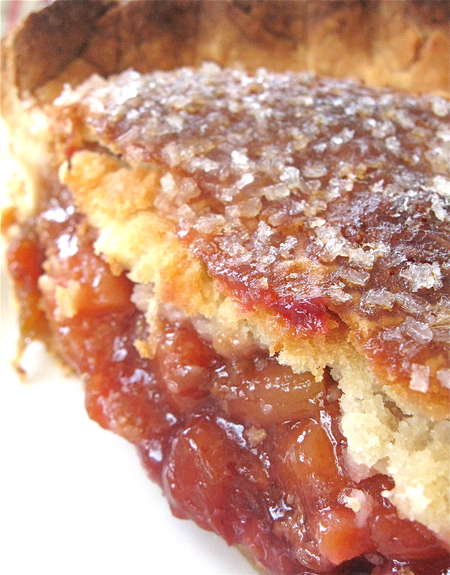 Here's the half-raspberry version. Notice what a nice touch that sparkling sugar is.
Read, rate, and review (please) our recipe for Anytime Peach Pie.
Jump to Comments