Gluten-Free Cinnamon Apple Bread
Autumn on a plate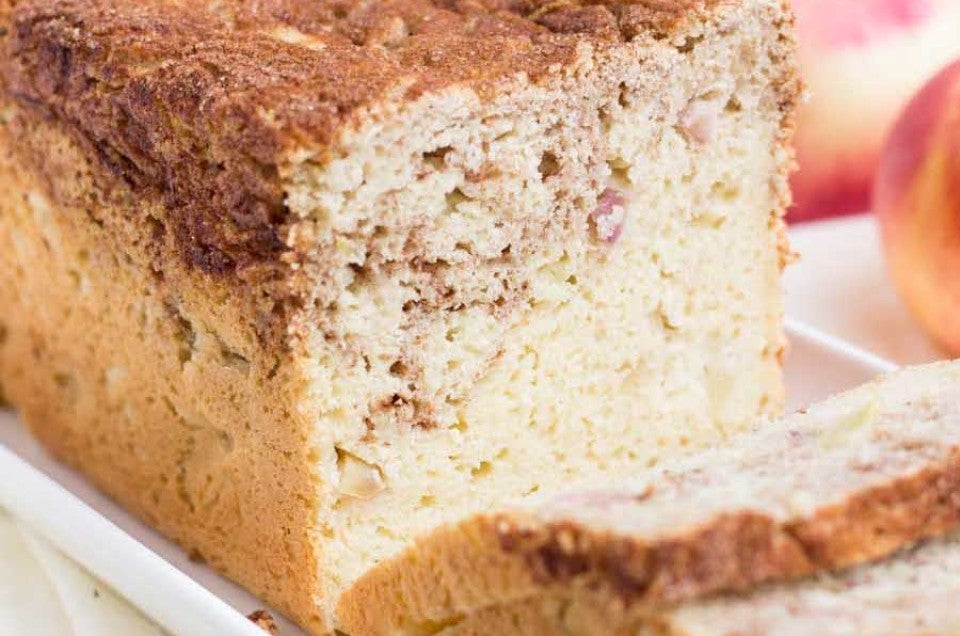 This post marks the debut of our newest blogger, Alyssa Rimmer. Alyssa has been eating gluten-free for four years, and will share her recipes, tips, and techniques around gluten-free baking. Welcome, Alyssa!
There's something so beautiful about the changing of the seasons.
My favorite is the transformation between summer and fall. The air is crisp when you step outside in the morning. The trees pop with color: brilliant reds, oranges and yellows. The wind whispers through the forest as it tumbles leaves to the earth.
Autumn is also the time where we break out the chunky knit sweaters, flannel shirts and knee-high boots. We cuddle up to hot cups of tea and warm bowls of soup. And we bake. Well, I bake.
For me, nothing beats baking with apples. Perhaps it's because I was spoiled growing up in Vermont, where we have the best apples in the world. But I think it's mostly just because anything with apples makes my heart sing.
Usually, when it's my turn to bake up an apple-filled treat, I opt for a cobbler or a crisp. They're easy to make gluten-free, don't take many ingredients (and often are the ones I have in my pantry), and only use one bowl. Simple cleanup is underrated.
But sometimes I'm feeling more adventurous. That will involve something a bit more complicated – perhaps a cake or a pie. You'll typically find me opting for our King Arthur Gluten-Free Flour in those cases because I can rely on it. Everything always turn out great.
Lately, however, I've been feeling the urge to make bread. Before I was gluten-free (which was over four years ago now!), I loved baking bread. I wouldn't consider myself a bread baker per se, but I enjoyed the process, the time, and the love it took to make one loaf.
Most people think that baking gluten-free bread is hard. I used to agree, but the more I do it, the more I've come to realize that baking gluten-free bread is really not much different than traditional bread baking. Except for the whole kneading aspect, you can make a loaf of gluten-free bread in practically the same amount of time, with arguably less effort.
I do have an admission, though: in all my years of making gluten-free yeasted bread, I have yet to make a spruced-up loaf.
Spruced up?
You know, a loaf that has a little something extra inside. Like cheesy bread. Or cinnamon raisin bread. Or chocolate chip bread. Or in this case, cinnamon apple bread.
Yes, just what we need to help ease us into the next season.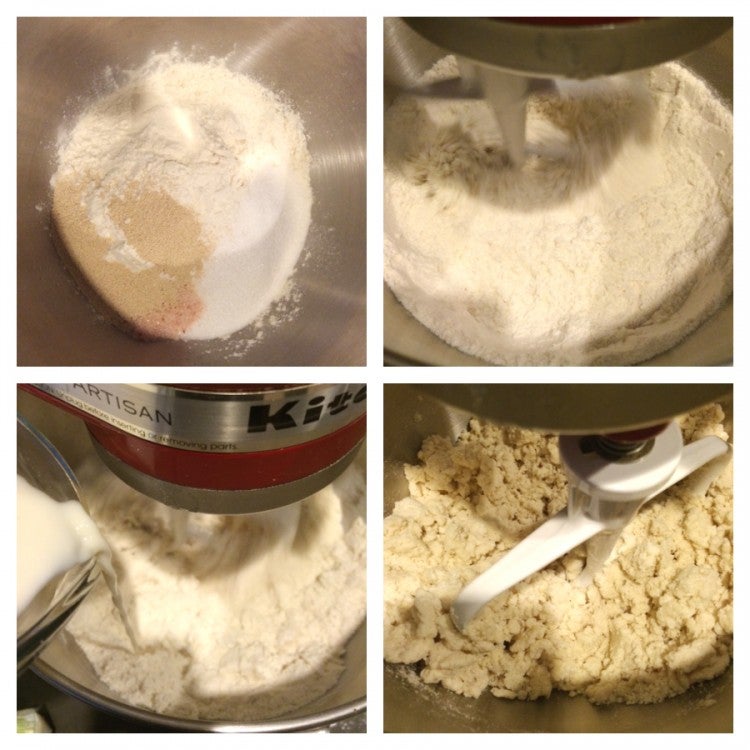 First, whisk together the dry ingredients in the bowl of a stand mixer fit with the paddle attachment:
3 cups (468g) King Arthur Gluten-Free Flour
3 tablespoons (35g) sugar
2 teaspoons instant yeast
1 1/4 teaspoons salt
1 1/4 teaspoons xanthan gum
Turn the mixer on low, mixing the dry ingredients together briefly. Slowly drizzle in 1 cup (227g) milk, mixing until fully incorporated. The mixture should resemble coarse sand.
Add 4 tablespoons (57g) of softened butter and mix again until fully blended.
Next, add in 3 large eggs, one at a time, blending thoroughly in between each addition. Scrape down the sides of the bowl as needed.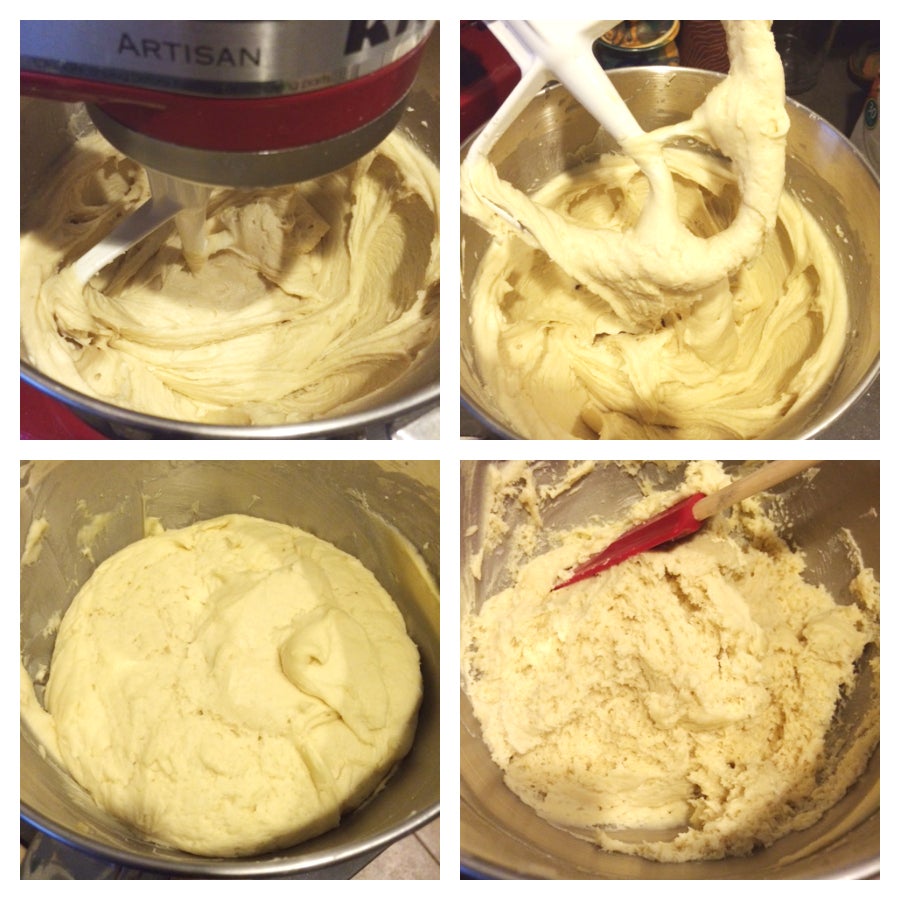 Beat on high speed for 3 minutes. Remove the attachment, cover the bowl and leave it to rise in a warm spot for 1 hour.
Gently stir down the dough...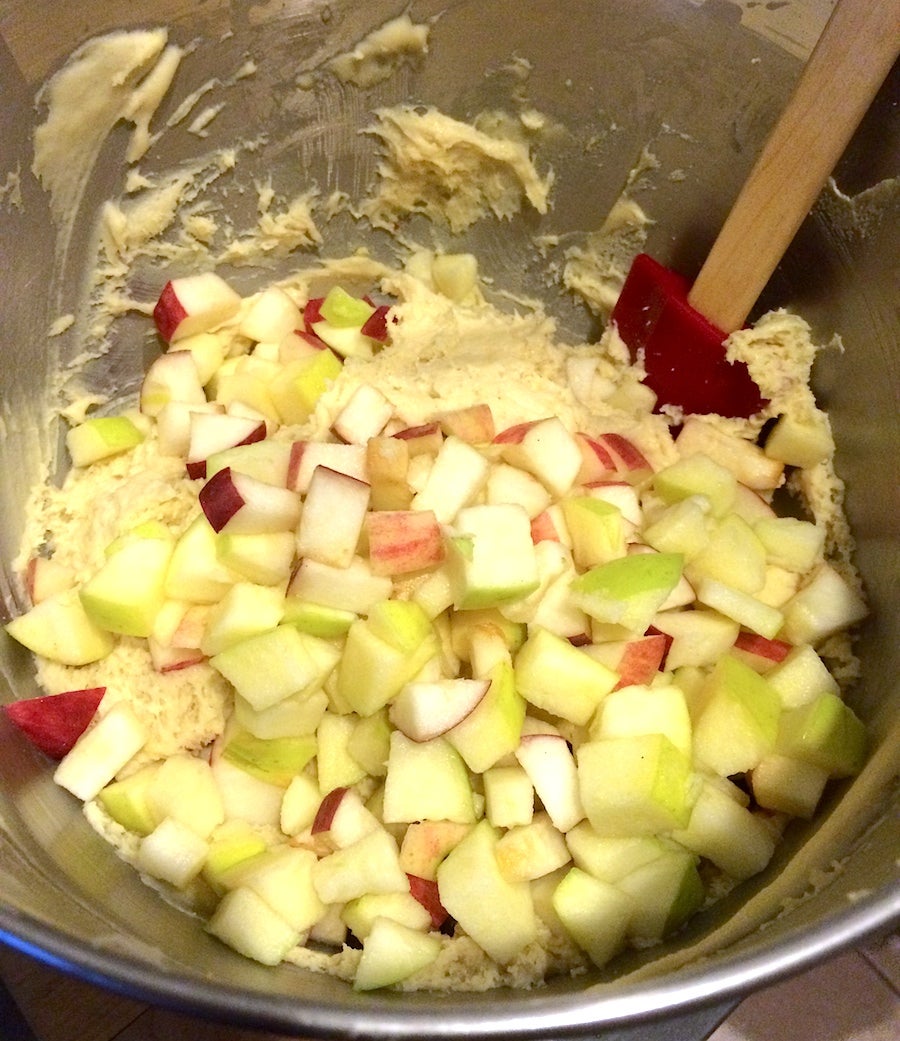 ...and fold in 1 cup chopped apples (peeled or not, your choice). You want to choose a variety that bakes well, like Granny Smith.
Transfer the dough to a 9" x 4" x 4" loaf pan (if you don't have this pan, you can also use a 9" x 5" loaf pan)...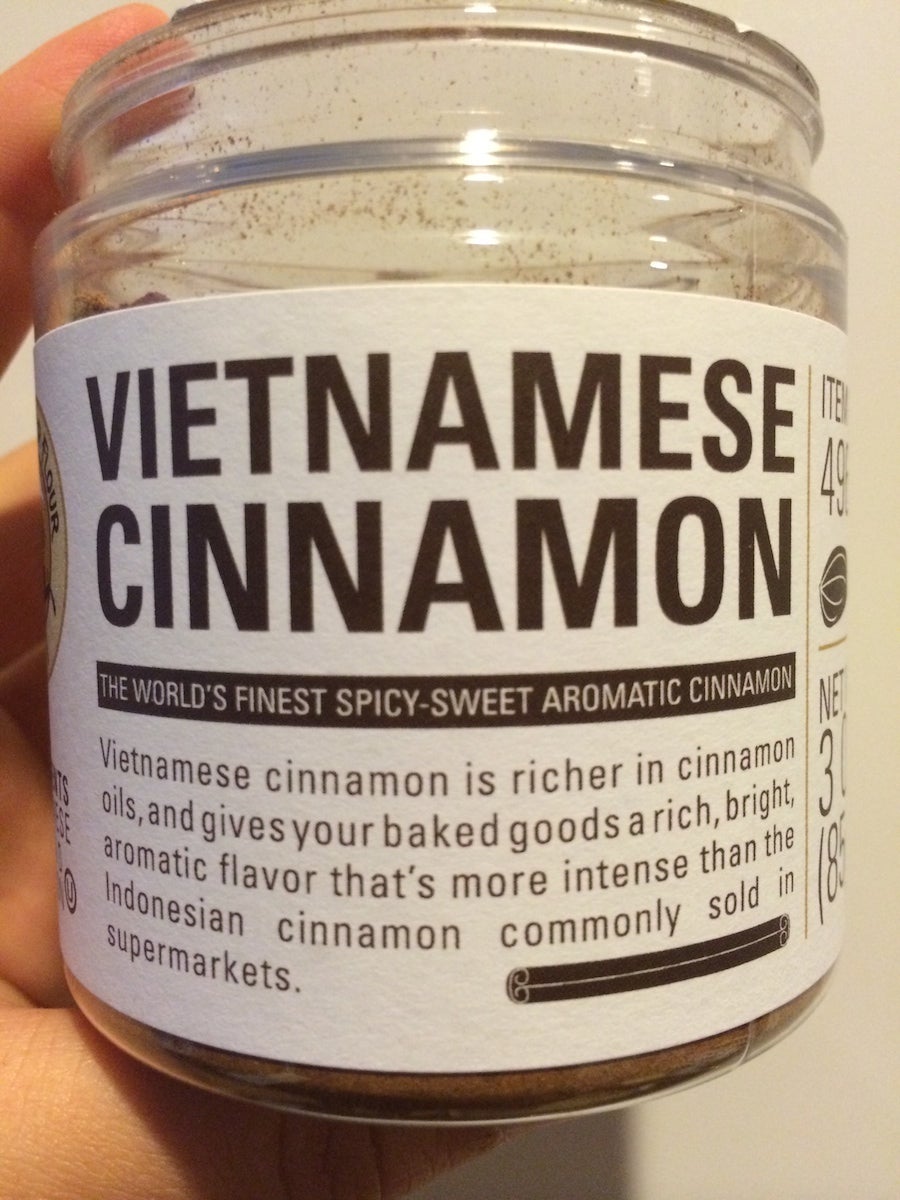 ...and sprinkle with a mixture of 2 tablespoons sugar and 1 teaspoon cinnamon. Swirl that mixture into the dough with a butter knife.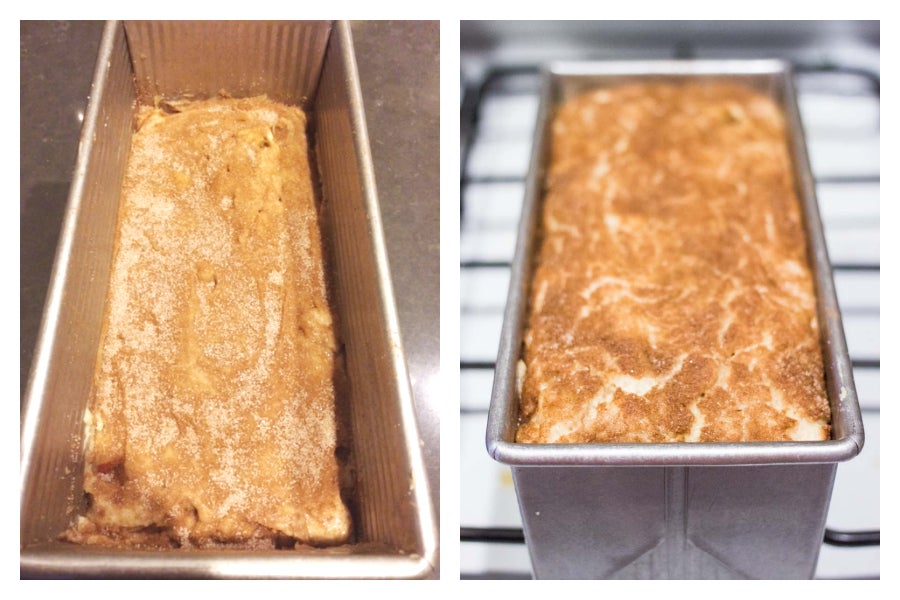 Add an additional sprinkling of cinnamon-sugar (if you'd like), and cover the pan with greased plastic wrap or a shower cap. Let rise for another 1 hour.
Towards the end of the rise, preheat the oven to 350°F.
Bake the bread on the center rack for 40 to 45 minutes, until golden brown. Cool in the pan for 5 minutes, then turn it out of the pan onto a rack to cool completely.
Slice and enjoy!
And speaking of enjoying... not only did I immediately toast a piece up and have it for breakfast, I also made this bread into a scrumptious plate of french toast.
After I battered the slices of bread and cooked them on a buttered skillet, I smothered them in a peanut butter, honey, and boiled cider syrup. To make it yourself, simply whisk together the following:
1/2 cup (170g) boiled cider
2 tablespoons peanut butter
2 tablespoons honey
And let me tell you, this was the epitome of autumn on a plate – everything that I love about this season, in one single bite. Pure bliss!
Check out our recipe for Gluten-Free Sandwich Bread – and the accompanying "baker's tip" for turning it into this yummy cinnamon apple bread.
Jump to Comments