Gluten-Free Peach Cobbler
The trick? Baking mix!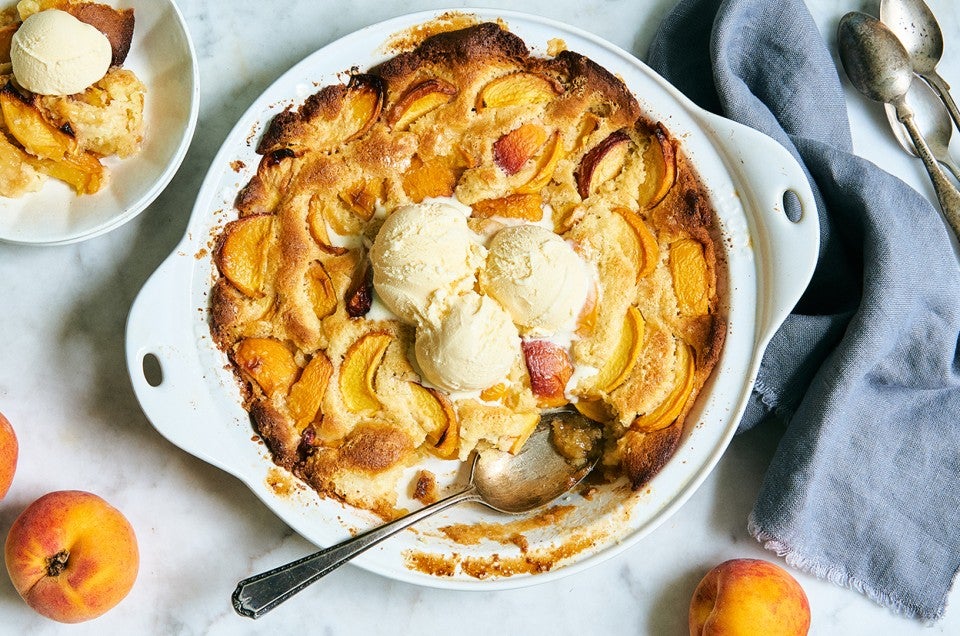 Every summer, I wait for Pennsylvania peaches to arrive at our local co-op here in Vermont/New Hampshire's Upper Valley.
When I was a kid, we'd drive through the Amish country of Lancaster while visiting family, stopping at local farms to load up on on produce and homemade jams to take home with us.
Occasionally, my little brother and I would score a bouncy horse-and-buggy ride, if there was time, while Mom and Dad debated what would survive the ride home. Or more importantly, what would even fit in the car amongst all of our other vacation collections!
I seriously can't do without peaches, can you? And there are so many delicious ways to share them with your friends, so I'd like to share one of my favorites with you: peach cobbler.
The REALLY cool thing about this recipe? It's made with our latest launch from the King Arthur Flour test kitchen: gluten-free all-purpose baking mix! It's fresh off the presses, onto your store shelves, and it will simplify your baking life.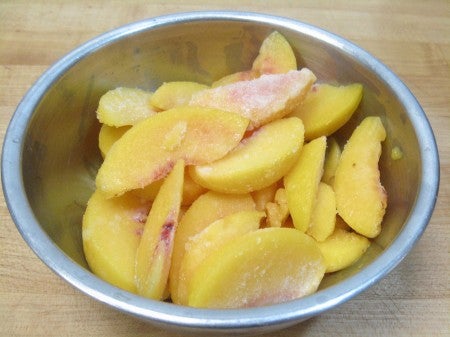 Hopefully you can use fresh peaches for this cobbler; you'll need 2 1/2 cups (425g) of sliced, juicy, peaches for your cobbler, about 3 or 4 peaches.
If you're making this dessert outside of peach season, though, you'll need to thaw frozen fruit completely, draining any excess liquid.
In order to have this recipe and blog ready for you for the peach harvest, I had to begin working on it in the late weeks of winter and early spring – so frozen peaches it was!
We're always thinking ahead in time here in the KAF test kitchen. Right now, we're already at the tail end of holiday planning for our Baker's Catalogue, which means the Christmas cookies have already been decorated for photography just as warmer weather is settling in for the summer. It's a bit odd to be cutting out gingerbread men and decorating peppermint yule logs in spring, to be honest.
The rushing ahead causes a mild case of displacement (kind of like walking through a store that's selling Christmas decorations in October), but as long as I don't hear refrains of "Jingle Bells" and "Frosty the Snowman" echoing from within the kitchen walls, I try not to worry about it too much.
All right, back to THE fruit of summer. Let's whip up some cobbler!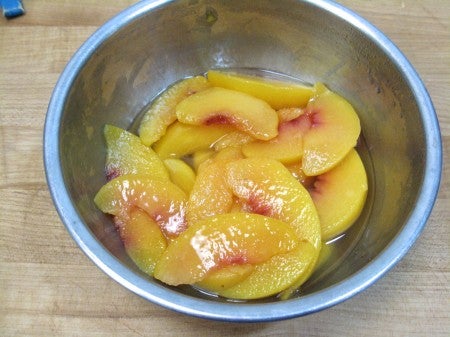 Drain the extra liquid left after the thaw, and set fruit aside.
Preheat your oven to 375°F.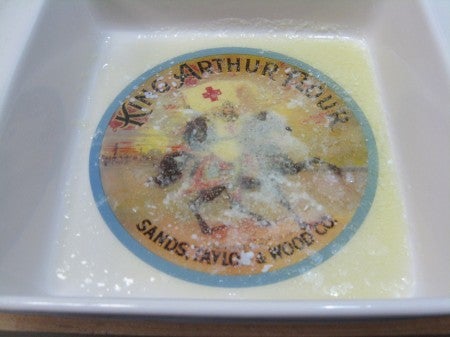 Melt 4 tablespoons (57g) butter in the bottom of an 8" square or 9" round baking pan. I conveniently threw mine into the preheating oven!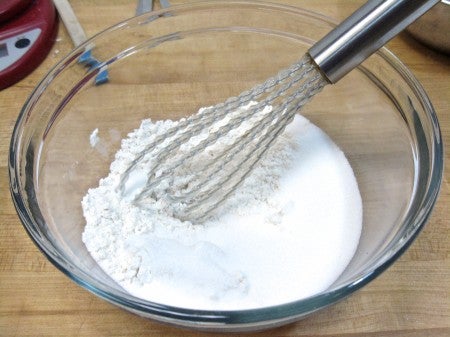 To make the batter, combine 1 cup (120g) King Arthur All-Purpose Gluten-Free Baking Mix with 1/2 cup (99g) sugar.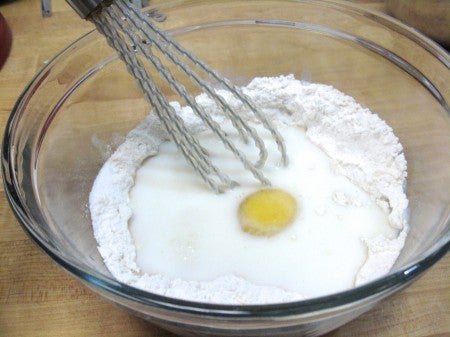 Add 3/4 cup (170g) milk and 1 large egg.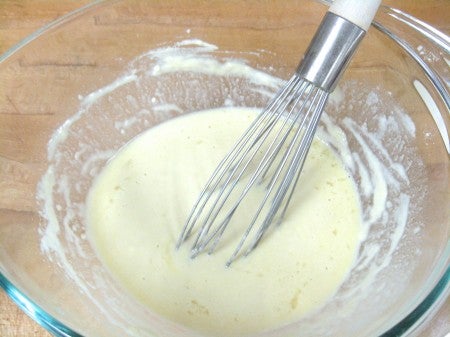 The mixture will have the consistency of thin pancake batter.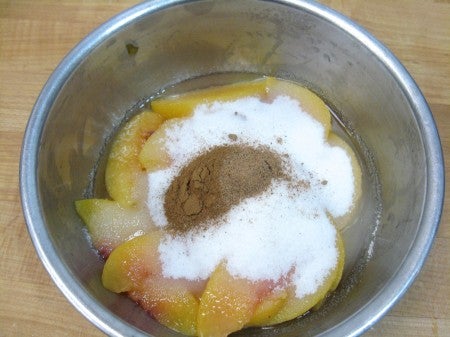 To prepare the peaches, toss them with the following:
1/2 cup (99g) sugar
1/2 teaspoon cinnamon
1/4 teaspoon nutmeg
a pinch of salt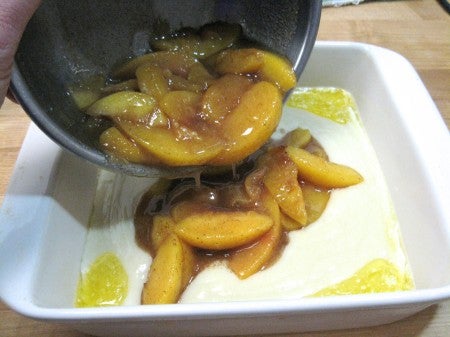 Pour the batter into the prepared pan, followed by the peaches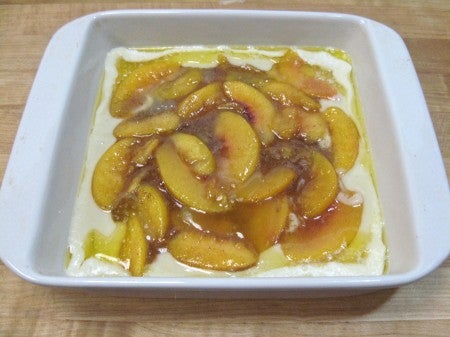 Distribute the fruit uniformly over the batter.
Bake the cobbler for about 40 to 45 minutes...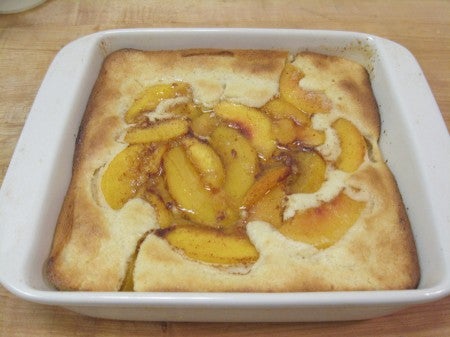 ...or until the top is lightly browned and the fruit is bubbling.
Allow the cobbler to cool at least 5 to 10 minutes before serving.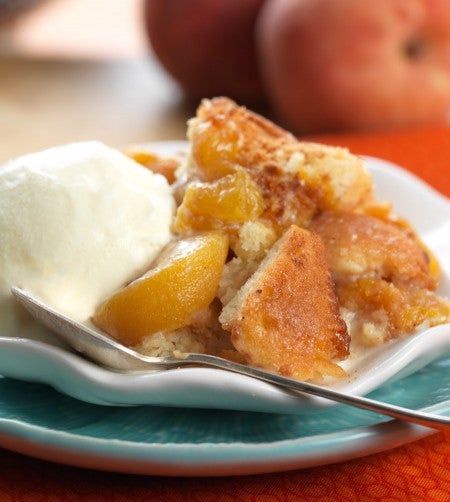 Now THAT was easy AND it sure is easy to love this one, especially with a spoonful of soft cinnamon whipped cream, or a scoop of vanilla or ginger ice-cream. It's a simple, peasant- style dessert that can be comforting and warm, or cooling and fresh.
Celebrate peach season with us by sharing your favorite ways to serve this popular stone fruit; we'd love to hear your feedback!
Please read, bake, and review our recipe for Gluten-Free Peach Cobbler made with Baking Mix.
Jump to Comments