The mess and memories of baking with kids
So sweet
I grew up with a professional baker for a mom, and a chef for a dad. They were skilled and dedicated food magicians, who worked many hours and still found the energy to cook for their family at the end of a long day. My earliest memories involve standing on a step stool on tippy toes, barely tall enough to see over the counter, the dusty pillow of flour and yeast and water being tamed into sweet-smelling loaves and loaded into our cranky home oven.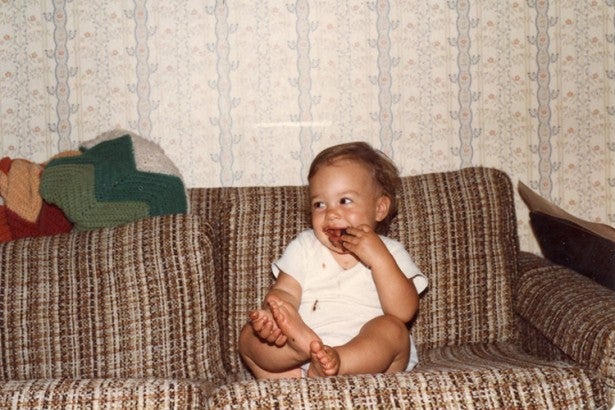 Me, eating something chocolate.
I never baked with my parents, and truthfully, the idea of baking with my friends' children scares the heck out of me. Baking with children can be work, in the way that teaching a new skill to anyone is clumsy and wrought with failure. And let's be honest: baking with children is messy.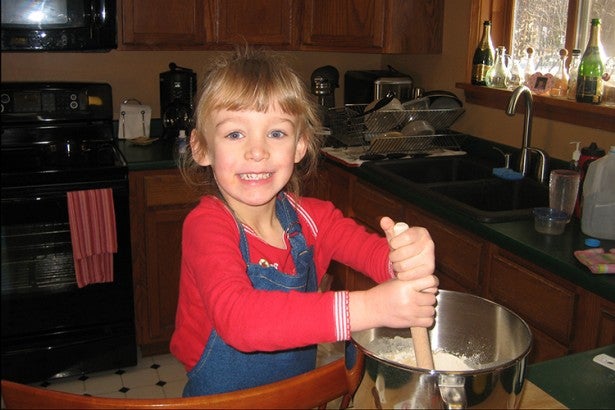 Alecia Roy, baking with mom at age 4.
"Early on, it was often more of a mess than a help," says Amy Roy, brand research and customer insights analyst for King Arthur Flour, about baking with her daughter Alecia.
"Flour everywhere, including the floor and on her and me."

Alecia still baking with mom Amy Roy, 5 years later.
I followed my parents into the restaurant business, making my way from the dish room to cook – which is to say, I share their love of a clean work space. But then, I also want to share with my friends' children my love for food – many of our friendships started over meals shared together. For their children, I want even more – I want them to know where their food comes from; how four simple ingredients come together to become bread; how much better a homemade chocolate chip cookie is than anything they'll find in a store; how they can feel the joy I've felt my whole life, feeding the people they love most.
That's the other side of baking with children – the part that makes it worth the mess and the time. It's seeing them discover their own potential, work out problems, struggle to stay patient, and finally, enjoy the fruits of their labor. Baking with children can be magical.
And messy.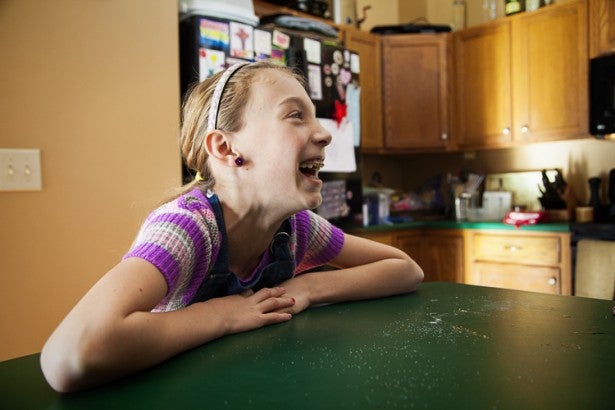 "I remember Alecia sitting up on the kitchen counter, 'making her own dough.' She was probably 2 1/2 or 3. It consisted of a lot of salt and sugar, some flour, oregano and cinnamon – the spices she chose of out of the cabinet.
"Of course she didn't measure, just dumped. She added water to make it more like a batter, and then asked if she could taste it. Even though she didn't like the taste, she still shaped that dough into a disc, and pretended to bake it in the warming drawer of our oven."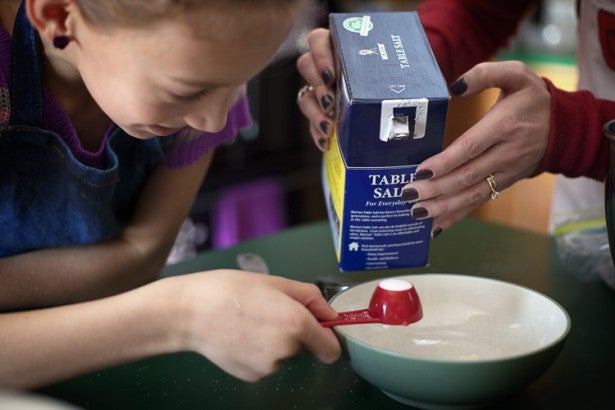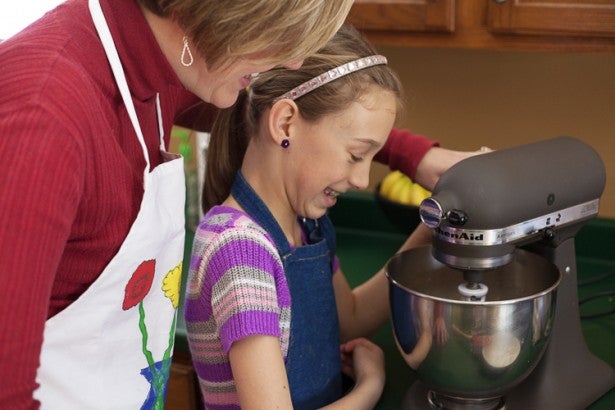 Seeing Amy work in the kitchen with her daughter was intimidating – perhaps you have a friend or sibling or parent who makes it all look easy, too. Amy was so natural with Alecia, that I did start to wonder if some people were just cut out for this more than others. I was relieved when she confided that it wasn't always this easy.
"In the beginning, having her bake with me was part survival, part teaching, part mother-daughter time together. But it was hard – it tested my patience and frazzled my nerves. I went back to work soon after Alecia was born, but when my husband was gone for business, I would have entire weekends where I'd have to entertain a toddler. If I could do some baking while keeping her occupied AND teaching her something, I considered that a real win. I wasn't always successful."
Why keep at it?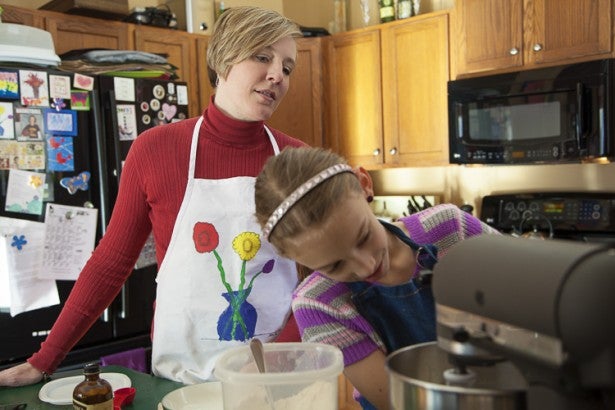 "It was teaching her tips like my mother taught me that kept me going. It's giving her skills that will stay with her for life, and hopefully she'll share with her children someday. These days, it's like having a friend in the kitchen with me, having fun and enjoying baking just like I do."
Was it worth it?
"Every second."
Amy bakes with Alecia most weekends, and last Sunday, I was invited to join them. It was a cold but beautifully sunny day, so Alecia opted to make a quick and easy cookie, to maximize outdoor time.  These delicious chocolate chip cookies took a moment to set up after coming out of the oven, but were crisp on the edges, and chewy in the center. Amy and Alecia used chocolate chunks, mini chips, and mini peanut butter cups.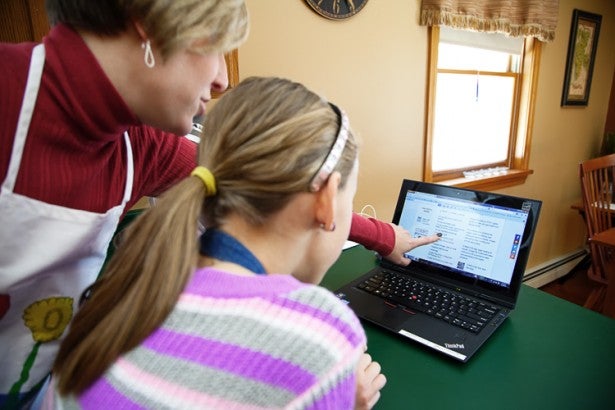 Reading over the recipe before starting.

Measuring ingredients, unlike the old days!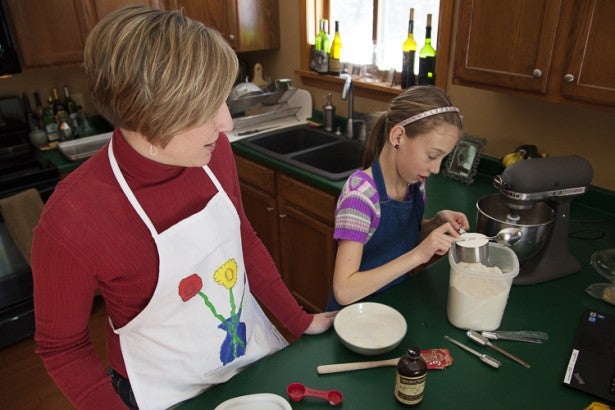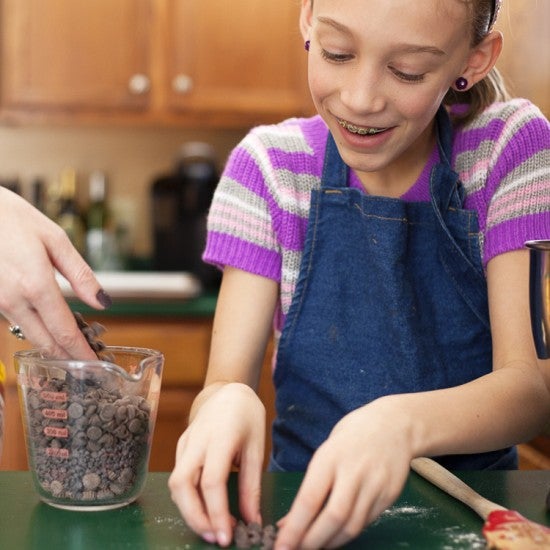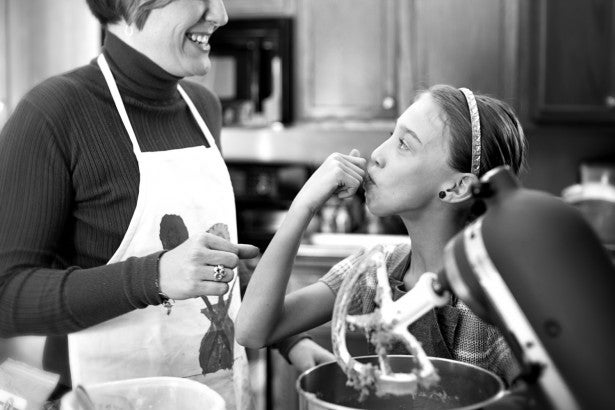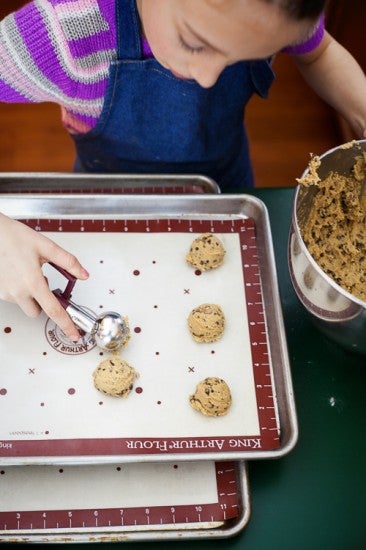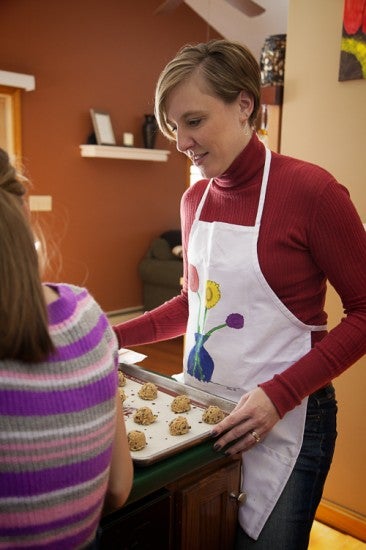 Amy looks on while Alecia does all the work!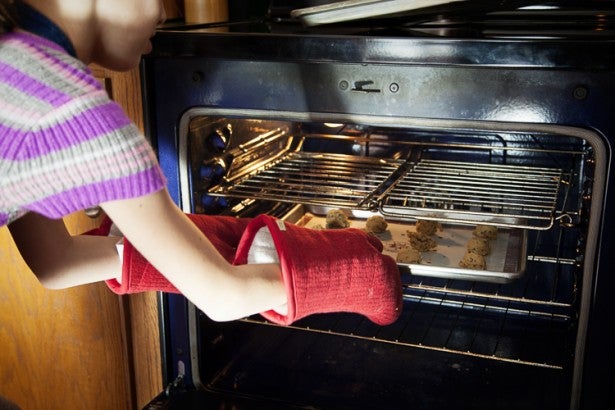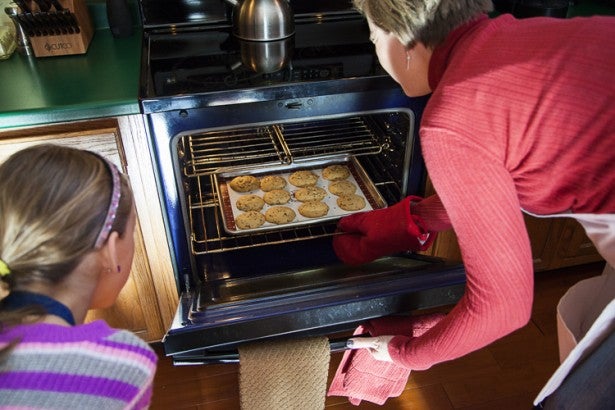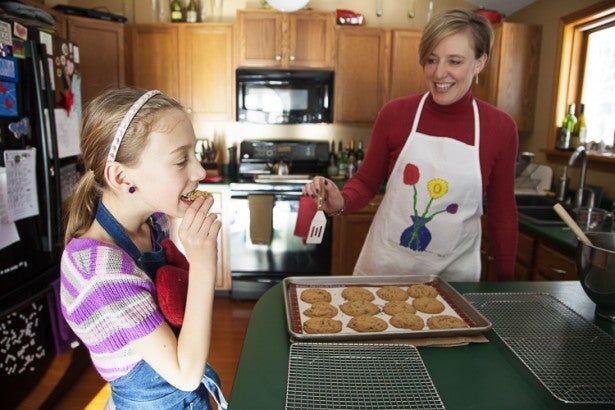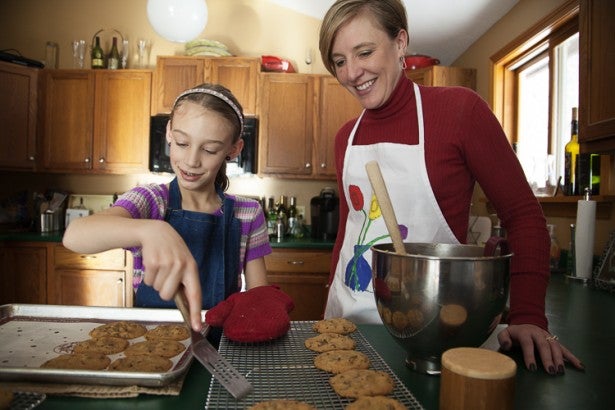 ...And plenty of time left to play in the snow!
We're baking for family fun this month – who will you bake for? Let us know in the comments, below.
Special thanks to Amy, Alecia, and Scott Roy, for allowing me to spend the afternoon with them!
Jump to Comments