It's so exciting to think that Christmas is now less than 10 days away. Sure, I love presents just like everyone else, but I'm really looking forward to the hugs and cuddles, hot cocoa and pj's and comfort that Christmas morning brings.
My hubby will get up early and let out the dogs, feed the cats, and start the coffee. When the pooches have been fed, they'll jump up on the bed and snuggle, and we'll snooze. About an hour later, I'll start asking if we can get up yet, and wake my teenager. "Vinmomimts" my dearest will say, roughly translating to "Five more minutes."
Soon, sleepy-eyed and tousle-headed, we'll gather around the tree and start handing out gifts. About halfway through, someone will call a halt and declare that they need something to eat. This year I plan to be ready with a hot, hearty breakfast that will take us not only through the rest of the unwrapping, but through the phone calls to Grammy and Papa, the trying on of new clothes, and even the 30-minute process of detangling the cats from the ribbons. And I'll do it all on Christmas Eve.
Let me share with you this Make-Ahead Breakfast Casserole. This wonderfully hearty and endlessly variable recipe came to us from hotline baker Mary Tinkham several years ago. Less than 45 minutes work the night before, about an hour of baking in the morning and you have breakfast for more than a dozen people. That is my idea of holiday magic for sure.
Let's get started.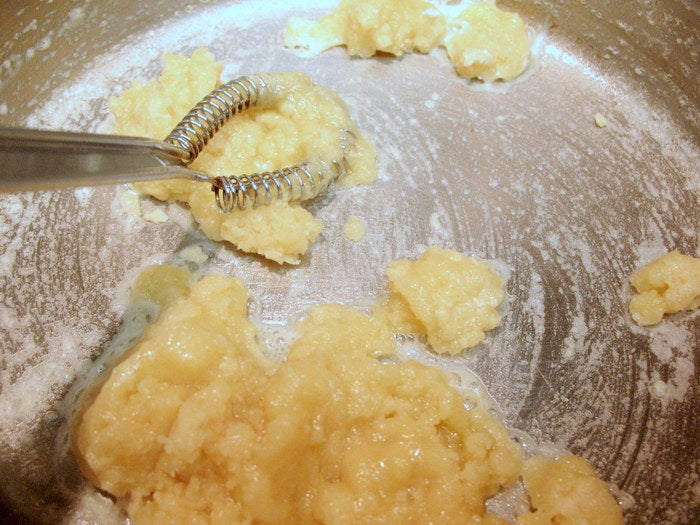 To make the cheese sauce, begin by melting 4 tablespoons of butter in a large saucepan. Add 1/2 cup King Arthur Unbleached All-Purpose Flour and cook together for a few minutes, or until the flour just begins to change color.
(Yes, our Gluten-Free Multi-Purpose Flour would work just fine, too.)
Remove from the heat and whisk in 3 cups of milk.  Return to the heat and continue to whisk and cook as the sauce begins to thicken.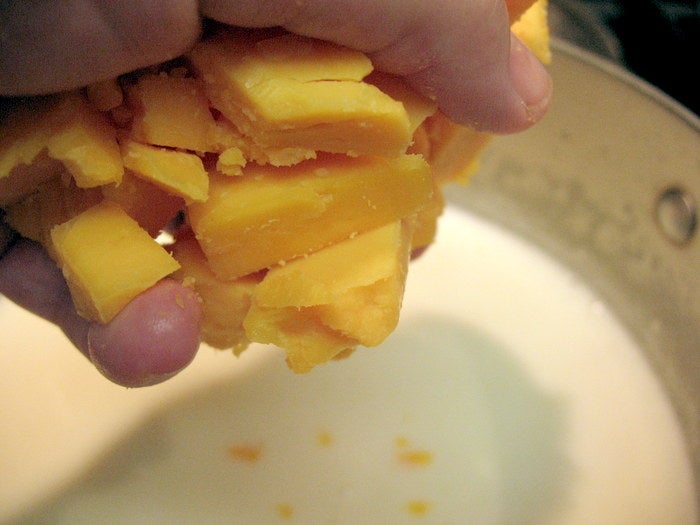 Add 2 cups of your favorite cheese, 1/2 cup at a time. Be sure the cheese melts before adding more cheese to prevent your sauce from getting lumpy and grainy.
Shredded cheese will melt the easiest. I'm a lazy baker some days, so I just chunked up this Velveeta. The cheese you use is up to you; we generally like a combination of cheddar (e.g., Cabot Extra-Sharp), American, and a processed cheese. Say what you will, but it makes a really smooth sauce.
Set the sauce aside while you prep the meat, veggies, and eggs.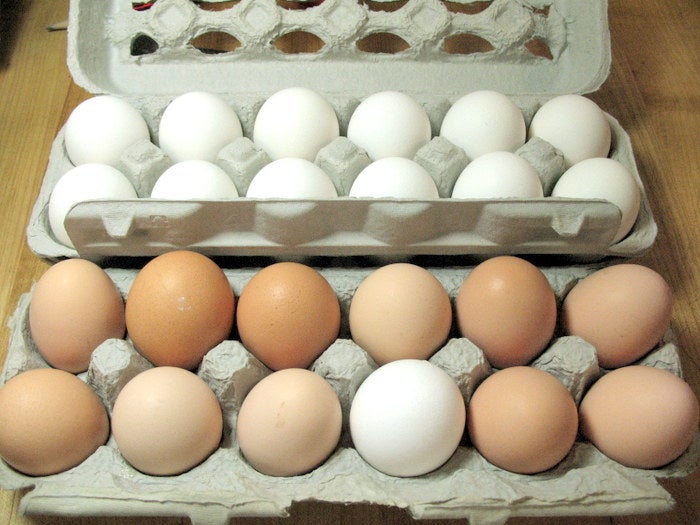 Just for fun, I thought I'd compare some store bought eggs with our fresh eggs from the coop out back.
First of all, our eggs range in size and color quite a bit. This is what makes them excellent for scrambling, frying, and poaching. When I'm baking with them, I try to select ones that are all close in size to a large egg.
The big white egg is from our late lamented chicken Dove. When we first got chickens, we thought our skinny white hen was a rooster and named him Dude. Luckily a friend pointed out that he really was a she, and we changed the name to Dove.
The other large egg on the upper left is from Cartman. Yes, Cartman is a she, too, and if you know anything about the show South Park, you can guess what her attitude and girth are like.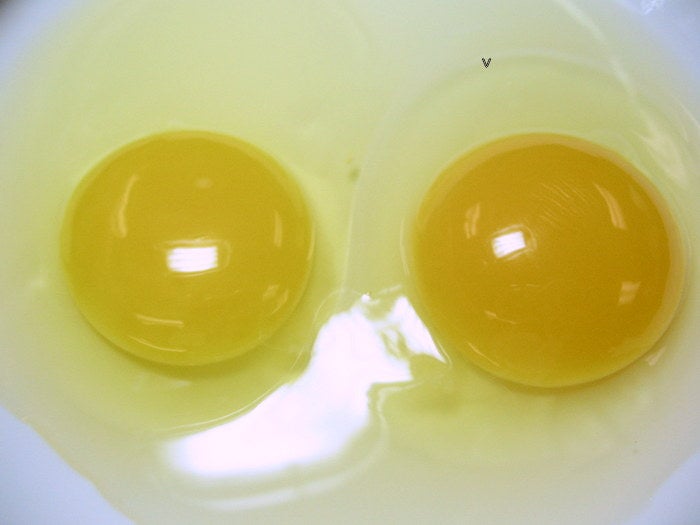 Side by side, you can see that the eggs differ inside as well. The store egg on the left is much paler and more watery in texture. See where the little V is in the photo? That's where the white of the farm egg stops spreading, a real sign of freshness.
My point? If you're going to be making a dish where eggs are the star, it's worth seeking out fresh farm eggs. You might pay a little bit more, but the flavor is completely worth it.
Go ahead and crack up a dozen eggs, and whisk them well. Set them aside for a few minutes.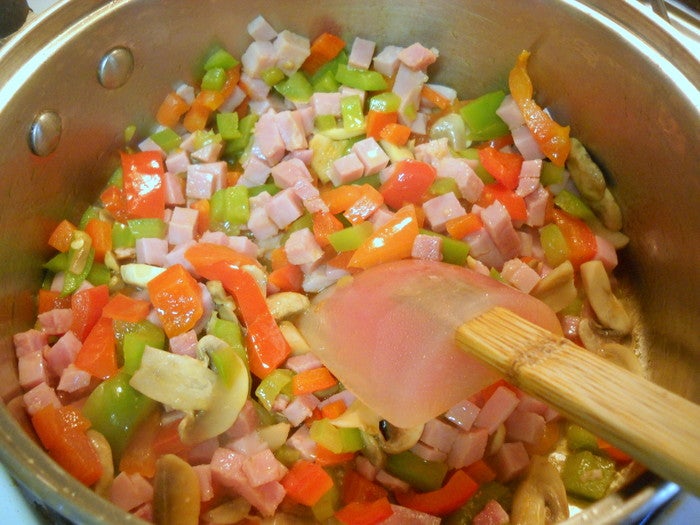 In a large sauté pan over medium-high heat, sauté 2 cups diced ham and 1 1/2 cups of your favorite omelet veggies in 6 tablespoons butter. You just want the veggies to soften up and the ham to take on a little color on the edges.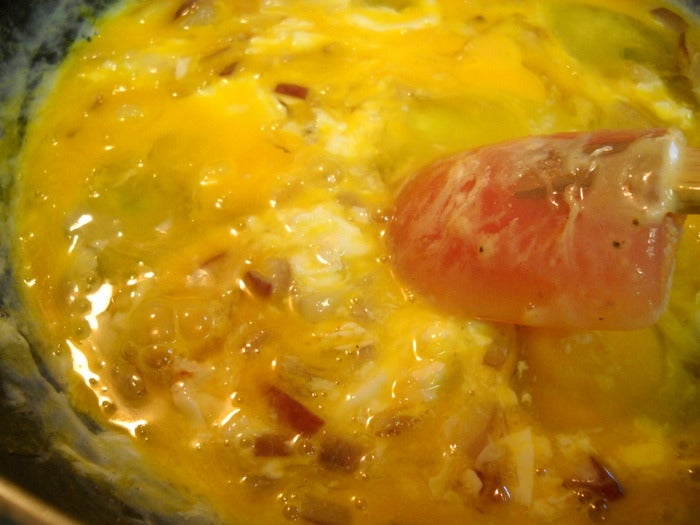 Add 12 lightly beaten eggs, and reduce the heat to medium.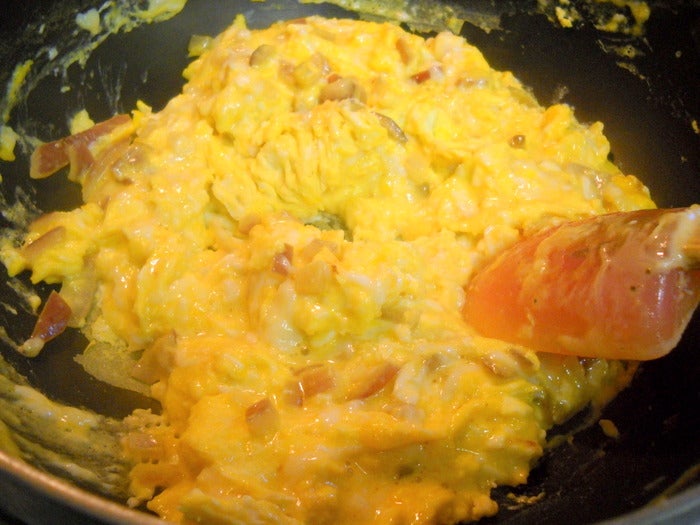 Scramble the mixture together just until the eggs are soft set. Ladle in the cheese sauce and fold all together well.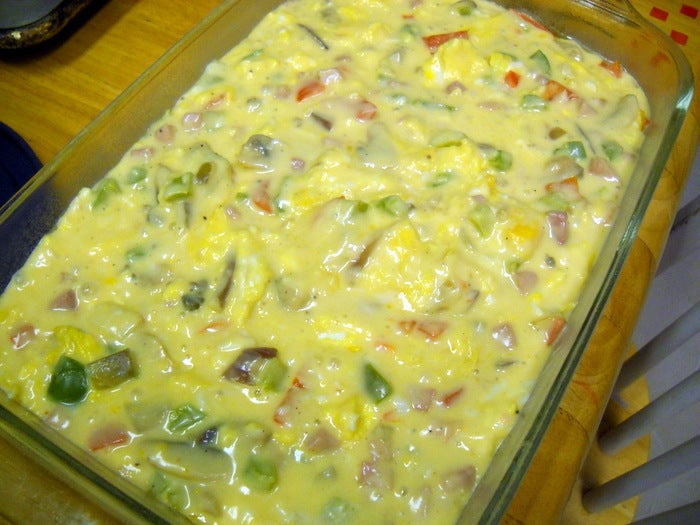 Pour the mixture into a greased 9" x 13" x 2" pan and spread out evenly.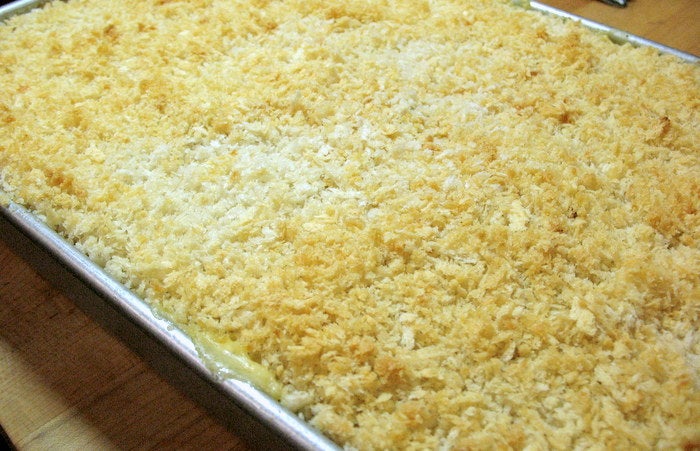 For the crumb topping, cover the entire top of the casserole with bread crumbs or panko, about 3 cups' worth. Sprinkle with smoked or regular paprika, or other herbs/spices of your choice. Drizzle with 2 tablespoons melted butter.
**At this point you can wrap the casserole well in plastic wrap and refrigerate for several hours, or up to overnight. **
When you're ready to bake, remove the pan from the fridge, take off the plastic, and preheat the oven to 350°F. Bake for 55 to 65 minutes, or until the casserole is bubbling hot in the center. Serve hot.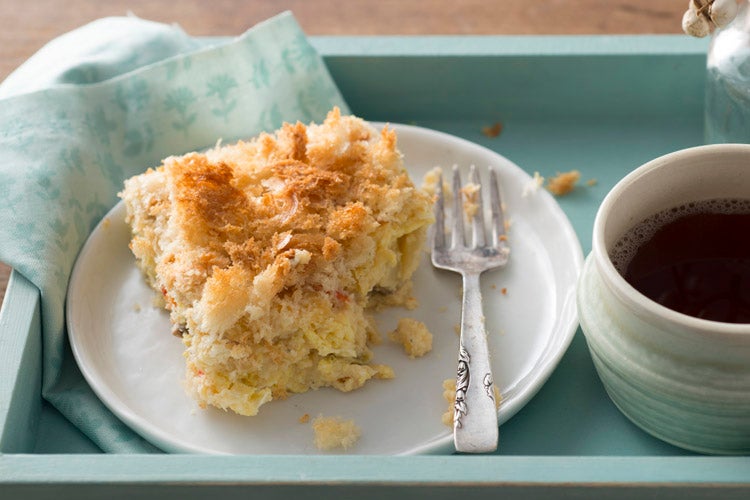 Well, friends, I hope you get a chance to make and share this casserole with friends and family this holiday season. Anyone you consider a "good egg" can have seconds!
Please bake, rate, and review our recipe for Make Ahead Breakfast Casserole.
Print just the recipe.
.