Quick, no-fuss fruitcake
For when you HAVE to go there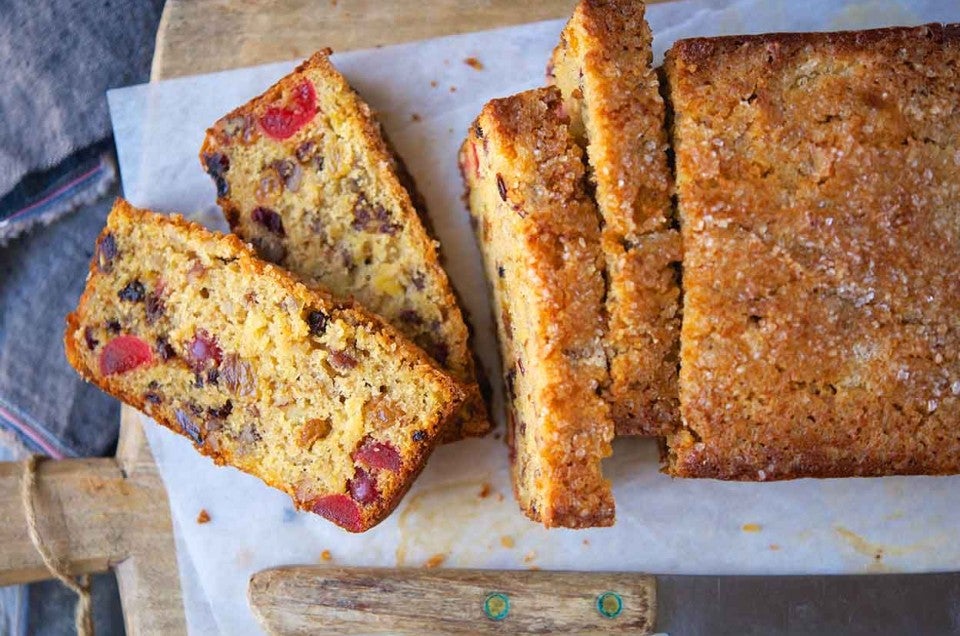 Warning: dates in the calendar are closer than they appear. Including December 25.
Which means you're hard up against it if you haven't made your fruitcake yet.
Wait a minute—you say you have no intention of making fruitcake? You don't even LIKE fruitcake?
True confessions: Me neither. I find traditional fruitcake cloyingly sweet, uncomfortably heavy and, considering the array of ingredients, rather monotonously flavored. The main impression I get is bitter candied peel. Which, while oxymoronic (bitter candied?), tends towards the bitter—at least for me.
Then again, if you enjoy fruitcake, no doubt you've made it long since, and have spent the past 2 months lovingly brushing it with brandied syrup each week. So that, right about now, it's reaching its fruitcake-y peak—
The Mt. Olympus of Masochism, for those of us on the other side of the fence.
OK, enough already with the fruitcake dissing. The following recipe is for those of you who want to be able to serve a fruitcake-like confection, but want something fast, easy, and NOT filled with citron and orange peel and green candied cherries.
This isn't truly a fruitcake. It's more a fruit quick bread. But it's moist, packed with dried fruit, tastes good, and looks close enough to fruitcake that you can serve it on a dessert buffet and possibly fool fruitcake non-fans. Who might, in fact, be enticed to try it if you point out its non-fruitcake-like attributes.
If it's this late in the season, and there's not a fruitcake reaching its zenith of perfection in your pantry… or if you love fruitcake, have already made the traditional variety, and are interested in branching out… give this 90-Minute Fruitcake a try.
You might just surprise yourself and turn into a fruitcake apprecianado.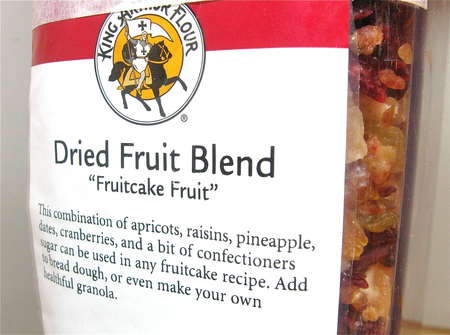 I love our dried fruit blend—so tasty, and so handy, not having to buy all the fruits separately, then dice or chop. I use this in panettone, muffins, granola, anytime I want an assortment of dried fruits.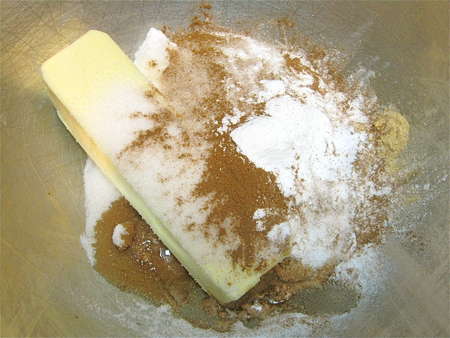 We'll start with butter, sugar, cinnamon, ginger, baking powder, salt, and vanilla.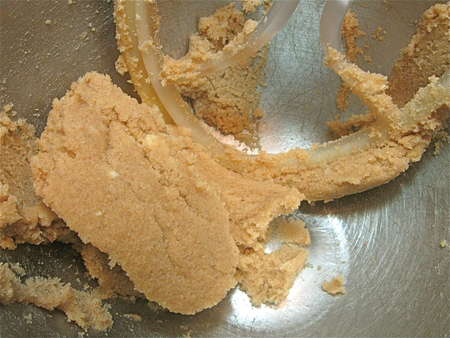 Beat till smooth. Note the Beater Blade I'm using—it works well, but be sure not to use it on ice-cold, rock-hard butter; it's not designed for the really tough stuff. Use your metal flat beater for that.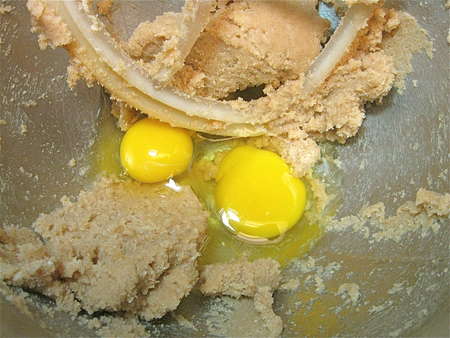 Add the eggs...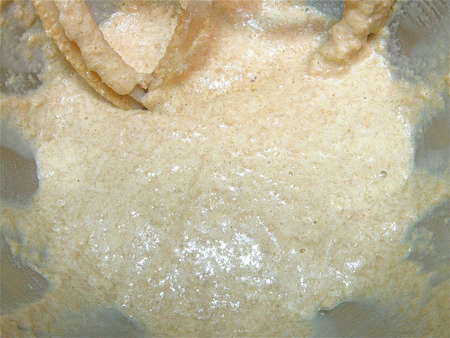 ...and beat till smooth. The mixture will be fairly liquid.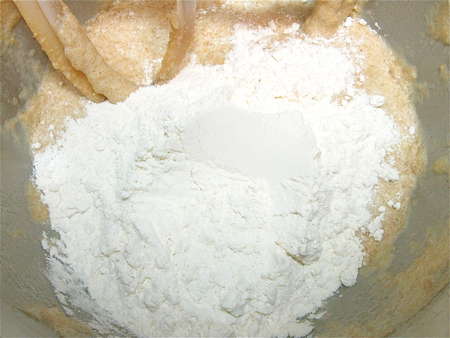 Add the flour, stirring to combine; beating the batter at this point will strengthen the gluten, which will toughen the cake.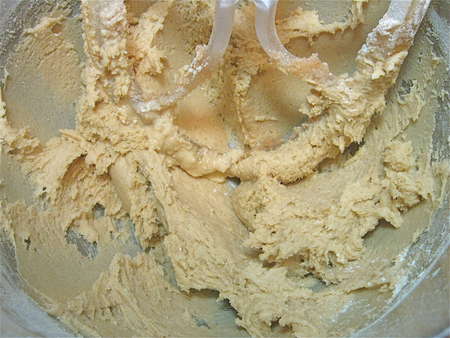 Now the batter is quite stiff.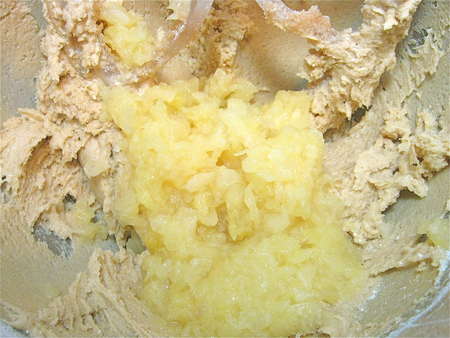 Add 1 small can pineapple, undrained.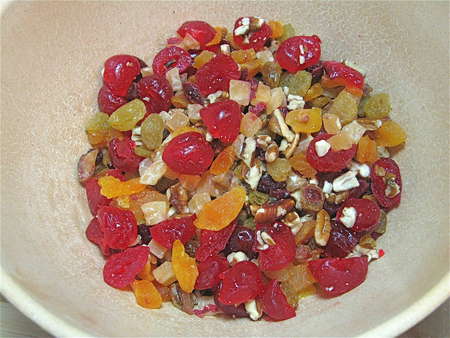 Next, the dried fruits of your choice. I'm using walnuts (or pecans or almonds; your choice); candied cherries (for that "real fruitcake" look and taste), snipped in half; plus the apricots, raisins, pineapple, dates, and cranberries in the bagged dried fruit blend.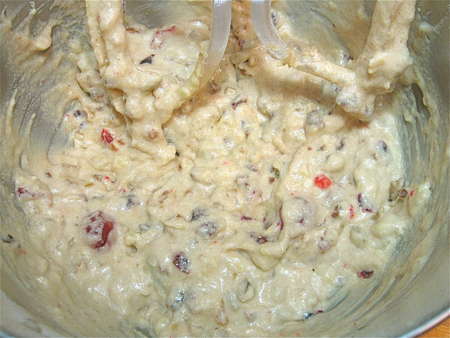 Mix it up...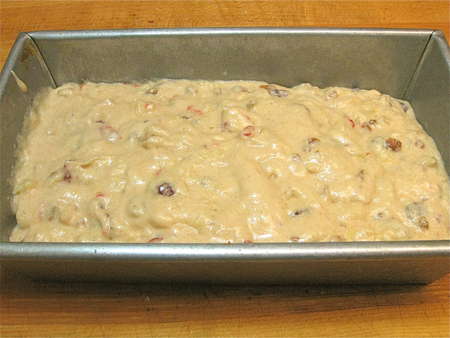 ...and spoon it into a lightly greased 9" x 5" loaf pan. Sprinkle with coarse white sugar, if desired. I love the stuff; it's an all-purpose looks-enhancer, plus adds subtle sweet crunch to whatever you sprinkle it on.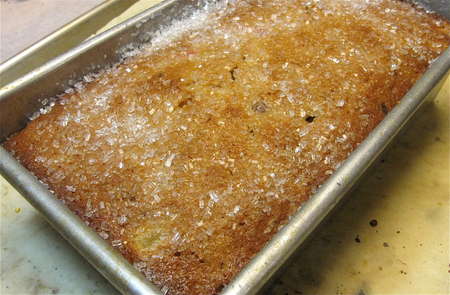 This is a rather dense  bread, so you'll need to bake it for about 75 minutes, tenting with aluminum foil for the final 15 minutes, so it doesn't get too brown.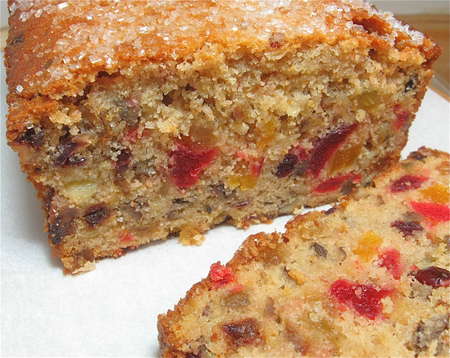 It's a bit delicate, so let it sit in the pan for 20 minutes before turning it out onto a rack to cool. And make sure it's completely cool before slicing. See? Looks like fruitcake, eh? But really, it's mild enough that anyone will enjoy it—even those who profess that the only thing you should sensibly do with a fruitcake is pass it along to the next person in line...
Read, rate, and review (please!) our recipe for 90-Minute Fruitcake. 
Jump to Comments