Strawberry shortcake is to summer what apple pie is to fall: the season's quintessential dessert. But once field-fresh strawberries have come and gone, is shortcake season over? Perish the thought! Peach or nectarine shortcake are July favorites, with blueberry/blackberry taking over as July gives way to August. Fresh fruit shortcake is always in season — and especially tasty when made with Almond Flour Shortcakes.
Historically, shortcakes referred to any small, crispy cake made with greater than usual quantities of butter or lard. Topped with fruit and cream, they became [name your fruit] shortcake. The version we'll make here includes fresh fruit and cream, for sure; but the "cake" part is tender rather than crispy, thanks to the tempering effect of almond flour.
Now, let's get one baking controversy out of the way right up front: some folks like shortcake made with biscuits, and others with yellow sponge cake. While biscuits are a given in Yankee New England, sponge-cake shortcake is classic in many areas of the country, including parts of the South and New York. Both styles of cake are "right" for shortcake; no ruling necessary from the Court of Baking Appeals.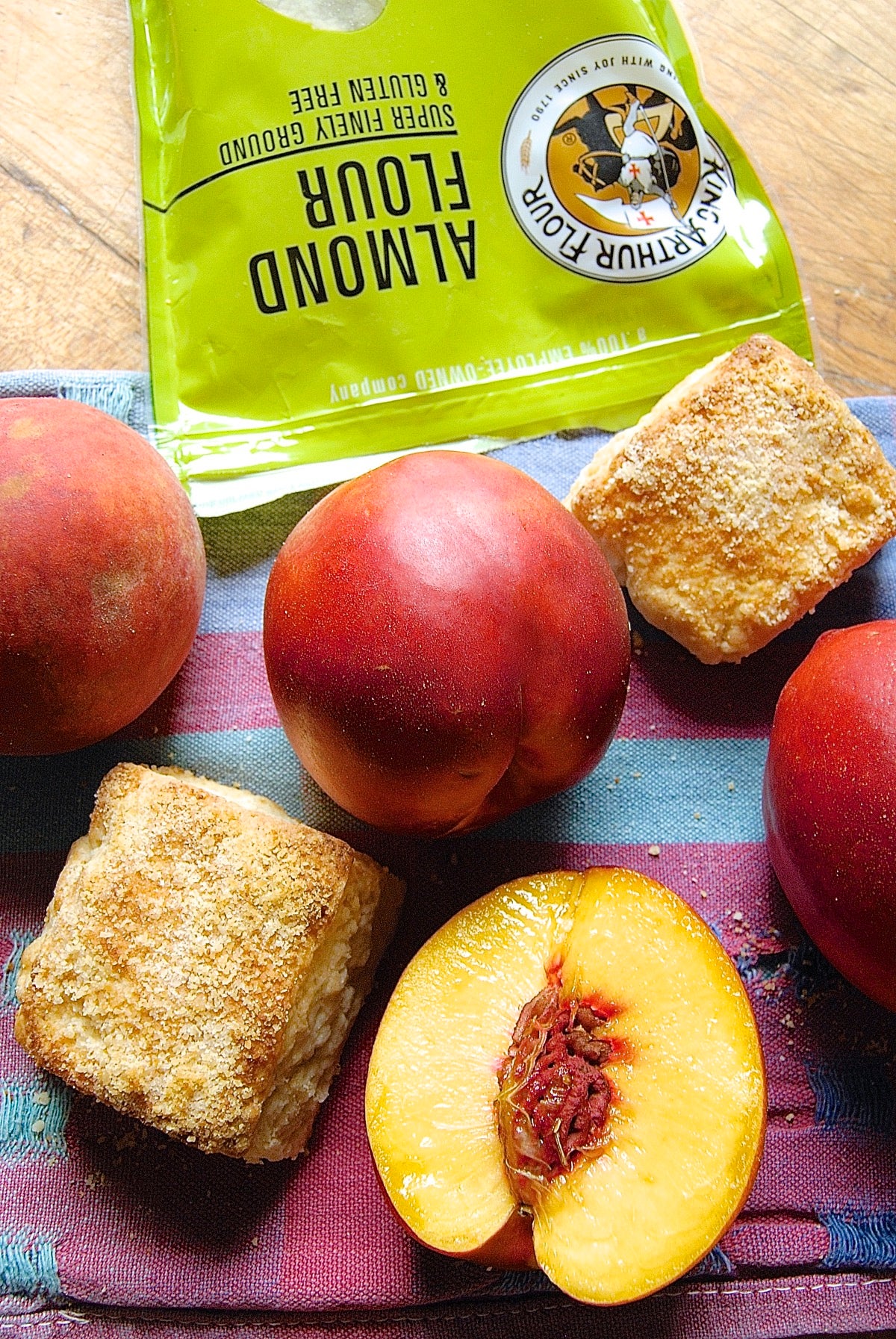 Today we're going to concentrate on biscuit-type shortcakes, but with an almond flour twist. Almond flour (made from finely ground blanched almonds) added to a typical biscuit recipe makes super-tender shortcakes with the mildly sweet/nutty flavor of almonds.
Thanks to almond flour's added fat, the shortcakes stay soft and tender longer than biscuits, too. Bake today, serve tomorrow; no need to worry about ladling your fresh, juicy, perfectly sweetened summer fruit over a hard, dry, crumbly biscuit.
3 cups (12 3/4 ounces) King Arthur Unbleached All-Purpose Flour
1 cup (3 3/8 ounces) almond flour
1 teaspoon salt
1 tablespoon baking powder
2 tablespoons sugar
6 tablespoons cold butter
1 teaspoon vanilla extract; or 1/2 to 3/4 teaspoon almond extract, to taste; optional
1 cup heavy or whipping cream
extra almond flour, for dusting the top; optional
Preheat your oven to 425°F.
If you don't have a scale, measure the all-purpose flour by gently spooning it into a cup, then sweeping off any excess; do the same with the almond flour. Mix together the flours, salt, baking powder, and sugar.
Mix the dry ingredients with the butter
Using a mixer, pastry blender, or your fingers, work the butter in until the mixture is unevenly crumbly; some larger, cranberry-sized chunks of butter can remain.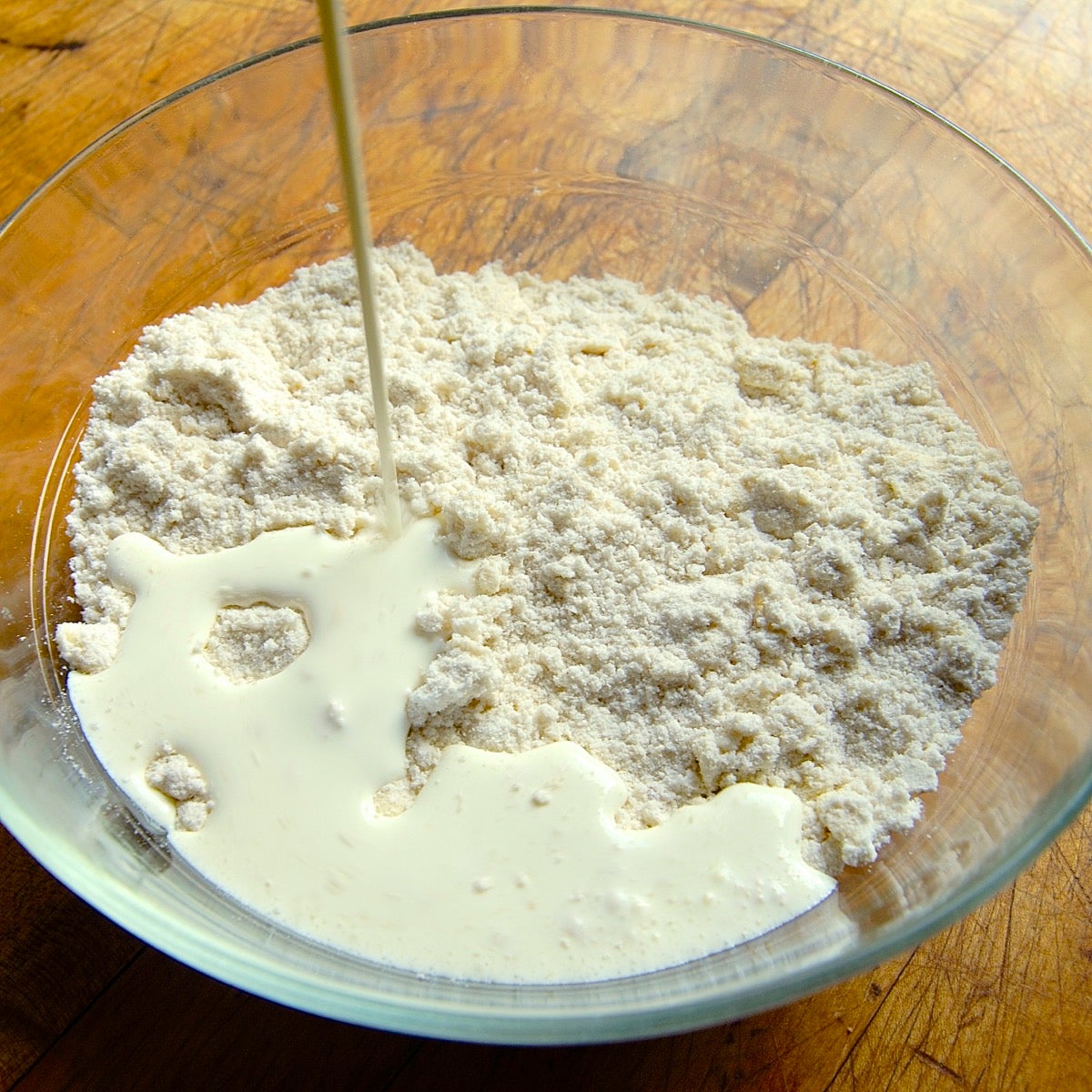 Stir in the cream
Combine the vanilla or almond extract with the cream. Add the liquid to the bowl all at once, mixing quickly and gently for about 20 seconds until you have a soft dough.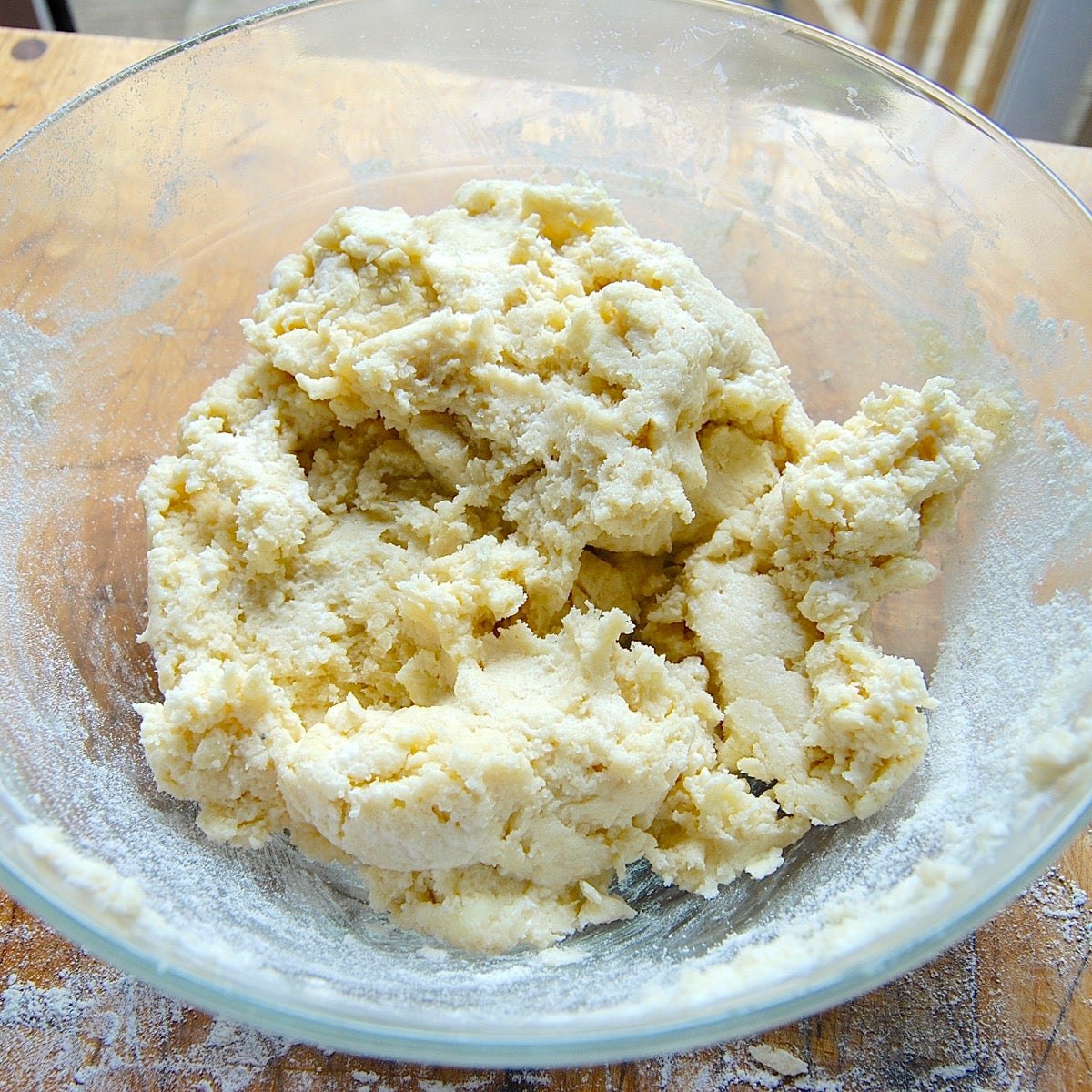 If the dough doesn't come together, dribble in a bit more cream or milk until it's cohesive.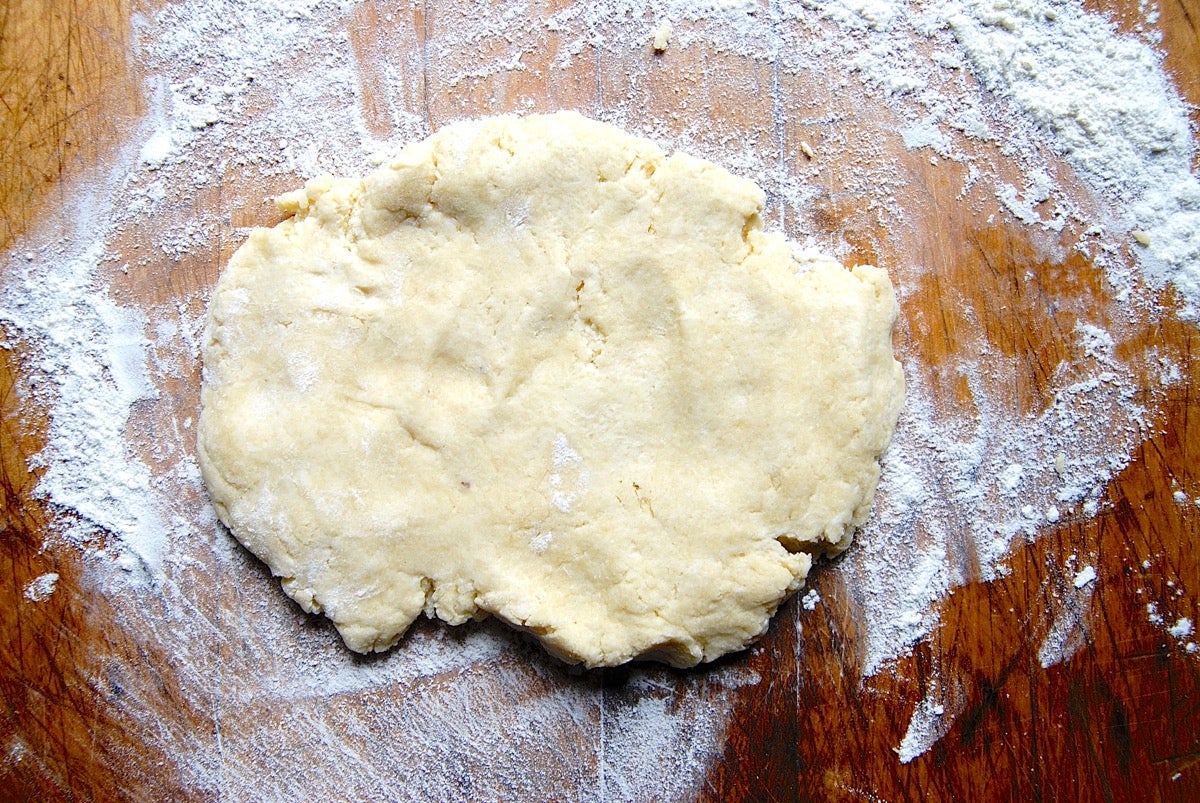 Create tender layers
Pat the dough into a rough oval about 3/4" thick.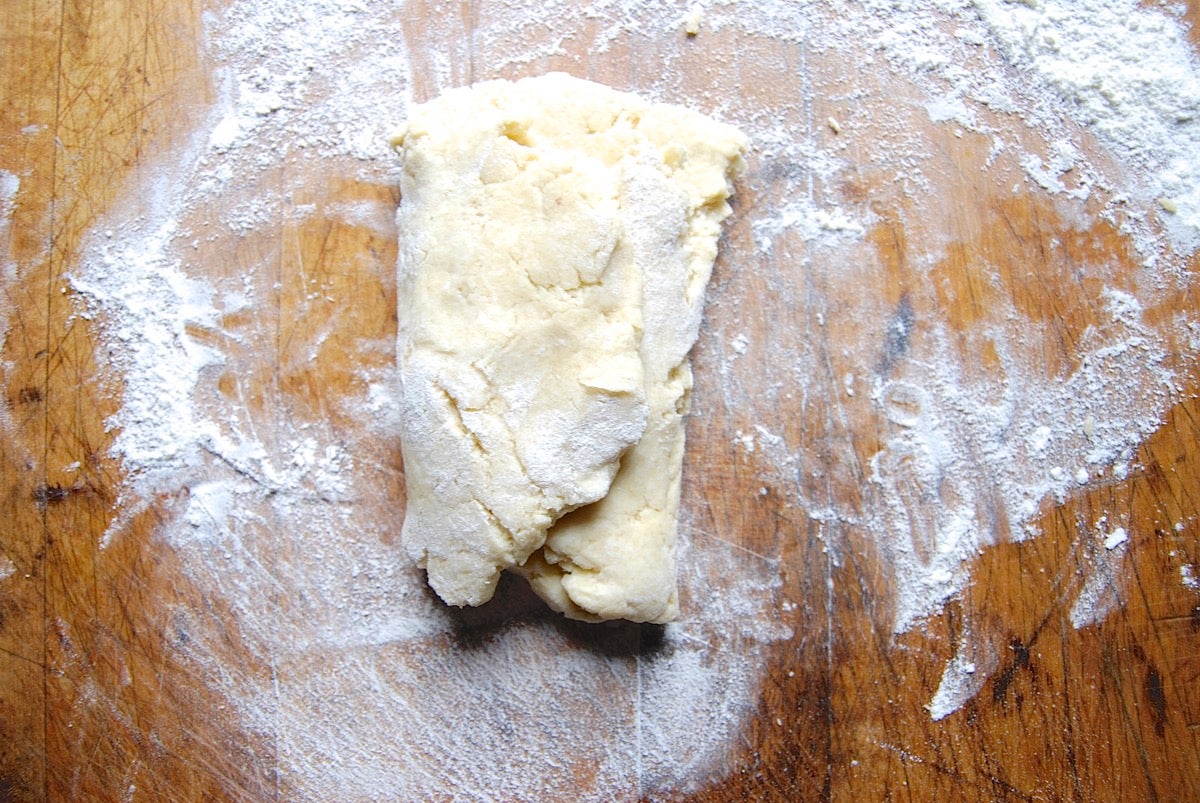 Fold it into thirds like a letter; this will help give your shortcakes tender layers, and a natural seam to break at when you pull them apart.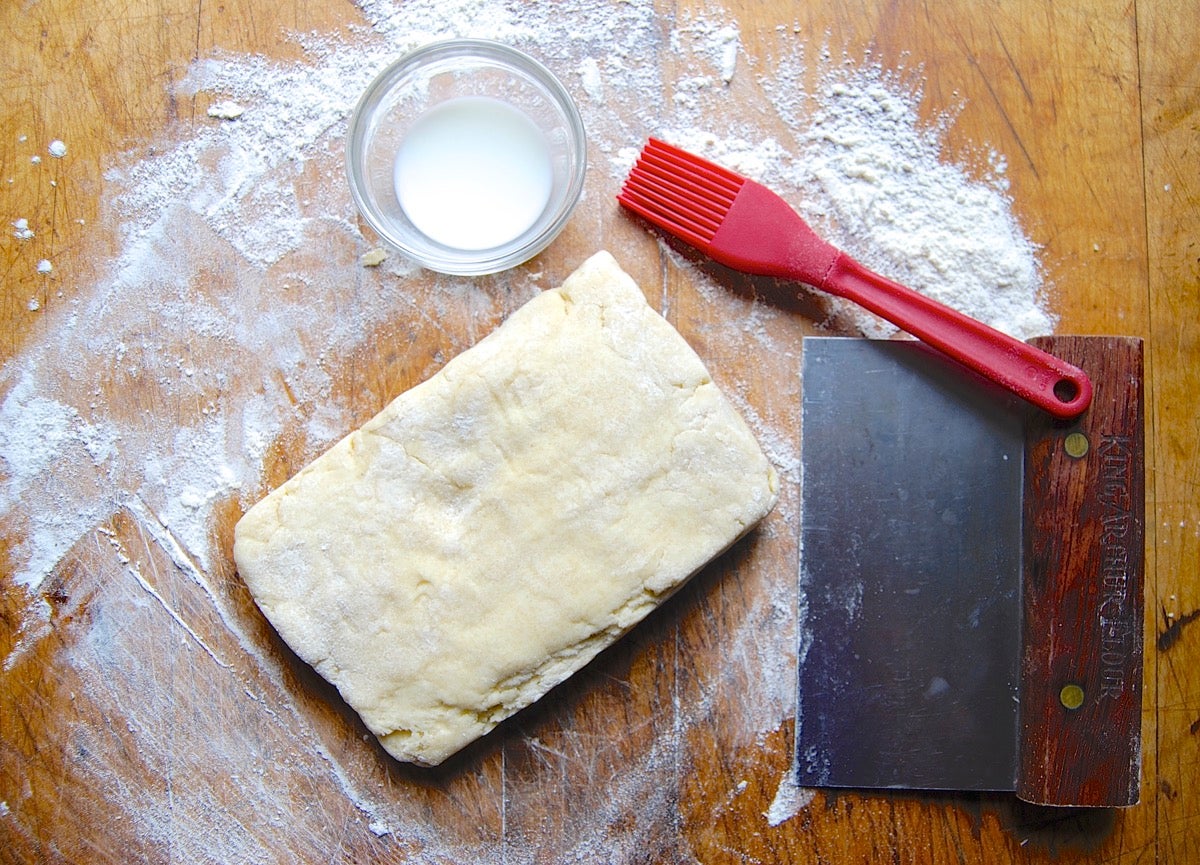 Shape the dough and cut the almond shortcakes
Pat the dough (or roll it gently with a floured rolling pin) into a generous 8" x 6" rectangle (for square shortcakes), or an 8" to 9" circle (for round shortcakes). Either way, the dough should be about 3/4" thick.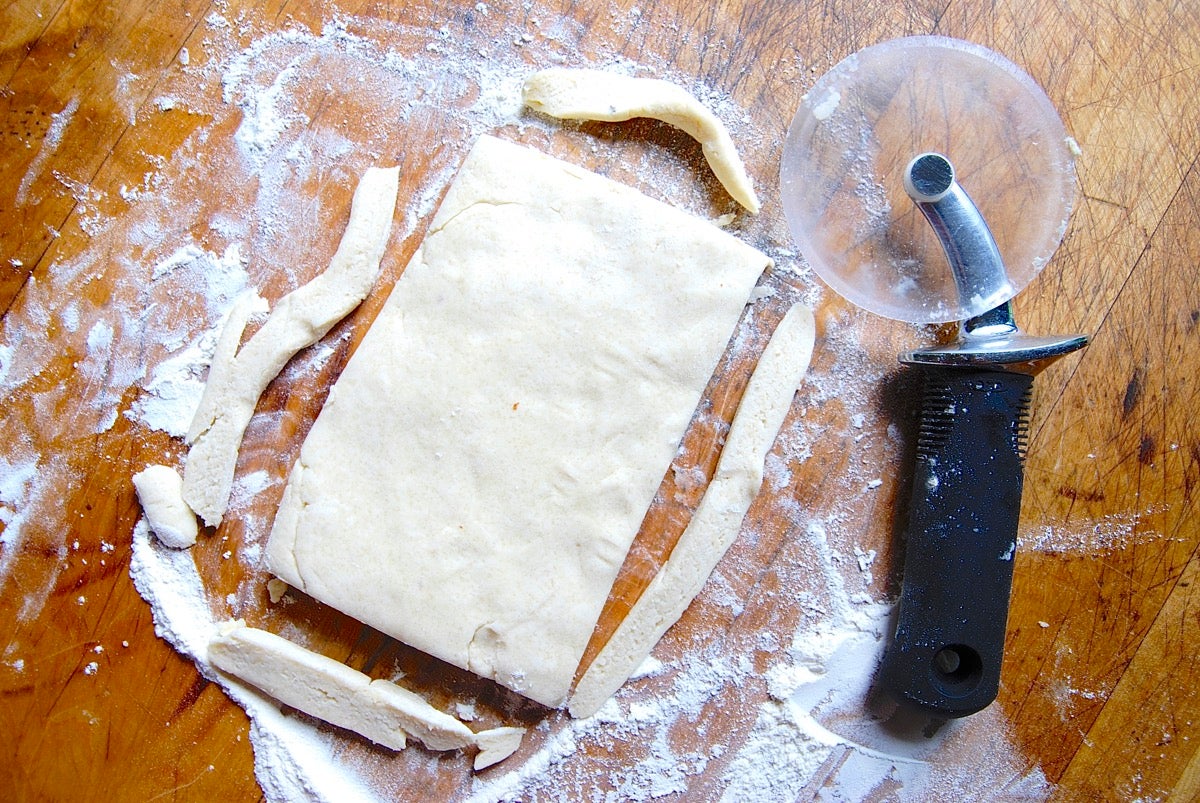 For perfectly shaped shortcakes, trim a very thin slice off the edge of the dough all the way around; a pizza wheel or bench knife both work well here. Trimming the compressed edges allows the shortcakes to rise evenly as they bake.
Use a sharp biscuit cutter, bench knife, or sharp knife to cut 2" (approximately) shortcakes.
Use the trimmed edges (and any scraps from cutting round shortcakes) to make an additional shortcake or shortcakes, if desired. Or bake the scraps separately, crumble them into a bowl of sliced berries, and splash with cream for short-cut shortcake: no splitting shortcakes, no whipping cream, just a sweet little medley of shortcake components.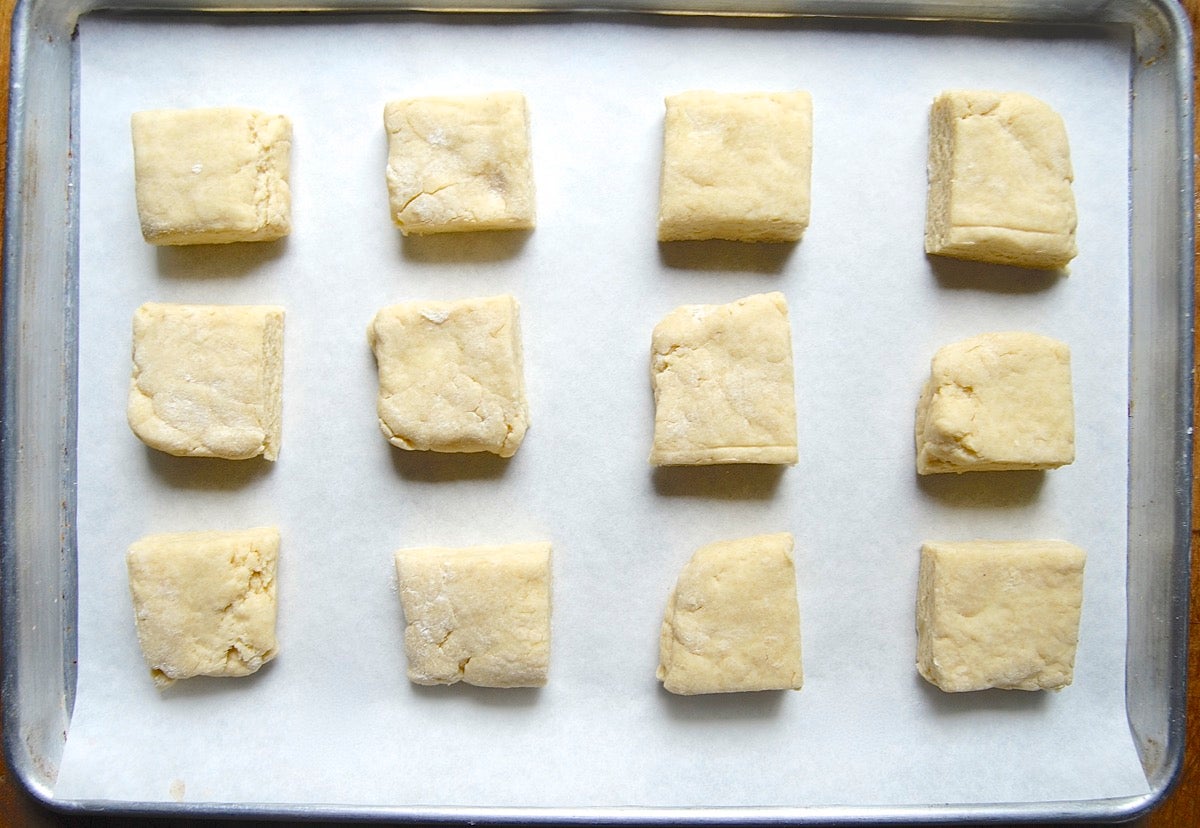 Place the shortcakes on a baking sheet; there's no need to grease the pan but for easiest cleanup, line it with parchment.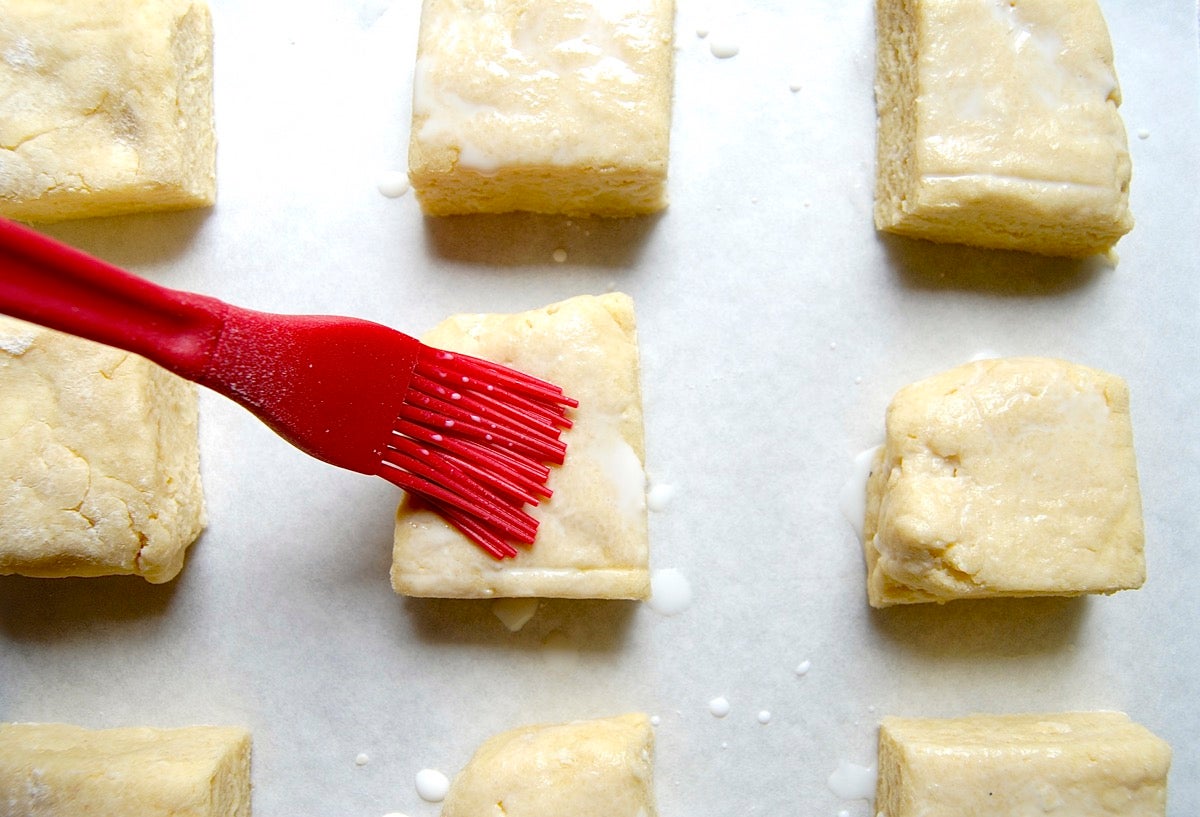 Ready the almond shortcakes for baking
Brush the tops of the shortcakes with cream or milk.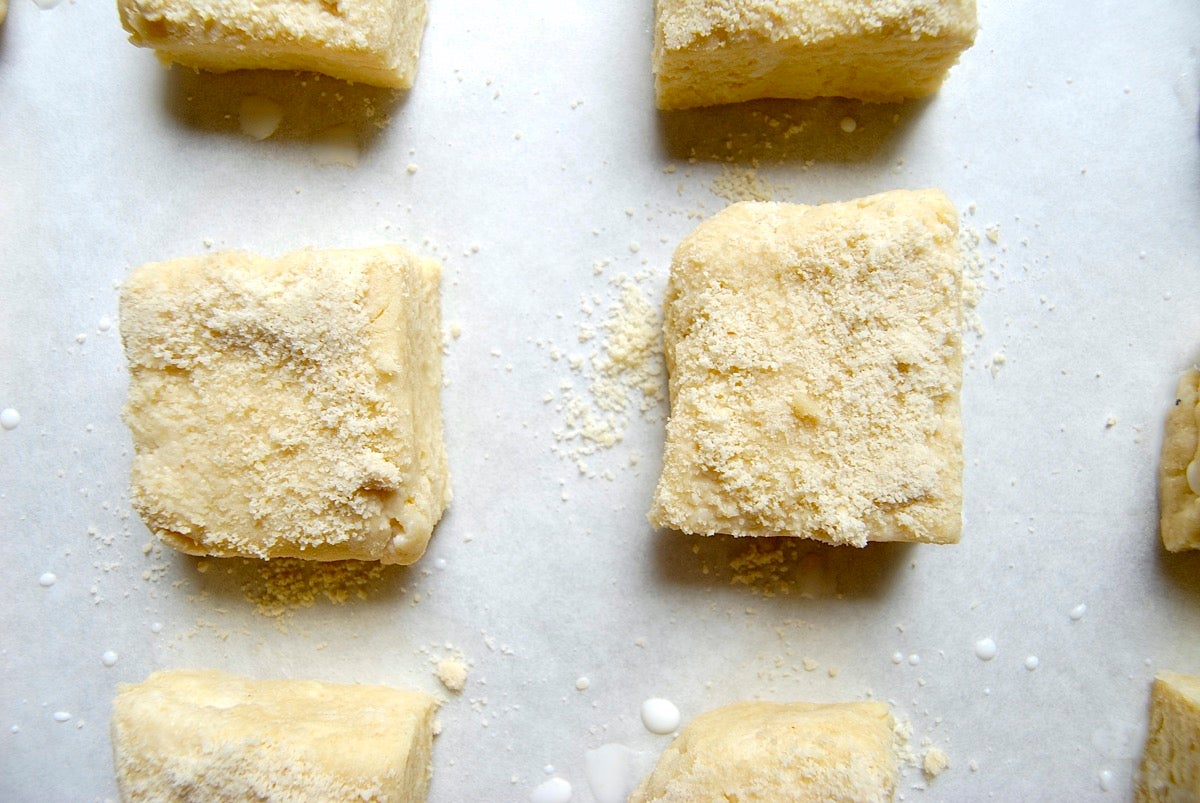 Dip the tops of the shortcakes in almond flour. While optional, this step gives the shortcakes a rustic appearance and additional "toasty" flavor.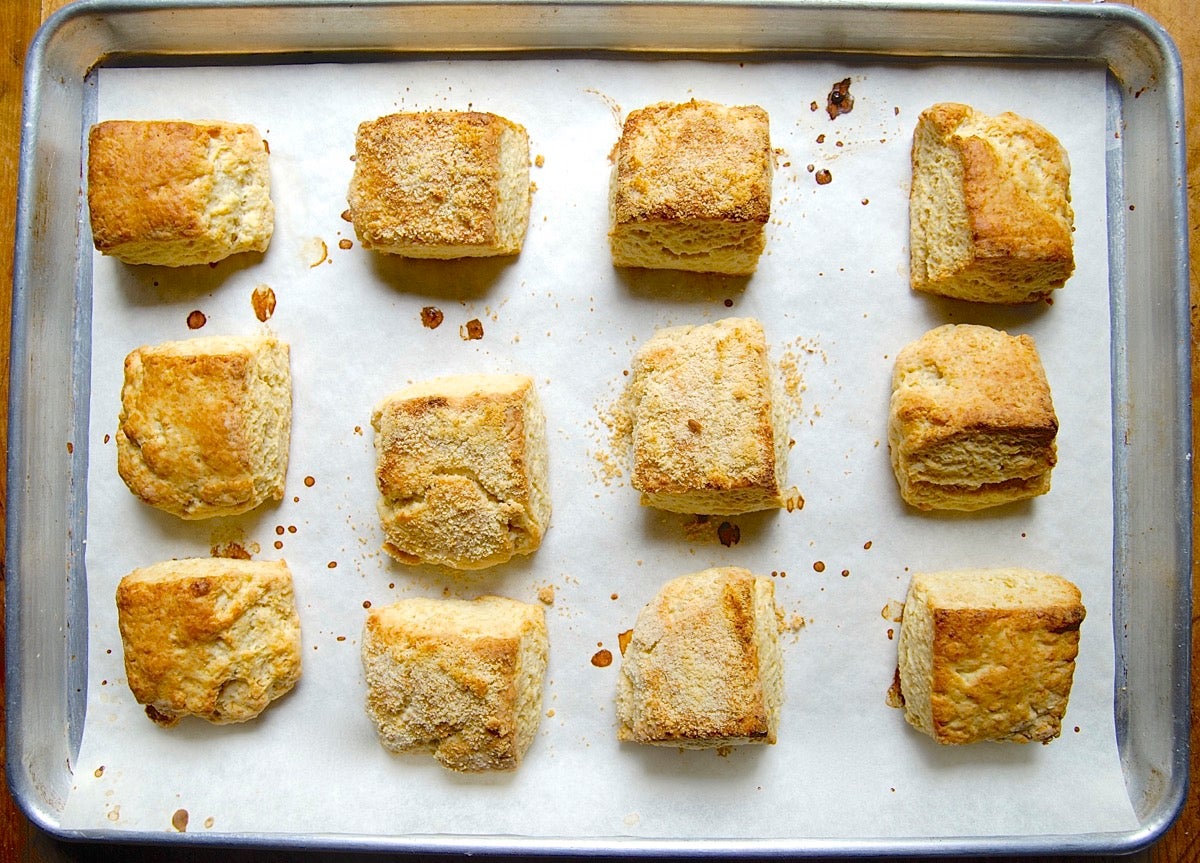 Bake the shortcakes
Bake the shortcakes for 18 to 20 minutes, until they're golden brown. Remove them from the oven, and let them cool slightly (or completely) before serving.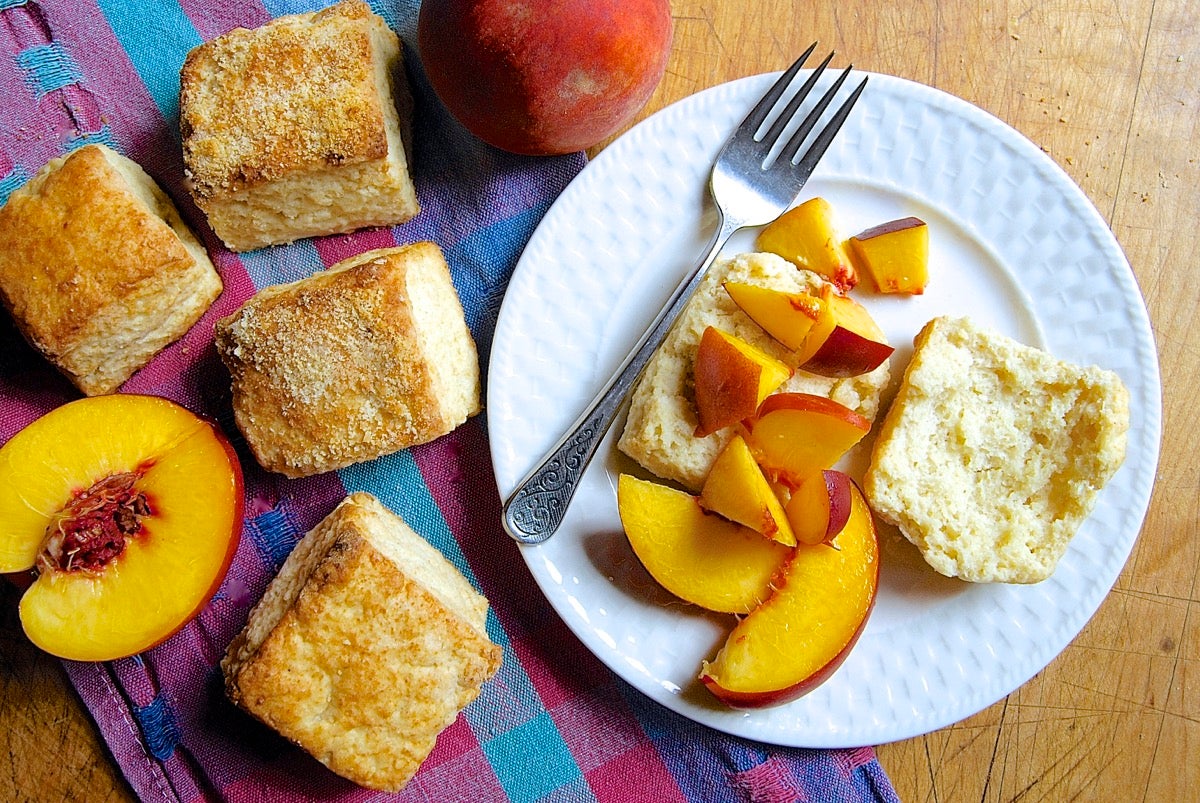 Split, add fruit, enjoy!
When ready to serve, split in half, ladle lightly sweetened fresh fruit onto the bottom half, add the top half, and serve with whipped cream. Or ice cream. Or nothing: some fruit is so incredibly juicy that it doesn't need any enhancement at all.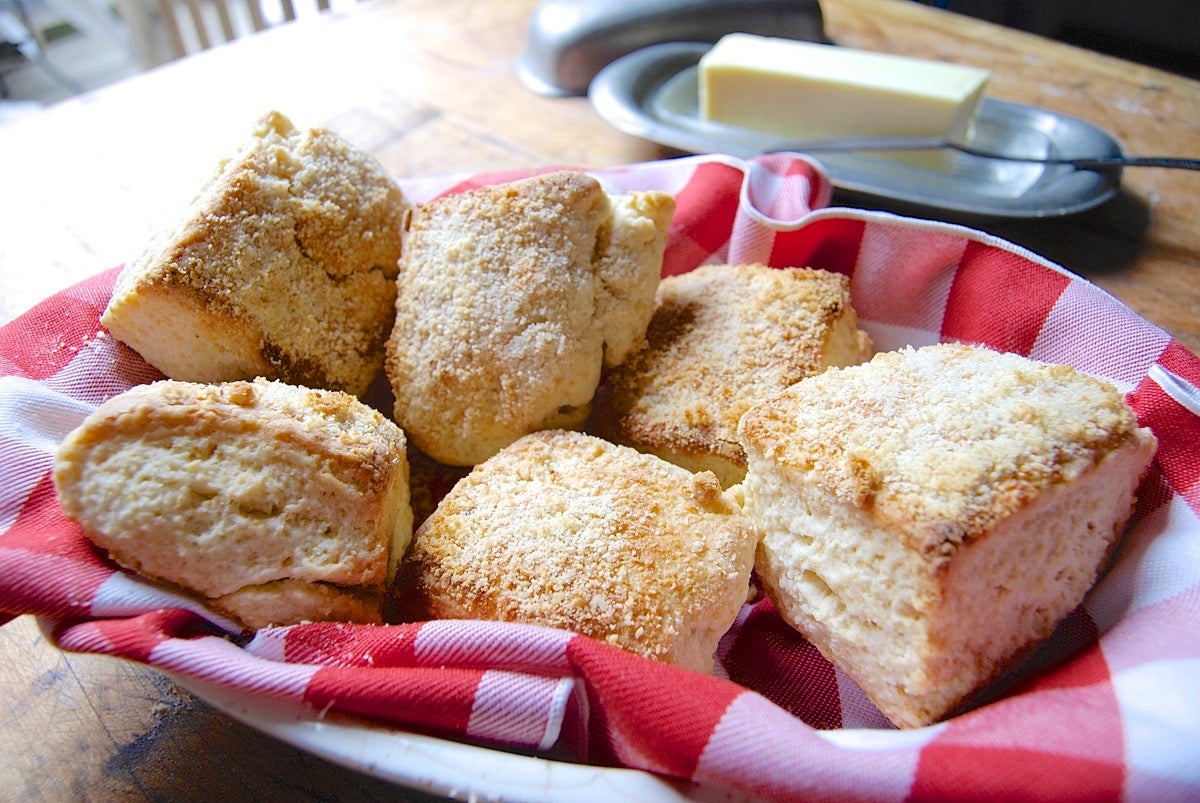 Now, let's think outside the shortcake box: these tender treats are wonderful served warm with butter and a smear of homemade preserves, if you please. Or skip the butter and stick with the preserves: they're that rich all on their own.
Ready to bake? Here's our recipe for Almond Flour Shortcakes.
May I tempt you with more almond flour recipes? See our blog post detailing how to add almond flour to many of your favorite recipes. And check out four more recipes created just for almond flour.
Gluten-free almond shortcakes
Baking gluten-free? For great results, substitute King Arthur Gluten-Free Measure for Measure Flour for the all-purpose flour in this recipe; no other changes needed.
Lower-sugar almond shortcakes
Omit the sugar from the recipe; shortcakes may brown a bit less, but the almond flour will add a touch of sweetness that, with the sweetened fruit, should be perfectly pleasing.
Jump to Comments