Sprouted wheat flatbread
A nutritious, simple recipe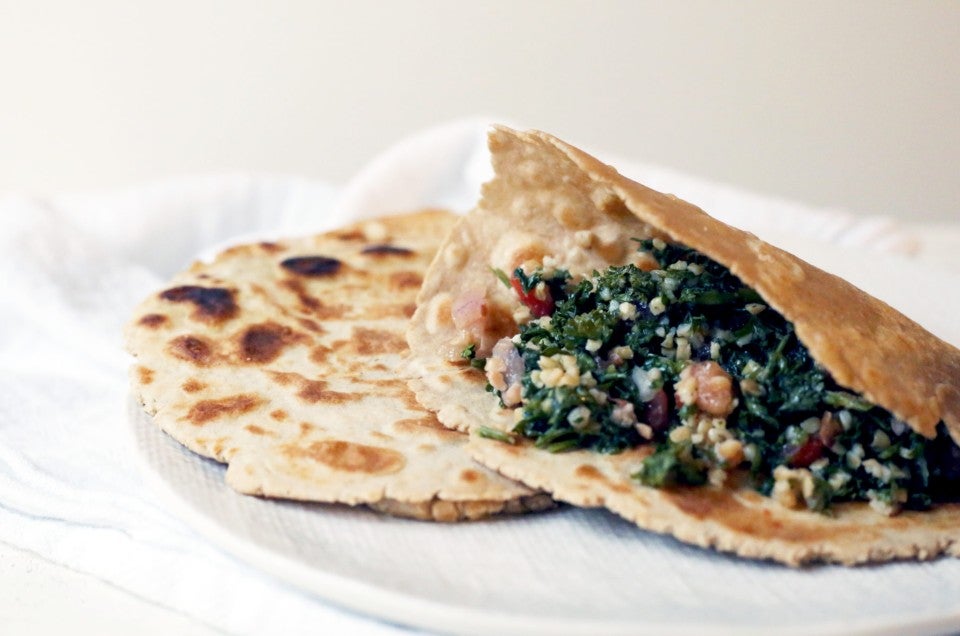 As a serious fan of pitas, tortillas, and wraps, one of my best baking discoveries lately is this sprouted wheat flatbread, or chapati, an unleavened flatbread common in many South Asian countries. 
Unleavened flatbreads are a wonderful thing to master as a baker: They're quick and simple to make, require no rising time, and roll out easily. Despite the lack of effort they require, they deliver impressive results. You can mix up a batch of flatbreads in under 20 minutes! And they taste fantastic hot off the stove.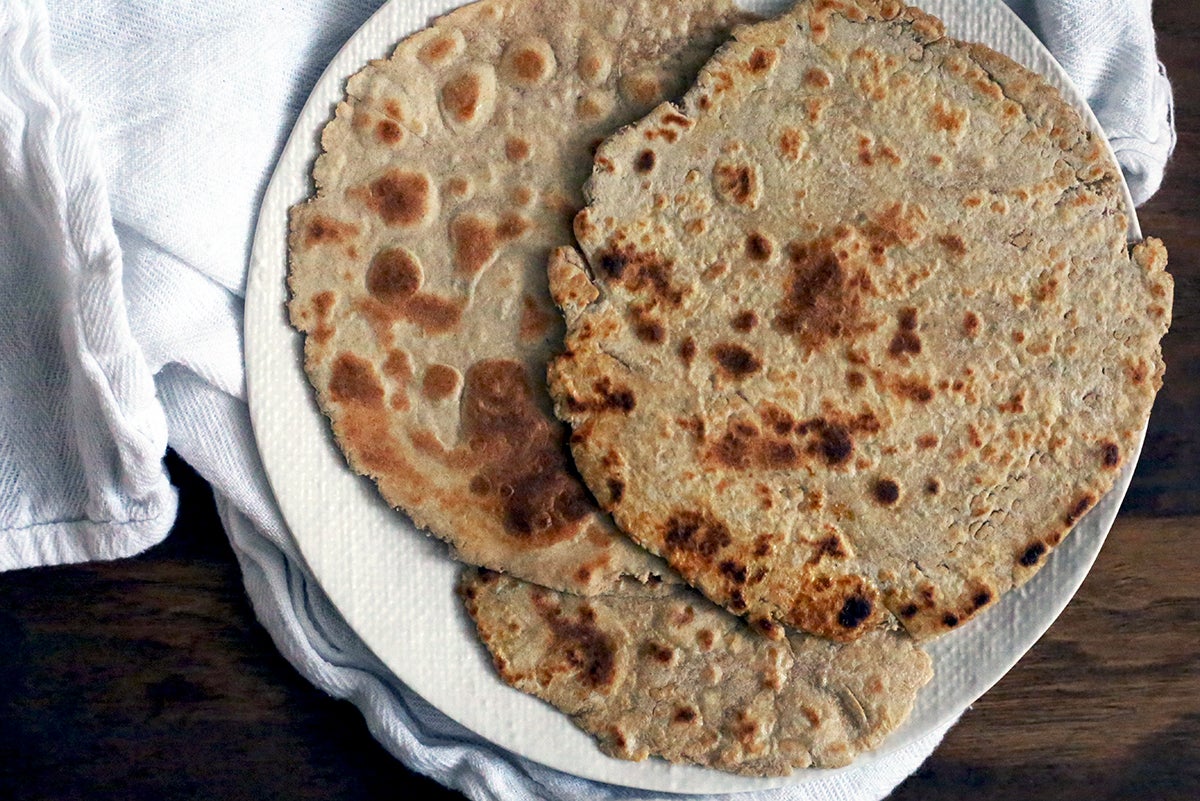 While tortillas, pitas, and other flatbreads made with white flour are delicious, I've been searching for something more nutritious. Swapping whole wheat flour for the white flour can potentially yield dense, leaden flatbreads, as you may have discovered in the past. That's why today's sprouted wheat flatbread recipe is such a revelation: tender, light, and nicely pliable.
What is sprouted wheat exactly? Our sprouted wheat flour is made from white whole wheat berries that are misted with water and allowed to sprout briefly, before being dried and milled into a fine flour. Sprouting the wheat berries helps to unlock their nutritional benefits, and improves digestibility. (That's what we call a win-win!)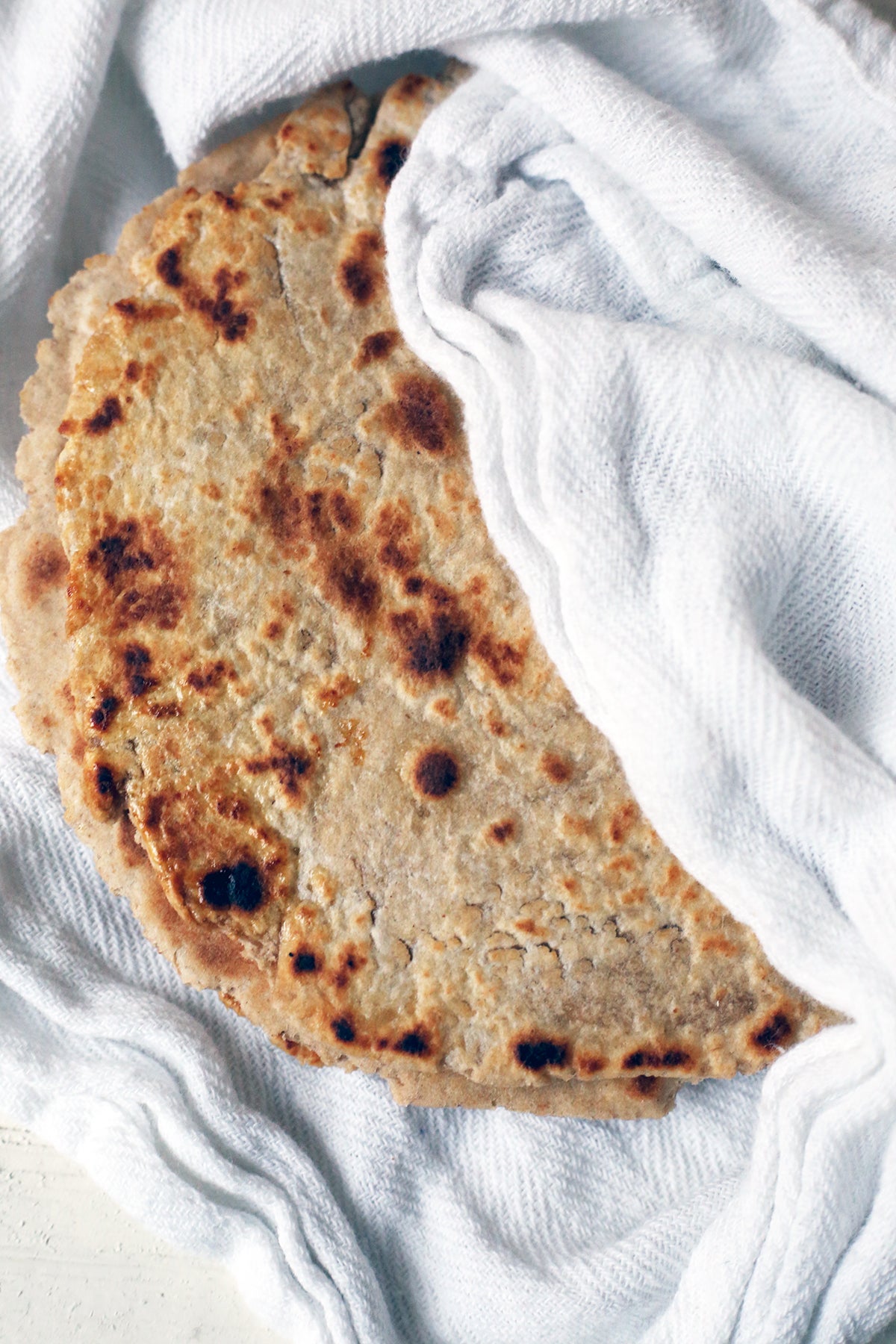 You can use sprouted wheat flour just as you would whole wheat flour in any of your favorite recipes. Because we use white whole wheat instead of a more traditional red whole wheat, our flour has a creamier, milder taste that works nicely in both sweet and savory recipes. Read more about the flour (and get more recipe inspiration!) in our complete Sprouted Wheat Guide.
How to make sprouted wheat flatbread (chapati)
Simply whisk together:
1 cup (113g) sprouted wheat flour
1/4 teaspoon salt
Next, add:
1 tablespoon vegetable or olive oil
6 tablespoons (85g) hot water
Stir it all together until you have a soft, elastic, and slightly sticky dough. Knead the dough for at least a minute, until it's smooth. You can do this by hand on a lightly floured surface, or in your stand mixer using the dough hook.
Divide the dough into six even pieces, and roll them into balls. Cover the dough balls and let them rest for 15 minutes. Once the dough has rested, preheat an electric griddle to 375°F, or set a heavy-bottomed skillet over medium heat.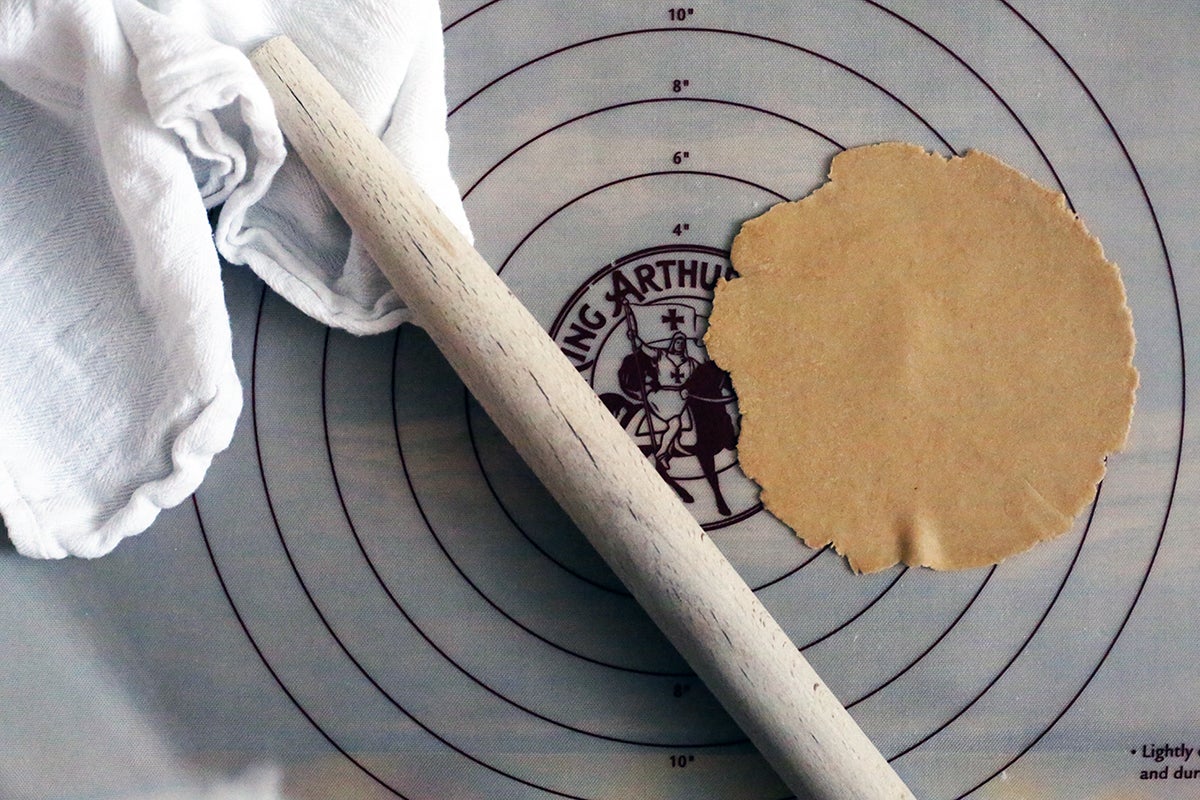 Roll each dough ball out into a thin circle, about 6" in diameter. Lightly oil your cooking surface, and add one dough circle at a time, cooking the flatbread for about 30 seconds until it's browned and golden. Flip the flatbread over and cook for another 30 seconds.
Tip: If your flatbread starts to puff up, use a broad spatula to press it down lightly, keeping it flat.
Once all your flatbreads are cooked, serve them immediately. You can keep them for later and heat them up briefly in the oven (or on the stovetop) before serving, but they're best when warm.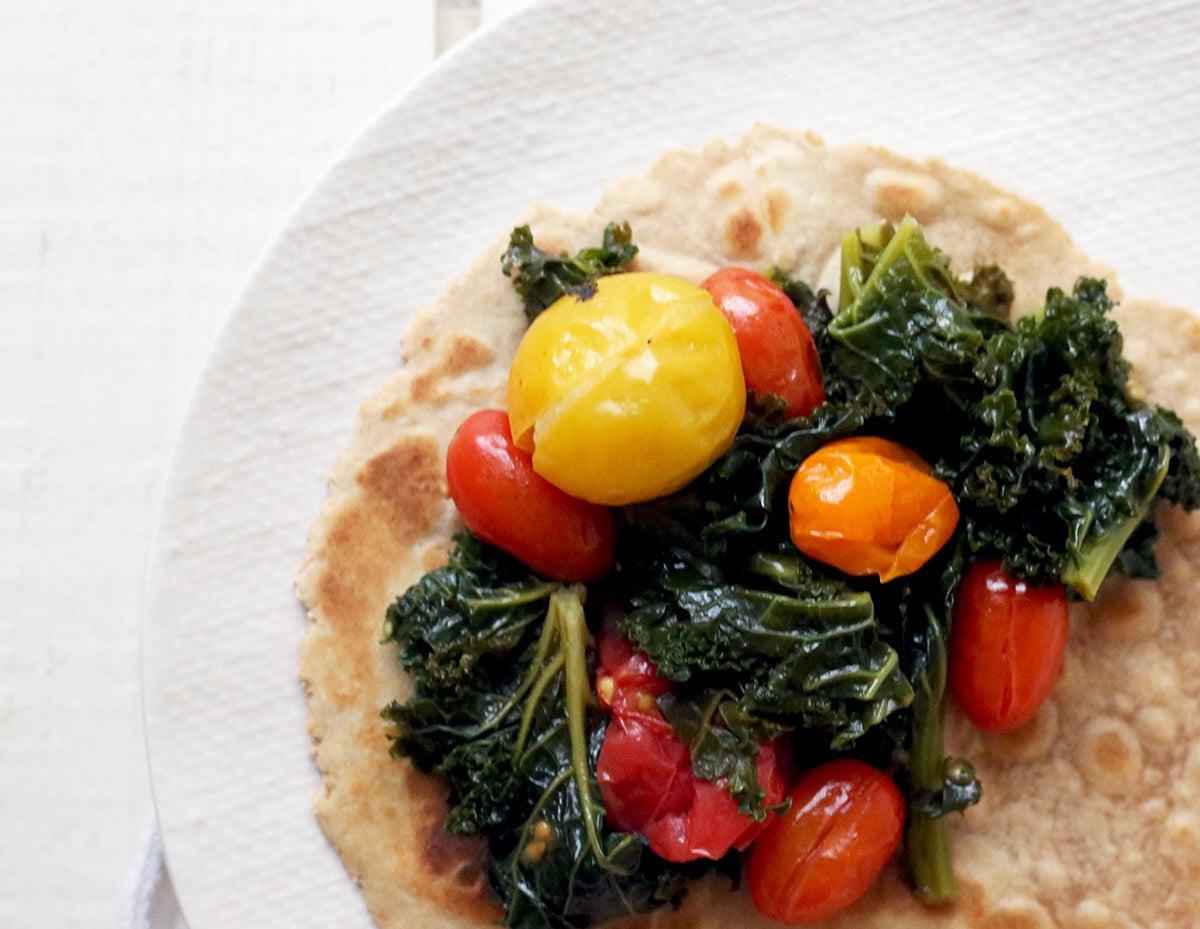 Chapati can be used similar to how you'd eat a tortilla or wrap; the possibilities are endless! Here are some of my favorite ways to enjoy our sprouted wheat flatbread — but I'd love to hear yours in the comments!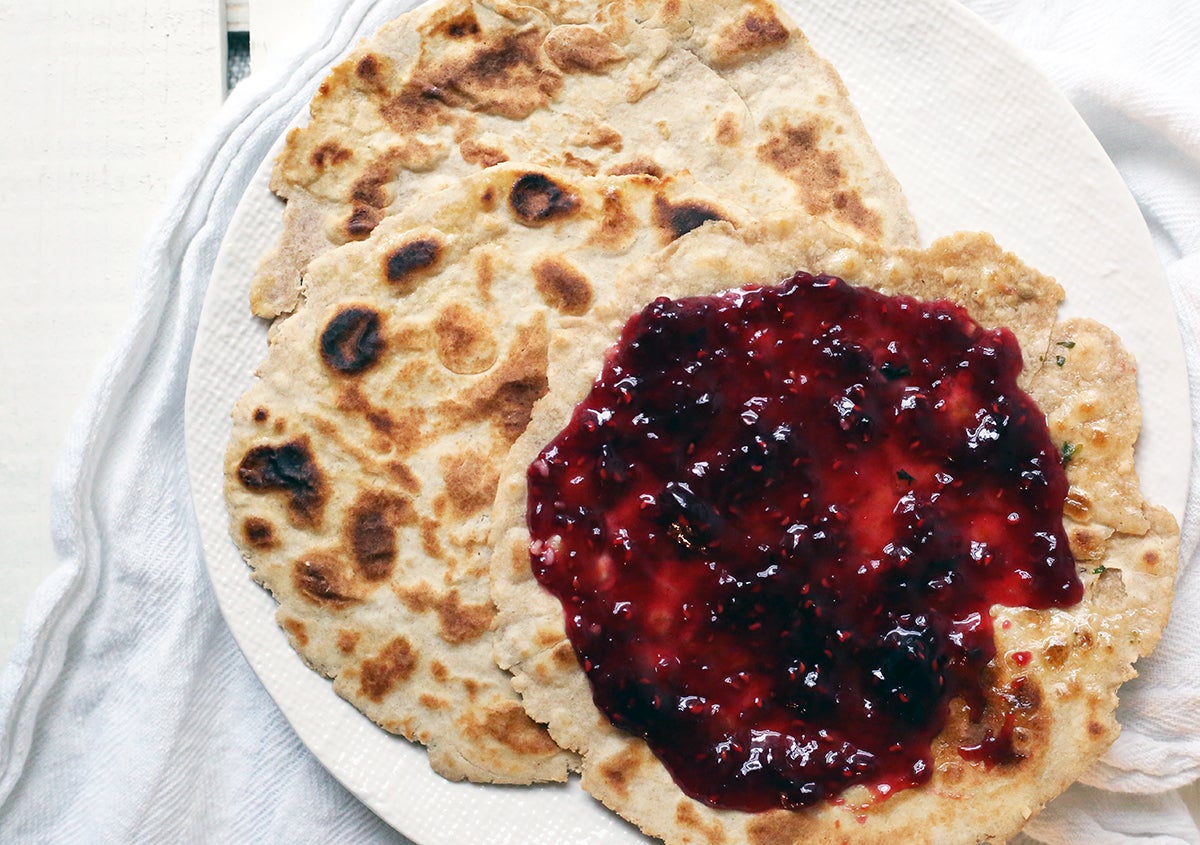 Fill with pulled rotisserie chicken, Caesar dressing, and chopped romaine lettuce
Top with sautéed kale with garlic, and blistered cherry tomatoes
Serve with sliced flank steak marinated in garlic and lime juice, and chopped pineapple
Spread with peanut butter and jelly
Get decadent for breakfast and lightly fry a flatbread in butter, then shower it in cinnamon sugar for a riff on French toast
Slather a thin layer of Nutella on a flatbread, top with sliced fruit, and roll up into a crêpe-like shape
Spoon tomato sauce over a flatbread, top with fresh mozzarella cheese and torn fresh basil, and broil briefly for a quick pizza
Make quick "pita" chips: Cut the flatbread into triangles, drizzle with olive oil, and sprinkle with spice (I like za'atar spice, Vermont cheese powder, or everything bagel topping). Bake at 350°F until golden.
Please read, bake, and review our recipe for Sprouted Wheat Flatbread (Chapati).
Jump to Comments