How to bake for good
Sharing the love (and the loaf)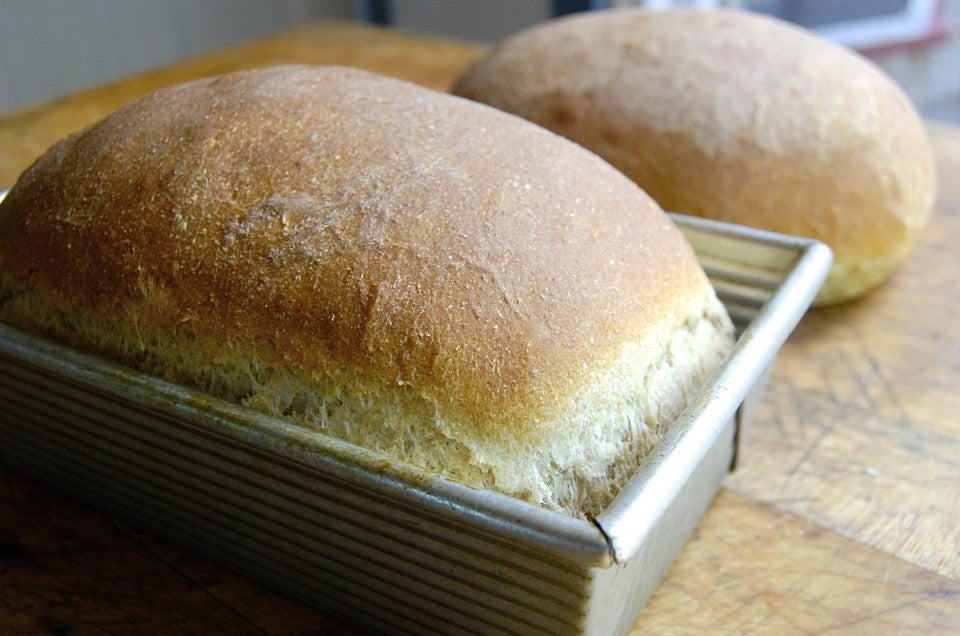 Bake for good isn't just an empty phrase here at King Arthur Flour. It's something we do constantly, baking and sharing with one another, our local food pantry, and our fellow citizens at regular meals for the hungry. And we'll be stepping up our efforts next month, since October is Bake for Good Month.
Baking outreach is also something we do nationwide. In fact, we've taught over 300,000 kids how to bake bread — and how to share with those less fortunate, as well.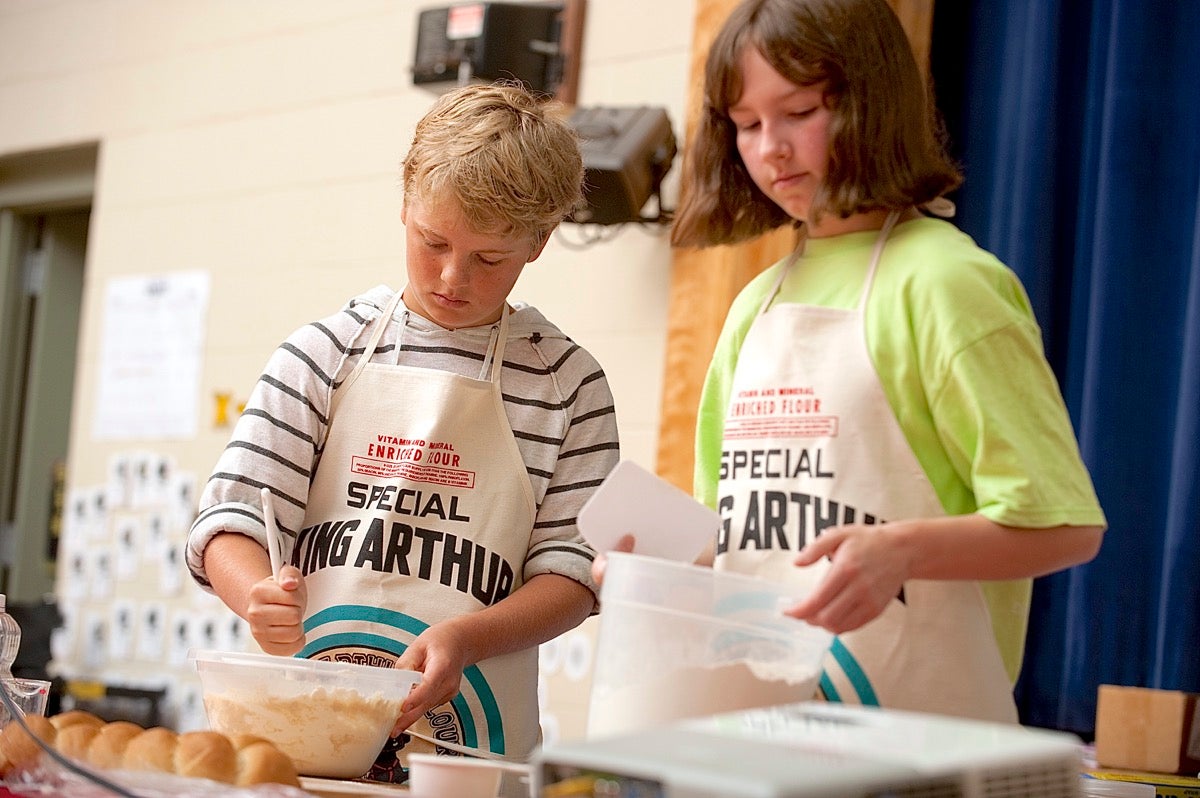 We bring our Bake for Good: Kids program to middle-school children at over 200 schools around the country each year. We show the kids how to make our simple Everyday Whole-Grain Bread, then give them everything they need to go home and bake two loaves themselves.
Next day, the kids return to school with one of the two loaves, wrapped up and ready to deliver to a local food pantry. Not only do these impressionable 11- and 12-year-olds learn to bake bread — they see what a difference they can make for needy people in their own community.
Baking and sharing is your chance to make a difference in someone's life — one loaf, one cookie, one muffin at a time.
The instructions below are what we share with our middle-schoolers. If you have a child at home, we encourage you to include him or her in the process, walking yourselves through the steps in this post. Or watching our Bake for Good: Kids video.
But if you're a seasoned baker and simply want to put the dough together your own way (mixer, bread machine, etc.), feel free. It's the end result that counts, and that end result is very satisfactory indeed.
Start with top-quality whole wheat flour. Kids love our white whole wheat, with its mild flavor and light color; it's my favorite whole wheat flour as well.
Yeast is just as important as flour, so choose the best. The kids in our program use Red Star Platinum, a vigorous instant yeast that Red Star generously provides free of charge for our classes. Check your supermarket's baking aisle or dairy case to find packets of this strong and reliable yeast.
First, get the yeast going
In a large bowl combine 2 cups lukewarm water, 1/4 cup sugar, 2 1/4 teaspoons (1/4-ounce packet) instant or active dry yeast, and 2 cups (8 ounces) King Arthur White Whole Wheat Flour.
Let the mixture rest for a few minutes, until some larger bubbles start to form.
Gradually and carefully mix everything together
Add another cup (4 ounces) white whole wheat flour, 1 tablespoon salt, and 1/4 cup vegetable oil.
Stir to combine.
Add 2 cups (8 1/2 ounces) King Arthur Unbleached All-Purpose Flour.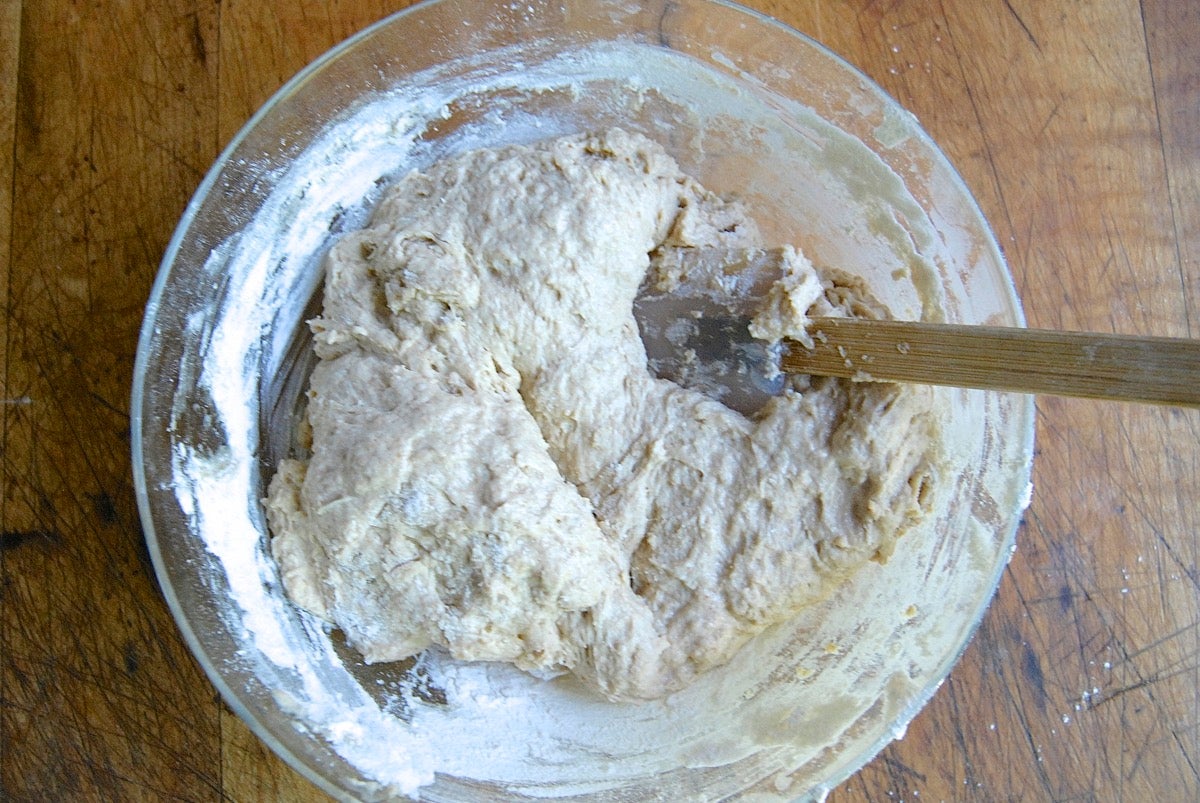 Stir to combine. Notice how the dough is starting to thicken.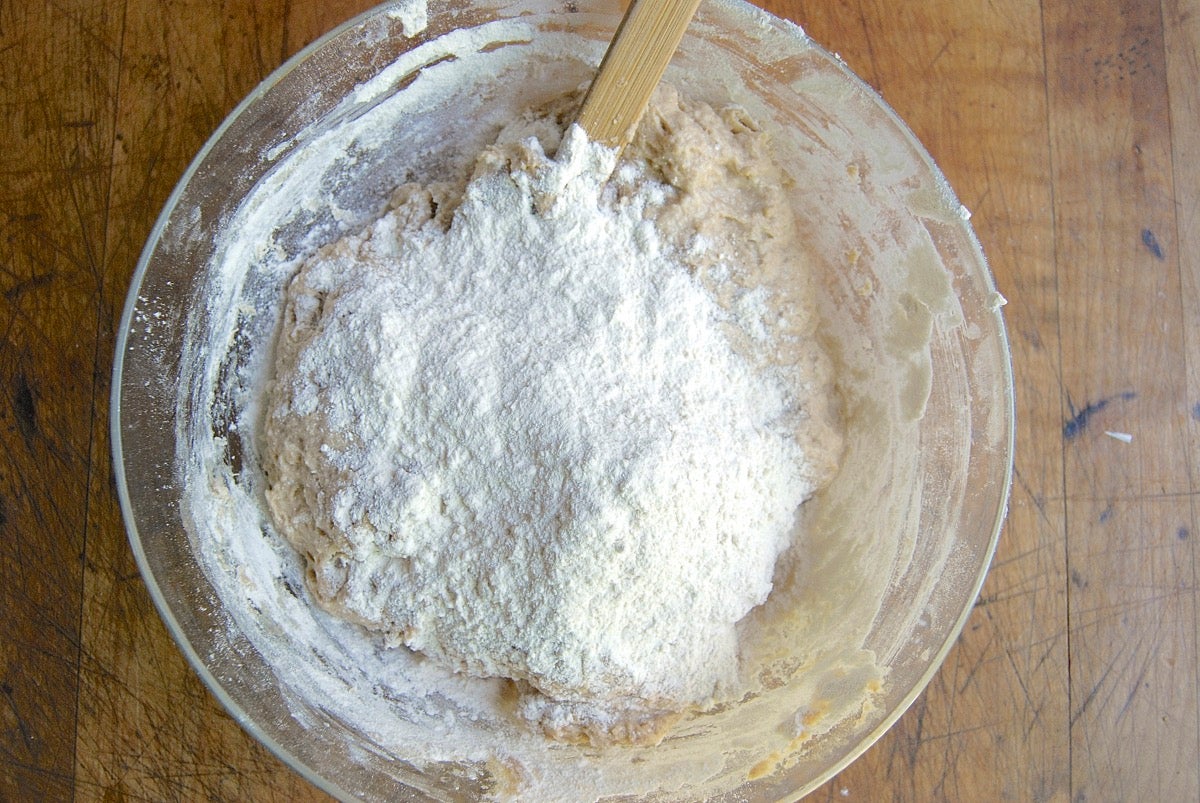 Sprinkle an additional 1/2 cup all-purpose flour over the sticky dough ...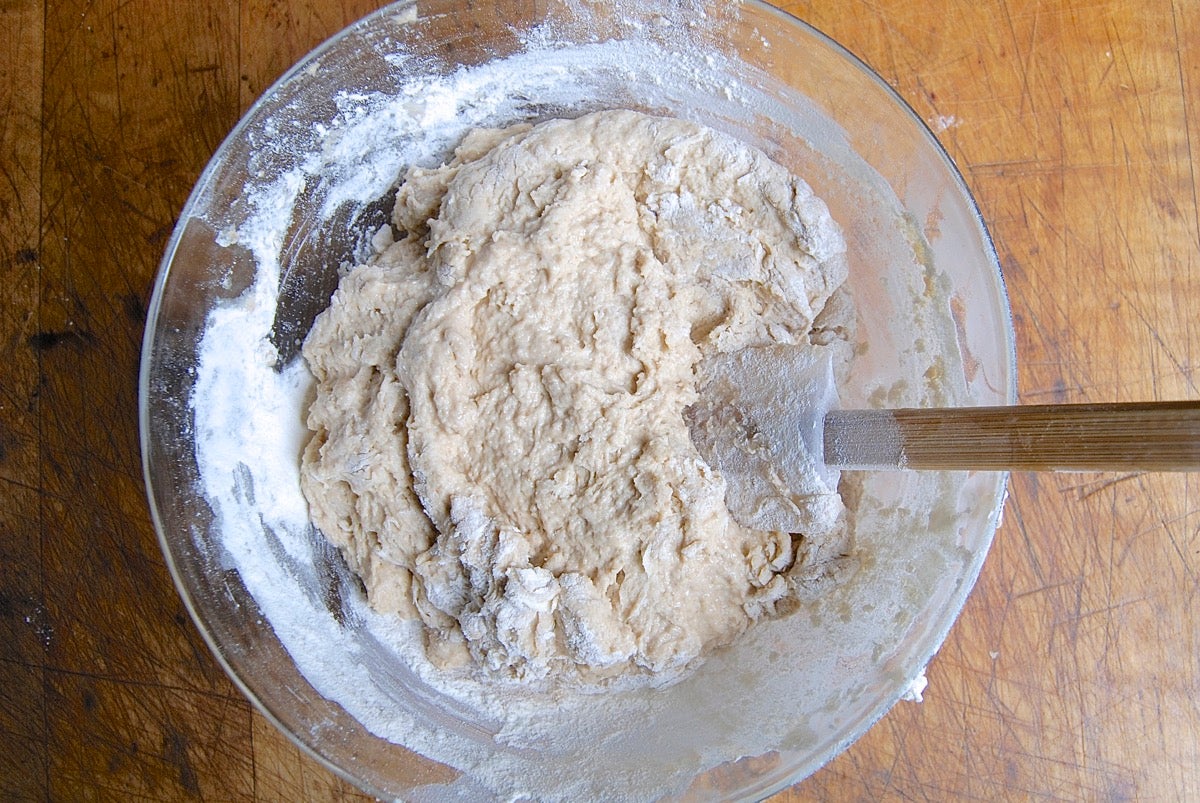 ... mixing it in with a spatula or your hands.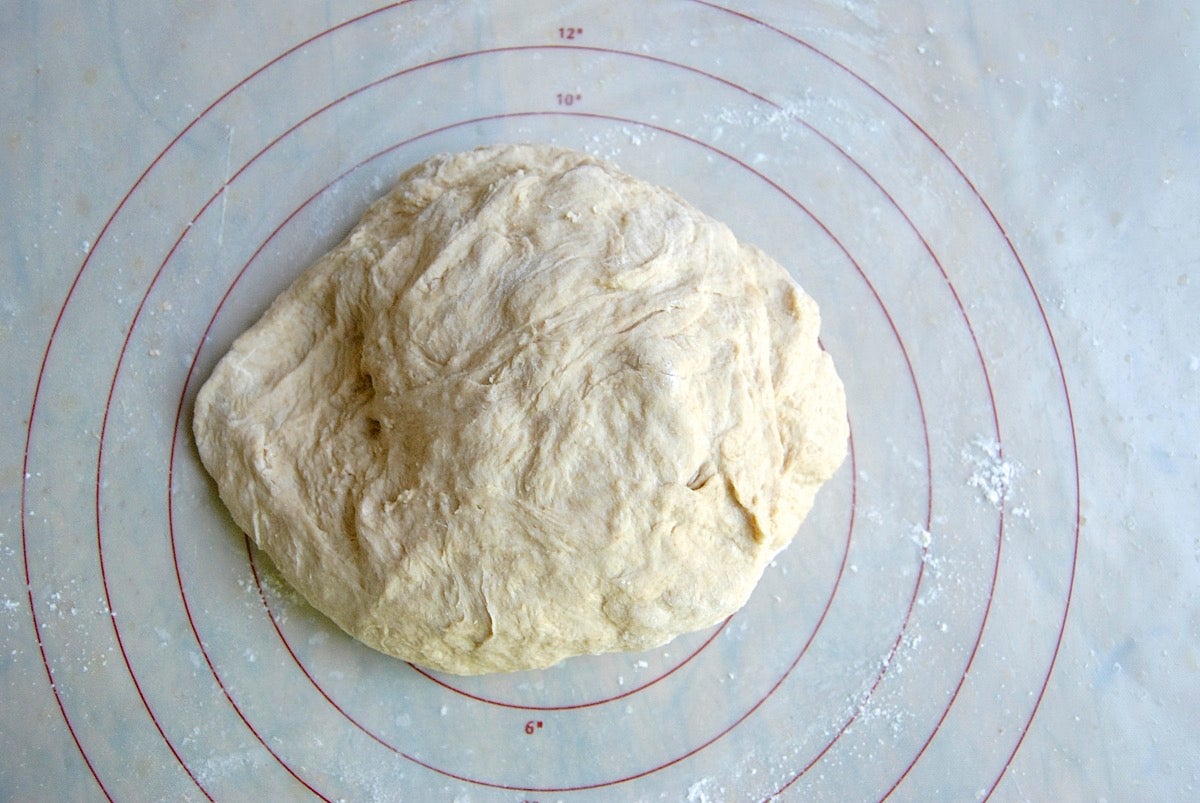 Sprinkle 1/2 cup all-purpose flour onto a clean work surface. I'm using a silicone rolling mat here.
Gather the rough dough into a ball, and transfer it to the work surface.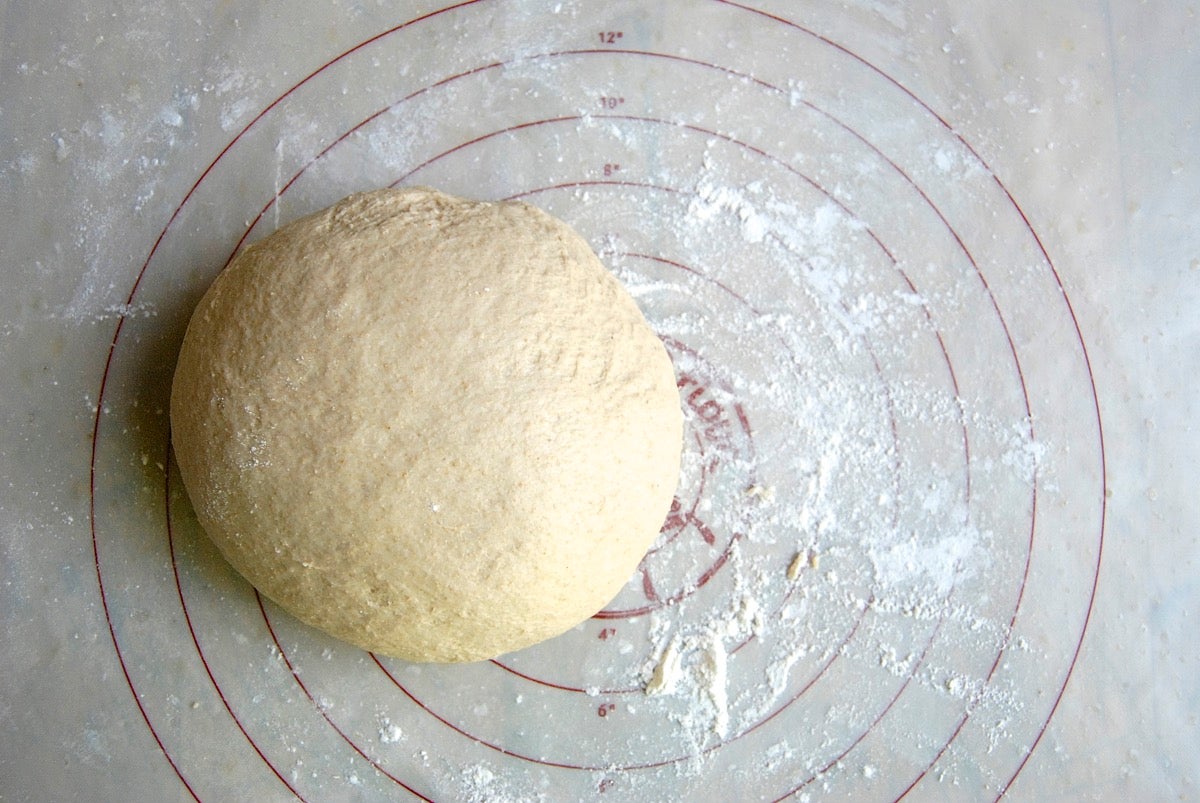 Knead the dough until smooth
Knead the dough for 5 minutes, adding a bit more flour if needed to prevent sticking. The dough should become fairly smooth and elastic.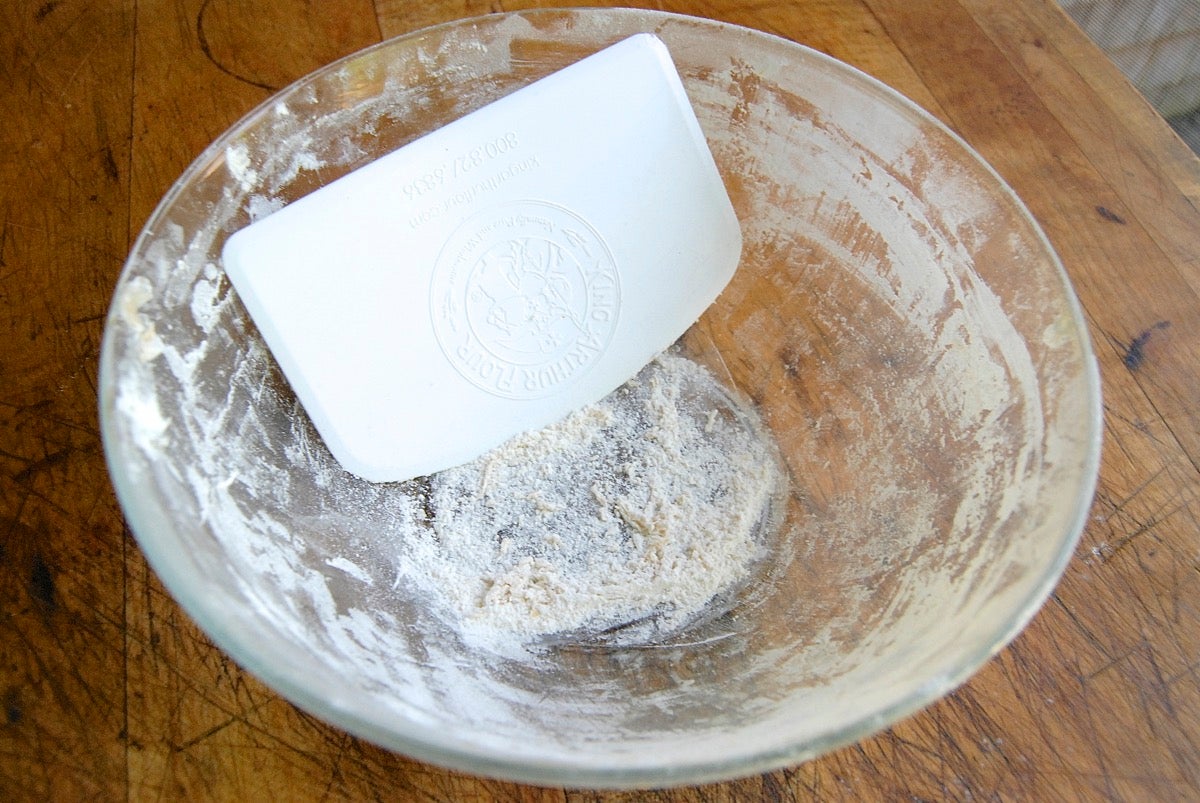 Let the dough rest for a few minutes while you scrape out your mixing bowl; a bowl scraper works well here. Wipe or spray the bowl with vegetable oil.
If you're kneading by hand, knead the dough a few minutes more; it should feel bouncy. Need some visual cues? Check out our video, how to tell if bread dough is fully kneaded.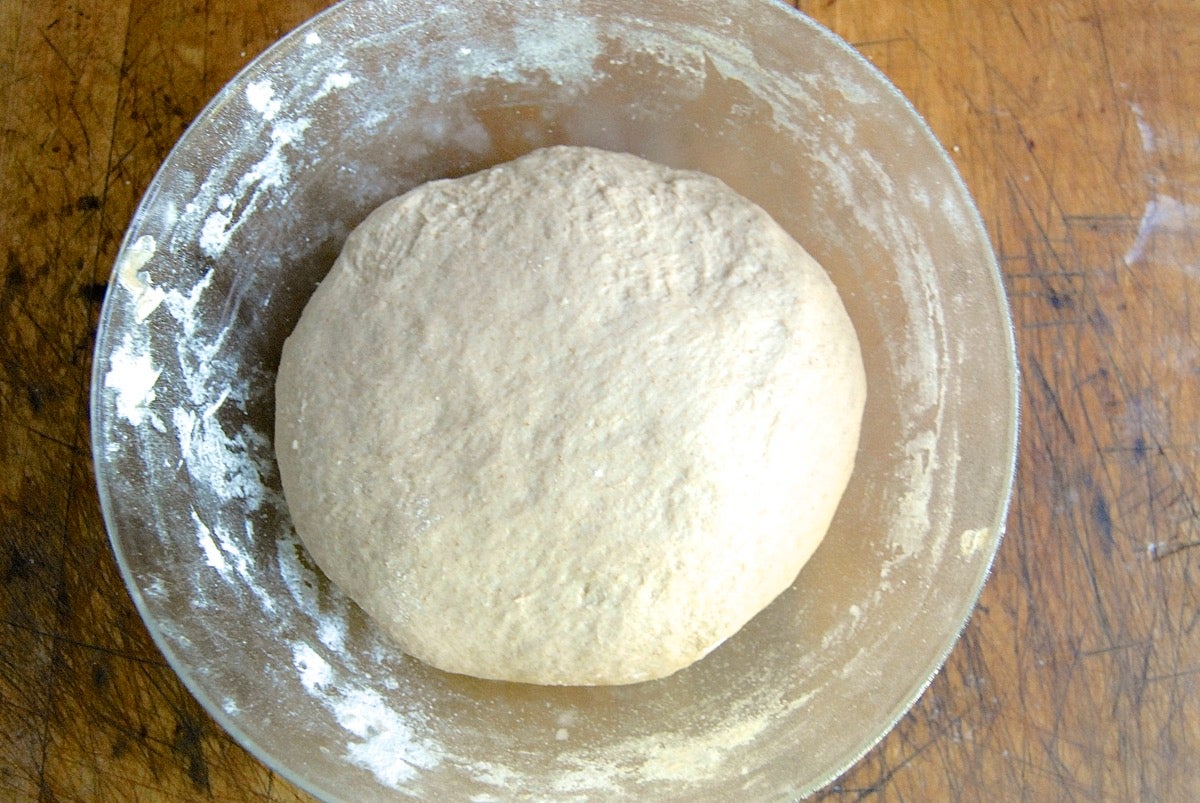 Place the dough into the oiled bowl...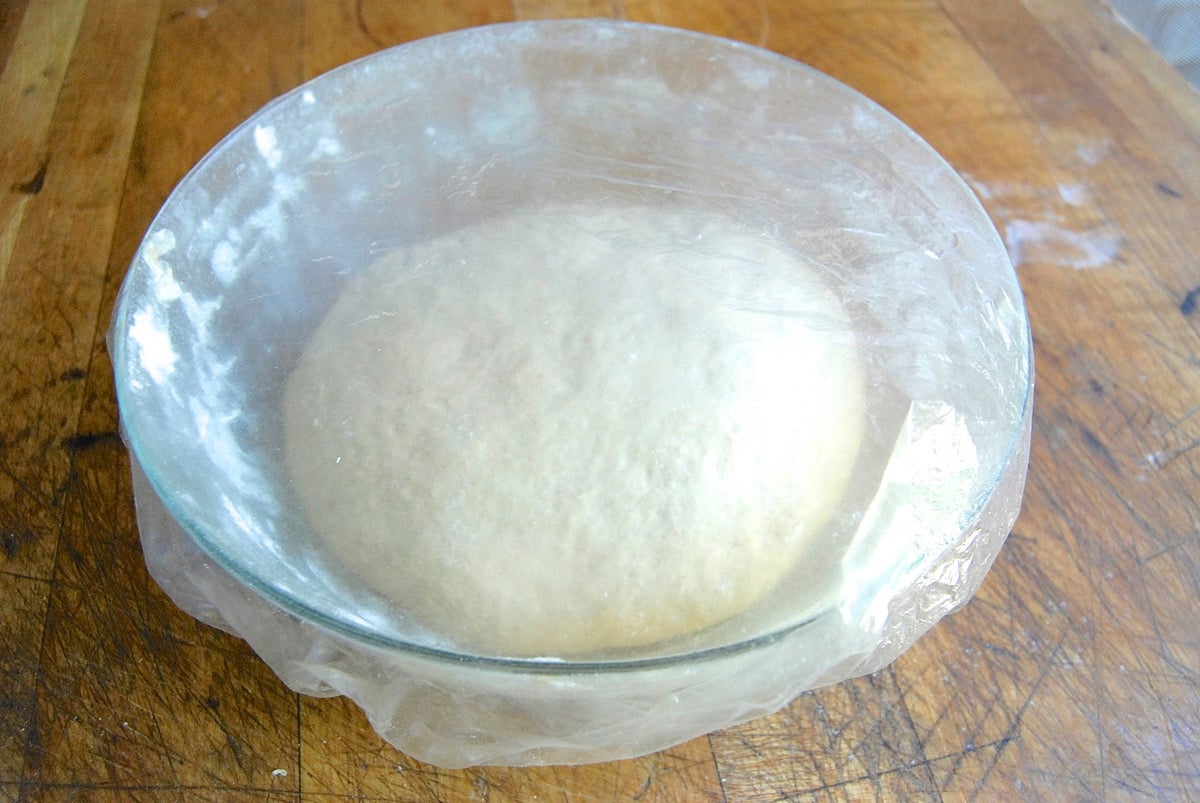 ... and cover it with plastic wrap. Or an elastic shower cap, as I've done here. Let's hear it for shower caps, rising dough's best friend!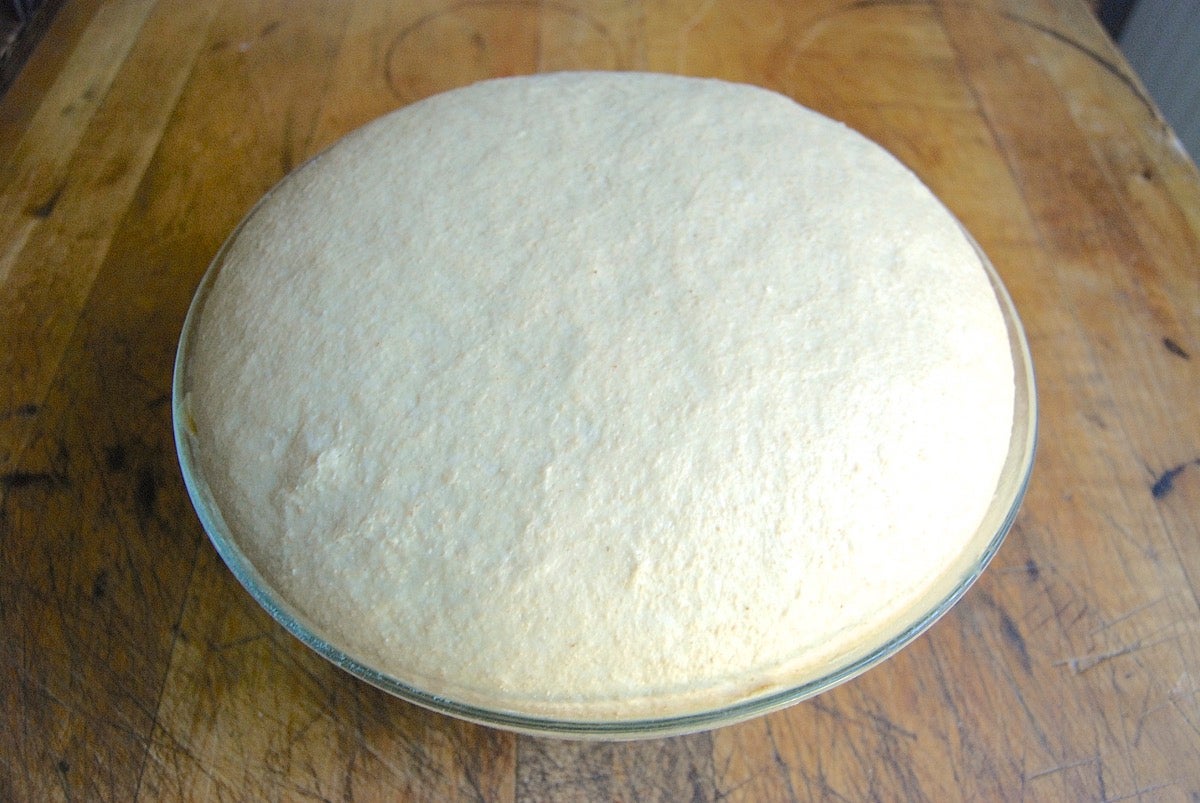 Let the dough rise
Place the dough somewhere warm (65°F to 75°F is ideal) to rise until very puffy, about 1 1/2 hours. It should just about double in size.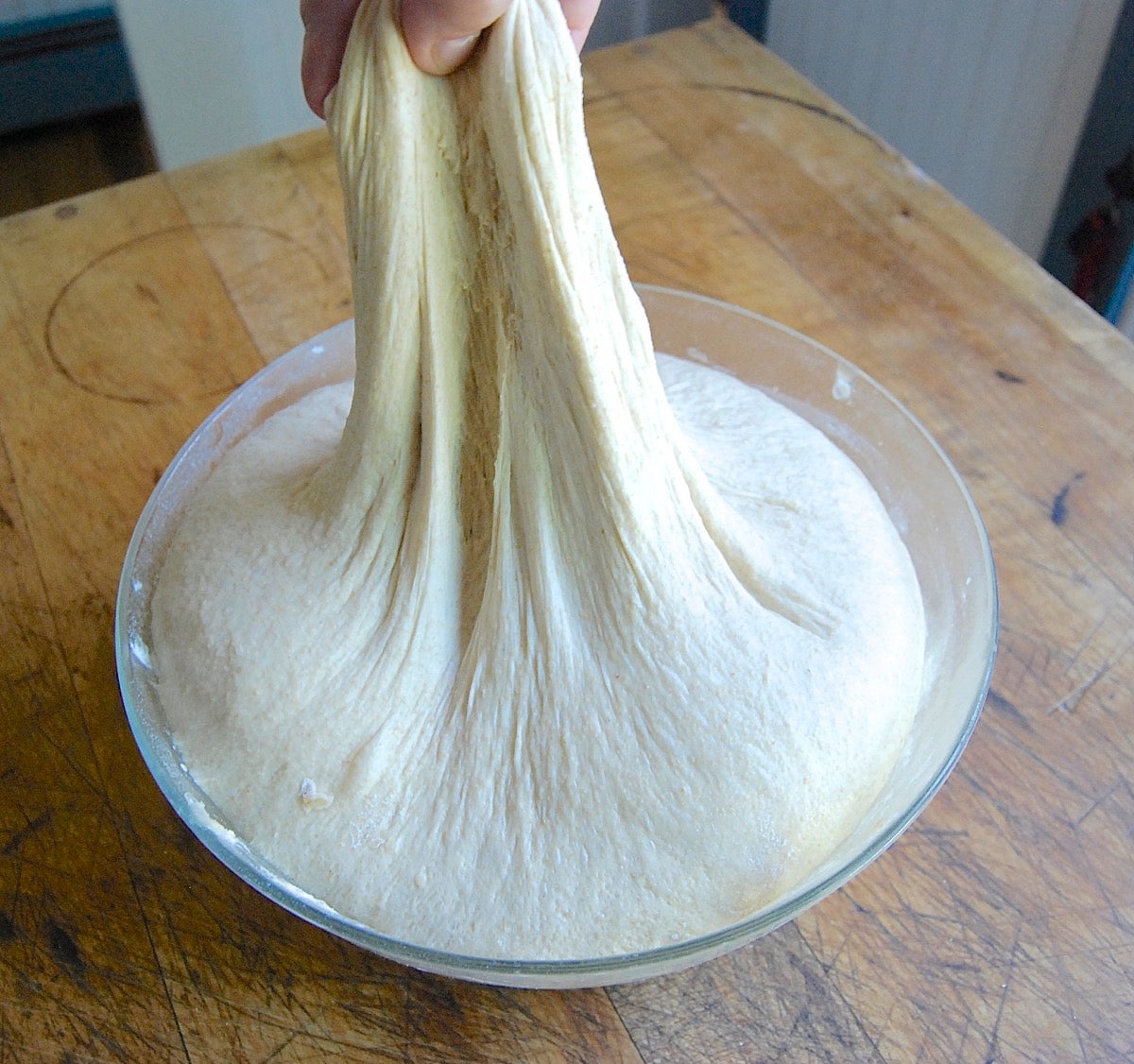 Deflate and shape
Gently deflate the dough. The easiest way to do this is simply to grab it, pull it out of the bowl, and gently squeeze it in on itself. Doing this is a great demonstration of gluten, the protein in flour that, combined with liquid, becomes stretchy bread dough.
Divide the dough in half. Shape each piece into an 8" to 9" log. Want tips on shaping the perfect sandwich loaf? Watch our video.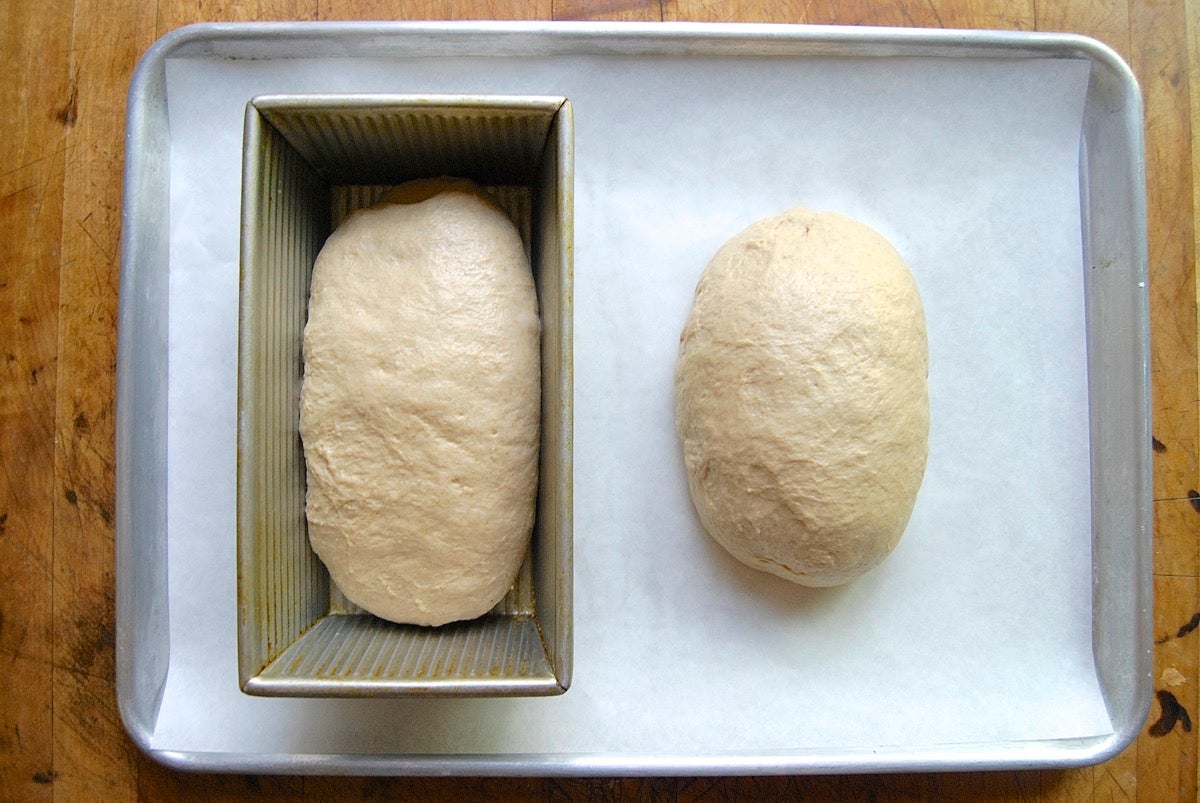 Place each log into a lightly greased 8 1/2" x 4 1/2" loaf pan, or onto a lightly greased or parchment-lined baking sheet.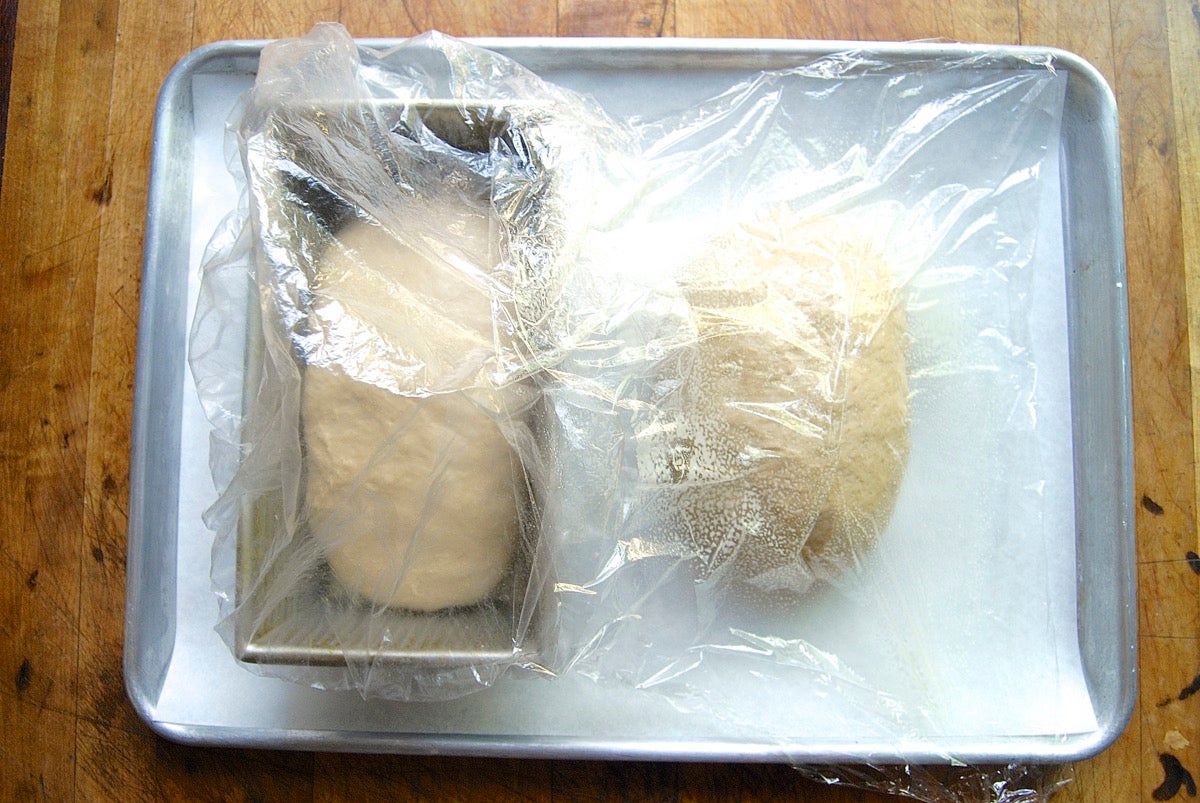 Tent the loaves with lightly greased plastic wrap.
Hey, there's that shower cap again. I've "poofed" it over the loaf in the pan, then draped plastic wrap from the shower cap over the loaf on the baking sheet, using the cap to make a little tent. This helps prevent the wrap from sticking to the dough as it rises.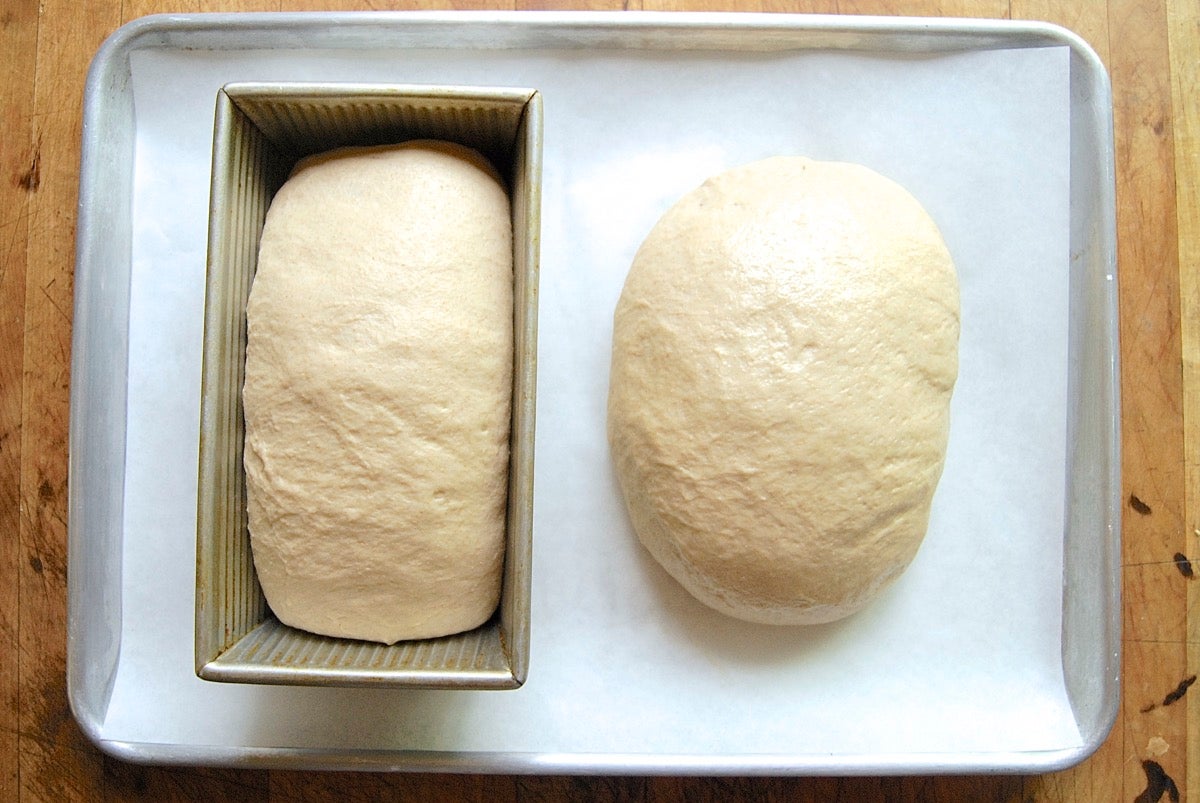 Let the loaves rise
Thirty minutes should do it. They'll become quite puffy.
While the loaves are rising, preheat your oven to 375°F.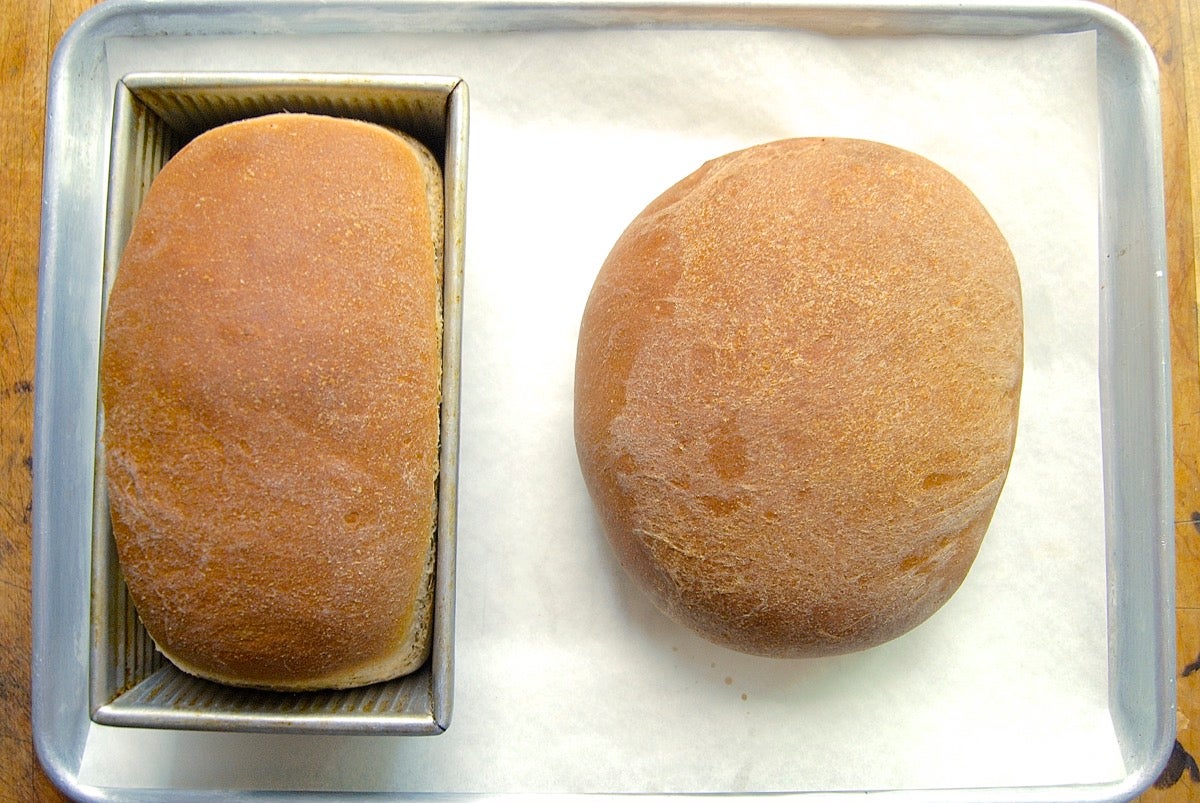 Bake the bread
Uncover the bread, and bake it for about 30 minutes, until the crust is golden brown. If you have a digital thermometer, the internal temperature at the center will be about 190°F. Remove the loaves from the oven.
When they're cool enough to handle safely, transfer them to a rack to cool.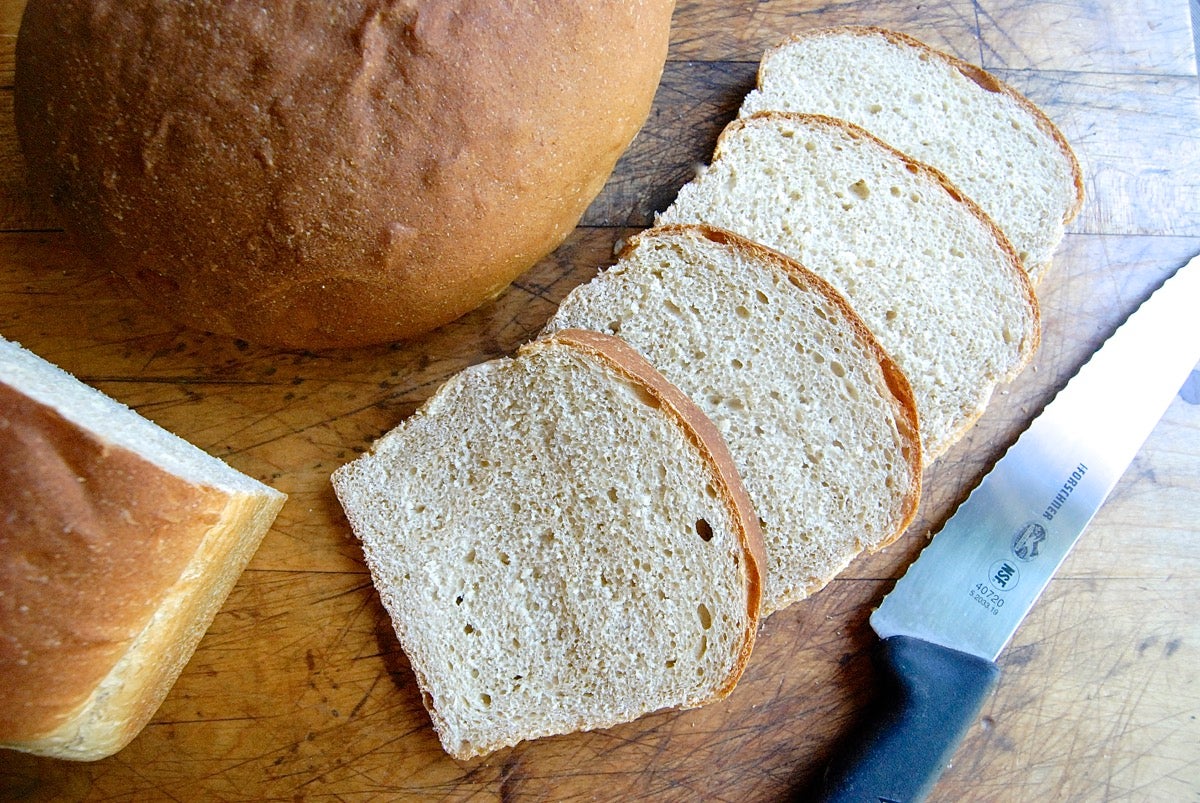 Celebrate Bake for Good Month with fresh homemade bread!
Be sure to let the bread cool completely before you slice it. I know it's hard, but slicing hot bread can make the entire loaf gummy. Patience is a virtue!
Bread and butter are a great pair — just like baking and sharing.
It's not critical whom you choose to share with; just that you do. Whether your specialty is butter pecan cookies, brownies, or blueberry muffins, bake a batch, put some in a bag or box, and take them where they'll be most appreciated.
We hope all of you out there regularly take the time to put your baking heart and soul into at least one baked treat that you make and share — with your family, friends, work colleagues, the parents at the football game, the folks at the fire station...
Want to Bake for Good? October is Bake for Good Month; join us by taking the pledge here.
What will you bake, and whom do you plan to bake for? Please share in comments, below.