Ice cream sandwiches
Made with love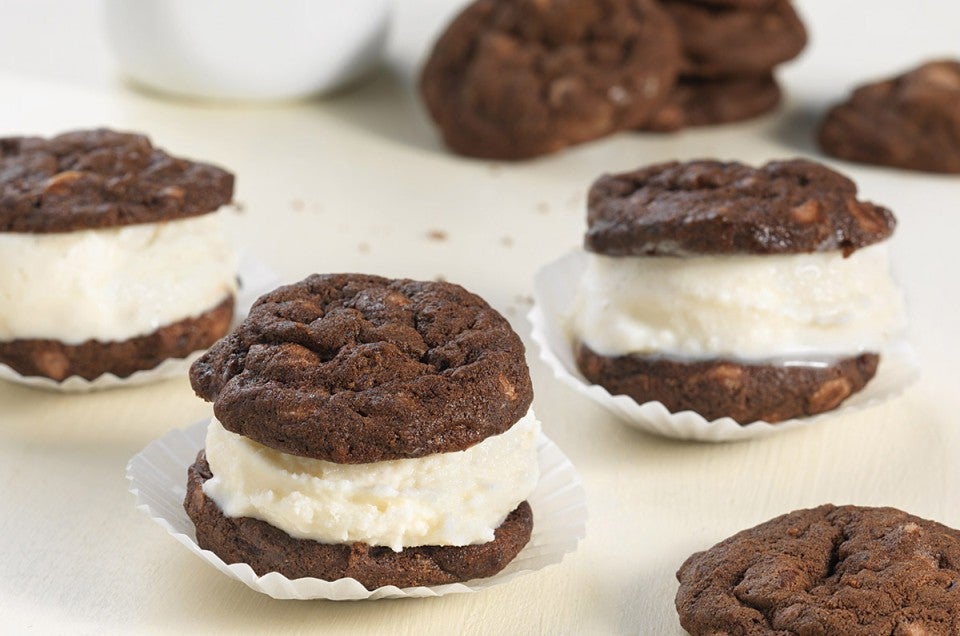 There's nothing quite like coming in from a day spent in the sunshine and pulling an ice cream sandwich from the freezer.
Back before schools were strict with their healthy eating policies, and back when my friends and I were busy athletes with youthful metabolisms to boot, most after-lunch purchases included an ice cream sandwich from our favorite lunch lady, Lorraine. The combination of a soft chocolate chip cookie enveloping creamy vanilla ice cream was something that never got old.
Now that the growth spurts have stopped and exercising doesn't keep me nearly as svelte, ice cream sandwiches are something of a special treat. But store-bought just won't do.
Freshly baked cookies sandwiched around homemade creamy ice cream. Sounds easy, right? That's because it is!
For my first frozen sammies of the year, I went with one of my favorite flavor combinations – mocha and cream: Double-Dark Mocha Drop Cookies paired with Sweet Milk Ice Cream. Best yet, these ice cream sandwiches are mini versions. So yeah, basically free calories…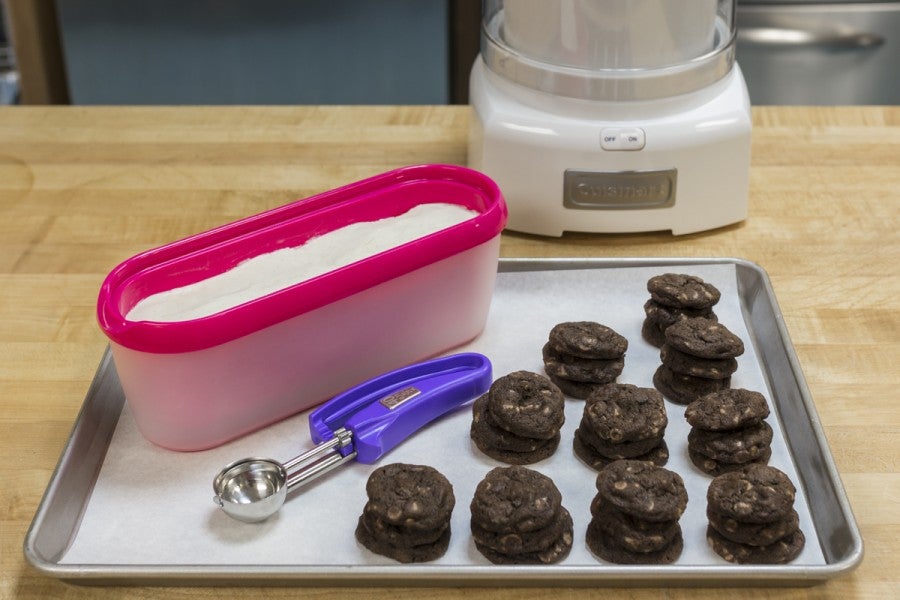 I'll be honest, this blog started out as an excuse to make ice cream sandwiches. What it turned into was me falling in love all over again with my cookie scoops. They give me perfectly even scoops every time, so I don't have to worry about matching up the right-sized cookies for sandwiches. I also use a scoop to distribute my ice cream, which is incredibly easy and tidy.
Pre-bake and cool your cookies. I scooped all of these with a teaspoon-sized cookie scoop.
You'll also need to have made your ice cream the night before in your ice cream maker, then stored it in the freezer to harden. Never made ice cream before? Check out our blog covering tips and tricks for ice cream perfection.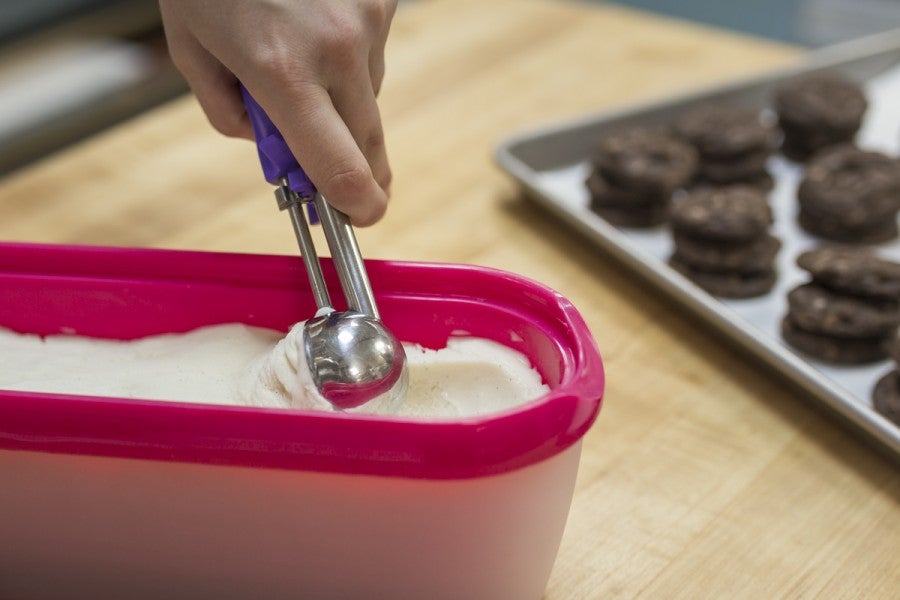 Our test kitchen bakers are obsessed with this ice cream storage tub. The efficient shape saves freezer space, and the non-slip base makes for easy scooping. It also comes with a double-walled design, which prevents freezer burn. And it's super cute!
We recommend taking the tub out of the freezer 5 to 10 minutes before you start assembling your sandwiches. If the ice cream starts to get too soft, pop it back in the freezer for 10 minutes or so before you resume scooping.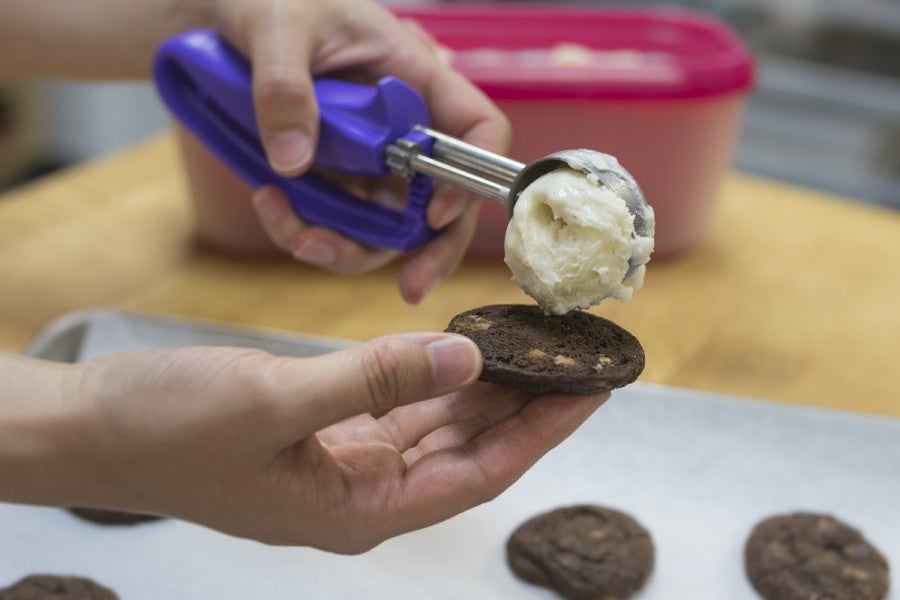 While the cookies were scooped with a teaspoon-sized scoop, we filled the cookies using a tablespoon-sized scoop. You can probably go with the smaller size, but the ratio of ice cream to cookie won't be quite as magnificent.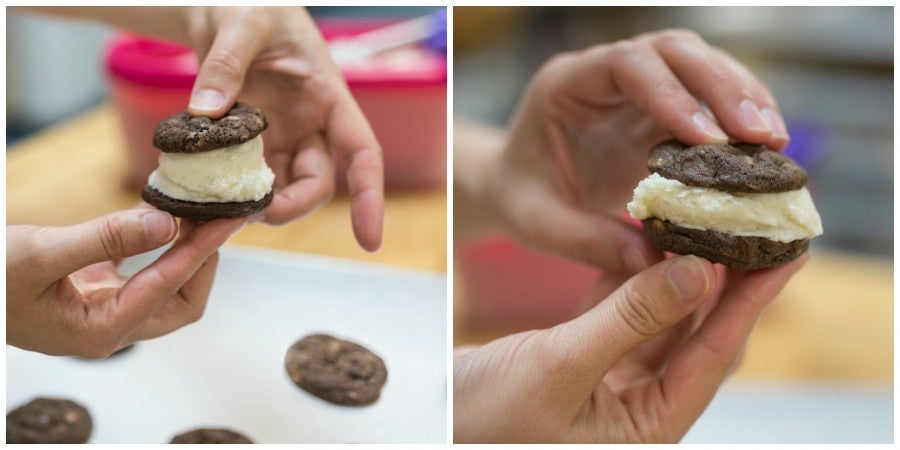 Just scoop, top with a second cookie, and press together – it's really that simple. The smaller size of the cookies prevents them from crumbling or bending much under the pressure. If your kitchen is particularly warm, we recommend popping each assembled sandwich into the freezer before starting another.
Be sure to wrap your sandwiches once they're fully frozen, to prevent freezer burn or off odors from messing with your perfect desserts.
Spring and summer are just around the corner – time to celebrate with ice cream sandwiches!
Tell us, what's your favorite frozen sandwich combination? Please share with all of us in comments, below.
Please bake, freeze, assemble, and rate our recipes for Double-Dark Mocha Drop Cookies and Sweet Milk Ice Cream.