Halloween Cupcakes
Frighteningly fun frostings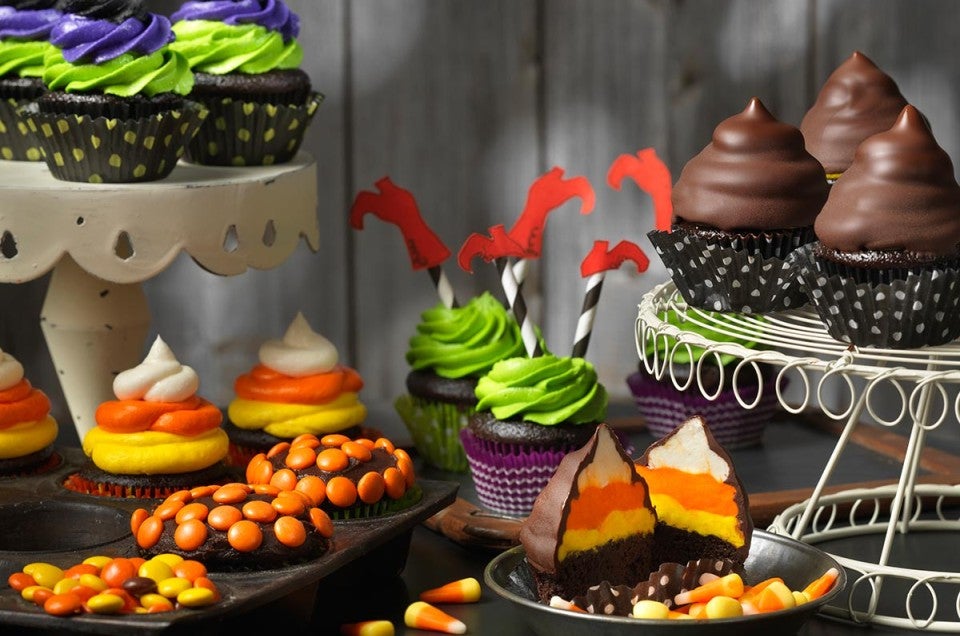 Put down your pumpkins and pitchforks and pick up your pastry bags, it's time to decorate Halloween cupcakes. This year, we're thrilled to show you three techniques we love, brought to you by two bloggers who revel in the season.
Both Gwen and MJ, King Arthur bloggers both, love all things colorful and creative. Rather than duke it out over who got to write this year's post on Halloween treats, they've banded together to bring you twice the thrills and three times the frills. Let's see what the ladies have to say!
MJ: Well, it started with gathering pictures and ideas, which grew to a Pinterest page, which led to a meeting, which led to a list, which covered the page. Eventually we winnowed our list down to our five favorite ideas. We emailed and messaged and talked in the hallways. Gwen baked cupcakes by the dozens and whipped up pounds of icing in preparation for our decorating day.
Julie, our kitchen steward, brought us every Halloween candy she could get her hands on and eventually we headed down to the photo studio with no less than 4 dozen cupcakes in tow.
Some were simply decorated with colored icing and candy, our idea for those last-minute decorators. Others were more elaborate, sporting piped crowns of frosting, for the more dedicated; and these three designs were our show stoppers, for those decorating doyennes out there.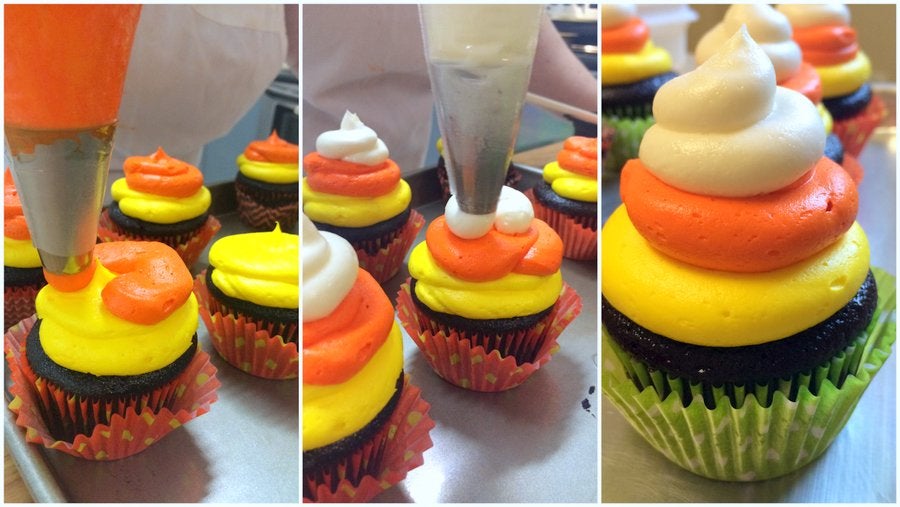 Halloween Cupcakes 1: Stacked Icing
Gwen: These cupcakes are vibrant, exciting, and exceedingly easy. Make a batch of Fluffy White Buttercream, and separate it into three different dishes. Add orange and yellow food coloring until you reach the shade that you're looking for. We like to use soft gel paste colors, as they're a more concentrated color than the store-bought version.
Fill three piping bags (or do one at a time if you only have one bag) and pipe three separate layers. These ultra-cute candy corn cupcakes look like little masterpieces. Your guests are guaranteed to be impressed.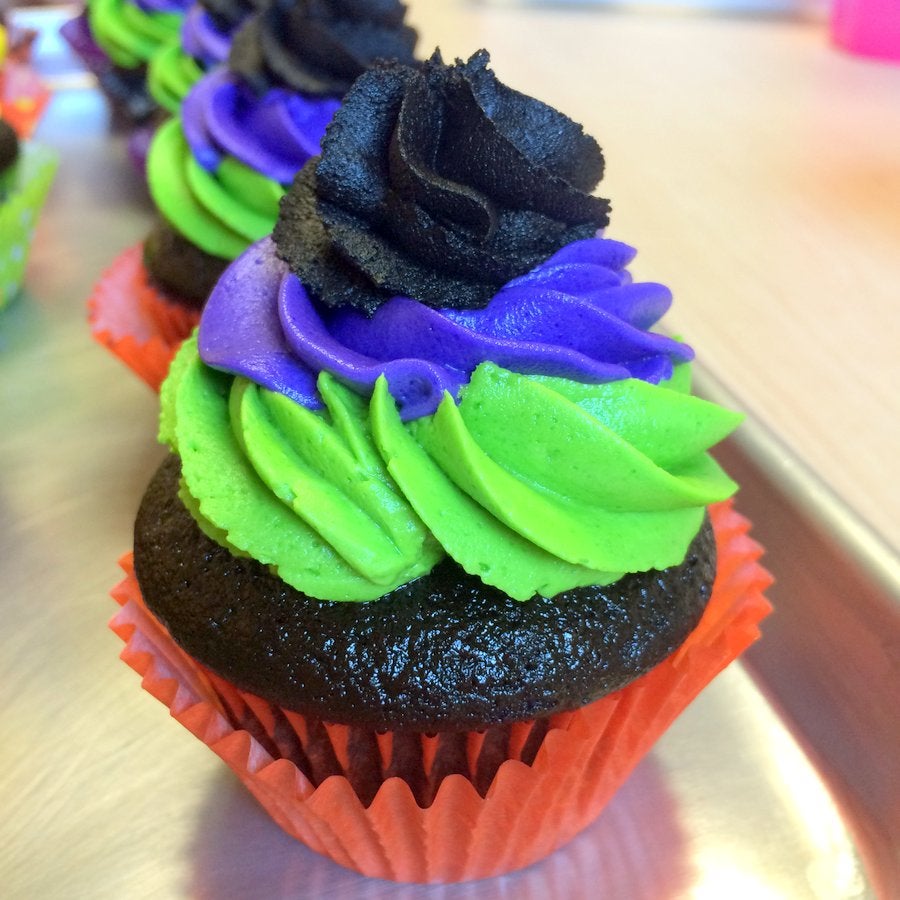 MJ: I'm all about the bold, Gothic colors. Stacks of green, purple, and black really make a statement. To get a deep, dark black icing, add our black cocoa powder to your regular chocolate icing. You'll get a super-dark color and it tastes like Oreos!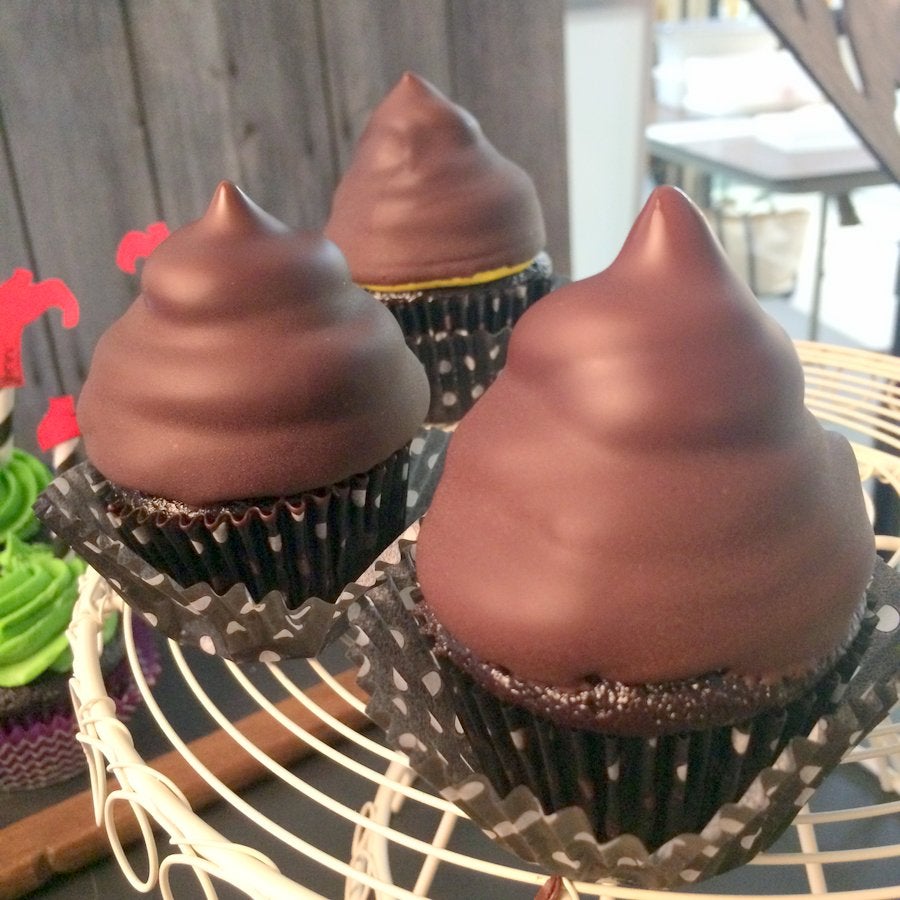 Halloween Cupcakes 2: Chocolate-dipped Hi-Hats
MJ: I've made Hi-Hat Cupcakes before, but never as fantastic as these choco-dipped Halloween cupcakes.  Skipping the marshmallow and using buttercream icing allowed us to use more color, creating "surprise inside" cakes.  Booo-ti-ful!
If you've got the time, try our Fluffy White Buttercream Frosting. If you're in a hurry, our Vanilla Buttercream Frosting Mix works like magic.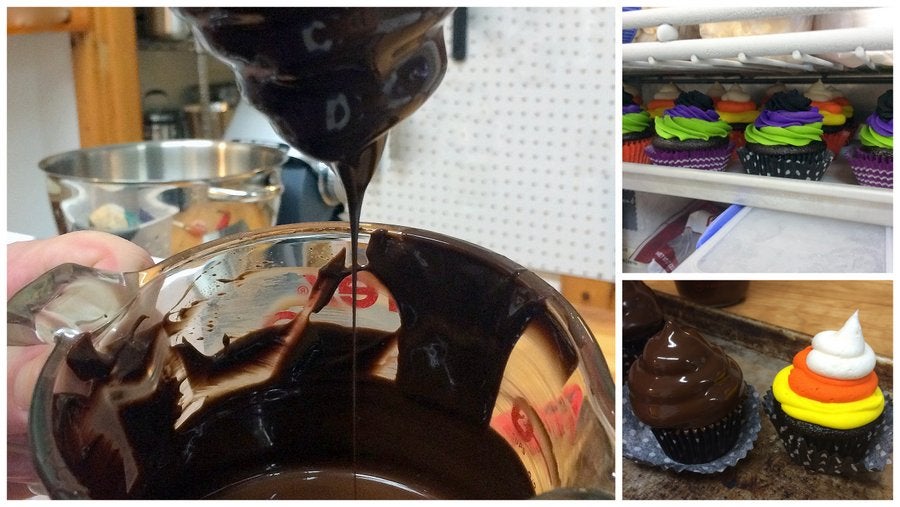 Gwen: Take your tri-colored piped cupcakes (like the candy corn ones from above) and pop them in the freezer for several hours to firm up. Once they're frozen solid, prepare the chocolate dip.
Melt 2 cups chopped chocolate over low heat or in the microwave. Add 3 tablespoons of vegetable oil and stir until smooth. Let cool to room temperature.
To dip, pour the chocolate dip into a tall glass or container. Invert the frozen cupcake, and dip straight down. Just dip to the bottom edge of the frosting; don't dip the cupcake itself. Hold briefly over the glass to drain excess chocolate. Allow the chocolate to set on the cupcakes at room temperature, or return to the freezer to speed up the process.
Return to room temperature for 10 minutes before serving.  Using a knife dipped in hot water and wiped clean will make slicing a breeze. Any chocolate smudges on your filling can be swept away with the back of the blade.
Dipping your cupcakes in chocolate really takes your dessert to the next level. What a fun surprise for your family and friends, perfect for Halloween.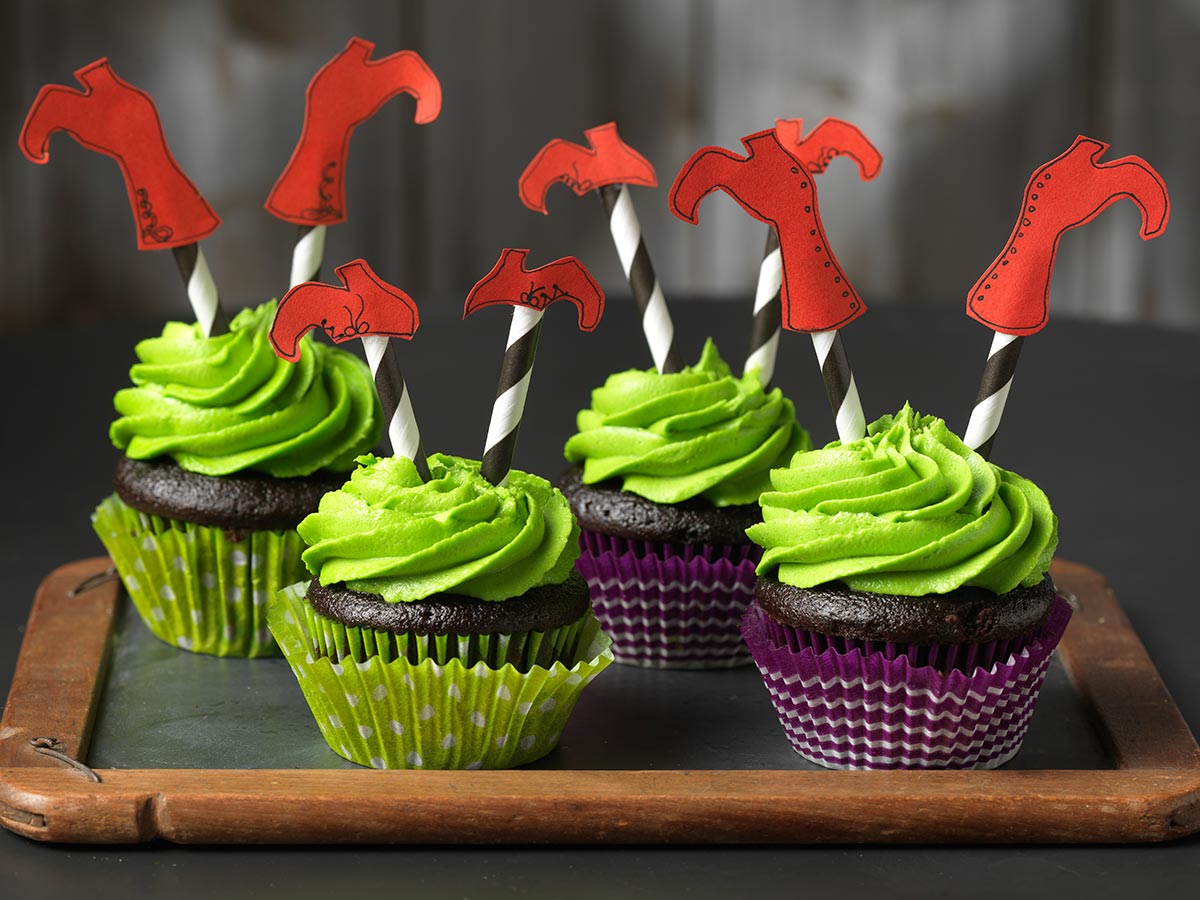 Halloween cupcakes 3: Wandering Witches' Feet
Gwen: How cute do these cupcakes look?! Those poor witches crashed their brooms and fell face first into frosting and cake. What a tasty place to land!
The baking prep for these cupcakes is pretty minimal. Whip up a batch of Fluffy White Buttercream Frosting and add some green food coloring or some soft gel paste until it reaches the desired color. Then all you have to do it pipe or frost your cupcakes before moving on to arts and crafts with MJ.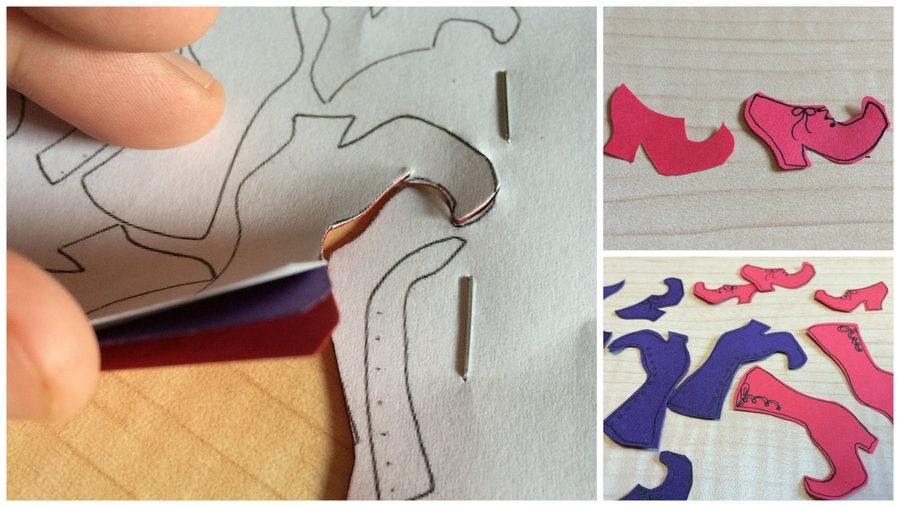 MJ: If my years as a preschool teacher taught me anything, it's how to cut lots of things at once. By stapling your pattern and paper together firmly, you can cut up to three layers of sturdy stock paper.
Once you have your shoes and boots cut out, take the extra time to add some buttons and shoelaces with a fine pen or marker. The devil's in the details for these Halloween cupcakes!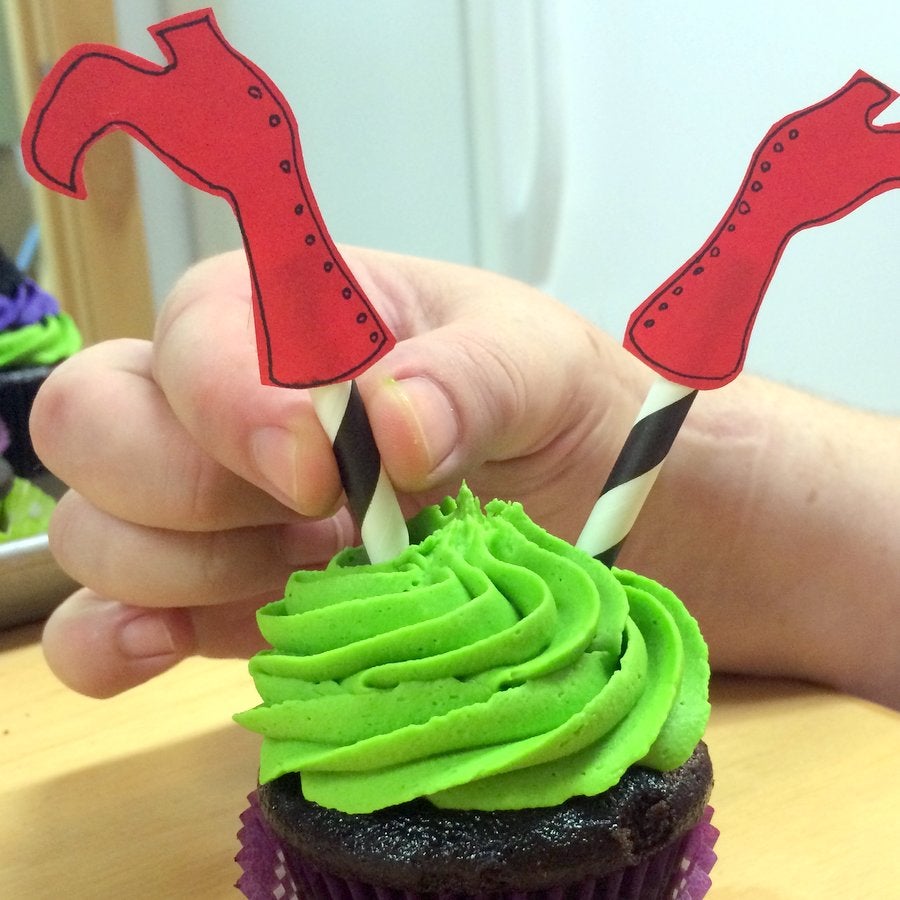 Use double-sided tape to stick the shoes to the end of a paper straw. I found at least 6 different colors of straws at my local mega-mart in the craft section, including these classic black and white ones.  I'll get you, my pretty – you and your little cupcake, too!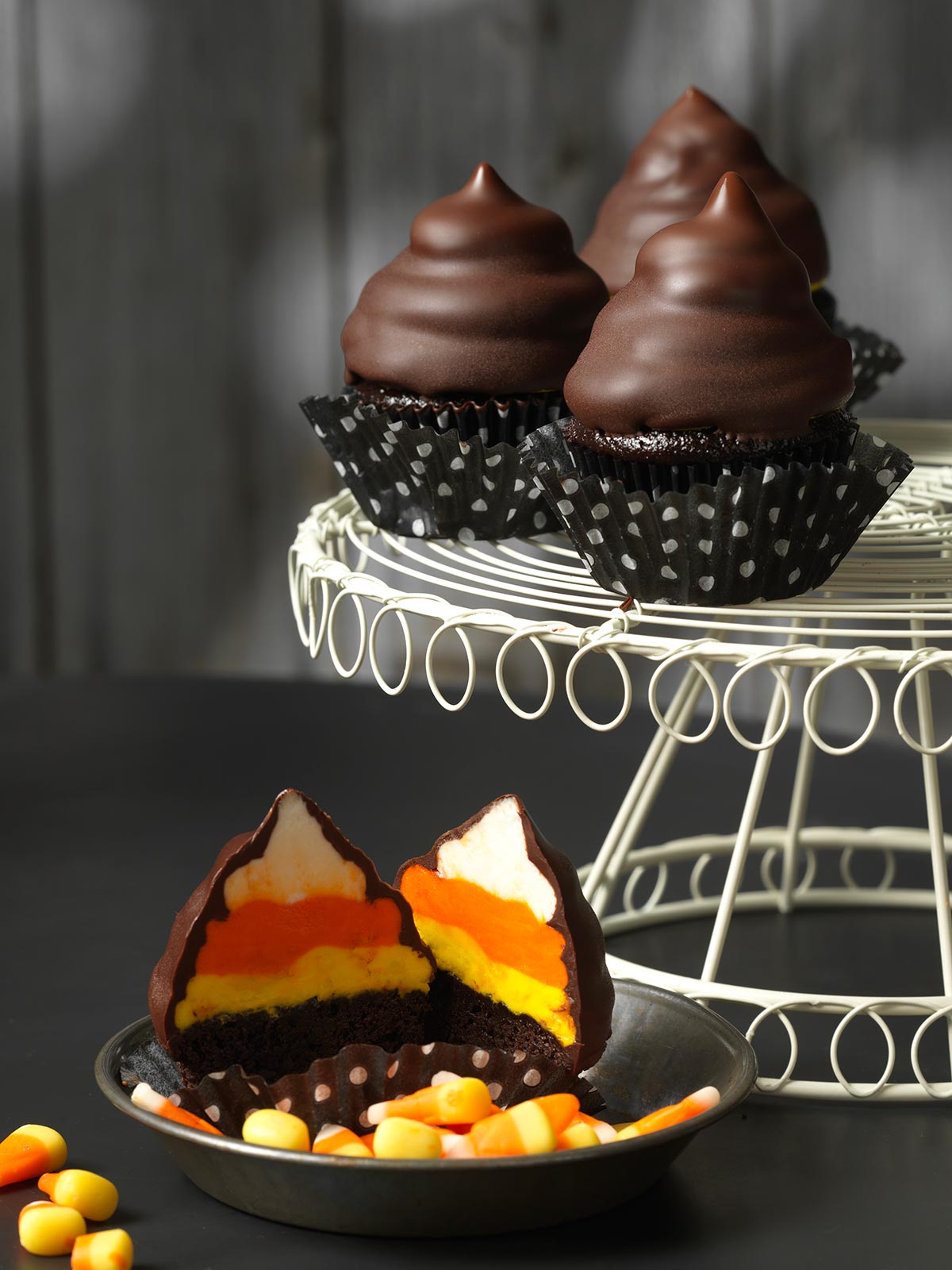 Well, there you have it. Two halves coming together to make your Halloween cupcakes assortment twice as amazing. We dare you to give these decorating tips a try. In fact, we DOUBLE-DOG dare you!
Gwen: The best part about going all out with holiday baking and decorating is showing them off! And, of course, eating them...
Post your creative Halloween goodies on Instagram and and tag us at #kingarthurbaking. We love to look at them; it's our favorite way to get inspired for our next decorating adventures. And of course, let us know how your decorating goes in the comments, below. 
Here's to a day filled with sweet treats and baking tricks. Happy Halloween!
Jump to Comments