Six Great Breads and Spreads
The Bread Board, from Sift Magazine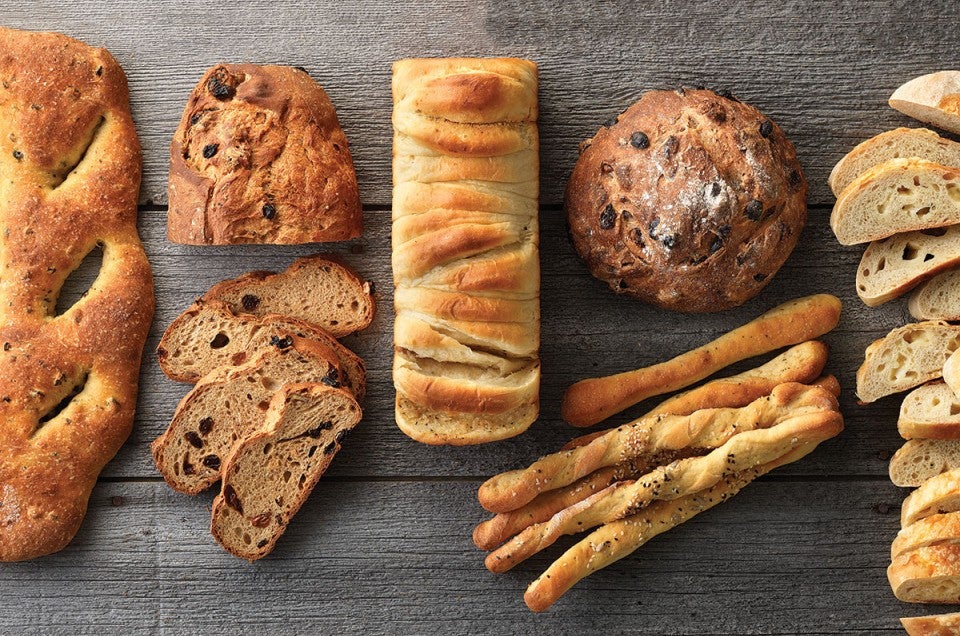 The power of fresh, warm bread to bring people together is ageless. The magical alchemy of yeast, liquid, flour, and salt creates one of the most enchanting, delightful aromas known to man: the smell of baking bread.
Here we present six great breads and spreads that show them off; together they create greater satisfaction than either can manage on its own. In the premiere issue of Sift magazine, we paired a panoply of excellent breads with equally flavorful spreads. We hope these combinations will inspire you to do some matchmaking of your own.

Fougasse is a fancy-looking flatbread that's really quite easy to make. The slashes in the bread create more crust, for those who appreciate the tear, crunch, and chew of a flavorful artisan bread. That sturdiness will serve you well, for swiping through a bowl of artichoke dip.
Who doesn't love cheesy bread? Garlic and shallot confit is the perfect companion, as well as being quite useful in its own right. Use it instead of red sauce on your next pizza; put a spoonful in the pan as you're searing up your next batch of garden zucchini or spinach, or use it to punch up your filling next time lasagna's on the menu.

Salads are all very well and desirable, but when you need something sturdier to dig into (and don't we all, from time to time?), put together some bread sticks and buzz up a batch of our simple hummus while the dough is rising.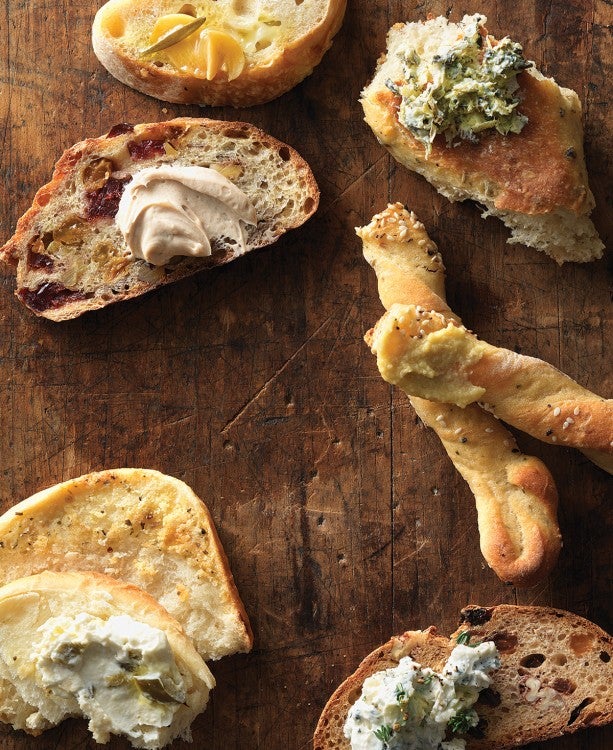 Upper left: Ever since we first tasted PJ's raisin-pecan rye, we've been in love. The affair only gets better with a schmear of another heartthrob, our boiled cider cinnamon spread.
Lower left: This one's for sharing, too;  the recipe can be made as bubble bread for a crowd, or in a pretty half-moon-shaped layered loaf in a pan. Either way it's a wonderful treat to have with friends and warm hot popper dip.
Lower right: Bread goodness can be as simple as stir and wait, plop into pan, and bake, with our no-knead harvest bread. The catchy combination of earthy blue cheese spread with a touch of honey and herbs is the perfect accessory.
There'll be a Bread Board feature in every Sift magazine, and our next issue is right around the corner. I'll be back soon to tell you about our fall issue of Sift, going on sale August 25. While you're waiting, click through to the recipes above and mix up some water, yeast, and flour!