April Fools!
That's us. All of us.
We recently asked you, via Facebook, to share some of your favorite kitchen disasters. And boy, did you respond.
Without further ado, here are our favorite baking fails – epic, and otherwise.
Note: Look at the photos in each group top to bottom; left to right; or clockwise, starting from top left, to match them with their contributor comments.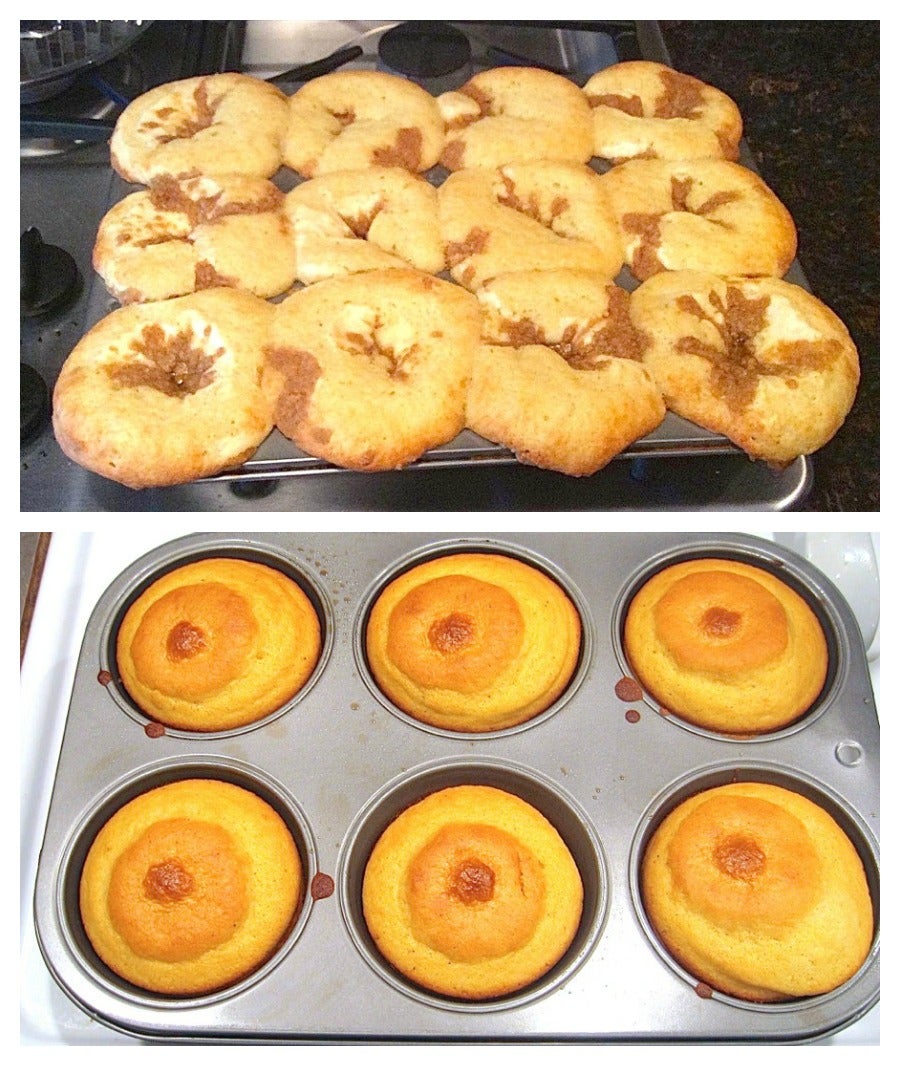 Let's jump right in with some muffed muffins.
Anne: The streusel topping wasn't supposed to sink into the muffins ... but they were delicious.
Susan: My failed attempt at corn bread muffins. Forever referred to as the time I made "porn bread muffins."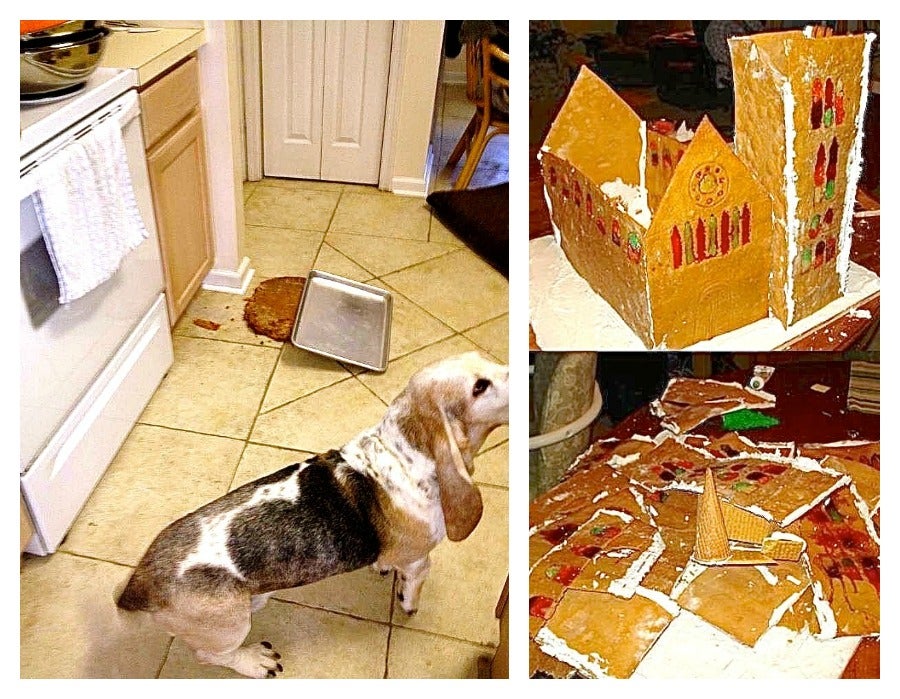 Sometimes things crash.
Ranee: That time I forgot to push the last of the 9 cake layers for the wedding cake I was making to the back of the counter where the dog couldn't reach it!
Paula: One year I built a gingerbread cathedral for a contest. It seemed to be going so well...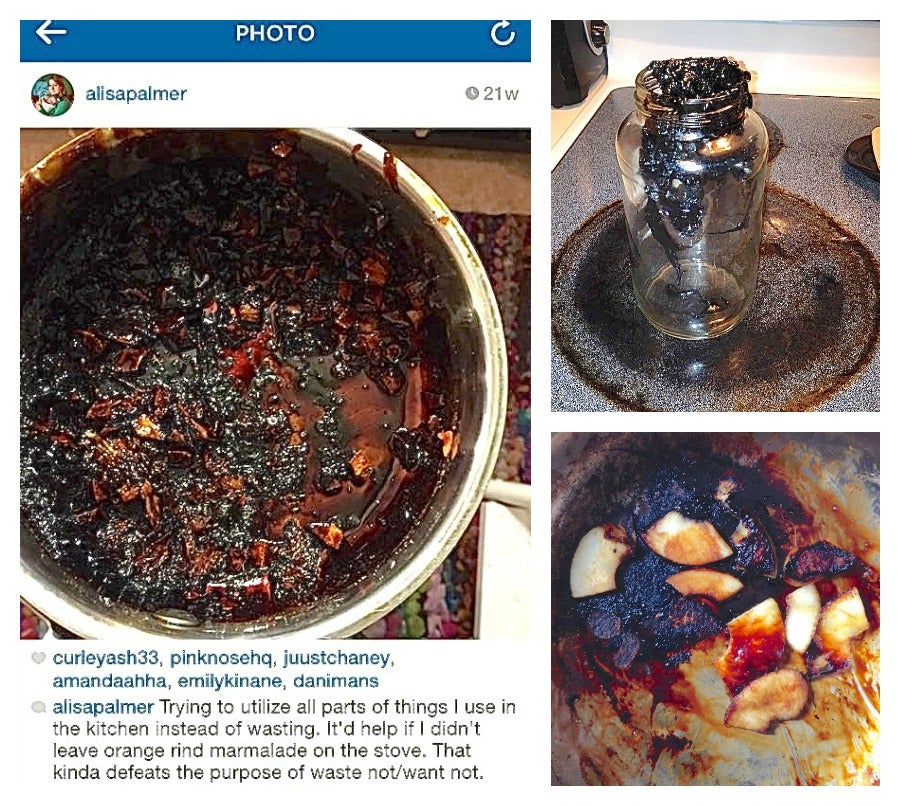 And other times, they just burn.
Alisa: Left marmalade on the stove. My daughter still talks about it.
Colrain: Not baking, but candy making. Let's call this "over reduced" apple cider. It resembles some sort of primordial ooze and hardened into a weapons grade rock.
PJ: Sugar-coated apples burn when left over a flame too long. Yeah, light dawns on Marblehead!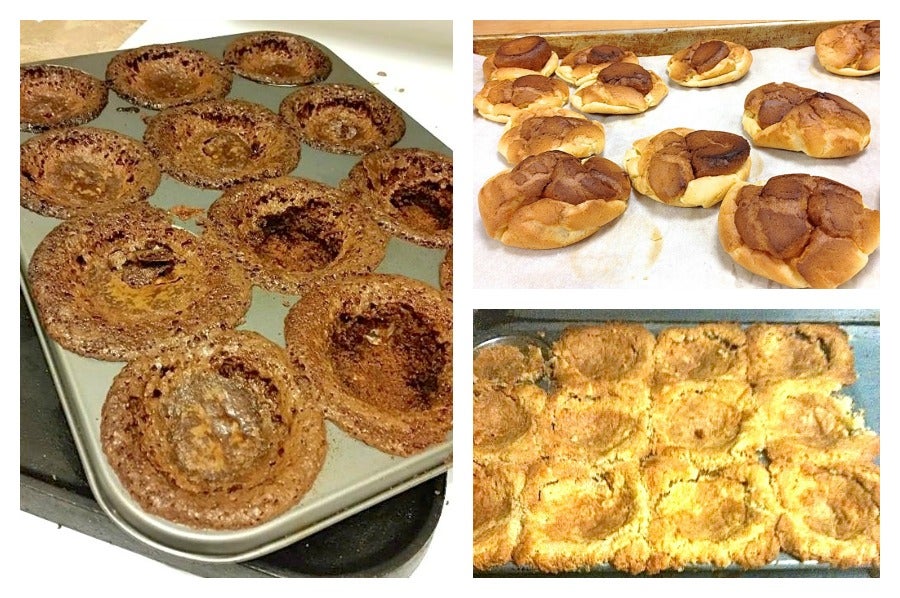 There's the flat-out fail...
Amy: Tried to use a from-scratch cake recipe for cupcakes, but over-baked them at too high of heat. Took 3 days of soaking to get them out of the pan.
PJ: Pop-unders?
Tracy: These were supposed to be pineapple upside down muffins. They... were not. Ended up as a parfait I think.
...and the flat, FLAT, REALLY FLAT-out fail.
Elizabeth: Supposed to be chocolate chip cookies. Forgot to add flour.
PJ: I meant to do this. Honest.
Cheryl: Saved this from my PinterFAIL, it was a Pinterest gluten free toaster tart recipe, yikes!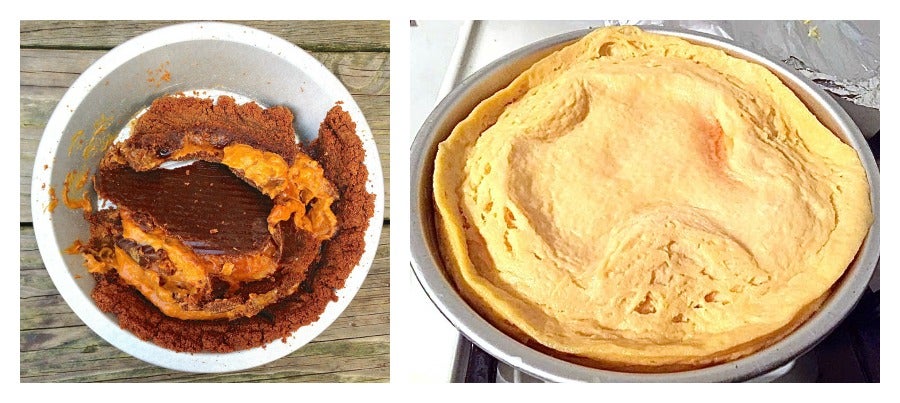 Pie pan mishaps...
PJ: Pumpkin Cream Pie. Crust so hard it took pounding it on the deck with a spade fork to even get it this far.
Oralia: Cheesecake flan, I didn't put it in a water bath. I got scared when I uncovered it. It looked like a soufflé and five mins later it fell flat.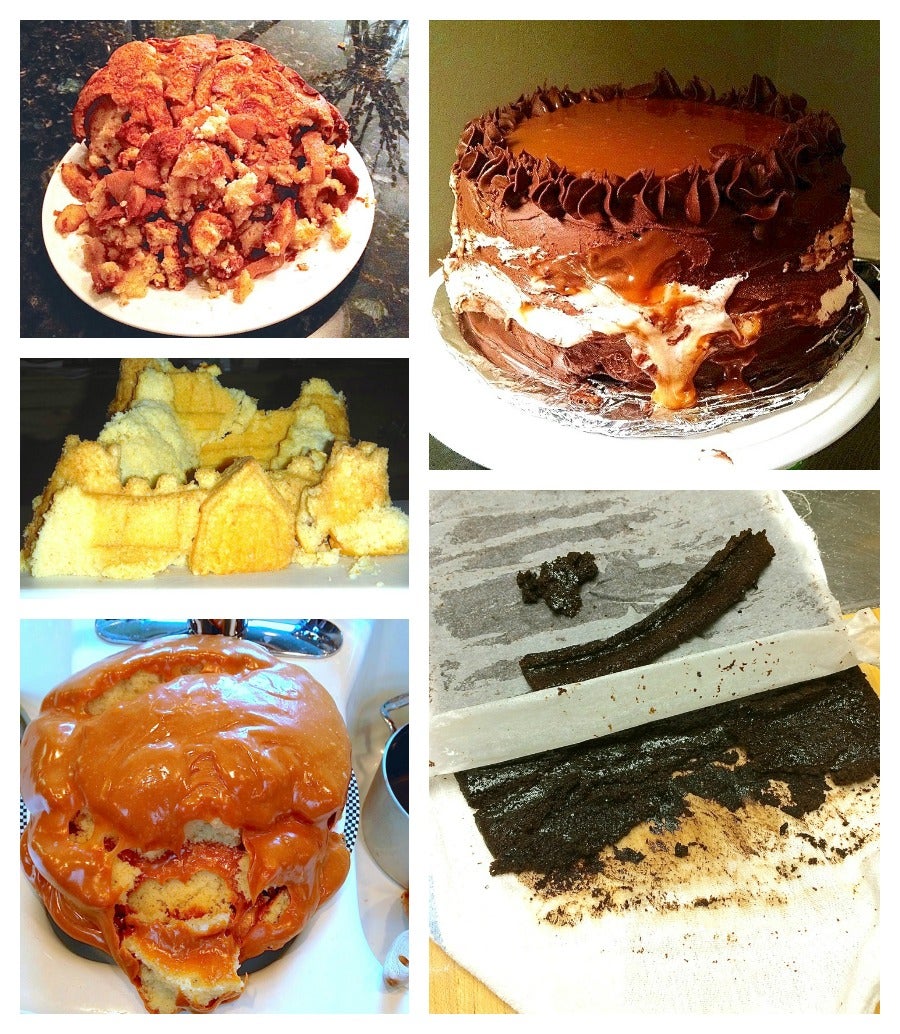 ...and crumbling cakes...
Maureen: Turned out Jewish Apple cake, that turned out....a delicious pile of apples, caramel, and cake.
Dottie: The caramel and marshmallow fillings were not quite as firm as I had hoped...blew out the icing dam. Luckily it was served on New Year's Eve so everyone was too tipsy to notice.
Gwen: I thought parchment was supposed to be non-stick?
Lori: This was a wonderful homemade white cake. When I poured the caramel icing on it, the cake disintegrated. To me, this cake looks like a brain or a turkey.
Anne: Here's a pic of of our ruined castle bundt cake. Luckily, my daughter was able to use it as an example of a Spanish castle ruin for her 8th grade Spanish class project. She found a pic of a similar Spanish castle ruin on the internet. Got an A.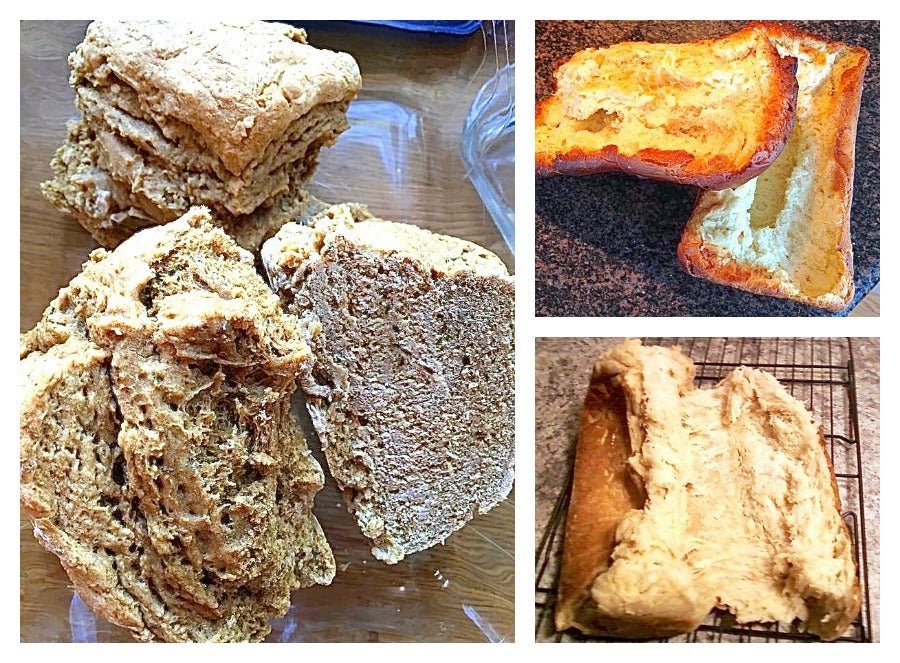 ...and, of course, breads gone wrong.
Jeanne: Traditional Irish Soda Bread. Also known as our new doorstops.
Jill: Here's a failed attempt at GF bread.
Sam: This loaf just fell apart as I was taking it out of the pan.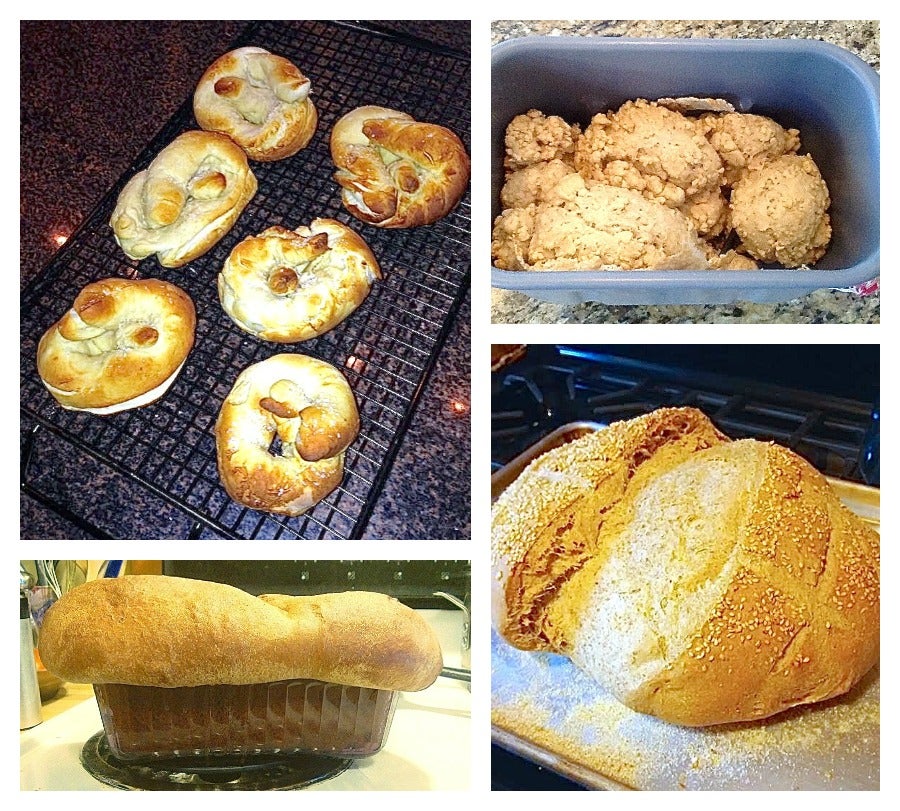 WAY wrong.
Jill: And my poop-shaped pretzels.
Nancy: My loaf of sourdough bread in the bread machine.
Patricia: The bread just exploded. It was like Bread-ocalypse in my oven or Breadzilla being born.
Margo: I think I let this bread rise too long...I had to cut it out of the pan.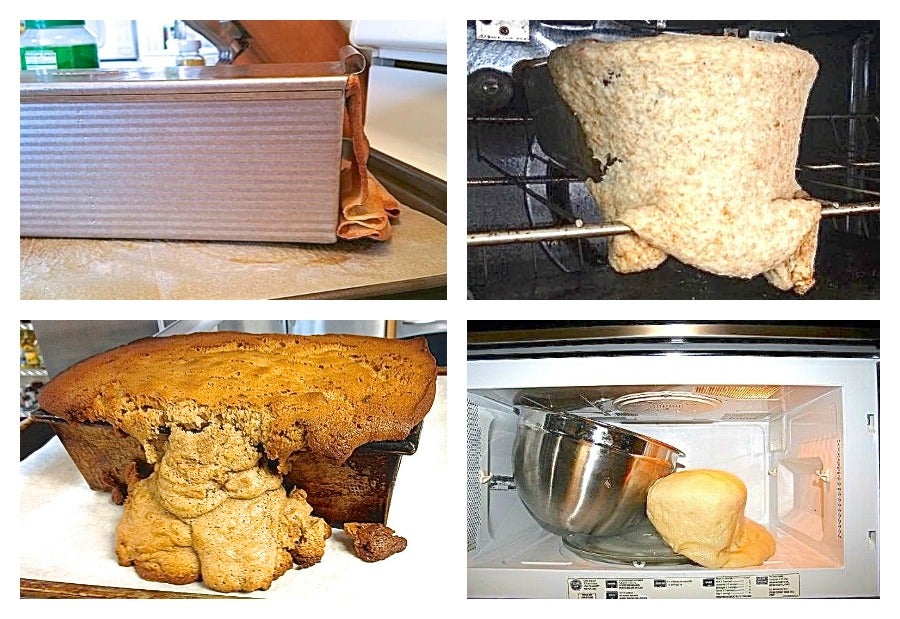 Sometimes the bread's too much for the pan...
Jenn: I guess it rose a little too much before going in the oven. LOL, at least I had the foresight to put it on a pan (I usually don't)!
Katherine: We just knew we didn't use enough flour, yet somehow we just tried to roll with it anyhow. This was supposed to be cinnamon swirl bread. Clearly, an epic fail!
Paula: I don't even remember what happened, but it's likely that I used the microwave as my "proof box" with hot water in the bowl... Lucy!
MJ: This is why we call it the test kitchen!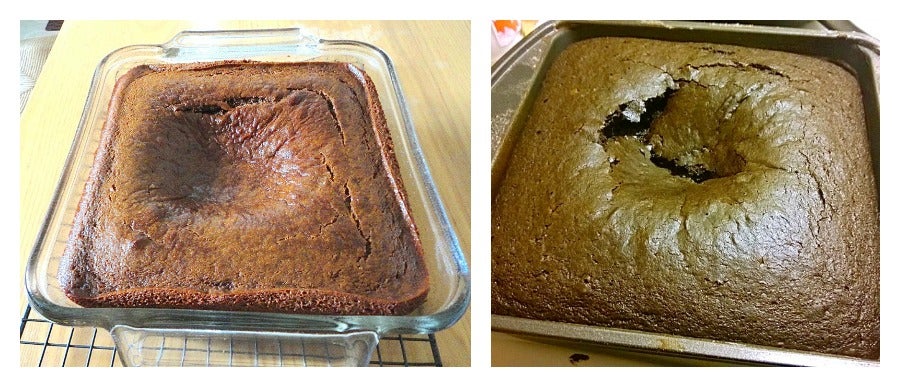 ...and sometimes, the pan's fine and it's just good old user error.
Barbara: Failed (a.k.a. depressed) gingerbread. 15 years, and I still can't get the altitude thing right (at least that's what I use as my excuse!).
Margo: I don't know what happened to this cake (and it was my birthday cake). I just filled the crater with frosting.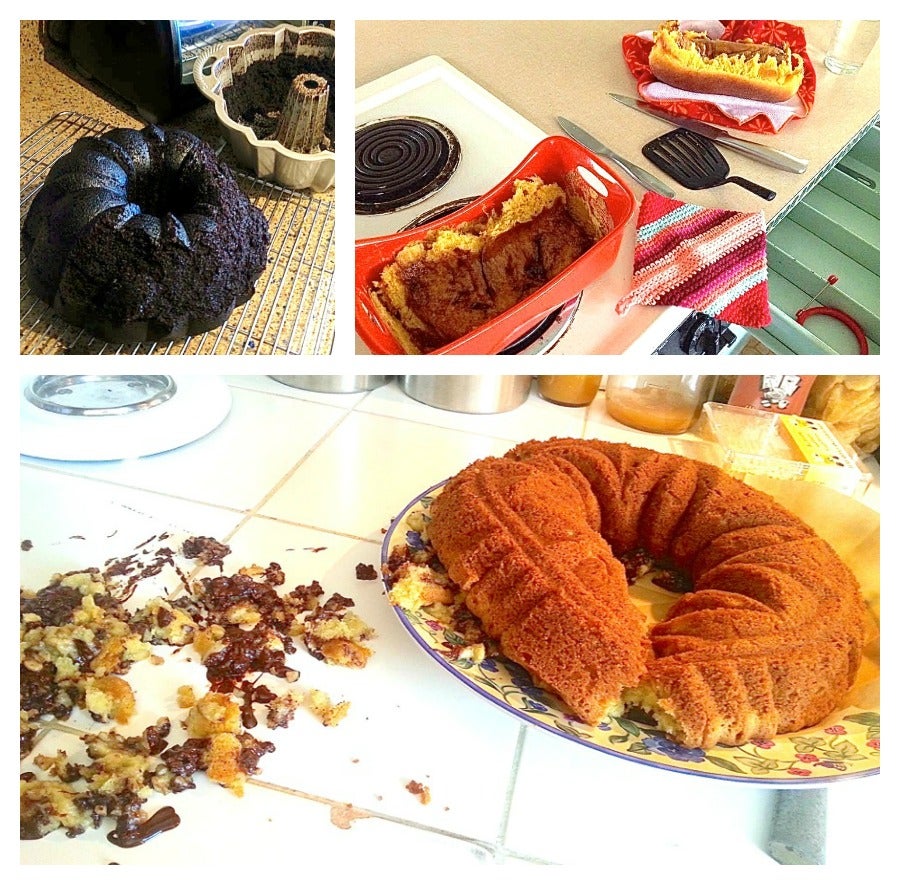 Still, as bakers, we have a certain stick-to-itiveness.
Patty: It seems that having a chocolate Bundt cake stick has become a yearly event for me. (It happens when I follow the recipe's directions for coating the pan, instead of using my preferred method.) This one became an Oreo Trifle instead.
Justina: Experimenting with cinnamon swirl bread. Maybe should have greased the pan.
Jamie: While on the rack cooling, the center filling of chocolate chips, cinnamon and walnuts simply dropped right out. This is why the recipe calls for a springform pan, and not my 100-year old cast iron bundt pan.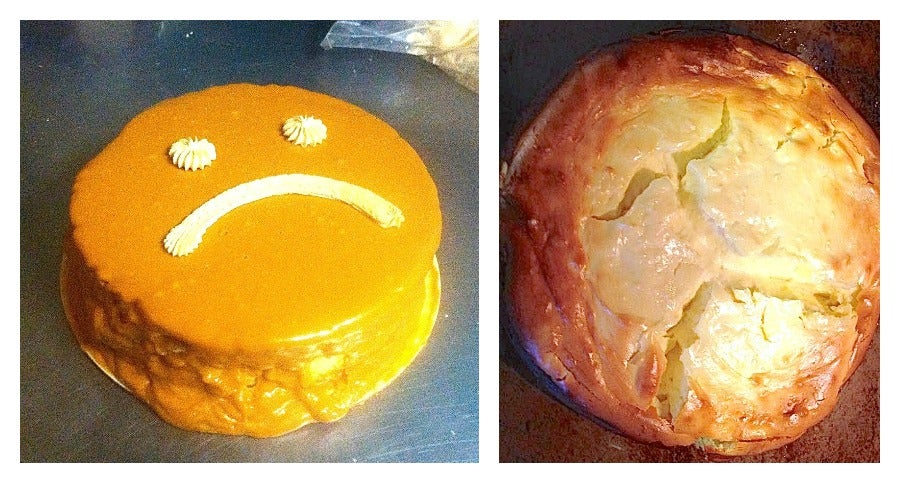 Even when things don't turn out quite right...
Jane: I'm heartened to see that I'm not the only one to have been defeated by caramel cake!
Katey: [no comment!].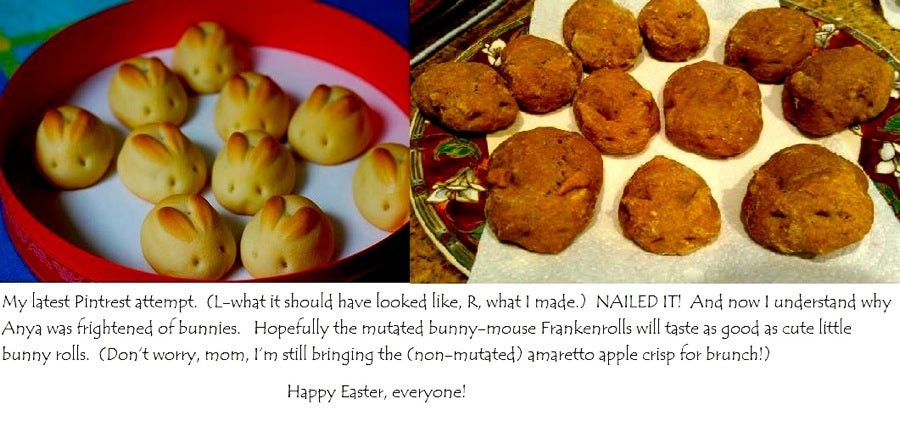 In the end, there's always something to smile about!
Christina: My mutant bunny rolls, for Easter. FAIL!
Thanks, all, for sharing your baking blunders. Here's to all of our foolish moments in the kitchen!
Join the fun! Tell us about your favorite baking blunders in comments, below.