Ah, the evolution of food in pop culture. The rise and fall of onion dip; the world domination of Sriracha hot sauce, and the legions of teenagers scarfing down Coke and Pop Rocks in the name of urban legends.
We've all seen foods come and go, sometimes gratefully (adios, New Coke) and sometimes sadly (my kingdom for a REAL Oreo). I'm sure each and every one of us has a favorite food from times gone by that we miss terribly and probably will never see again.
Sometimes it's not so much a matter of your favorite being discontinued forever, but rather times and tastes have changed. Remember when Green Goddess salad dressing was de rigueur, and you couldn't swing a menu without hitting a tuna melt square in the tail fin? I miss a good tuna melt the way my husband misses a good patty melt with Swiss cheese and onions.
In general it seems like a good sandwich is harder and harder to find on a menu these days. So, let's get together and make a list of all the ones we enjoy at home. I've got one up my sleeve that we make on Sunday afternoons to enjoy with our British mysteries and hard ciders. It's one of those sandwiches I fondly remember from menus in the '90s (with a side of waffle fries); plus it has a new twist that brings it forward to this new year.
I call forth the Buffalo chicken panini with blue cheese butter.
First, let's bring together the butter ingredients to give the flavors a chance to blend and marry.
The basic ratio for this butter is one part cheese to four parts butter. In this case one tablespoon of crumbled blue cheese to four tablespoons of soft butter.
The butter shouldn't be too soft; just a touch softer than butter you'd be using in a cake or cookie, spreadable and a bit shiny on the outside.
A mini food processor is great for blending, but you can surely make this by hand or in your stand mixer. It freezes very well, so feel free to make larger quantities, just keeping the same basic ratio of 4:1 butter to cheese.
Pulse about 5 to 6 times to begin to bring the butter together. Add 1/2 teaspoon lemon juice and a pinch of salt and ground black pepper.
For a dash of sweetness and depth of flavor, add 1 1/2 teaspoons brandy, Scotch, or whiskey. Blend on high until the butter is smooth. Adjust the flavors to taste, then scoop the butter out and place in the fridge for an hour or so to meld and harden a bit.
For the chicken, you can use your favorite Buffalo chicken recipe, leftovers from buffalo wings, or even rotisserie Buffalo chicken from the deli for a fast weeknight dinner.
For  easy-peasy Buffalo chicken, sauté 2 pounds chicken tenders in 1/4 cup (4 tablespoons) butter, and top with 1/4 cup Frank's Red Hot sauce or your favorite hot sauce.
Ready for dinner? Take the blue cheese butter out of the fridge and allow it to soften for easy spreading. Heat up your panini press or a couple of heavy cast iron skillets.
Slice up some homemade bread, like our Sourdough Baguettes, or your favorite sandwich loaf. Spread each slice with blue cheese butter and place half of them butter-side down on the griddle.
Top with your buffalo chicken and a second slice of buttered bread, butter-side out.
Grill to golden perfection. I adore this panini press, it allows me to cook several sammies at once, and the floating hinge can adapt to different thicknesses so easily!  You can cook burgers on it too, plus the bottom plate is smooth like a standard griddle. Do I hear scrambled eggs calling?
I do so love Buffalo chicken, but sometimes the heat is too much for me. Enter a cooling side dip of diced celery, sour cream, and mayo, again spun through my trusty food processor. I don't really use a recipe for it, just whack up some celery and toss in some creaminess until it tastes good. You can, of course, go with the classic sticks of celery and carrot, too.
There you have it. A Buffalo chicken sandwich that I haven't been able to get outside of my kitchen for a long time, but which we've made many times this fall to warm our tummies down to our toes.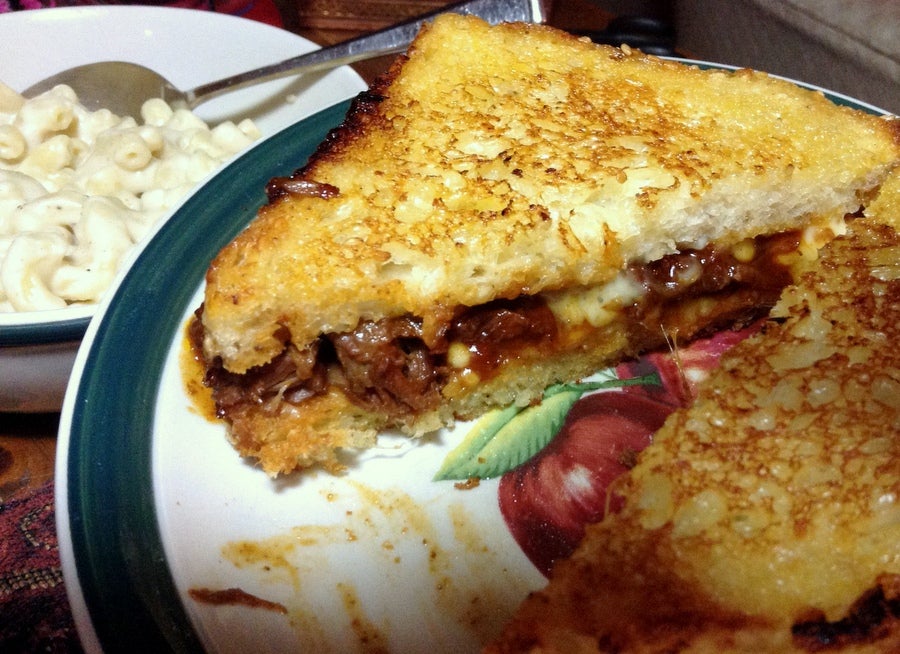 Another great sandwich with your blue cheese butter? How about pulled pork, grilled onions and cheese? Forget champagne and caviar, this was our feast for New Year's Eve 2014.
A blogger can't live on chicken alone, though, so please tell me about other favorites that you can't find but still enjoy through the magic of your own kitchens. Although, if you have discovered the secret formula for New Coke, I'll let you keep that one for yourself.
Please note, there's no printable recipe to go along with this blog. Each component is very flexible and can be adjusted to taste. We hope you'll be inspired!