Here's to 2015
And a healthier homemade start to the year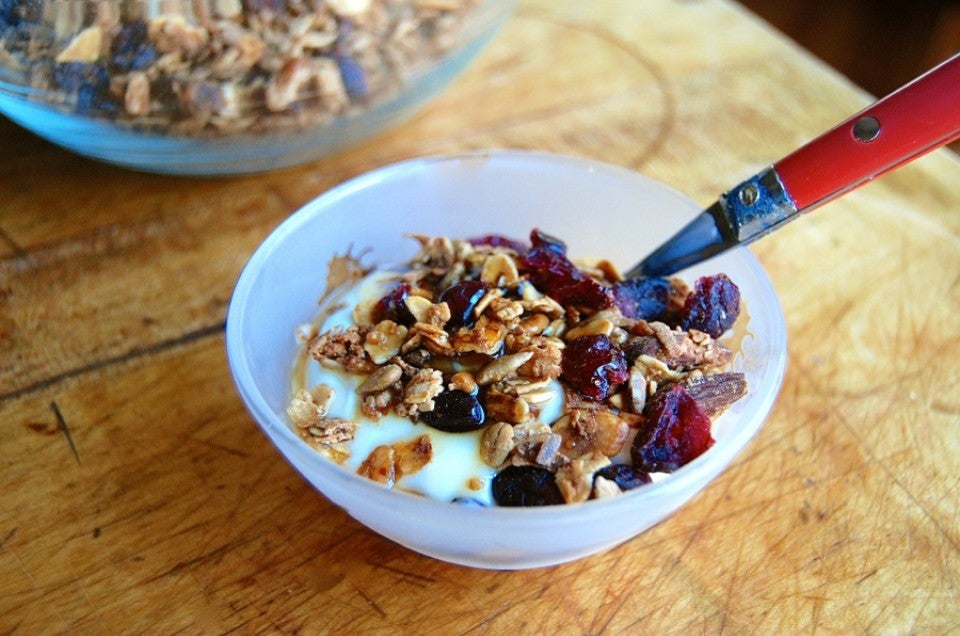 I resolve to...
Lose weight. Exercise more. Eat healthier.
Sigh. How many times have we vowed one or all of the above on January 1? And how many times have we completely fallen off the wagon by February?
In my opinion, we often set our goals too high. As I grow older, I find I'm being kinder to myself – not setting impossibly high standards, but instead celebrating small successes. And wonder of wonders, these small successes add up to progress: towards weight goals, a regular exercise regimen, and a better diet.
OK, I know this subject is uncomfortable; I suspect not many of us is completely happy with how we look and feel, or with our overall health. Sometimes it's hard to look in the mirror, isn't it? Both literally, and figuratively!
But here's my advice: set yourself one small goal today. Once you achieve it, set yourself another. And I promise, on February 1 you won't be tempted to chuck the whole January resolution thing, but instead will be looking forward to your next small success.
Here's my first goal, and one that dovetails nicely with new beginnings: eat a better breakfast.
Never mind the hurried cup of coffee while unloading the dishwasher, or the bagel with (low-fat) cream cheese. I'm going to sit at the table with breakfast in front of me, and mindfully enjoy each bite.
And my healthier breakfast for January?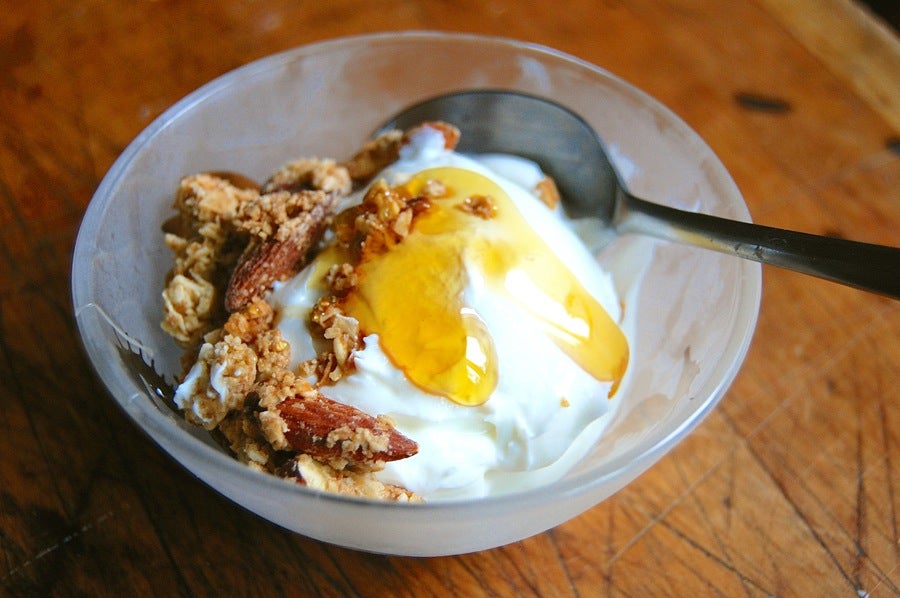 Crunchy Granola and Homemade Yogurt.
Yes, you can buy both granola and Greek-style yogurt at the supermarket. But it just feels so good to make your own. Yogurt – just milk and a bit of yogurt to get it going. Granola – healthy whole grains, your favorite nuts and fruits, a touch of oil for crunch, and pure maple syrup for the perfect level of sweetness. Now that's an ingredient list worth reading!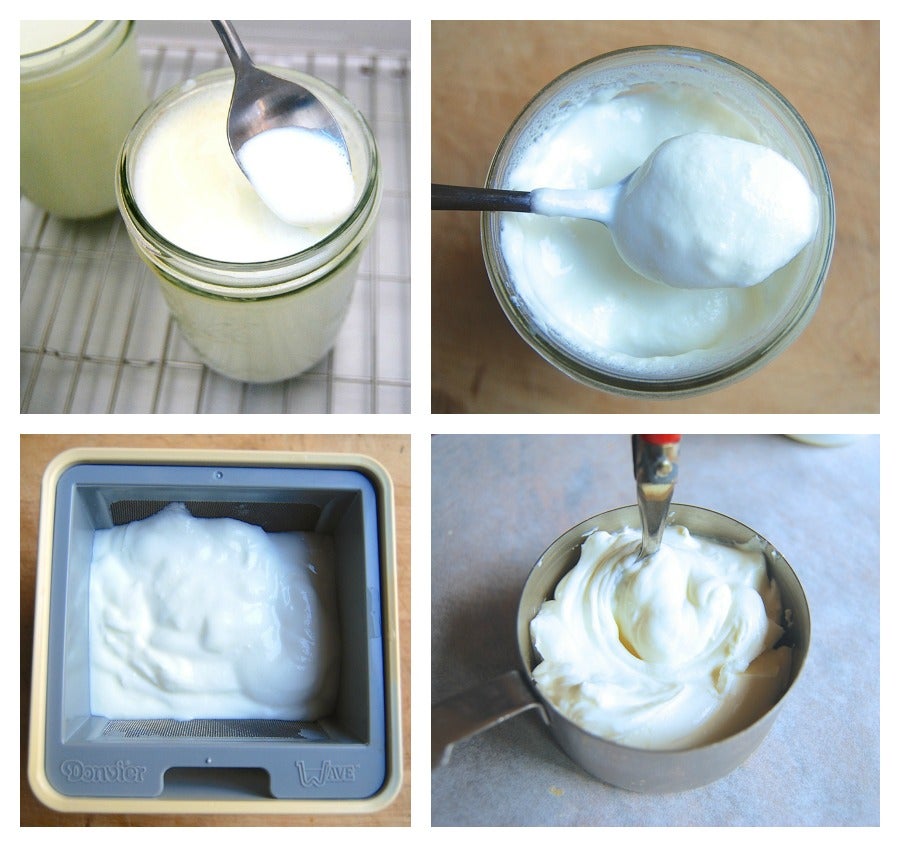 Follow these steps to make homemade Greek-style yogurt. The only semi-challenge is finding a spot to keep the percolating yogurt warm for several hours. Your turned-off oven with the light on is one option; an easier and more reliable one is our electric proofer, a versatile tool that goes well beyond helping your yeast bread rise.
Next, make your Crunchy Granola.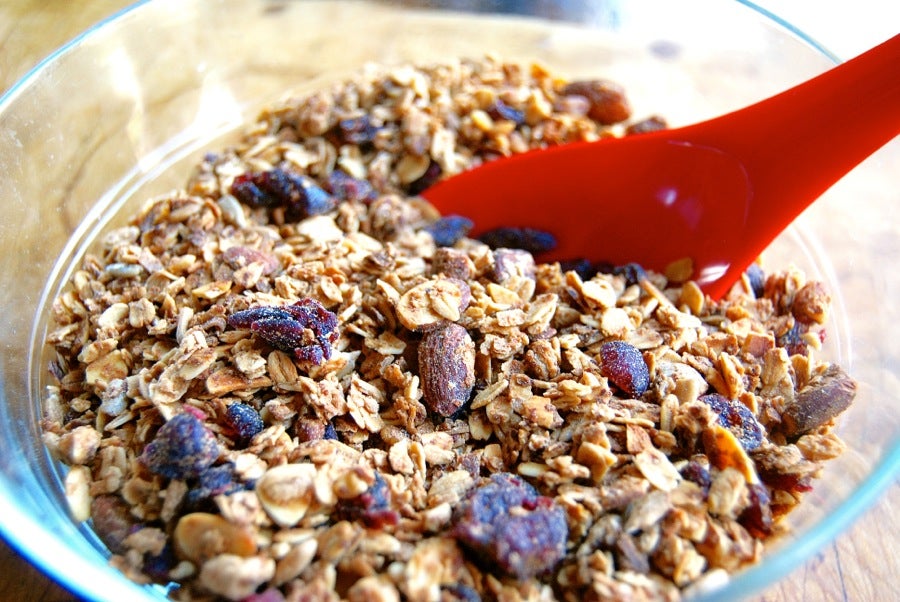 Again, it's a straightforward process: mix everything together (except the fruit), bake gently for 90 minutes, cool, and add your favorite dried fruits. See the steps in detail in our post Crunchy Granola: Breakfast Meets Lifestyle.
Finally – enjoy your fiber-rich, calcium/vitamin D-packed yummy breakfast!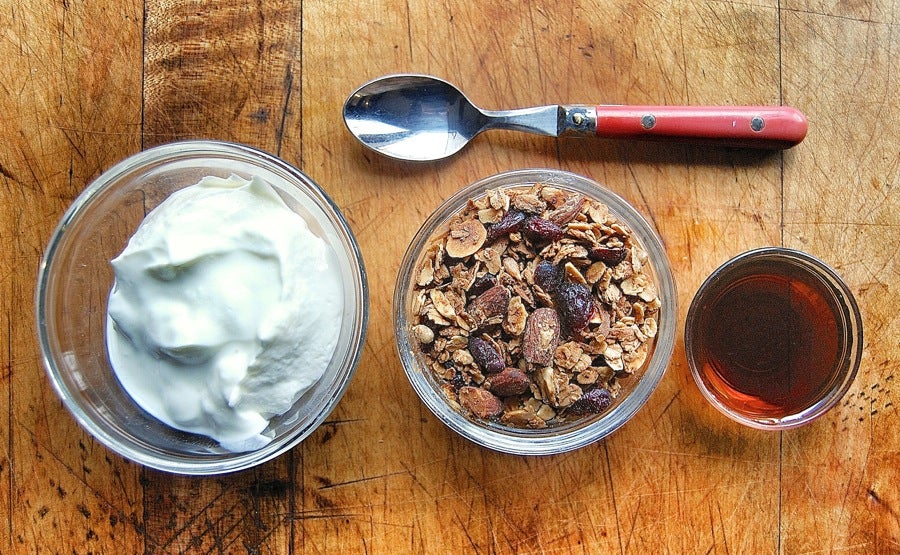 If you're counting calories (and who isn't?), make yogurt the main ingredient, with granola its topping, and a bit of sweetener, if you like. (I like flavorful Grade B maple syrup.)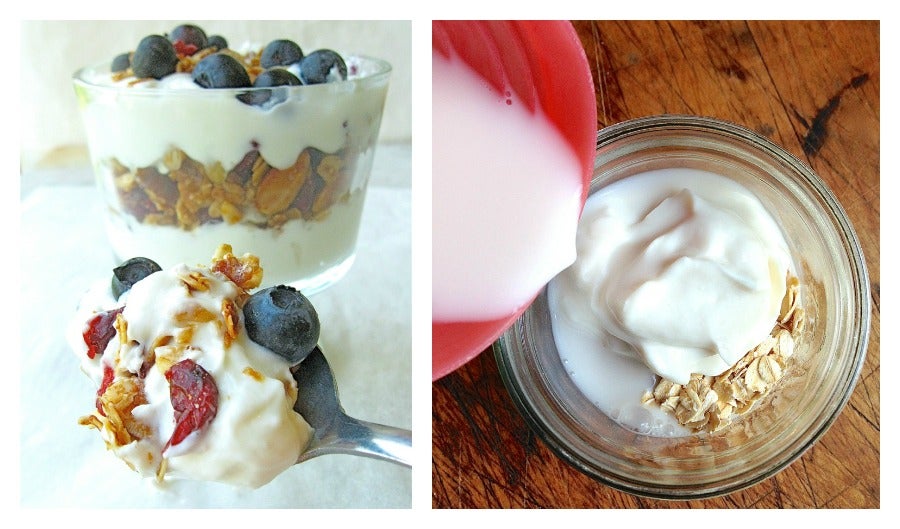 When you get tired of plain yogurt and granola, fancy it up by making a parfait (left).
Or substitute granola in your favorite overnight oatmeal recipe (right): simply combine granola, yogurt, and milk (soy or almond are fine) in a mason jar; shake/stir to combine, and refrigerate overnight. Next day, add fresh fruit. If you're late for work, screw the lid back on, toss the jar in your bag, and enjoy a quick breakfast at your desk.
Homemade yogurt. Homemade granola. Here's to a great 2015, full of small successes and major progress!