Our annual King Arthur Flour holiday cookie decorating contest has a new name this year – Bake the Season Bright – and hundreds of you out there certainly brightened our day with your colorful entries.
Not only that, a select few of you also brightened the days of people in need – all over the country.
The six prize winners each received a $100 gift certificate – but more importantly, we invited each winner to specify a food-related charity of their choice, to which we'd make a donation.
The result? King Arthur Flour is donating $7,500 to six charities, ranging from a food bank in Rhode Island to a community resource center in Oklahoma.
So, how did it all work? Avid cookie bakers, working in either snowman or ginger person motif, chose one of five categories to enter: standout execution; public service; fun/humorous; kids (10 and under), and most creative.
Contestants decorated cookies and posted their photos to an online voting site, where anyone could vote for their favorites.
The leading vote-getters in each category were then reviewed by King Arthur's panel of judges, who selected a grand prize winner; five category winners; and five personal favorites (judges' picks).
The grand prize winner's charity will receive $5,000; and the five finalists' charities will each receive a $500 donation.
Without further ado, here are our contest winners.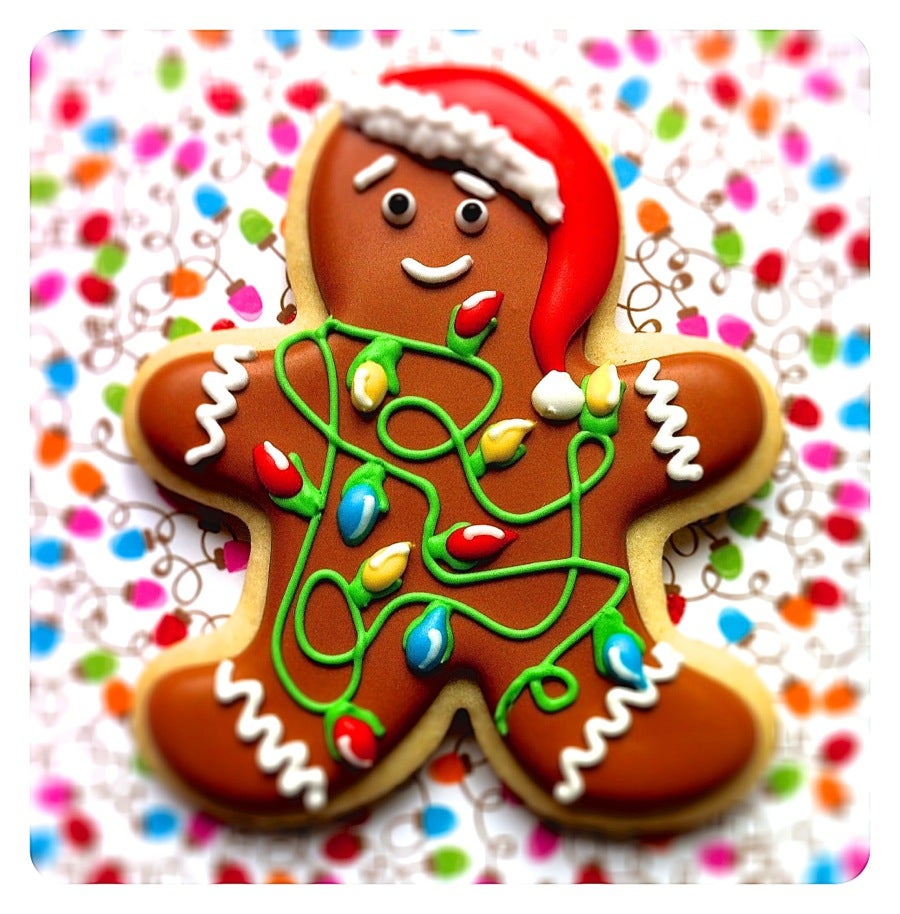 Founded in 1982, the Rhode Island Community Food Bank provides food to people in need through a statewide network of member agencies. The bank promotes long-term solutions to hunger, as well as soliciting, collecting, storing, and distributing food throughout the state.
Says Katrin, "I started baking and decorating cookies three years ago. I entered a competition called Rhode Island Food Fights looking for the best cookie in Rhode Island. I was lucky enough to win it, and started a little company called Eye Cookies. After this the Rhode Island Community Food Bank approached me and asked if I would be willing to make cookies to support their food truck fund-raising event. Since then I've made them cookies every year. I started to get to know the people that work there and am very impressed by all their good work and deeds. I'm so happy they'll get this donation – they really deserve it."
King Arthur Flour will donate $5,000 to the Rhode Island Community Food Bank. Congratulations, Katrin!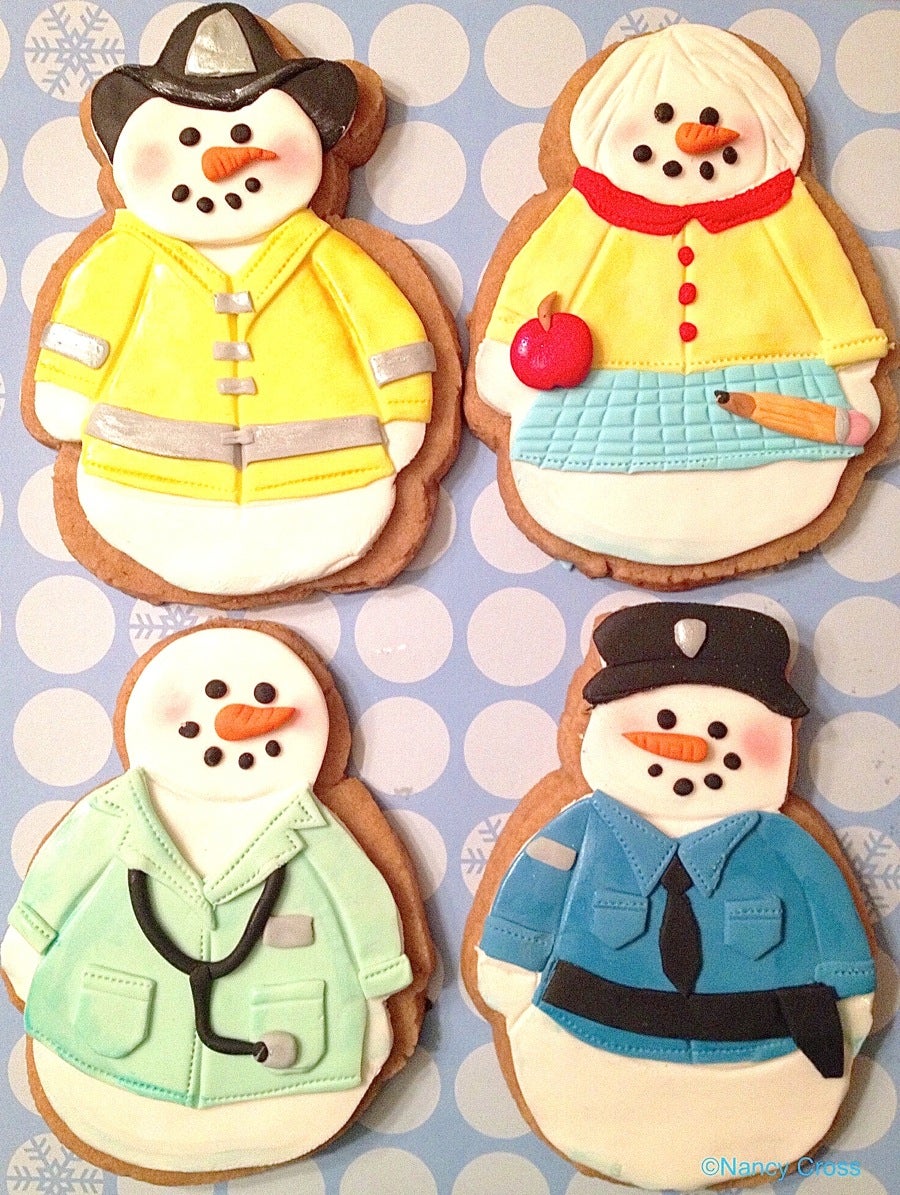 Owasso Community Resources provides basic needs for families facing economic hardship in Owasso and Collinsville, OK, including food, utility assistance, job search assistance, counseling, and referrals to other area agencies. Programs are funded through the generosity of the community.
King Arthur Flour will donate $500 to Owasso Community Resources. Congratulations, Nancy!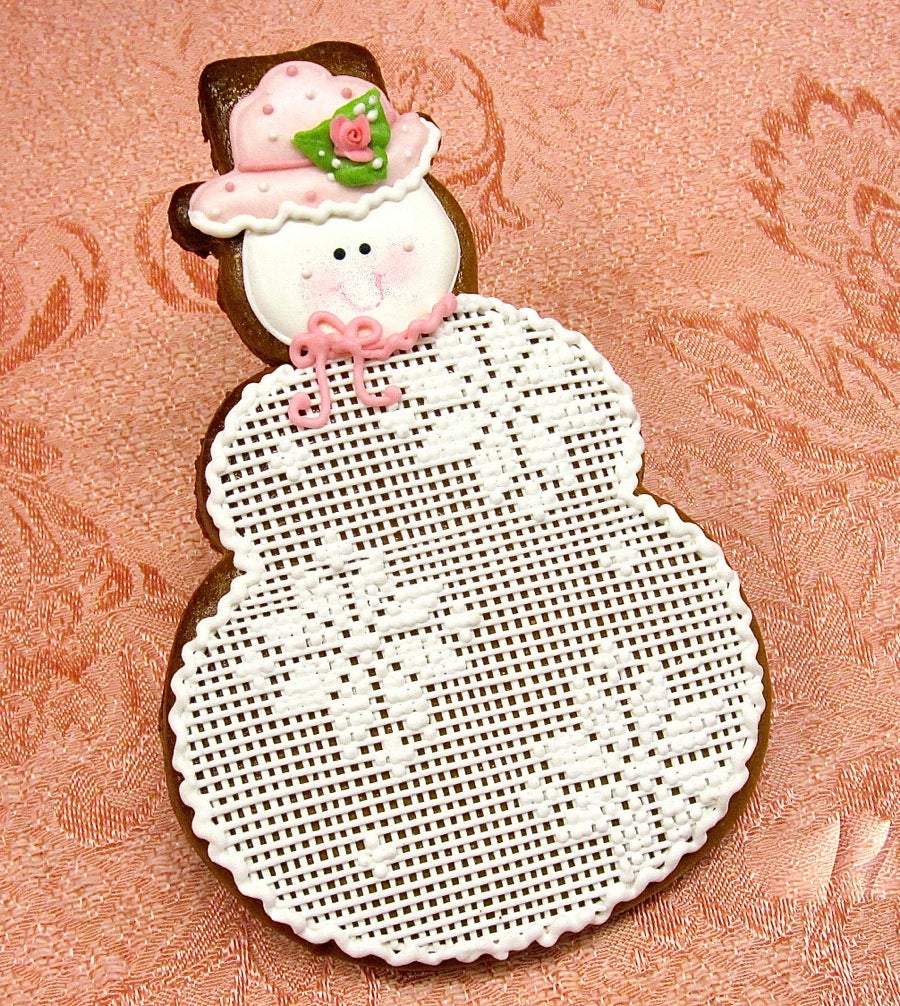 The Klamath-Lake Counties Food Bank served nearly 23,000 people last year, including 10,000 children, through both a food bank and meal sites. The bank distributed 1.6 million pounds of food to 70 different programs.
King Arthur Flour will donate $500 to Klamath-Lake Counties Food Bank. Congratulations, Teri!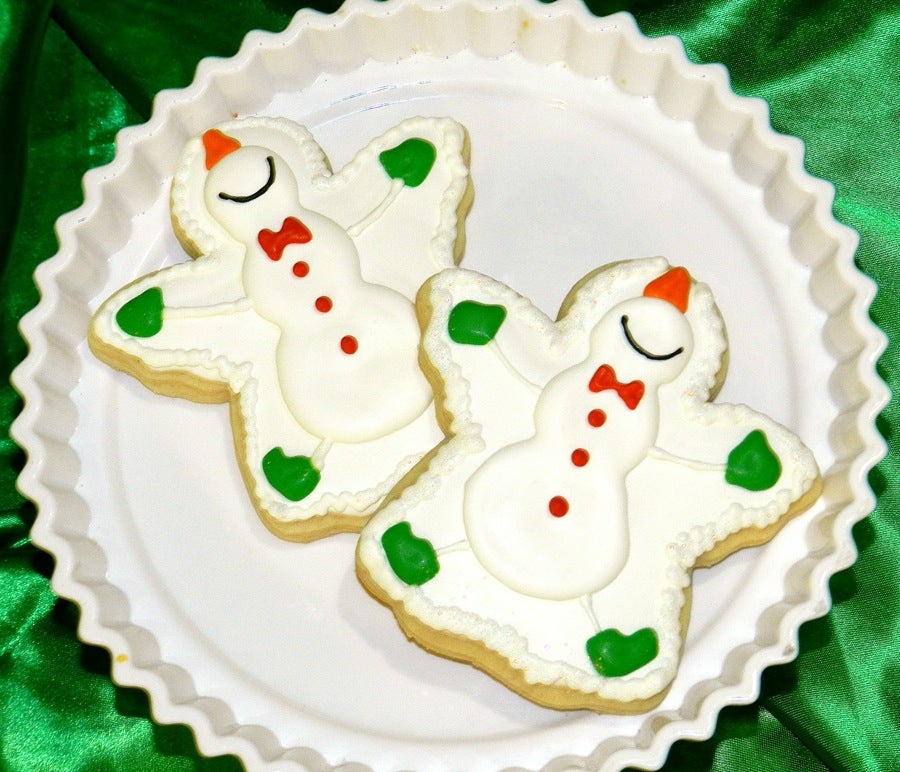 Winner, Fun/Humorous
Maria McDonald
Title: Snowmen Angels
Charity: Feed Our Vets, Utica, NY

Feed Our Vets' mission is to assist U.S. veterans whose circumstances have left them on the "battlefield of hunger," along with their families. The organization has established food pantries in cities and towns across America, and works to build awareness of hungry veterans via public education and outreach.
King Arthur Flour will donate $500 to Feed Our Vets. Congratulations, Maria!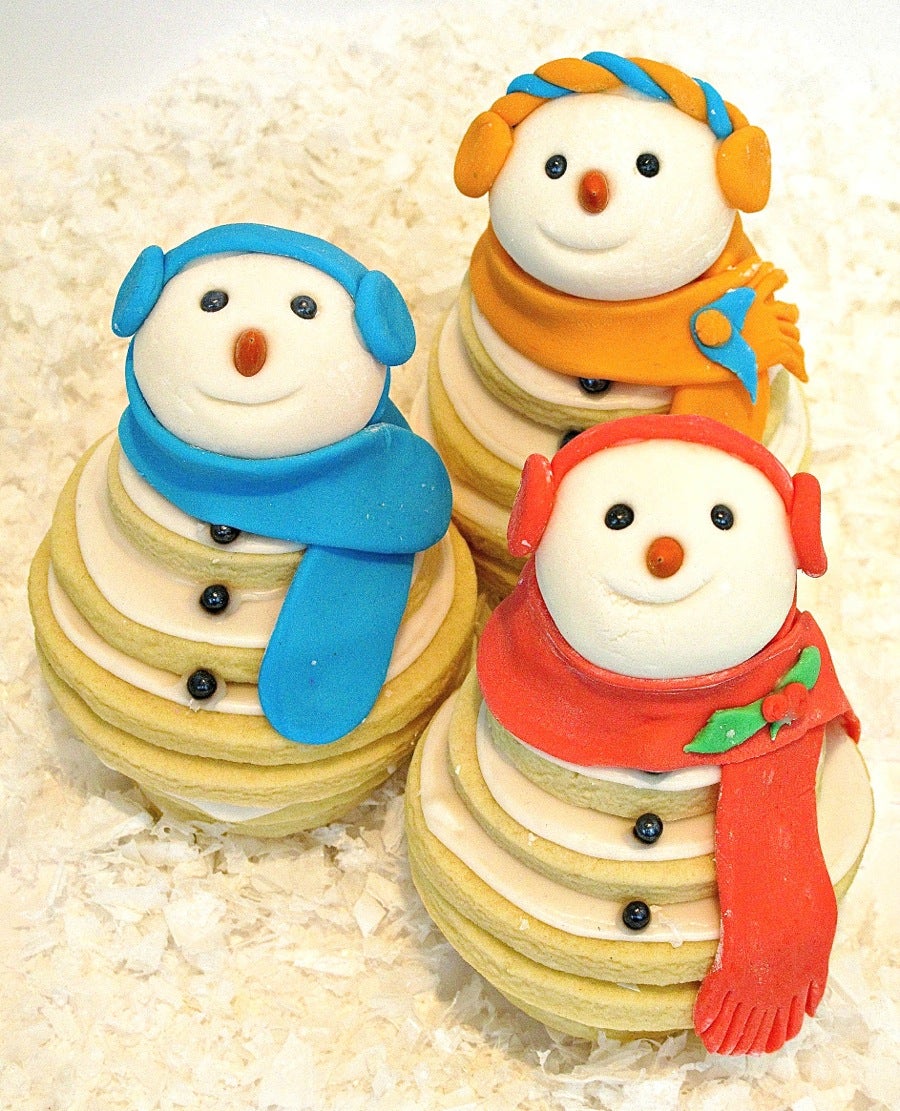 The Harvey Kornblum Jewish Food Pantry, a program of Jewish Family & Children's Service, provides food, personal care items, and community resource referrals to individuals and families in the St. Louis area experiencing difficult times. The organization is dedicated to alleviating hunger among people of all faiths and backgrounds. 
King Arthur Flour will donate $500 to the Harvey Kornblum Jewish Food Pantry. Congratulations, Wendy!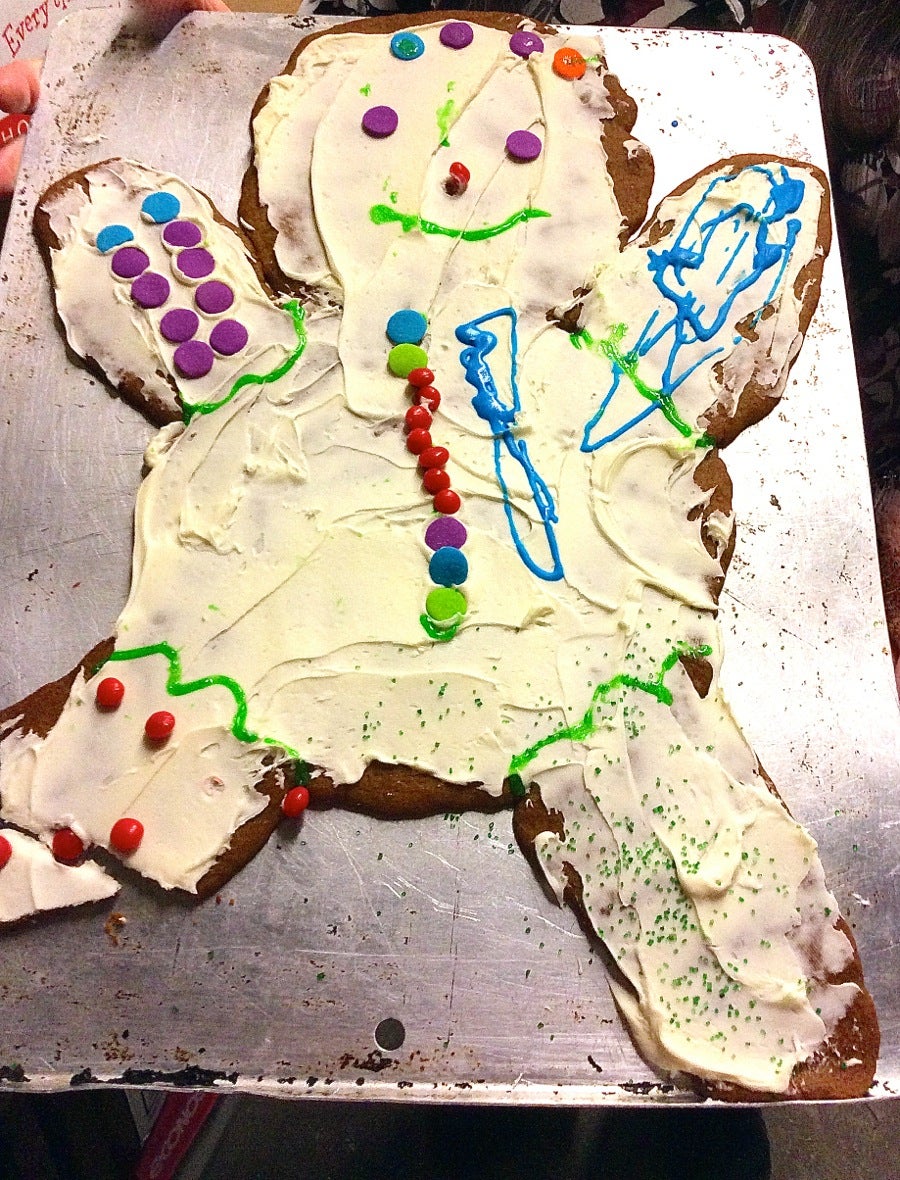 Oregon currently has the highest rate of childhood hunger in the nation, and the La Grande Friday Backpack Program develops and maintains a network for food acquisition, storage, and distribution of supplemental foods for eligible children and their families.
King Arthur Flour will donate $500 to the La Grande Friday Backpack Program. Congratulations, Sarah!
Considering all the excellent entries, it was really difficult to choose finalists. Our judges decided they'd each like to choose their own favorites. Each judge's favorite will receive a $20 King Arthur Flour gift card.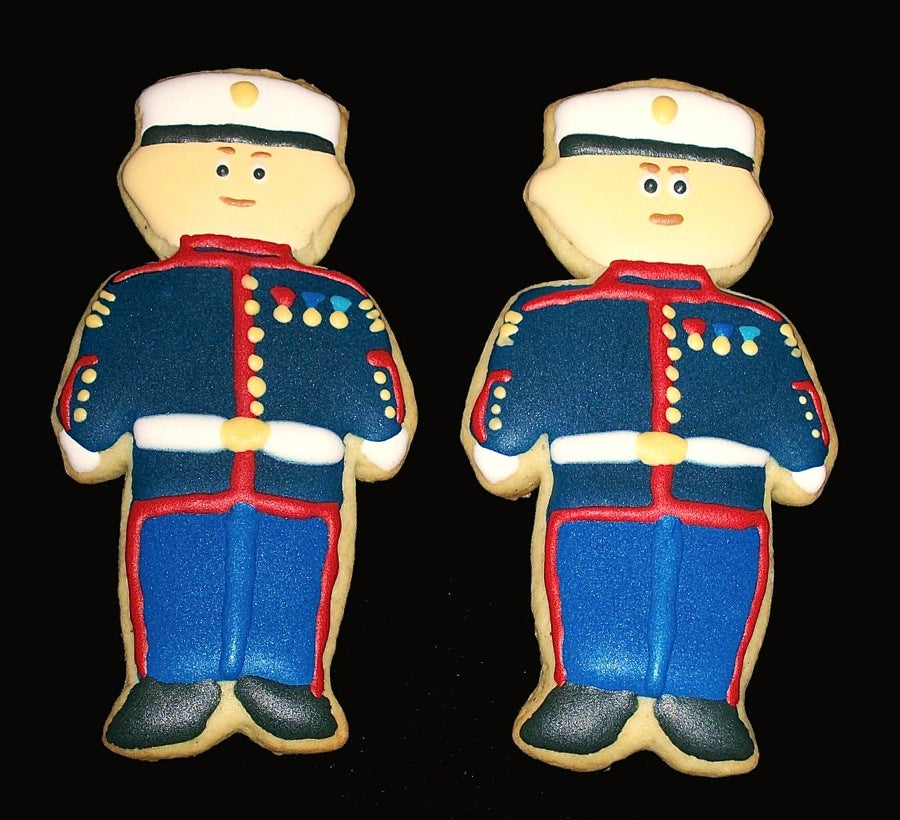 Holly Arosen

Title: The Few. The Proud.

Judge's Pick: Brook Stewart, visual merchandiser
Says Brook, "These are such a festive tribute to those in service and to their families. I'm impressed with the attention to detail on these beautiful cookies. Well done, Holly!"

Says Holly, "I wanted to briefly tell you the story behind those cookies. My friend Paul was serving as a Marine in Iraq (in 2009, I believe) and those cookies were shipped to him and his unit overseas.  Marines made for Marines! Paul's wife, Lori, helped me coordinate the whole effort, so we were able to keep it a surprise. They loved them! I sent them in the fall and they sheepishly asked Paul if it would be possible for me to send some gingerbread closer to Christmas. I was, like... SURE!!  It was so neat to be able to be in a position to make a difference with cookies. The history behind that photo makes it extra special that it got recognition in your contest."
We had so many great entries in this new category, we'd like to share the remaiining finalists with you –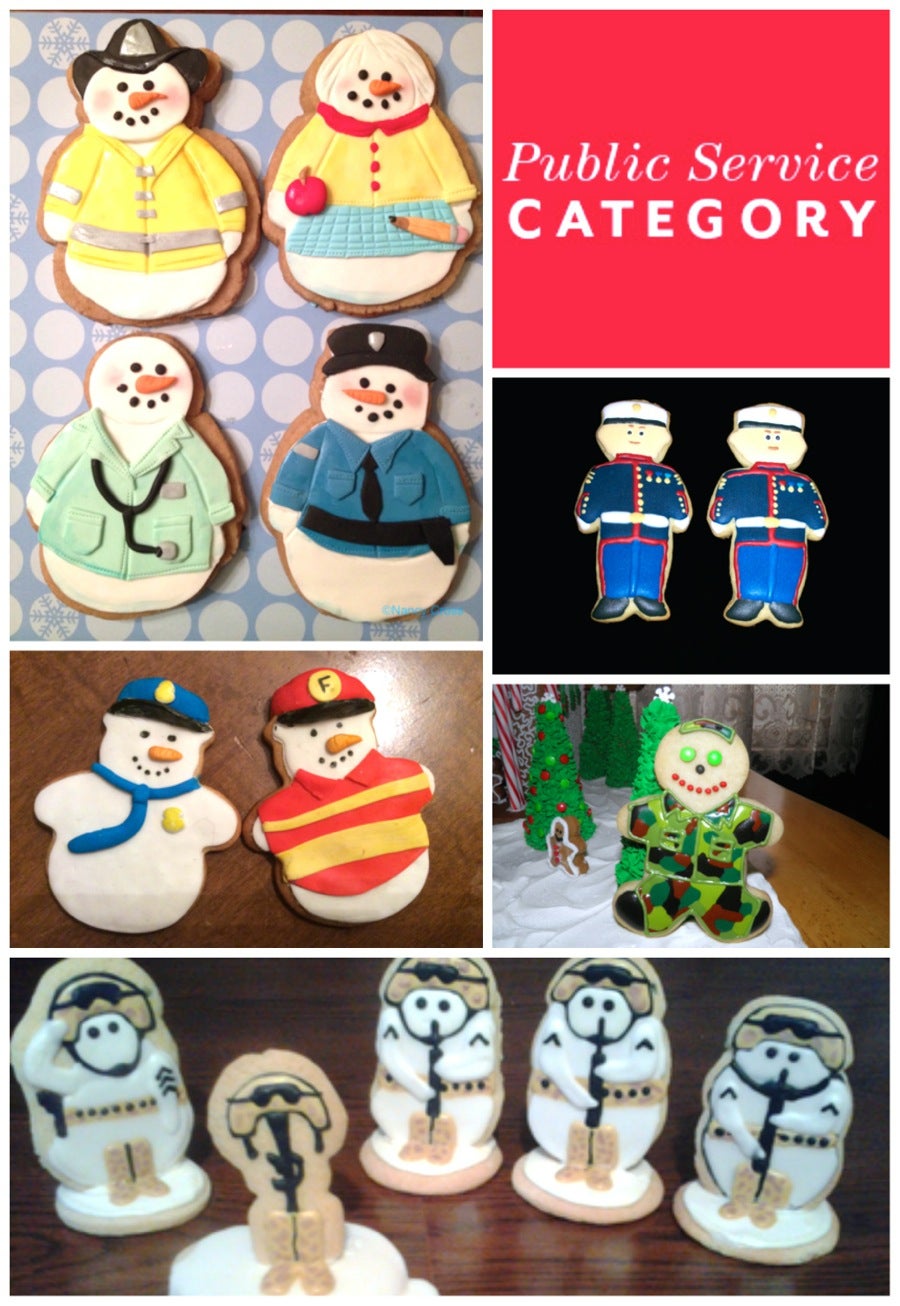 Finalist entries (counter-clockwise from top left), courtesy of these bakers: Nancy Cross (winner), Kelly Fuller, Joe Orinko, Jessica Verno, and Holly Arosen.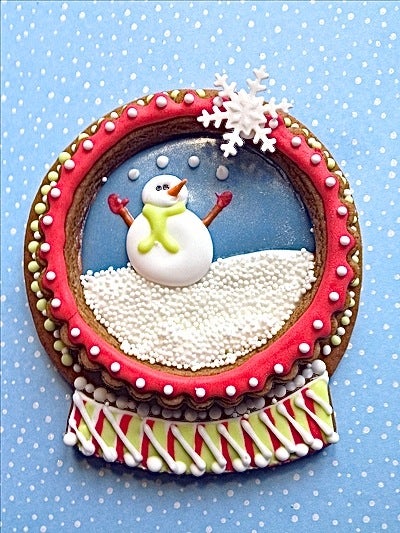 Destinee DiPrima

Title: Global Snowman

Judge's Pick: Jocelyn Drexinger, baker specialist

Says Jocelyn, "I love the three-dimensionality of this cookie and the attention to detail not only in the snowman scene (complete with juggling snowballs!), but also in the background on both snow globe rings, the base, and the finishing touch of the beautiful little snowflake to bring everything together!"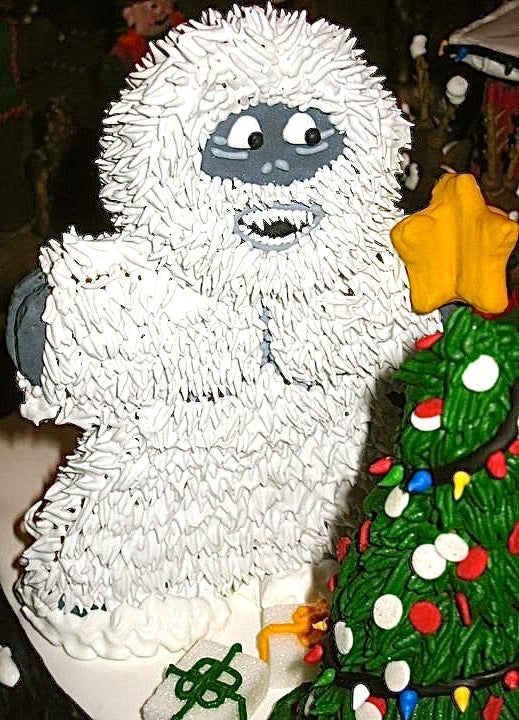 Trudy Brown

Title: Bumble
Judge's Pick: MaryJane Robbins, baker/blogger
Says MJ, "As with many in my generation, I have a soft spot for all things Rudolph. This Bumble bounced right into my heart at first sight!"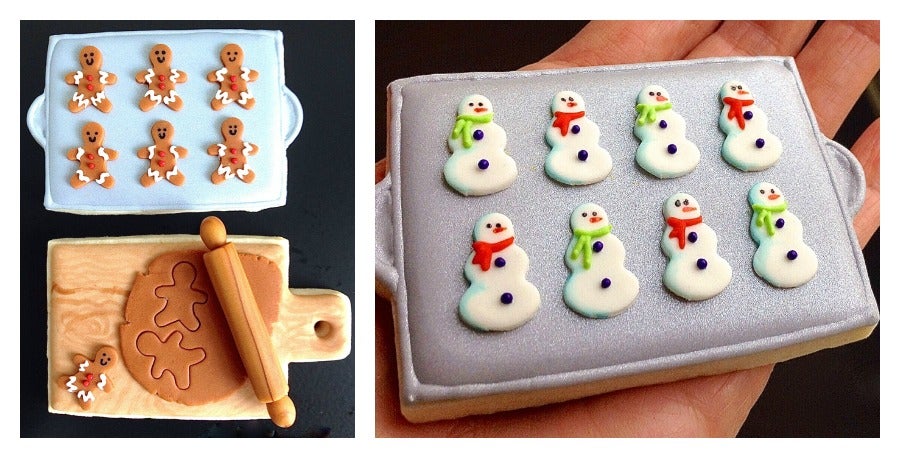 Susan Hennes
Title: Mini Snowmen/Mini Gingerbread Men

Judge's Pick: Becca Regier, King Arthur Flour Bakery

Says Becca, "I just love these cookies Susan made! The tiny little cookie sheets are so clever, cute, and amazingly detailed. Great job!"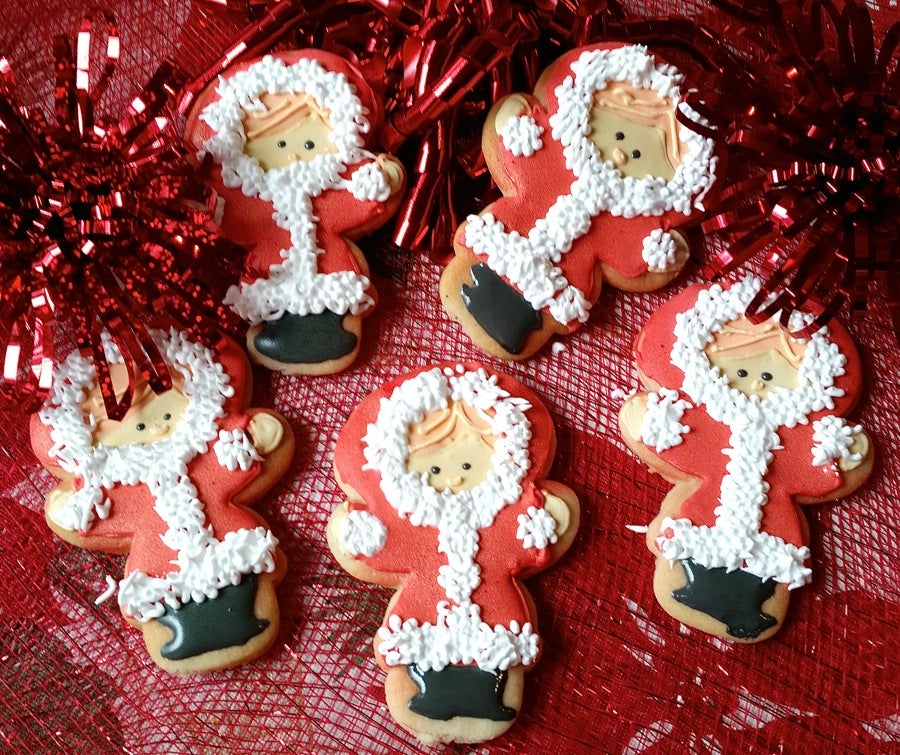 Alessia Benavides

Title: Backwards Snowman

Judge's Pick: Rebekah Phelps, graphic designer
Says Rebekah, "These cookies are absolutely adorable! The fact that Alessia was able to imagine this little snow girl from an upside-down snowman cookie is truly amazing. Well done, Alessia!"
In closing, we'd like to share an email we got from one of our cookie contestants, Norma Lowell Johnson, who truly understood the purpose of her cookie baking and decorating. Says Norma, "I received the email that my cookie had not finished 1st in my category. I wanted to tell everyone at KAF what a great thing it is that your organization is donating to charities to provide food to needy families. I had such fun with the contest, I wanted to share the communication I sent to all of my friends who helped get votes for my entry:
There once was a cookie, he was a snowman; you know.
He entered a contest and had a long way to go!
He asked for help from his friends far and wide.
This is the plea that the snowman had cried,
"Please help me with this, the cause is so good.
The prize will provide the needy with food.
A vote from your keyboard is all it will take.
This is the purpose, for which I was baked."
His friends would help out in the blink of an eye.
They would help spread the word of that little guy's cry.
At the end of the contest when the tally was done,
It seems that other cookies had won.
But that snowman knows, he's truly blessed,
He has friends and family; and they are the best!
The snowman and I have one thing to say,
"Merry Christmas to all and to all a good day!"
Thanks, one and all, for decorating cookies, entering our contest, soliciting votes from your friends and family and, ultimately, helping to feed the hungry.