Spectacular cookies
Start with a simple glaze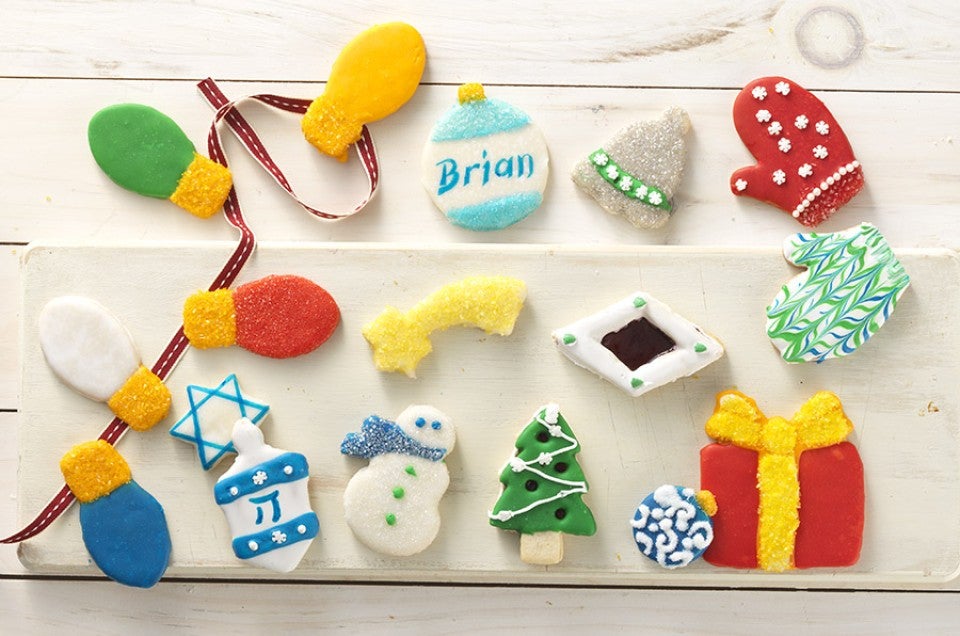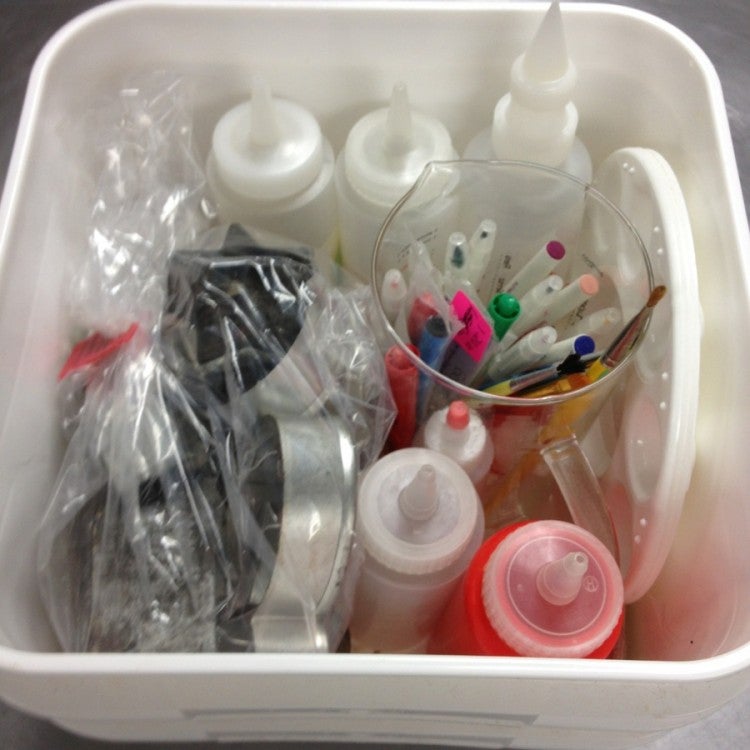 What does the photo above mean? Time to get serious about cookie decorating. After all, there are care packages that need sending, and soon!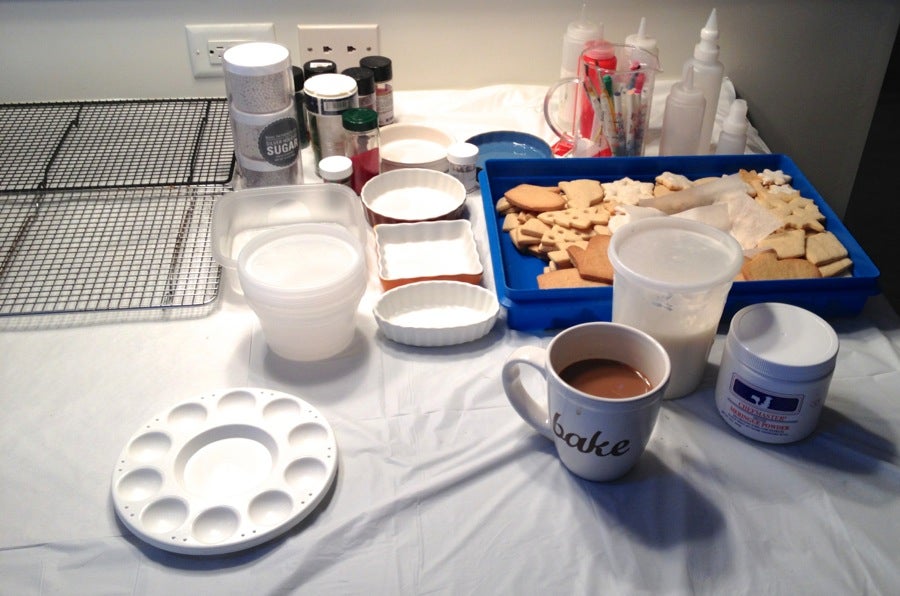 Time to set up the island in the kitchen, pour some coffee into my favorite mug...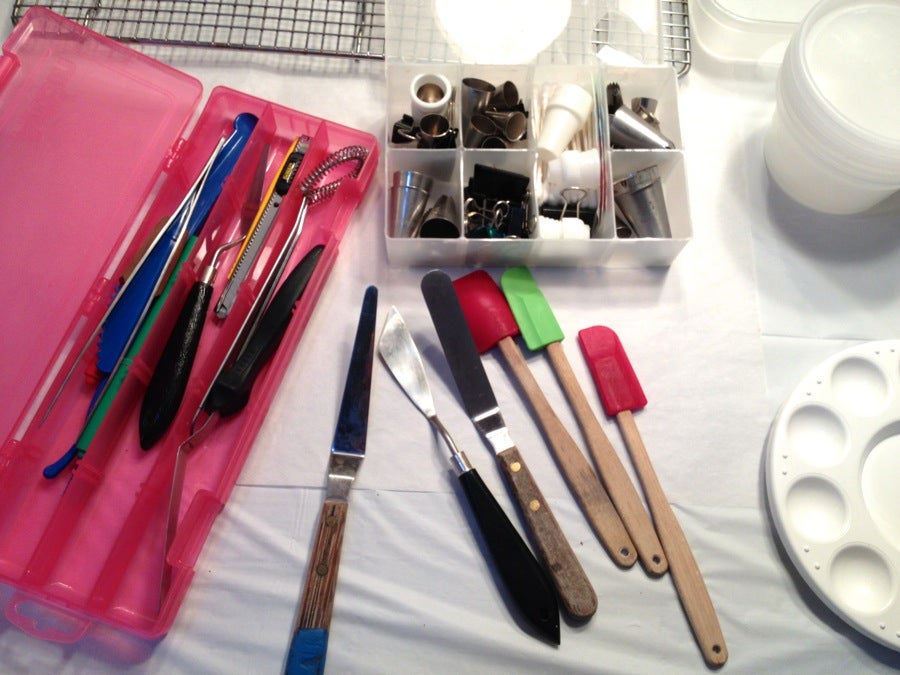 ...break out the tools, and have some fun.
First, a few hints about those roll-out cookies. Everyone has a recipe they love, but my hands-down favorite dough for roll-out cookies that are a) easy to work with b) hold their shape and c) (most importantly) TASTE GREAT, are our Stained Glass Cookies.
I make a double batch.

Then, while the dough is still soft out of the mixer, I put a blob of it on a sheet of parchment and cover it with an all-purpose bag slit down the side and across the bottom. After rolling it flat and trimming the edges, I stack up the sheets of dough and parchment to chill on an overturned baking sheet (stays flatter that way). I'm ready to go, at a moment's notice, to cut and bake cookies.

Next hint: It's a good idea to make sure your parchment is lying perfectly flat on your sheet pan, otherwise your cookies will curl up like potato chips at the edge of the pan. I use a dull blade to score the edge of the paper, just in case. Cut as many cookies as you can from each sheet of dough; this dough can be gathered and re-rolled three or four times without becoming tough.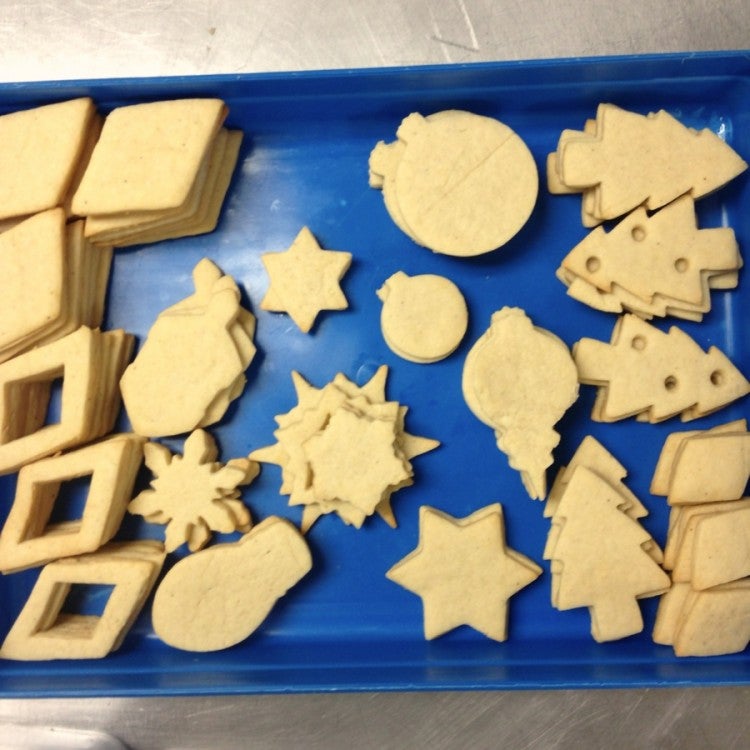 Bake the cookies until light golden brown, and store in an airtight container until you're ready to start decorating. You could mix, cut, and bake up to a week ahead of when you need the cookies to work with.
For years I made royal icing, whipping up a frenzy, coloring it, covering it with enough layers of damp towels and plastic wrap to make a pile 4" high, in hopes of keeping it from drying out. Then I'd watch it separate over the next couple of days while I tried to get everything finished. I still make and use royal icing when I want a nice, shiny white coating or embellishment that sits up high on a cookie. But for a lot of bang for the buck and plenty of fast fun, I've been using our Simple Cookie Glaze more and more.

Here's how to make it. Put the following into a bowl:
2 1/4 cups sifted (or strained) confectioners' sugar
2 tablespoons light corn syrup
1 1/2 to 2 tablespoons plus 1 teaspoon milk

This one is all about the texture. Mix the sugar and corn syrup. Then add 1 1/2 tablespoons milk, and begin to mix. As you whisk it together, you'll have a thick, pasty blob in the center of the bowl. Now add 1 more teaspoon milk. Mix until things begin to smooth out; but if you're using all your might to draw the whisk through the mixture, you're allowed to add 1 additional teaspoon milk. You're looking for the texture at the far right: the frosting falls in ribbons, but disappears back into the pool after a few seconds.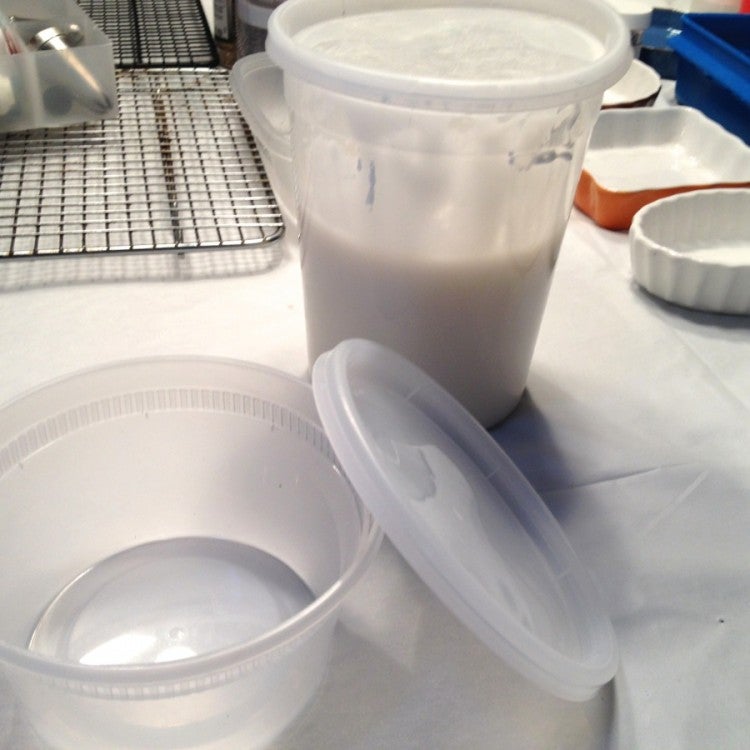 I make a triple batch of glaze, and dig out my collection of re-purposed to-go containers and lids. This glaze can't be left uncovered for more than a few minutes before it develops a crust. I want to mix a number of colors, and I know I'll be working on this project for several days, at least. These containers are just right for the job.
For a glaze that's more opaque, (and especially if you're going to make this a multi-day project) I'd recommend adding some meringue powder (1/4 cup) to the confectioners' sugar before you mix everything up.
I put some plain glaze in the container, give it a healthy blob of our gel paste food coloring, then mix it up. It's still a little too pink instead of a Christmas red, so one more dash of the coloring and I'm ready to start playing.

After plopping the mitten face-down in the container, I pick it up and smooth any bubbles from the surface before dipping the bottom in some sparkling white sugar. The red is so strong it comes across as just a bit of sparkle, which is what I wanted. Some sugar beads across the bottom, and  snowflake sprinkles finish the fun.
If you have some food-safe marker pens, it's easy to make a gaggle of snowmen.

Dip or spread your snow people with glaze. If you want them to be sparkly, shower them with some fine sugar. If not, just let the glaze dry. Then you can draw a face and some buttons, and fill in the scarf with frosting of a different color. Sprinkle it while it's still wet with more colored sugar, and use a dry paint brush to clean off any stray bits of sugar. There you have it.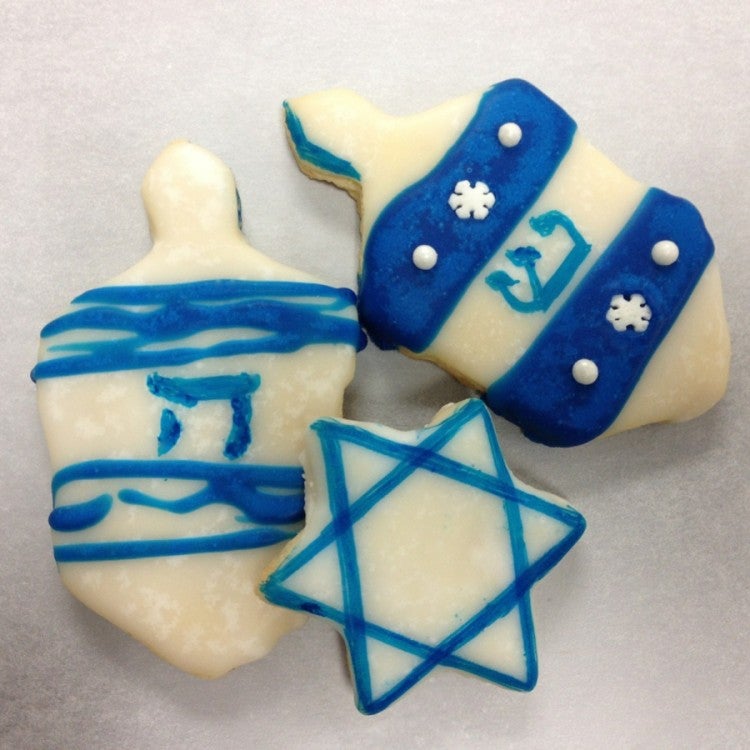 Hannukkah's almost here, and my swim coach, who will build special workouts around spinning the driedel, might like a couple of these.
I have a large collection of nieces and nephews to please.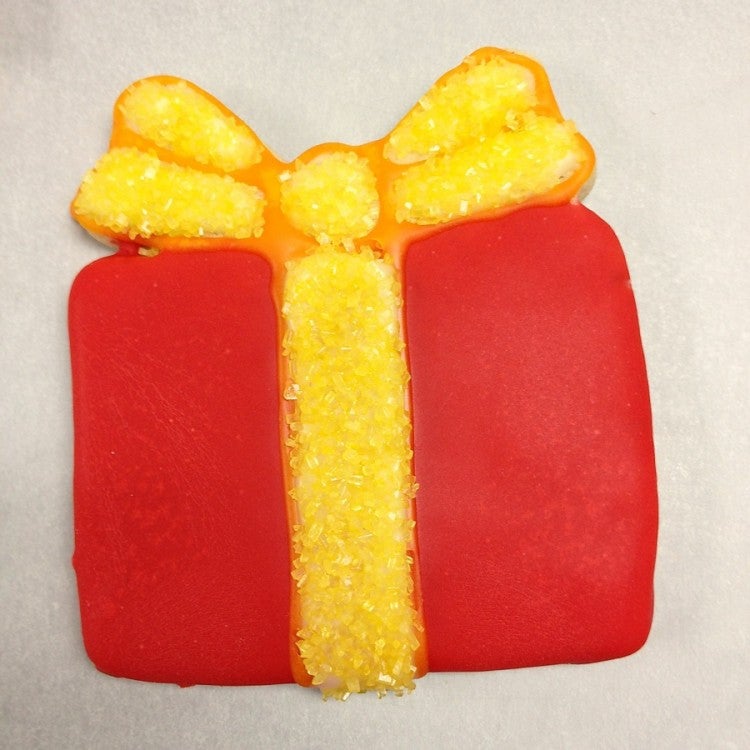 I can either make them a present...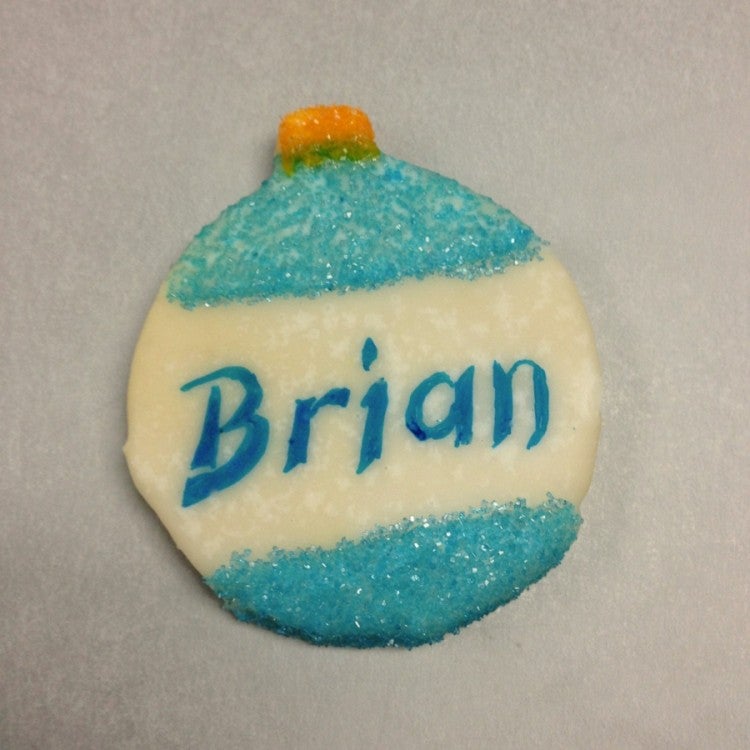 ...or give them a custom cookie.
My family is pretty partial to jam-filled cookies, and they're right up with Hermits as far as things I can't appear without for the holidays.

Diamond bases, cutout diamond tops, raspberry jam (Smucker's seedless), voilà .

These trees are one of my favorites. I use a pastry tip to cut holes in the top cookie, and after glazing a bit of royal icing comes out to make a garland. Some strawberry preserves to fill, pop the top cookie over, and all of a sudden there are lights on the tree!

I know MJ has shown you this before, but it's a great technique to use with kids. Glaze a couple of cookies, and while the base is wet, stripe two colors across the tops. Use a toothpick or the tip of a knife to pull the colors through each other, and you have a beautiful, and simple design.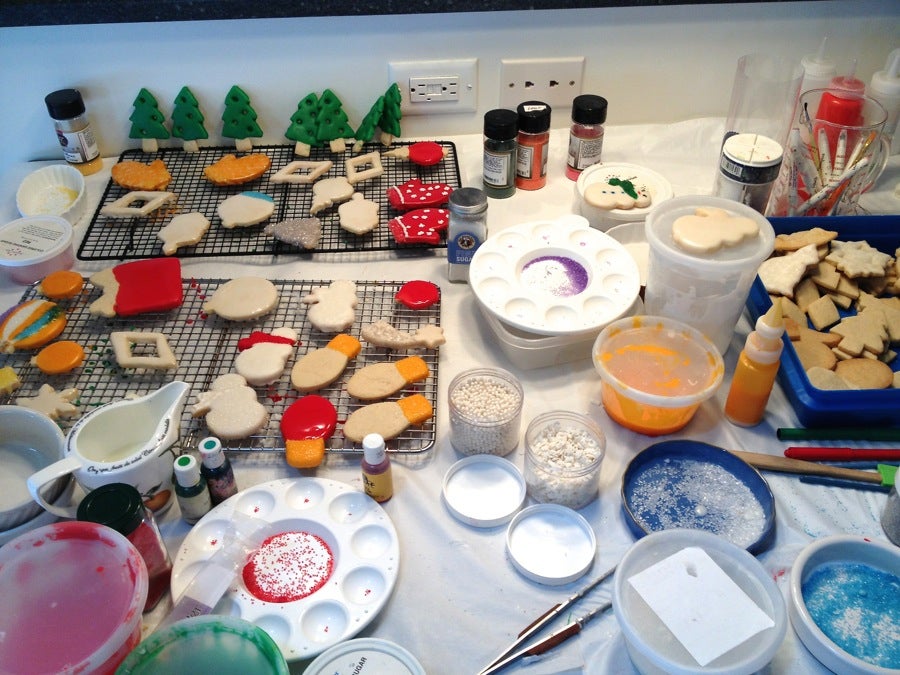 As you can see, I get kind of involved with the process, but it's one of my favorite parts of the holidays, and I hope yours, too. You don't have to turn your kitchen into Santa's workshop. Keep it simple with our cookie glaze and some colored sugars. Have a great time, make some memories, and be sure to share your beautiful creations with us!