I don't know about you, but Thanksgiving really snuck up on me this year. I was enjoying the fall weather and foliage, and all of a sudden, there was snow on the ground and my family started calling with their requests for the Thanksgiving table.
Speaking of, I'd better get started on my Pumpkin Pies...
I'll tell you who Thanksgiving didn't sneak up on this year – our bakery in Norwich, Vermont. In fact, they've been prepping for the holiday since the last week in October. Our bakery is busy every holiday season, making amazing pies, rolls, and other delicious treats for Thanksgiving tables near and far.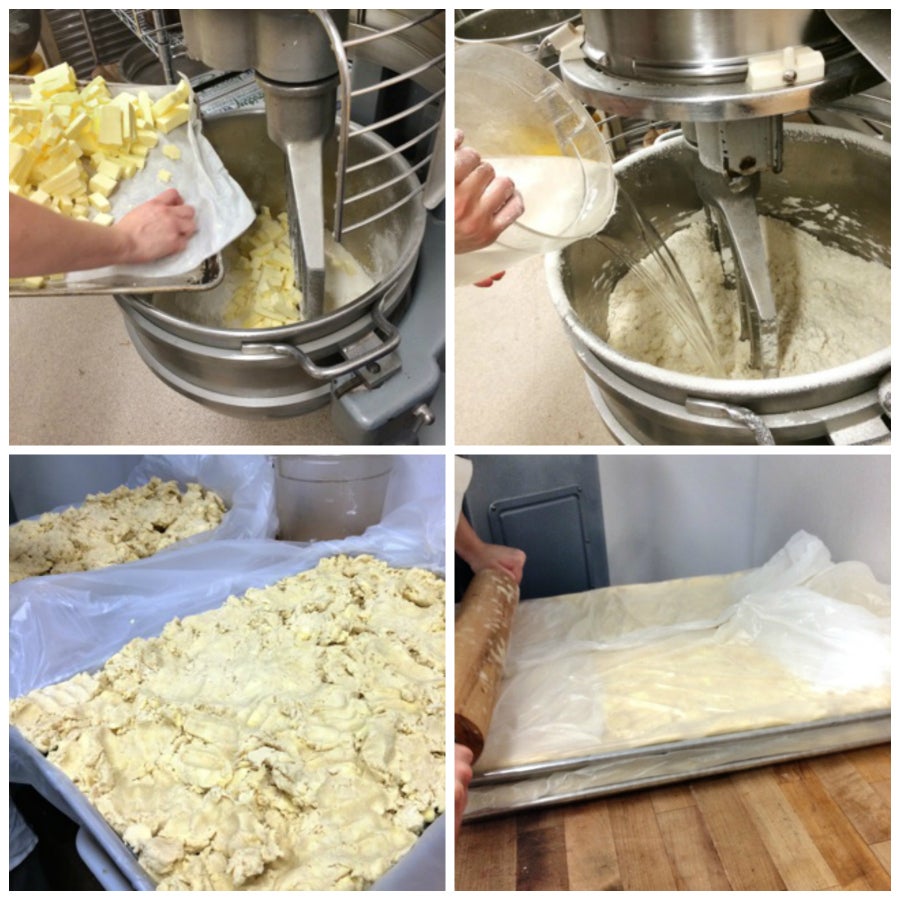 One batch of dough in the bakery's large mixer makes roughly 200 pie crusts! That puts the 13.5 lbs of butter (Cabot, of course) into perspective. Once the dough is mixed, it's pressed into sheet pans and chilled.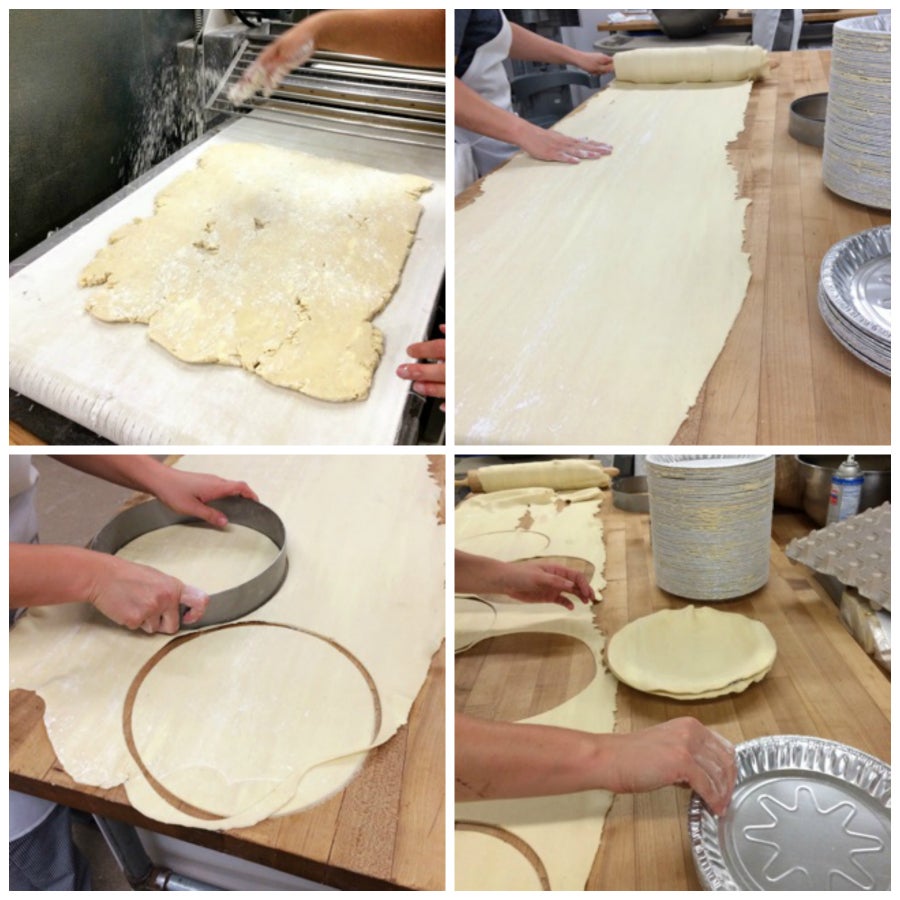 Our sheeter, shown above, usually rolls out croissant dough, but these days it's helping with pie dough. Roll, cut, stack, repeat! This Thanksgiving, the bakery received about 400 pie orders. Are you planning to make your own pies this year? Try our quick and easy No-Roll Pie Crust.
And of course, all those pies need to be filled.
To avoid crushing the berries, our bakers carefully mix the berries, sugar, and flour by hand. And then – ta-da! – they have pie filling for 40 or so mixed berry pies. On to pumpkin and apple pie fillings next.
Rolls are another item that our bakery makes in epic proportions this time of year. They make whole wheat and white rolls; both kinds are soft and perfect for sopping up gravy and cranberry sauce. Also, great for a mini Thanksgiving leftovers sandwich. If you're making your own rolls, try our Golden Pull-Apart Butter Buns, Parker House Rolls, or my favorite, Honey Wheat Rolls.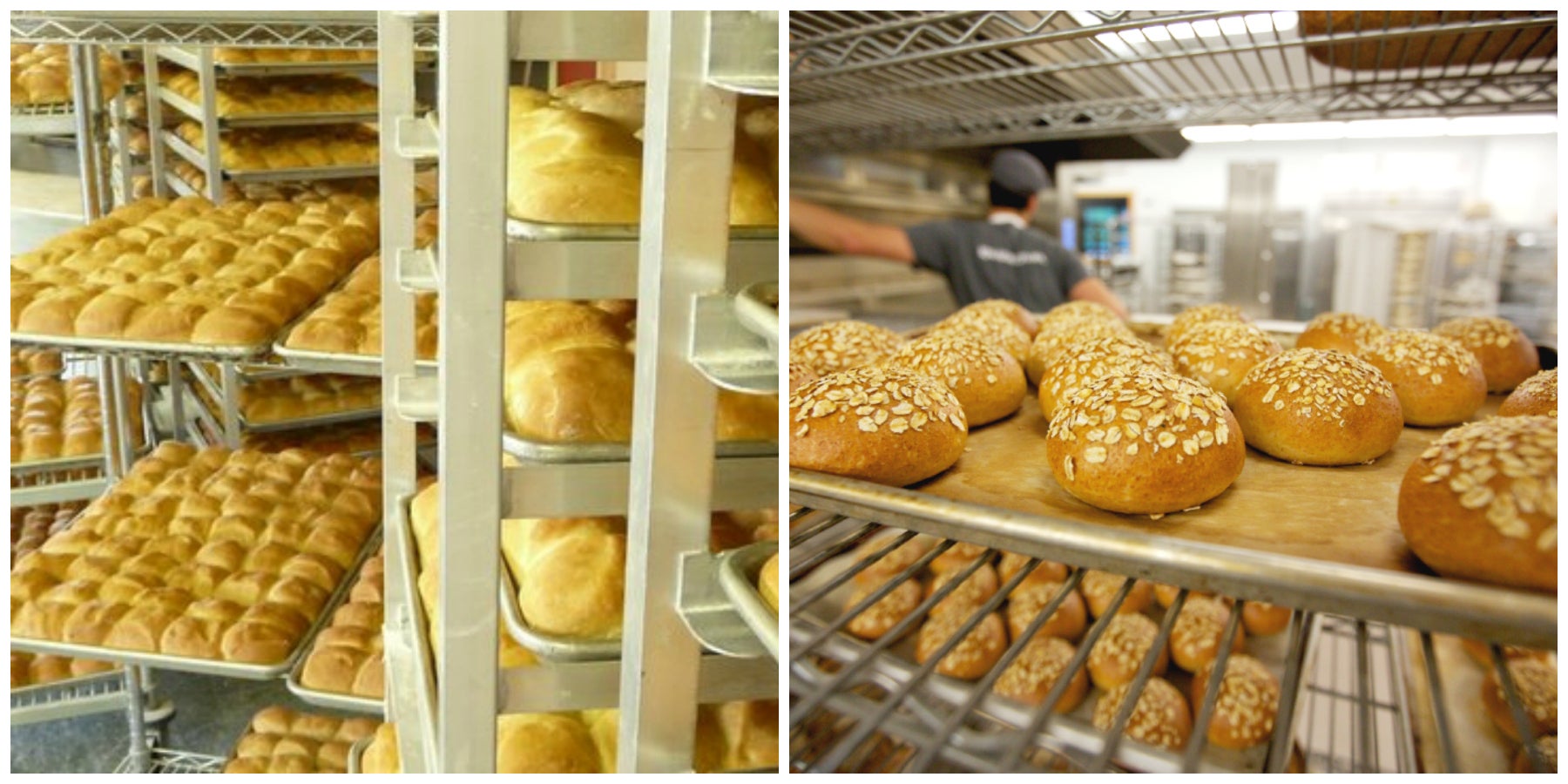 This baking frenzy is over when all the orders are picked up from the bakery on Wednesday - then it's time to relax. That's just a small sample of how our bakery does Thanksgiving; baking up a storm – always with a smile.
Wishing you and your loved ones a happy (and very delicious) Thanksgiving, from all of us here at King Arthur Flour.
Special thanks to King Arthur Flour pastry baker Kristen Fenn, who graciously hosted me in the bakery with my camera (and many questions) during this busy time of year.