Let's face it, hosting the family feast is a big job. But for the dedicated, organized baker, Thanksgiving, or any holiday, is a chance to really show what you can do.
Ever wonder how restaurants (the good ones, at least) are able to put out seemingly endless amounts of food, with no visible effort?
The secret is a skill called back-timing. You look at your menu, and see what items can (and should) be made in advance. Some recipes taste better when their flavors have had some time to meld (pumpkin pie filling is a perfect example).
Next, you spread the work over the week or so before the big event. As you pick off the dishes on your menu, one by one, you get a sense of accomplishment, and steady progress toward a wonderful meal. Best of all, you get to sit down and eat, too, without feeling like you're collapsing at the finish line of a marathon.
One of the greatest challenges in the process is finding adequate refrigerator space. Most folks who regularly host the feast have contingency plans worked out already. I have a second refrigerator in our garage that's my "project" fridge. It only gets plugged in when I'm in the middle of a week-long prep adventure, like this one; or making a wedding cake.
Right now. Like, as soon as you're done reading.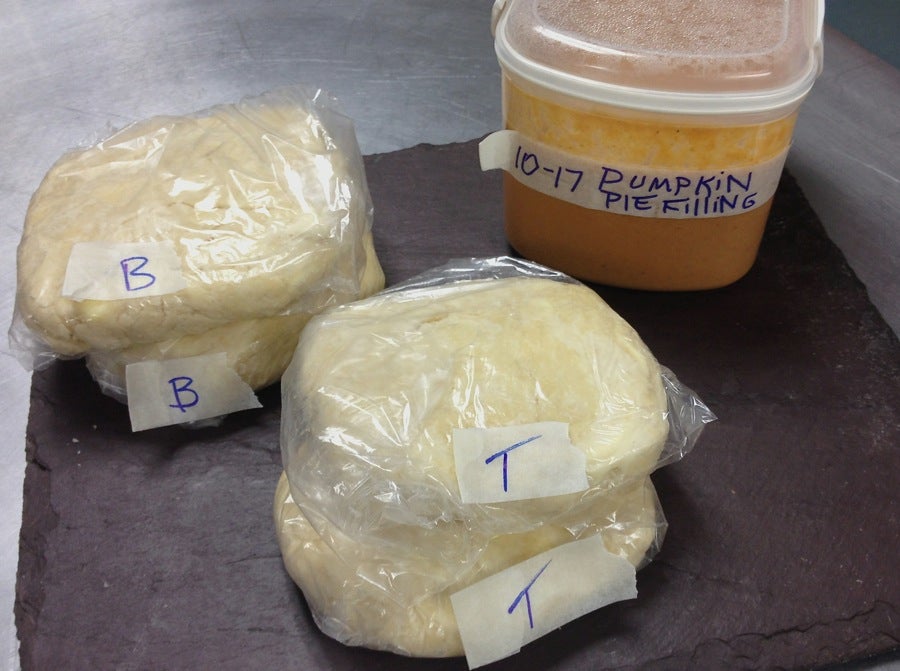 Pie dough. Make dough for as many pies as you'll need. Divide it (see PJ's A-ha moment blog), wrap, and freeze. Some of us keep pie dough in the freezer at all times, just because. If you're a real go-getter, make your pumpkin pie filling, too, and freeze it. Yes. You can freeze it raw. It will still bake perfectly after thawing, and will taste better, too.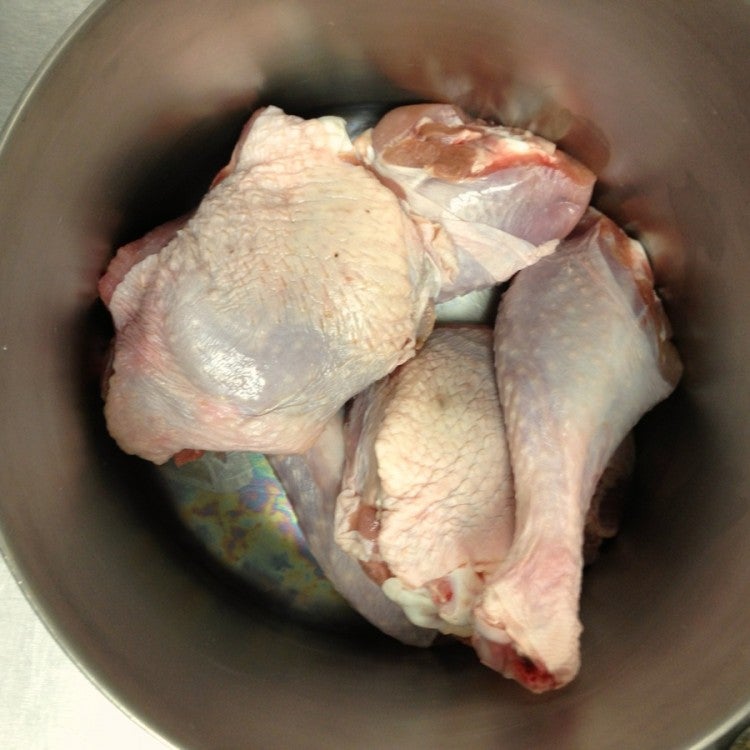 Buy a couple of turkey legs and wings if you can get them. Use them to make turkey broth: about a half gallon's worth. Your guests, pot pies, and hot turkey sandwiches be thanking you later. There's never enough gravy,  but you don't have to fall into that trap.
10 days before T-day: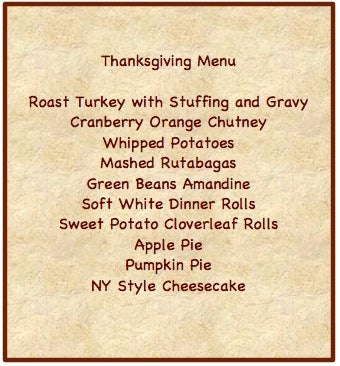 Finalize your menu, give food assignments to family/guests. Don't forget to tell them how many people you're expecting. If your list includes 20 people, and your cousin's apple tart only serves six, you're going to need more than one dessert.
Don't be afraid to ask guests to bring something specific. They want to feel like they're helping with the meal, and even assigning something as simple as cheese and crackers or a crudité platter will ensure you don't end up with three green bean casseroles on the big day, and no pumpkin pie.
7 days before T-day:
Make your list and go shopping. There's nothing worse than wading through throngs of fellow procrastinators on the Tuesday or Wednesday before the big event. Even the weekend before T-day is super busy. Try to get most of your staples in hand before then.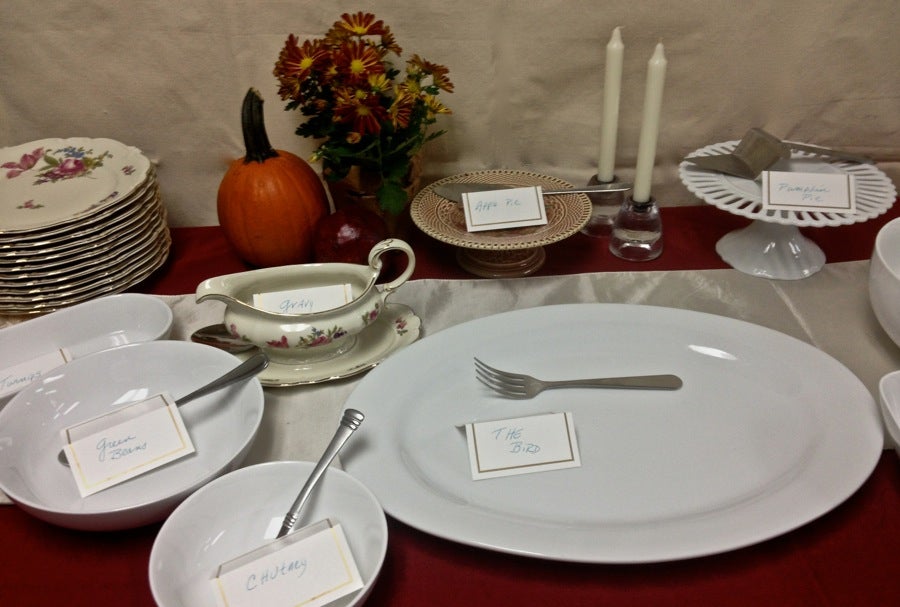 If you have the space, it's not too early to get out the serving dishes for everything on your menu, find a serving utensil for each item, and put them all on the sideboard, enclosed back porch, or dining room table. Label what goes in which dish with a sticky note or slip of paper. This will save you an enormous amount of scrambling on the actual day, when you're trying to get all the food out at once.
Ok, T-day is Thursday. The  real countdown begins.
Sunday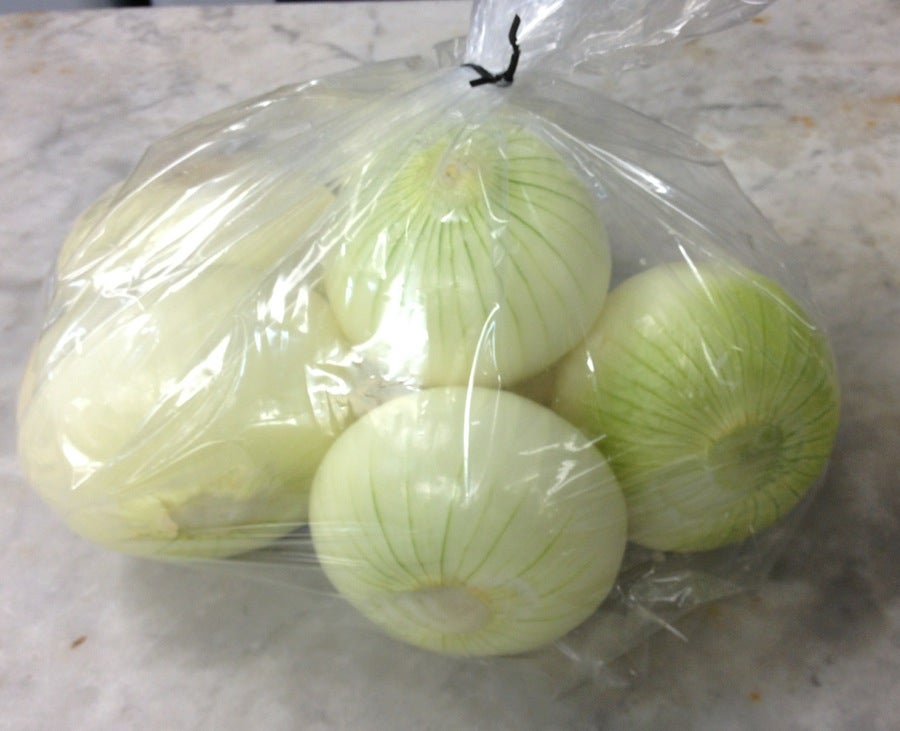 Peel 3 pounds of onions; store in a large bag in the refrigerator. You'll be using them all week.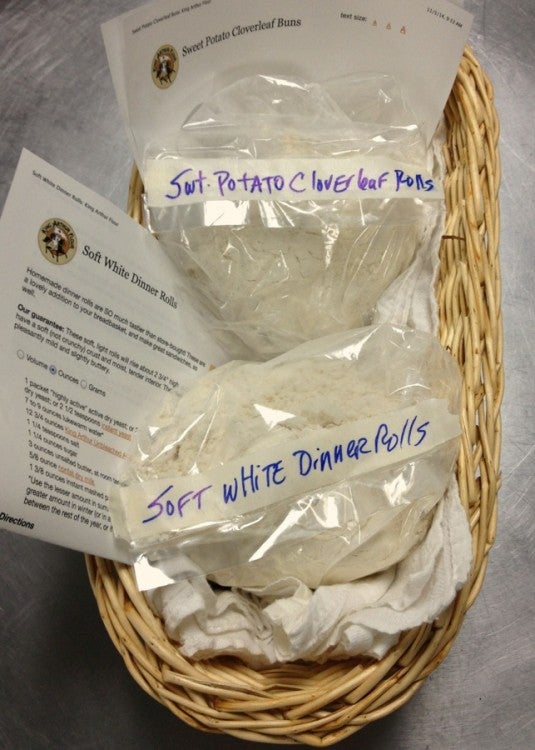 Make kits for your dinner rolls (measure out all the dry ingredients in the recipe, and put them in a storage bag). Label with a piece of masking tape. Print the recipe and attach to the bag. Put someplace where you'll remember – maybe the dish you have set aside for the rolls.
If your turkey is more than 15 pounds and frozen, it's time to find a spot for it in the refrigerator so it can thaw. If you have a good friend, relative, or neighbor who isn't hosting their own feast, perhaps you can get them to adopt your bird for a few days in exchange for the baked good of their choice, to be named later.
Monday

Make your favorite cranberry sauce. Put in a serving dish, cover, and refrigerate.
Make apple pie filling, bake at 350°F in a 9" x 13" pan for 30 minutes, stirring occasionally. Cool and refrigerate.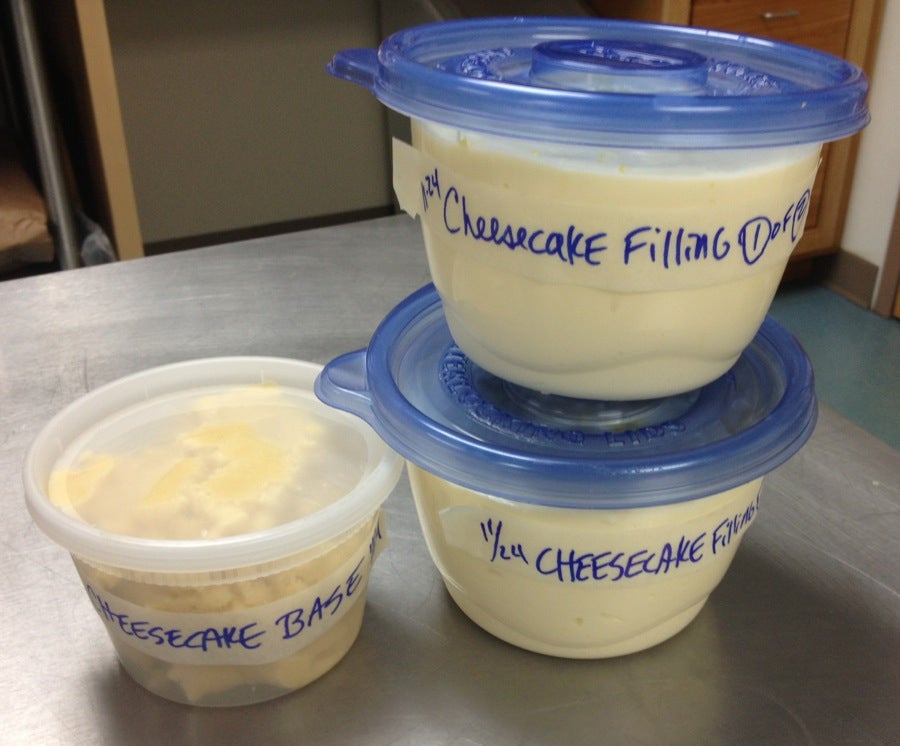 Make cheesecake crust mixture and filling; refrigerate.
Tuesday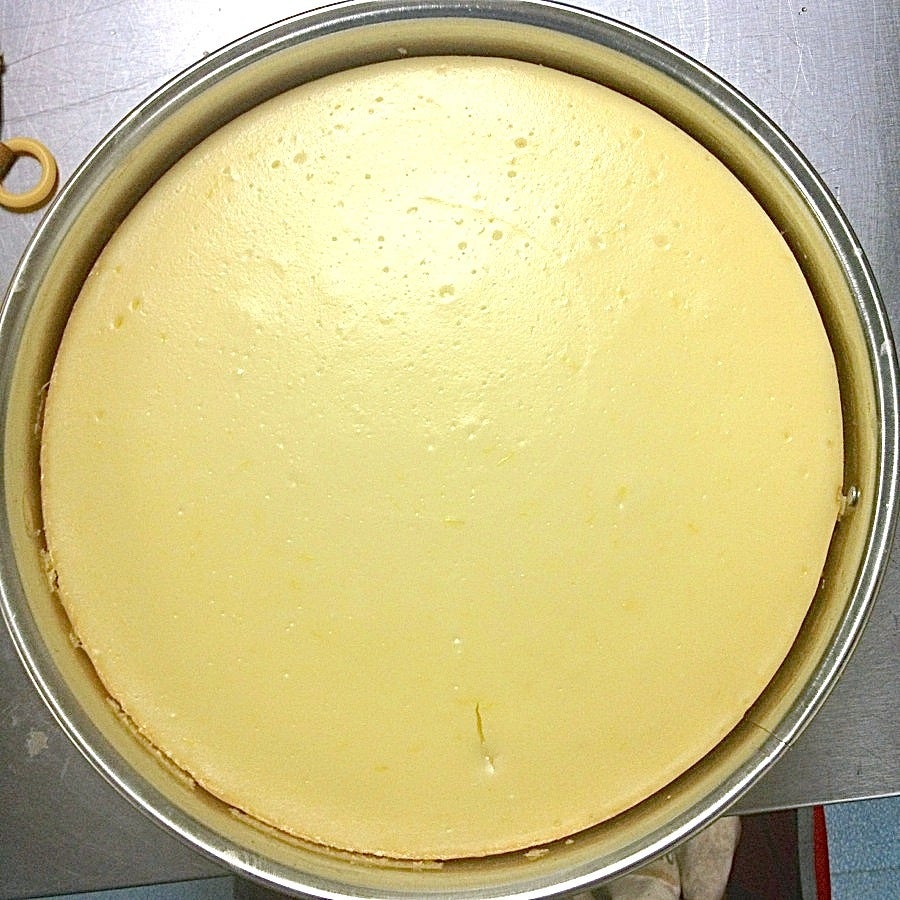 Bake the cheesecake. Cool, cover, and freeze (if you're shy on refrigerator space).
Pull pumpkin pie filling and pie-dough disks from the freezer, and transfer to the refrigerator. You'll be baking pies tomorrow.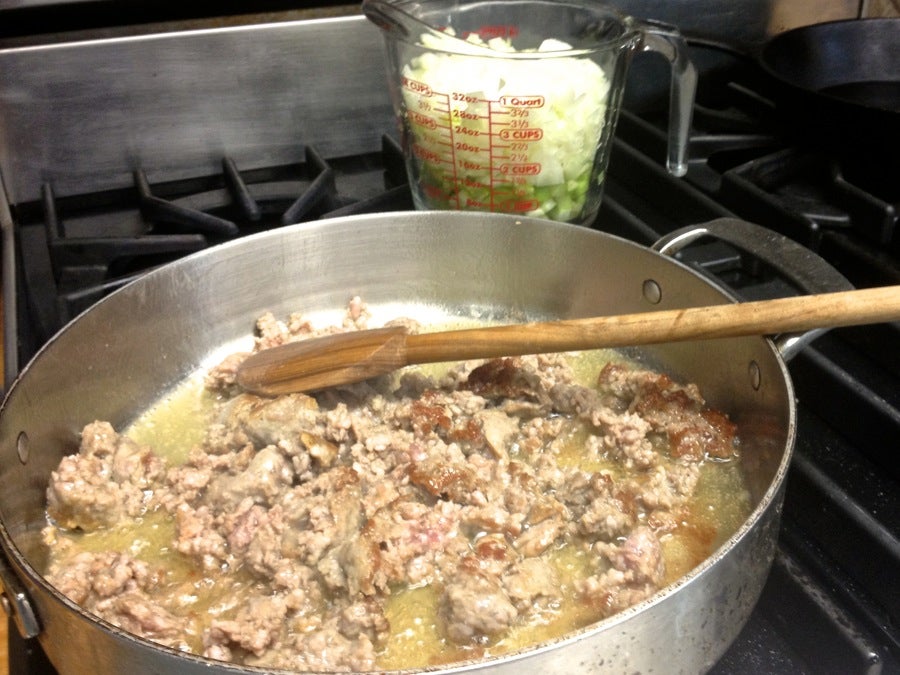 Cut the vegetables and cook the sausage (if using) for stuffing. Refrigerate.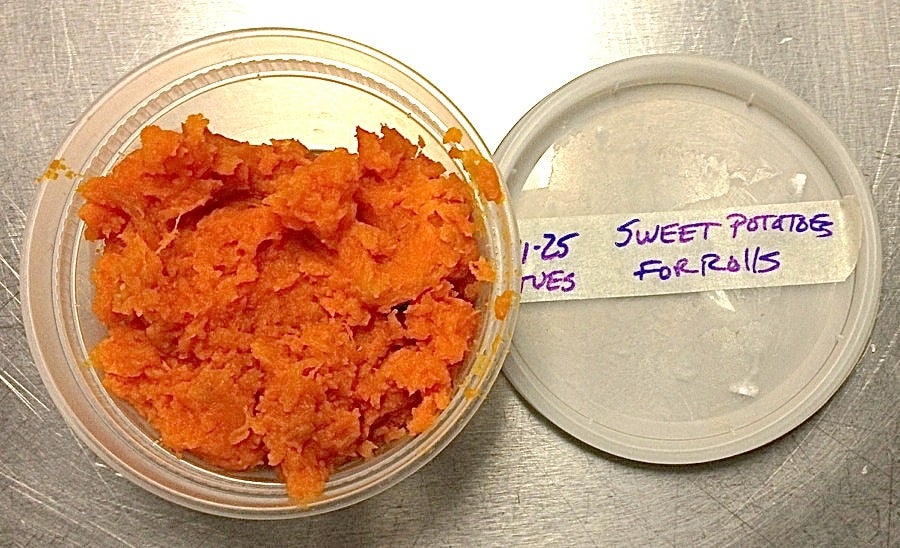 Cook and mash potatoes for Sweet Potato Rolls. 
Take out your turkey – it's time to get it ready. In putting this post together I had an "a-ha" moment: How many times have you set up the bird, then realized you put the label with the weight on it in the trash, and had to go digging through God-knows-what to retrieve it?

Please do one of these two things: get out your phone and take a picture of the label before you open the wrapper; or cut the label out (wash it if you're creeped out by poultry cooties) and just tape it to the oven door. Got it? OK, next step.

Dry-brine the turkey: Pull the neck and giblets from inside the bird, then rub all over and inside the cavity with this seasoning mixture: 1/4 cup salt, 2 tablespoons onion powder, 1 tablespoon dried sage, 1 tablespoon dried parsley, 2 teaspoons dried thyme, 1 teaspoon sugar, and 1/2 teaspoon ground pepper. If you love garlic, feel free to put a tablespoon of granulated or garlic powder in the mix as well. Mix up all the spices and herbs and go to it. Put the bird in a roasting bag and turn it over once or twice a day.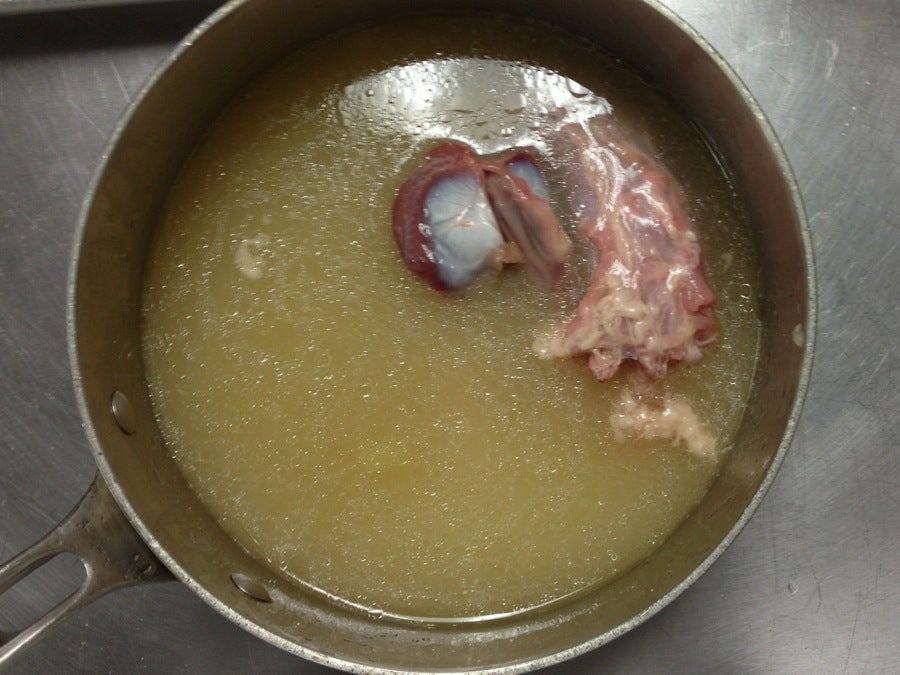 Cook the giblets and neck in the turkey broth you made earlier: simmer for 2 hours with a bay leaf, half a cut onion, and a chopped celery stalk. Strain, chop, and save the giblets, if using.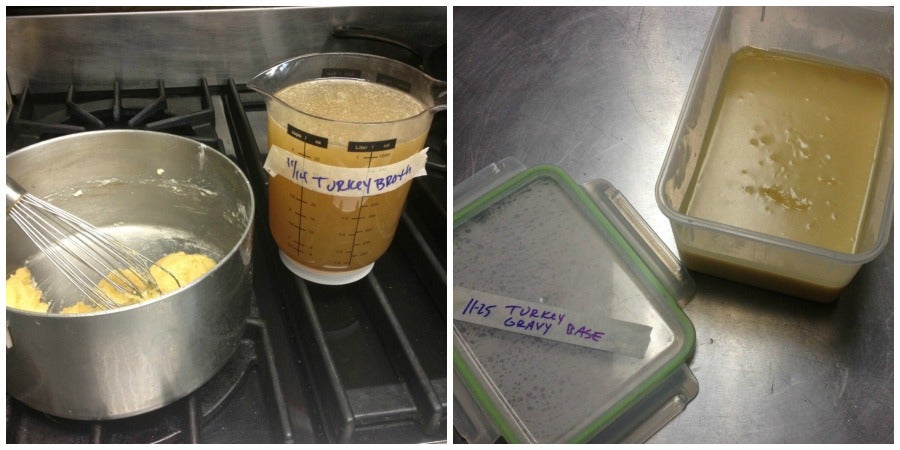 Get a head start on your gravy: in a large saucepan, melt 4 ounces butter and whisk in 1 cup King Arthur Unbleached All-Purpose Flour. Cook over medium heat for 3 minutes. Add the 2 quarts fortified broth a half cup at a time, whisking well between additions to eliminate lumps. Once all the broth is in the pot, simmer for 25 minutes. The mixture will be thick, but you'll be adding more liquid from the roasting pan later. Cool and refrigerate.
Wednesday
Early in the day, while you're still fresh (but after coffee), do the math and determine when the bird goes into the oven tomorrow. Remember, you'll want to give the bird at least 45 minutes to rest, covered, before carving. For a stuffed, 18-pound turkey that's going to be served at 5 p.m., it should go into a preheated 350°F oven at noon. If you want to roast slower, at 325°, make it 11:30. You'll be taking it out around 4.
Write your "start baking" time down and put it on the oven door under that label you have taped there.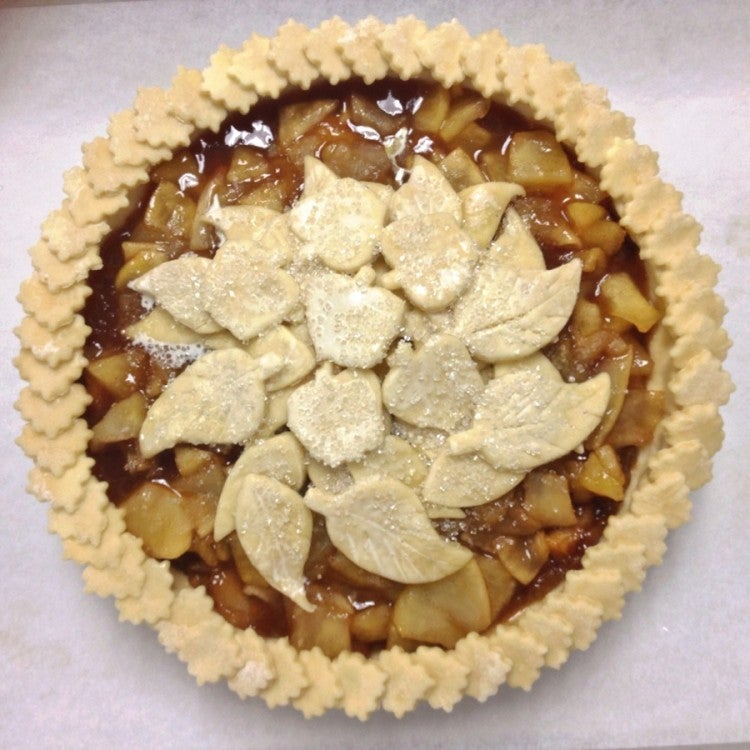 Assemble and bake the apple and pumpkin pies.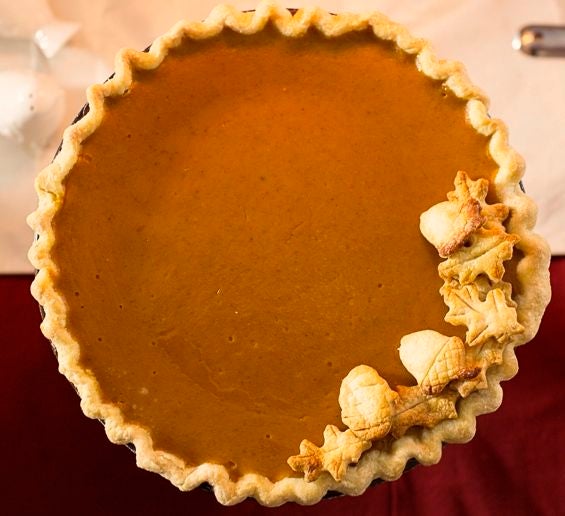 Remember, your fillings are all set: all you have to do is roll dough, fill, and put the pies in the oven. Apple pie will be fine at room temp. until tomorrow; refrigerate the pumpkin.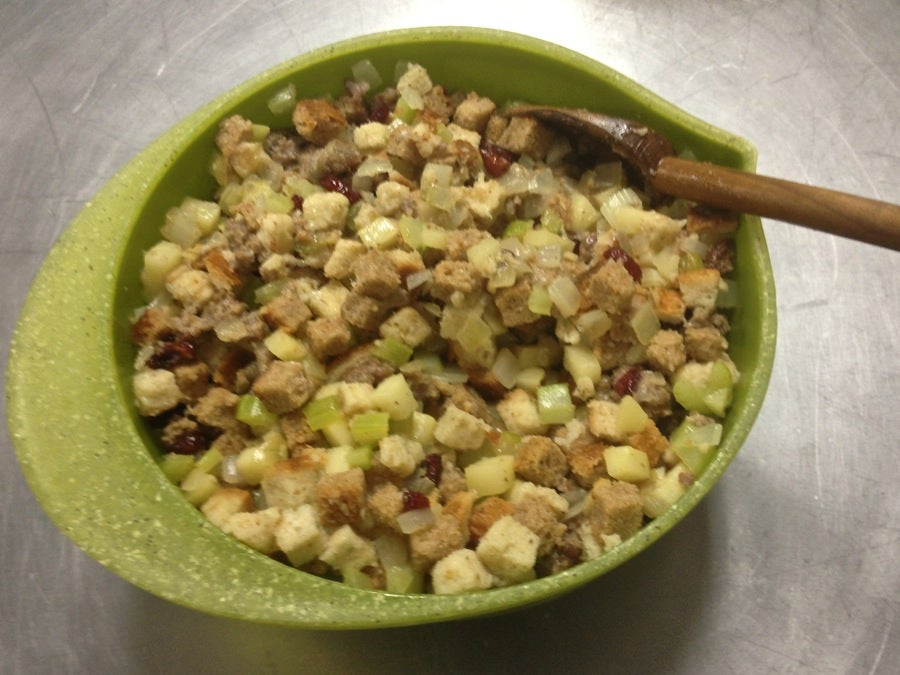 Assemble your stuffing/dressing.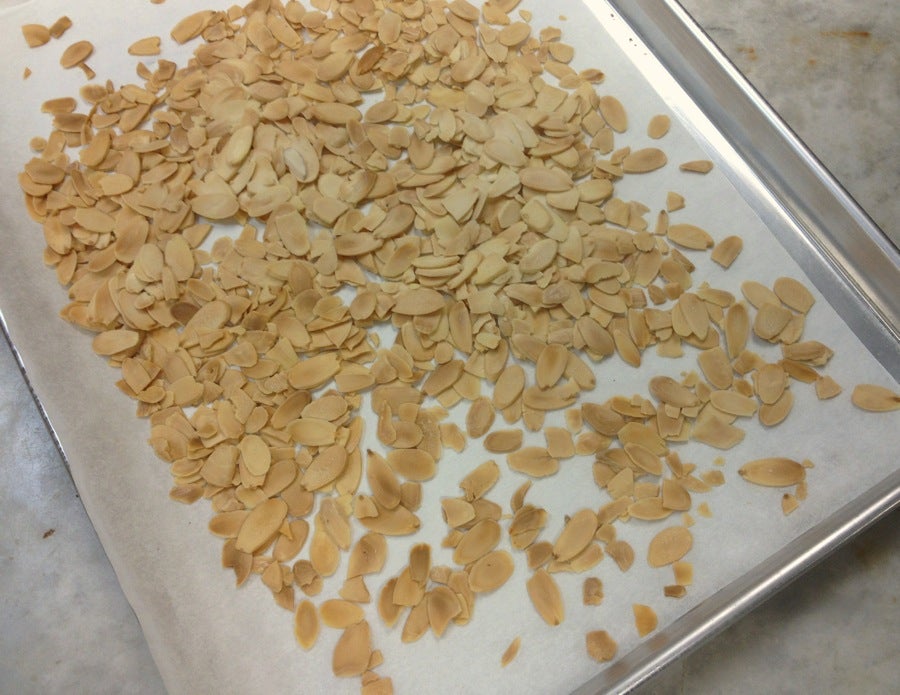 Toast the almonds for the green beans.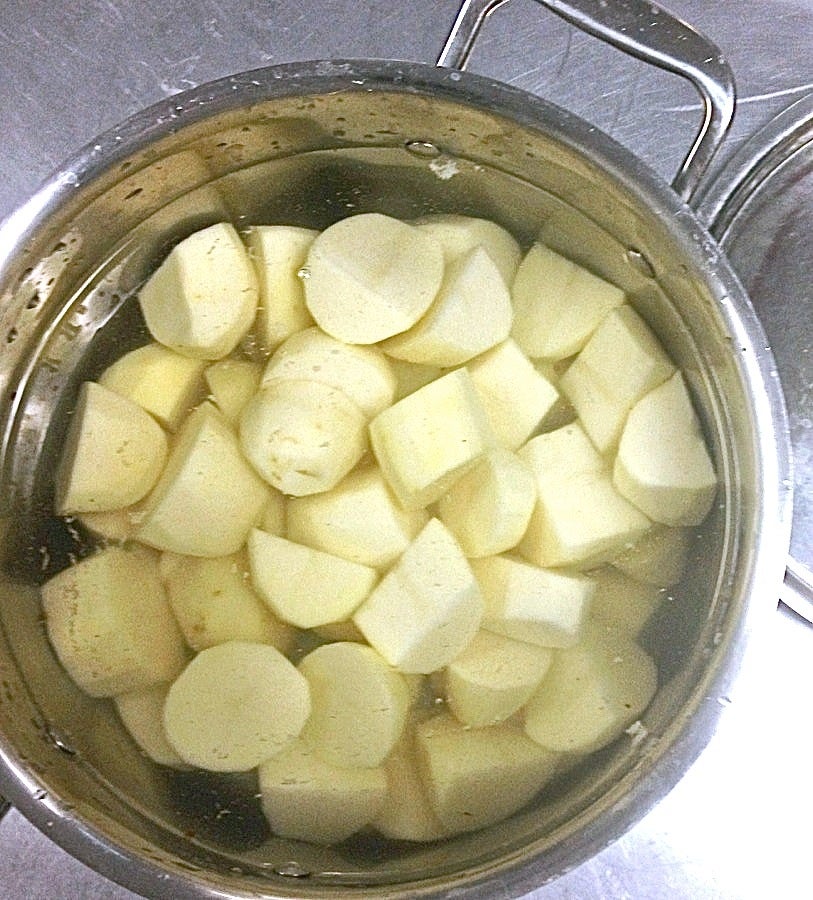 Peel potatoes for mashers, and hold in the pot you plan to cook them in covered in cold, salted water. (This is a great job to farm out to the kids.) Here's hoping it's cold enough outside to make use of the mudroom, garage, or back porch to store them. Once the kids have peeled the spuds, make them set the table.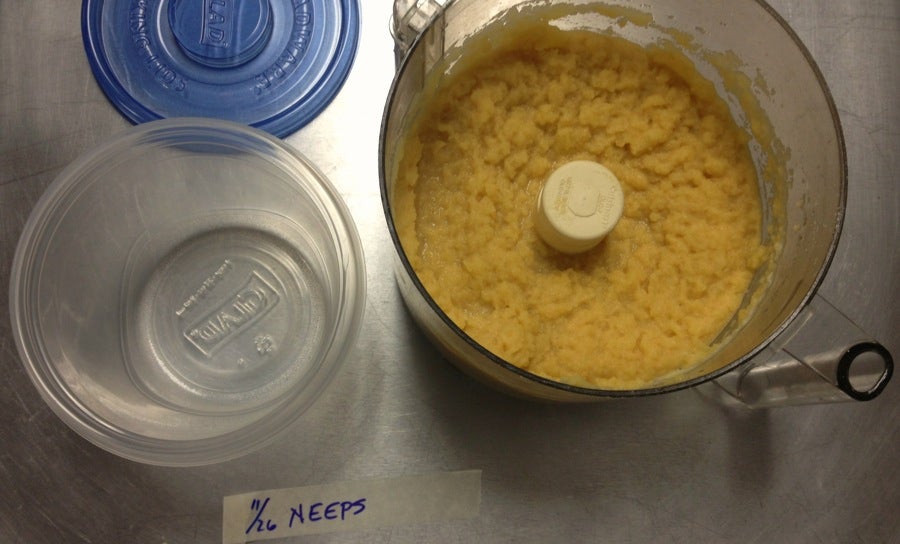 Cook and mash rutabagas (this is a Reid family must-have; a bow to our Scots ancestry). I highly recommend putting a cubed Granny Smith apple in the pot with the neeps; cook until they're tender, mash all together, and finish with butter, salt, pepper, and a dash of boiled cider.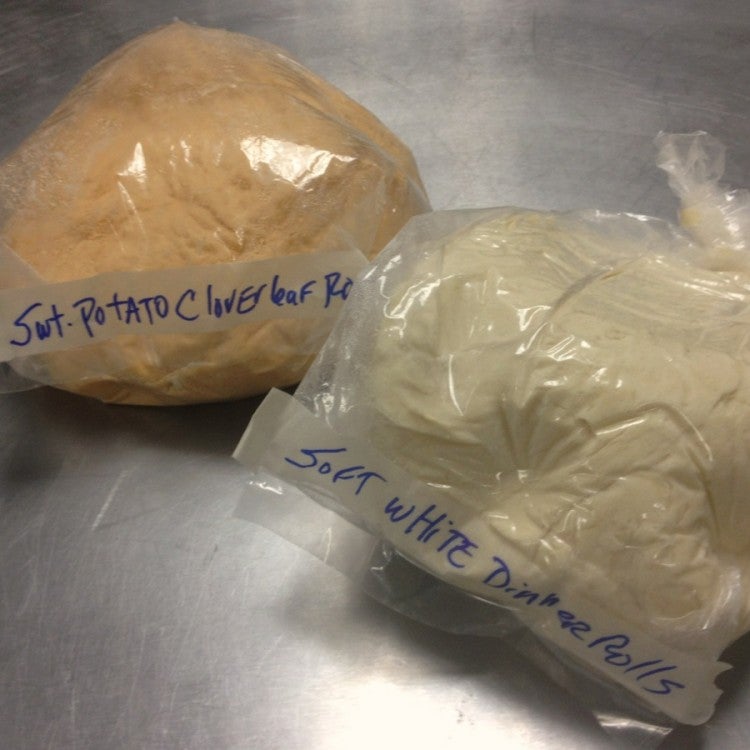 Late in the day, make the dough for your dinner rolls. Put it in a greased bag (no need to let them rise first) and refrigerate overnight. If you froze the cheesecake, pull it out and put it on the porch, in your backup fridge, or in the mudroom.
Thursday

10:00 am: Shape and bake the rolls. You'll reheat them later, once the bird is out of the oven.

12:00 noon: Stuff the turkey (loosely! it will expand) and put in the oven. Put any extra in a buttered baking dish, mix together 1 or 2 eggs and 3/4 cup chicken stock, pour over, stir, and cover. Refrigerate. If you have them, now's the time to dig out those electric warming trays.
2:45 pm: Cook the mashed potatoes, finish with butter and salt, cover, and transfer to a warming oven if you have one, or a slow cooker to keep warm. If you have more than one oven, preheat the second one to 350°F. If you don't, don't fret. Turn on the warming trays to low if you have them.
3:30 pm: Put the turnips in a casserole dish to heat through. If you have more than one oven, you can put them in the one you just preheated. If you're baking dressing out of the bird, put that in there, too. If not, you can always microwave the neeps to heat through and hold on a warming tray, and put the dressing in to bake while the bird is resting. Put the turkey gravy base you made on the stove over low heat, as well. Set up the green beans. Deputize someone to take care of them.

4:00 pm: The turkey should be done. Take it out of the oven. If it's your only oven, put in the dressing and turnips to heat. If it's one of two, turn it down to 200°F. Put the bird on a rack over the carving board or serving platter, and cover it with foil and a big old blanket or a couple of layers of dish towels. As it rests the juices in the bird will redistribute themselves, giving you much moister meat when you go to cut it later.
Deglaze the roasting pan with 1 cup of water or chicken stock, stirring to release all the good crusty bits on the bottom (fond, in chef's parlance). Pour the liquid into a tall, narrow container or one of those gravy separators and let it settle. The fat will come to the top, and some solids will go to the bottom.
Either skim off the fat or pour the good brown juice from underneath it from your separator into the gravy base. Stir. Taste and adjust the seasonings. Gravy's done.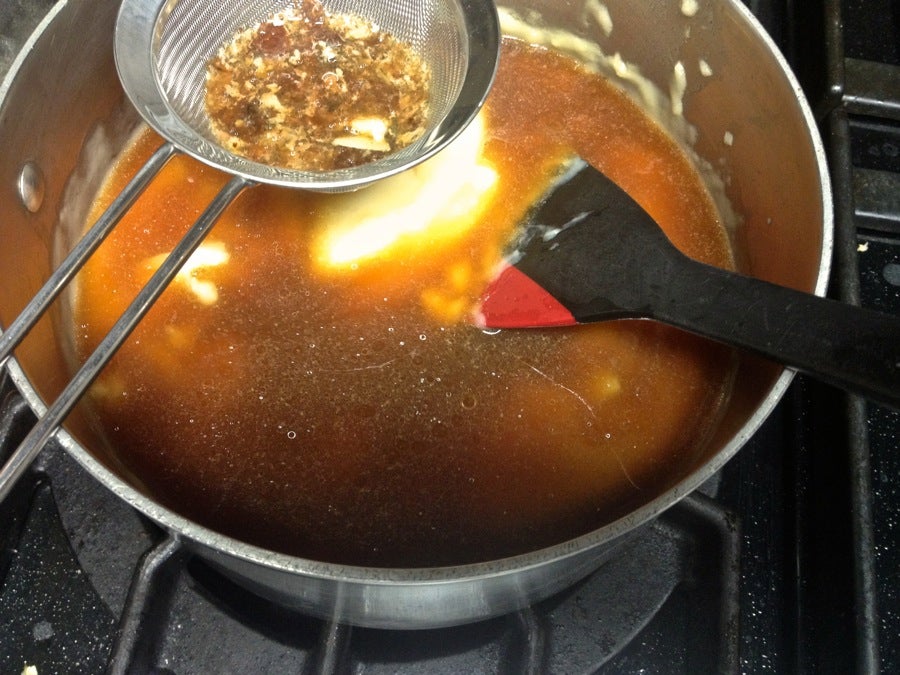 4:30 pm:  Put the serving platter for the turkey, the gravy boat(s), and the dinner rolls in to heat through. Have one of your most "helpful" relatives open the wine and get drinks for the kids.
4:45 pm: Carving and dish-up. This is where you can send people to your serving dish setup, with commands like, "Bring me the bowl that says green beans, and the spoon with it!"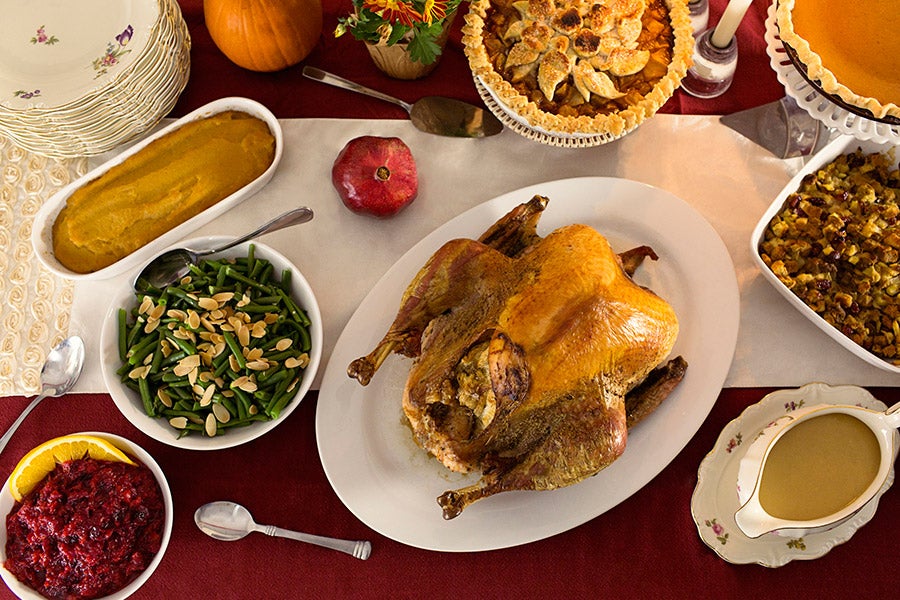 5:00 pm:  Let's give thanks for all of our blessings, this bounty, and being together.  Raise a glass and toast yourself. Let's eat!