One of these days, I think you should come to my mom's house. Go to the cabinet near the fridge. No, not that one, the one under the counter. Open the door and move the cereal boxes out of the way – for in the back recesses of that cabinet lies a heavenly reward.
You see, that's where my mom stashes tins of homemade cookies, chocolates, and fudge. It's not much of a hiding space; we've all known about it for years and years, but it still remains a little spot of mystery and wonder to this day.
Will it be snowball cookies, or perhaps Grandma Flowers' Cookies? (I think the rest of the world calls them Ranger Cookies). Did my brother Mark make up a batch of fudge and squirrel it away to keep for himself?
Whatever we would find hidden away behind the cornflakes, it was always homemade. Store-bought treats had a place in a different cabinet, and they weren't nearly as exciting as those clandestine cached cookies.
Now during the holiday season, it was a whole different story. Nothing was hidden away; all the bags, boxes, tins, and tubs of goodies were out on the sideboard all season long. We were allowed a few each day, and woe was you if you took the last stuffed date before Dad did. Bright red tissue paper will always remind me of that display of friendship, generosity, and glad tidings.
This year here at King Arthur Flour and The Baker's Catalogue, we've rounded up some really wonderful packaging options so that you can send those same tidings to you and yours. Let's take a look.
First, you'll need a little something sweet to pack up, so try out a batch of our Basic Vanilla or Chocolate Cookie Dough. For the greatest flexibility in different cookie styles, I make up one batch of each flavor and mix them in different ways. You can see what I mean below. 
From top left: Chocolate dough rolled 1/4" thick, with vanilla dough in a 2" log ready to be rolled up in the choclate. Two different rolls ready to chill before slicing. Two doughs mixed together to make marble cookies, cut with a scalloped cutter. Fixing a small hole from slicing chilled dough before baking.
In the top left photo you can also see that the chocolate dough has been brushed with beaten egg white, which acts as "glue" to help hold the different doughs together.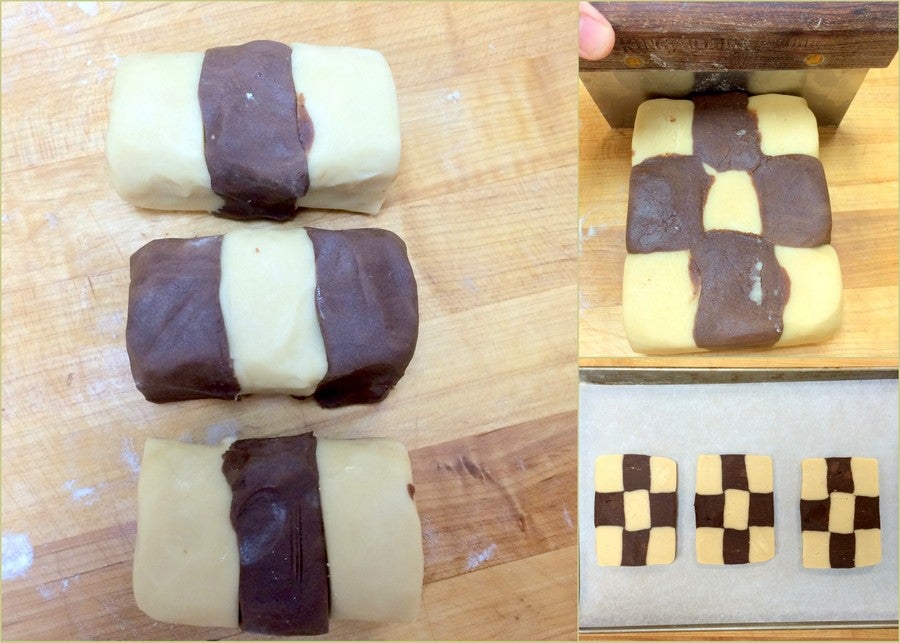 By making square logs instead of round logs, you can slice and stack them in different ways to make stripes and checks. These large cookies would make fun, edible tic-tac-toe boards, wouldn't they?
Think of these doughs as edible Play-Doh. Try different shapes, different combinations, and cutters to your heart's content.
Typical baking thickness should be about 1/4"; bake time in a preheated 350°F oven will run between 10 and 14 minutes, depending on the size of the cookie. They're done when lightly browned around the edges and firm to the touch in the center.
Cool 'em off and wrap 'em up!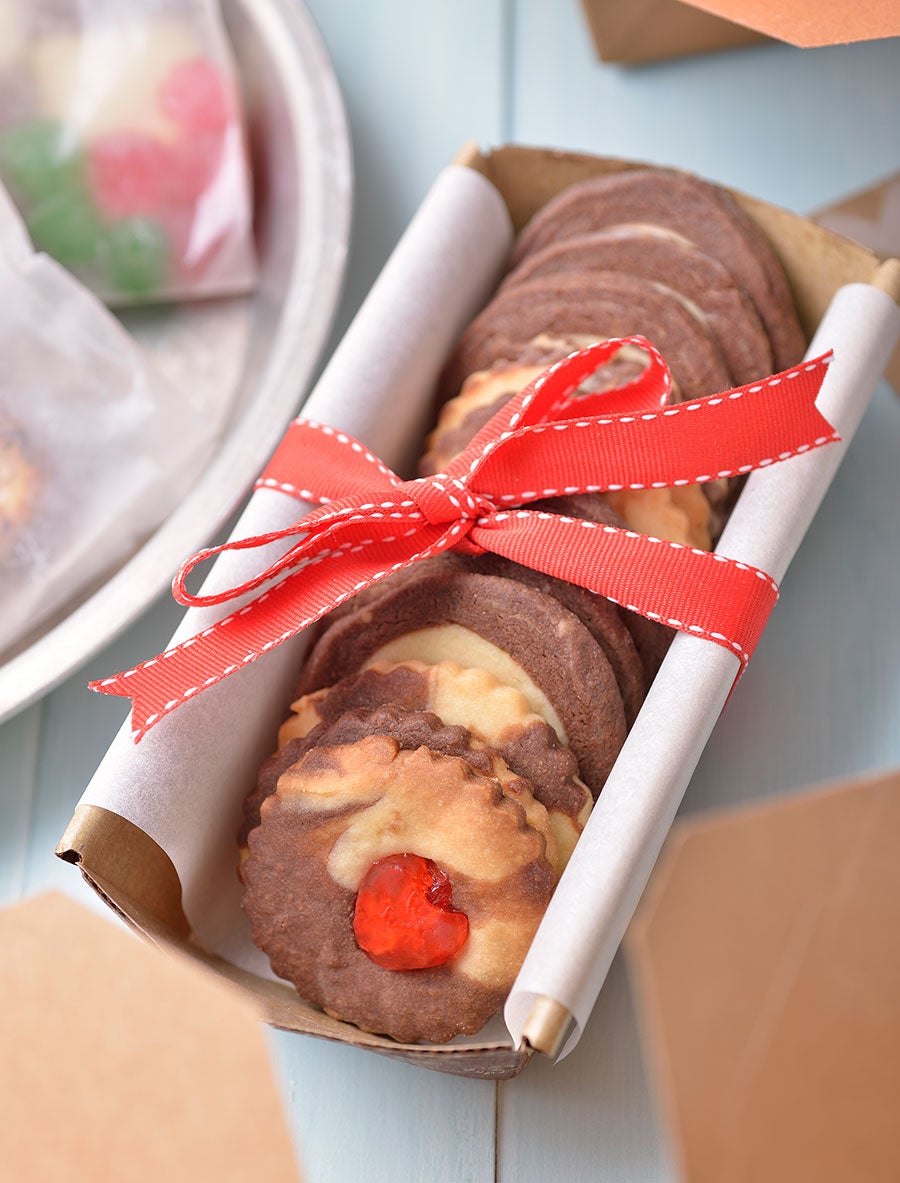 Let's start with something simple. A stack of marble cookies and bull's-eye cookies in a parchment-lined paper pan can be tied with a bright ribbon to become instantly festive.
This particular package found a good home with an older gentleman on a park bench near my local yarn shop. He proclaimed it "Just like Christmas!" even back in August.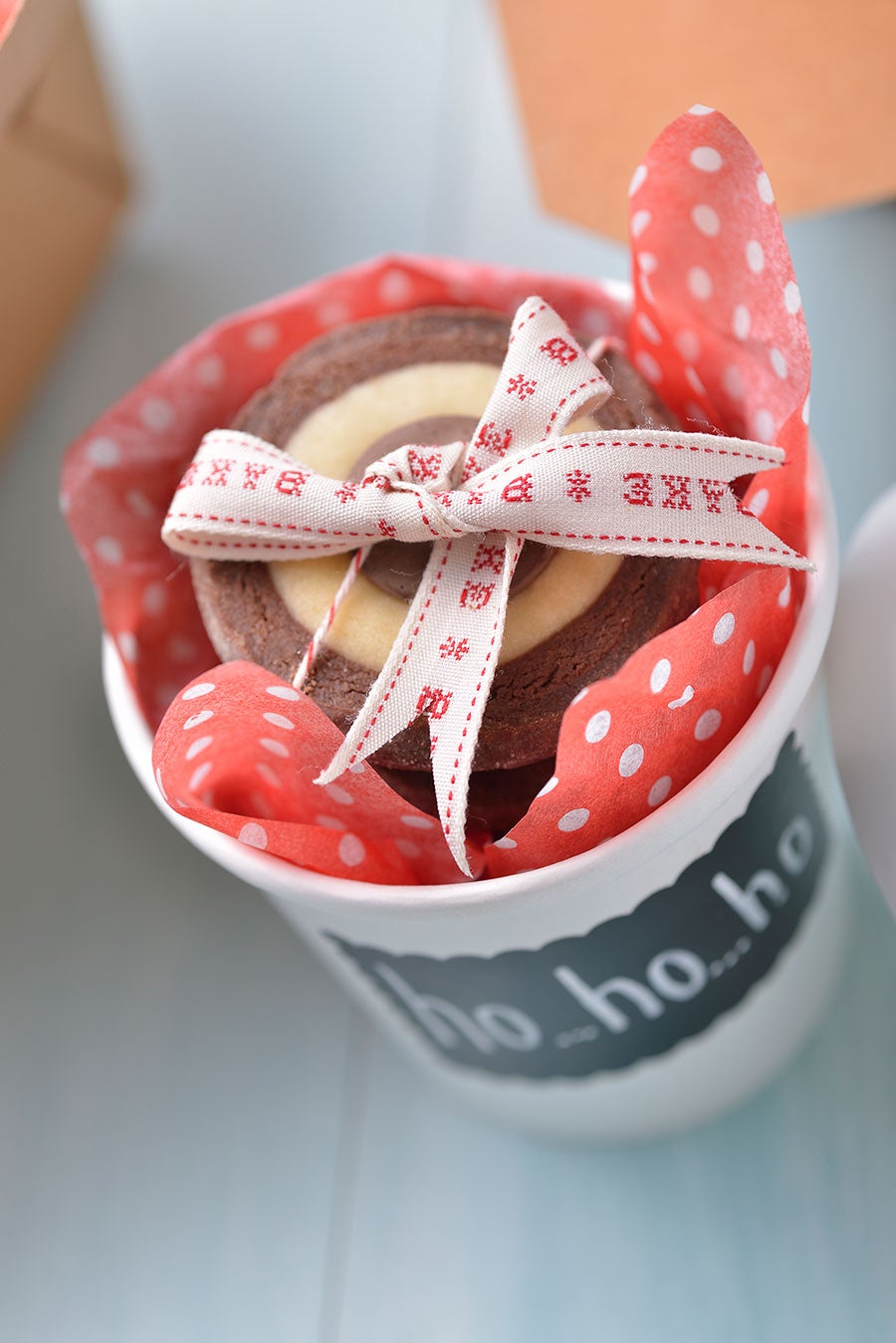 A little bright red paper, just like my memories. You know, takeaway treat tubs aren't just for ice cream and soup. A short stack, a personalized chalkboard label, and some lovely ribbon proclaims your feelings – and it won't melt on Teacher's desk!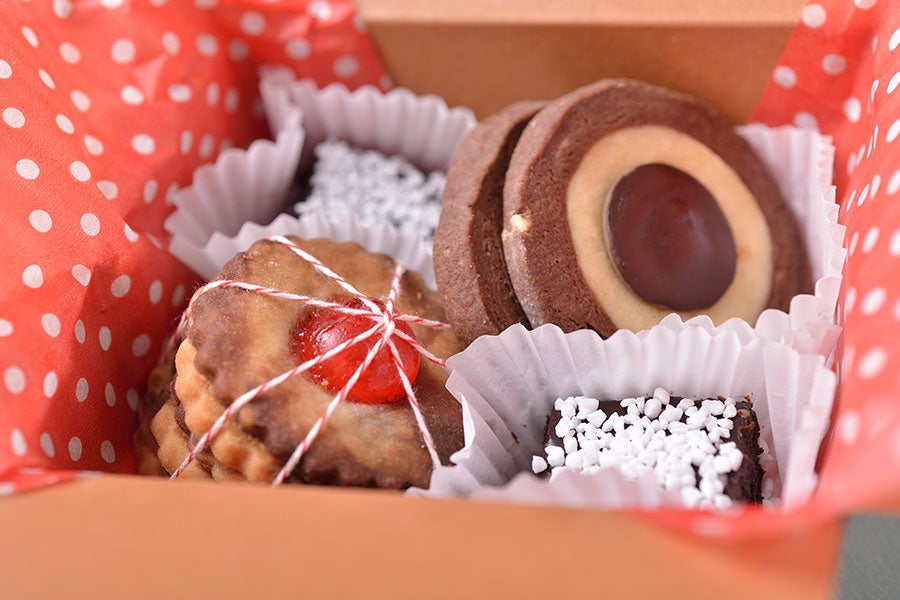 Got brownies? Circles and squares are the perfect pairs to fill up one of our To Go Treat Boxes. Doesn't a bright red cherry just make this present pop?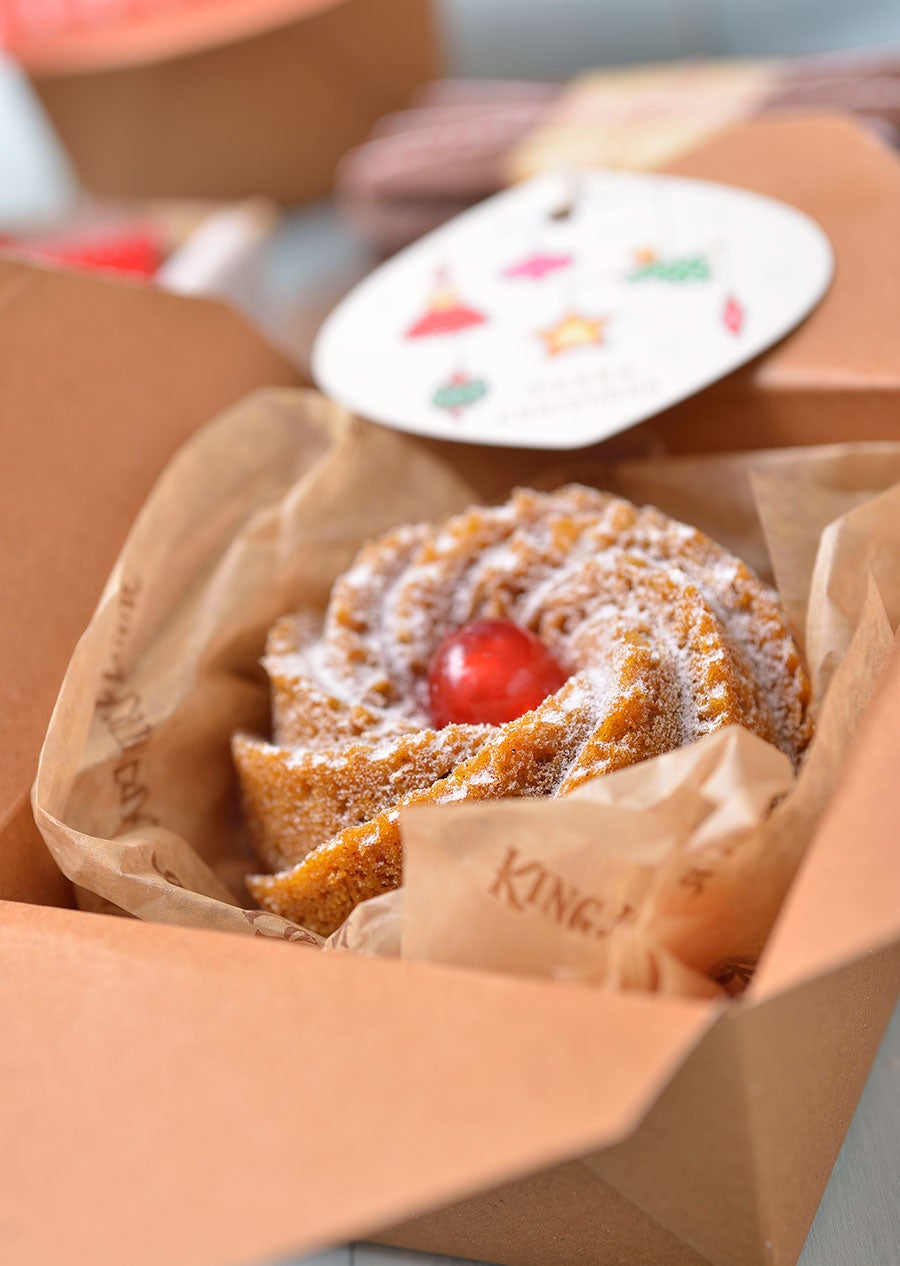 The To Go boxes come in two sizes, with the smaller size being the perfect cradle for a single swirl mini bundtlette. These little cakes snuggle in with festive paper and travel beautifully. We decided they were almost too pretty to eat. Almost... but eating won out in the end, as it should.
So, from my mom's hidden stash to these snowy cakes, we hope you'll be inspired to bake, wrap, and share your own holiday favorites this year. Don't forget pretty stickers, paper tapes, and tags!  And if I come to visit, I promise not to raid the cupboards in search of your secret stash. Well, maybe just a peek.
Please bake, rate, and review our recipe for Basic Vanilla or Chocolate Cookie Dough.
Print just the recipe.