Gluten-Free Sun-Dried Tomato-Cheddar-Chive Biscuits
Farmhouse fare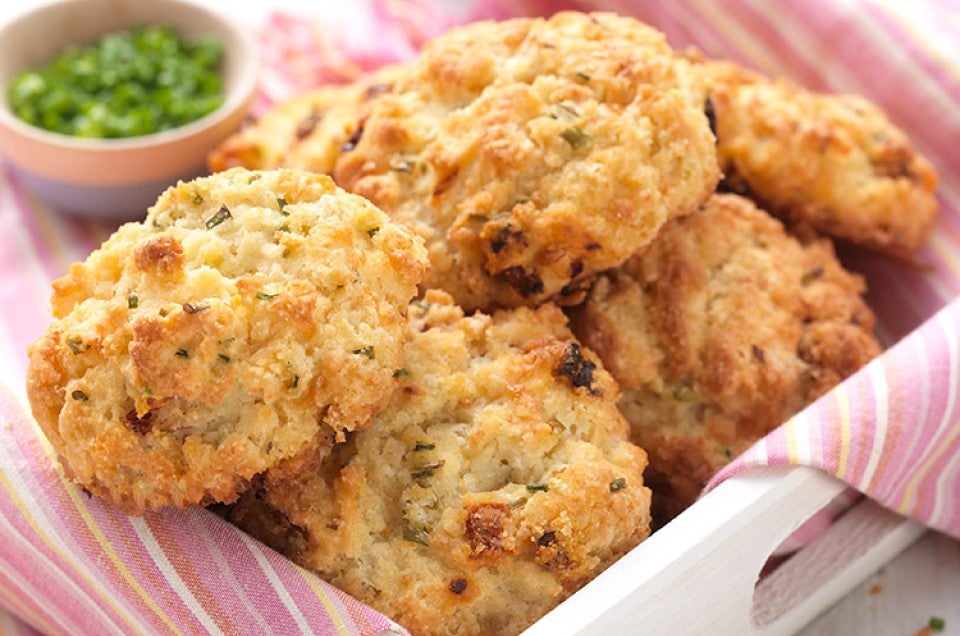 Biscuits.
They're largely coveted when done correctly, as if sacred to those who eat them. Have you ever heard something similar to the following?
"I'd like to make biscuits just like my grandma did, but mine never come out that flaky or rise quite as high!"
I've heard that frustration time and time again on our baker's hotline. It's a common sentiment. Folks want that perfection of the Southern biscuit, a perfect balance of flour, salt, and cold fat combined with just enough liquid to bring everything together. They crave biscuits slathered in gravy, or posed as dumplings atop a stew or casserole.
But for me, I'd prefer biscuits cradling some breakfast fixin's. I think they're the perfect nest for scrambled eggs and bacon, or a nice sturdy base for a rich, hollandaise soaked Benedict.
Honestly, I'm just really excited to know biscuits can be made gluten-free – and still be high-rising and great-tasting, like conventional biscuits.
So when you discover you have a winner of a recipe, why not push it to its savory limits? Make it summery! Add some herbs, vegetables, and cheese. Make it rustic and simple, yet still deserving of space on the breakfast menu of a farmhouse inn.
That's all possible, I assure you. Follow me into the kitchen to make Gluten-Free Sun-Dried Tomato-Cheddar-Chive Biscuits!
Preheat the oven to 400°F. Line a baking sheet with parchment, or leave it bare; no need to grease it.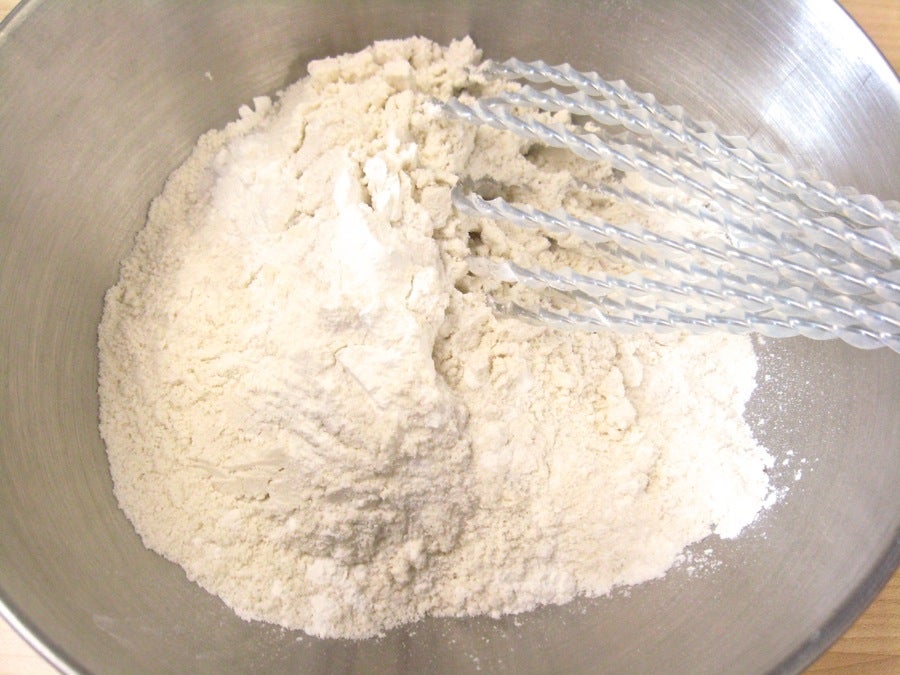 Blend together the following:
1 3/4 cups (276g) King Arthur Gluten-Free Multi-Purpose Flour
2 teaspoons baking powder
1/2 teaspoon xanthan gum
3/4 teaspoon salt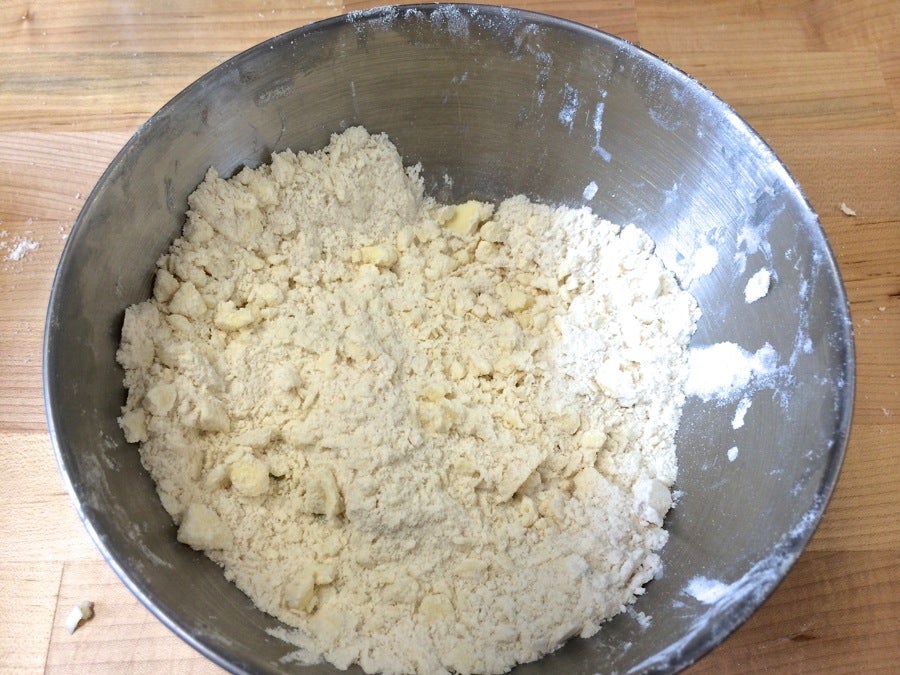 Cut 8 tablespoons (113g) cold butter into cubes. Work it into the dry ingredients until the mixture is crumbly.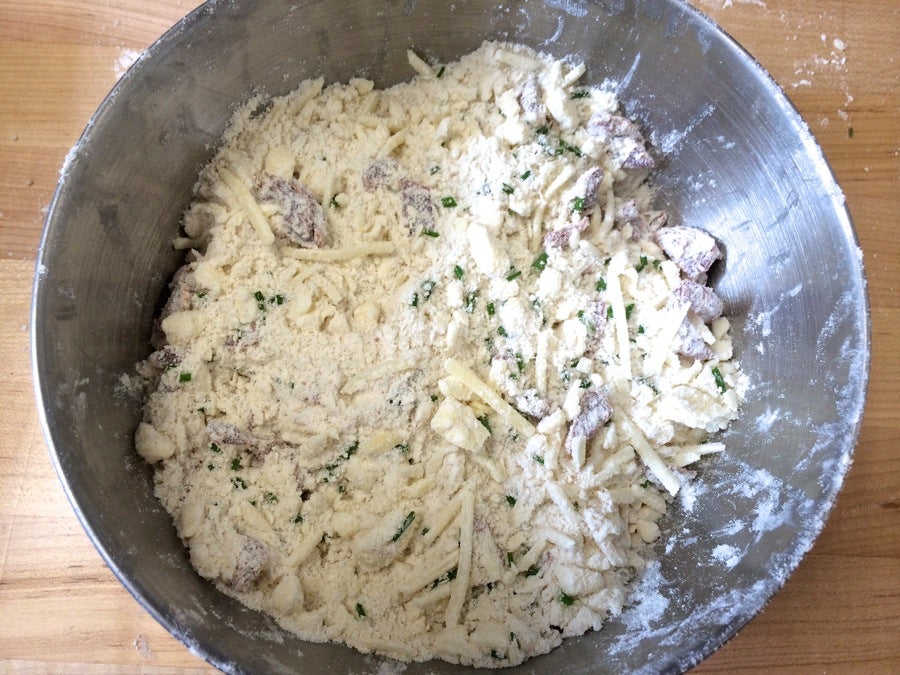 Stir in 3 tablespoons (14g) chopped fresh chives; 1/2 cup (57g) sun-dried tomatoes, chopped, and 1/3 cup (53g) grated sharp cheddar cheese.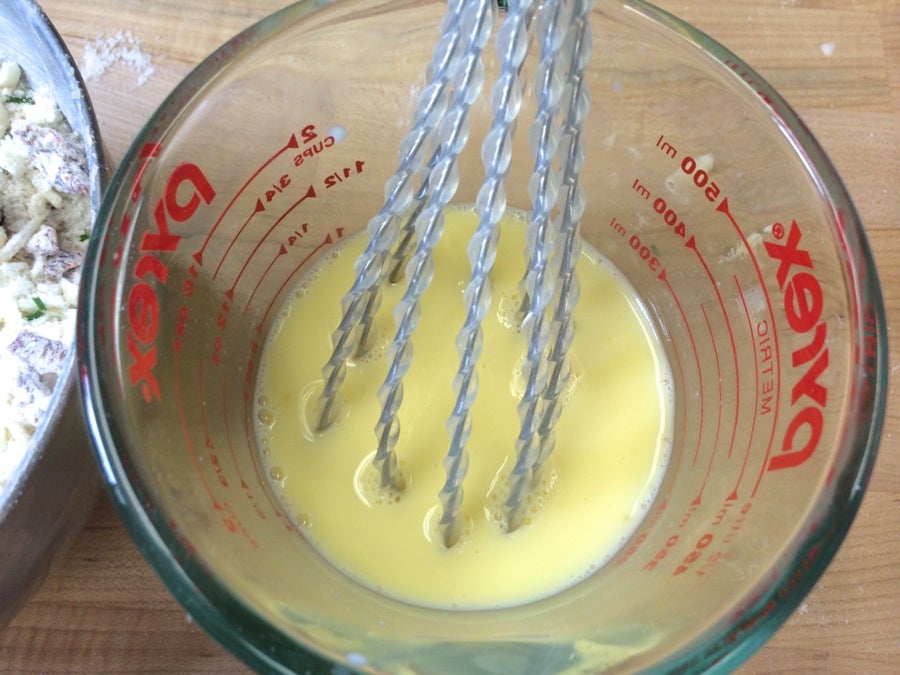 In a separate bowl (or easier, a measuring cup), beat together 2 large eggs and 1/2 cup (113g) cold milk.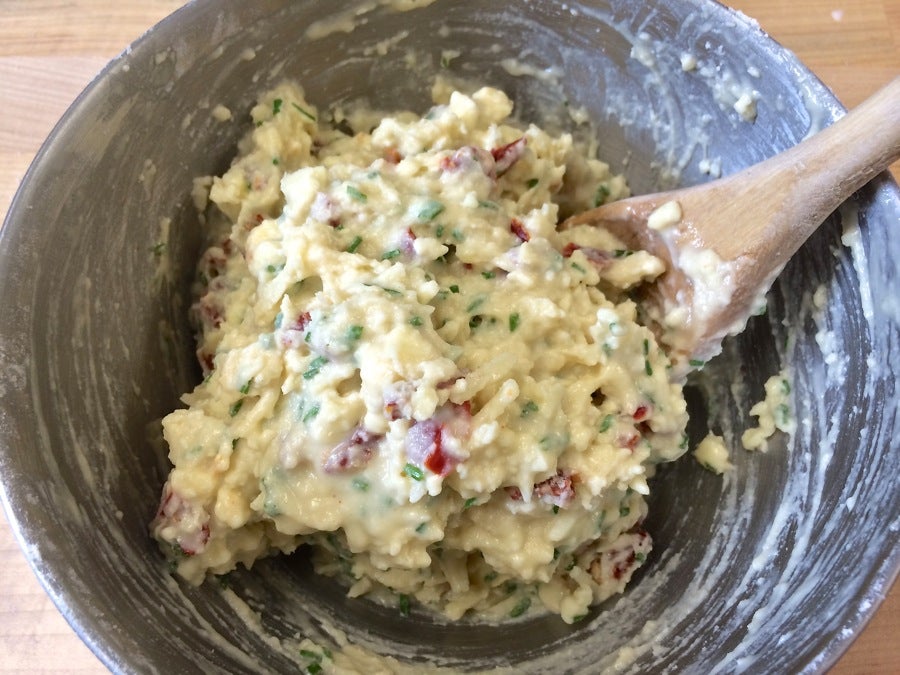 Add the liquid ingredients to the dry ingredients, stirring just until a cohesive dough forms. It'll be very sticky and loose.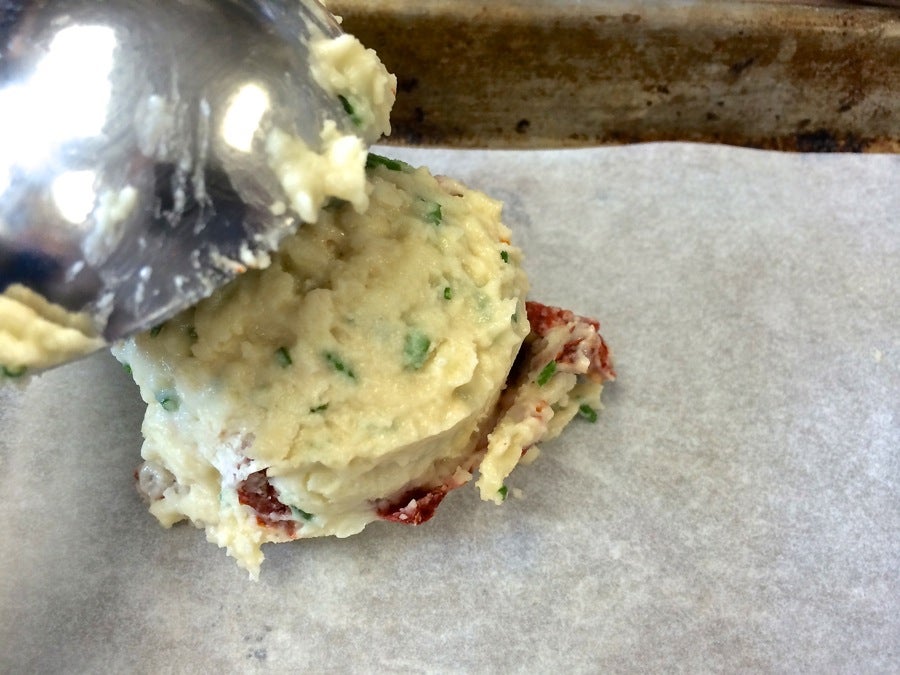 Using a muffin scoop or large spoon, scoop the dough in 1/4-cupfuls onto the prepared baking sheet; you should have 10 mounds of dough. Press them down gently to flatten slightly.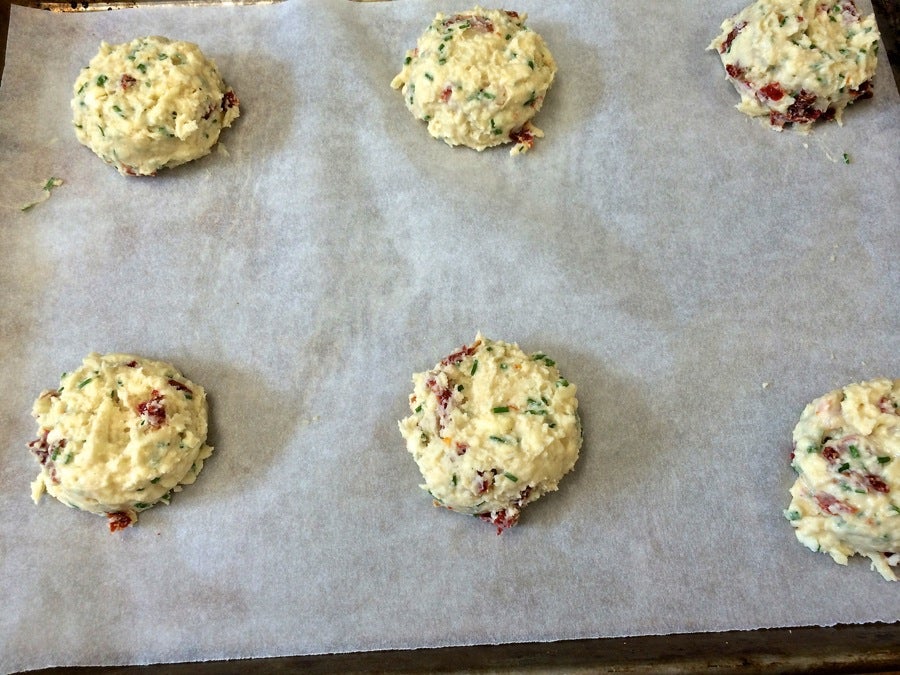 Allow the biscuits to rest for 10 to 15 minutes.
By the way, don't be confused by seeing only six biscuits here – I was doing a baking-time test, and thus baked them on two baking sheets. The recipe easily fits on one pan.
Bake the biscuits for 15 to 20 minutes, or until they're golden brown. Remove them from the oven.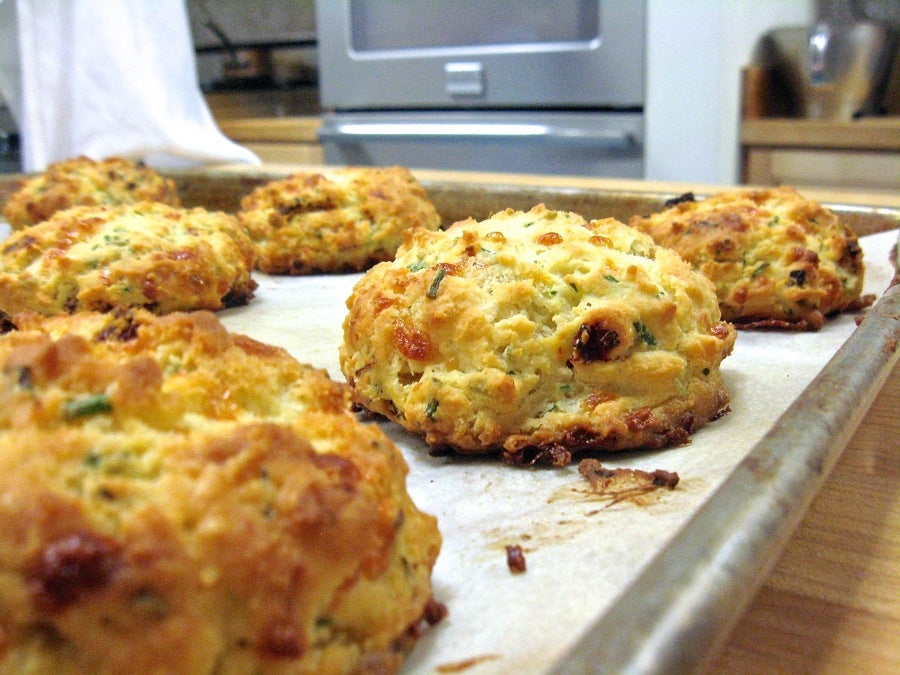 The finished biscuits will be a nice golden color and delightful to enjoy warm, just as they are – don't forget a smear of creamy butter!
And if you're going for the full breakfast bliss, get those eggs cracking and the sausage sizzling for a sandwich of pure farm-fresh goodness – the best way (I can think of) to enjoy your morning feast!
Please bake, rate, and review our recipe for Gluten-Free Sun-Dried Tomato-Cheddar-Chive Biscuits.
Jump to Comments