Beyond burgers and dogs
10 delicious ways to use your grill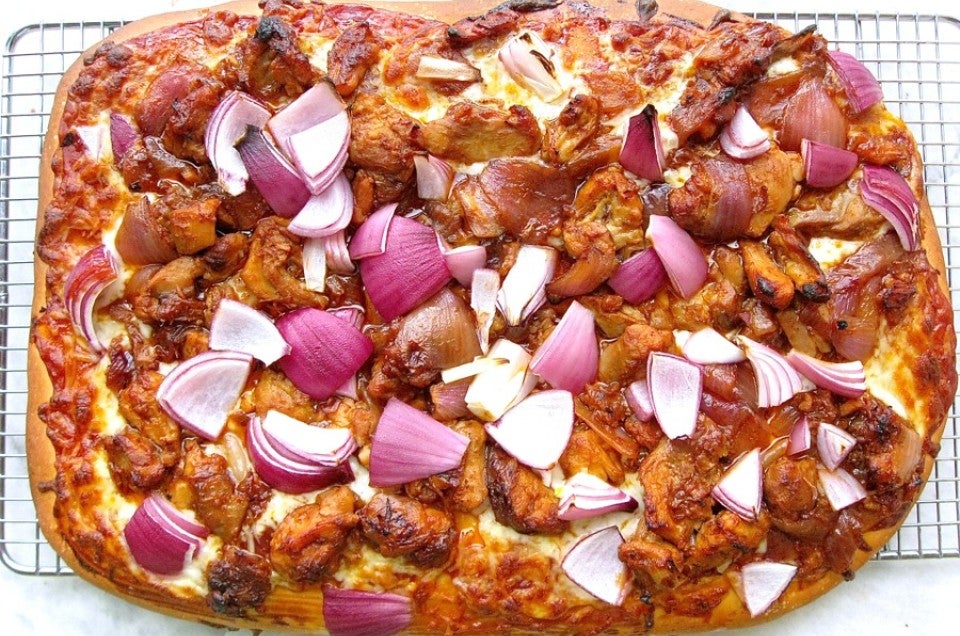 Burgers. Dogs. Burgers. Dogs.
Chicken. Steak. Ribs.
OK, I agree – they all sound wonderful. Partly because most of us enjoy a perfectly grilled steak; juicy, crisp-crusted barbecued chicken, or a plump, sizzling hotdog.
So, firing up the grill – especially this coming weekend – is a given.
And once you've got it going – why not branch out into heretofore realms unknown, and grill something else?
I just happen to have a few nifty ideas – 10, in fact – for broadening your grilling horizons. Read on...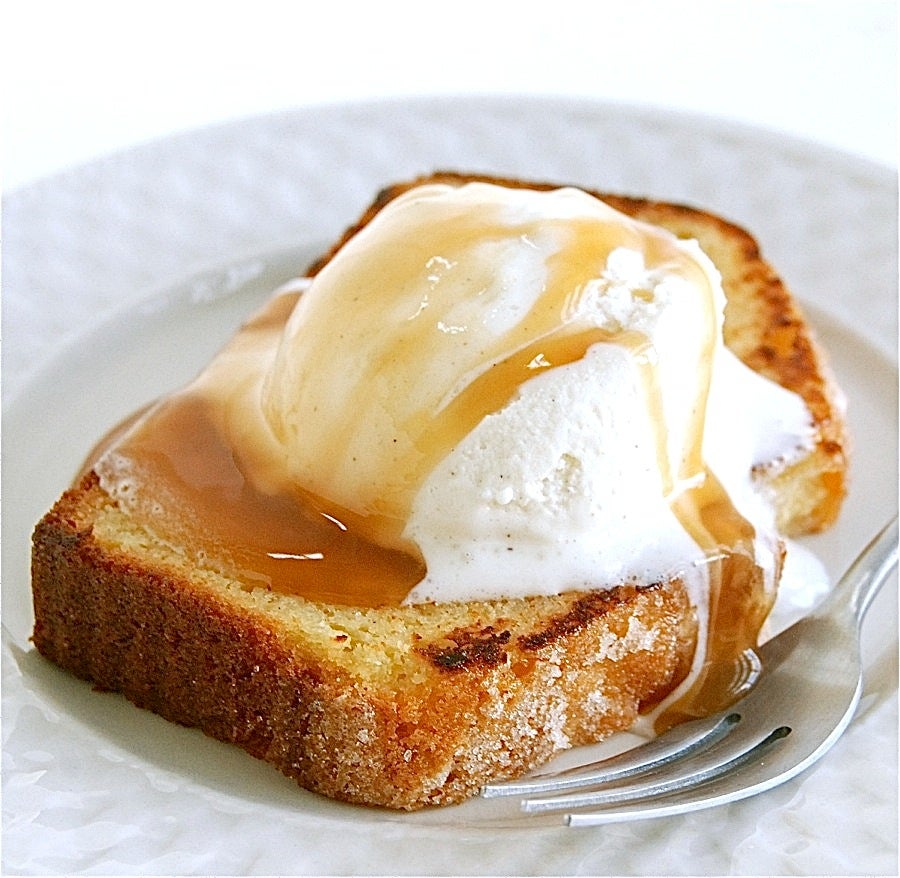 Life is short – eat dessert first. This one's a childhood favorite of mine.
"This is a great story and a great idea to liven up an old favorite." - Darlena.
See how it's done: Grilled Pound Cake.
And there's more than one way to riff on this moist, fine-grained cake –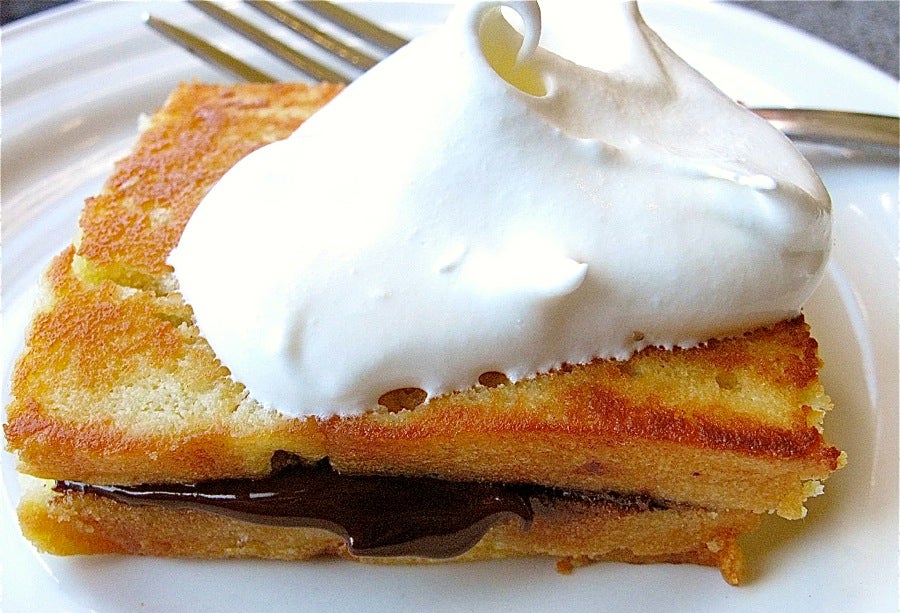 How about sandwiching two pieces around a chocolate bar, then grilling?
"This is the best 'chocolate and cake' idea I have ever seen. Will definitely be trying this one, soon... Think I'll have a 'Girls Night' and serve up this outstanding, decadent and downright delicious dessert."  SassySandy
See how it's done: Grilled Chocolate.
OK, we've had our sugar fix – let's get back to the main meal. And the mainest of main cookout meals –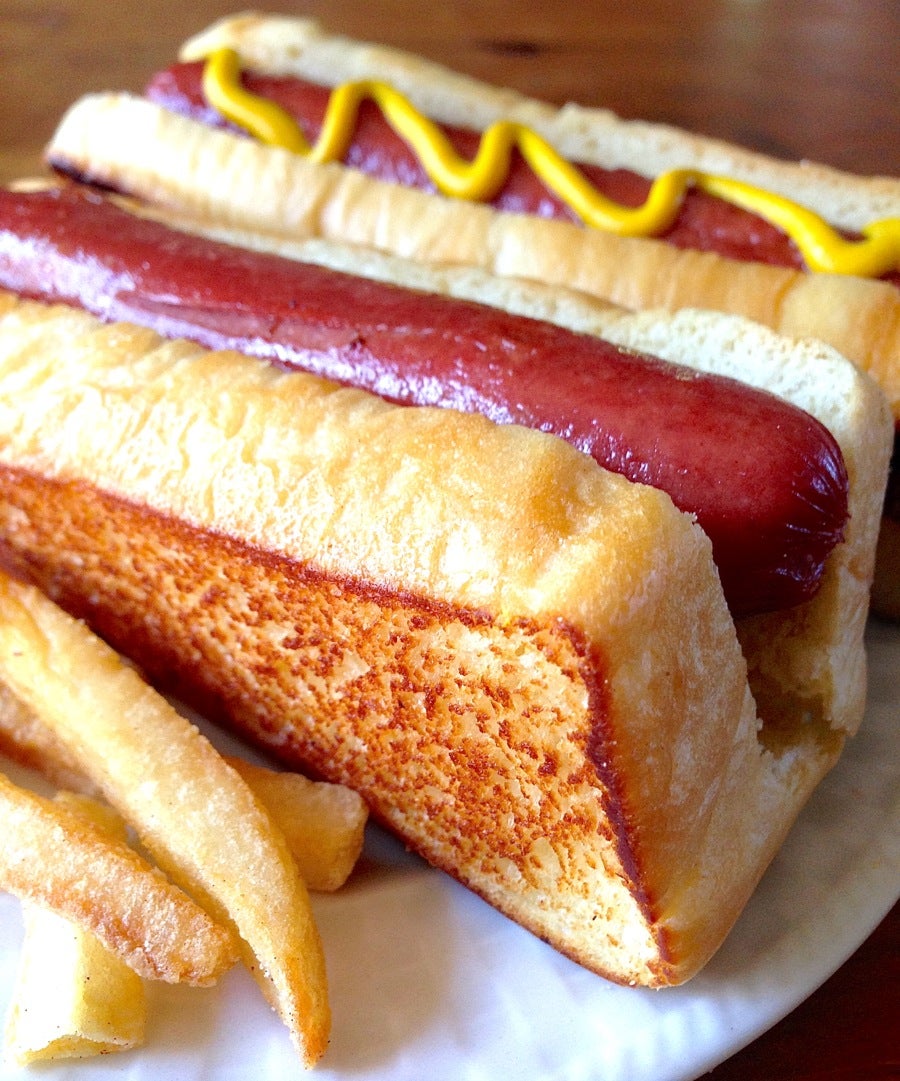 The grilled hotdog.
But it's not only the dogs themselves that benefit by a quick trip over the hot coals.
Bake a batch of New England-style split-top buns, spread their sides with butter, and throw them on the grill, too. (Anyone remember Howard Johnson's?) I promise, there is NOTHING like a char-grilled hotdog in a soft, butter-crusty grilled roll.
"My husband and I have been unhappy with the decreasing quality of store-bought bread, so I decided to start baking my own. I'm proud to say that I have achieved my goal of no longer buying any store-bought bread at all, largely in part to King Arthur Flour. I never even knew that such as thing as this hotdog pan existed until I saw it in one of your catalogs." - cmurf1960
See how it's done: Buttery Hotdog Buns.
Sometimes, all you want is something simple and savory. Something to serve with grilled vegetables, or as a scoop for grilled pineapple salsa.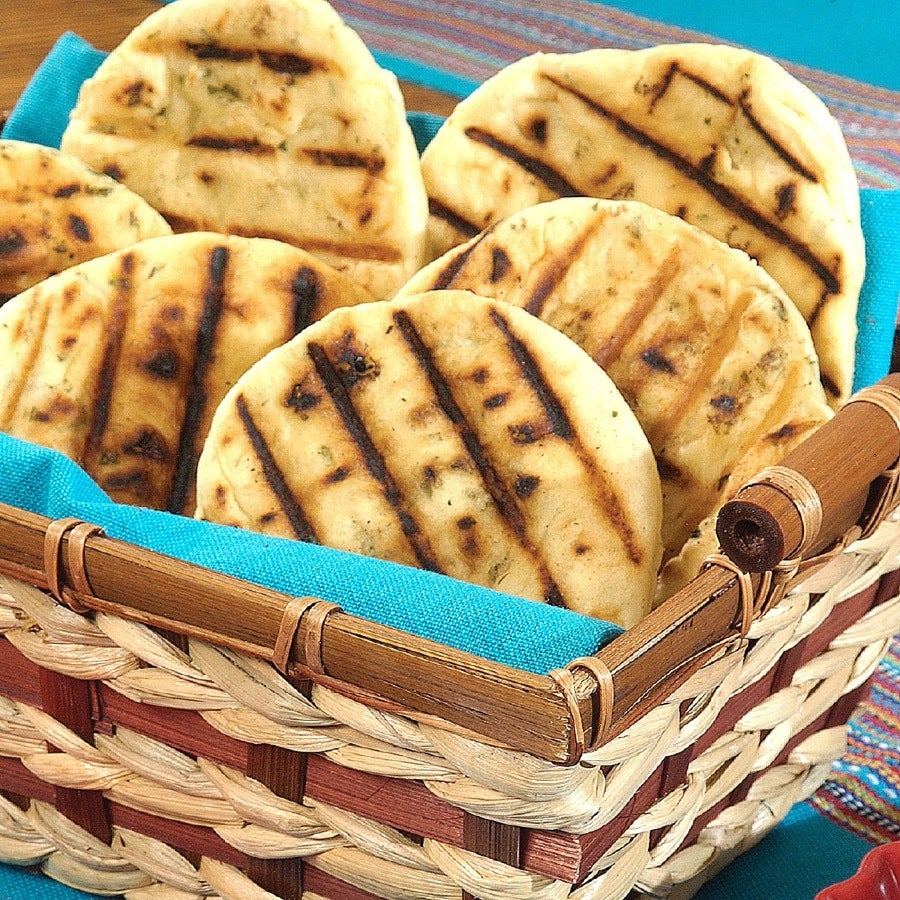 Something like grilled bread.
"My daughter and I made these today! We have two words: EASY and YUMMY! We had them with grilled portobello mushrooms, very tasty! We will try making a pizza with it next time! Thanks for the great recipe!" – Angela
See how it's done: Grilled Asiago Rounds.
Speaking of bread as scooping implement, how about this?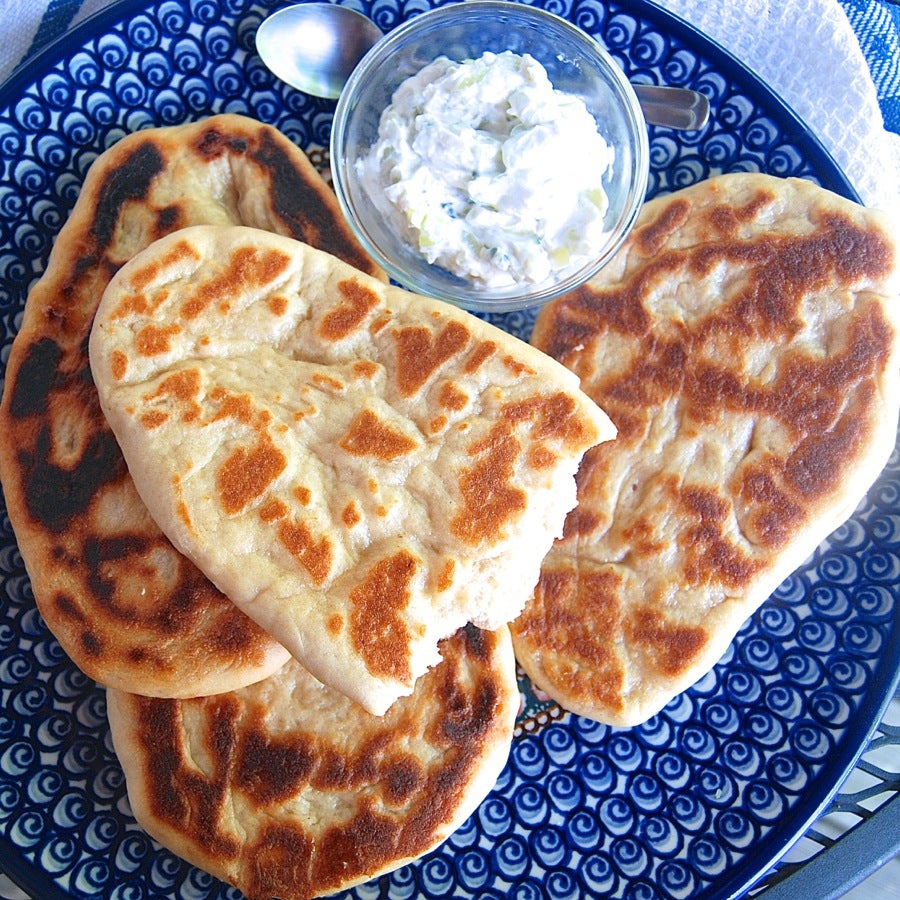 I like to think of this whole wheat naan as The Big Dipper.
"Beautifully done! You can also throw the dough directly on the grill grate, as you would a piece of meat or fish! We do this with our leftover dough, then freeze it for quick pizza later in the week." – Andy King
See how it's done: Whole Wheat Naan with Raita
Next, in our Wide World of Grilled Bread Tour, we travel from South Asia to Italy...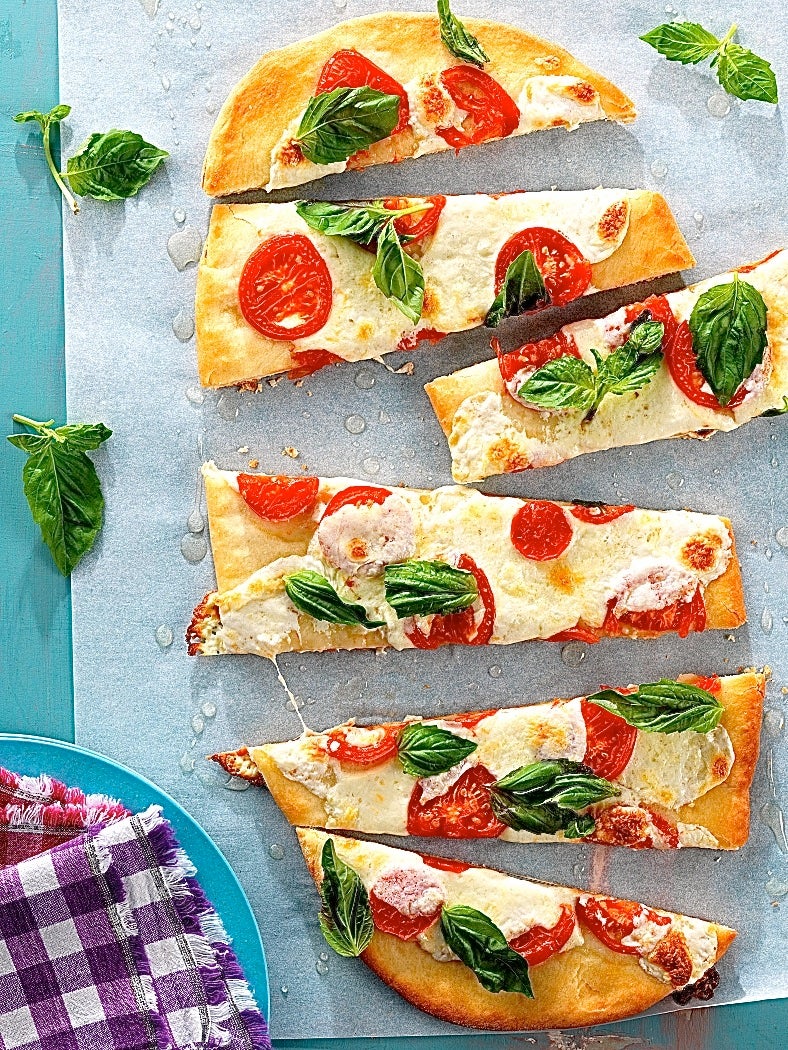 ...for pizza, of course. Thin-crust pizza, quickly grilled and topped with whatever you like.
"This is terrific. I made the dough as written and used a tomato sauce and mozzarella cheese as toppings... I sprinkled fresh, chopped basil and olive oil on top. Delicious!" – enjhagen
See how it's done: Caprese Pizza.
The coals go from glowing to gray. The sun sets, the air cools... and it's time to head indoors – toting a nice big plate of leftovers.
Which isn't a bad thing – especially if those leftovers include grilled chicken, which is as versatile a "leftover" as you'll ever dig out of the fridge.
Enjoy these Fab Four – four tasty treats making great use of leftover grilled chicken.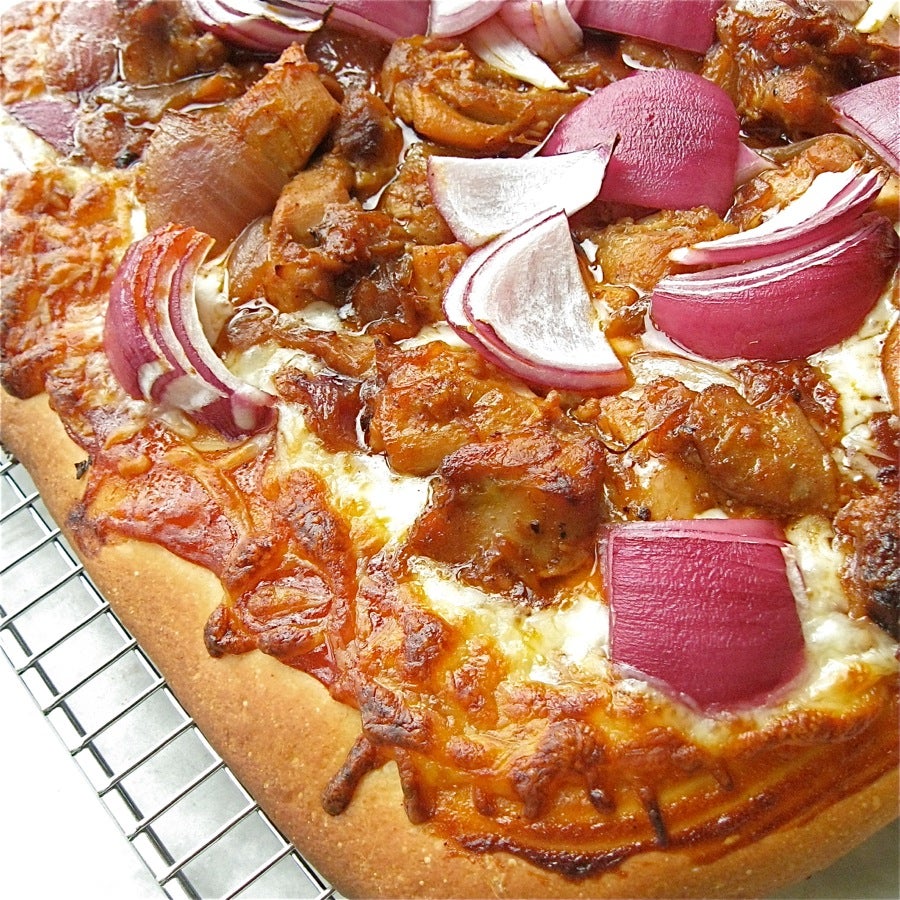 Let's continue in pizza mode with this hearty, zesty barbecued chicken and red onion pizza.
"I love this recipe!! We made it last night, using leftover grilled chicken thighs... My husband, who is picky about 'specialty pizzas,' gave this one a big thumbs up!" – cathy3925
See how it's done: Barbecued Chicken Pizza.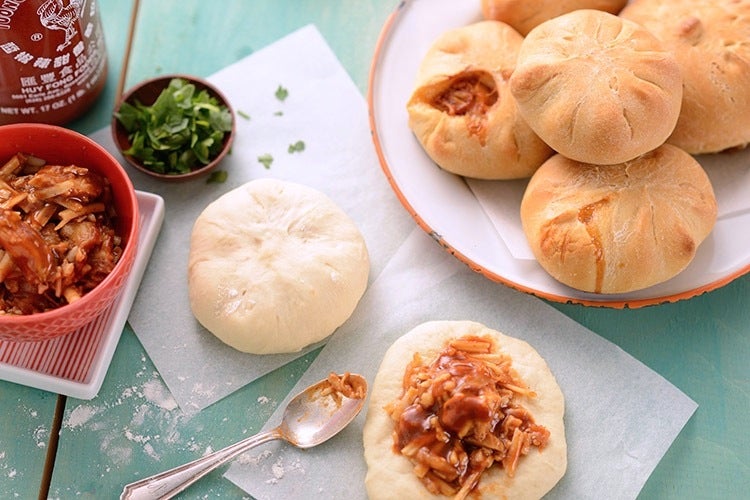 My fellow baker/blogger, MaryJane, recently came up with this recipe for buns stuffed with barbecued chicken. Homerun, baby.
"I love these! They are perfect – like mini calzones. I know my husband will go crazy for them. I work weird hours on weekends and he's constantly looking for easy things for lunch during those days and these would be perfect options for him... Amazing recipe as always!!" – Jamie
See how it's done: BBQ Chicken Pockets.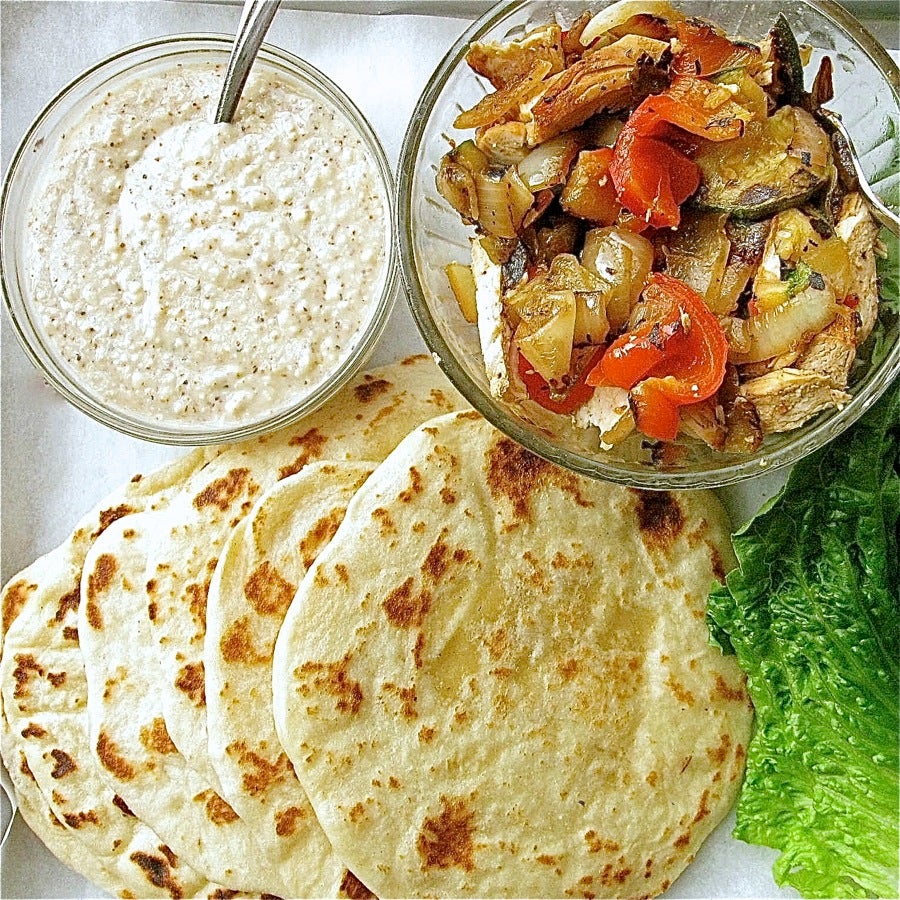 Are you a (closet) fast-food fan? The Gordita, Taco Bell's soft wrap sandwich, is wonderful stuffed with grilled chicken and veggies. If you've got the leftover chicken – we've got the wrap!
"I made these the other night and the bread was WONDERFUL! My fiancé wolfed it down, and said he likes these better than the fajitas I usually make." – Jeri H.
See how it's done: Caesar Grilled Chicken Sandwich on Soft Wrap Bread.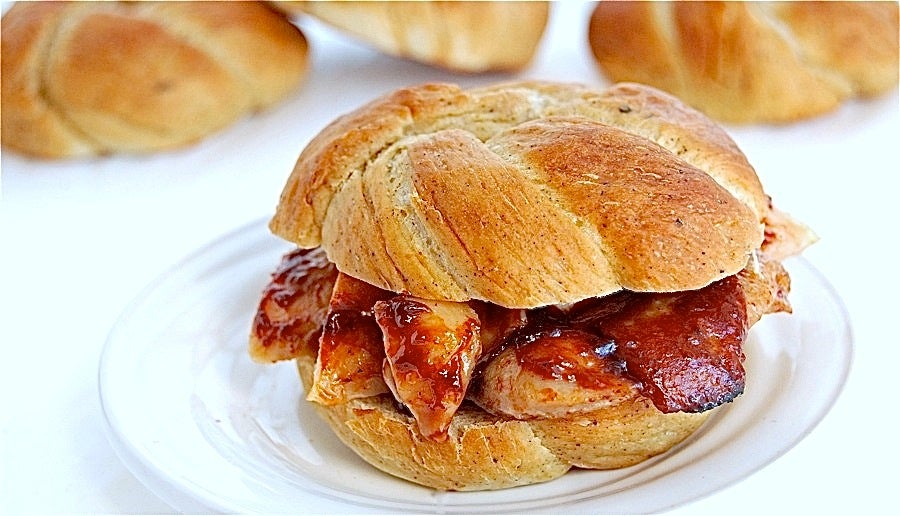 And finally, last summer was pretzel bun season: everyone from Sonic (Cheesy Bacon Pretzel Dog) to Wendy's (Pretzel Bacon Cheeseburger) was churning out pretzel roll sandwiches.
Rather than stuffing a burger or dog into this light, chewy roll, though – grab that barbecued chicken!
"Imagine my surprise (HAPPY) seeing this post. I had made B-B-Q shredded chicken and here is a great roll recipe." – waikikire
See how it's done: Pretzel Sandwich Rolls.
Enjoy your long weekend, everyone, and remember: there's more thrill to the grill when you get past run-of-the-mill!
Note: Don't have a grill? Most of these recipes can be made on an electric or stovetop griddle.