Baltimore vs. the Big Apple
The great cookie smackdown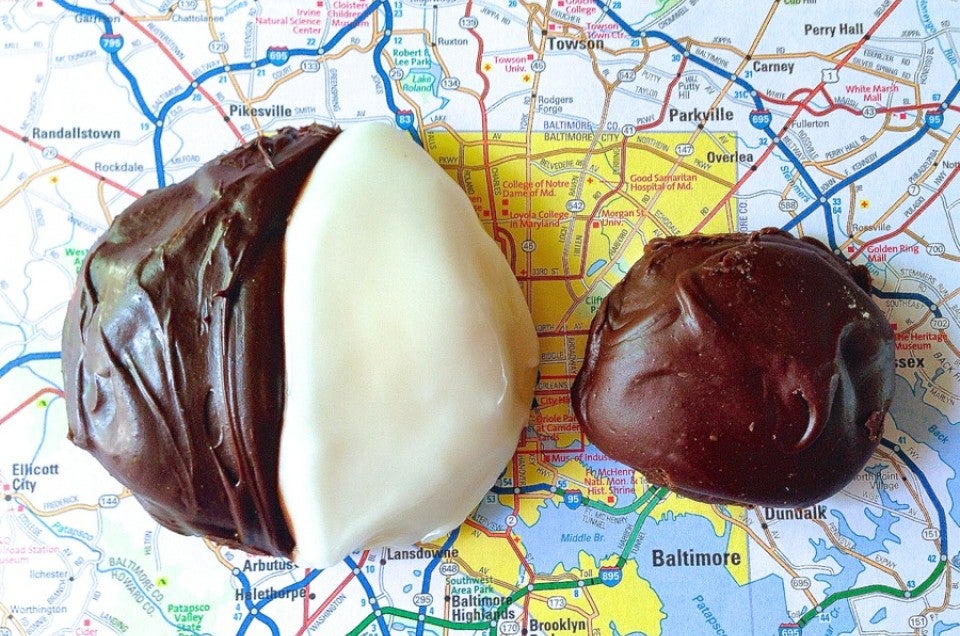 If you're a sports fan, it's the Baltimore Orioles vs. the New York Yankees.
Wanna take that further? It's Cal Ripken vs. Derek Jeter.
Talking American symbols, Baltimore claims the Star Spangled Banner; New York, the Statue of Liberty.
"Don't miss it" food? Gotta be Baltimore crabs (with Old Bay Seasoning and a Natty Boh) vs. New York deli (pastrami on rye, a Dr. Brown Cel-Ray).
This kind of one-upsmanship goes on all over the country – and it often centers around food. Take last February's Super Bowl: when the Broncos met the Seahawks, a wager between the cities' mayors put Denver's green chili up against Seattle's salmon and Dungeness crab.
One of my favorite rivalries is also probably one of the least-noted – chiefly because it goes on strictly in my own kitchen (so far as I know).
Why does no one else compare, contrast, and chow down on (simultaneously) New York and Baltimore's city-specific cookies, their sweet symbols of chauvinism?
New York Black and White Cookies and Baltimore Berger Cookies - c'mon down!
Let's take a look at these two iconic cookies, side by side.
Both begin as soft, cake-like vanilla cookies; the Black and White adds a hint of lemon.
Both are iced; the B & W (a.k.a. Half Moon) with satiny vanilla and chocolate icings (thus the name); the Berger, with a mound of soft chocolate.
So, aside from the lemon, what's the difference?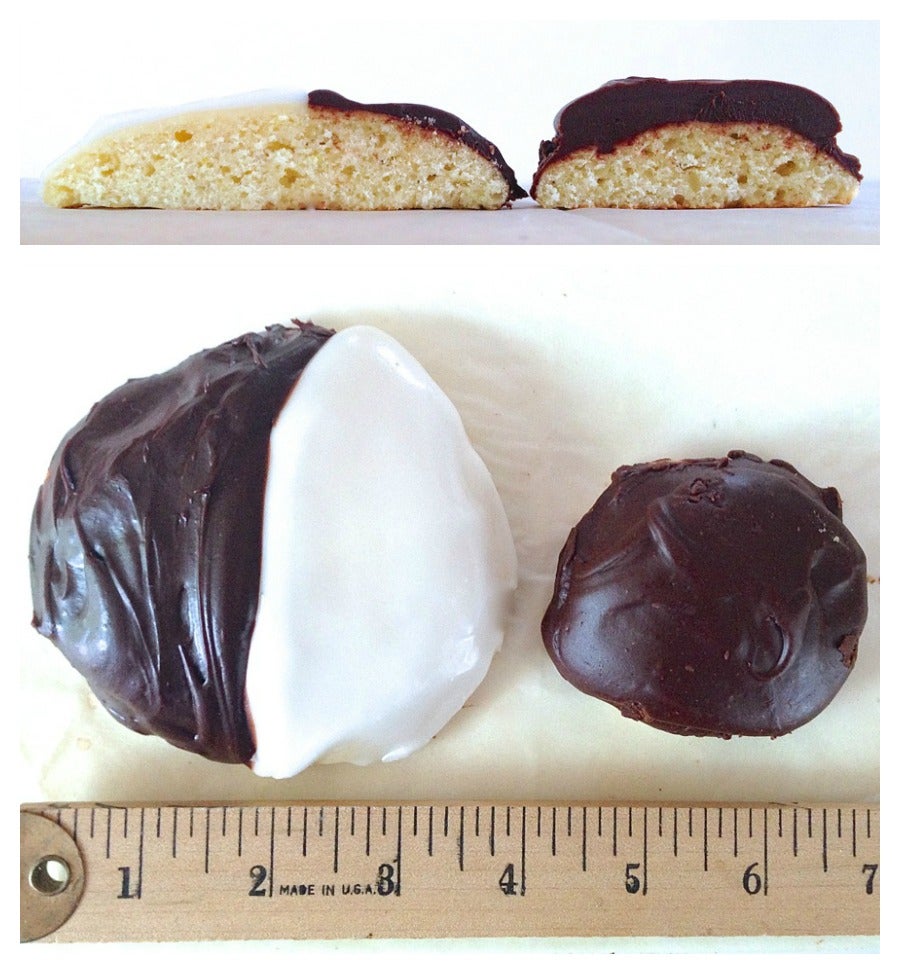 Size.
New York's Black and Whites are a handful (literally), a full 4" in diameter. Bergers, on the other hand, are about 3" across.
However, if you're talking height, the smaller Berger prevails: look at its crown of chocolate, beside the B & W's mere coating!
So, which is better?
I'd suggest you find out by baking both.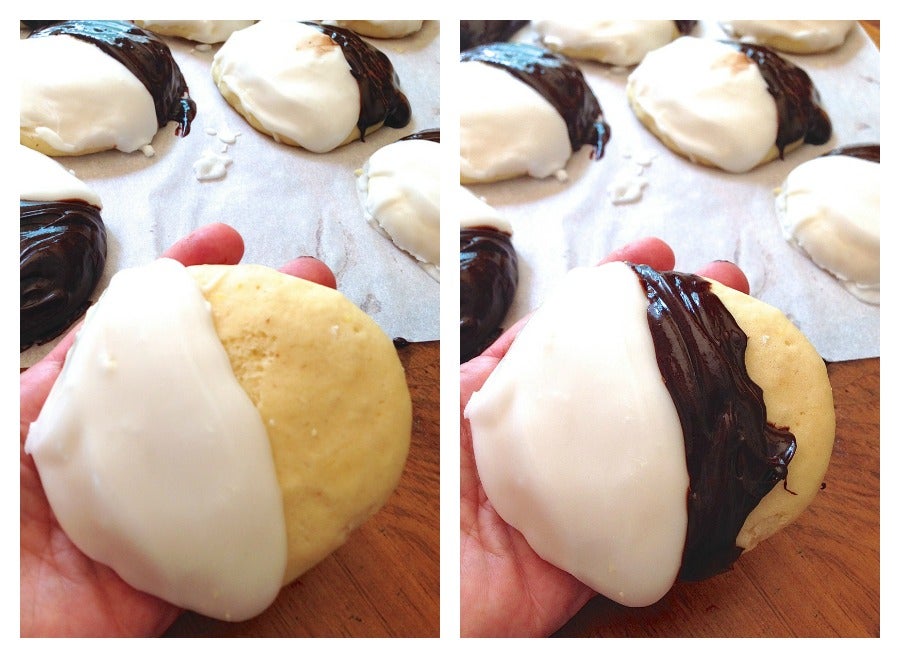 Our Black and White Cookies blog post details the entire process, from baking the big cookies to icing.
Tip: Coat half of each cookie with the vanilla icing first, then let it set; it'll dry harder than the chocolate icing. Once it's set (it takes about an hour), carefully apply chocolate along the line of vanilla, without going over the border; I use a thin spatula to do this. Then slather on the remaining chocolate icing.
Heresy alert: REAL Black and Whites are frosted on their flat bottoms, not their rounded tops.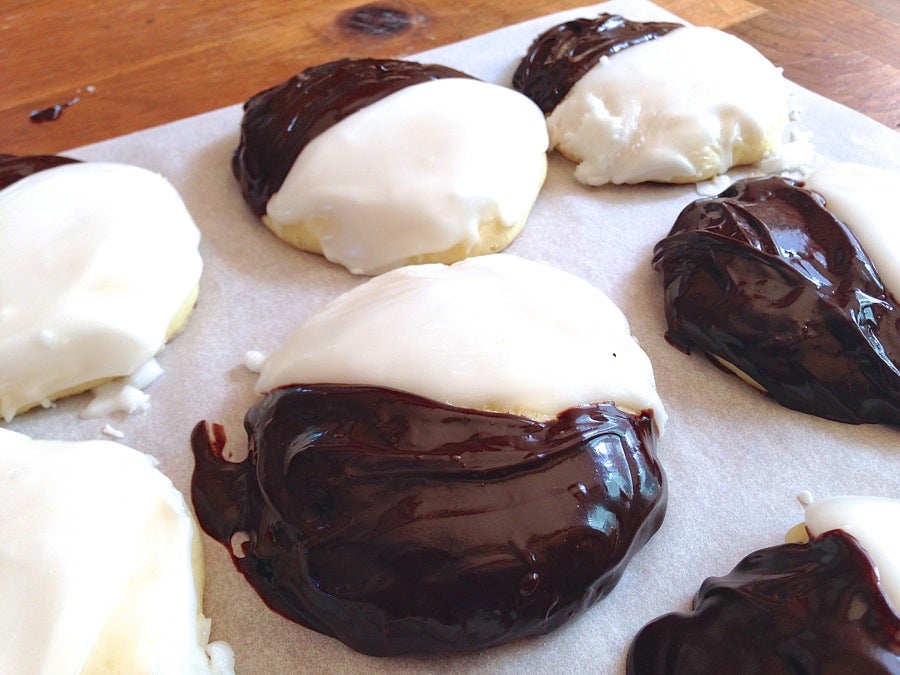 They don't look perfect (I'm just not that kind of gal), but oh, my... these cookies are some tasty treat.
And what about the Berger Cookies?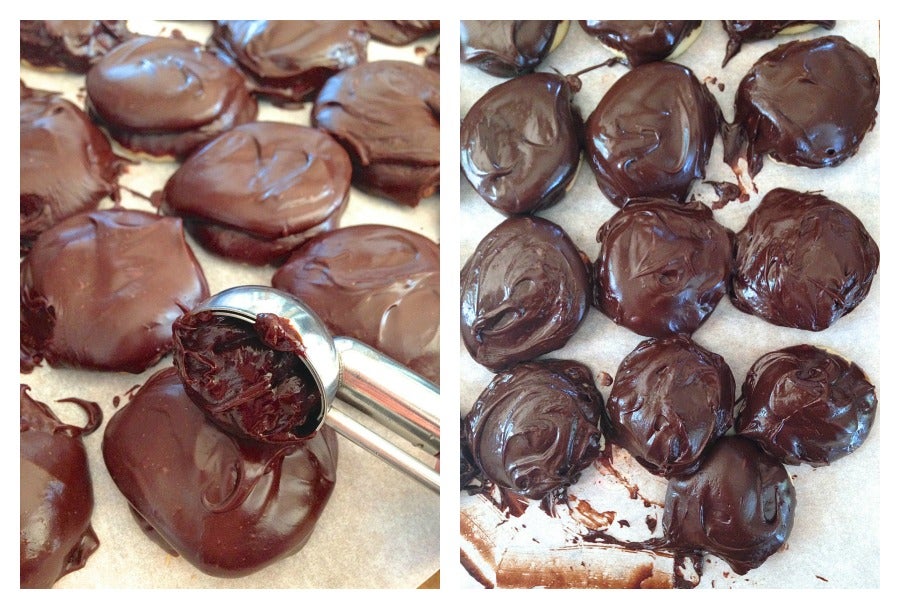 They actually start with the same vanilla cookie dough, sans lemon. Read our Baltimore Berger Cookies blog post for a complete step-by-step of the recipe.
It's the Bergers' frosting, though, that takes them over the top (pun intended).
After initially dipping the cookies' tops in icing, use a spoon or tablespoon cookie scoop to dollop on another big blob. It'll slowly settle on top, flattening slightly as gravity exerts its downward pull. The cookies' sides end up with an additional layer of icing (albeit not as thick as that on top).
Yes, it's a messy process, but SO worth it.
See?
Now, how well did my own version replicate each city's cookie?
Well, I haven't been to NYC in awhile, and didn't have any Black and Whites stashed away.
But here's a review taken from our online recipe:
"If you are a fan of 'half moon'/'black & white' cookies, look no further. This is a home run from KAF and I'm thrilled to the gills! Since my favorite local bakery closed a couple of years ago, I haven't been able to find a decent one anywhere; the grocery store black & whites are basically inedible, and other 'artisan' bakeries just don't carry these little treats, much to my chagrin (and frankly, they're far tastier than some of the high-falutin' garbage I've tasted at other bakeries!). So I stumbled across this recipe and was sooooo pleased with the results. They're darn near perfect..." – bmkontra – KAF Community
Serendipitously, a friend recently brought me back a package of Bergers from a visit to Baltimore. Let's see whether my version measures up to "the real thing."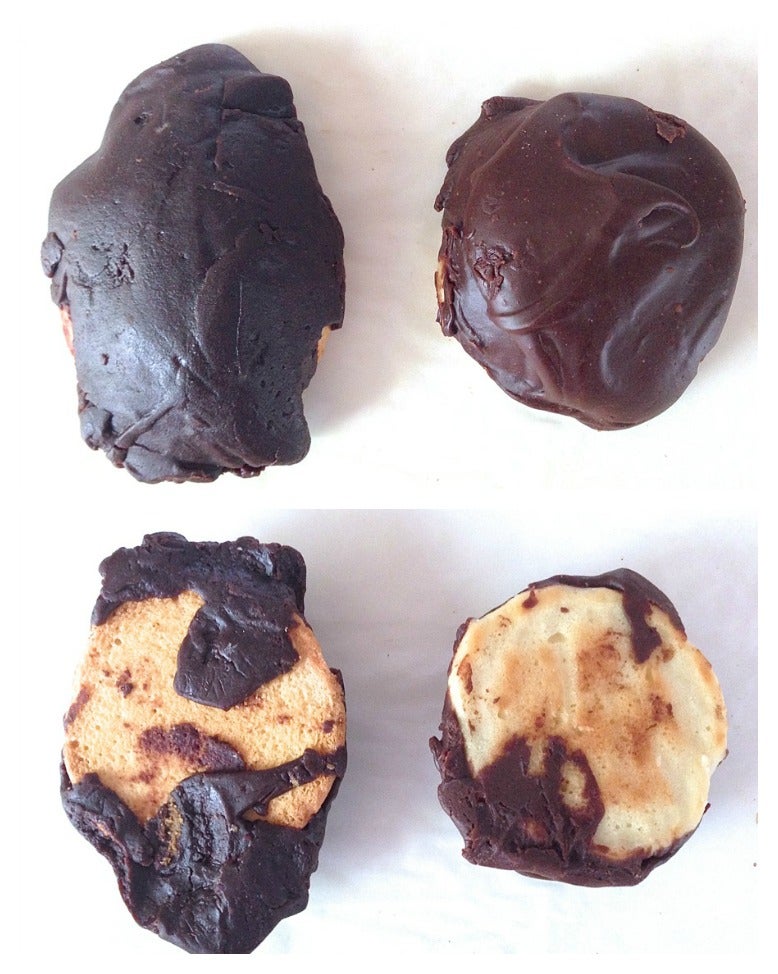 That's the Berger on the left; mine on the right. Very similar, I'd say.
Heresy alert: Bergers are frosted on their flat bottoms, not their rounded tops.
Hmmm... does this authentic Berger look like it's frosted on its flat bottom? Not to me it doesn't.
Heresy alert: Height-wise, Bergers are supposed to be 1/3 cookie, 2/3 frosting.
OK, got me there. But truthfully, the one pictured above was about half and half...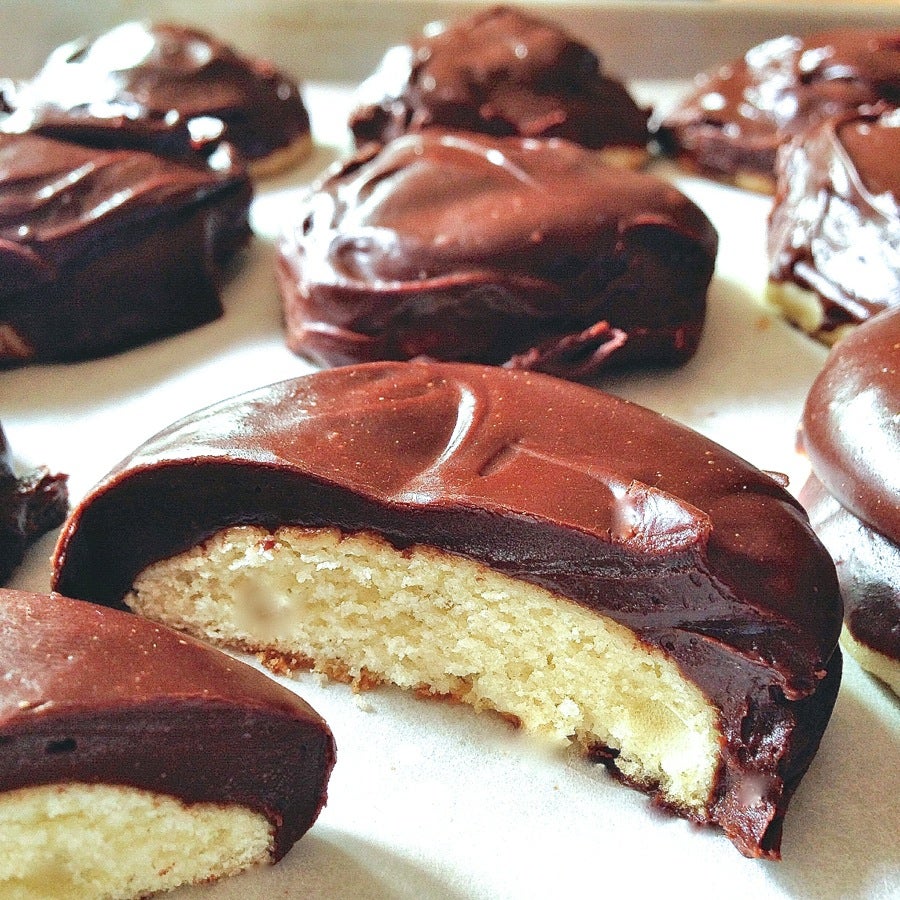 ...while mine was more like 2/3 cookie, 1/3 frosting. And  STILL utterly sumptuous.
So, which cookie wins the smackdown?
You don't REALLY expect me to take a stand, do you?
Truthfully, I love them both. The hint of lemon in Black and Whites takes them beyond ordinary to delightfully unusual. And the amount of thick, rich, gooey chocolate icing on the Bergers likewise elevates them above other fudge-iced cookies.
Being a Bostonian, I naturally opt for Baltimore in a battle of sports teams; the Boston/NYC rivalry is just too ingrained for me to do otherwise.
But when it comes to cookies, all I can say is this:
Victory is sweet, no matter which side you're on!