Five easy pieces
Summer simplified
Summer isn't even officially here yet, and already I'm feeling a bit... lazy.
Yes, it's true. There's something about these longer days, the air soothing as a tepid bath, that steer me away from the kitchen and outside: to the garden, where I picked my first ripe strawberry yesterday. And to the beach, where at 6 a.m. not a single soul has set up an umbrella, unpacked a cooler, or turned on a boom box – yet.
Yet food remains a daily passion; an unending source of fascination and anticipation. So I can't just walk away from the kitchen; I need to find a way to fit cooking and baking into my otherwise outdoor-focused life.
Are you walking the same tightrope? Dying to be outside; wanting to bake something yummy. If so, check out the following suggestions. There IS a way to fit everything into your busy summer schedule.
Let's start with breakfast.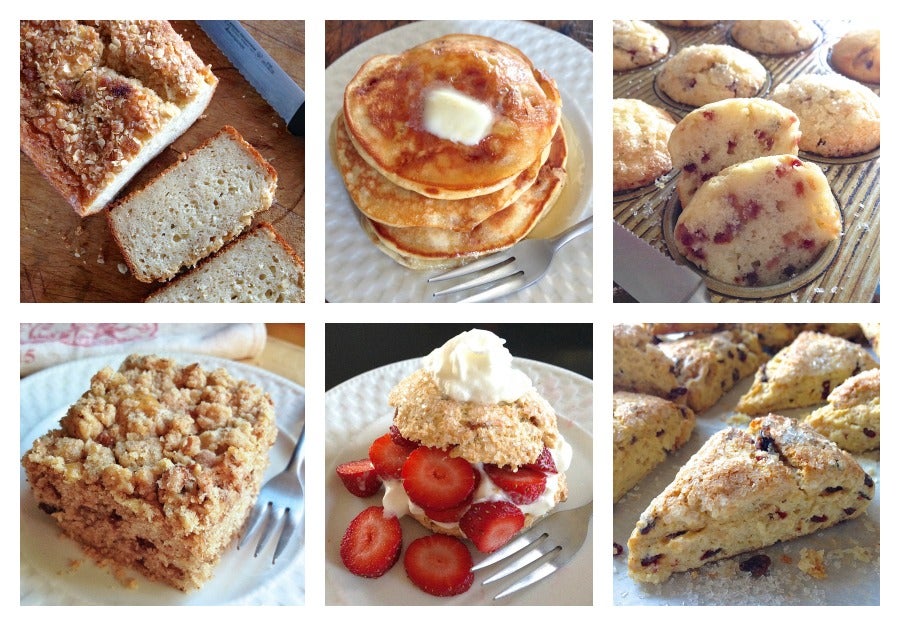 Did you know you can take a box of scone mix – or a basic scone recipe – and transform it into quick bread, pancakes, muffins, coffeecake – and even strawberry shortcake? Find out how in Scone Mix: Six Ways from Sunday.
Next up – a sometime breakfast, often dessert, and tasty summertime all-around team player –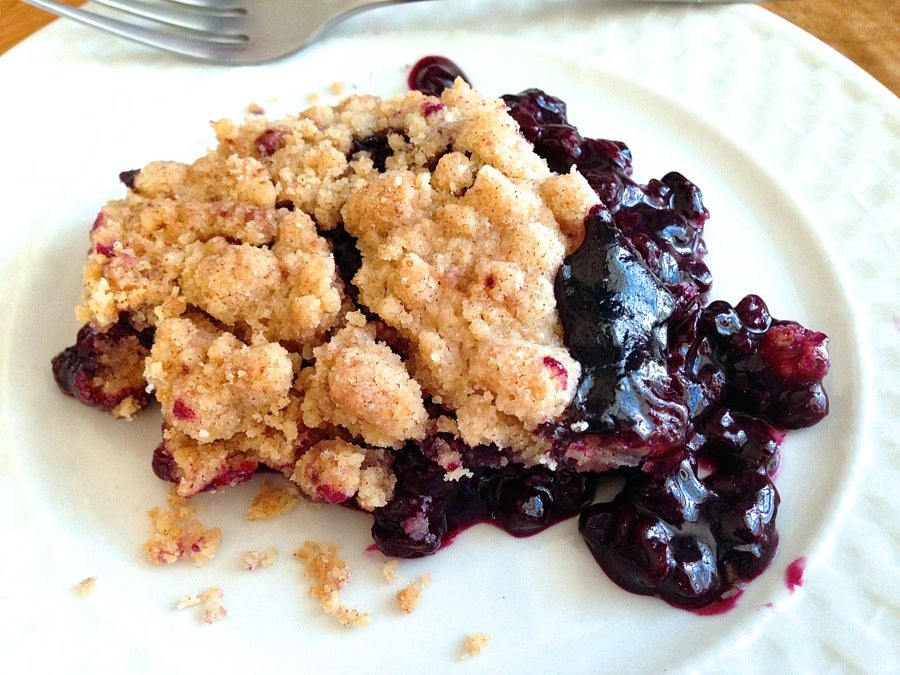 Fruit crisp.
When berries bend the bushes, and you've picked far more than even your freezer can comfortably hold, don't let the excess get soft and go to waste. Simply mix berries with sweetener and a bit of thickener, add a crumbly, buttery topping, and bake into a bubbling, aromatic dessert that even the most devoted chocolate-lover will deign to sample (and subsequently devour).
One tip: your crisp's filling will be wonderfully shiny and bright when you thicken it with Instant ClearJel or Pie Filling Enhancer. Unlike flour, which dulls fruit's color, these thickeners bring out the best in berries, as well as peaches and other fruits.
Any time from midday on is the perfect opportunity to fire up the barbecue and cook lunch or dinner outside. On the deck, beside the pool, under an evening moon, the aroma of grilling is one of summer's signature experiences.
And never mind the steak, chicken, and shish-kebab: we're talking good old-fashioned burgers and dogs.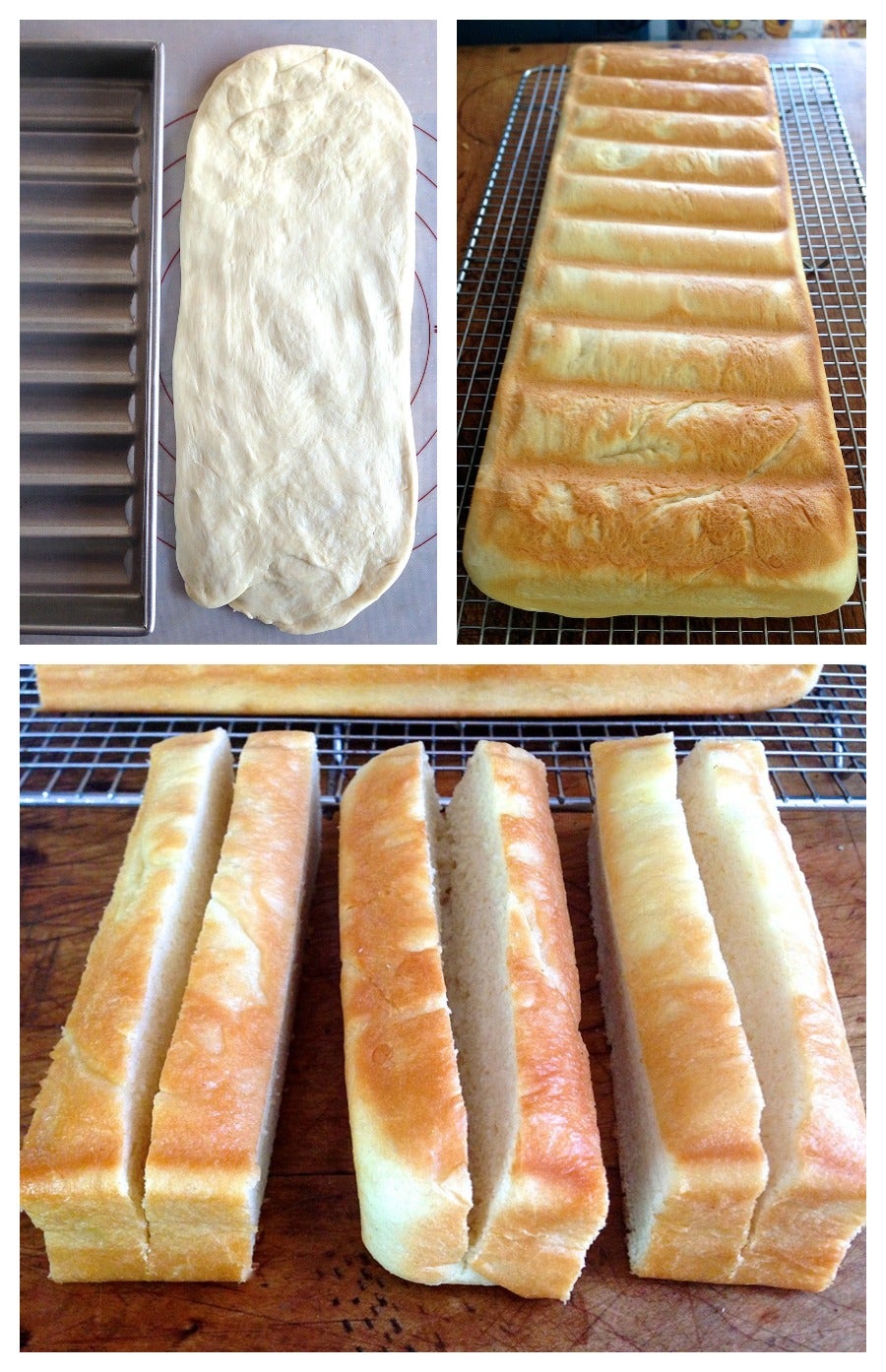 There's nothing that takes a hotdog from ho-hum to HOT DIGGITY DOG better than a soft, buttery bun, one sturdy enough to hold the dog plus all its fixings, yet still melt-in-your mouth tender.
Enjoy our exploration of homemade hotdog buns, including how to use a pan to create split-top New England-style buns, perfect for grilling. Read our Buttery Hotdog Buns recipe. But however you get there, don't degrade you dog with a sub-par bun; life's too short to settle for less than the very best.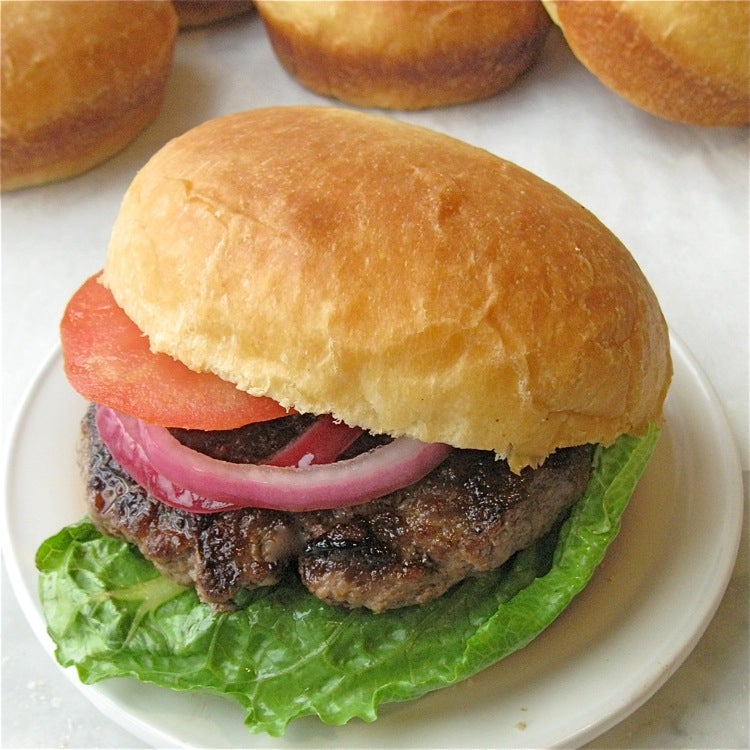 And that goes for hamburger buns, as well.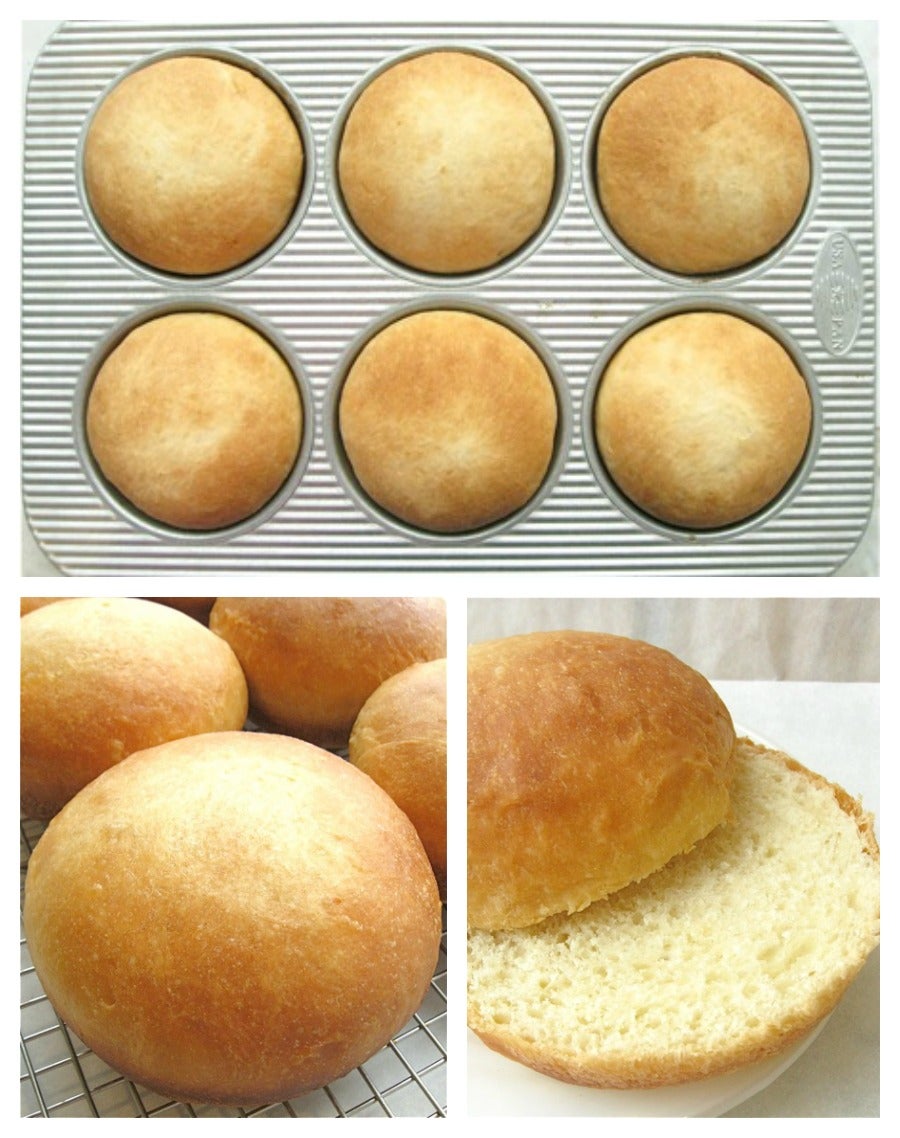 We're big fans of these No-Knead Cheese Burger Buns. They share all of our Buttery Hotdog Buns' attributes: sturdy yet tender, and big enough for a substantial burger plus lettuce, tomato, bacon, cheese (avocado? Portobello?). Plus they're packed with flavor: in this case, cheese.
Notice the perfect symmetry of the buns, too – is that a golden orb of awesomeness, or what? When I want perfectly shaped buns, I turn to a hamburger bun pan. The pan is especially useful in corralling softer doughs, like the no-knead recipe mentioned above.
Let's leave these soft, close-textured burger and hotdog buns for now, and visit a bread at the other end of the spectrum –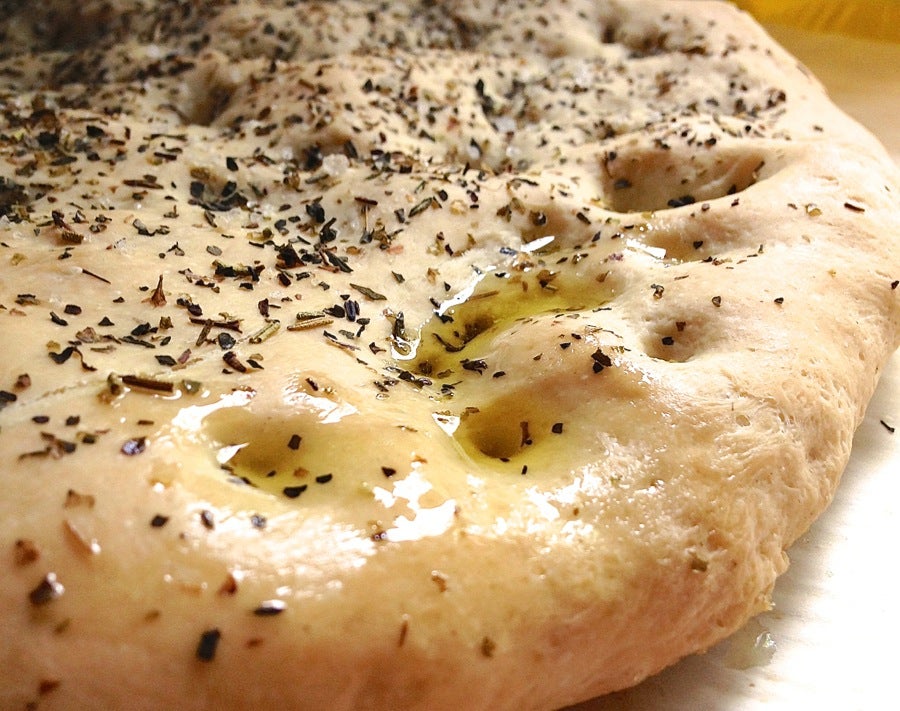 Chewy, coarse-textured Herb & Olive Oil Focaccia, the easy-to-shape dough made wonderfully supple with our silky-smooth Italian-Style Flour. It's perfect for drizzling with olive oil; see those tiny pools of EVOO? That's why you dimple the bread with your fingers just before baking.
Focaccia with olive oil is a given. But what else can you mop and sop with this wonderful dipping bread?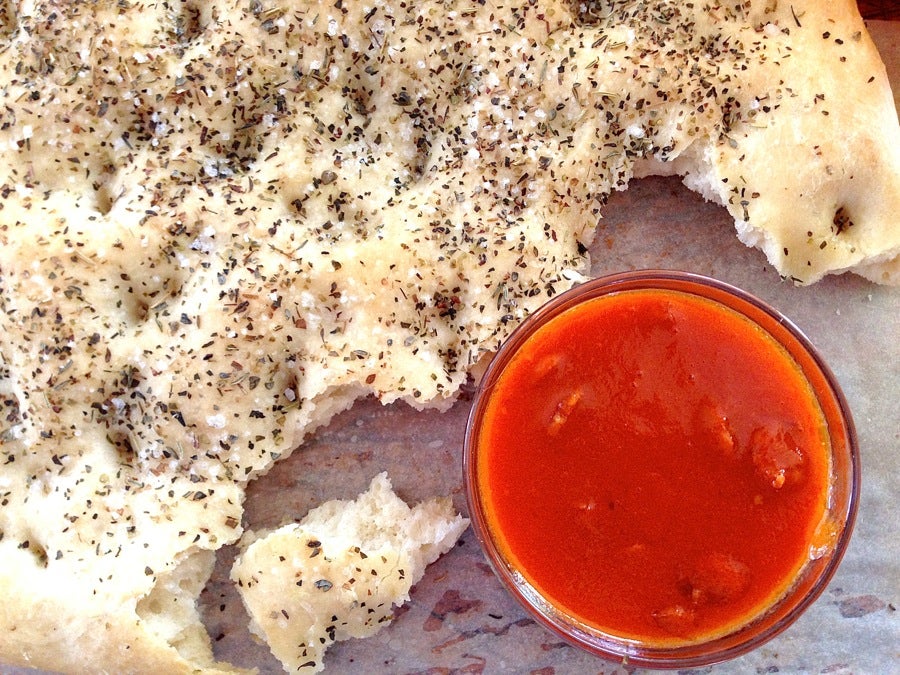 How about my newest online discovery, Spicy Hot Tomato Oil?
Made famous by Syracuse, NY's iconic Pastabilities (which, we're proud to report, uses King Arthur Flour in its bakery), it's served with the restaurant/bakery's equally famous "stretch bread."
And though I've never been to Pastabilities, after making my own homemade version, I can report that their justly famed dipping sauce/pasta sauce is so darned good, you can simply sit and spoon it right out of the jar into your mouth. (Guilty as charged, your Honor.)
Smooth and rich from its olive oil/tomato purée base, this spicy oil's flavor is amped up with chili, sweetened with honey, and spiked with a load of sliced garlic, nuggets of which swim just beneath its brilliant red surface.
I'd love to know how to make this sauce the REAL way – alas, the recipe is a secret. But I discovered a video of the owner making the oil – and simply tried to copy what she did, without the benefit of measurements.
Here's what I did.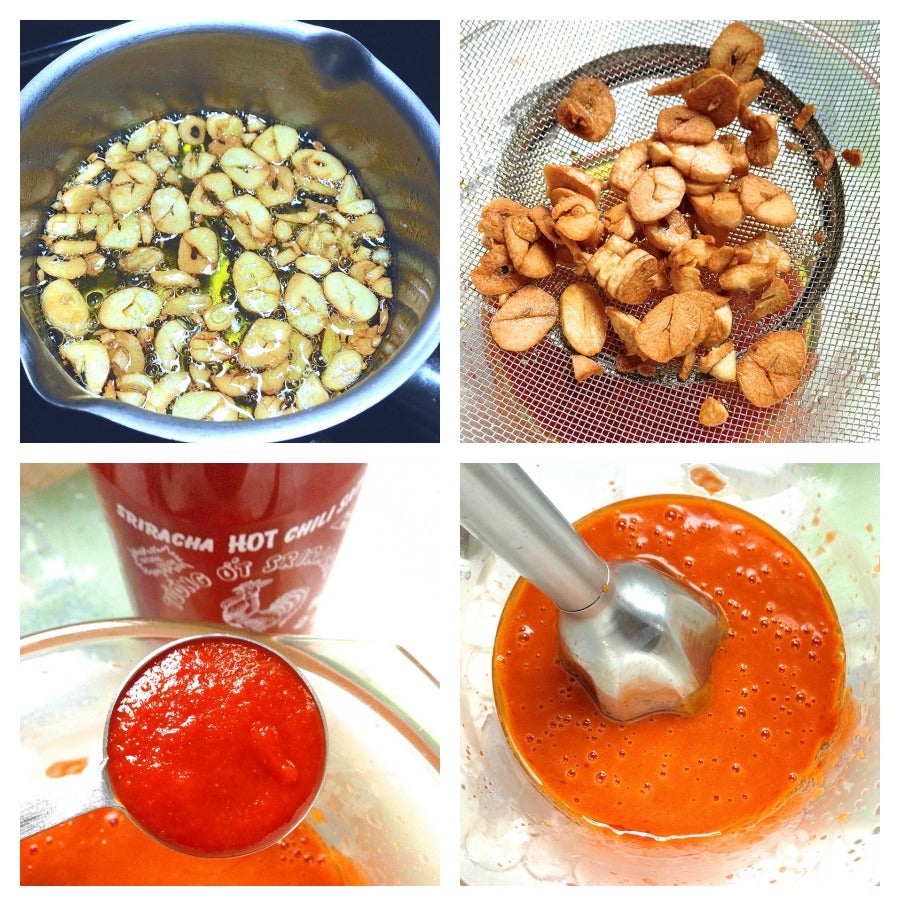 First, I sliced 5 very large garlic cloves into thin pieces. I poured 3/4 cup olive oil into a pan, and gently simmered the garlic cloves in the oil until golden brown.
WRONG. What was I thinking? Garlic takes on a pronounced bitterness when browned quickly (as opposed to roasted), and this bitter flavor ended up permeating the entire dish.
So – do as I say, not as I did. GENTLY heat the garlic in the oil for about 5 minutes, until it's softened, and the oil is infused with its flavor – but hasn't begun to brown.
Strain out the garlic, and keep it; you'll add it back in a minute. Combine the oil with 3/4 cup tomato purée, 1 tablespoon Sriracha sauce, 1 tablespoon honey, and salt to taste. Purée with a stick blender or in a food processor or blender.
Add the garlic back to the sauce, and serve warm, or at room temperature.
Remember, this isn't the "official" Pastabilities recipe – this is just me making some educated guesses. If, after watching the video, you come up with your own interpretation – please, be my guest! Just be sure to share it with all of us in the comments section below, OK?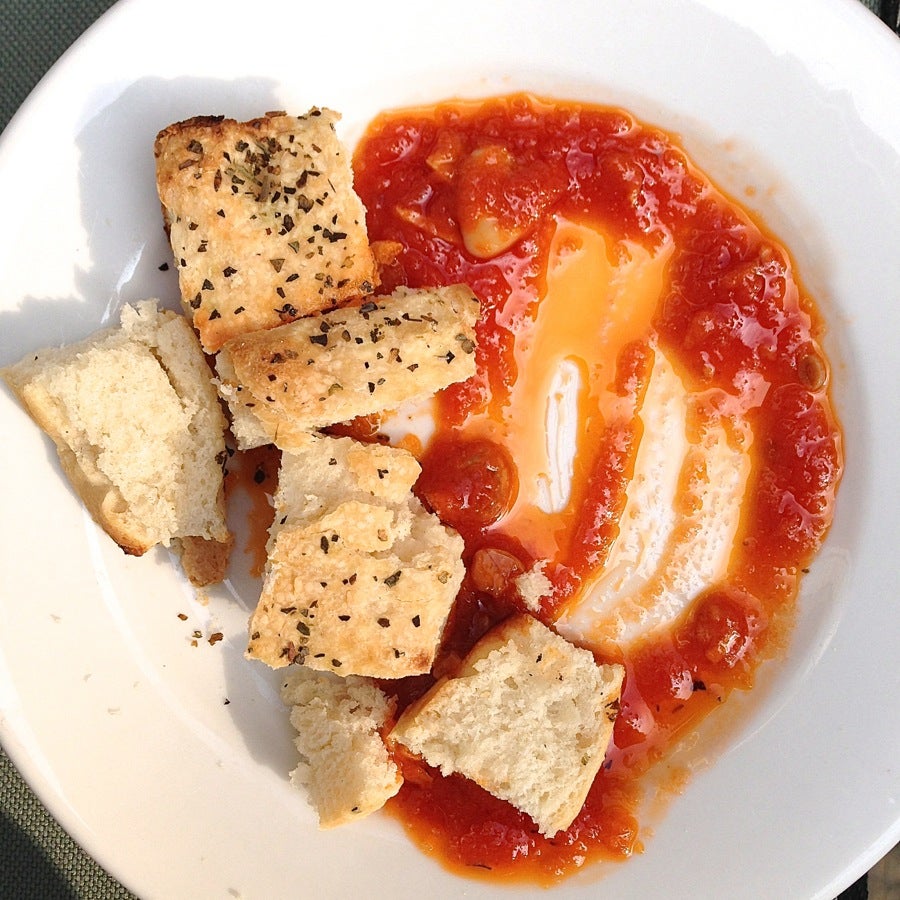 Cut the focaccia in cubes. Or simply rip off pieces. Dip in the spicy tomato oil, which you've poured into a shallow bowl.
Did I mention it's impossible to stop eating this?
Kind of like dessert. Even if you're full, you just can't say no.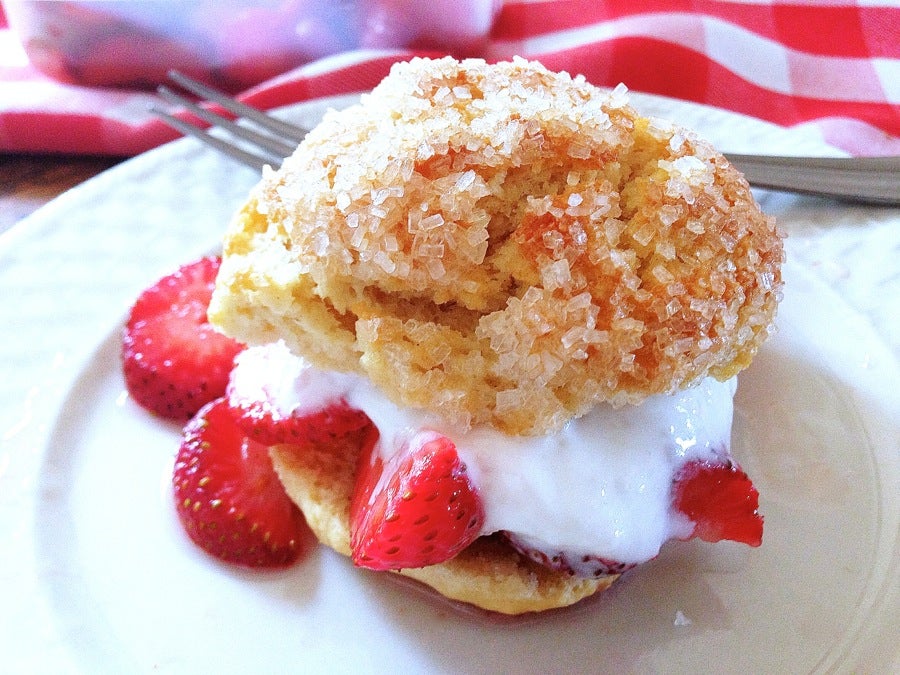 Especially to strawberry shortcake.
Let's dive right in here. My favorite biscuit/shortcake recipe of all time isn't even really a recipe –
Combine equal parts, by weight, King Arthur Unbleached Self-Rising Flour and heavy cream. To make 8 large shortcakes, I use 2 cups flour, and a half-pint of heavy cream.
Don't have self-rising flour? Our Bakewell Cream Biscuits recipe is a worthy shortcake substitute.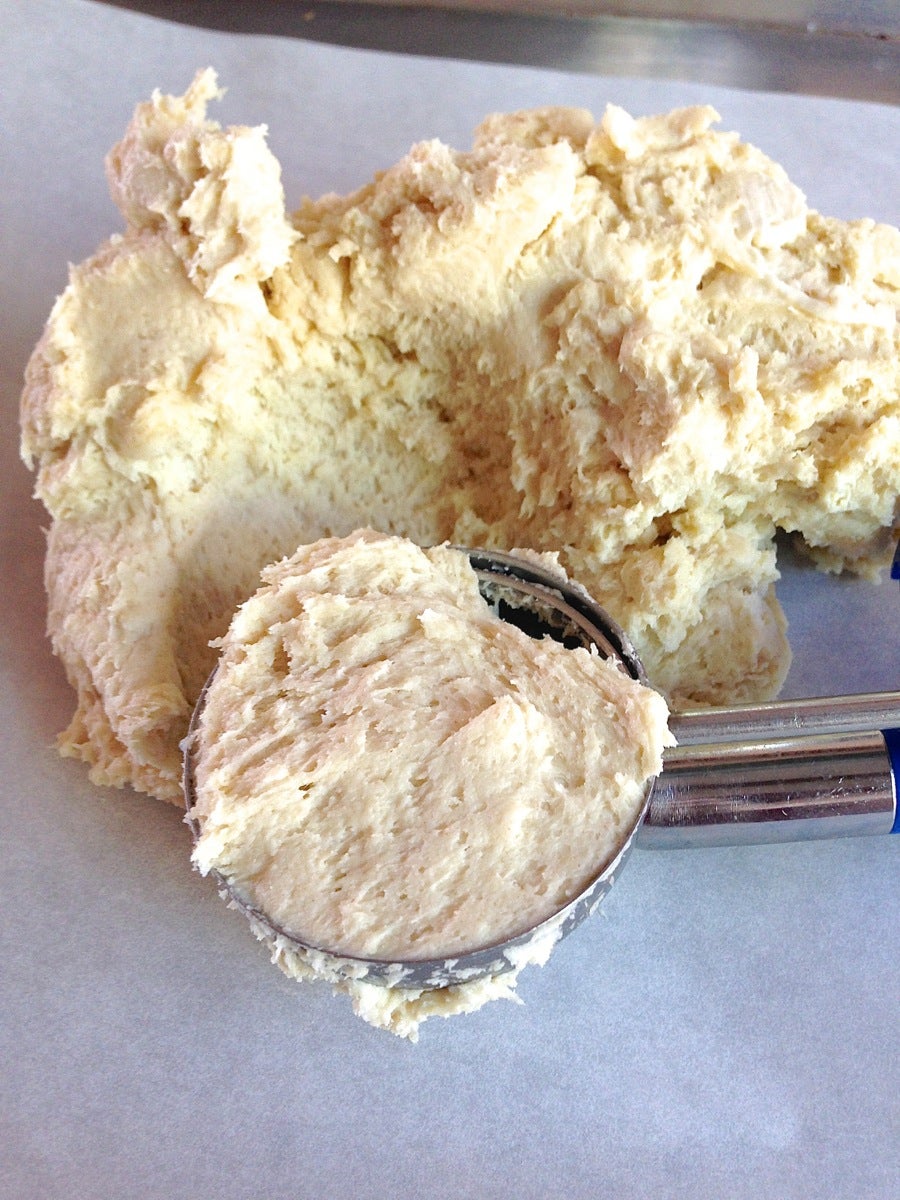 Mix until smooth.
Using a muffin scoop, portion out 2-ounce pieces of the soft dough.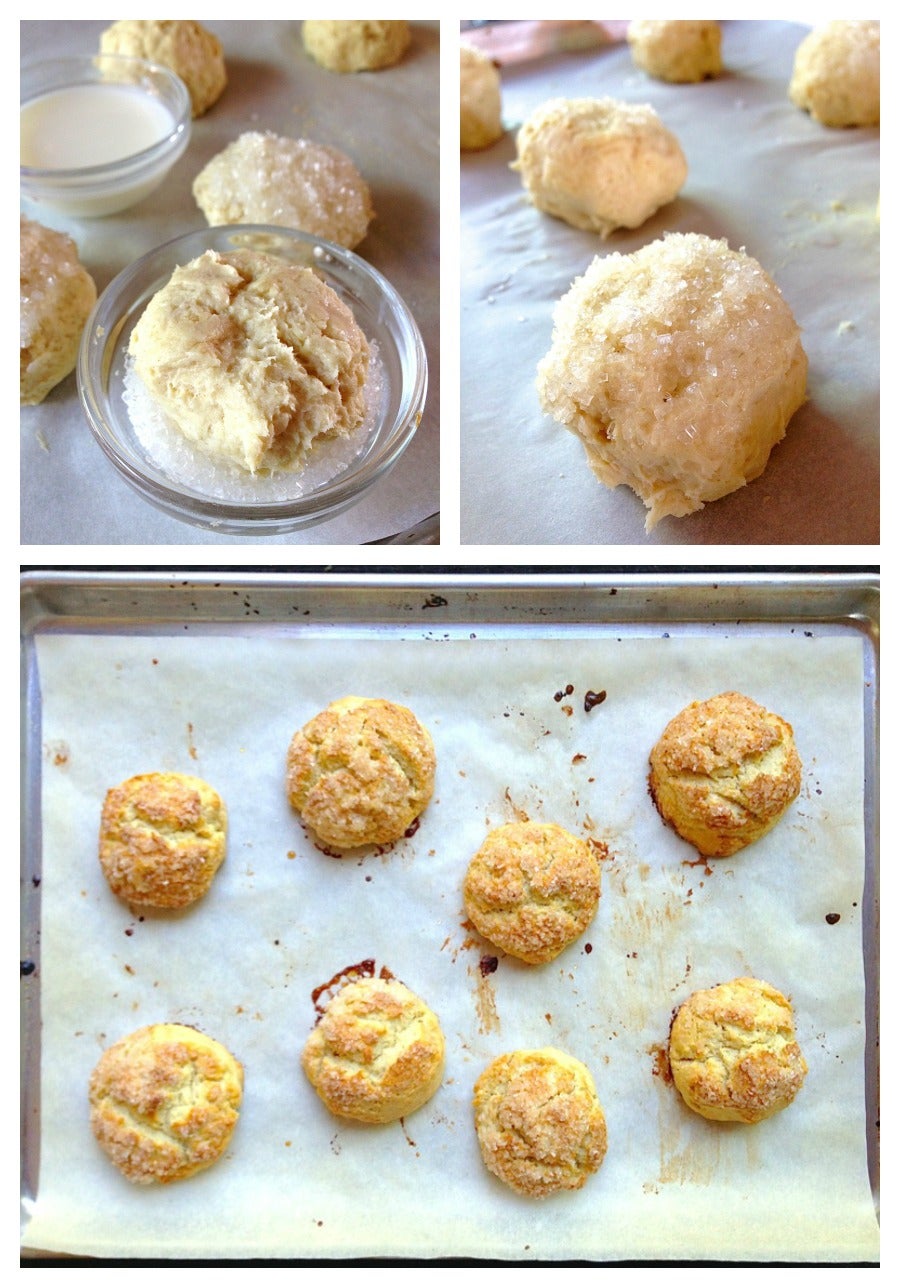 Dip their tops in milk, then in coarse white sparkling sugar, and place on a parchment-lined baking sheet.
Bake the biscuits in a preheated 425°F oven for 15 to 17 minutes, or until golden brown.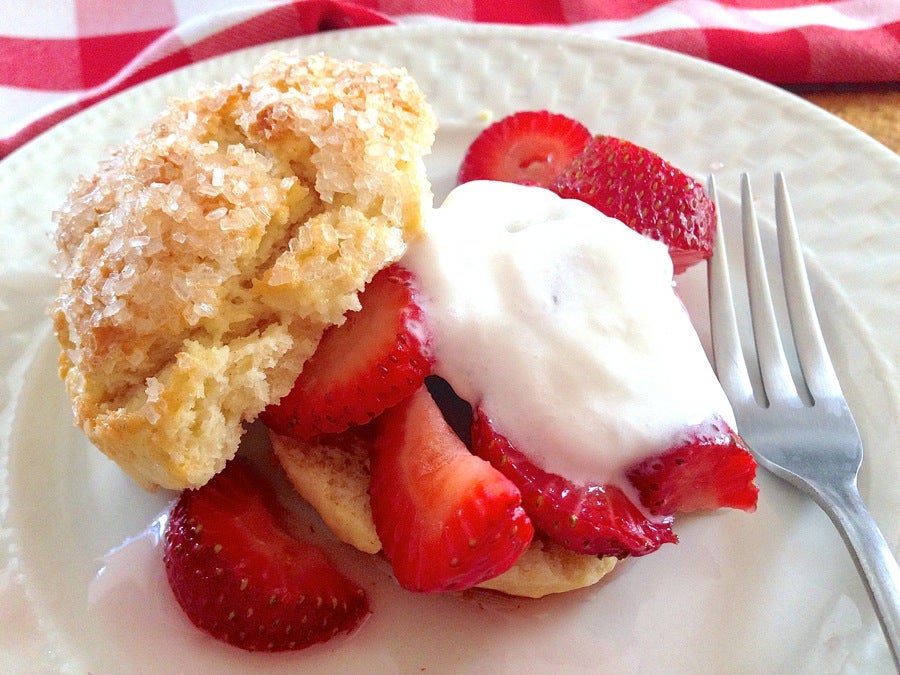 Split the biscuits, and serve with sliced strawberries and whipped cream.
Or used-to-be-whipped, now-puddling cream.
Darn! I forgot my whipped cream "secret weapon" –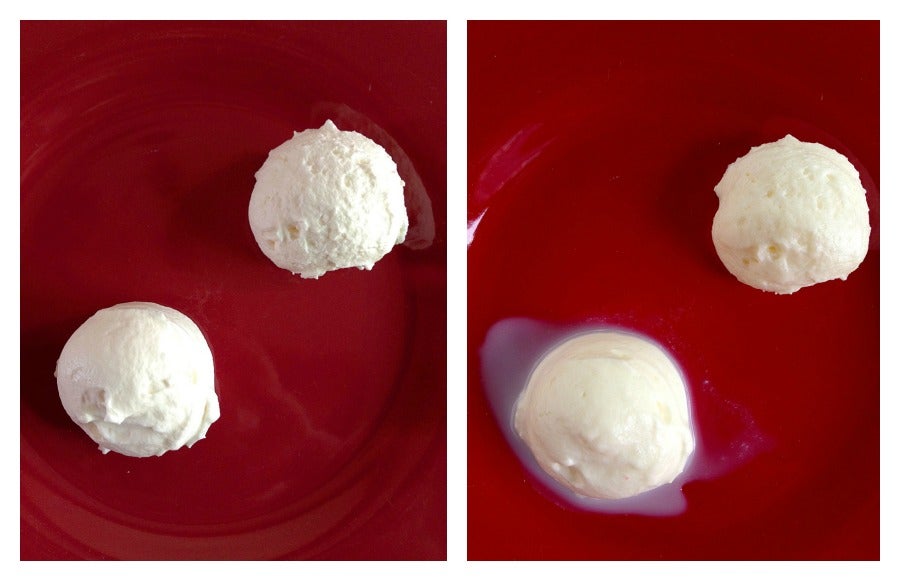 Whipped cream stabilizer.
Here are two dollops of freshly whipped cream; the one at top right is made with stabilizer; at bottom left, without.
After an hour or so, the cream without stabilizer starts to soften, flatten, and weep.
As would you, if you opened the refrigerator to find that all of the beautifully whipped cream you'd made for your special strawberry shortcake had regressed to its original unwhipped, sodden self.
So, you can do this, right? You can garden... and grill... and bake...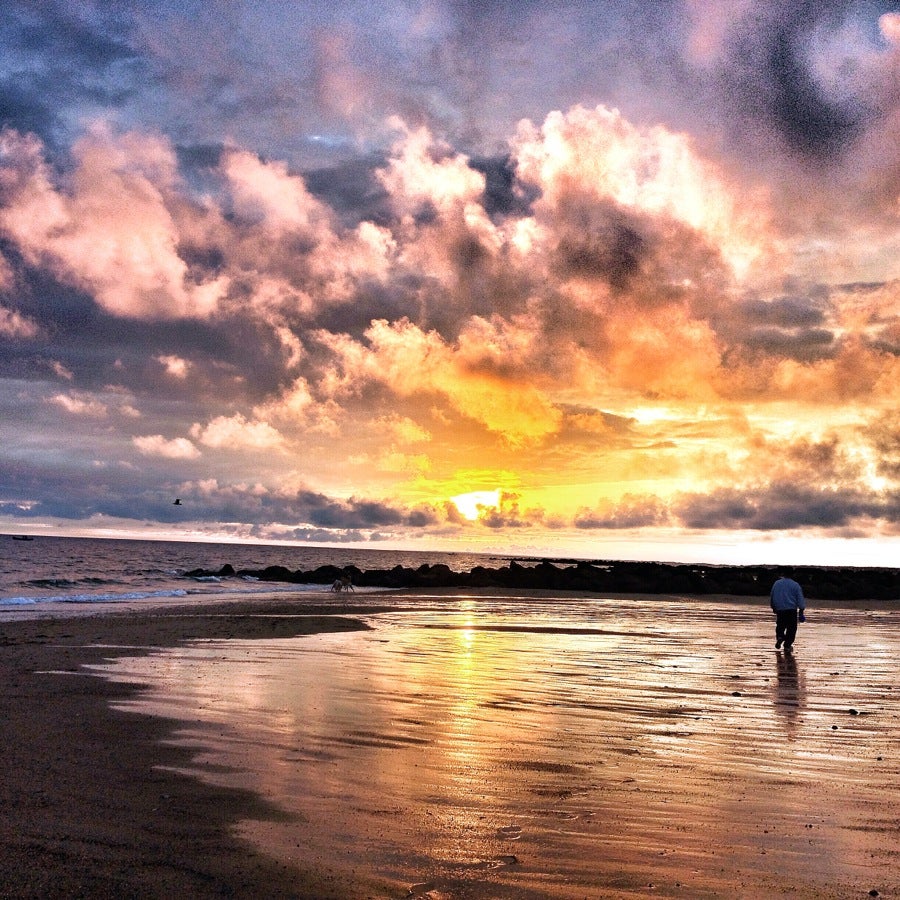 ...and still have time to catch that gorgeous sunset at the beach.
Happy summer baking!