Gluten-Free Passion Fruit Cake
The fruit of your layers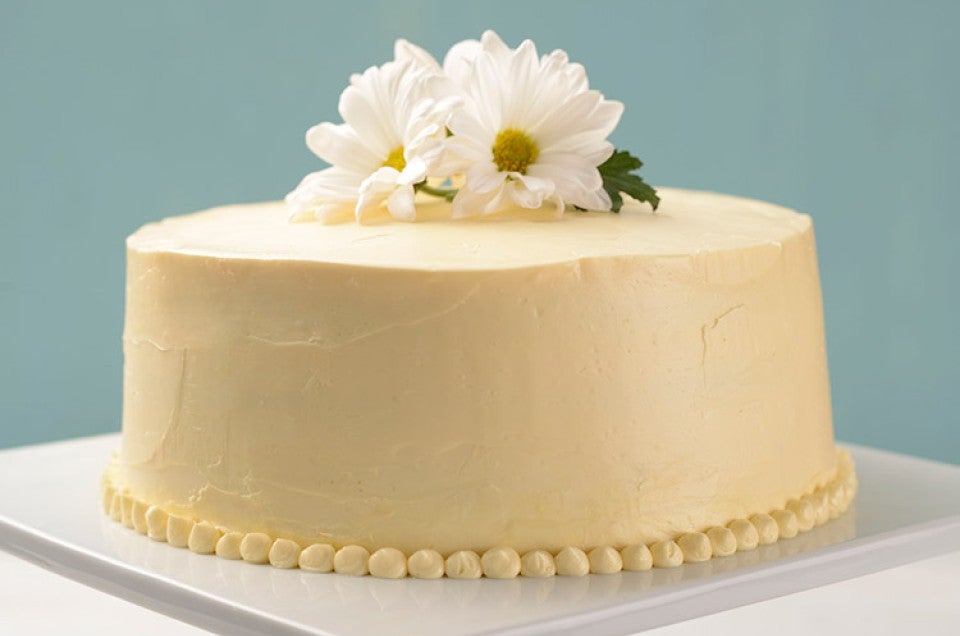 As I was up late baking my son's birthday cake the other night – the chocolate chocolate chip cake with chocolate chocolate chip frosting – I realized that the ONLY time I seem to make cakes is when I'm in a rush.
It's typical, in the the crazy, night-before-the-party shuffle that I'm ALWAYS missing a crucial ingredient in my pantry, or I get the last-minute change of mind from my child as I did that night: "Mom, instead of a coffee cake, can you make me a chocolate cake with coffee frosting... and a custard filling .. in the shape of a castle?"
And so the compromise was born. We did the chocolate madness – in cupcake form. The castle with pudding will have to wait.
But this situation made me realize the importance of having easy cake variations for all occasions up my sleeve. I've been fortunate enough to have found a fresh, summery cake idea that's sure to please your warm-weather wedding or relaxed outdoor potluck, especially if you are PASSIONate about eating gluten-free!
With some inspiration from Susan Reid, and a little help from a few King Arthur Flour recipes, I was able to create a beautiful, lightly fruity, sunshiny cake in no time. The recipes? Simply our gluten-free yellow cake with 2/3 cup passion fruit juice used in place of 2/3 cup of the milk. Plus Italian buttercream, and lemon curd with a tangy loving twist of passion fruit!
This cake is also easily made with wheat flour as Susan did for Ben and Gwen's wedding. Fruit curds and buttercream are gluten-free by nature, it's just a matter of changing to a different cake recipe for an easy switch.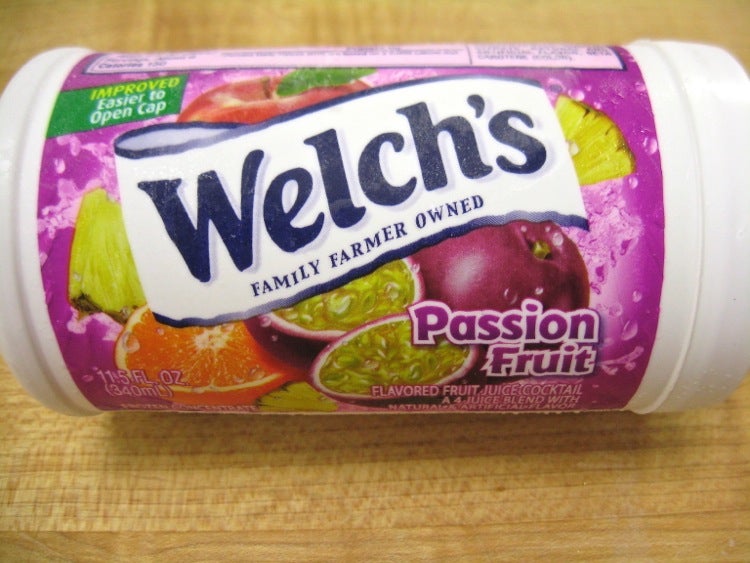 I start by adding about 1/4 cup thawed passion fruit juice concentrate to a half-sized recipe for simple syrup; this will be the "soaker" for my cake layers.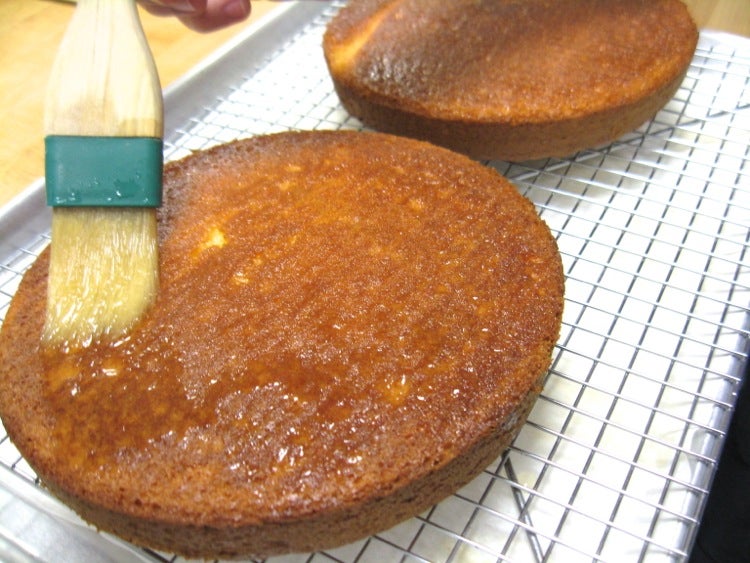 Brush the underside of each cake with the passion fruit syrup once they're out of the pans, but still warm; however, you may also wait to use the syrup until just before assembling the cake. In this case, I'd recommend splitting your layers in half and soaking each individual layer for best results.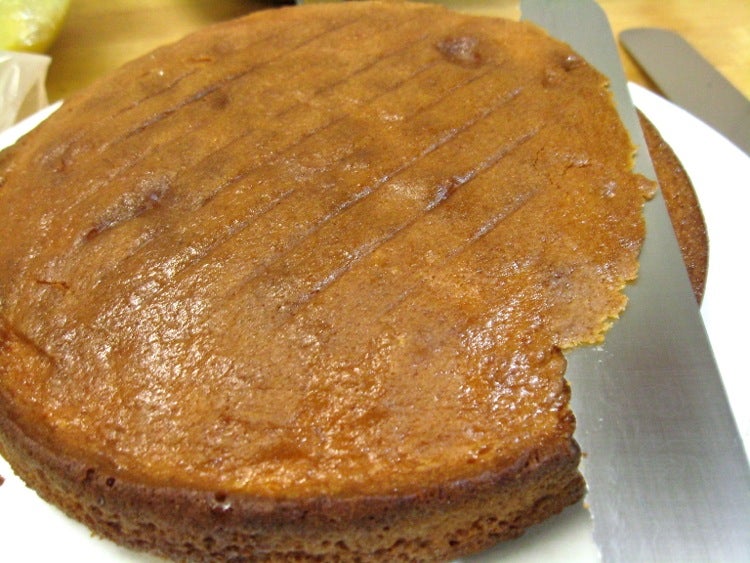 Once the cakes are completely cool, it's time to slice the layers. Start by placing the cake on a cardboard base atop a lazy susan – one of the most helpful tools in cake assembly and decorating.
Trim the top layer of crust off the cake as evenly as possible, to make it level. The lazy susan will enable you to turn the cake as you cut, which encourages a more uniform process. If you're without one, don't worry, the cardboard base should make it feasible to turn your cake on whatever surface you're using.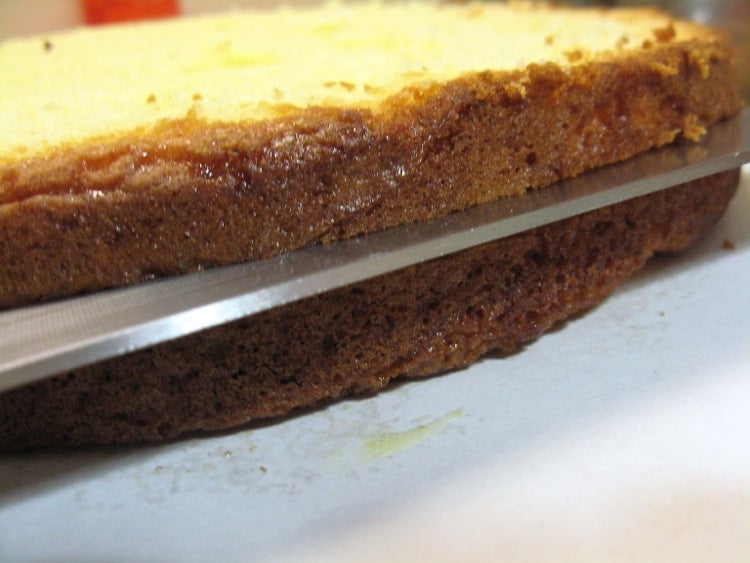 Once the tops are removed, you can split your cakes into two layers each, which makes for an elegant presentation when the final masterpiece is cut. This is the point at which you'd soak the cake layers with simple syrup, if you haven't already.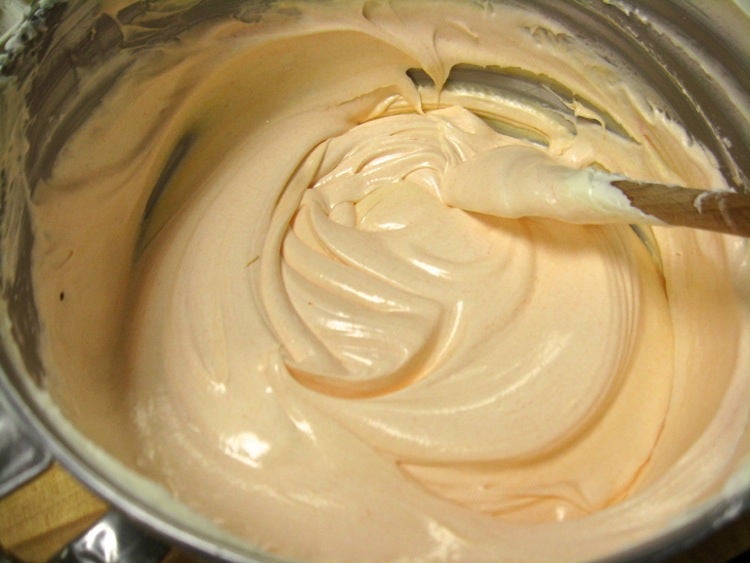 Above is a batch of Italian Buttercream with 1/3 cup passion fruit concentrate stirred in, plus a few drops of YELLOW food coloring.
The batch of buttercream used in the photos following was accidentally tinted with orange instead of yellow. I tried to add more white buttercream, a little shortening, and even desperately added a few drops of yellow, but nothing seemed to bring that fiery hue back to golden. It's important to read the label carefully when using gel paste food color, since the dot on top of the orange food color actually looks yellow.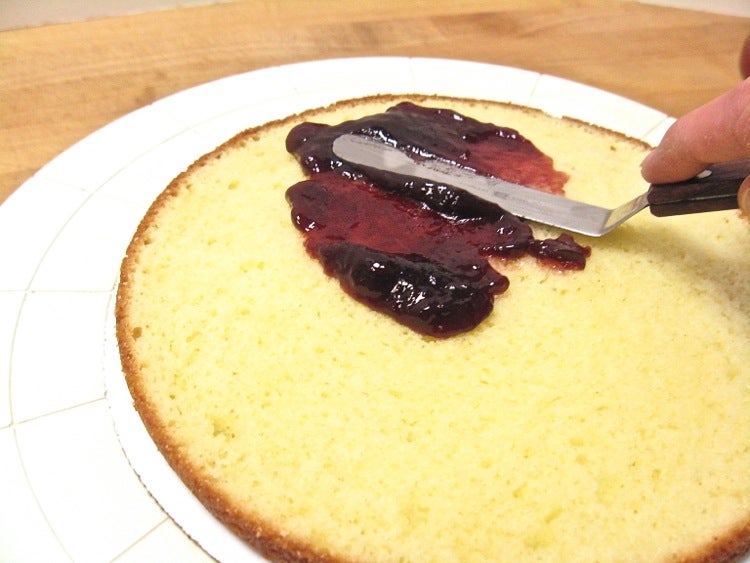 In order to bring some color and flavor contrast to the layers of cake, begin with some jam on the bottom layer.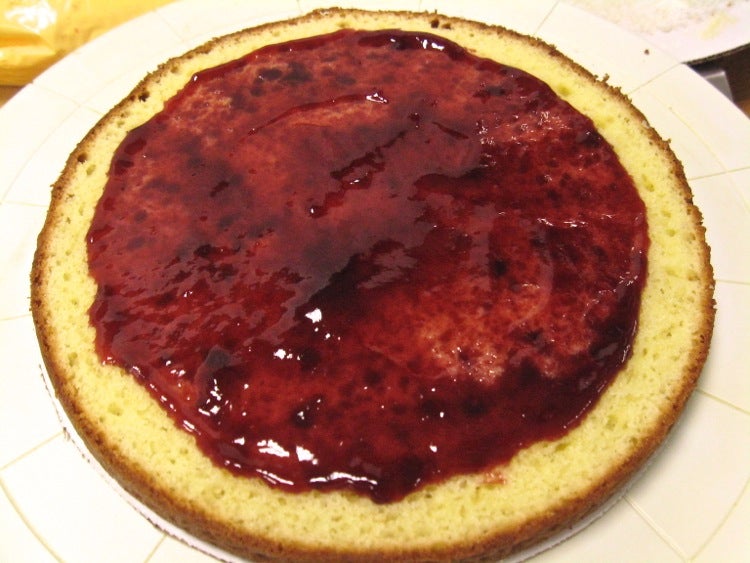 I'm using raspberry for this cake, which complements passion fruit beautifully and offers a bright spot of color in the layers.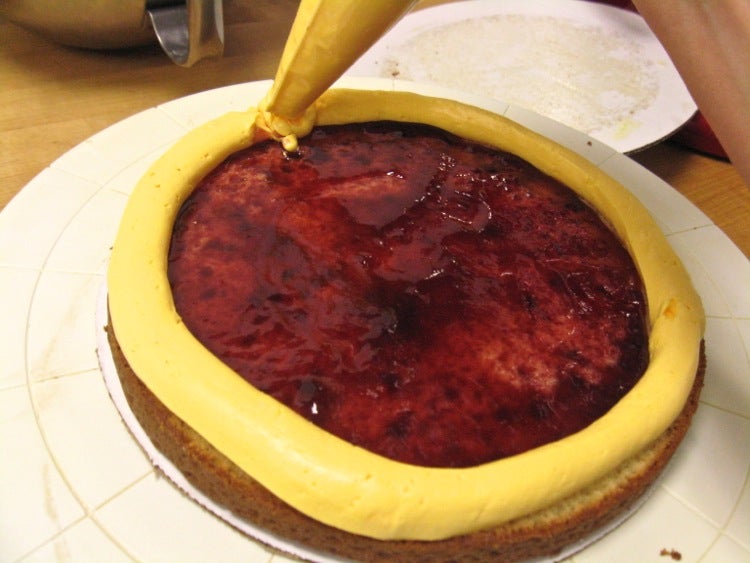 Once you have the first jam layer down, fill a piping bag with buttercream and pipe a boundary around the edge of the cake, encircling the jam layer. This will help keep the jam and passion fruit curd (that will be added next) from leaking during assembly.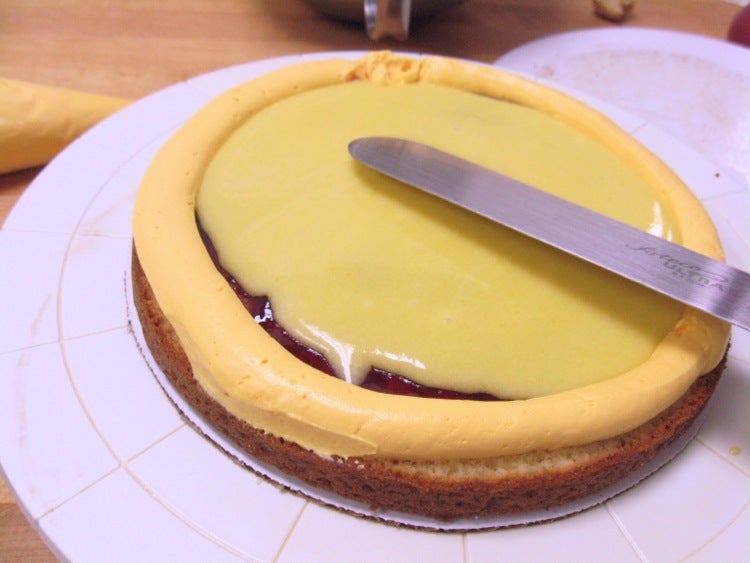 Fill the circle's center in with passion fruit curd made from our fantastic easy microwave lemon curd recipe. I used the passion fruit concentrate in place of the lemon juice, and made no other changes. If you have a favorite curd recipe already, please don't hesitate to use it. I didn't add any gelatin products to the curd, but some find it helpful to use some as a stabilizer in the warmer months, so  feel free to do so.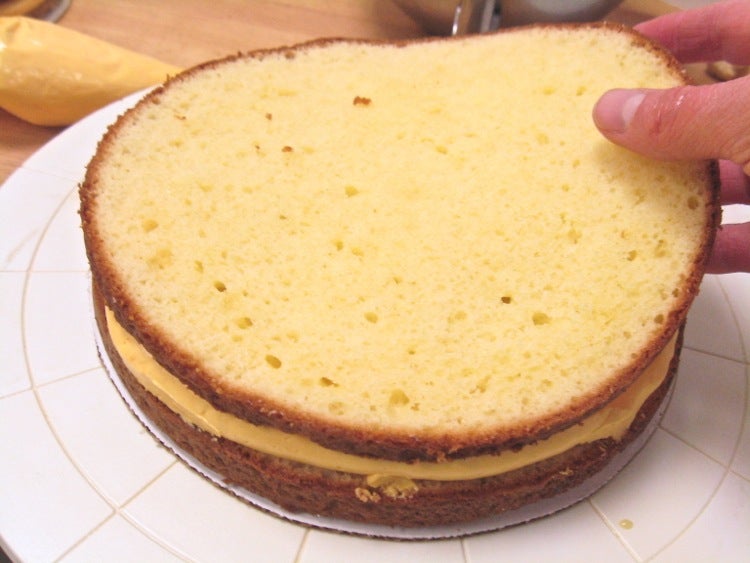 And it's time for the next layer! Add cake. Spread jam. Buttercream band. Color in with curd. Repeat a third time.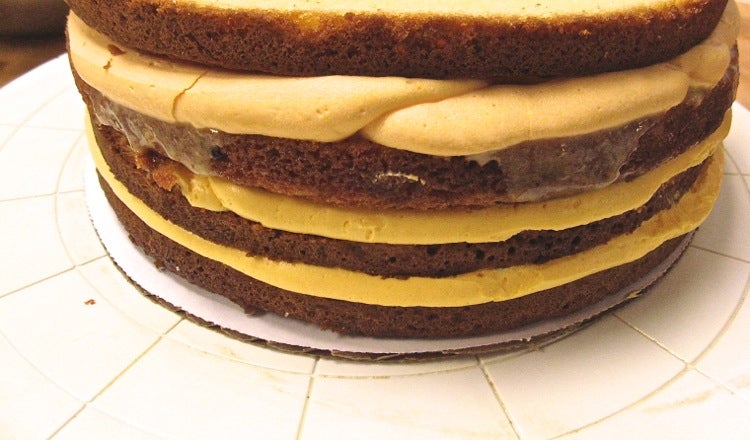 The assembled layers are ready for a little security blanket! Ready for the crumb coat?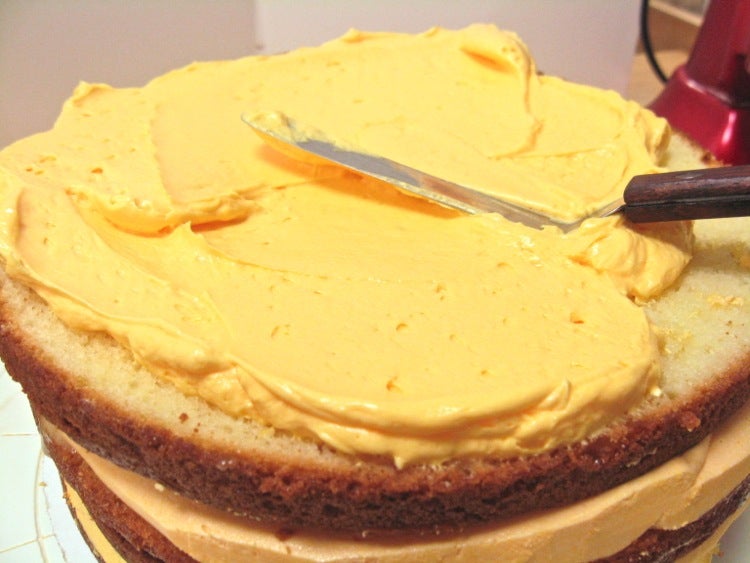 I'm a huge advocate of using a "crumb coat" – a thin layer of icing applied before adding the final icing – when assembling cakes. Not only does this preliminary coat (think of it as a primer coat) help keep the mess at bay, it provides insurance against blemishes, holes, and other defects that occur along the journey.
Coating the cake in a thin layer of buttercream fills any imperfections; when the cake chills, it's easier to build a second layer on top because it has a solid, more even finish supporting it.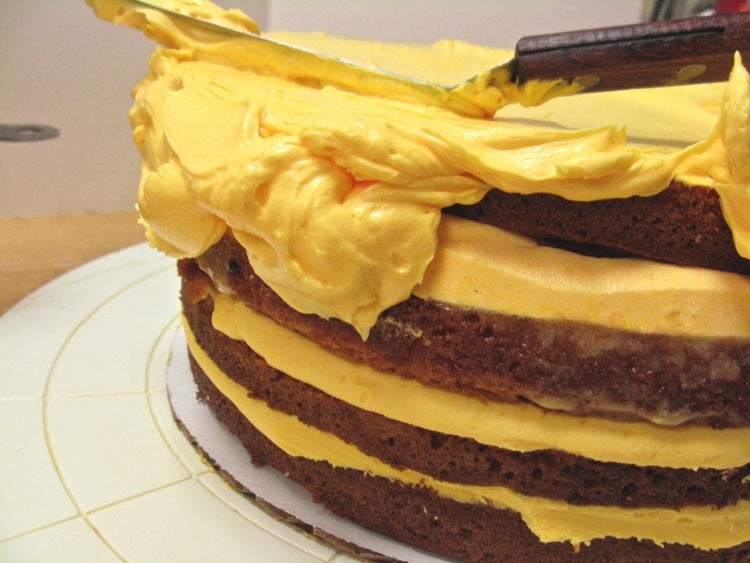 The crumb coat should merely mask the cake and create an even surface for ease of completion.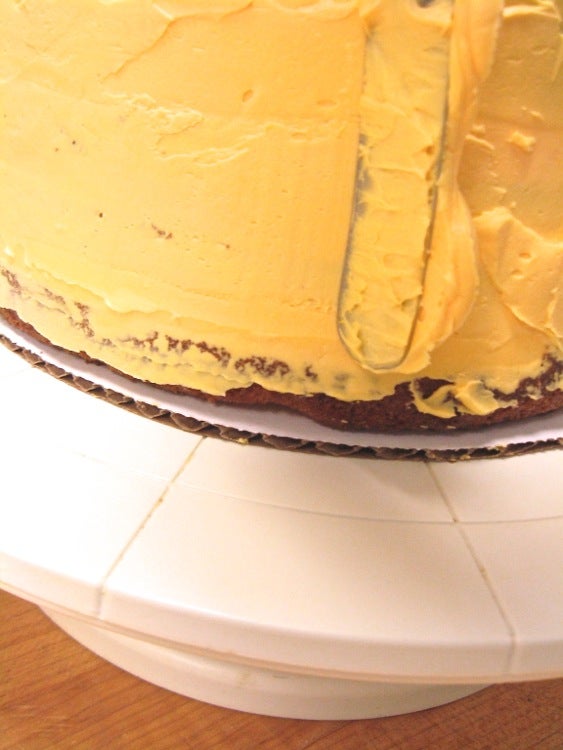 The top only needs enough icing to cover any crumbs; and the sides should just be coated enough to smooth their surface. Not so different from spackling walls, right?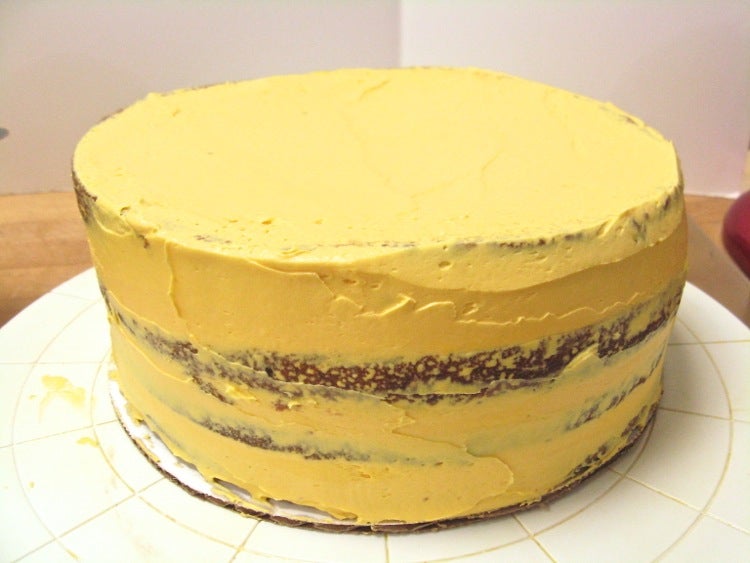 Once the masking is done, retire the cake to the freezer for at least 30 minutes, or until it's firm enough to finish icing.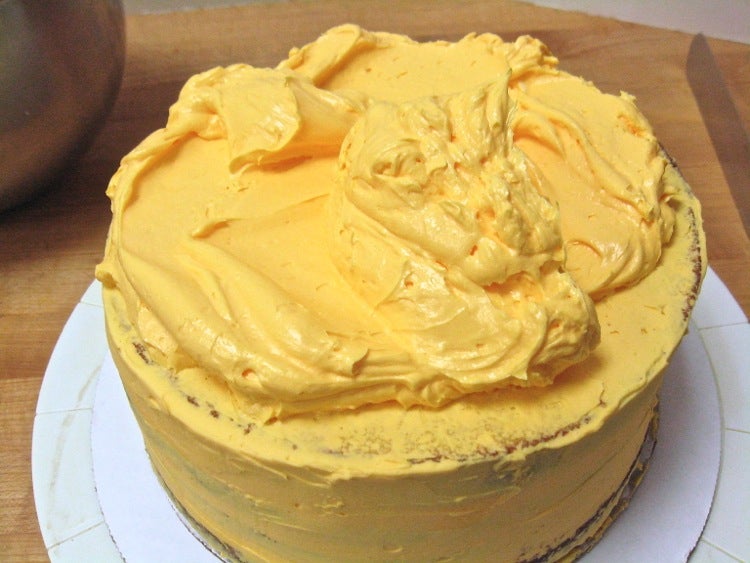 You can really load the top with buttercream, as you'll be pushing it over the sides.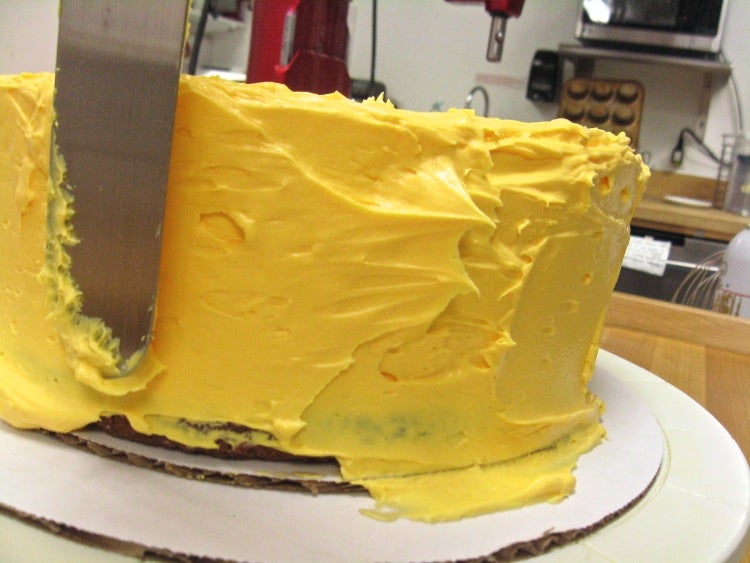 Build up the sides...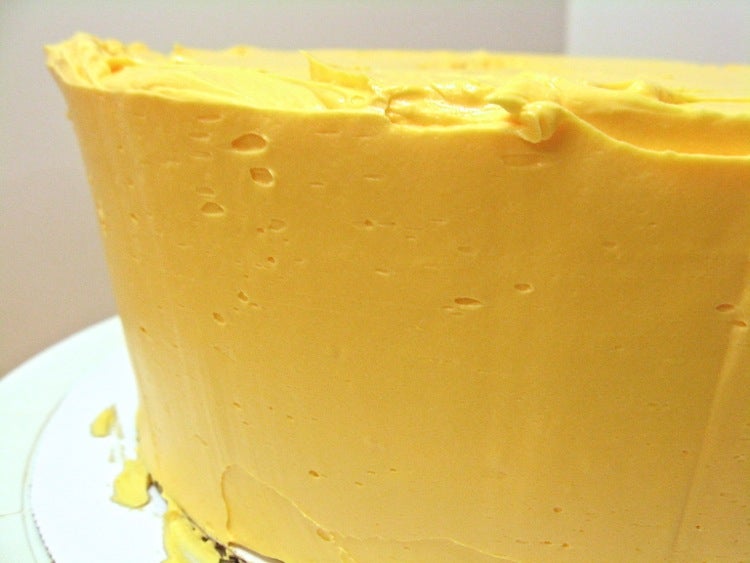 smooth it out by turning a complete circle while holding the spatula steady against the side of the cake, then take the excess off the top.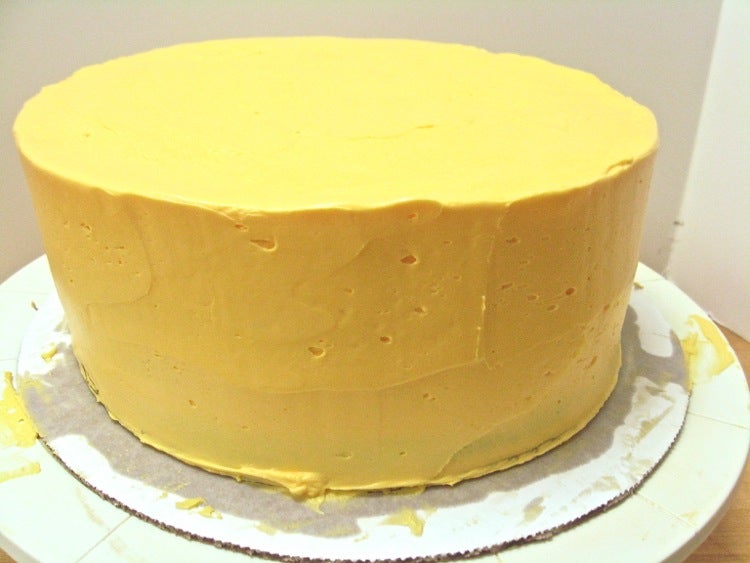 This will give the cake a smooth, clean finish.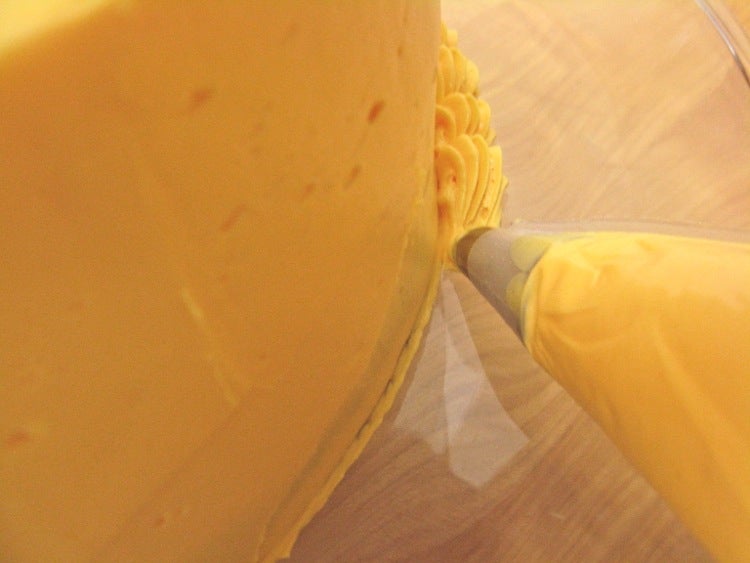 Transfer the cake to the cake pedestal, tray, or whatever you plan to use for presentation. And fill a piping bag with the remainder of the buttercream to make a finishing design.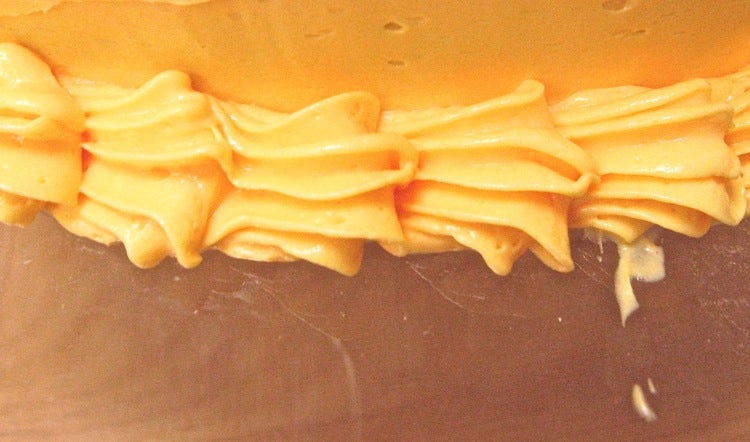 The cover photo of this blog, along with having a prettier pale yellow buttercream, also demonstrates a beaded piping design from a straight tip, quite appropriate for a more sophisticated look. The above example is a traditional scalloped edge from a small star tip.
Thank you for taking this journey through cake assembly with me, and for pardoning my bright orange buttercream! : )
See how simple it can be to transform a few recipes into the cake of your dreams? This passion fruit treat is looking for a summery reason to celebrate, so hopefully it'll become a delicious centerpiece for your wedding, birthday, or solstice party!